5 Things to Look For when Buying a Marbella Luxury Villa
By Varia Sinichkin on - 7m. reading time
Along with its incredible climate and beautiful coastline, Marbella is famed for a luxurious lifestyle second to none. Visitors and residents alike are drawn to the glamorous boutiques, spectacular beaches and fine dining the city has to offer, with many choosing to buy a luxury villa here, be it for a permanent move or a holiday home.
But what sets Marbella luxury villas apart?
And how can you find the best of everything, in one home?
Read on to discover what makes Marbella's luxury villas stand out from the rest.
1: Cutting-edge design
Unlike many other European cities, such as Florence, the Marbella Municipality allows for properties of different types and styles to be built: traditional, classical and modern. This gives way to a greater choice when purchasing a villa, which differs from a very classical city like Florence, where building facades cannot be modified. Such freedom of expression opens the filed for cutting-edge designs. Giving the villas in Marbella the same character and quality as those in large American cities, such as Los Angeles or Miami.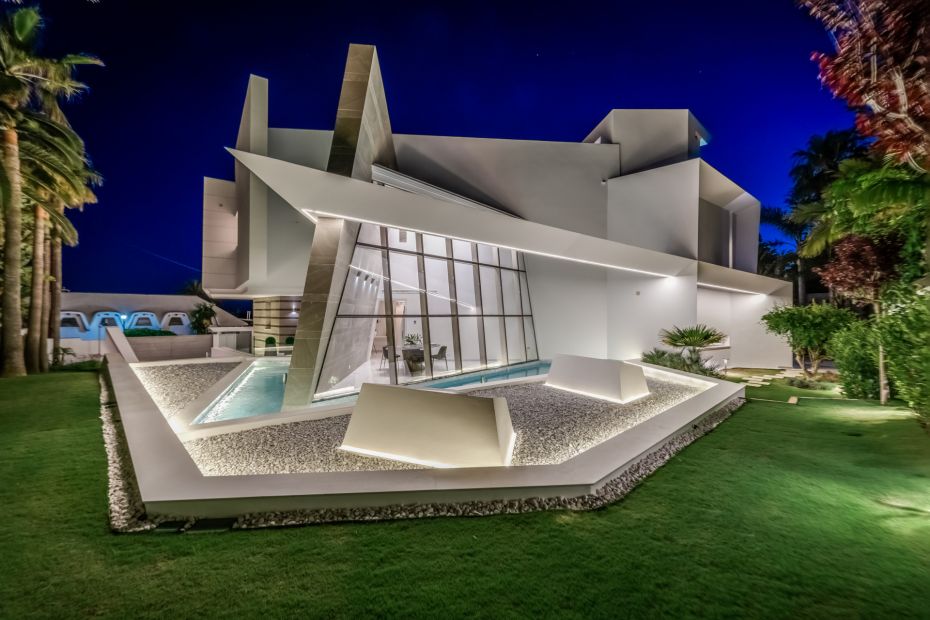 SEE MORE of Villa Sapphire in Marbella East
White walls with stone, marble and wooden elements create a striking balanced exterior, with open plan living areas maximising comfort and practicality in the interior. With an accent on simplicity, terraces and gardens utilise light, shade and greenery that surround the home as a primary design element. A simplicity that underscores a contemporary approach. The incorporation of outdoor spaces, particularly gardens, form part of the overall facade of the home, elevating its design as well as the quality of life.
No detail is missed when designing a Marbella luxury villa. But the best design always delivers peace of mind and user-friendly functionality. In short: a way to fully enjoy daily life.
2: Emphasis on Sustainability
With a global increase on the importance of sustainability and the rapidly approaching climate change, weaving in recycled, eco-friendly materials into luxury villas has become more than a trend. It's an imperative among architects in Marbella. Homes are designed to be made out of natural materials, such as ceramics, as well as recycled wood and marble. Similarly, functionality has become one with luxury, with Marbella villas creating a harmonious blend with their surroundings in order to amplify the sustainability of the home.
For instance, newer, modern villas host floor-to-ceiling windows, to maximize natural light and reduce energy use.
Here is a prime example: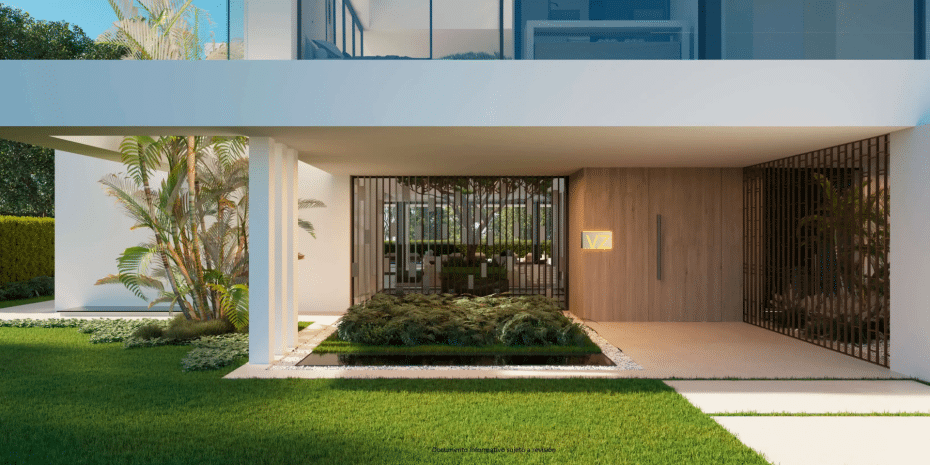 SEE MORE of this modern high-end villa in the Golden Mile
Moreover, the rise in minimalist designs calls for solar panels to be incorporated into the architecture of the villa.  In Marbella, many new urban and industrial-style villas now blend this in effortlessly and elegantly. Increasingly, the constant strive for eco-friendly production is shaping the sight of Marbella villas.
3: Tailored living spaces: Marbella luxury Villas at their finest
It's no secret that every individual has different preferences when it comes to the design of their villas. This means extreme attention to detail, and carefully creating curated living spaces. In this sense Marbella villas – and their architects – are in a league of their own.
The renowned architectural team of ARK Architects strive to create villas of your dreams … starting with your likes and needs, all the way through to professional tailoring.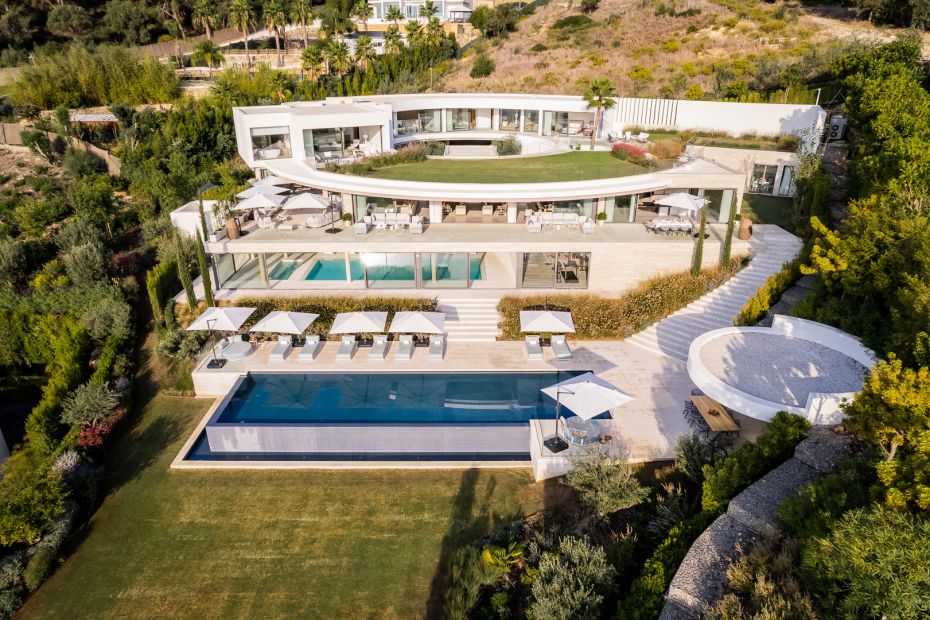 SEE MORE of Villa Vela in Sotogrande
On that note: Marbella luxury villas offer all sorts of tailored living spaces. These include home offices, entertainment areas, fitness facilities and wine cellars, often not standard in the ordinary home. Yet no matter the cost, taste is the ultimate factor. So, when purchasing a plot to build a villa from scratch, spaces are especially designed not only with these necessities in mind. But the person who'll one day inhabit it.
Moving with the times is also vital. Even 5 years ago, who would've thought that working from home is now a common reality? Design decisions naturally have to be modified. Also, if one chooses to purchase an existing villa, refurbishments are often on the agenda. These range from basements, or entire floors, depending on the demands.
The key character of Marbella's luxury villas is that they are made to fit an exclusive lifestyle, one that prioritises safety, comfort and opulence. Making tailored living spaces not just a solution, but a way of life.
4: Outdoor spaces and amenities
Being one with nature is one recurrent theme that makes Marbella villas so unique. The demand for sleek outdoor spaces has sky-rocketed, with many architects incorporating these as a staple in their designs. Yet Marbella luxury villas are renowned for their seamless blend between indoor and outdoor spaces, creating a lush oasis without disrupting the surrounding nature. This is partly achieved through the geometric shapes of the villas and the use of panoramic windows and glass doors – seamlessly complementing their environment.
With a love of outdoor spaces comes the need for amenities, which must be discreet to not disrupt their setting. Infinity pools have become a trend, their disappearing edge effect maintaining the balance with nature. These also offer residents a chic, private space.
As example, this new designer villa in Nueva Andalucia makes superb use of it: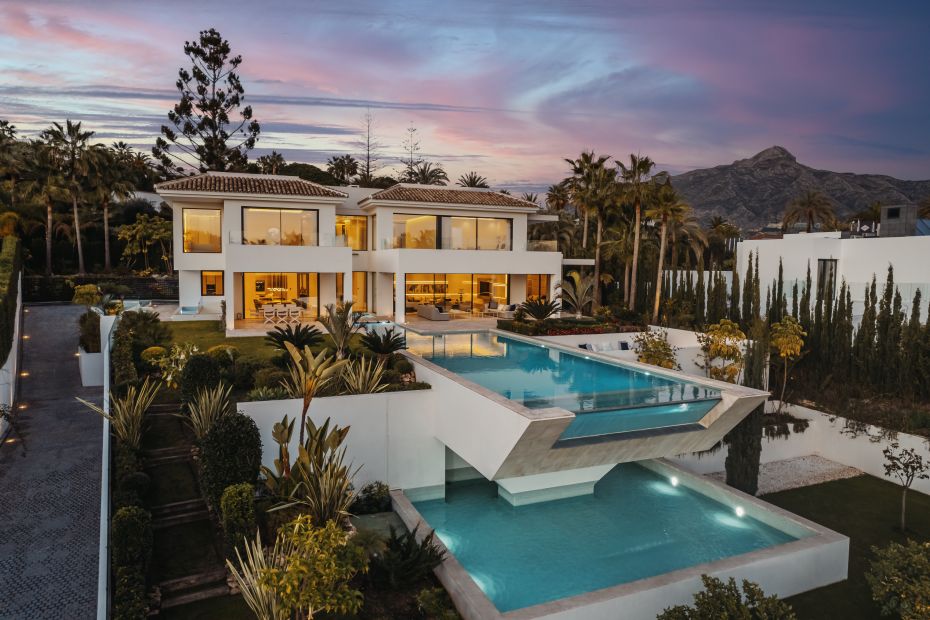 SEE MORE of Villa Aurora, in La Cerquilla, Nueva Andalucia
Elegance and sophistication are also rooted in the experiences your home can offer, which can include magnificent roof-top BBQ's overlooking the coast, or dinners watching the sunset with your loved ones, as is the case with Casa Cielo, a Drumelia exclusive villa.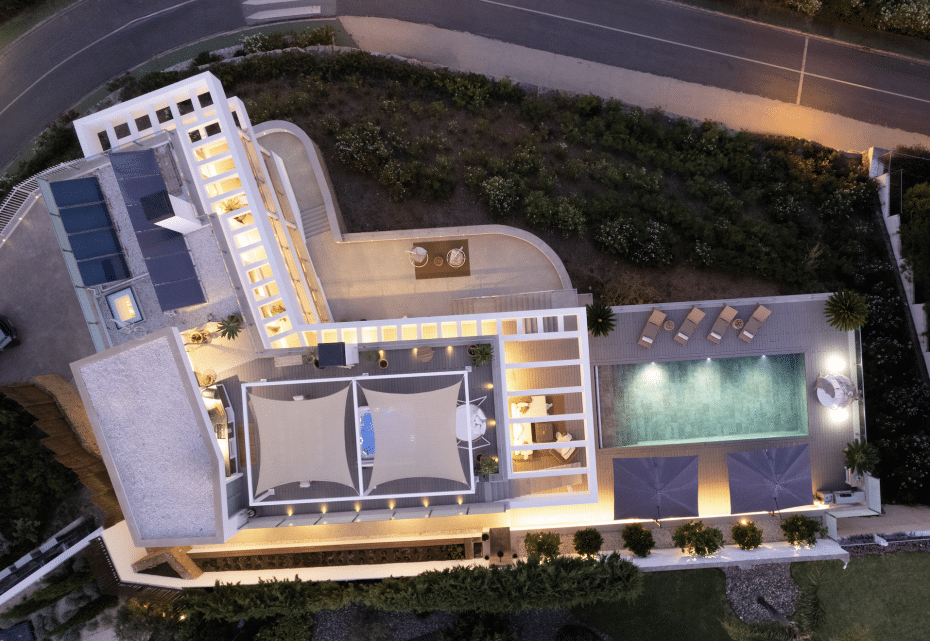 SEE MORE of Casa Cielo, in La Quinta
Vast gardens and luxurious amenities play a key role in making Marbella luxury villas so unique and sought after. Perhaps because connecting with nature is so central to one's well-being. And what can be better than achieving it from the comfort of your own home?
5: Location, location, location... And views!
Beauty surrounds you wherever you go in Marbella, and homeowners have a natural desire for this beauty to translate into their properties. Thus, location is a prime component in the selection of a villa. Luxury villas in Marbella are all conveniently located in the best spots of the city with outstanding views.
Here are some good – make that beautiful – examples:
Casa Magda, a luxury mansion with incredible panoramic views of the coast.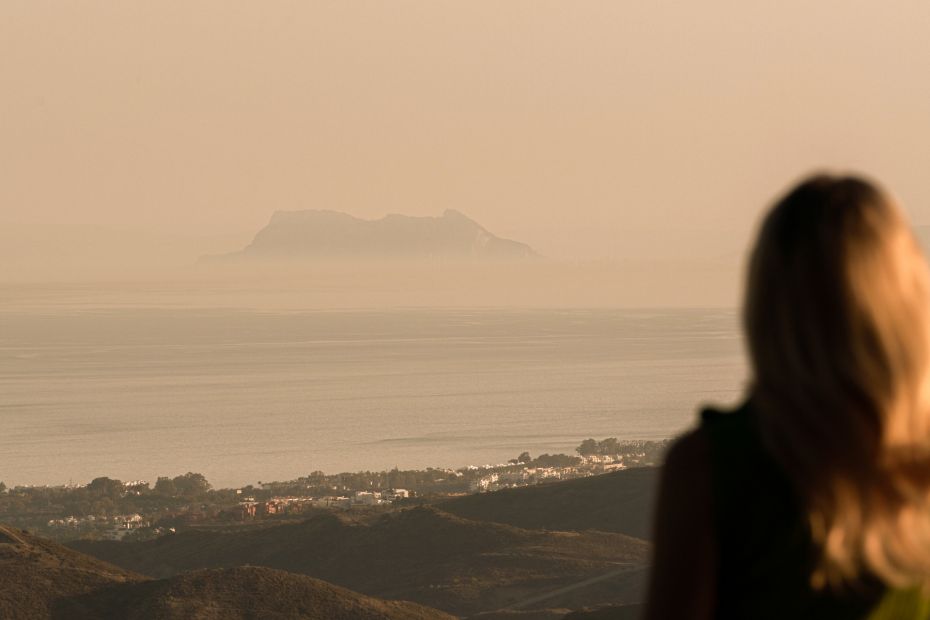 SEE MORE panoramic views from this modern mansion
If stunning views of a Marbella's famous golf courses are more to your liking, have a look at this modern villa, in La Alqueria: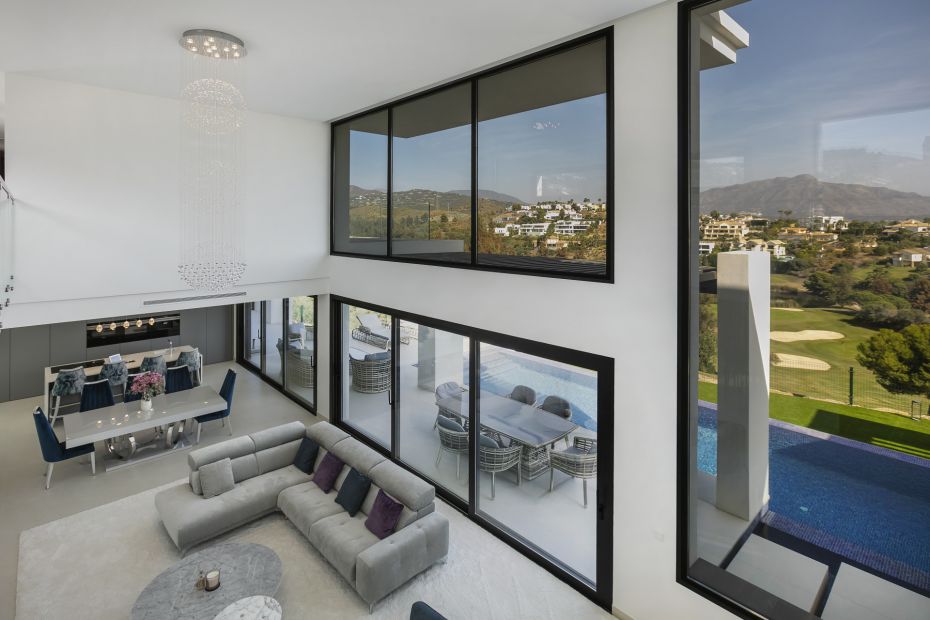 SEE MORE of this this frontline golf villa in La Alqueria
Last but certainly not the least: If you adore nature, you're bound to love mountain views: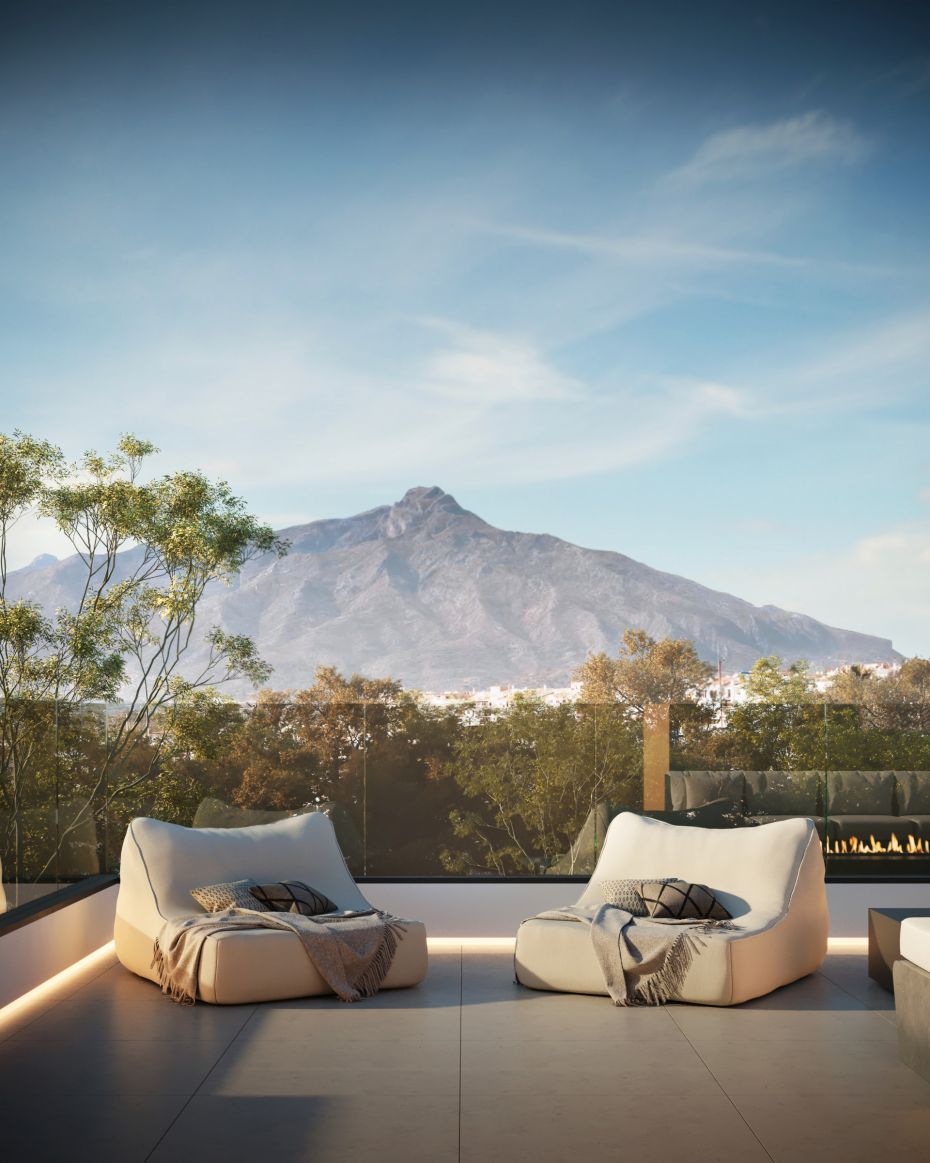 SEE MORE of this brand-new elegant and modern villa
When it comes to luxury living, Marbella is all things to all people.
A world of your dreams awaits, but that doesn't mean it has to stay a dream. Decide what you want, what moves you, and imagine a living space to satisfy it. After that, it's simply a matter of finding the place that connects with the best in you.
As the leading luxury real estate agency of the region, Drumelia is here to assist you with finding the Marbella luxury villa made for you.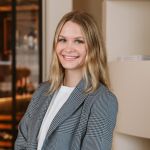 Copywriter
Varia Sinichkina
Varia is currently living in New York City where she is hard at work completing her Bachelors degree in Creative…