The Finest Beach Clubs in Marbella
By Salma Hwedi on - 3m. reading time
Synonymous with glitz and glamour, Marbella is distinguished for its opportunities which few cities in the world can be compared to. "Move over Miami, step aside Ibiza, there's a new home to hedonistic pool parties and luxury beach clubs: Marbella, a Spain's equivalent of Saint-Tropez", media writes.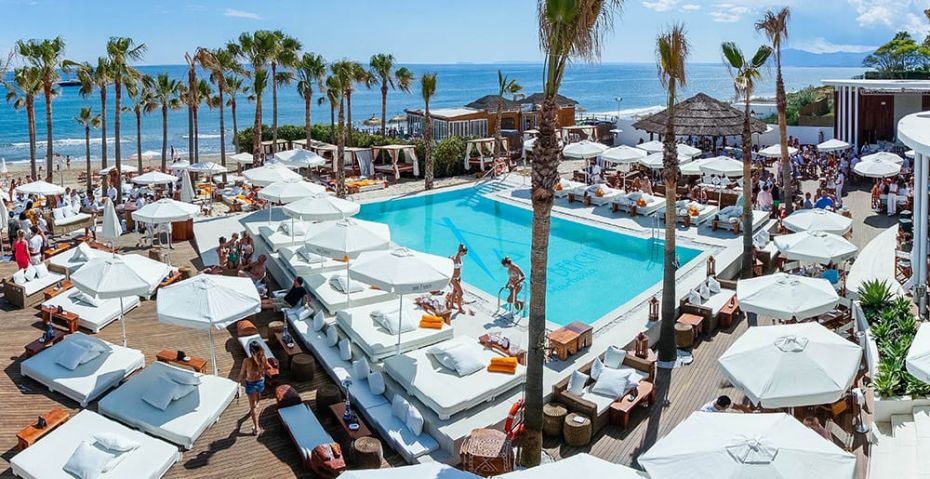 With many beach clubs to choose from, all with pools, Bali-beds, restaurants and attentive staff, with decadent dusk 'til dawn pool parties, relaxed chilled out sundowners' gatherings, elegant with sophisticated cocktails and live music or crazy lavish Champagne spray parties, it can be daunting in deciding where to go to soak up luxury atmosphere.
If you live in prestigious Golden Mile andSierra Blanca areas, 2 places will attract you …and crème de la crème from all over the world. For more than 50 years iconic Marbella Club Beach Club has been creating perfect chilled-out, elegant classy atmosphere loved by rich and famous. International crowd also enjoys Mediterranean pleasures during the day and more Arabic and Oriental style by night at another legendary hotel, Puente Romano, which Suite del Mar beach club converts into a nightclub.
Marbella Centre offers an ideal chill-out, adult-only Amàre Beach Club, with classic combination of sun, sea, sand, refreshing cocktails and champagne, and reputation for being one of the most tasteful Marbella's beach clubs.
East
Part of Los Monteros Hotel, impeccable super exclusive La Cabane is definitely Costa del Sol's top beach club, with fantastic services, royal clientele, 'glam & chic' dress code. Best for striking a pose, globally known Nikki Beach with its full VIP experience, extravagant Nikki dancers, world-class DJs, coolest crowds and hottest themed parties is located in Elviria. Orange Beach Club of Don Carlos resort, another incredibly stylish beach club with avant-garde design, infinity pool and tropical atmosphere is also there. Celebrate life in Estrella del Mar, a place with magical ambience on Playa del Real Zaragoza, also called Golden Beach.
Puerto Banus
Fabulously boho, quirky, with arty or hipster vibe, sophisticated, with "just stepped off the catwalk" and "beach babe Jessica Rabbit" looks, ultra-trendy, overlooking Africa Puerto Banus is a hedonistic home to outrages affairs. One of Europe's largest and best, called "a dazzling vision of white and light blue" Ocean Club, Sisu with its 20-person Jacuzzi, La Sala by Sea with laid-back vibe - they all have their fair share of tan-sip-dip-and-party.
West
Located in Laguna Village, New Golden Mile, and opened all year round Purobeach boasts a refined setting with spectacular views of Gibraltar and Africa. Water sport activities, massage corner, hammocks and umbrellas on the beach with crystal waters, lounge with low Moroccan style sofas, it's Bora Bora, San Pedro. You can easily spend an entire day relaxing here. They say, years ago it was the choice of British princes.
Los Flamingos is not only a golfer's paradise, Villa Padierna Palace plays host to an impressive stream of dignitaries and celebrities who enjoy its Club de Mar with a high standing restaurant.
Just west of Estepona (20 min. from Puerto Banus) you will find a top-notch yet discreet and utterly serene Finca Cortesin Beach Club. "Its natural setting is, quite simply, breathtaking", wrote VOGUE, U.K. So is its seafood.
Relax, have fun and enjoy!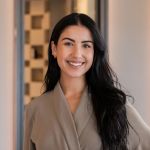 Collaborator Salma Hwedi