02: Property taxes for owners in Marbella, Spain
By Artur Loginov on
What annual taxes do you pay when you own a property in in Marbella?
All these taxes and costs are paid every year when you own a property in Marbella — calculated based on the purchase price, the location of the property (municipality), and its size and cadastral value.
Non-resident tax owning a property in Marbella
Only owners who are non-resident in Spain have to pay it. If you are a resident, you don't have to pay this tax. This tax has to be paid, whether you rent your property or you don't. Owning a property in Spain as a non-resident already implies that you need to pay it yearly. We've seen many clients who don't pay it, sometimes because they haven't heard about it. The tax authorities don't follow up on these tax payments, so you can be without paying them for quite a long time. What they do, is review if you paid the non-resident tax or not on the day that you will be selling your property. So theoretically, you can leave it for later, although that payment will also be increased with interests and other costs for not paying on time.
Wealth tax when you own a property.
Only applied properties that are purchased above €700,000 per person.
Only the net purchase amount is taken into account.
The quantity depends if you are a resident, a non-resident or if it's a company buying.
Tax % varies from 0.2% to 2.5% depending on the total wealth.
You can also ask us to do a quick estimation by clicking here and filling in the basic details of your planned purchase.
Do you want to know how the tax authorities decide if you can be considered a fiscal resident or non-resident of Spain? What effect might it have on you?
Taxes and costs related to the property that you own in Marbella.
IBI (Impuesto sobre Bienes Inmuebles).
IBI is the Municipal Spanish property tax, paid yearly, same as the other taxes. Usually, such tax varies from 1.000€ to 10.000€ but can be less or more, depending on the property. It depends on the cadastral value of the property and the municipality.
Garbage tax costs of your property in Marbella.
Tax on the garbage collection of the property, but it's a very small figure, typically under 400€ a year.
Community fees of your property in Marbella
Usually, community fees vary from 200€ to 1.000€, with some exceptions. This is not a tax but a cost-related directly to the property that you are obliged to pay. Failure in payment can even result in the property's seizure (after a long time). Villas and plots also tend to be part of a community. Rarely it is possible to find properties that are not part of any community yet and therefore have no such fees.
Other permanent costs of your home.
Electricity and water are paid monthly with a permanent contract. You have a minimum fixed amount to pay even if no consumption is done. The main part of the invoice is directly related to your consumption.
We hope you now have a better understanding of the taxes that you have to pay in Marbella after buying a property here.
Are you thinking about selling your property? Or maybe buying it? It's never been easier to get in touch, just click here, and we will be delighted to assist you in the most professional manner.
Some frequently asked questions
Do I have to pay tax on my Spanish property?
Yes, no matter if you are a resident or non-resident of Spain. If you rent the property or don't, the fact of ownership implies that you have to pay certain taxes to the Spanish Tax Authorities. They are a few, so we recommend reading this blog carefully.
Which tax is paid by the property owner?
There are several taxes to be paid as an owner of real estate in Spain. They are non-resident tax (for non-residents only), wealth tax, IBI, garbage tax, and fixed costs. You can read the full details in this blog.
 What taxes do I pay if I move to Spain?
If you decide to move permanently to Spain, you will be becoming a fiscal resident of Spain, as you will be spending over 183 days. Therefore, according to the Spanish taxation system, your worldwide income will be taxed. This varies from 19% to 47%, minus the taxes paid, if such, in the country where the income was produced. In the following blog, you can read more information about how you can be considered a fiscal resident or non-resident of Spain and its effects on you.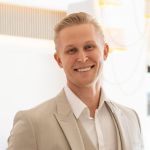 CEO & Partner
Artur Loginov
Artur Loginov is the CEO and proud Partner of Drumelia Real Estate. He has over a decade of knowledge and…