Inside a €4.450.000 Stunning Modern House with Ocean views in Los Flamingos Golf, Marbella
By Salma Hwedi on - 4m. reading time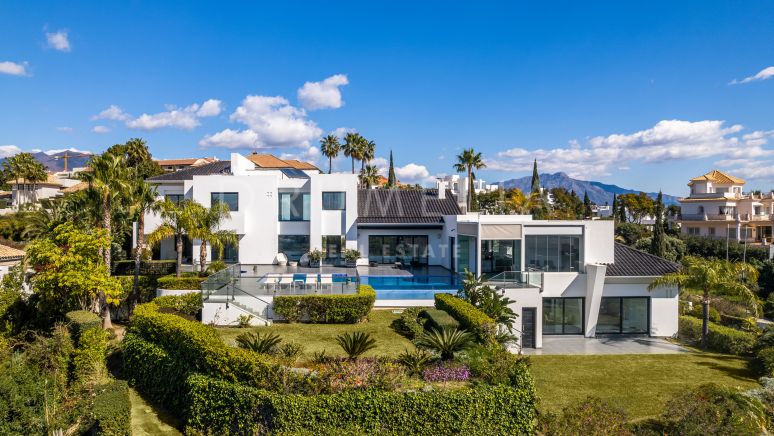 We present Villa Blue Horizon, as a spacious property comprising a 2,400 m2 plot and a contemporary three-level dwelling spanning almost 600 m2 with an additional 200 m2 terraces. The fully furnished house is available for purchase at €4,450,000.
THE VIEWS.
Nestled on a raised terrain, the southern-facing villa commands an exceptional vantage point, providing unparalleled panoramic views of the verdant golf courses, serene lakes, rolling valleys, sparkling seas, and majestic mountains. Set in a well-established enclave of Los Flamingos, these stunning views will endure for generations to come.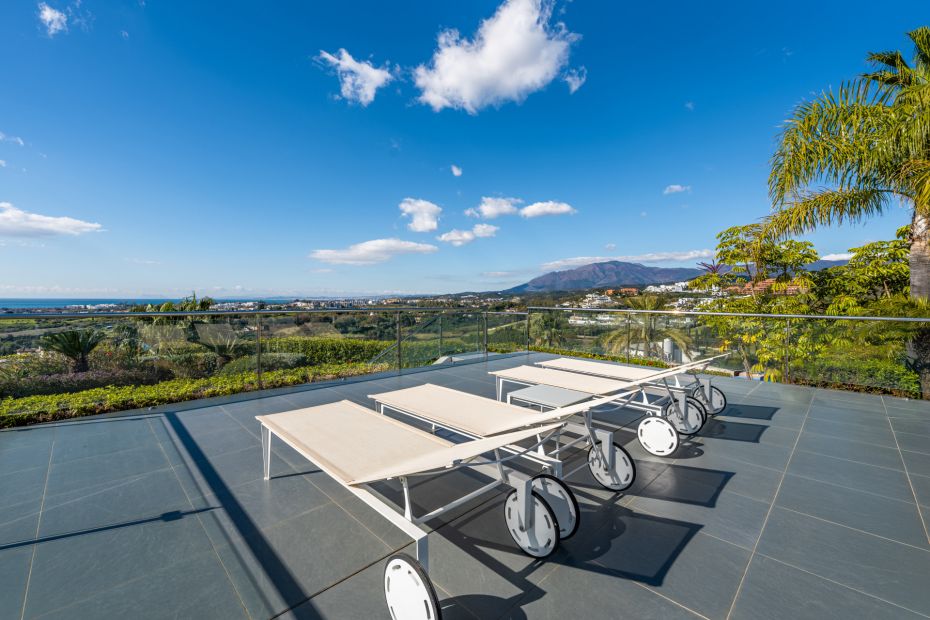 THE ENTRANCE.
Gracing the residence's front yard is a charming water feature, while a grand black wooden door serves as the main entrance. Although originally built in 2013, the property has been impeccably maintained and is presented in pristine condition, ready for the new owners to move in and savour its many delights. While perfectly suited for immediate habitation, the discerning owners may, in time, tailor the home to their specific tastes and requirements. The inviting reception area boasts an uncommonly shaped double-height ceiling. Gleaming white hallways guide the way to a remarkable staircase crafted from sturdy, dark timber, leading to the sumptuous bedrooms above.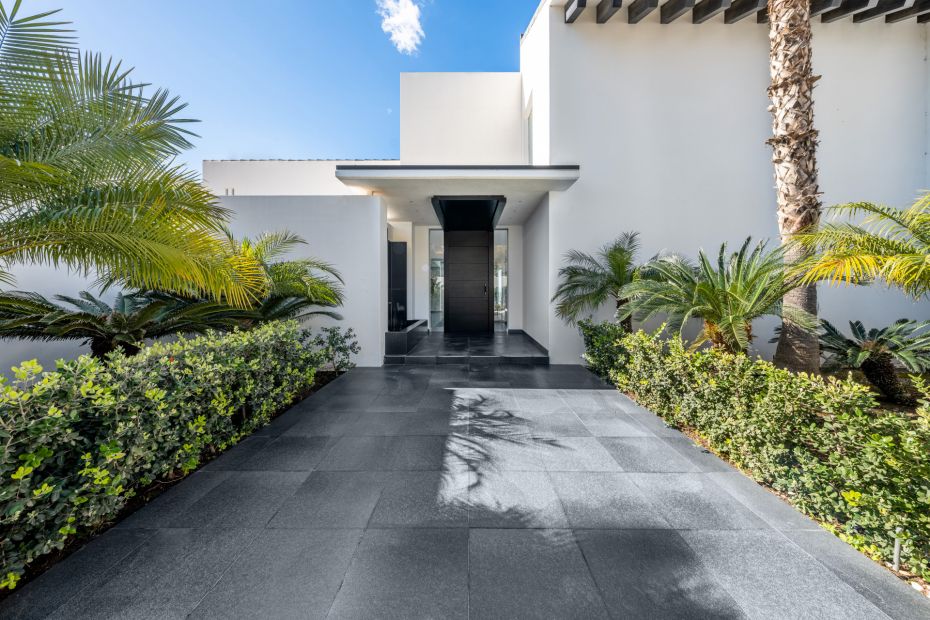 BEDROOMS UPSTAIRS.
The upper floor hosts 3 bedrooms, including the Master suite, which boasts the best panoramic views from the house.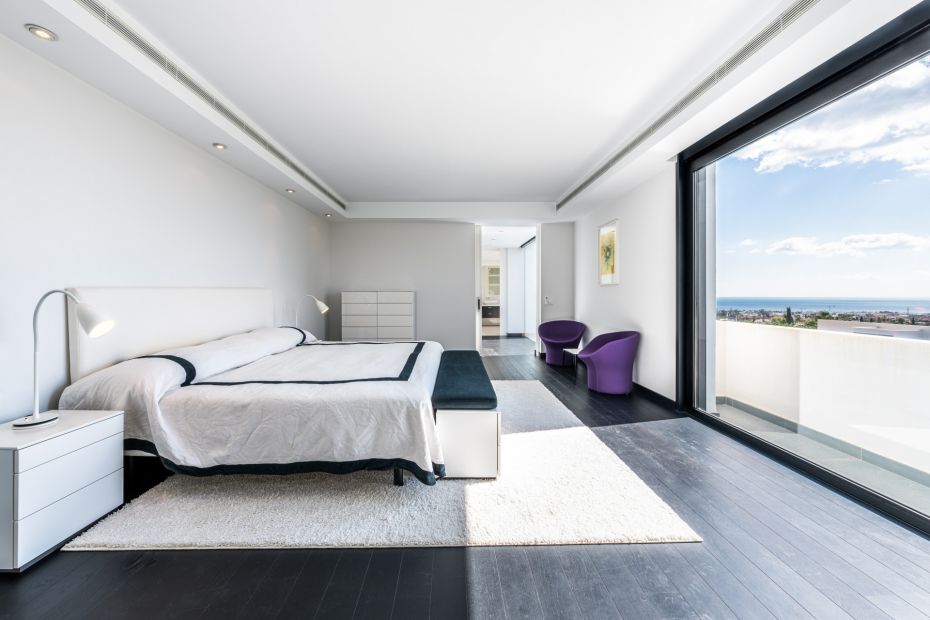 THE GROUND FLOOR.
The open-plan living area on the right side of the villa's main level encompasses a cosy TV space and a functional office area. Meanwhile, on the left, a grand formal living room boasts a soaring double-height ceiling, bathed in natural light and exuding an air of spaciousness.
Strong geometric shapes, crisp lines, and an exquisite colour palette are beautifully woven throughout the residence. Many secluded corners and inviting patios are strategically placed throughout the property, enhancing its aesthetic appeal. Designed by renowned Marbella architect, Marcos Sainz, this home boasts a unique and practical distribution that is timeless and in high demand. Sainz, who also famously designed Puerto Banús, has imbued this villa with his signature style.
Abundant glass walls draw in even more light and offer stunning vistas of the surrounding landscape, including the picturesque morning sun. Adjacent to the living area is the elegant dining space, complete with a temperature-controlled wine cellar. Also, on this level, one can find a comfortable guest bedroom, two well-appointed guest toilets, numerous storage areas, a convenient laundry room, and a separate entrance to the covered two-car garage. This area opens directly onto a covered terrace with an outdoor kitchen and elegant glass curtains.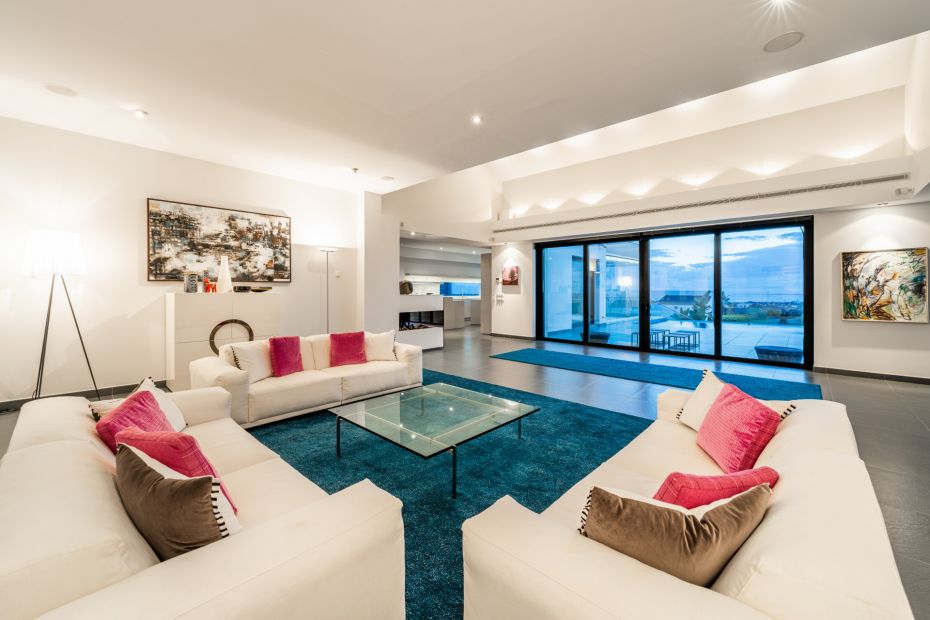 OUTSIDE.
Stepping outdoors, an immense heated infinity pool and accompanying Jacuzzi await, their pristine waters reflecting the boundless sky above. The surrounding garden is paved with tasteful tiles, ensuring effortless upkeep while showcasing the magnificent vistas that stretch out before you. Simply put, the view from this vantage point is unmatched.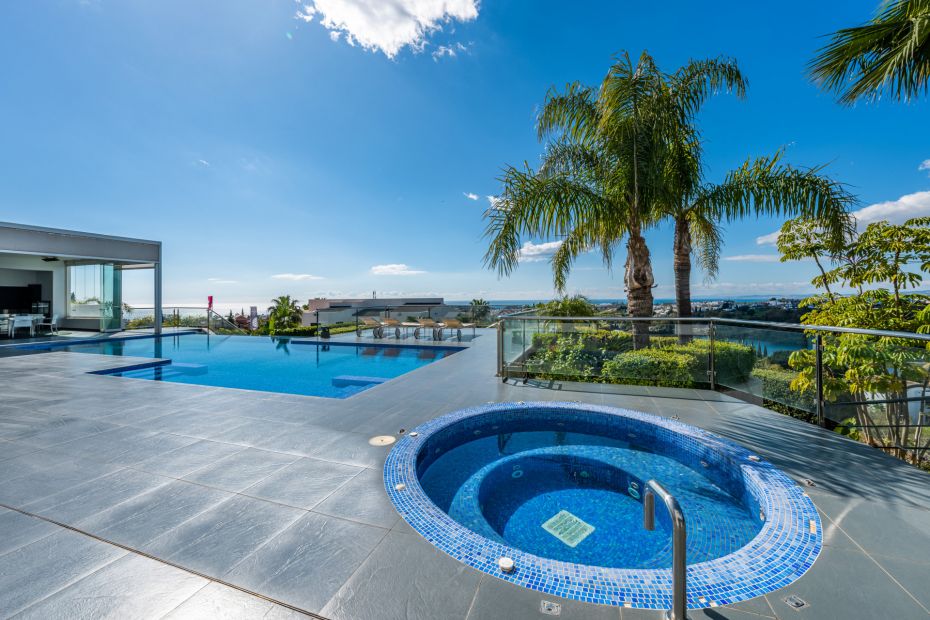 THE AREA.
As previously mentioned, this section of the community is fully developed, with no available plots for further construction, except for one located significantly lower than this particular property, which will not impede the breathtaking panoramic views. The Los Flamingos area, in general, has enjoyed tremendous popularity, resulting in record-breaking sales over the past few years. It's easy to understand why, given the exceptional amenities available, including three world-class golf courses, a luxurious 5-star hotel with a top-notch spa, an array of exceptional restaurants, and a heightened level of security. For those seeking additional information about this coveted locale, our Los Flamingos Area Guide with all the relevant details.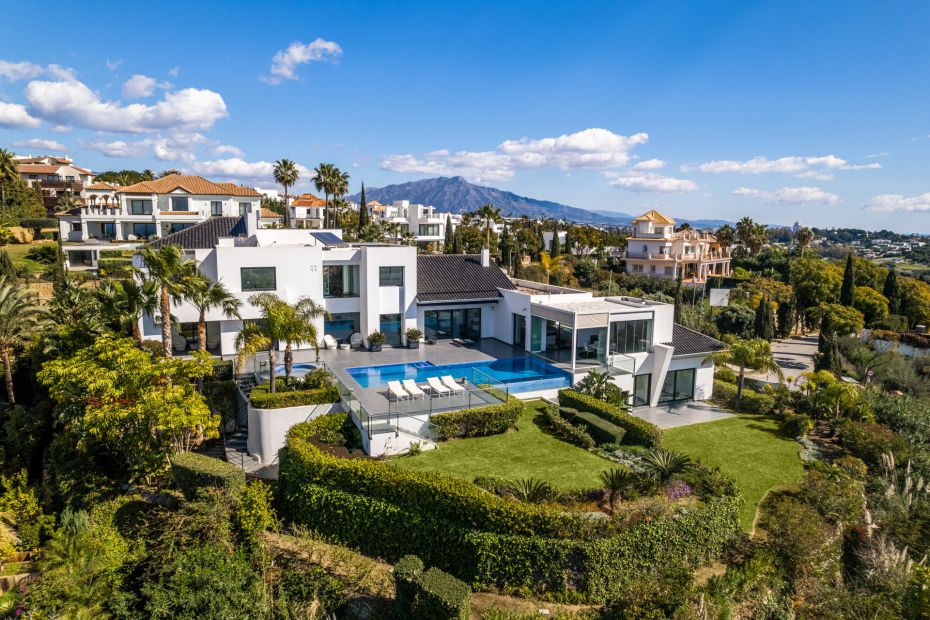 THE GUEST'S APARTMENT.
The lower garden level is home to an independent apartment featuring two generously sized rooms, a private garage capable of accommodating two cars, and a separate entrance from the outdoors. With flexibility at the forefront of its design, this space can easily be transformed to suit the new owners' preferences, perhaps into a fitness centre or spa.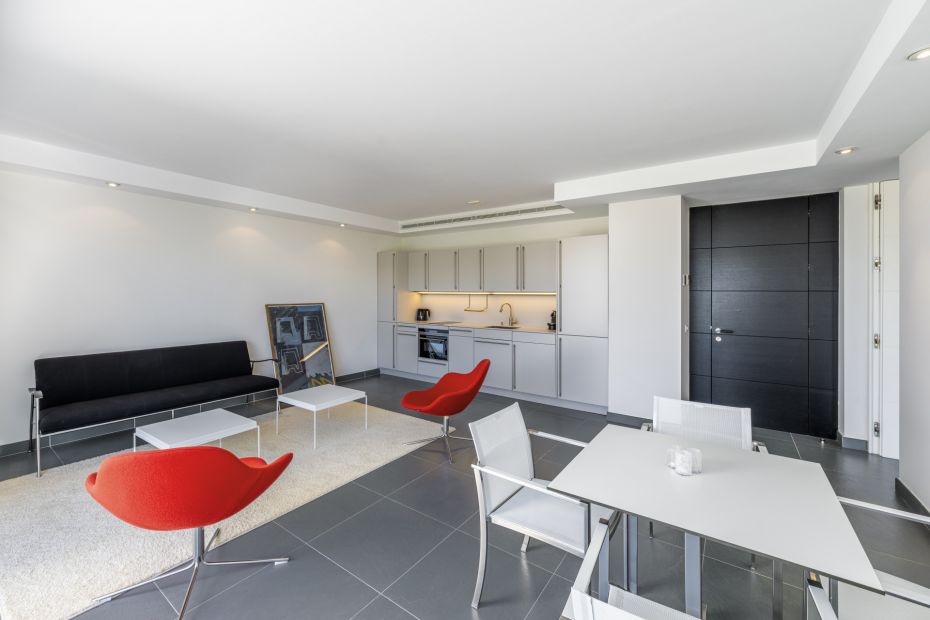 Crafted by a celebrated architect and constructed to the most exacting standards, this villa is offered for sale in exceptional condition and boasts incomparable views. At Drumelia, we firmly believe this property represents an outstanding investment opportunity with boundless potential to appreciate value through thoughtful enhancements. Please do not hesitate to contact us if you desire further details about this stunning property or wish to schedule a viewing.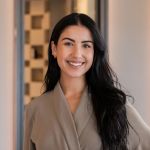 Copywriting Manager
Salma Perez Hwedi
Salma Perez Hwedi is the Copywriting Manager at Drumelia Real Estate. Her primary duties involve copy and content writing, proofreading…