Inside €4.950.000 Imposing Brand-New Modern Luxury Mansion in Marbella
By Salma Hwedi on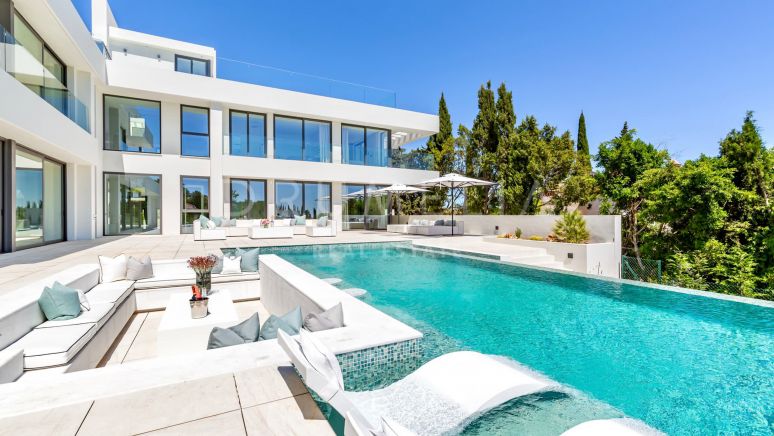 This fantastic modern villa is ready to be moved in, is fully furnished, and is located in the area of El Paraiso, Benahavis. The house has a 2.000m2 plot, 6 bedrooms and has an asking price of €4.950.000. This residential neighbourhood resembles a modern boulevard; you will find other houses that have been built recently; there is a private international school, grocery shops, 3 golf courses, and a lot of amenities, and we are about 4-5 kilometres away from the beach.
ENTRANCE.
We have a lot of space at the main entrance to manoeuvre the car. The guests can park their cars here as well. A beautiful driveway leads to the closed garage for 6 cars. The house is very modern, with clean lines, high ceilings, and a beautiful door with wood panelling that leads inside.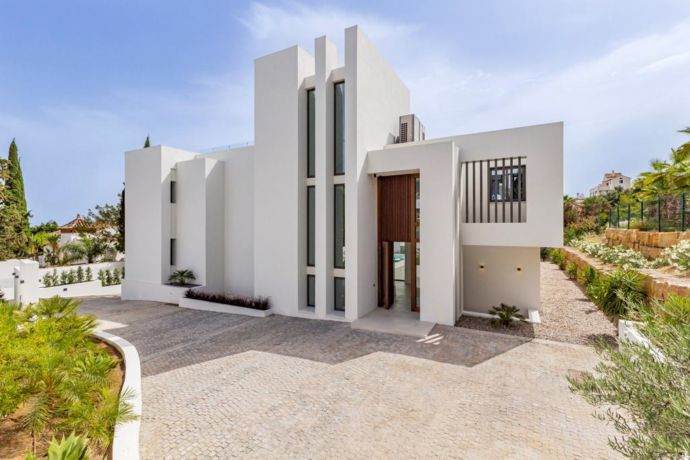 THE GROUND FLOOR.
LIVING AND DINING AREAS.
The entrance hall is double in height, almost 7 meters, and you can see the pool area and the sea views. This house is all about open plan spaces; the kitchen, dining and living room space are all connected. The kitchen island is in the middle, with Gaggenau appliances, a big fridge and freezer, a fantastic structure above that comes down to the cooking area, a fitted wine cabinet, and plenty of space. The kitchen is connected to this beautiful dining area with a table that fits 12 people. The porcelain floor tiles are big, and there is also underfloor heating in the whole house. The height of the ceiling also is very good; measuring 3.20 meters high.
The living room with a fantastic ethanol fireplace has a connection with the outside. Everything is open, and the interior design of the house is fabulous, with the nice furniture, neutral colours and the touch of blue that adds the Mediterranean vibe. The guest bathroom is just off of the living/dining area. Overall, it is a very kid-friendly house.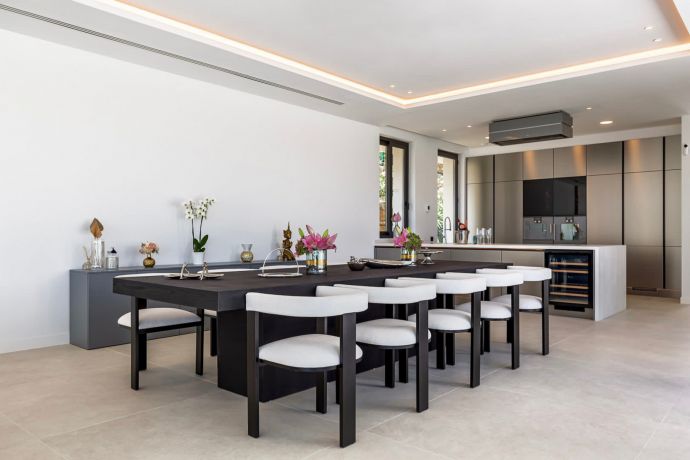 OUTDOORS.
Outside, we have a fantastic open terrace. There is another big dining table, fantastic for the summertime or dinners al fresco, and another kitchen with a barbecue and teppanyaki area. The lower outdoor level has a big garden area where kids can play or that can be converted into another chill-out area.
This house has almost 500 square meters of terraces, which is very important when you live on the Costa del Sol. In Southern Spain, you want to enjoy all your outdoor time. Another very cool feature is a seating area with a fireplace in the middle, next to the pool with beautiful mosaic tiles that shine in the sun, and a pool bar with a couple of seats, ideal for admiring sunsets and drinking champagne with friends!
The sun-beds are placed inside the pool, it's a very nice and modern touch, and there is another sunbathing area on the terrace. When you are looking at the house from the garden area, you appreciate its big cascade, which is a very clever idea of the architects.
The house is very attractive, with clean lines, dark grey details, big double-glazed windows and glass doors. Its shape is cleverly designed o keep everyone close by but far away enough to have your own privacy, with the guest beds in one wing of the house.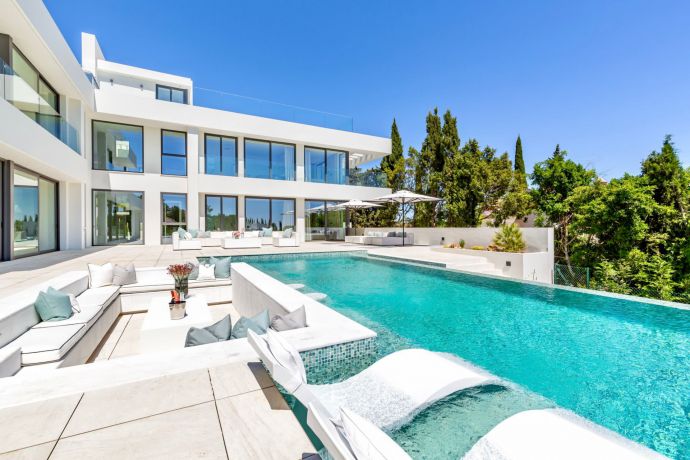 BEDROOMS.
2 out of 6 bedrooms are on the ground floor. They have neutral colours palletes, en-suite bathrooms, walk-in showers, fitted wardrobes, big windows, and a private terrace in the corner. In the corridor, you have plenty of space for storage.
Just off the guest bedrooms on the ground floor, there is a modern ThyssenKrupp elevator that can fit up to 8 people and takes you to all 4 floors of the house.
DOWNSTAIRS.
This level is not fully furnished yet. The developer left that space to be personalised by the buyers. So, you can find downstairs a superb staff apartment, a big office, a couple of patios giving natural light and fresh air, a big room of 180 square meters that can become a big gym, with sea views even from there, a cinema room, etc.
In addition, you have space to make a multifunctional room, but if you need more bedrooms and are not happy enough with 6 bedrooms, you can add the 7th and 8th. If you don't need the gym but want to have 2 offices, there is plenty of space for it.
THE FIRST FLOOR.
The first floor is divided into 2 wings. In the middle, there is some area to be personalised according to your own taste. To the left, we have 2 further bedroom suites with walk-in showers and fully fitted wardrobes. The bedrooms mirror those on the ground floor, being the same size and having the same layout, both with their own private terraces.
Then, there is the Master bedroom, with a door that has the same wood panelling detail as the house's main entrance door. The Domotic system allows controlling everything from your telephone. The floor here is a different ceramic colour; again, there are serene neutral colours around. The room and private terrace boast panoramic sea views.
The walk-in closet has plenty of storage space; there is a separate toilet with a bidet and a beautiful bathroom with detailed tiles, a German rain shower system, Villeroy & Boch features, double vanity, LED lights, and a freestanding bathtub enjoying sea views. A private terrace with another seating area is very large and has delightful views of the pool area. From here, we can also see the rooftop terrace.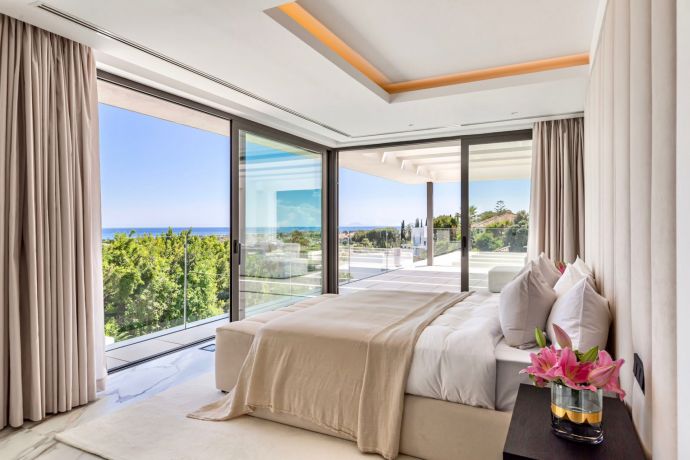 THE ROOFTOP TERRACE.
This rooftop terrace with a 360 degrees view will definitely be a favourite location. Here, we have an outdoor kitchen with a barbecue, beautiful sun beds, and a very spacious Jacuzzi. The panoramic sea views are amazing, and you can even see the Paraiso Golf Club. If you are interested in viewing this property in person, please leave an inquiry on our website, and it will be a pleasure for us to show this beautiful home to you.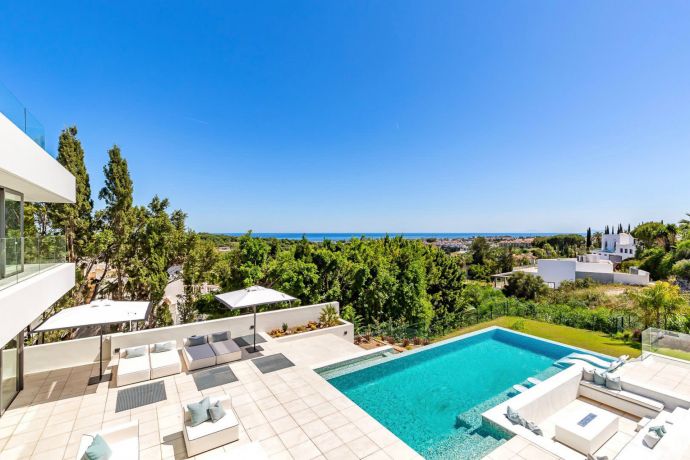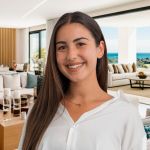 Community manager
Salma Hwedi
Salma was born and raised in Marbella, she is Spanish/Libyan and speaks fluent Spanish, English, and is currently learning Italian.…