Inside €13.5M Luxury Villa in Marbella's Beverly Hills, Sierra Blanca presented by Artur Loginov
By Artur Loginov on - 7m. reading time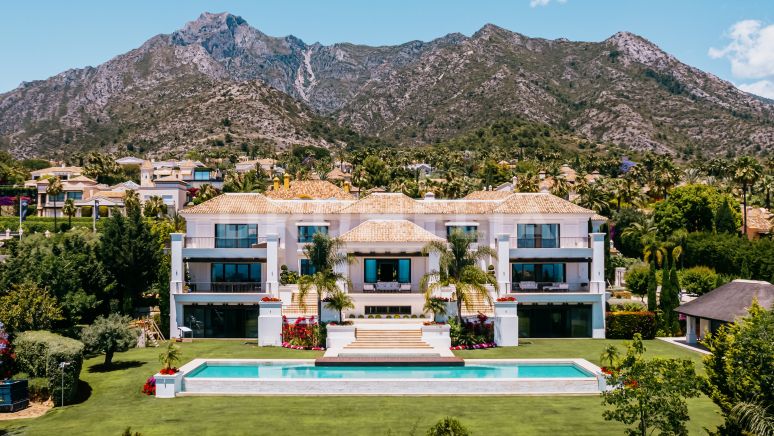 Welcome to another property tour from Drumelia! We are right in the middle of Sierra Blanca, one of the top urbanizations in Marbella. Around 250 properties, security, stunning sea views and only 5 minutes away from the main city locations. This time I am showing you an elegant, palatial style mansion listed for 13.500.000 euros with gorgeous panoramic views to the sea! It has the best of Mediterranean, contemporary, classical, and even modern tendencies! Directly from the developer, it is for sale exclusively by DRUMELIA in collaboration with PRESTIGE EXPO.
Some years ago, we sold two plots to this owner, and he decided to join them to create a platform of 5.000m2 and build this singular, I would say epic property of 1.800m2. Initially built for himself, but eventually listed for sale. You will notice that the qualities are top, and there are a lot of particularities to this house, and details custom made to the owner's desires, but therefore even more interesting and singular! Everything was done to its best, to meet the owner's expectations!
And the team that worked on this house is one of the best in Marbella. I would like to mention Diego Tobal who was the architect. Known for his mansions in Zagaleta he managed to bring his concept and adjust it to this location, and tailor made to owner's special criteria's, creating this amazing piece of real estate!
The house could be both, excellent permanent residence, and a wonderful Holliday home. It is completely private and hidden amongst other houses, not visible at all from any street.
Its planned to fit a big family with guests no problem! To give you an idea, this house has a total of 6 living rooms and tv rooms. It really is a fantastic detail. You have 7 suits and 1 staff apartment, and when the house is full, you don't really want everybody cluttered in one living room and its great that everybody can have their own space if needed. A smart distribution idea.
The house has a perfect symmetry, such a magnificent façade. A true statement! Beautiful solid architecture with authentic Andalusian tyles on the roof. I am just mesmerized by it!
The house is only partially furnished, giving the option to adjust the design to the new owner's taste. The main floor has the standard, living, dining, kitchen, and two suits. Upstairs we have master corner to the left and office with two suits to the right.
The basement with direct access to the garden, very important, has a spa, gym, huge games room, 2 bedrooms, and independent staff apartment with its own access.
There is also a garage for 3 cars, with an infinite amount of exterior parking!
And I hope you noticed the size of this pool! I am not just walking around here for nothing! 25 meters long. It is also heated and has a motorized cover... I think it is the biggest pool we have yet shown!! But still looks tiny with the house behind!
I hope you have a good idea! So, let us see the rest! Get ready and let's go!!
ENTRANCE TO THE HOUSE
Massive hallway with two imperial staircases leading to the upper floor is the starting point of the house! 7m height and 30m2. Impacting, with views across the living room to the Mediterranean! You have the famous travertine marble on the floor.
LIVINGROOM / TV ROOM / DINING
The main living area is divided into 3 parts and together they are over 100m2. With a height of 8m in the middle, the adjacent rooms have a very cosy feel due to the game of heights. You have german Schuco windows. Gas chimney that separates the two ambiences. Great tv room over here which adds that extra space that you need in such a house.
And we continue to the dining. Beautifully set, more like a family area. With 320 sunny days in marbella you can have a huge dining table on the terrace and keep this area very intimate which I think is great! Also, cool detail of the wine cellar with temperature control, incorporated as a design element. I believe its very handy to be able to reach the wine with your hand whilst you seated dining… and dangerous too!
KITCHEN
I don't know about you, but I just love kitchens that are big enough to fit the whole family. The concept of spacious kitchens with lounge areas and different breakfast and dining spots Is just fantastic…! At the end of the day all this equals to quality of life. That is why you have renowned architects, so they design and style a quality of life for you in your home….
This kitchen has 70m2 and in that wall we have a hidden door that connects us with a second small kitchen and the garage that I mentioned before.
And naturally the kitchen, as did the Livingroom, connects us directly to the terrace.
TERRACE
The outside covered terrace is enormous and doubles the indoor living space. Split in different areas there is an excellent space for everybody.
The views are magnificent!!!
There is another secondary access to the bottom part of the plot which serves perfectly for the gardening, maintenance, or catering and entertainment team, if you decide to throw a party!! I tell you; 200 people will fit in here and you won't even notice!
GROUNDFLOOR BEDROOMS
On this wing we have two bedroom suits, both accessed from the main terrace. They have a total size of 38 and 26m2. Fantastic qualities as seen in the rest of the house. And they share a 35m2 living room just for these bedrooms, away from the rest of the house. Its own great private corner. Also, you have all this extra wardrobe space for bed linen, towels, suit cases, on each floor. More wardrobe space here. And the Lift that connects all floors.
OFFICE UPPER FLOOR
Logically coming out of the lift you have your office. People can arrive directly from the entrance, use the lift, and come to your office without going through the rest of the house. I tell this property is very well thought through! Office has a very decent size of 30m2. No need to have more. Has a full working wood chimney. Great office space! When you need a bit of motivation or order your thoughts, you just come here and enjoy the best views of Marbella has to offer you!
BEDROOMS UPPER FLOOR
Stepping out, through this door we have again a Livingroom that is planned for this two bedroom suits. The sizes and qualities are identical as downstairs. Here the bedrooms enjoy a fantastic view. So you get a great idea of the distribution and concept of this block of the house, we had 2 bedrooms with living here, we have same 2 bedrooms with living on the ground floor… and there are another 2 bedrooms with a Livingroom on the basement with direct access to the garden!! And now let's go to the wing on the other side where we have the master bedroom!
MASTER BEDROOM
The master suit is 150m2 + 70m2 terrace. Fantastic size! Wide long corridors. You have the bathroom to my left which is 32m2 with amazing bathtub in the middle next to the window…wait for the views! Huge shower, double vanity of course, lots of space. There is another toilet at that end. Over here is this huge walking closet. Ideal size to fit all your things. More wardrobe space here and here. And what a bedroom! Marvellous ceiling hight with a perfect square shape. The bed enjoys the best views of the house. And yes, now I'll show you the views.
Commanding breath-taking view! You have the whole panorama of marbella, puerto Banus, the Mediterranean, Gibraltar, and Africa. Waking up to such a view, must be on the bucket list! Time just stops up here… this is life! And what beautiful sunsets you get here!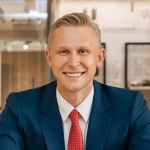 CEO & Partner
Artur Loginov
Artur Loginov is the CEO and proud Partner of Drumelia Real Estate. He has over a decade of knowledge and…