Skiing in Spain – All you need to know
By Salma Hwedi on - 7m. reading time
When you think of Marbella, the first things that usually come to mind are the sea, sand and sun. Marbella is recognised as having some of the best climates globally, all year round. Marbella, and Spain as a whole, is definitely not on the list of places people would choose for skiing, especially as countries like Italy, France and Switzerland are so close. But, people sometimes need to remember that Spain hosts several ski resorts throughout mainland Spain, which are very popular destinations for locals and foreigners during winter.
Although a hot country, Spain has the most diverse geographical attributes in Europe, so it should be no surprise that resorts are dotted around the country. From the northern border with France to Southern Spain, you'll be surprised by what you can find in one of Europe's hottest countries.
But why should you travel to Spain to ski, out of all places? Considering Spain is not known as a "skiing" destination, it is much cheaper to enjoy snow sports here than in other European resorts. Furthermore, the ski resorts are all conveniently located near Spanish airports, meaning it is easier to get to a resort compared to places like Switzerland. And finally, as the resorts are located next to Spanish cultural hubs, you can also get a lovely holiday out of your time in Spain by visiting cities like Madrid, Granada and Galicia.
SIERRA NEVADA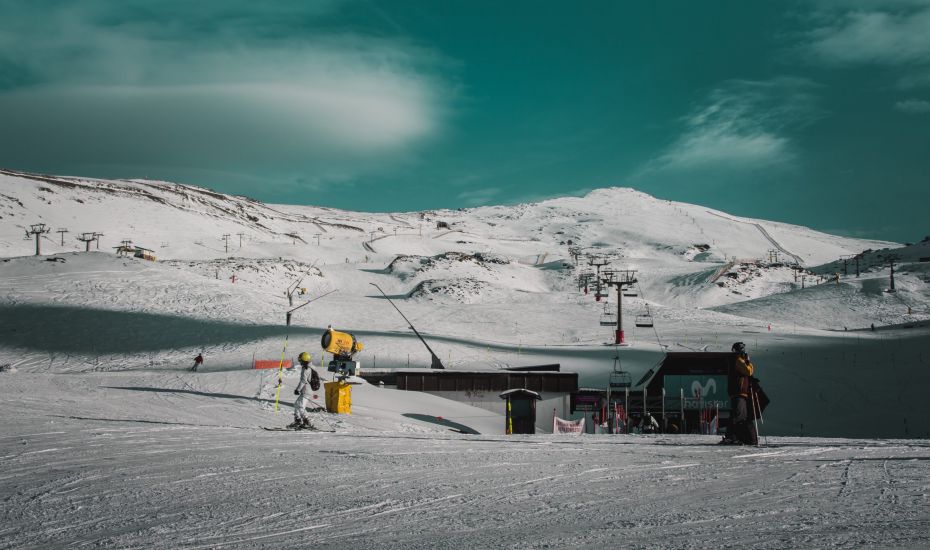 Granada is a southern province in Spain belonging to Andalucía, right next to Málaga. It may come as a surprise to many that there is actually one of the most famous ski resorts sits in Southern Spain. Sierra Nevada ski resort sits on the Iberian Peninsula's highest mountain - El Mulhacén (3,479 metres). To think, one day, you could be sunbathing on a beach in Marbella, and 3 hours later, you could ski on the slopes of the tallest mountain in mainland Spain. It is a favourite spot to visit for people who spend their Christmas in Marbella.
In recent years, with changes in climate patterns, snow machines have been bought every year to ensure there is plenty of snow on all slopes. The ski season in Sierra Nevada lasts from December to early April. You can also ski at night on the slopes in the Sierra Nevada.
Sierra Nevada is also conveniently located next to two essential airports: Malaga Airport (AGP), which is a 2-hour drive away, and Granada Airport (GRX), which is 58 minutes away by car.
Distance from Marbella:
Via the A-92: 2h 29 min, 220 km by car
Via the A-7: 2h 43 min, 240 km by car
Via the A-357 and A-92: 3h 02 min, 247 km by car
General Information:
The tallest elevation of the resort is 2,100 metres. The resort can be accessed by car or by bus from the Granada Coach Station, which is an hour bus journey and can cost around €10 for a round trip, which should be purchased at the
Sierra Nevada Slopes:
Green Slopes - 19
Blue Slopes - 45
Red Slopes - 53
Black Slopes - 4
Total number of Slopes - 121
The Sierra Nevada also accommodates halfpipes for those who prefer snowboarding.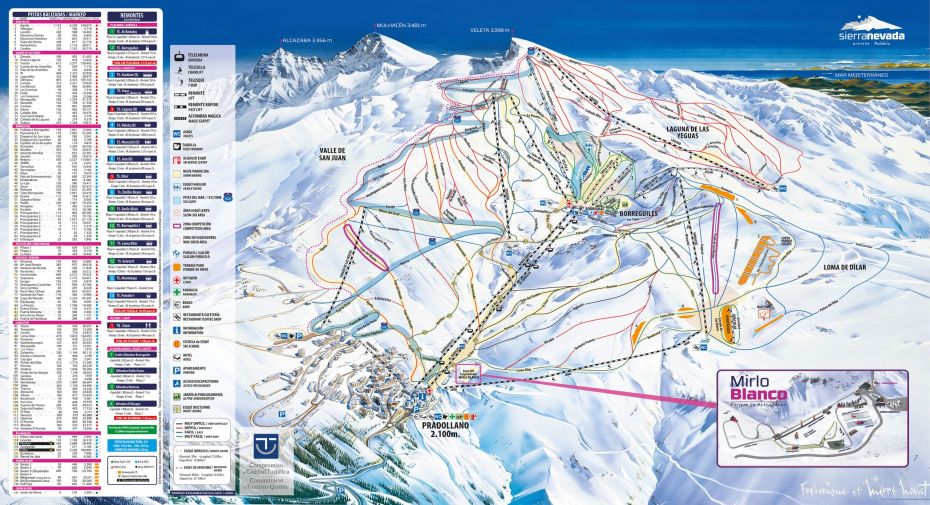 PYRENEES
The Pyrenees is a mountain range that separates the Iberian Peninsula from its neighbouring country of France. With it being less than 4 hours away by car from Barcelona, it sits at 3,400 metres in elevation and spans 430km; it is also known for hiking trails and hosts various ski resorts on both sides of the range.
The appropriate airports to land to access the Pyrenees are either in France - Lourdes/Tarbes Airport (LBE), Pau Airport (PUF) or Toulouse Airport (TLS) - or in Spain - Girona Airport (GRO), Lleida Airport (ILD) or Barcelona Airport (BCN.
For this blog, we will be dividing the Pyrenees into sectors: Catalan, Andorran and Aragonese Pyrenees.
Catalan Pyrenees Ski Resorts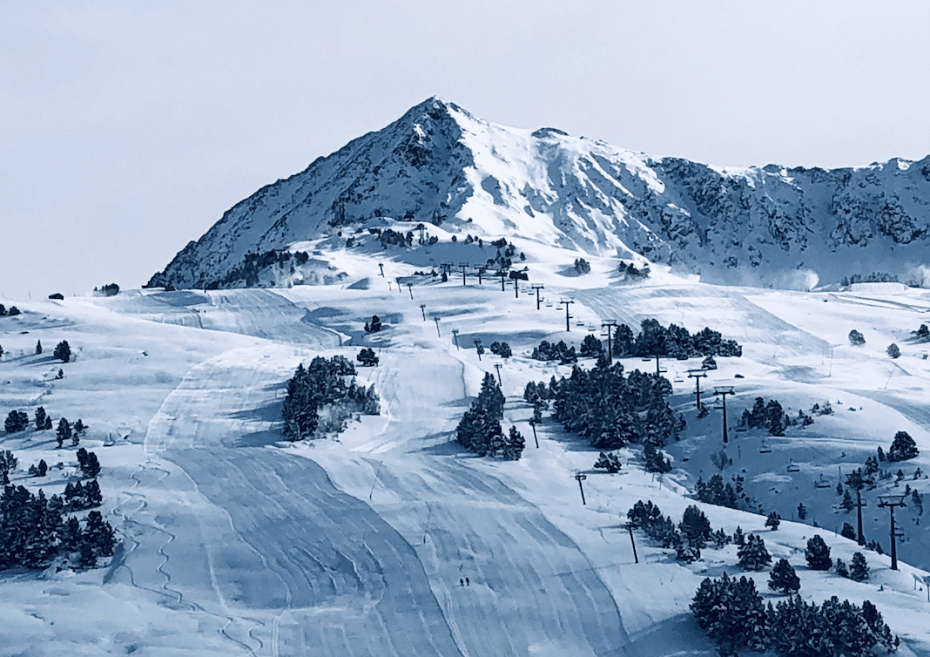 Baqueira/Beret: this resort is ideal for skiers of all levels. It has 4 designated skiing areas: Beret, Baciver, Baquiera and Bonaigua.
Boí Taüll: This resort is home to the highest skiing areas in the Pyrenees. With home being in the Boí Valley, UNESCO declared it a Starlight destination. This is also an excellent destination for all-level skiers.
Espot: This is a resort dedicated to families and designed for new skiers and those who enjoy skiing away from larger crowds.
La Molina: This is one of the oldest ski resorts in Spain, it offers 61 km of skiable areas which are spread across 54 ski trails.
Masella: With an elevation of 2,635 metres and 69 trails, the ski resort has one of the longest seasons in the Pyrenees.
Port- Ainé: This family-friendly resort extends from 1,650 metres elevation to 2,240 metres over 25 ski tracks for everyone to enjoy.
Vallter 2000: This breathtaking resort is for those who really love to ski, and also adapts to families. Spanning the Alpine area from 1,910 to 2,535 metres, it boats 13 trails and is the most eastern resort of the Catalan Pyrenees.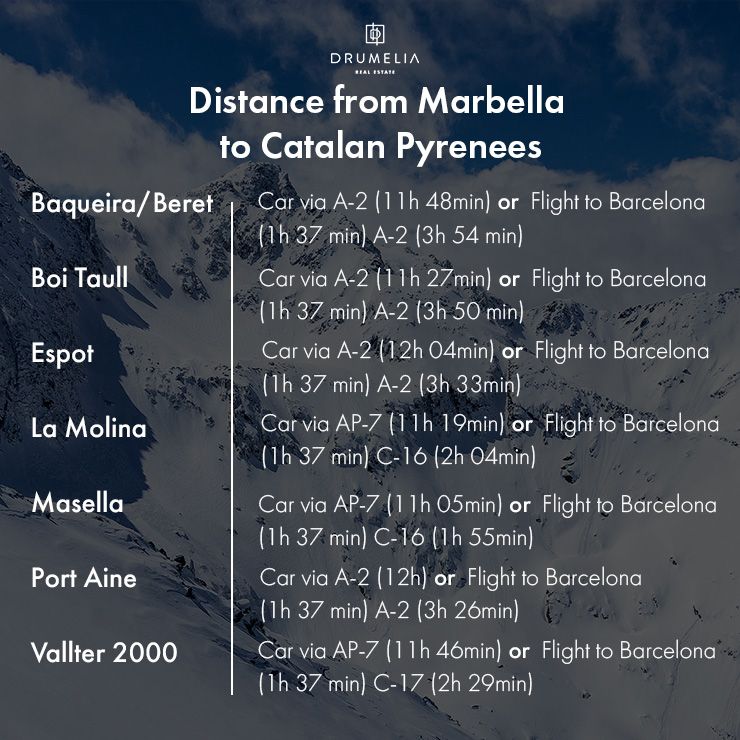 Andorran Pyrenees Ski Resorts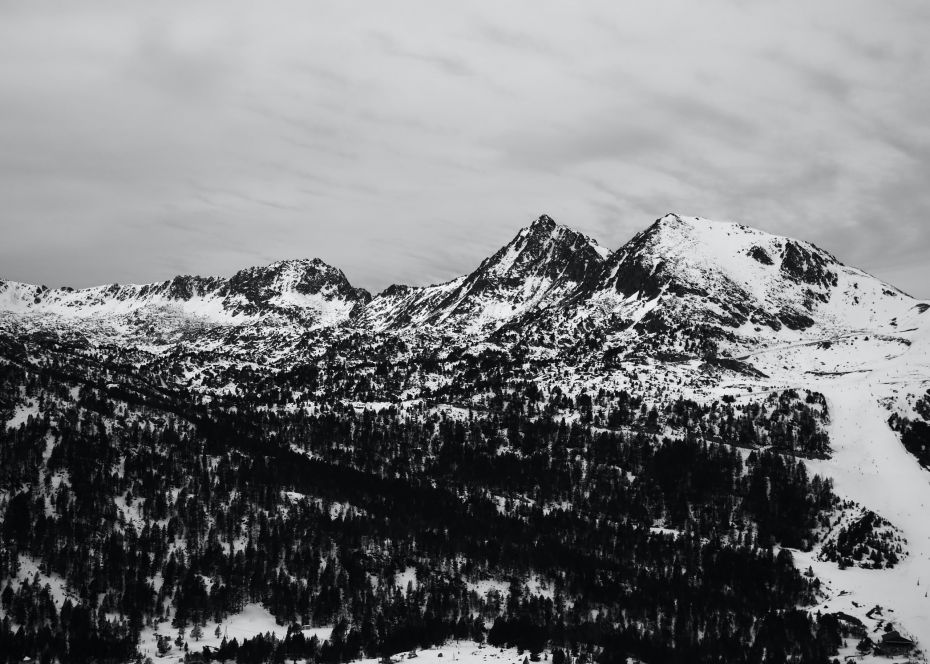 Arinsal: This ski resort is ideal for beginner skiers looking to learn the tricks of the trade. However, it also is suitable for intermediate skiers also.
Ordino-Arcalis: This resort is more remote than others, but that allows for high altitudes and less crowds of skiers. This resort accommodates all types of skiers, from beginners to advanced, it has it all.
Pas de la Casa-Grau Roig: These 2 once-independent ski resorts joined forces to create the most extensive ski area and highest lift-served terrain in Andorra. Now, they boast 186km of ski trails.
Souldeu-El Tarter: This resort boasts 1747 acres of skiable terrain for skiers of all levels, with a capacity of 38,480 skiers per hour. With 54 skiing trails, you'll definitely make the most out of the sport.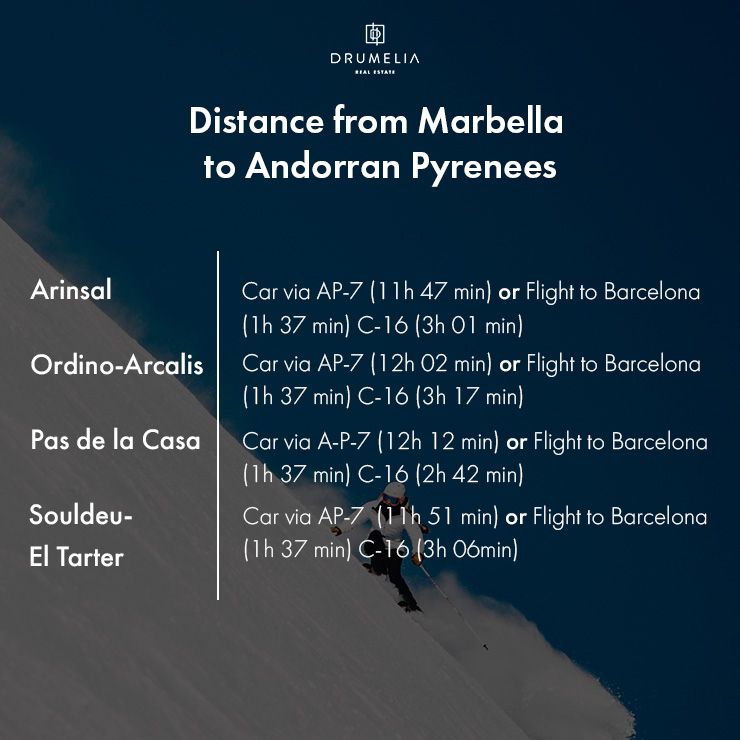 Aragonese Pyrenees Ski Resorts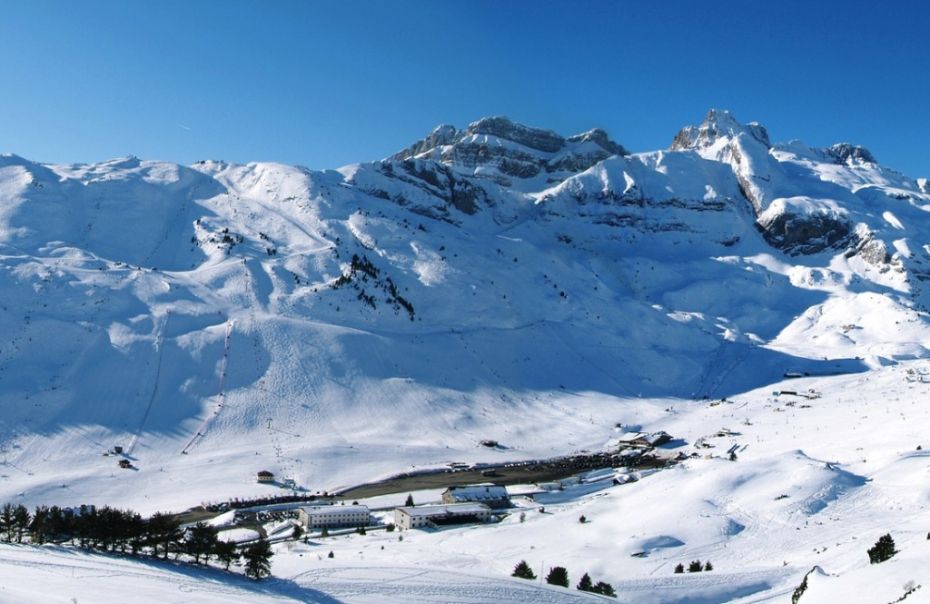 Astún: This resort sits offers slopes ranging from 1,658 to 2,300 metres in elevation and boasts 50km of skiable areas to enjoy. While it is a family resort, it has also become a reference for snowboarding in Spain.
Candanchu: This is the oldest ski resort in Spain. It has a top elevation of 2,400m and boasts 59 km of skiable slopes. Divided into 4 areas, it adapts to all levels of skiers.
Aramón Celer: This ski resort has 79 km of ski trails and is ideal for skiers of all levels; and also doubles as a fantastic hiking and mountain biking route in summer.
Formigal-Panticosa: Spread across four different valleys, this family-friendly ski resort boasts 143 km of ski slopes for everyone to enjoy.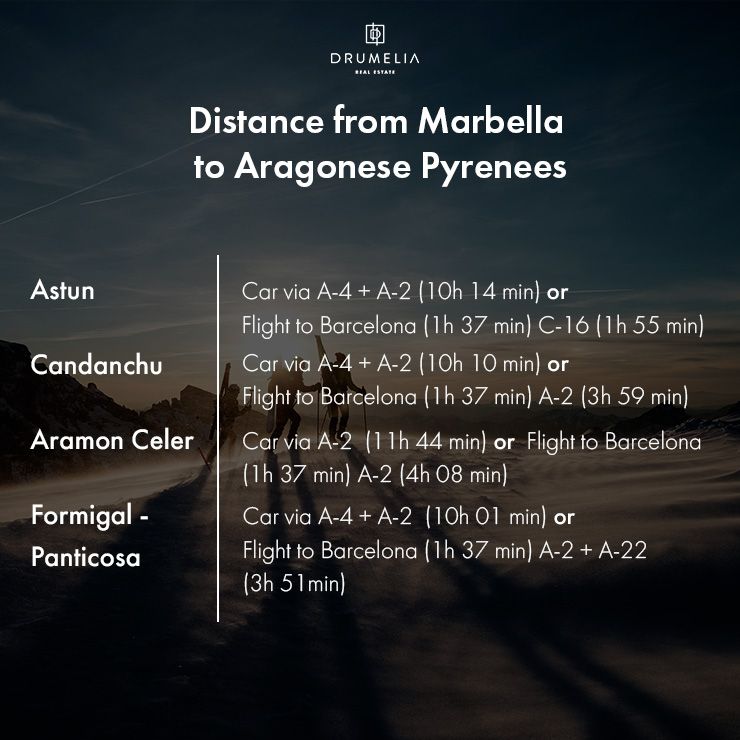 SNOW ZONE MADRID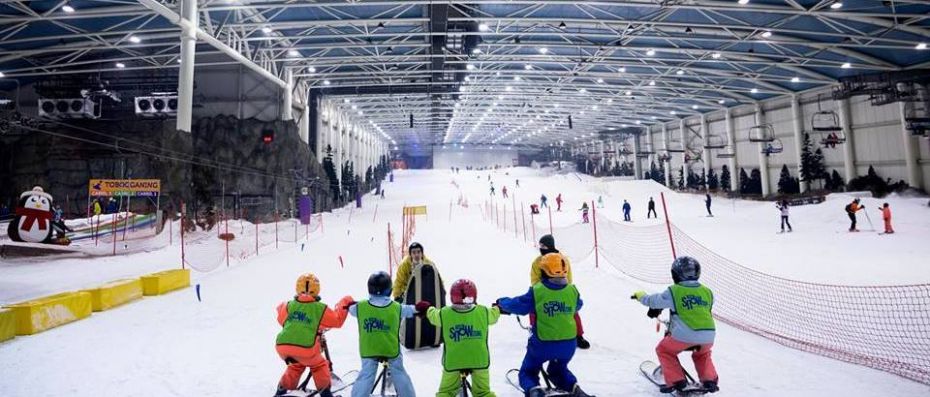 Distance from Marbella:
Via the A-4: 5h 30 min, 596 km by car
Via the A-45 and A-4: 5h 40 min, 613 km by car
Via the A-45: 6h 04 min, 611 km by car
Spain has also incorporated ways for people to enjoy the snow even when in the capital. So, if you have some spare time whilst visiting Madrid, you can enjoy a couple of hours of skiing.
Located in the Xanadu, one of the largest shopping centres in Madrid, it boasts 18,000 m2 of snow to ski. You can receive ski and snowboarding lessons here before hitting the real slopes. You can have lessons either in a group or private lessons.
To find out more about lesson pricing, be sure to check out their website.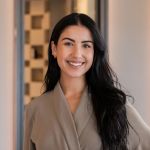 Collaborator Salma Hwedi