4 Villas for sale in La Reserva de Alcuzcuz, Benahavis
Showing 4 villas for sale in La Reserva de Alcuzcuz, Benahavis.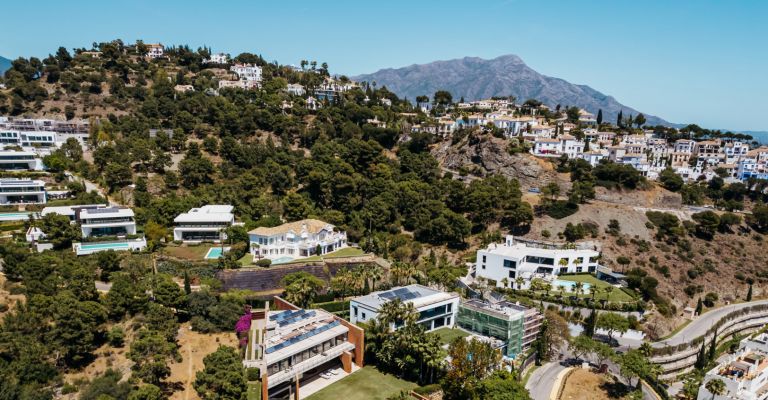 Luxury Villas for sale in La reserva de Alcuzcuz
Discover the pinnacle of luxury with Drumelia Real Estate's hand-selected villas in the exclusive enclave of La Reserva de Alcuzcuz, a tranquil hideaway nestled in the rolling hills of Benahavís. Each villa in our collection offers a unique vista of the resplendent Mediterranean and lush Andalusian countryside, embodying the essence of luxury living. These prestigious homes provide unparalleled privacy and elegance, featuring contemporary design with timeless appeal, expansive living spaces, and sumptuous amenities such as infinity pools, landscaped gardens, and state-of-the-art finishes. Inhabitants of La Reserva de Alcuzcuz enjoy a secluded lifestyle within minutes of renowned golf courses, the bustling marina of Puerto Banús, and the historic allure of Marbella's old town. Embrace the ultimate expression of sophisticated living with a luxury villa in La Reserva de Alcuzcuz, offered exclusively through Drumelia Real Estate.
La Reserva de Alcuzcuz Real Estate
You can continue your La Reserva de Alcuzcuz property search by available property types or exploring the different La Reserva de Alcuzcuz neighborhoods. Drumelia's team works hard daily to bring you every good investment or property for sale that hits the real estate market in La Reserva de Alcuzcuz. Please, contact us if you have any doubt about La Reserva de Alcuzcuz and Benahavis Real Estate options.