A Guide to Christmas in Marbella
By Salma Hwedi on
Christmas is a magical time of year across the world for everyone. And in Spain, Christmas is filled with unique Spanish traditions and customs. Unlike other countries, Spain's holiday season extends over a longer period of time. The festive season begins on the 8th of December and ends on the 6th of January. However, the festivities continue after the 6th of January with the after-Christmas sales.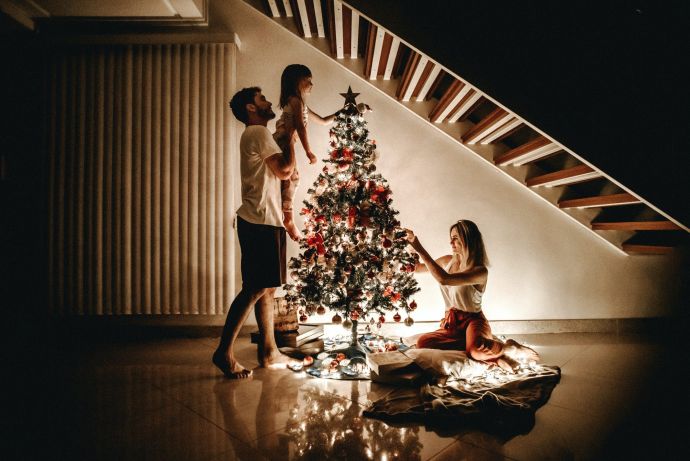 The Immaculate Conception - The beginning of the holidays.
Spain celebrates the "Día de la Inmaculada Concepción de María", considered a national public holiday. Spaniards come together for a night of food, song and dance to celebrate a deeply religious event. Many families and friends attend their local church and share a meal. Statues of the Virgin Mary are paraded through the streets, locals sing, and fun festivities keep you up until the early hours.
The celebration doesn't stop there; the festivities continue into the next day with the Baile de los Seises (Dance of the Sixes), when children take centre stage in Sevilla's Cathedral in celestial costumes and traditional medieval clothing. Several cathedrals have also adopted this tradition across Spain in provinces like Granada, Cádiz and Toledo. This feast is a big deal in Spain and the kick-off to the Spanish holiday season.
Spanish Christmas traditions.
Christmas tree.
Spaniards love Christmas for its Christmas trees. Traditionally, those in the north of Spain decorate a Spanish Fir Pinsapo, whereas those in the south typically decorate pine trees. In Spain, it is tradition to place and decorate your tree as a family on or after the 8th of December. But really, many people opt for the 1st of December.
It is one of the places to be filled with gifts from the Three Wise Men, known in Spain as "Los Tres Reyes Magos". It is not commonly known that Santa Claus is not the main symbol of gift-giving in Spain, but it is the Three Wise Men who visit children's houses during Christmas. And what's more, children do not open their presents on the 25th of December, but on the 6th of January.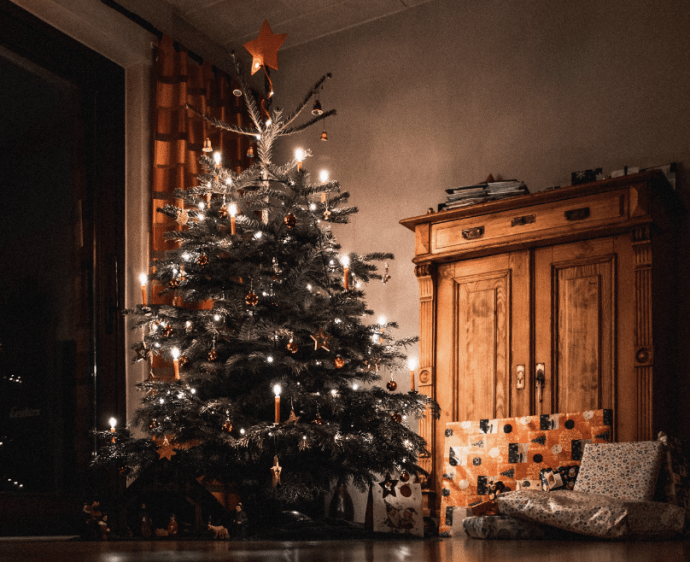 Belén.
A Belén - also known as Nativity scenes - is one of Spain's most common Christmas traditions. Spaniards take great pride in setting up their nativity scenes depicting the birth of Jesus. They come in all shapes, sizes and styles, each household having its unique touch. The scenes include figurines of Mary, Joseph, Baby Jesus, the Three wise men, angels, shepherds, animals and whatever they so desire. You will also find many Belén's on display over every town and city in Spain, such as in shop windows, churches, public displays and, of course, in many Spanish homes.
Marbella town also displays a Belén organised by the Marbella town hall and the Nativity Association (Asociación Belenistas de Marbella) in the Plaza de la Iglesia de la Encarnación in Marbella Old Town for everyone to enjoy. San Pedro de Alcántara also has its town hall organise and display a large Belén for the public to enjoy yearly.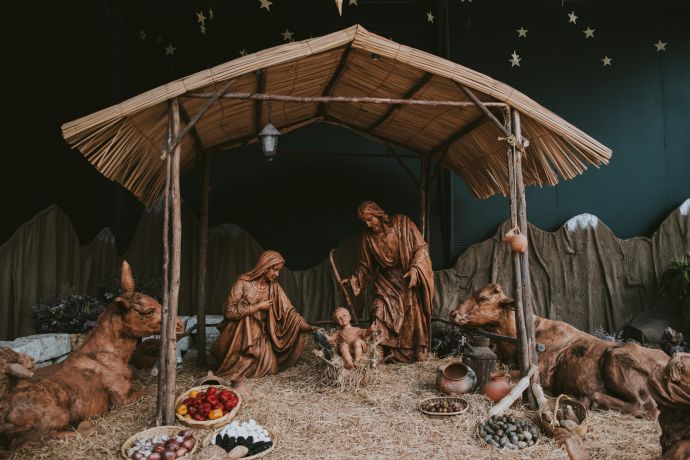 Belénes Vivientes.
One of the most enchanting features of Christmas in Andalusia is the live nativity scenes hosted in Andalucían towns, where the locals dress up as famous Nativity characters alongside four-legged actors like sheep and donkeys to bring the experience to life. Cádiz, our neighbouring province, is renowned for its creative live Nativity scenes. Marbella is less than a 2-hour drive from Cádiz, so if you fancy checking out some more Spanish Christmas Traditions, you're only 176 km away!
Nochebuena.
Christmas is the most family-oriented celebration in the whole world.
In Spain, we celebrate Nochebuena. Nochebuena - known as Christmas Eve in English-speaking countries - falls on the 24th of December and consists of families and friends gathering to enjoy a traditional Christmas feast. Families usually take the opportunity to assign an elegant dress code and will commence eating between 21:00-22:00.
Feasting and drinking will continue late into the night, with some families still finishing their meals when the chapel bells chime at midnight, calling for the Midnight Mass or 'La Misa Del Gallo' (The Mass of the Rooster). Many families attend it and listen to the choir sing. With Catholics making up over half of Spain's population, the Christmas church services are a significant part of Christmas. Many continue the party by dancing into the early hours of the 25th of December.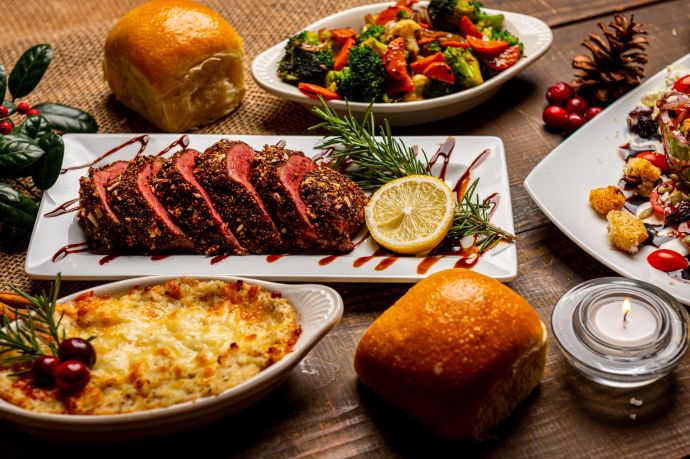 The exquisite Spanish Nochebuena meals start with a tray of assorted mouth-watering starters, a wide variety of rich cheeses, Spanish ham, olives, preserves, pickles, and Iberian delicacies, and most importantly, plenty of seafood. It's hard to believe that these tend to be just starters. The first course arrives, typically involving a stew or a soup - known as Caldo in Spanish. The typical Christmas dishes are oven-baked fish, seafood, shellfish soup, rotisserie meat, stuffed turkey or roast lamb. Sparkling cava, a good bottle of red and white wine, and ciders accompany all these dishes. When making your toast, you say "Salud" which means "to good health"; another more informal version is "Chin-chin", a favourite amongst the Spanish population.
For dessert, there is no shortage of polvorones and mantecados, which are almond-based heavy, soft, and very crumbly Spanish shortbread sweets:
Mantecados are typically made with lard, which is "manteca" in Spanish.
Polvorones, on the other hand, get their name from the fact that they are sprinkled with powdered sugar, which translates to "azucar en polvo".
Amongst the types of sweet treats that are only eaten during Christmas are:
Mazapán - which is Marzipan - is a popular baked Christmas-shaped treat.
Turrón - Nougat - is a traditional almond honey nougat sweet of Moorish origin and is the real star at the dessert table for many Spaniards.
These delicious Christmas sweets are best paired with a glass of cava, wine or champagne.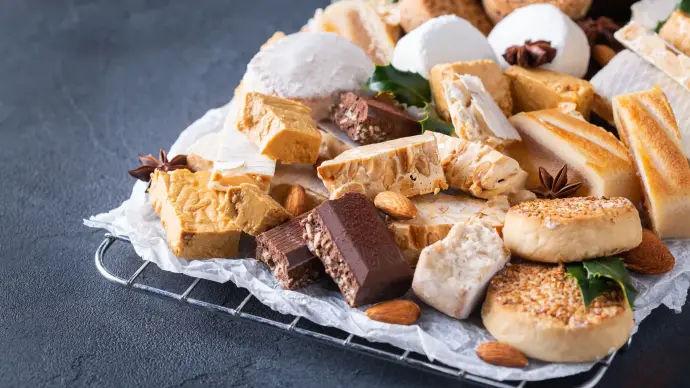 Villancicos.
What better way to fill the season with holiday cheer than with a good song to sing?
Spanish carollers perform Spanish Christmas carols, commonly known as "Villancicos" in Spain. With the Villancico traditions dating back many years, today's familiar melodies playing out of shops and markets and sung by children are a definite sign that the festive season has begun. Most Villancicos have religious-themed lyrics and are very melodic in tune. Two instruments are the most common to accompany any caroller:
Pandereta, which is Spanish for Tambourine.
Zambomba, which refers to the traditional Portuguese instrument called Sarronca.
One of the most popular Villancicos is the Spanish translation of "A Silent Night" in Spain called "Noche de Paz". And of course, a favourite for many worldwide is "Feliz Navidad (I want to wish you a Merry Christmas)".
Other notable Villancicos are:
Ya Vienen Los Reyes Magos (Here come The Three Kings)
La Marimorena (a reference to The Virgin Mary)
Los Peces en el Rio (The fish in the river)
Blanca Navidad (White Christmas)
Hacia Belen va una burra (A donkey makes her way to Bethlehem)
One can enjoy the competitions of Villancicos by various Marbella schools in Plaza de la Iglesia in Marbella's Old Town, celebrated at the beginning of December, with dates varying each year. In the traditional flamenco environment of southern Spain, different flamenco song patterns known as 'Palos', classified as alegrías, bulerías and tangos, are present in the rhythm of local compositions. These Villancicos have become emblematic of Andalusian popular culture and are a joy to listen to.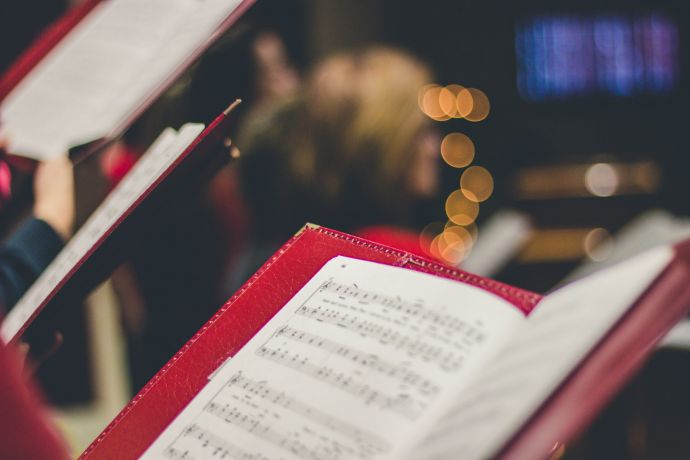 Christmas Lights and Decorations.
Malaga is home to some of the country's most beautiful Christmas light displays. Calle Larios, the pedestrian and shopping street in Málaga, is home to Malaga's leading Christmas lights. Every year, thousands gather in Calle Larios at the end of November to witness the lights turn on for the first time. From its inauguration, the lights switch on during the evening, and the performance of famous Christmas songs and Villancicos accompanies various light shows. The Concepción Botanical Gardens in Malaga also twinkle with lights from 18:00 to 23:00 from November 27 to January 9 as a Christmas tradition.
A new feature implemented by the Cathedral of Málaga is an audiovisual light show projected on the cathedral's south tower, immersing everyone in the holiday mood. The projections include scenes of celebration, seasons, festive imagery and much more.
The Costs del Sol lights are also beautiful. Marbella lights up with enchanting holiday decorations and invites all to walk through the atmospheric Plaza de los Naranjos and narrow streets around Old Town, as well as San Pedro and Estepona with their nativity scenes and shiny ornaments.
El Corte Ingles and La Cañada are excellent shopping centres to shop for Christmas-related ornaments to purchase. Local garden centres such as Agrojardin or Viveros del Valle are best for buying poinsettias and other Christmas plants.
Most importantly, many charity shops around Marbella have plenty of decorations to purchase. Best of all, your contributions will go to a good cause and help those in need during the holidays.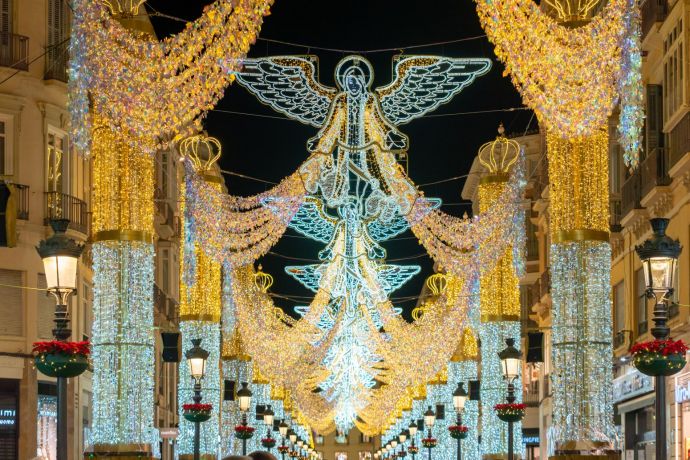 Christmas Lottery.
The Christmas Lottery is the biggest and most popular draw of the year in Spain. The "Sorteo Extraordinario de Navidad" has been celebrated every year on the 22nd of December has been since 1812, making it the second longest-running lottery in the world. Ticket sales can start as early as July for €20.00 for 1/10th of a ticket. On the morning of the 22nd of December, millions watch the famous calling of the lottery numbers on La 1 de RTVE, Spain's main television broadcasting channel.
Although many prizes are handed out during the lottery, the most important is what is known as "El Gordo" in Spain, awarding the winner with a life-changing sum of money. Many families, friends and even work colleagues buy tickets with hopes of winning and sharing the winnings. It is also a prevalent gift to give people around Christmastime.
The second-largest draw of the year is El Niño Lottery, which takes place on January 6th, which is Three Kings Day in Spain, where you can win up to €2.000.000.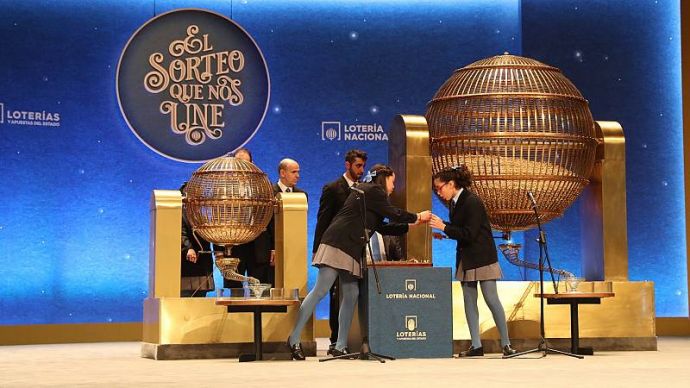 Roscón de Reyes.
The traditional food on this day is Roscón de Reyes, a sweet, crown-shaped brioche cake often filled with either custard, chocolate or cream and topped with dried fruits and icing sugar. This cake is only ever baked and sold during the Christmas holidays, and many people only love this time of year because of the cake. A fava bean and a small figurine are hidden inside. Whoever finds the figurine in their slice is said to be blessed with good luck for the whole year. Who gets the bean will have to pay for next year's cake. It's a fun Spanish Christmas tradition and an excellent way to top off the festive season.
What to do during Christmas in Marbella.
Marbella has many Christmas events to entertain people of all ages. Apart from the Marbella town centre, activities occur in areas such as San Pedro de Alcantara, Nueva Andalucía and Las Chapas. The Marbella Town Hall also provides an extensive Christmas programme of shows, concerts and contests suitable for everyone. You can keep an eye out for the programme on their website.
Marbella is known for its bustling nightlife and glamorous restaurants, bars and clubs. These venues have Christmas decorations to set the festive mood and enjoy. Most of these are located in Puerto Banus and the Golden Mile, so you can jump from place to place and find the right atmosphere.
We advise you to book the restaurants you would like to visit over Christmas with plenty of time in advance. With locals and foreigners choosing to spend their Christmas in Marbella, restaurants are bound to be fully booked come December.
Those who miss Santa can meet him in Marbella. Santa Claus arrives at Marbella Port by boat and parades around the town yearly. You can also visit Santa at La Cañada Shopping Center, where most years he arrives by helicopter. In January, the same is repeated with the Three Kings, who travel down to Marbella to celebrate alongside everyone. The local town hall announces the fixed dates for the meeting once established.
Are you planning to avoid holiday stress, escape the routine, feelings of obligation and over-commitment to social plans? Then it's time to wear your skis or snowboard boots and live a different experience this holiday season. The distance to Sierra Nevada, one of the best destinations for skiing at Christmas, is only a 2-hour away. Surrounded by snow and with the sun shining, Sierra Nevada is the ideal place to spend your Christmas. The ski resort offers a list of activities to delight adults and children. At the end of December, Sierra Nevada opens the door to the practice of night skiing, a unique experience that you don't want to miss.
Marbella boasts 320 days of sun a year, so don't be surprised when you see plenty of people celebrating their holidays on a beach or by the coast. With plenty of Christmas activities spent outdoors as well, it is the perfect place to celebrate. We have guides on making the most out of the outdoors in Marbella and winter in Marbella, which can be helpful during the festive season.
Helpful information about opening hours at Christmas.
Banks.
Typically, the standard working schedule for banks in Spain is 09.00-14:00 from Monday to Friday. On Christmas Day, New Year's Eve, and Three Kings' Day, opening hours are from 09:00-12:00, but most banks may be closed. Make sure you check your bank branch's opening hours plenty of time in advance. Meanwhile, ATMs and online banking services are operational throughout the holidays.
Stores and supermarkets.
On December 24th, most stores will remain open until their regular closing hours.
El Corte Inglés in Marbella keeps the doors open on December 24th and 31st from 10:00-20:00. On December 25th, January 1st and January 6th, the department store will remain closed. On the 24th and 31st of December, the opening time for La Cañada is 10:00-20:00. La Cañada follows the same pattern as El Corte Ingles with the rest of the holidays.
As for supermarkets, they all follow a general pattern of opening times. All supermarkets remain open until the 24th of December, but with a unique timetable that entails closing earlier that day. On the 25th of December, most, if not all, supermarkets are closed. As of the 26th of December, most supermarkets will return to their original timetable, but some will still have a unique set of opening hours. Then, the 6th of January is another day when most, if not all, supermarkets are closed for the day.
For those who didn't manage to buy presents in time, many shops and stores will extend their opening hours on the 5th and 6th of January until 11 pm and even midnight. Shopping enthusiasts looking for bargains and offers will not have to wait long, as, on the 8th of January, sales begin, increasing as the days go by, reaching up to 70% discounts on some brands.
Public transport over Christmas in Malaga province.
Trains and buses will run as normal, and you can purchase tickets online for trains and buses connecting Malaga with other cities.
Taxis will be running as usual in Marbella. There's a surcharge for taxi services on public holidays, so keep that in mind before opting solely for travel via taxi.
Uber and Bolt will operate as normals, but prices will fluctuate depending on when you book, where, and service demand.
To travel from Malaga airport to your accommodation, you can use airport transfers that allow pre-booking without payment, free cancellation and payment to the driver once at your accommodation at the fixed price you originally booked.
Restaurants for Christmas.
Marbella provides a fantastic experience of enjoying rich tastes in international cuisine and wine. And during the festive holiday season, rest assured that Marbella is ready to offer some of the best Christmas settings to enjoy.  Restaurants will all have their set of rules for opening hours during Christmas holidays. Below are a list of restaurants we recommend looking into for Christmas:
Casanis for French and Mediterranean fine dining in a festive atmosphere during the holidays
La Sala Puerto Banus is ideal for Brits who are feeling homesick on Christmas, and is very well known for its Christmas Roast Dinners.
Breathe Puerto Banus hosts a festive Christmas Eve and Christmas Day party that serves festive special dishes and those from their menu.
Sea Grill Puente Romano where you can enjoy Christmas Eve and Day by the sea, offering an indulgent 5-course menu.
We also have a guide to the best restaurants in Marbella if you want more options for Christmas dinner ideas.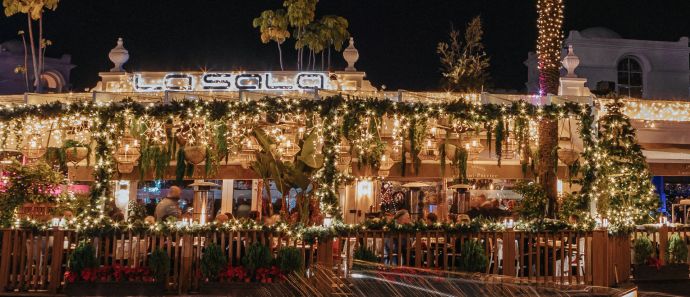 Dia de Los Santos Inocentes.
Christmas may be over for many once the 25th of December passes. But in Spain, we celebrate the "Dia de Los Santos Inocentes" - Spain's version of April Fool's Day - on December 28th. It's the day for playing harmless pranks and practical jokes, in line with a healthy sense of humour or dressing up in funny wigs, glasses and hats. Once you prank someone, you shout "Inocente, inocente!". The traditional joke is sticking a puppet or paper cut-out on someone's back.
Three Kings Day.
Spain is one of the few countries worldwide that does not have Santa as the main Christmas figure during the holidays. For many, Santa is the one who brings toys to good girls and boys. However, with how deeply rooted religious traditions are in Spain, it is indeed the Three Wise Men (the Three Kings) who are the ones to bring gifts for baby Jesus, and now, are responsible for bringing children their presents.
What also differs from many Christmas traditions in other countries is that children in Spain open their gifts under the tree on the 6th of January rather than the usual 25th of December. Although Santa Claus - Papa Noel as known in Spanish - gained as is continuing to gain popularity throughout Spain, many Spanish families have embraced the Santa tradition of opening gifts on the 25th. But, most of Spain has stuck to the Three Kings tradition.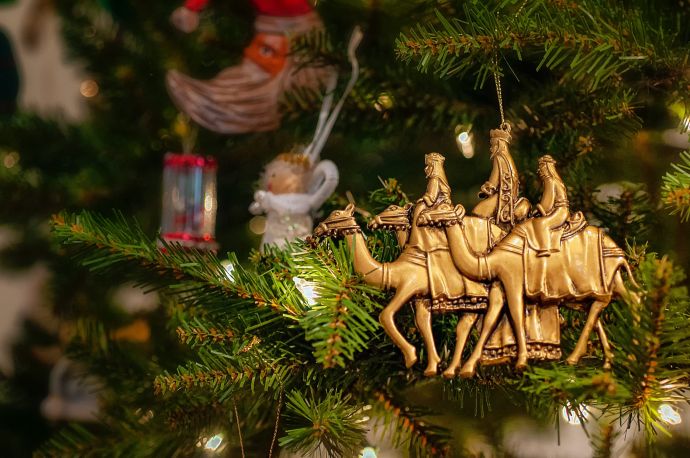 Cabalgatas.
The evening before the Three Kings (Los Reyes Magos) arrive on January 5th, families head out to the streets to watch the famous 'Cabalgata', which is a parade in honour of the Three Kings. The Three Kings and other fun caricatures and children dressed as Santa's helpers parade through the towns and cities on floats with their grand entourage and throw sweets to the children on the streets. In Marbella, the Cavalcade leaves at 18:00 in Calle Magallanes and ends 2 hours later in the Av. After having passed through the town centre streets and distributed tons of sweets, Ricardo Soriano has now become Gluten Free Candy every year. There is also the San Pedro de Alcantara Cavalcade also commences at 18:00 and parades through the town. This is a very fun Spanish tradition and is one that children across Spain look forward to every year. With plenty of sweets, music, people in costumes, floats and more, it is no wonder that children find this one of the year's happiest days.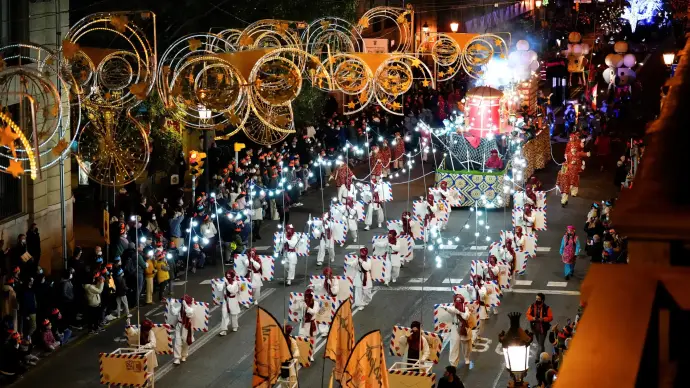 From Drumelia, we wish you a very Merry Christmas and all the best wishes for the rest of your festive season!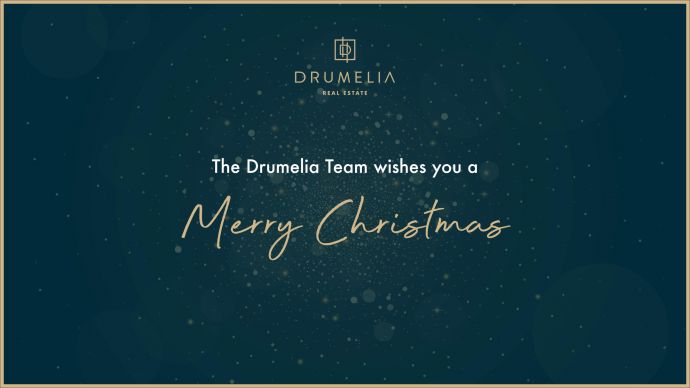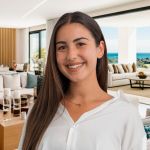 Community manager
Salma Perez Hwedi
Salma Hwedi is the Community Manager at Drumelia Real Estate. Her primary duties involve copywriting, content creation, and social media…