Top Five New Developments in Sierra Blanca
By Salma Hwedi on - 6m. reading time
Designer villas and stirring modern mansions are in high demand across the entire landscape local to Marbella, but perhaps the pinnacle of these ultra-desirable developments is in Sierra Blanca. Despite its highly exclusive nature and very limited number of properties for sale, there are some truly stunning new developments that offer something to suit the taste and style of every prospective homeowner. After many years at the forefront of design and innovation, Marbella has established itself as an architects' playground, and there's no better evidence of this than in these top five new luxury developments in Sierra Blanca.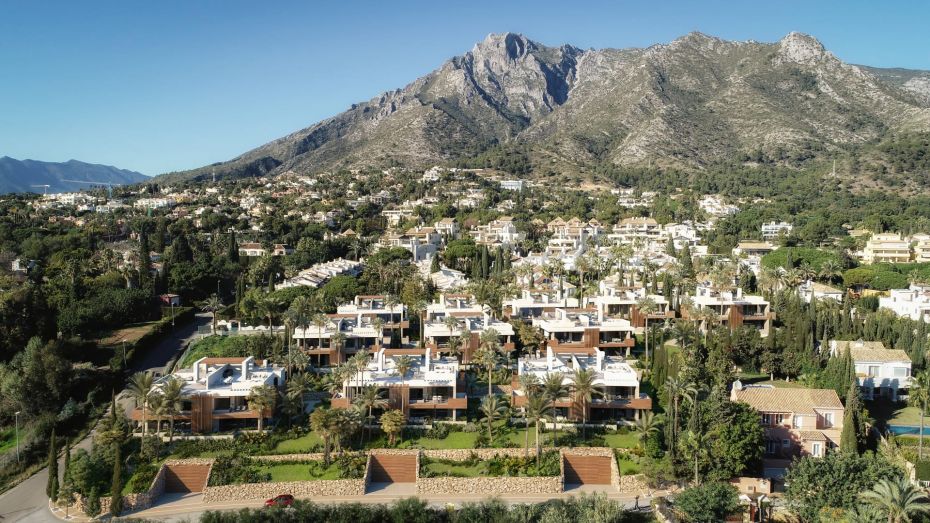 Designer Townhouses in Sierra Blanca
This select handful of chic homes offer privacy and security like nowhere else. This stunning collection of just 22 properties are oozing with a mix of modern and contemporary styling, with no compromise on form or functionality. Set within a truly inspiring location, these eco-friendly builds offer the atmosphere and feeling of living within a private natural resort.
Split over three rows, serene gardens separate the spacious plots. Prospective buyers have a choice of four or five bedrooms with bathrooms to match. Other amenities include a communal swimming pool, beautifully landscaped gardens, a 24-hour concierge service, and much more. This highly exclusive village of desirable designer townhouses offers a very unique take on luxury living – and they represent an opportunity to experience a new, more sustainable lifestyle within the ever opulent and international community of Sierra Blanca.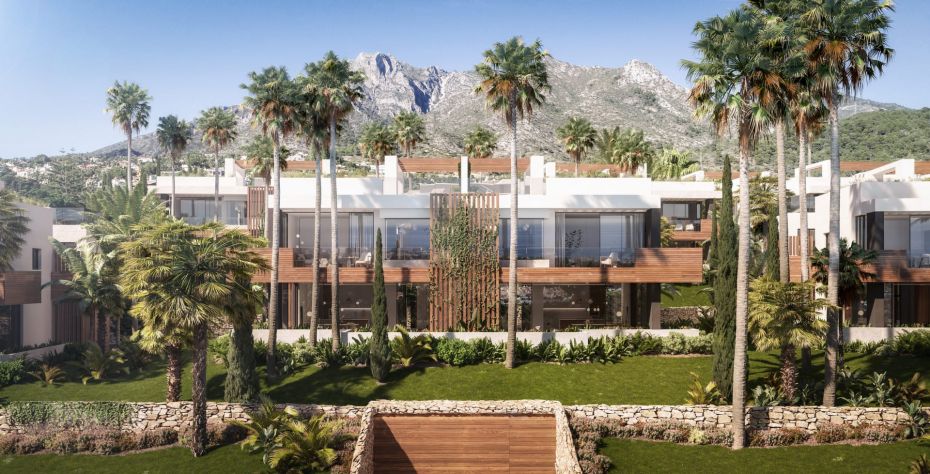 Luxury Homes in Mansion Hills, Marbella
Showcasing a truly original architectural design and some overt exterior features – including the signature wooden awning that resembles the exposed bow of a ship – this collection of impeccable villas and townhouses offer space, style, and security in the heart of Sierra Blanca. If you're wanting to stand out and embrace a contrasting and wonderfully juxtaposed style on the Mediterranean, look no further.
Each villa within this award-winning development boasts a private infinity pool, solarium, and up to four bedrooms. There are also two shared pools, communal gym facilities including saunas and steam baths, private security, and gated access to the complex to ensure it remains a truly secluded sanctuary.
This exclusive development has gained critical acclaim, receiving many awards from the international design community, as well as the Gold Medal, awarded by Marbella's own City Council.

Classic Mediterranean Mansions
Situated within one of the most exclusive urbanizations in Marbella, this stunning private residential area consists of no more than five unique and ultra-desirable villas. Designed by architects at the famed Torras y Sierra studio, each property that makes up this amazing development in Sierra Blanca offers and incredible attention to detail. A sleek, modern aesthetic and more traditional Mediterranean elements combine, creating a timeless elegance that can be experienced throughout.
Each of the properties, spanning plots of over 2,200m2, consists of five bedroom suites, spacious living areas that are flooded with natural light, modern kitchens filled with top technology and appliances, private gyms with saunas, wine cellars, and even underground parking and staff accommodation on each plot. Privacy and security are assured to its prestigious residents by design, with 24-hour security teams and a secluded gated entrance. And thanks to the idyllic location along the Golden Mile, these palatial properties are just minutes away from Marbella's glamorous main attractions, like Marbella Old Town and the lavish Puerto Banús marina.
Developments like this are hard to come by and are hidden gems when looking to buy luxury property in Marbella; they should be seen and experienced in person to be believed. Contact our team and we can help you discover the finest properties in Marbella and beyond.
Luxury Penthouse Pads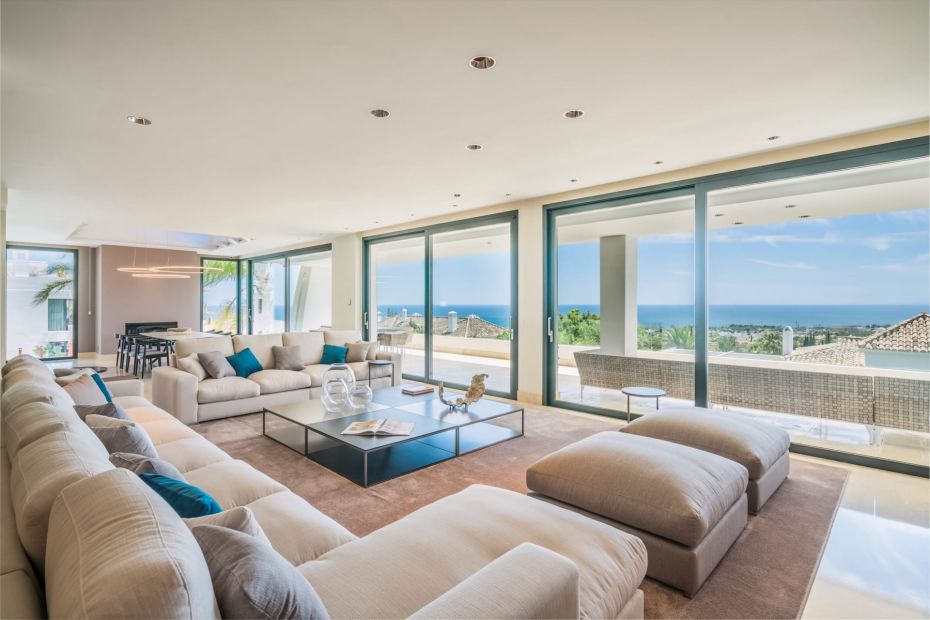 The incredible penthouses that sit at the very top of the luxury duplexes in Reserva de Sierra Blanca arguably offer some of the most complete panoramic views of Marbella, Gibraltar, and North Africa. Nestled up towards the iconic La Concha mountain, these mesmerising modern apartments boast superior views in an already ultra-desirable locale. As you'd expect, security and privacy are guaranteed by a 24-hour security team, and all shared amenities, including a great gym and swimming pool, are of unparalleled quality.
There's only ever a very small collection of first-class apartments on the market in this development, and demand is always very high. The small and exclusive community feel attracts many young, accomplished socialites, and the location lends itself perfectly to a lavish lifestyle: with the glamour of the Puerto Banús marina merely a five-minute drive down towards Marbella's vibrant and bustling coastline.
Los Ceibos de Sierra Blanca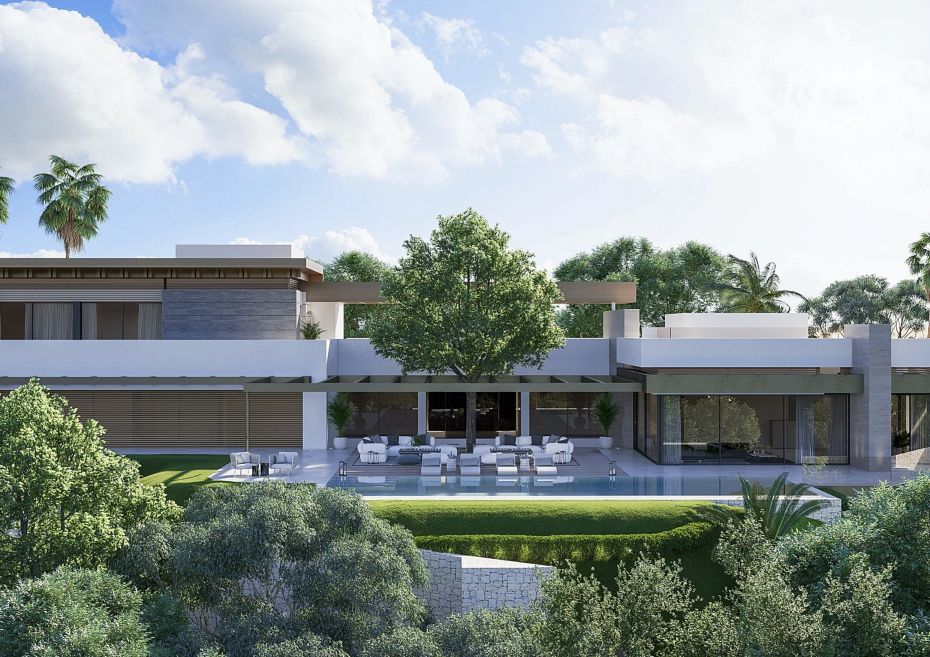 We're extremely excited to reveal to you that we have recently confirmed the sale of the plot named Los Ceibos de Sierra Blanca to private investors. And, following the announcement of the newly issued building license, developments will soon commence on this one-of-a-kind luxury residential haven.
Finer details of this amazing project are still under review; however, we can confirm this exclusive gated community will consist of a total of five modern villas, each boasting panoramic sea views. Designed by renowned architect, Marcos Saenz, each of these premium properties will occupy plots in excess of 2,000m2, with approximate builds of up to 1,000m2. These breath-taking newly built homes promise to seamlessly blend modern and contemporary design cues while radiating character and charm.
Stay tuned for more information on the developments of Los Ceibos de Sierra Blanca; we can't wait to share more exclusive details with you soon. Do we have your attention already? Then speak to the Drumelia team today to get ahead on securing your potential new property in Sierra Blanca.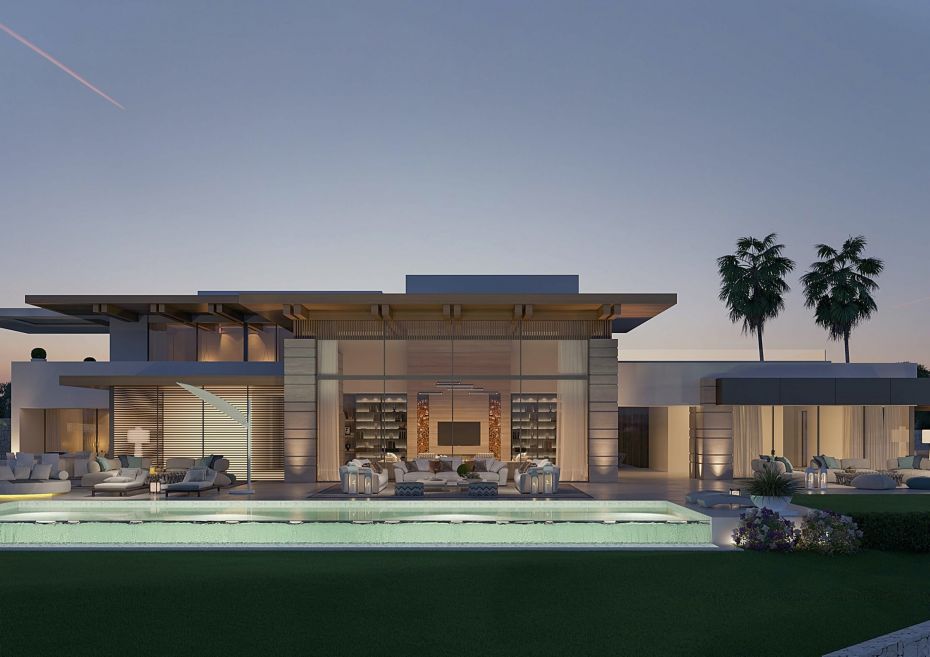 Love the idea of living in Sierra Blanca? Or are you thinking about investing in property or even developing your own luxury plot in the Marbella area? Then you're in the right place. Speak to us today for more information on buying land or properties in Marbella and the Costa del Sol. Our expert team is always on hand to help.
Have you joined one of our virtual tours yet? Subscribe to the Drumelia YouTube channel for extensive area tours, covering some of the most luxurious residential spaces in Marbella – including Sierra Blanca. With new content released every week, there's no better way to virtually experience the best real estate Europe has to offer.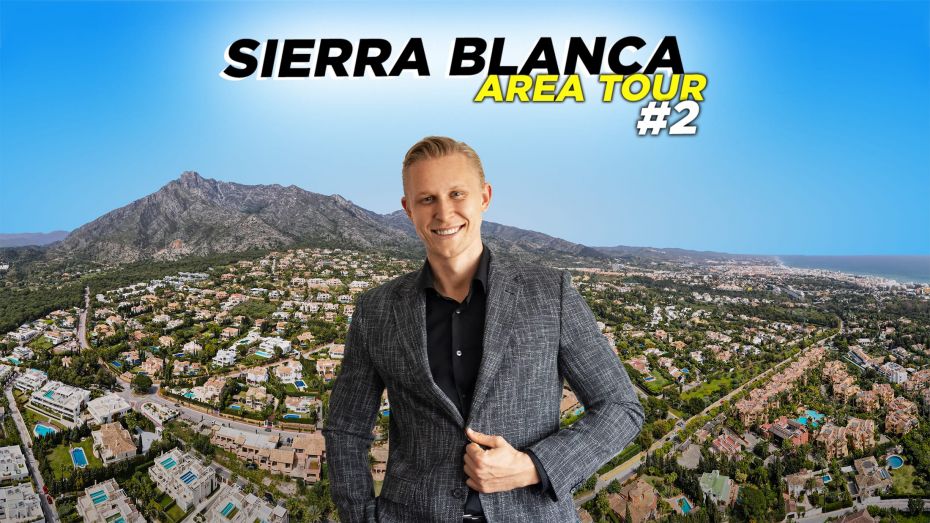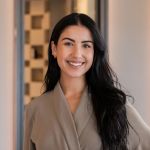 Collaborator Salma Hwedi
Brand-New Properties in Sierra Blanca