The best places for beach yoga in Marbella
By Julia Nilsson on - 6m. reading time
Besides its glam and glitzy reputation, Marbella is "The Place" for people who want to look good and feel even better. The quest for the perfect body and healthy mind lives in this glorious Mediterranean resort.
Along with that, more and more people are taking greater care of their mental and physical health in the post-pandemic era.
So how exactly do the people of Marbella stay in shape? Easy. Marbella has it all: the great outdoors, a fair collection of beach clubs and host of cool gyms to work out and be seen in.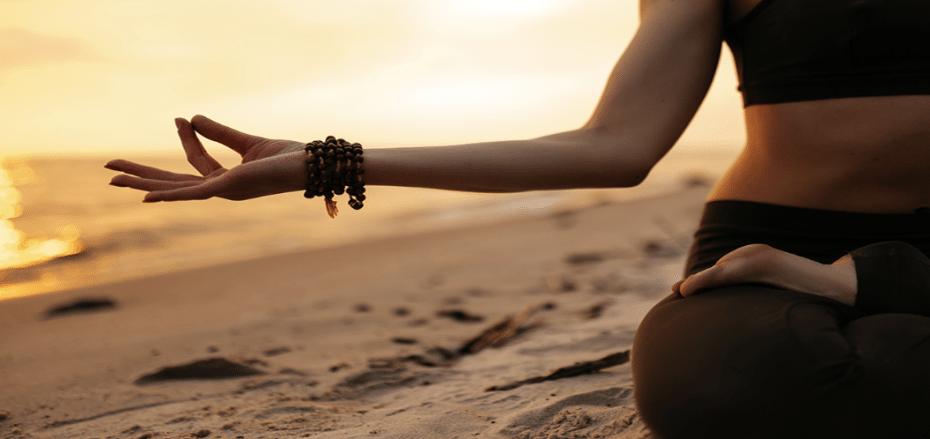 Why is Marbella great for beach yoga?
Marbella's greatest asset – its beaches – has long fused with the art of yoga.
No doubt, Marbella is perfect for yoga enthusiasts seeking a serene and invigorating practice on its picturesque shores.  The harmonious blend of the 3S (sea, sand, sun) creates an idyllic setting for self-reflection, making your mind clutter-free to find peace within.
What's more, Marbella constantly attracts experts in beachfront yoga and dance yoga fusion classes, along with top gurus in Power Yoga, Vinyasa Flow, Yin Yoga and other enriching tailor-made private sessions.
Where to do beach yoga in Marbella
Whether you are a seasoned yogi or a beginner, practicing yoga on Marbella's beach will leave you with a profound sense of relaxation and well-being sure to enrich your sense of balance and self-discovery. Feeling the sun on your toes, having your senses engaged in serene sights, sea smells and sounds… what can be better?
The famous resorts of Puente Romano, Marbella Club and Don Carlos are there to challenge your mind and body with a variety of yoga programs, enjoying a fresh sea breeze and magical views of Marbella's coast. So, for variety, serenity and views, there's really no beating the attractive beaches of the Golden Mile, in Marbella.
Learn all about the Golden Mile of Marbella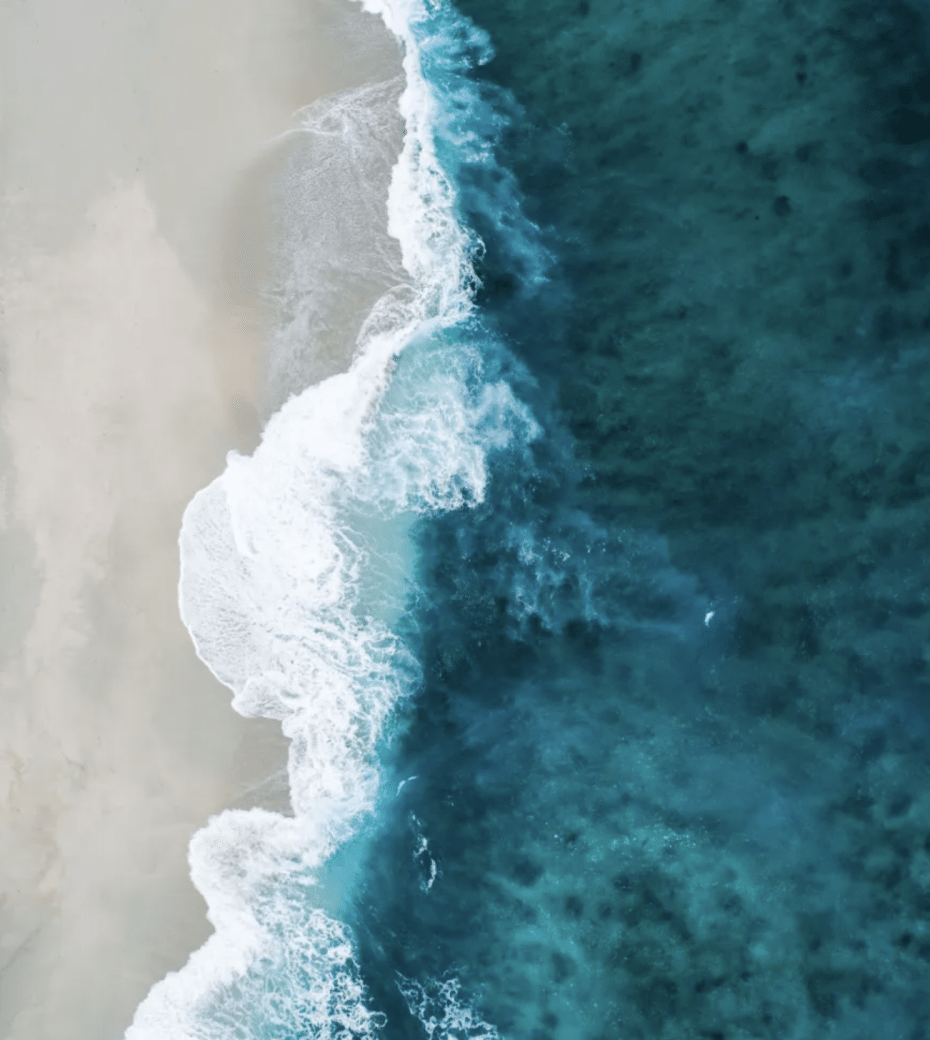 Other beach locations worth noting are Puerto Banus, San Pedro, Estepona and Elviria.
If you prefer the terrace of your own luxury beachfront villa, look no further! Promising harmony, betterment and bliss, companies like Yogalux Marbella, provide private yoga, meditation, breath work and healing massage, all in the comfort of your home.
Check out these wonderful beachfront villas for sale with terraces perfect for yoga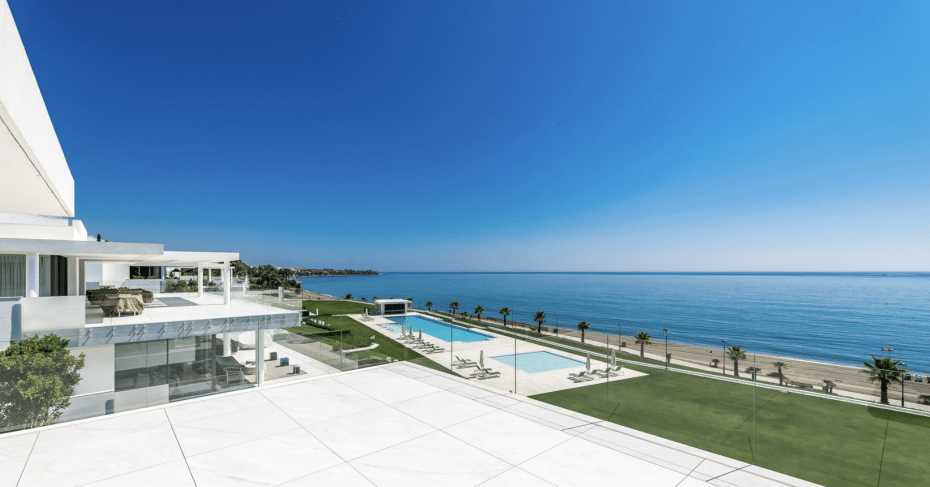 Beach yoga in Marbella presents an extraordinary opportunity to align your mind, body and soul while embracing the beauty of nature. What's more, Marbella's beaches look gorgeous in fitness photos. Making it very instagrammable !
4 benefits of beach yoga in Marbella
Connecting with nature
Unroll your mat on the soft sand … and let the magic begin! Embrace the soothing sound of rolling waves, feel the gentle coastal breeze caressing your skin, and breathe in the invigorating sea air. The exquisite natural surroundings of Marbella create a truly outstanding setting.
Rejuvenation and mindfulness
Engaging in a beach yoga session on offers a unique opportunity for rejuvenation and mindfulness. You awaken your senses as the warmth of the sun energizes your body, and the blissful sound of the waves lulls your mind into a state of relaxation. The rhythmic sound of the ocean becomes the soundtrack to your practice, enhancing your focus and enabling a deeper connection with your inner self.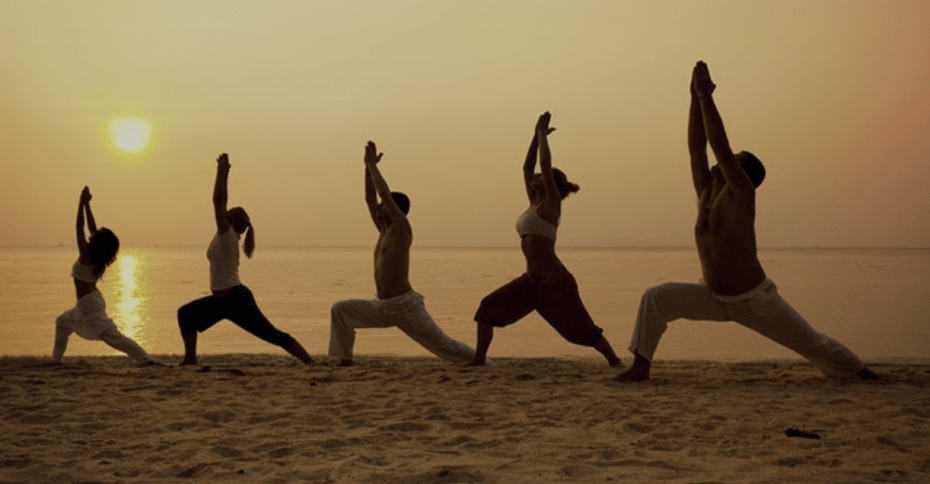 Enhancing physical strength and flexibility
The softness of the sand provides a dynamic surface that engages your muscles in an entirely different way, resulting in enhanced strength and flexibility. Balancing poses become more challenging, requiring greater core stability, while standing poses benefit from the grounding nature of the sand. Additionally, the natural resistance provided by the surface strengthens your body's stability and develops kinesthesia – a sense of the body's working and movement.
Emotional and mental well-being
Practicing yoga on the beach induces a sense of calmness. As you surrender to the gentle ebb and flow of the tides, the stress and worries of daily life dissipate, making room for a peaceful state of mind. The combination of the soothing elements of nature and the practice of beach yoga help promote relaxation, reduce anxiety and improve overall mental clarity.
The International Yoga Festival in Marbella
Marbella regularly proves its firm commitment to promote a healthy lifestyle with outdoor and beachside activities. One of these, the International Yoga Masterclass, attracted more than 350 participants in 2022. After its great reception, the first International Yoga Festival with workshops and yoga sessions for both children and adults took place in Puerto Banús in May 2023. The unparalleled setting in the world-famous marina, proved to be a unique spot to connect mind and body.
Learn all about Puerto Banús – Marbella's luxury marina

Why yoga in Marbella is more than just yoga
It's also charity
At the inspirational Radiant Open Day, yoga enthusiasts, devotees and newcomers were able to sample innovative yoga styles at Radiant Yoga Marbella, celebrating the studio's 4th anniversary. 150 people attended the event, which raised over €500 for the David Toms Support Fund – in aid of the Costa del Sol-based photographer who is recovering from a serious motorcycle accident.
Other examples are Yoga Day hosted by the Joy of Life Marbella Charity Project and the ecologically managed finca El Tejar, an estate incorporated into a charitable Humanitao Foundation.
It's a special lifestyle of awareness and conscientiousness
An excellent example is the kid-friendly, pet-friendly and community-based center The Farmacy. It offers not only daily yoga and Pilates classes, but sports massage and holistic treatments. Family events include Disco Yoga, Movie Night and workshops for cooking, yoga and art. Once a month, it has a live band night and markets. And don't forget about The Farmacy's delicious and healthy food – with a few sinful goodies!
It builds community and connection
Engaging in beach yoga in Marbella provides an opportunity to connect with people who share a passion for wellness and self-growth. Local yoga instructors of all nationalities offer group classes on the beach, fostering a supportive and inclusive environment. Connecting with others who share your love for yoga and the beauty of Marbella creates a sense of community and shared tranquility.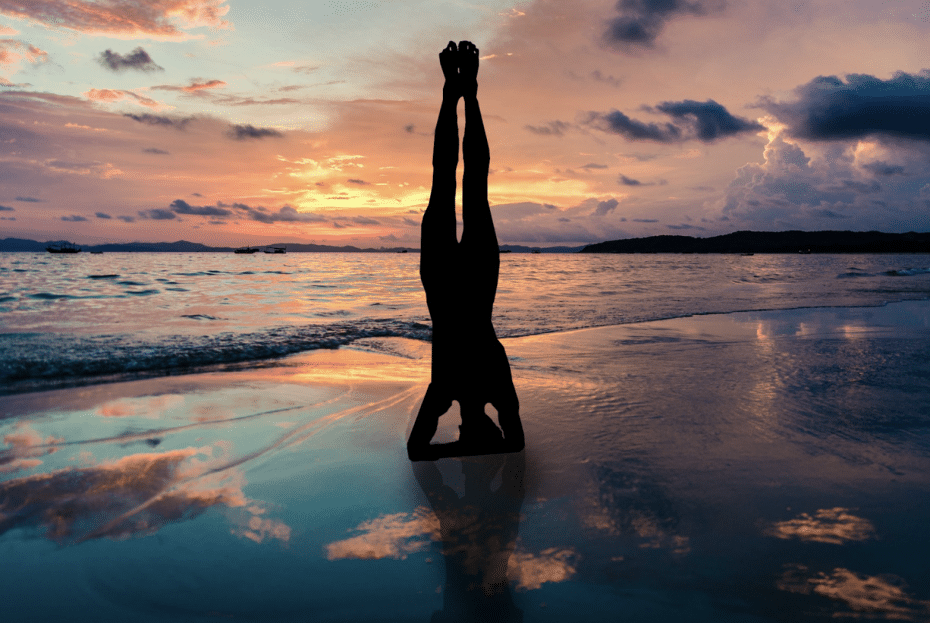 Ready to elevate your mind, body and soul?
All you need is a beautiful beach (and sun protection). Many studios in Marbella offer beach yoga classes, and a quick Google search can help you explore the options. Here's to your spiritual and physical journey.
Namaste!
To see more of Marbella and its many marvellous properties, visit Drumelia !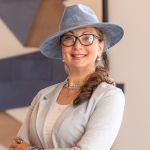 Copywriter
Julia Nilsson
Cosmopolitan since birth, Julia prides herself on being multilingual and has a doctorate degree in international auxiliary languages (Esperanto) as…