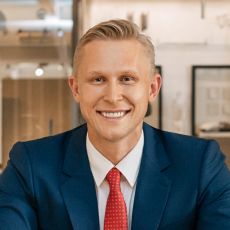 Puerto Banús Marbella's Luxury Marina
By Artur Loginov on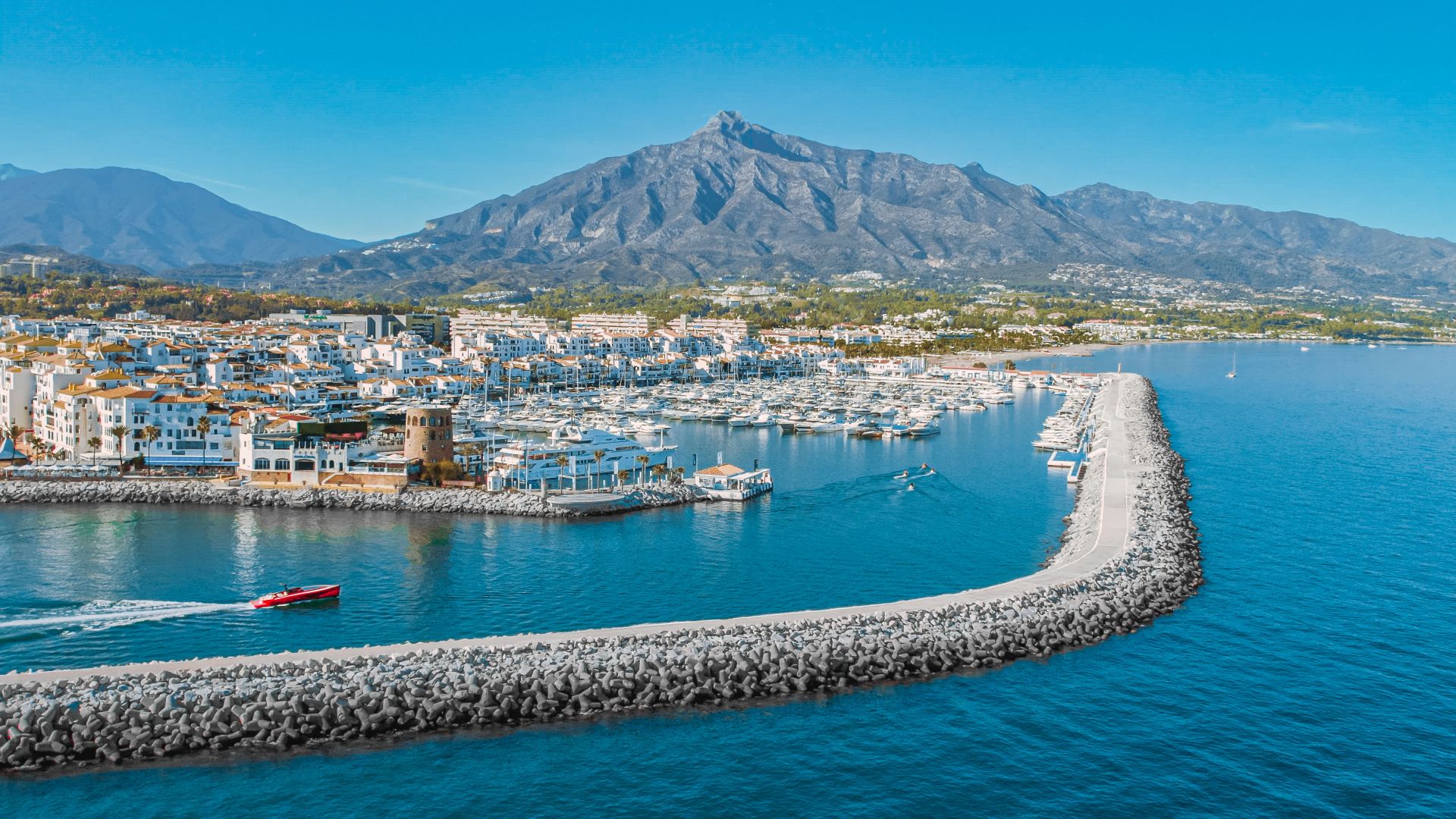 To many, Puerto Banús is considered the quintessential Marbella experience, even though it is not directly located in it. As a hub of entertainment and elegance attracting sophisticated shoppers, vacationers and partygoers from far and wide, its range of amenities and beautiful beaches makes it the go-to location of over 5 million visitors per year.
Of whom more than a few decide to stay!
What is Puerto Banús?
Puerto Banús, also referred to as Port Banús, or the Port, is a marina with over 900 berths, allowing space for an incredible wealth of yachts. Lining the marina are many restaurants, nightclubs and boutiques set on wide boulevards. The main square of Puerto Banús, called Plaza de Antonio Banderas, is a focal point in its development. Next to it you'll find El Corte Ingles, one of the largest department stores in Marbella, as well as many apartment buildings and even more amenities, with the likes of supermarkets, smart restaurants and a cinema.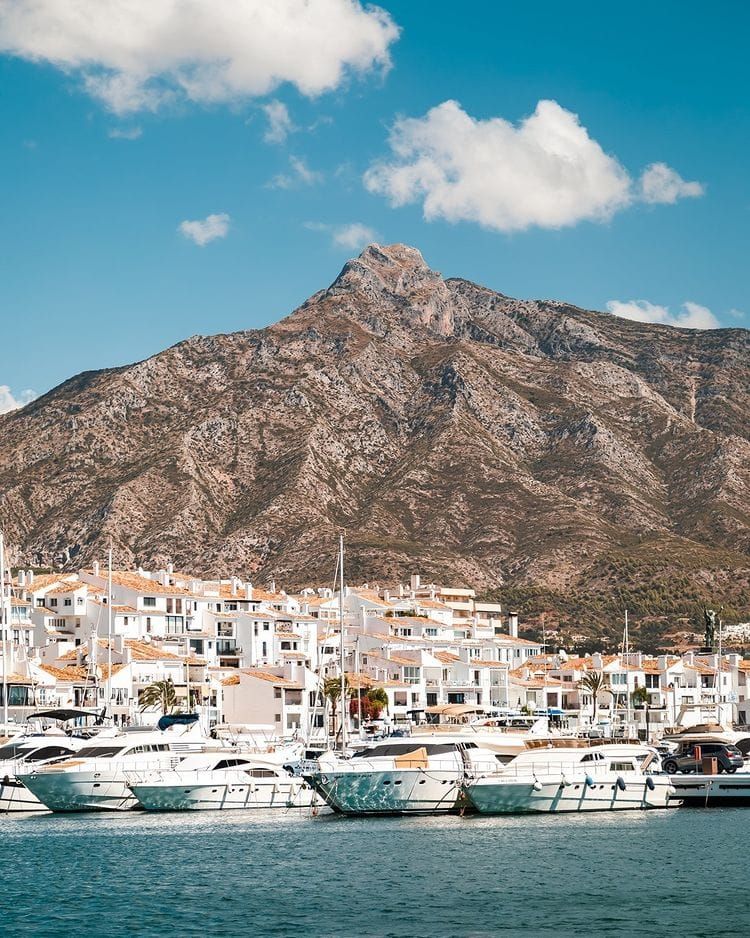 Where is Puerto Banús?
Puerto Banús is located to the west of Marbella's Golden Mile, with Nueva Andalucia to its north.
Here are some distances to other areas of Marbella:
Golden Mile: 5km
Puente Romano Beach resort: 3.6km
Marbella Old Town: 7.8km
San Pedro de Alcántara: 3.6km
Located right next to the A-7 coastal road, getting around to other areas of Marbella has never been easier. Although it is hard to get bored in Puerto Banús, if you desire to discover other areas of Marbella, you can do so in a matter of minutes.
What is the history of Puerto Banús?
Envisioned by Jose Banús, a prominent property developer, the vision behind Puerto Banús was to create a luxurious marina along the fishing village that once was Marbella. Its building began in 1965. Puerto Banús' opening party was held in 1970, marking over 50 years since its creation. The Hotel Andalucia Plaza, now the Hard Rock Hotel, was also opened in 1970.
Expecting the marina to grow as strongly, or even better than the French Riviera, Puerto Banús began an extensive advertising campaign in the 70's. Ever since then, Puerto Banús has grown and expanded yearly, much of it driven by word-of-mouth, to accumulate over 5 million visitors annually.
How big is Puerto Banús?
Puerto Banús covers a surface area of 15 hectares, making it a relatively small area compared to the rest of Marbella. However, it still is one of the largest ports in Europe, and one of the best known.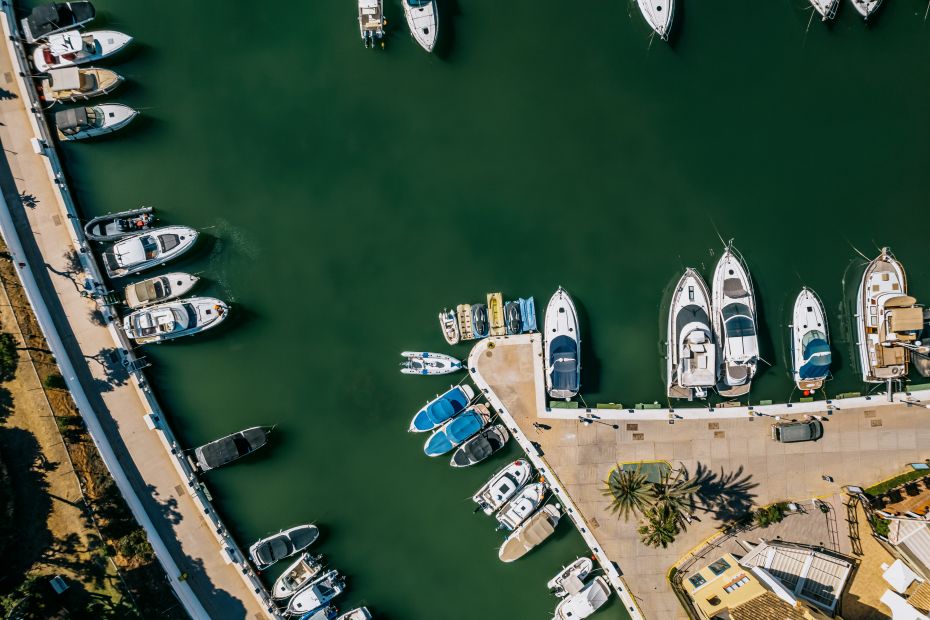 What style of homes can you find in Puerto Banús?
Puerto Banús is home to several apartment complexes, such as Playas del Duque, a series of beachside luxury apartments and penthouses. They follow a classic Andalusian style, with a light colour palette and lush gardens. Featuring over 500 apartments spread across 5 buildings, the sea views are extraordinary, and the location speaks for itself.
Malibu and Laguna de Banús are some of Marbella's most sought-after residential complexes. Located on the frontline of the promenade, just steps away from the bustling lights of Puerto Banús, these gated communities boast tropical gardens and incredible amenities, including large swimming pools and fitness centres. These luxury apartments and penthouses were built in the early 2000's, thus embracing a rather modern look, whilst still capturing the Mediterranean feel in their architecture.
Due to a lack of plots available, Puerto Banús isn't populated by villas, however these can be found in Nueva Andalucia, only a 5 minute drive away. To learn more about this location and the kind of properties available, you can check out our Nueva Andalucia Area Guide.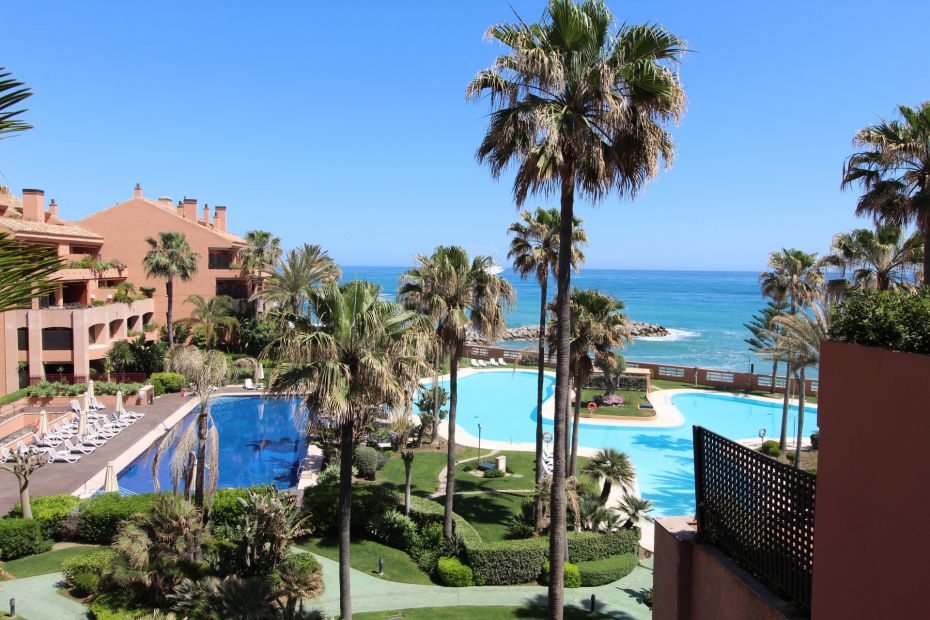 Does Puerto Banús have sea views?
Puerto Banús is conveniently situated so the beach is only a short walk away. The main area of the marina has access to Puerto Banús beach, which runs for 1.5km. Homes in the front line of the port boast beautiful views of the marina and the sea beyond it. The west side of Puerto Banús has several beachfront apartments, also with direct access to the beach. All making Puerto Banús a prime location if you love being close to the beach, with sea views.
Is Puerto Banús a popular place to live?
The safety, exclusivity and glamour of Puerto Banús all add up to one highly desired location. The influx of new residents and tourists creates a busy area all-year round, especially in summer months. Fun and relaxation are the soul of Puerto Banús, making it a hotspot that never cools down in Marbella.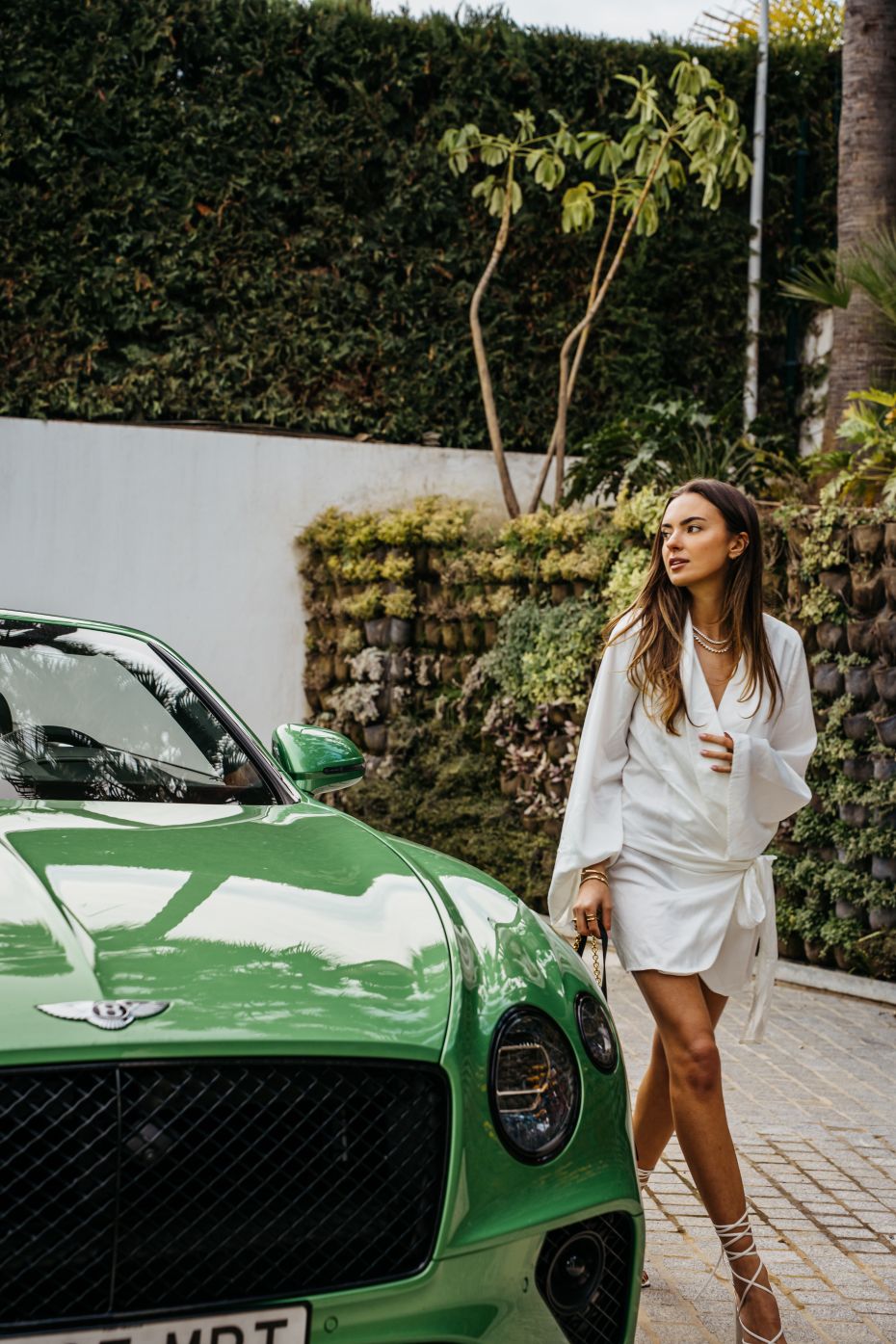 What is there to do in Puerto Banús?
It's no accident that Puerto Banús springs first to mind when one mentions Marbella. Its endless options for dining, shopping and entertainment make it the place to be. As the focal point of Puerto Banús, the marina holds the majority of amenities, and lion's share of the fun!
Gastronomy
With cuisine fit for every taste, the restaurants in Puerto Banús are both varied and unique. The range of cuisines makes it easy to try out something different for every meal. Boredom or repetition don't feature in the restaurants in Puerto Banús! The entire first line of the marina is stacked with eateries, and each one is guaranteed to be special. So, if in doubt, walk into any. Chances are you'll walk out well satisfied, and keen to discover even more.
Puerto Banús' iconic Picasso restaurant sits in the middle of the marina; this large Italian restaurant opened its doors in 1982, and has been a staple ever since. Amore Fantasia and Pasta Factory are also favourites among the Italian establishments of Puerto Banús, offering a range of dishes crafted with authentic Italian ingredients.
For Mediterranean cuisine, Los Bandidos is a classic, and has been serving Puerto Banús for over 30 years. Similarly, there are many chiringuitos (beach bars) on Puerto Banús beach, where you can enjoy fresh seafood directly on the sand, at spots like Aurora Beach and Camuri.
To learn more, we have an extensive guide on Marbella's best restaurants, guaranteed to guide you to culinary heaven!
Entertainment
As Puerto Banús is a harbour, watersports are naturally popular. Many boat rental companies are located here, such as Boat2Go and Nautica Marbella. You have the choice of renting a grandiose yacht with a captain to discover Marbella from the water, or a smaller motor-boat for you to pilot yourself. Additionally, there is a ferry ride called FlyBlue which takes you from Puerto Banús to Marbella Center's Port in the quickest half hour ever – letting you indulge in the sea breeze and take in the gorgeous views. Jetskis are also a fun way to spend the day, with the option of single or double jetskis to rent for racing your friends along the Mediterranean coast.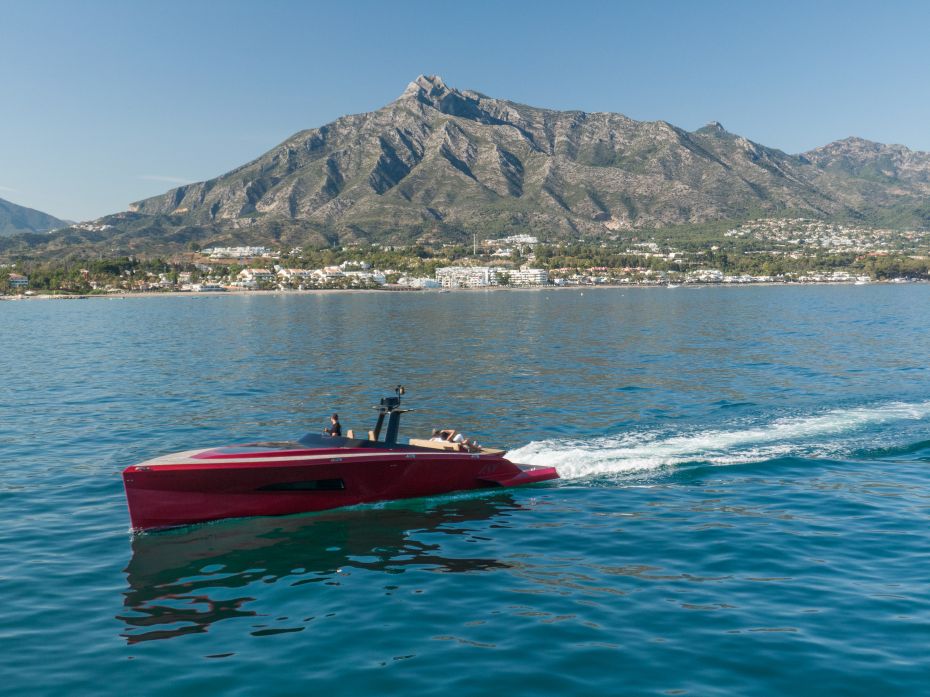 The square in Puerto Banús hosts a lovely market in the summer months, with pop-up shops of all types available to browse. There is also a popular Mojito Bar, which is open all day and offers tasty, strong and cheap drinks! On the same square there's a small arcade open all-year round. It has a variety of games, including air hockey, car racing and mini bowling. A fantastic place to spend some quality family time!
Just steps away from the square, you'll stumble upon the Red Dog Cinema, along with an establishment full of Virtual Reality games. The cinema offers all of the latest movies in both Spanish and English, and the VR room offers all sorts of adventures with the latest technologies.
Shopping
Puerto Banús is perfect for retail therapy as it is chock-full of boutiques from world-class designers. As you walk along the marina's promenade, Louis Vuitton, Sandro, Maje, Rolex and many others open their doors for you. Hermes, Dior and Fendi can be found closer to Puerto Banús' main entrance, in the second line to the promenade.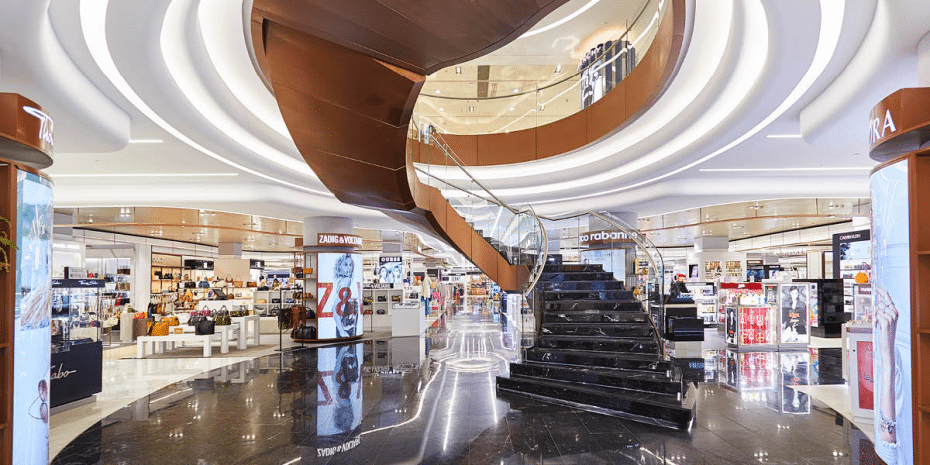 El Corte Inglés, Marbella's most popular department store is just a 3-minute walk from the harbour, filled with everything one may need. Cosmetic stores, pharmacies, and a supermarket boasting organic foods can be found within, alongside the most popular brands with their respective clothing stands. All in all, Puerto Banús has it all when it comes to shopping. If you would like to learn more before indulging in shopping in Marbella … look no further!
Nightlife
Puerto Banús is the place to be if you are looking for a night of partying until the sun comes up. The hub of Marbella's nightlife, the nightclubs in Puerto Banús are a prime attraction. The second line of the harbour is lined with large clubs of different styles and music genres, such as the beloved Funky Buddha. There are also countless bars in Puerto Banús, depending on what you seek.
For cocktail lovers, Astrals is your go-to. For those that enjoy a more upscale bar experience, the rooftop at the Benabola hotel is your spot, and the views are incredible. Those that desire a bar which later turns into a club, News Cafe on the frontline is a must. And of course, no mention of nightlife can omit the world-famous Pangea, right in the harbour, right on the money.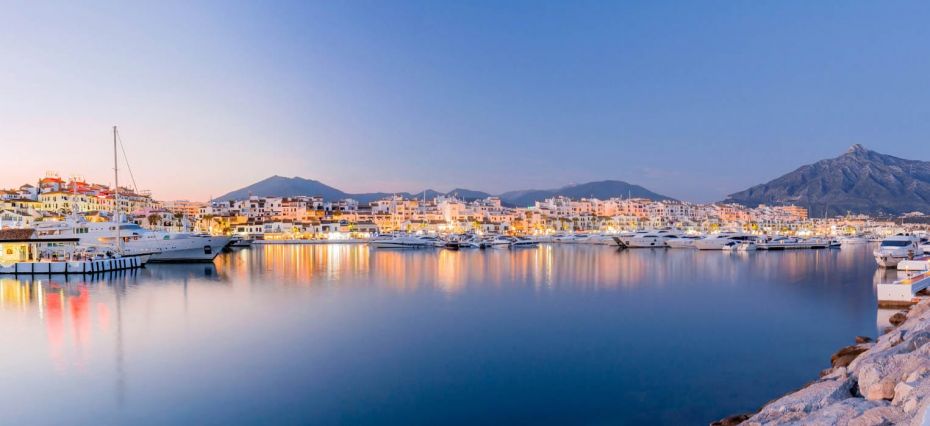 What's life like for kids in Puerto Banús?
Life for kids in Puerto Banús is fun-filled, energetic, with lots to do. The large promenade that runs in both directions to Marbella Center and San Pedro de Alcantara, makes it the perfect place for children to roam or ride bicycles without parents having to worry for their safety. The beaches have pure sand, and lifeguards allow for kids to safely enjoy the waters. The proximity to all of Marbella's amenities and a range of schools makes Puerto Banús an outstanding location for family life.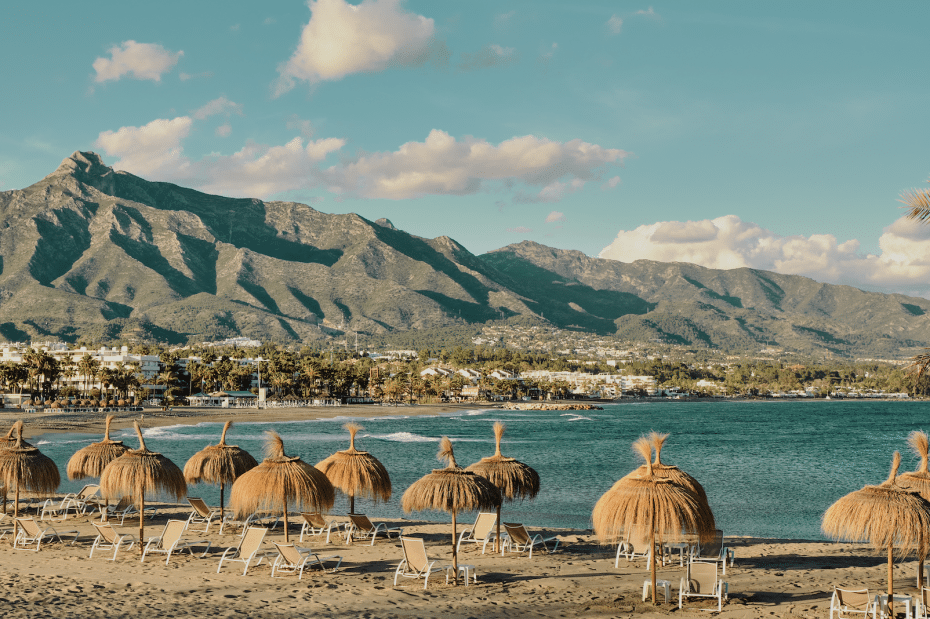 Schools in Puerto Banús
Puerto Banús holds a variety of schools in and around the area, making it a great choice to settle down.
Svenska Skolan Marbella - The Swedish School
Located within the gated community of La Alzambra Vasari, in close proximity of the Puerto Banús harbour, this school follows a Swedish curriculum for children from preschool to elementary. They set a great foundation for further education in Swedish countries.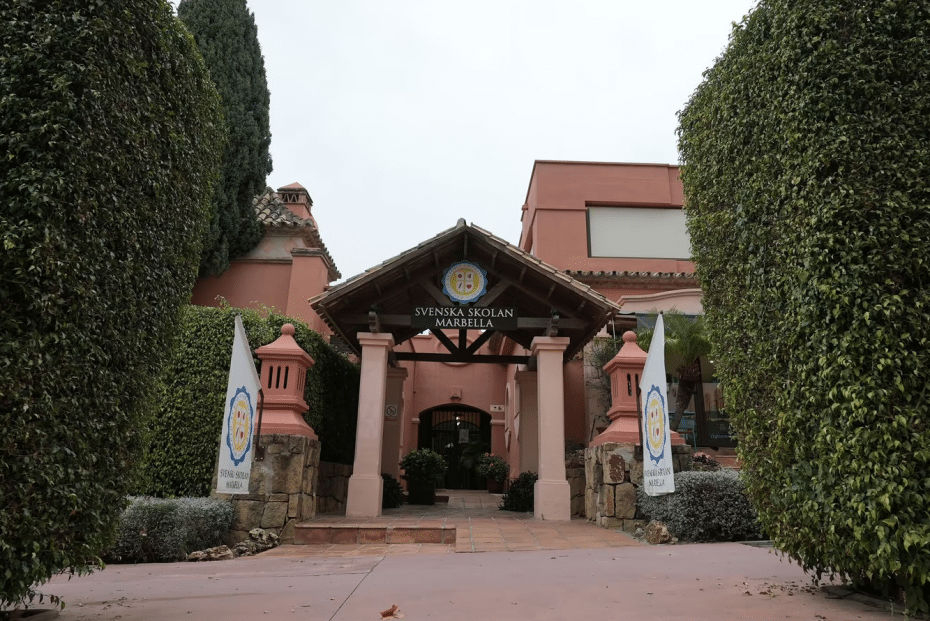 The American College
With over 25 years of experience, the American College – located in the same community of La Alzambra Vasari – offers middle and high school studies following the American curriculum, with the option of also completing the first two years of university studies in Marbella, before transferring to the USA.
Aloha College Marbella
A moment's drive from Puerto Banús, Aloha College Marbella is a private school hosting a bilingual curriculum in Nueva Andalucia. Children aged 3 to 18 are able to complete their studies, from primary school to a choice of A-levels or International Baccalaureates in their last two years.
There are many other schooling options in Marbella with different instruction languages, which you can discover here.
Who lives in Puerto Banús?
Puerto Banús attracts people of many nationalities due to its diverse ambiance and active lifestyle. As such, one can expect to find people of all ages living in and around Puerto Banús, from families to retired citizens.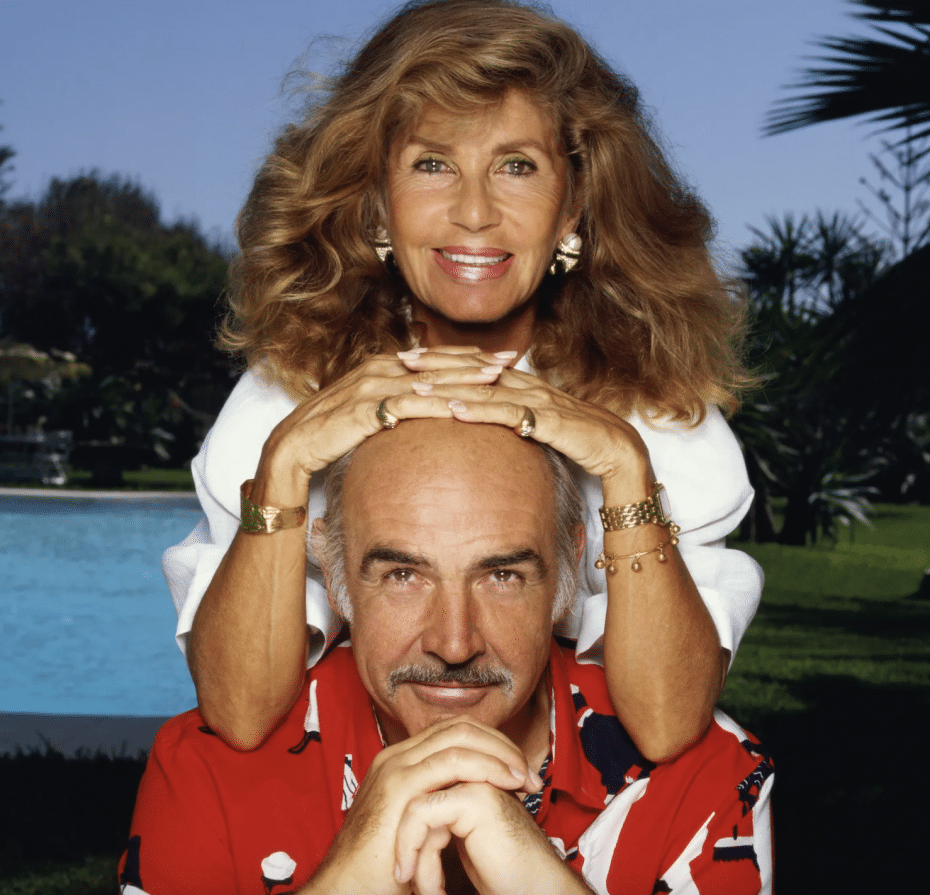 Puerto Banús also attracts many celebrities because of its high-end nature. Among these are the late, great Sean Connery, who owned a villa edging Puerto Banús, and in the early days, Hugh Hefner and Audrey Hepburn. More recently, Angelina Jolie visited Marbella and Puerto Banús.
What are the most famous houses in Puerto Banús?
The current Malibu gated community used to be Sean Connery's Marbella home, which too was called by the same name. This was later sold to developers and transformed into Malibu as we know it.
Here is a wide range of renovated apartments for sale in Puerto Banús – have a look!
Is Puerto Banús safe?
With a constant police presence active in the streets of Puerto Banús, they are available to assist in case of an emergency. There are also security guards which monitor the harbour specifically. Visible policing acts as an effective deterrent to unsavoury elements, and glues the community together. The closest police station is in Marbella Center, a short 8-minute drive away. So, Puerto Banús is very safe, as is Marbella in general.
Which is the leading real estate agency in Puerto Banús?
We are proud to say that Drumelia is the leading real estate firm in Marbella, with decades of experience working along the Costa del Sol and helping buyers and vendors with their properties in Puerto Banús. We currently have over 20 properties listed in Puerto Banús, ranging from beachside apartments to luxury villas. We are here to help in any way possible and guide you through your sale or purchase process.
Fun Facts about Puerto Banús
Noldi Schreck, the architect that designed Beverly Hills, was the one that proposed Puerto Banús to be made into an Andalusian style village with a marina.
Puerto Banús is the most famous marina in Spain.
Jose Banús – the creator of this town – was very loyal to General Franco, and in fact was nicknamed "The Regime Builder."
The Puerto Banús beach has a Blue flag, meaning it meets a set of rigorous requirements. Yet it's two lesser known sister beaches – Playa del Rio Verde and Playa Nueva Andalucia – are also well worth a visit.
The shopping district contains the largest number of luxury brands per square metre in Europe including the 3 V's – Versace, Valentino and Vuitton.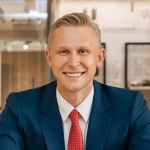 CEO & Partner
Artur Loginov
Artur Loginov is the CEO and proud Partner of Drumelia Real Estate. He has over a decade of knowledge and…
Eat & Drink

Health & Wellness

Education

Shopping

Golf

Hotel
Properties for sale in Puerto Banus
Our team strives tirelessly to present you with the most rewarding investment opportunities and upscale properties in Puerto Banus as soon as they enter the real estate market. Discover all property sale options in the illustrious neighbourhoods of Nueva Andalucía and others in close proximity in Marbella.
View all properties