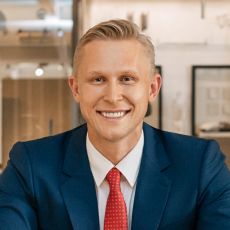 New Golden Mile A new legend rises
By Artur Loginov on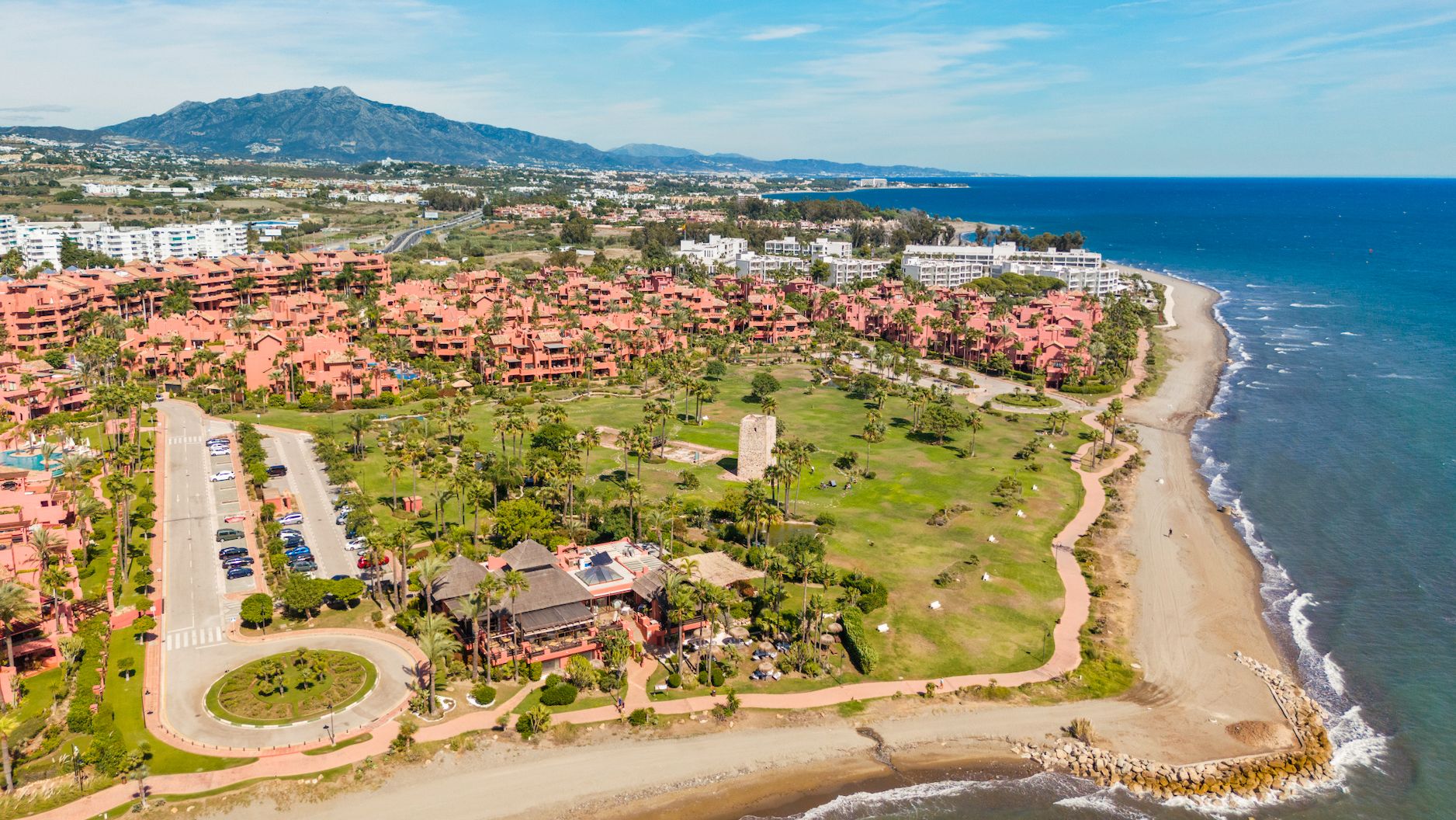 New Golden Mile is becoming one of the most popular areas to buy property due to its excellent amenities and proximity to Marbella. This relatively new urbanisation has a mix of qualities that make it very similar to Marbella, but with a uniquely traditional character all its own.
Read on to learn the ins and outs of this exciting oceanfront residential development.
What is New Golden Mile?
New Golden Mile takes its name from the famous Golden Mile of Marbella, which is basically its inspiration. Nevertheless, it's not near this famous landmark and has a character all its own. The New Golden Mile has been heavily developed over the last 20 years and has reached its peak of demand in recent years.
Much like the namesake in Marbella that inspired it, it is useful to know that New Golden Mile is not a specific area, but rather a general term - or even a nickname - for several areas. In this respect, it is a state of mind, as much as a state of land!
The New Golden Mile is the route between  San Pedro de Alcantara in Marbella and the eastern part of Estepona. The beaches along the New Golden Mile are famous for their fine golden sand and the clear waters of the Mediterranean lapping calmly against the shore - hence the name of the area.
Because the area has been carefully planned, there are no tall buildings near the coast, which increases the demand for real estate.
The New Golden Mile can be roughly divided into a beachfront section and a hilly section:
The beachfront areas of the New Golden Mile are particularly popular with northern European buyers.
On the mountain side of the coastal road are other well-established areas such as Atalaya, Bel-Air, Benavista, El Paraiso and the village of La Cancelada.
Los Flamingos - an exclusive, private luxury residential area, is located behind the New Golden Mile.
Last but not least, between San Pedro and the New Golden Mile, and considered a dividing point, lies Guadalmina.
Where is the New Golden Mile located?
The New Golden Mile consists of the beach area along the N-340 that stretches from Guadalmina to just past the Kempinski Hotel in Estepona. These areas belong to the municipal area of Estepona. With access to the coastal road, the amenities of Marbella are within reach and easily accessible. Interestingly, the Kempinski Hotel was acquired by the owner of Puente Romano - an elite resort on the original Golden Mile!
Distance to other areas of Marbella:
Marbella Goldene Meile: 19km
Puerto Banus: 15 km
Old Town of Marbella: 20km
San Pedro de Alcántara: 11km
What is the history of New Golden Mile?
New Golden Mile came into being at the end of the 1990's when the rise in development began. This was done to increase traffic and attention to this area, as it merely used to be a fishing town.  
How big is New Golden Mile?
New Golden Mile covers a wide part of the coastal road, stemming to around 20km long. Of course, as with Marbella's Golden Mile, it extends up into the hills, where golf courses and residential properties can be found. All in all, New Golden Mile covers a large area of land, with a mix of terrains. 
What type of homes can you find in New Golden Mile?
New Golden Mile has a long history and has only recently started being developed. Due to this, home styles are varied.  
Some of the most long-standing properties follow a classical Mediterranean style, with light colour palettes and tiled roofs.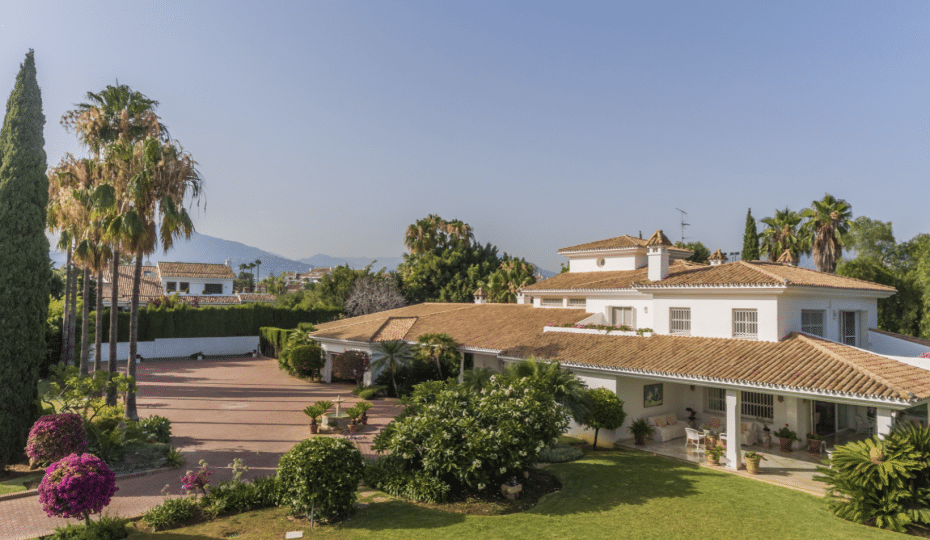 Over the past few years, new residences have been built following a modern style, and others have been reconstructed to fit into this architectural design too. With white facades and floor-to-ceiling windows, these homes have become a popular choice due to their incredible views. For example, this modern villa: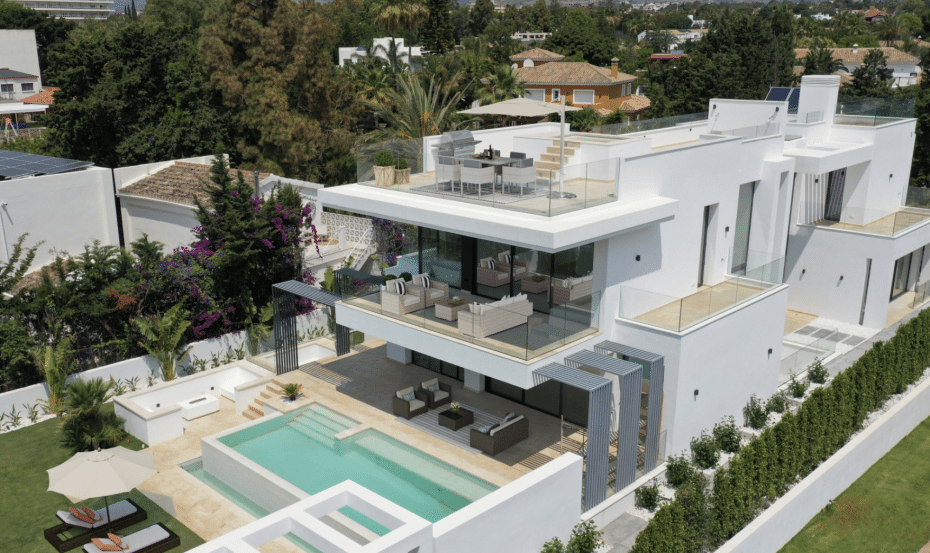 Similarly, many luxury gated communities are being built, offering elegant living in extremely secure and private environments, as is the case of this penthouse, set to be complete in 2024: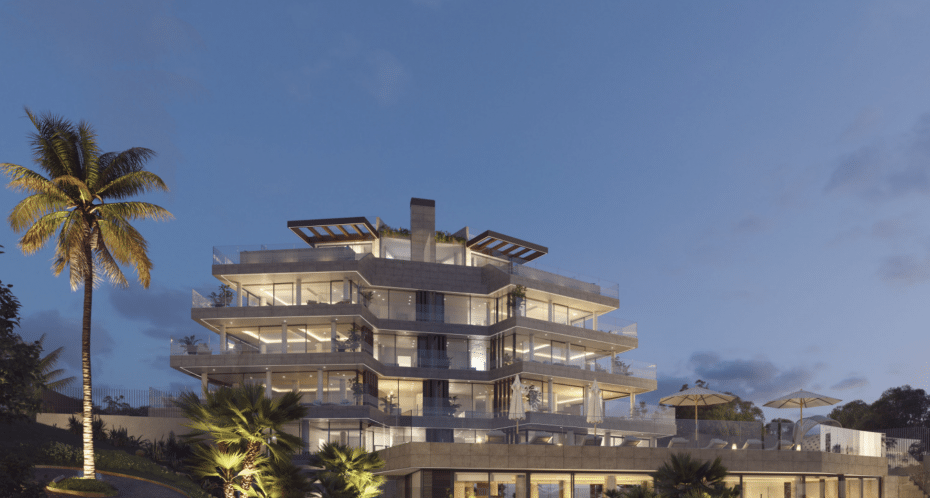 With a range of architectural styles, finding your dream home in New Golden Mile has never been easier! 
Does New Golden Mile have sea views?
Seeing as New Golden Mile runs along the coastal road, sea views reveal Gibraltar and the North African coast. These views are available from most properties, as well as golf views. Serenity and beauty surround you when in New Golden Mile. 
Is New Golden Mile a popular place to live?
New Golden Mile has become an increasingly popular place to live and will likely soon be as prestigious an address as its name implies. Ease of living here is mainly due to the ease of obtaining a construction licence, which differs to that of the municipality of Marbella. There is also significantly more land for construction, so one can create the house of one's dreams. Not to forget the outstanding amenities and quality of life New Golden Mile exemplifies, which attracts many.  
What is there to do in New Golden Mile?
New Golden Mile has a range of options to fit all tastes. Whether you enjoy relaxing by the beach, gastronomy, or sports, there is bound to be something for you.  
Sports
For lovers of golf, the New Golden Mile has three course options.  
El Paraiso Golf Club was designed by the legend Gary Player in 1973 and hosts two sides, the old and new one. Both offer 18-hole courses surrounded by stunning greenery, and are suited for all levels. For the true Andalusian golf experience, El Paraiso is the place to be.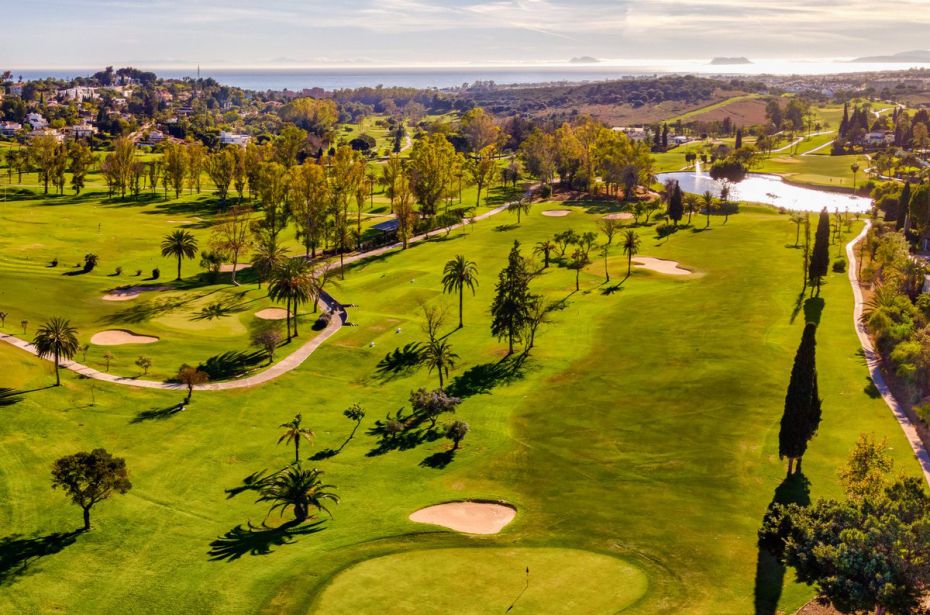 La Resina Golf and Country Club is a par 3 9-hole golf course surrounded by beautiful pine forests. It is a pleasant course, and the Clubhouse restaurant offers home-made meals from fresh ingredients. If you seek a laid-back, cozy experience, this spot is right for you.  
Los Flamingos Golf is situated next to the Anantara Villa Padierna Hotel, with a par 71, 18-hole golf course. A prestigious golf course with an outstanding club house, this is a great option if you seek exclusivity and incredible views.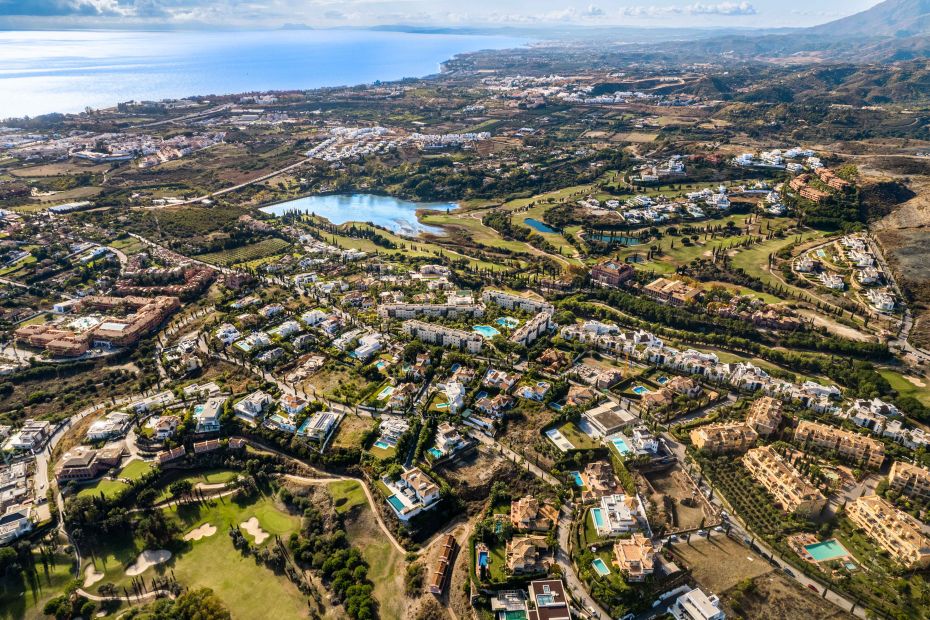 If you are more of a tennis person, there are various options for you to choose from.
Bel Air Tennis and Padel Club is the perfect place for families - built by families. With programs for both adults and children of all levels, this community holds a lovely ambiance. There are 6 hard courts and 4 clay courts on offer for tennis players, and 4 glass courts for padel players. There is also an academy on site, if you would like to begin your tennis and padel journeys.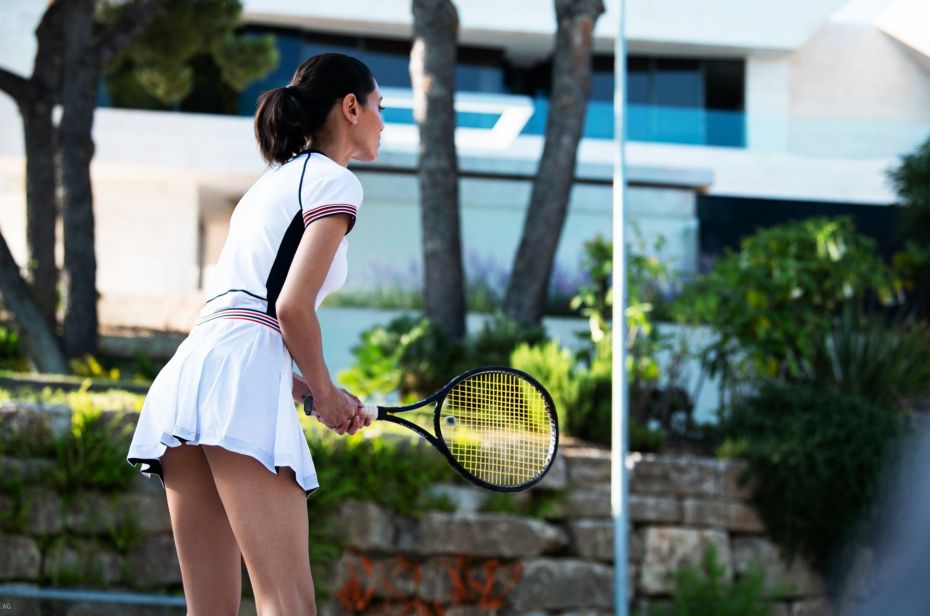 RozaRossa Tennis Club is a brand-new facility, offering 9 courts created with a modern design in mind. A swimming pool and restaurant can be found on-site, to accompany your training. Similarly, it's possible to book private classes with professional instructors to improve your game.  
Villa Padierna Racquet Club is merely a few metres from the beach, offering a unique playing experience. With 15 padel courts and 2 quick surface tennis courts, this Club boasts privacy and elegance. Not to mention, the first padel court built in the world! A padel academy can also be found on the premises.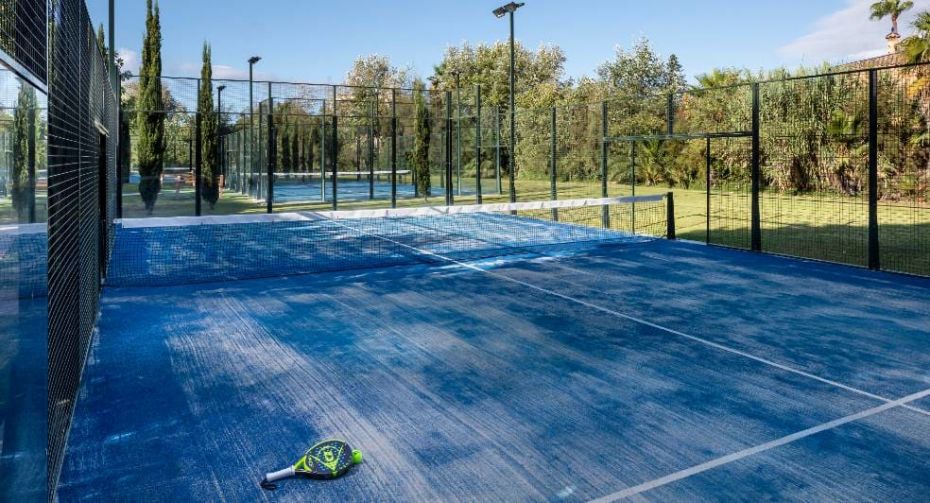 Horse lovers can ride to their heart's content in New Golden Mile. Two companies cater to this premier pursuit under the aegis of Marbella Horses: Pony Club Villacana, located in Cancelada, a short distance from Saladillo beach, and the Centro de Doma El Padrón next to the similarly named river. The Pony Club Villacana offers riding school, camps, competitions and excursions, while Centro de Doma El Padrón provides dressage, horse sales, a stallion tank and riding lessons.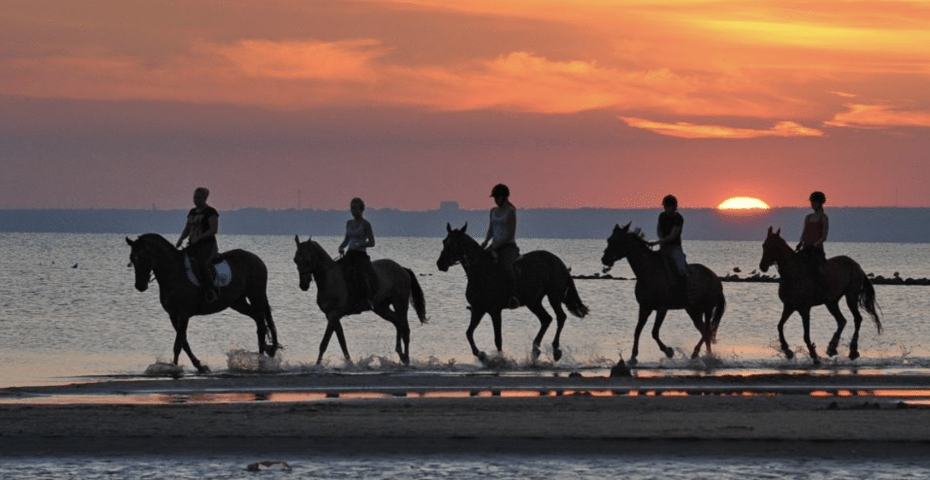 Gastronomy
Dining options are endless, of all cuisine types. Beach clubs are a popular choice in summer months, where you can unwind, spend the day and enjoy delicious dishes.  
Barbillón is a beachside restaurant, also boasting a pool. Its menu stands out due to its Andalusian dishes and fresh seafood in a chic setting. If you would like to feel the essence of the Costa del Sol, this place is a must visit.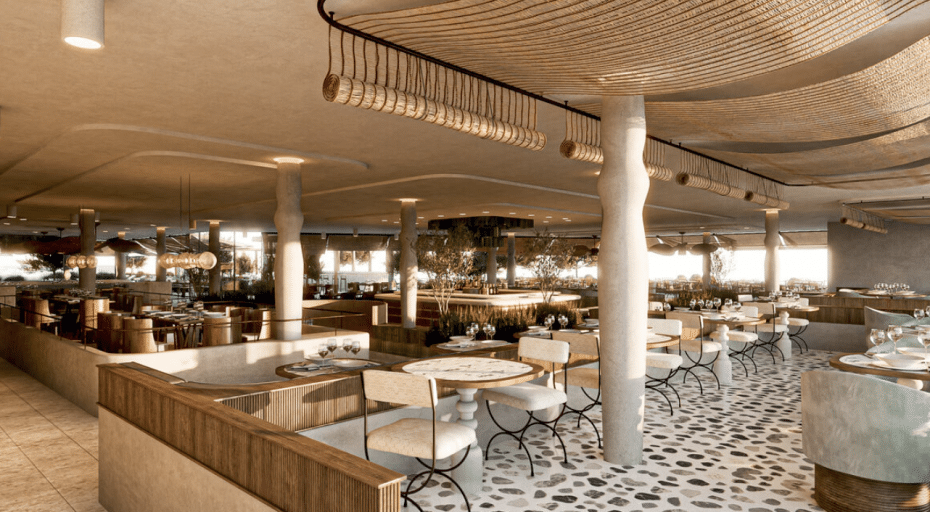 Isola restaurant will transport you to a corner of Southern Italy through its delicious signature dishes. A brand-new opening on the New Golden Mile, Isola is a global favourite, with locations in Dubai and Milan.   
Dajidali is a fantastic choice for those seeking Japanese cuisine. With a laid-back, cosy interior, you'll be treated to Japanese classics and favourites.  
Kalma & Kaos: Imagine one restaurant with two sensations. Offering the best sushi in the region, Kalma offers Japanese cuisine you can bet on, while Kaos brings you Mediterranean delicacies bar none.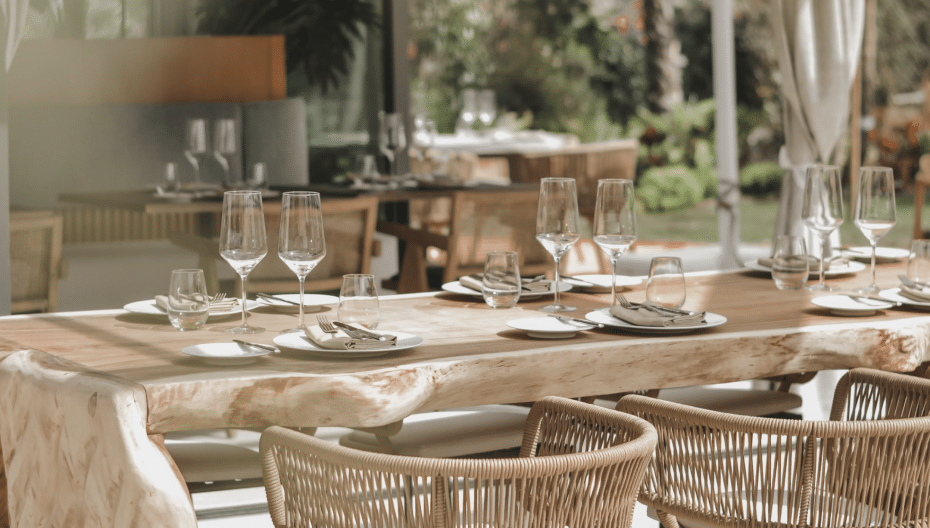 Tikitano brings you fresh interpretation of Mediterranean flavours, in both senses of the word. Spectacular sea views, combine with an elegant terrace and spacious gardens make this an idyllic venue.  
Club del Mar Villa Padierna ranks as one of the most exclusive beach clubs in New Golden Mile is that of. You can savour caviar, paella and many other fresh seafood delicacies whilst relaxing on plush sunbeds and drinking signature cocktails or sangria. For a luxurious beach club experience, this is the place to go.  
Beso Beach offers a fusion of Mediterranean and Basque cuisines in a lively setting, with sister locations found in Mallorca and Ibiza. This beach club is a must-visit, as their service and ambiance are unmatched.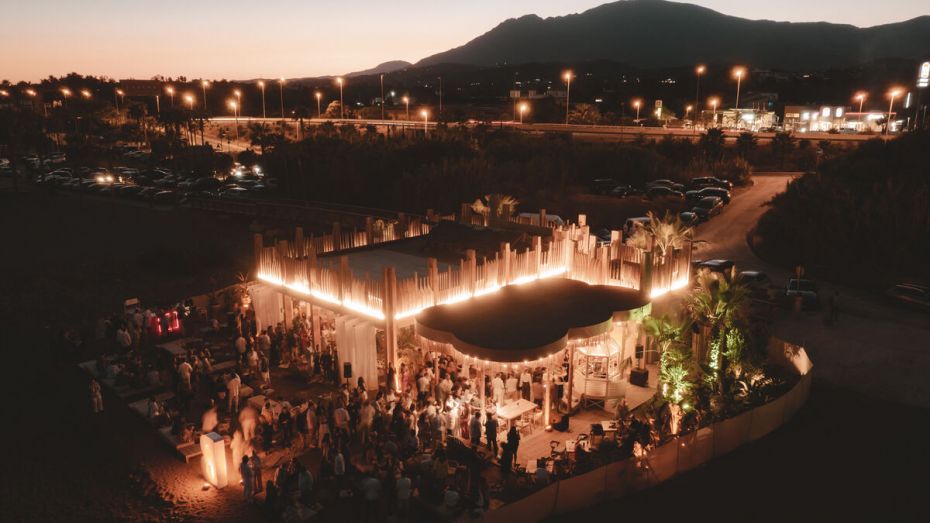 The new Laguna Village of the Pachá Group, in addition to the avant-garde architecture and interior design of Archidom Studio, is set to revolutionize the social scene and gastronomony on the Costa del Sol, according to its creators. Designed to host an exclusive hotel, restaurant and business parcel, it will comprise of 3,000 square meters distributed on two floors, with stunning sea views, an infinity pool on a new square, a beach club and ample parking spaces.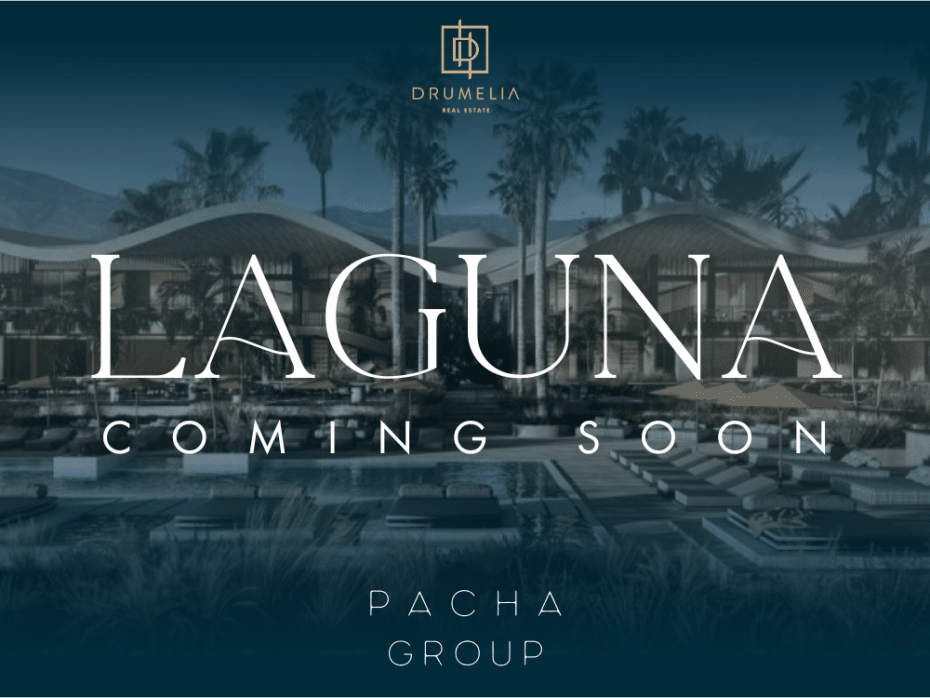 Activities
The choices of what to do in New Golden Mile are endless, ranging from self-care to entertainment. Seeing as there are many luxury hotels around New Golden Mile, a spa day is a fantastic way to unwind and take time for yourself.
Anantara Spa, located in the Villa Padierna hotel, is a high-end, luxurious experience, with a variety of treatments to choose from. Wellness programs are available, targeting all aspects of health and healing. The Kempinski Hotel is also home to its own Spa, with 6 treatment rooms and a pool, as well as an extensive list of treatments.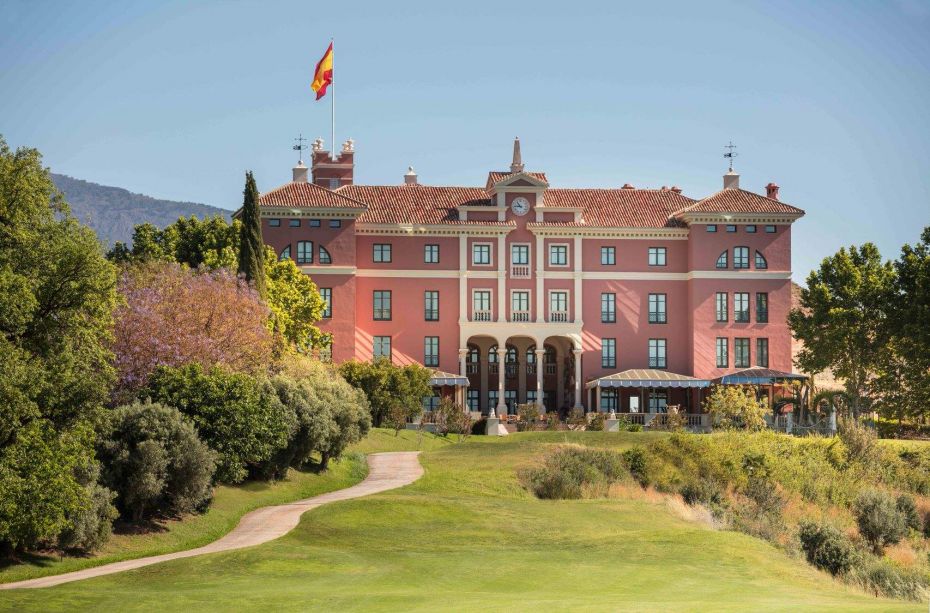 Selwo Aventura park is perfect if you're looking for a fun family day out. Offering authentic wildlife, visitors are free to roam around and view over 1000 animals, all in different ecosystems and semi-free conditions. There are tour options, where you're able to meet and interact with the animals. Additionally, there are various indoor entertainment parks as an option for children on a rainy day, such as Kidz Kingdom in Bel-Air - a massive play area with cafes for parents to chat as they wait.  
The paseo – or pedestrian promenade lining the sea – is a sight to behold. New and curving elegantly all along the seafront, it borders the majority of building developments, allowing residents the chance to play sports, savour the sea air, and even walk to town without having to take the car.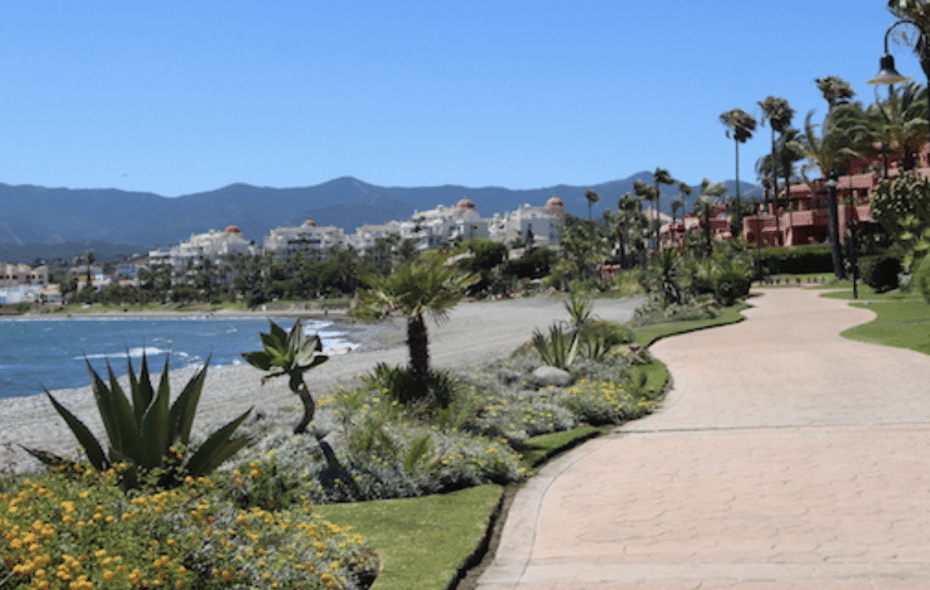 For a cultural experience, the Prehistoric Necropolis of Corominas, located in West Estepona, is a museum showcasing 5 original dolmens from 3000 BC. Also, the Paleontology Museum of Estepona is an interesting option.  
IKOS – blending the character of Greece with the charm of Andalusia, the IKOS resort presides over national parks, endless stretches of sun-kissed sands, and a scattering of quaint whitewashed villages await on the glamorous Costa del Sol. Add in pristine pools, beaches and a host of family-friendly activities, and you're in good company indeed!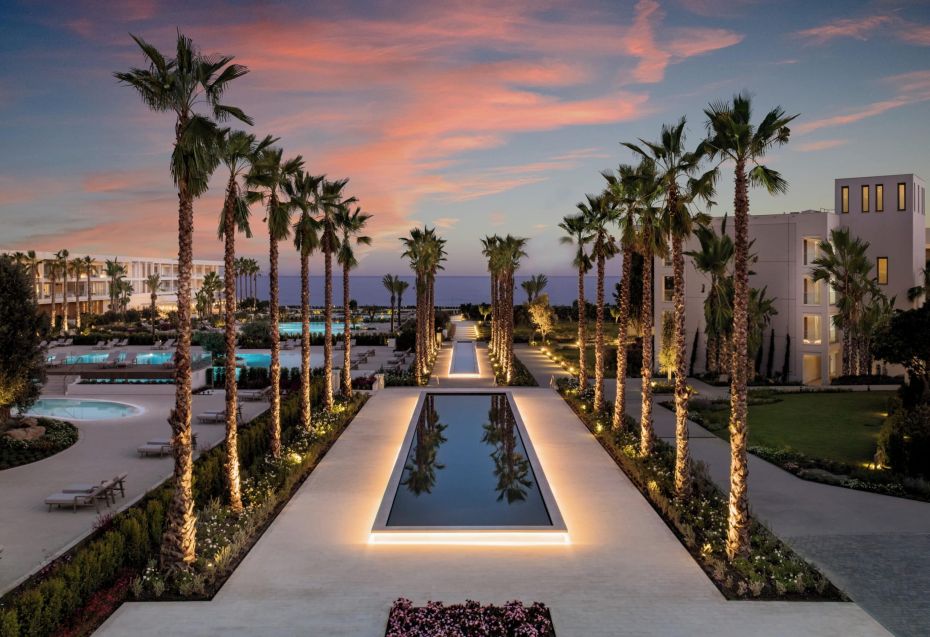 Finca Cortesin – this luxury area is located in Casares, not extremely close, but still worth a day trip, or even longer. This premier address includes a world-class golf club, a beach club nearby, a lovely resort and plentiful real estate options.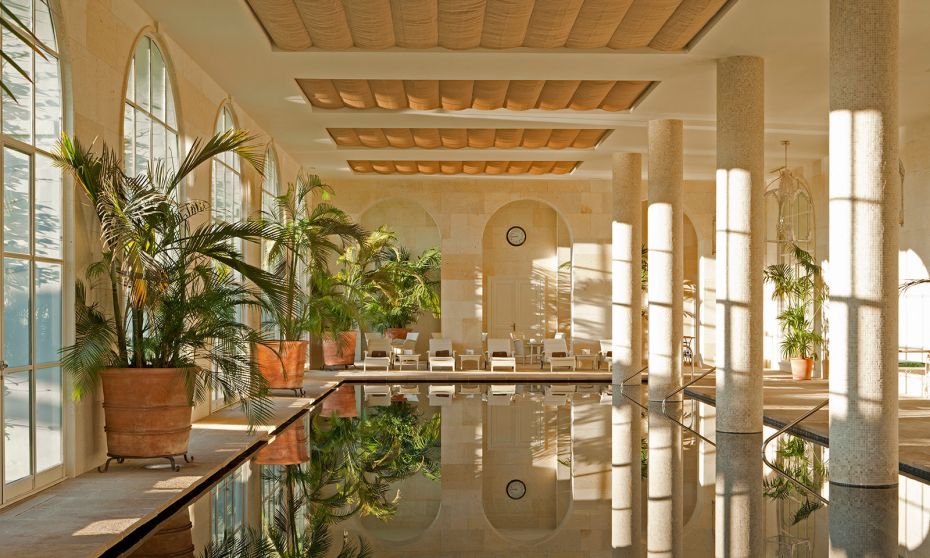 What is life like for kids in New Golden Mile?
Situated in an extremely safe area of the Costa del Sol, life for kids in New Golden Mile is incredible. With a variety of schools to choose from, and surrounded by many amenities, families love to choose New Golden Mile as a place to settle down in. Its proximity to Marbella is also a huge bonus.  
Schools in New Golden Mile
The New Golden Mile has several private schools to choose from, in addition to those situated within the Marbella municipality.  
The International School Estepona is situated in El Paraiso and has been running for over 15 years. Offering the Montessori method for nursery and primary school children, this is a great option for those seeking a specific learning environment.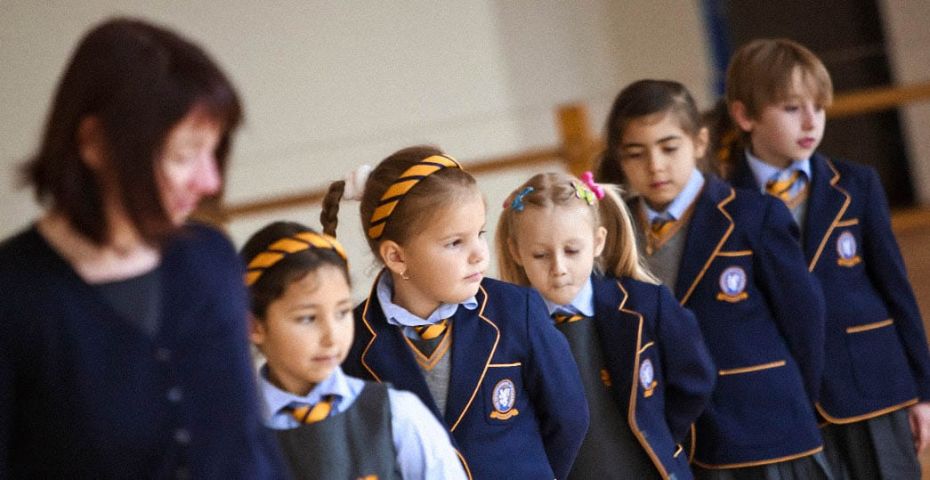 Atalaya International School offers both Spanish and English education to students aged 3 to 18. They offer GCSE and IB, as well as the Spanish Baccalaureate for those that prefer it.  
Mayfair International Academy is located in Atalaya Baja, and offers education for children ages 3 to 18. With the program of instruction being based on the British Curriculum, they offer the Cambridge pathway as a learning programme.  
The Atlas American School is in the hills of Estepona, and follows the American curriculum. Children from ages 3 to 18 are welcome, equating to kindergarten through Grade 12.  
Colegio San Jose is a bilingual education centre, offering a separate establishment for primary and secondary school kids. As such, education is offered in both languages, with an option of the Spanish Baccalaureate or the International Baccalaureate in the final two years.  
Other schools in Marbella are at a close distance:  
Searching for more information on schooling in the region?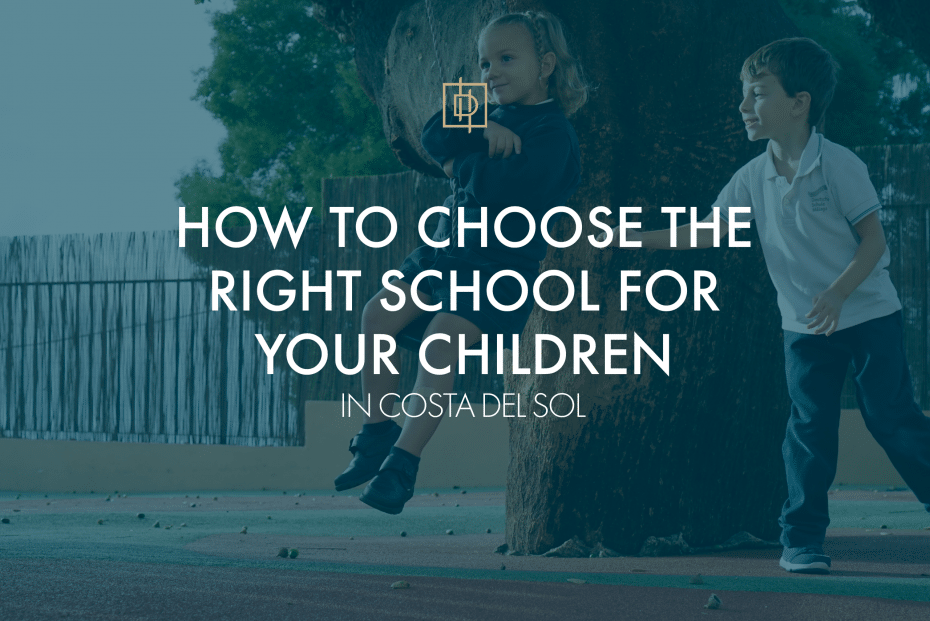 How close is New Golden Mile to Marbella and its amenities?
New Golden Mile is perfectly connected for all of Marbella's amenities to be within reach. So, exploring new areas has never been easier.  
Marbella's Golden Mile is a 20-minute drive away.

 

Puente Romano Beach resort is a 15-minute drive away.

 

San Pedro de Alcántara is a 12-minute drive away.

 

Marbella Old Town is a 20-minute drive away.

 

Puerto Banus is a 12-minute drive away.

 

Malaga Airport is a 45-minute drive away.

 

Gibraltar Airport is a 50-minute drive away.

 

Helicopteros Sanitarios, a private hospital, is a 22-minute drive away.

 

The Costa del Sol Hospital is a 20-minute drive away.

 
Who lives in New Golden Mile?
New Golden Mile is home to a broad spectrum of nationalities, with both locals and international people having homes here. Seeing as it's rising in popularity, more and more visitors decide to settle down and build a life in New Golden Mile. So, when living here, you can expect to be faced with many cultures and nationalities, making life here all the more interesting. 
What new luxury developments can be found on New Golden Mile?
As an area booming with people who visit, people who stay and people who decide to settle, it's no secret that New Golden Mile has its share of new developments that cater to the luxury sector. Here are a few: 
Emare

is built right on the sea, with stunning views, right next to the Paseo.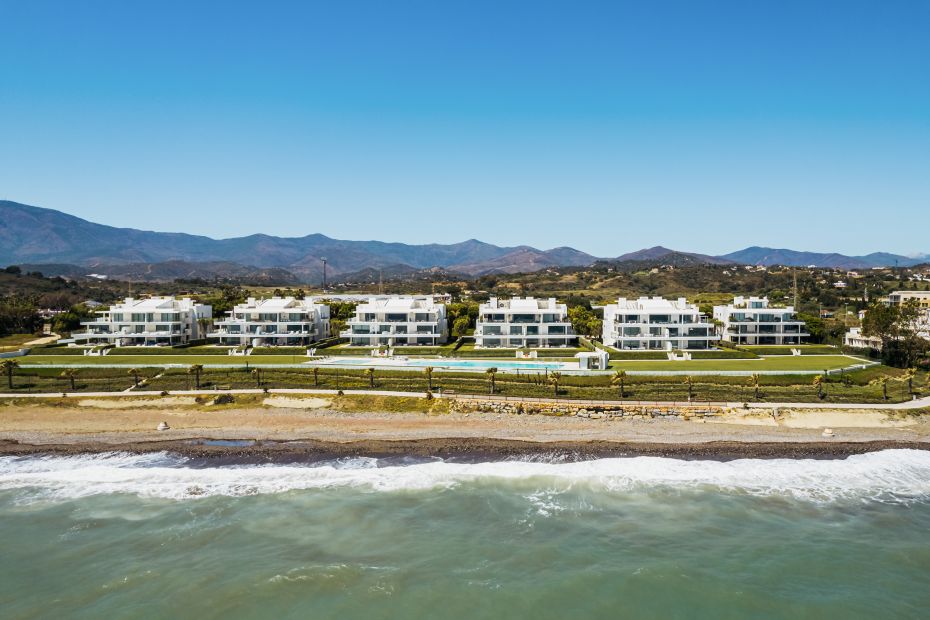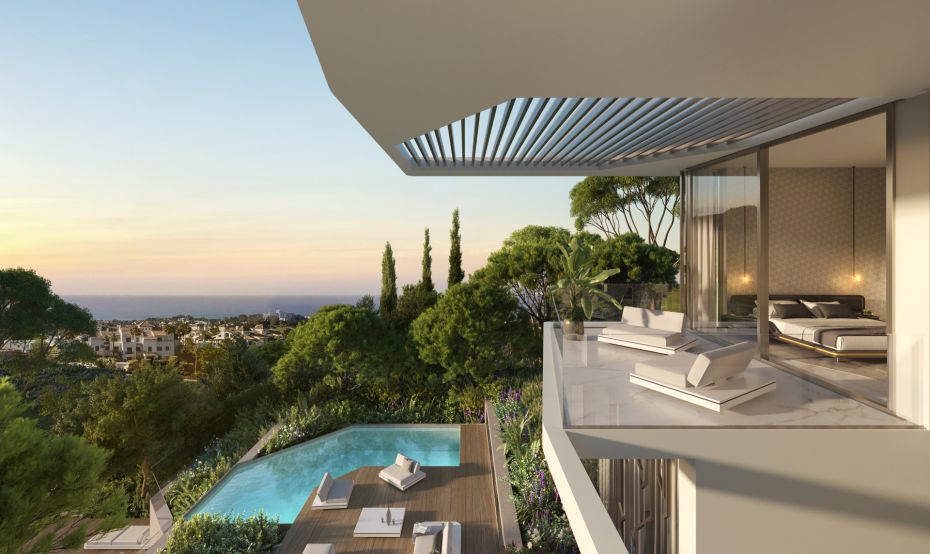 The View  is a luxurious development that offers a full range of amenities, including 24-h security and concierge services, dry cleaning, transport and even a private chef.

Then, there are these other notable developments. Have a look!
With Estepona police and San Pedro de Alcantara police being extremely close in case of an emergency, and most developments having their own security patrols, New Golden Mile is extremely safe. Similarly, many public hospitals are around and accessible to all.  
Which is the leading agency in New Golden Mile?
We are proud to say that Drumelia is the leading real estate firm in Marbella, with decades of experience working along the Costa del Sol and helping buyers and vendors with their properties in New Golden Mile. We currently have over 10 properties in New Golden Mile, ranging from traditional Mediterranean homes to luxury villas. We are here to help in any way possible and are prepared to guide you through your sale or purchase process. 
Contact us today!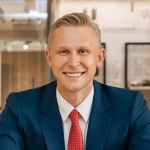 CEO & Partner
Artur Loginov
Artur Loginov is the CEO and proud Partner of Drumelia Real Estate. He has over a decade of knowledge and…
PROPERTIES FOR SALE IN NEW GOLDEN MILE
We work daily to bring you every good investment or luxury property for sale that hits the real estate market in New Golden Mile. Find all available property for sale options in Guadalmina and other close neighbourhoods like New Golden Mile.
View all properties