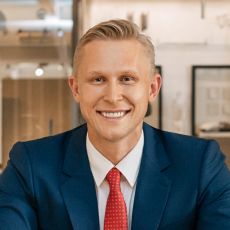 La Zagaleta Spain's most exclusive gated urbanisation
By Artur Loginov on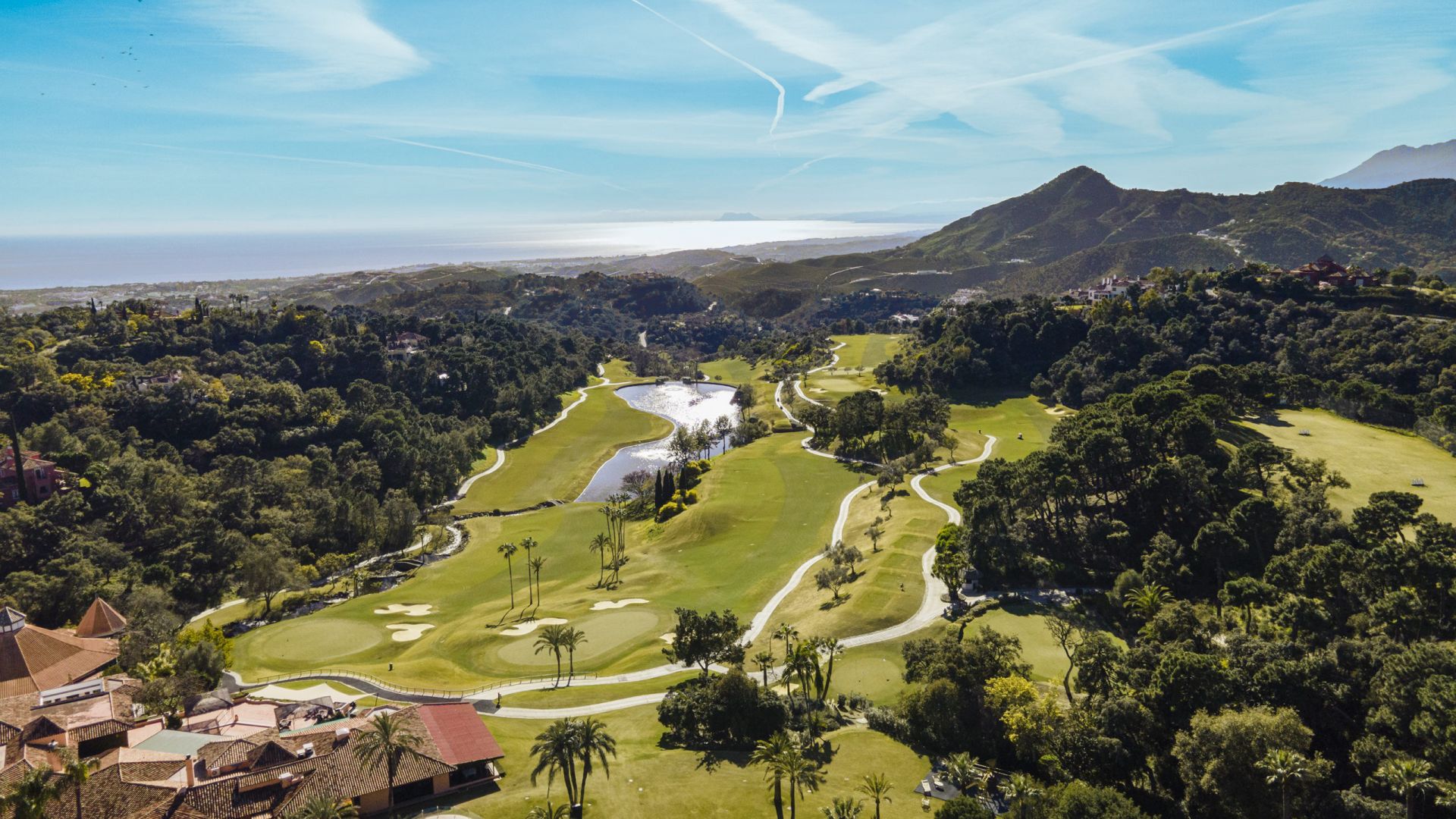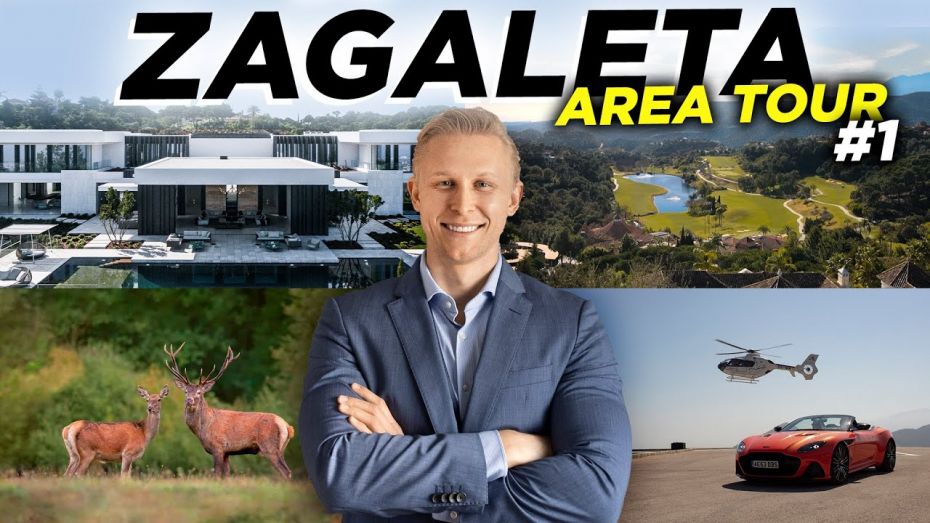 We have prepared this in-depth guide for you to get to know all there is about the prestigious gated community of La Zagaleta. Nestled in the natural hills of Benahavis, a stone's throw away from the beautiful beaches of the Costa del Sol, and a short drive away from Marbella, La Zagaleta is home to some of the most luxurious homes not only in Spain but in Europe.
What is La Zagaleta?
The secluded urbanisation of La Zagaleta is one of the most exclusive and prestigious gated communities in Europe, and has become a staple of the Marbella luxury lifestyle. In 1991, it started its development as a private hunting estate, covering 900 hectares of protected wooded groves and green valleys.
Currently, there are 230 properties within the gated community, but there are still plots available that can increase the total number by 190. This means that La Zagaleta has the potential of having 420 properties within its gates, much like the vision dictated by one of its investors, Enrique Perez Flores, in the 90s.
Today, this sophisticated residential estate combines independence, privacy and tranquillity with a fascinating setting, luxurious facilities and services brought to an unprecedented level. Residents have private access to 50 km of internal roads spread throughout its valleys, leisure and sports amenities, such as two golf courses, two clubhouses, an equestrian centre, a tennis club, and a concierge service. Not to mention a helipad for private arrivals. La Zagaleta is not only a place; it has become a lifestyle.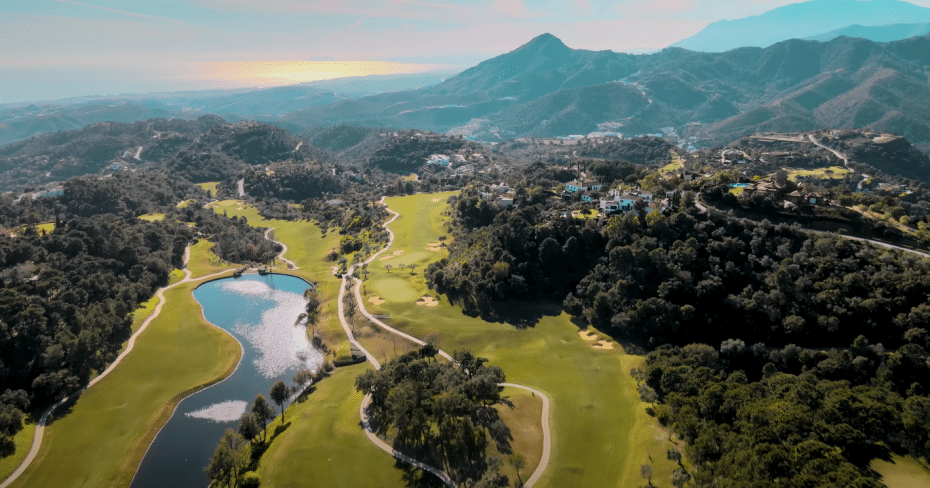 When was La Zagaleta founded?
In 1990, Enrique Perez Flores and a group of investors purchased the 900 hectares plot in Benahavis, privately owned by Saudi multi-millionaire Adnan Khashoggi, then known as La Baraka, his private hunting estate. Mr Perez had the vision to create a private estate nestled in nature with 420 homes embedded within the foothills of the Serranía de Ronda. In 1992, construction of the first golf course, the first internal roads and homes began. In 1994, the old clubhouse was inaugurated.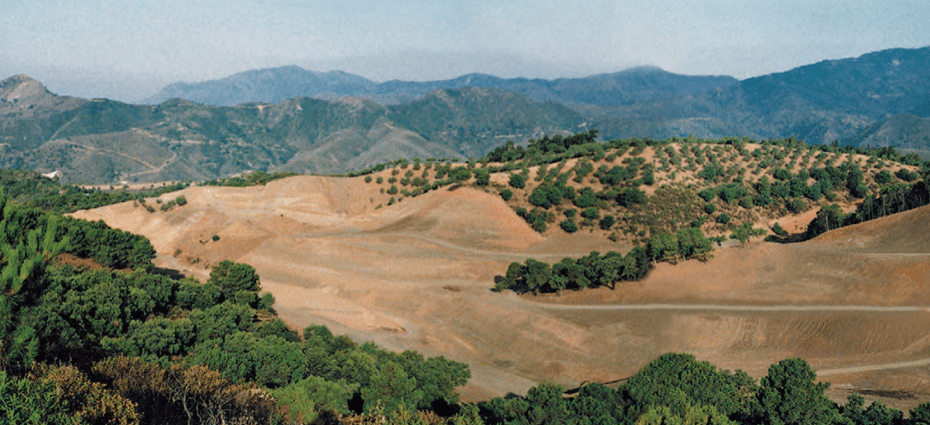 What is the history of La Zagaleta?
La Zagaleta, along with other hectares of land, was originally part of the land initially owned by Thierry Roussel, the french multi-millionaire. Roussel left the land to his family, which encompassed what is currently known as El Madroñal, La Zagaleta and La Reserva de Alcuzcuz, meaning that the family owned 1,500 hectares of land. The land began to break into three zones when Saudi multi-millionaire Adnan Khashoggi fell in love with the estate and offered to buy land off the Roussel.
Khashoggi then designated the northern zone of the estate La Baraka, where he built many extravagant villas and would throw private events and parties that mirrored the glitz and glamour of Marbella in the 80s.
In 1991, a group of investors led by Enrique Perez Flores acquired Khashoggi's property and renamed it La Zagaleta. This is what commenced the culmination of the gated community and private plots on 900 hectares of land. Khashoggi's old house was then converted into the clubhouse and restaurant of the La Zagaleta Golf Club.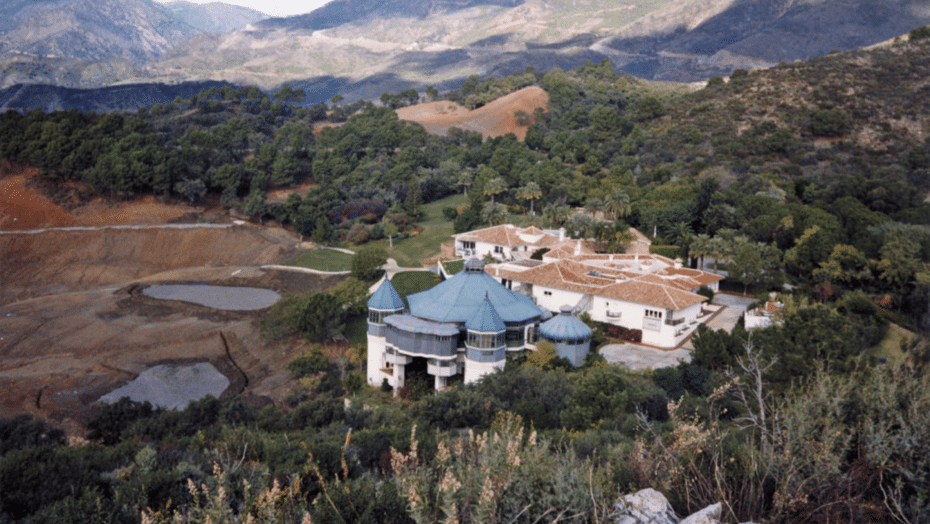 Where is La Zagaleta?
La Zagaleta falls under the municipality of Benahavis, one of the most sought-after municipalities in Malaga to live. La Zagaleta is conveniently located close to Marbella, its amenities and beaches.
Marbella centre is a 20km drive from the South entrance.
Puerto Banus is 12km away
San Pedro de Alcantara is less than 10 minutes away by car
Benahavis town is 14km away
The neighbouring town of Estepona is less than 30 minutes away by car.
The easiest way to access La Zagaleta is by traveling up the A-397 towards Ronda. This way, you can easily access La Zagaleta's 2 entrances: the Northern and Southern entrances. The South entrance is closest to everything and is located west of the A-397. It must be noted that only residents can get into the urbanisation through the South entrance. The North entrance is a 4 km drive further up the A-397, which serves as the main entry point for residents, visitors and workers. This is where security identifies all those who enter the urbanisation that is not residents or have no prior notice of entry.
If you are arriving from abroad and land at Malaga AGP airport, it is a 45-minute journey via the AP-7 motorway, which is a 71.8km drive. If you are flying in from Gibraltar airport, it is an hour's journey on the main coast road, which is a 72.4km drive.
La Zagaleta also has a private helipad for those who prefer to fly in or out on a helicopter. It is a 15-minute journey to Malaga Airport, a 10-minute flight to Ronda, a 40-minute journey to Sevilla and a 45-minute flight to the Sierra Nevada.
If you would like to see how you can get to La Zagaleta, check out our Google Maps Link.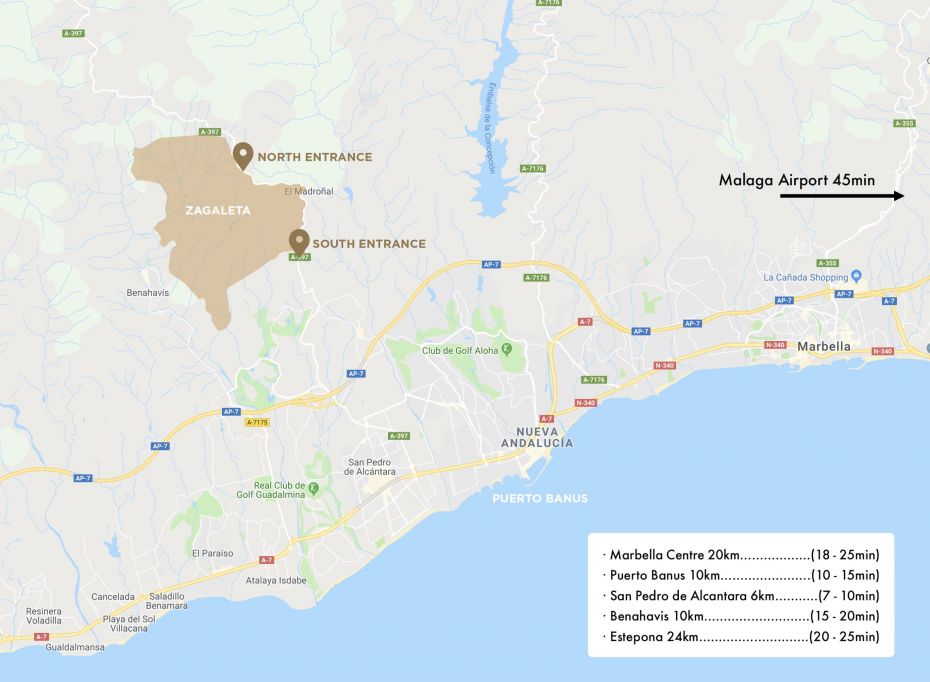 Who owns La Zagaleta?
The Zagaleta Group is governed by its holding company, which owns and operates the following brands.

Initially, the land that Zagaleta now sits on was owned by multi-millionaire Frenchman Thierry Roussel. It was then bought by Adnan Khashoggi and named La Baraka. The founder of La Zagaleta is Enrique Perez Flores. The current CEO of La Zagaleta is Jacobo Cestino, and the Executive Chairman is Ignacio Perez Diaz, who is in fact Enrique Perez Flores' son.

How big is La Zagaleta?
La Zagaleta is set within a former hunting estate of 900 hectares (2,223 acres) of valleys, wooded hills and pure Andalusian nature.
How many houses are in La Zagaleta?
La Zagaleta has 230 homes ranging in size from 3,000 m² to 10,000 m² and prices from 2 to 34 million euros. Although there are 230 homes within La Zagaleta, the gated community still has plenty of plots to develop new properties. It is said that when all plots are developed, La Zagaleta will be home to 420 extravagant properties, as there are another 60 plots available for future construction of 60 Villas and where a six-star luxurious hotel is planned to be developed with its own additional entrance. As the hotel will be constructed in a different sector within Zagaleta, it will have minimal disruption to residents and already built plots and villas.
Properties For Sale in La Zagaleta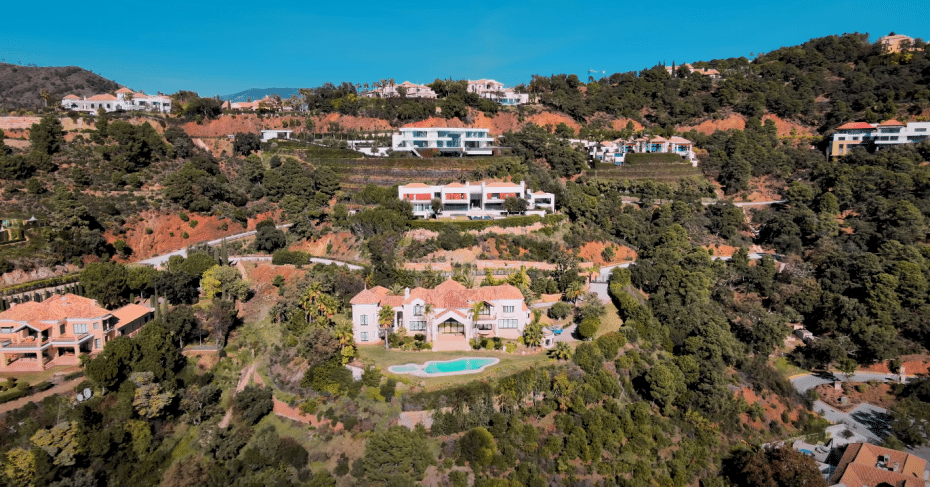 How many sectors does La Zagaleta have?
La Zagaleta has honoured Spanish painters and composers by naming the roads after them. The estate is divided into different sectors, which go by the letters A, B, and C, all the way up to J. The best sector within Zagaleta in terms of views and most expensive medium price levels is sector H, located at the highest peak of La Zagaleta and very close to security at the North entrance. In sector H, Almost all properties are southwest-oriented and enjoy fantastic views of Africa and Gibraltar. Several houses located in sector H are listed between €10,000,000-€20,000,000.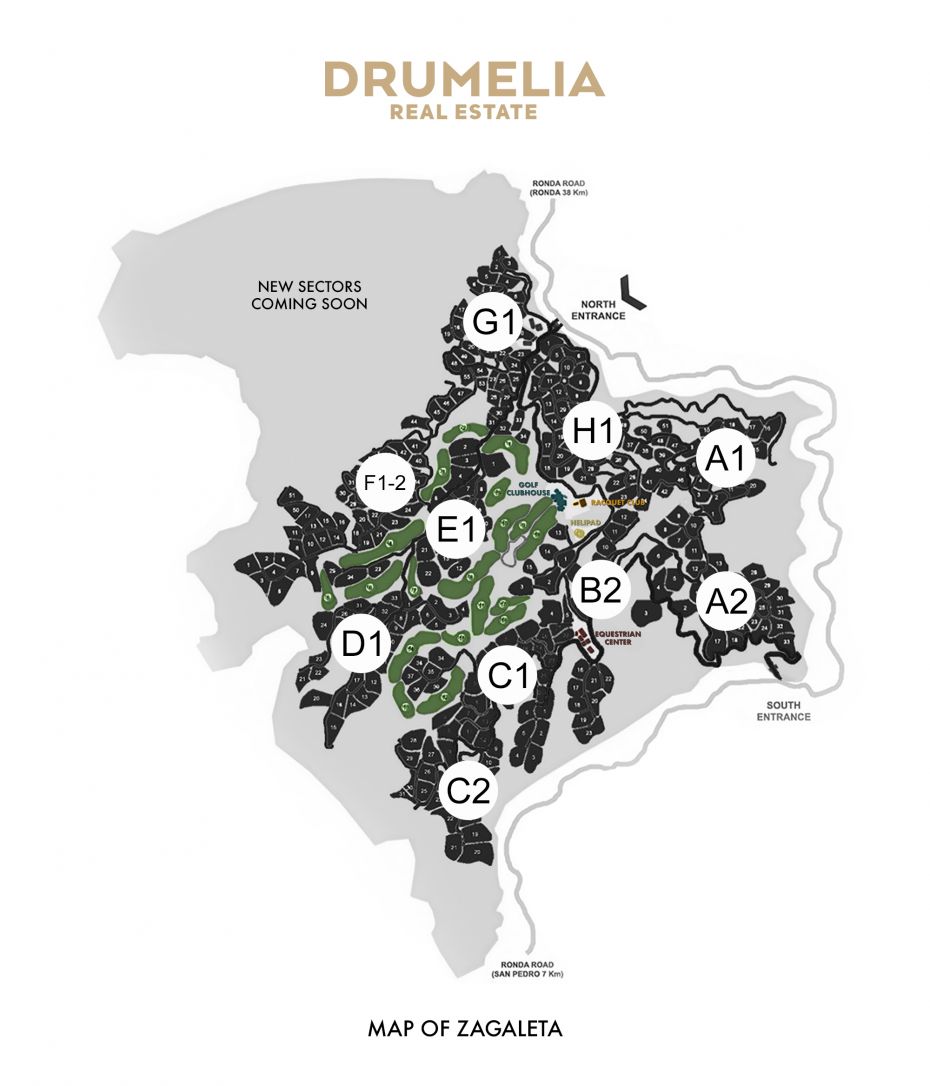 Does La Zagaleta have sea views?
No matter where you are, the views from La Zagaleta are gorgeous and unforgettable, as La Zagaleta sits 450 metres above sea level. The views span over the idyllic Andalusian mountainous landscape with an undulating green carpet of golf courses, towards the scenic coastline of Southern Spain, the Mediterranean Sea shimmering in the sun, the African coast with the Rif Mountains, and both Pillars of Hercules that flank the entrance to Gibraltar. Although you are high up in the mountains, most properties within La Zagaleta have sea views that one could only dream of having.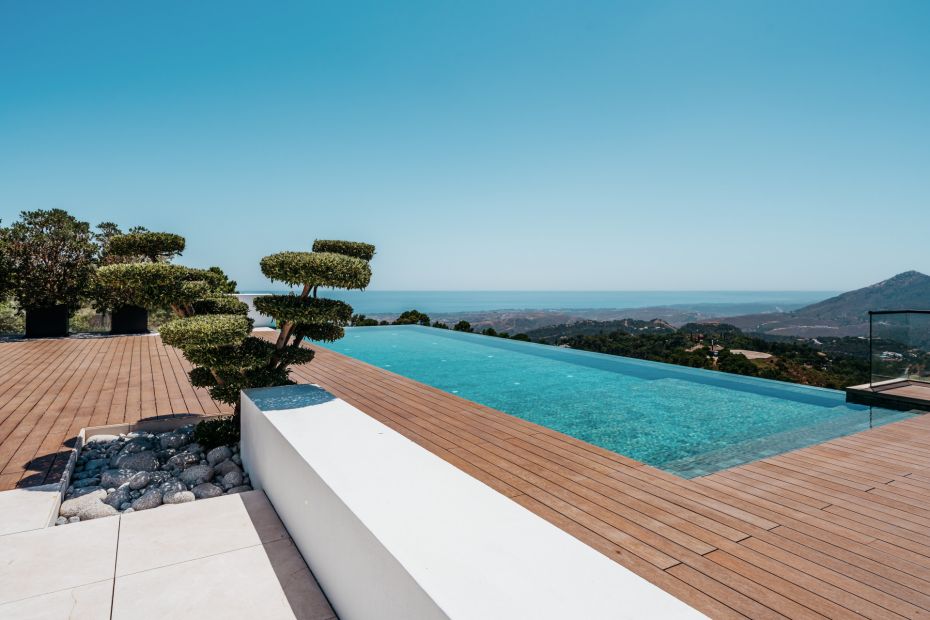 What style of homes can you find in La Zagaleta?
La Zagaleta is the pinnacle representation of exclusivity and luxury. And, of course, the homes within the community reflect this. All architectural designs are timeless and never replicated. There are particular aesthetic, technical and environmental guidelines the homes must follow to ensure that all homes flow harmoniously together. There is an excellent variety of styles, from traditional to ultra-modern villas, all of which boast geometry, amenities, beautiful tones, textures and landscapes.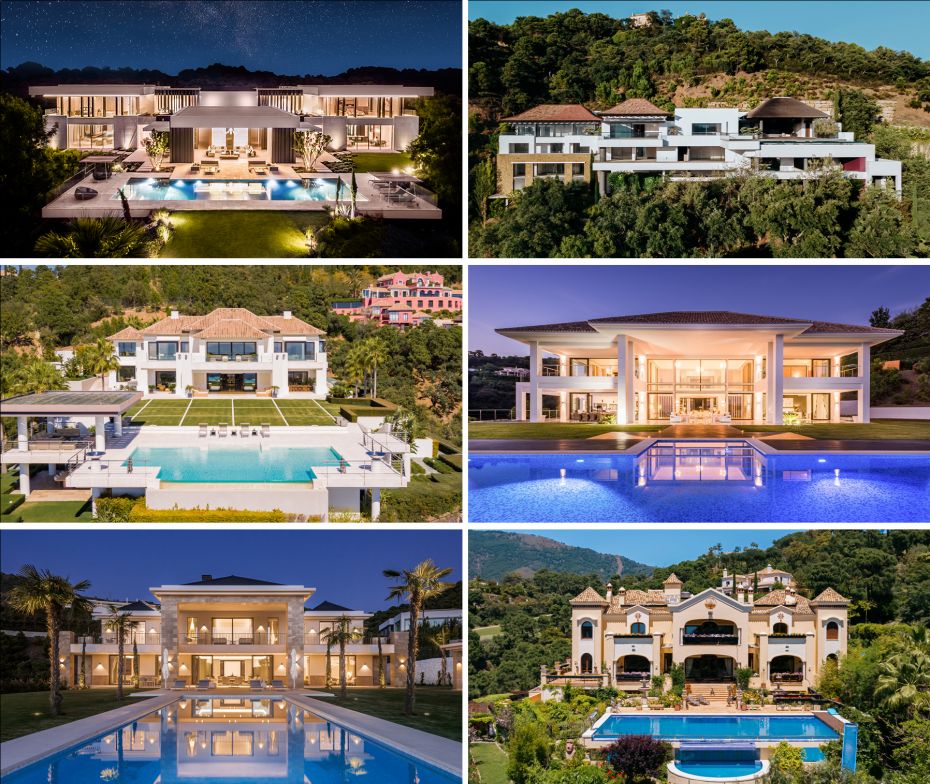 How much does it cost to buy a house in La Zagaleta?
The cheapest villas for sale are going for €2,000,000; the most expensive is valued at over €30,000,000. The average value of a property in Zagaleta would be around €9.750.000. There are many properties for €10,000,000-€15,000,000, but not many are currently for sale. Currently, the price range sits at €2,000,000-€34,000,000. There are rare cases where you can find properties under €2,000,000.
Many of you may have heard of La Zagaleta's landmark mansion Villa Cullinan, which was listed at €32,000,000 and was awarded with the prestigious title of Best Residential Property of Spain and Europe at the 2019-2020 International Property Awards. In fact, Drumelia had it listed exclusively and successfully sold. Amongst other examples, Drumelia have also succesfully sold the famous Heaven 11 and Villa Cipres, both priced over €10,000,000.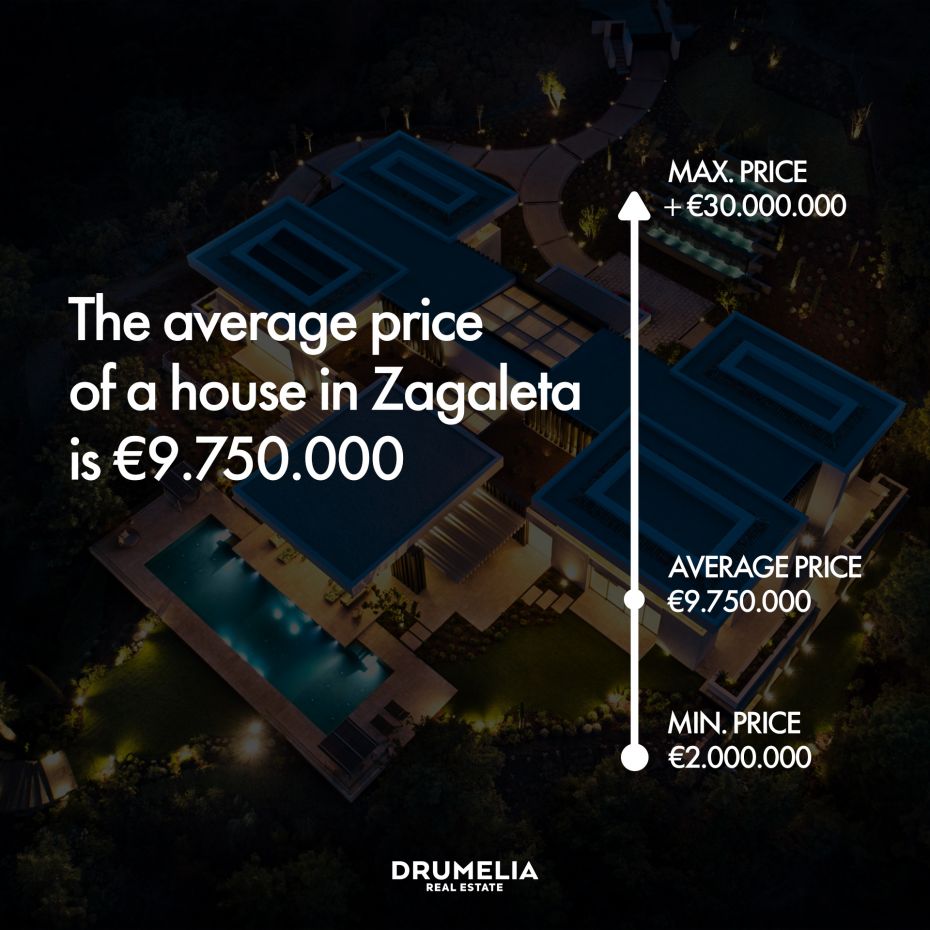 How much does it cost to buy a plot in La Zagaleta?
The land prices start at just under €1,000,000, and prices can go up to €10,000,000 or more. The value comes mainly from the views and the final flat garden, not just the price per m². As La Zagaleta was founded on a mountainous range with steep land surfaces, you sometimes find a 4,000 m² plot with a flat garden or one large property set on an 8,000 m² plot. The land sizes vary from 3.000 m² up to approximately 15.000 m². There have been cases where land owners combine multiple plots to create one vast plot.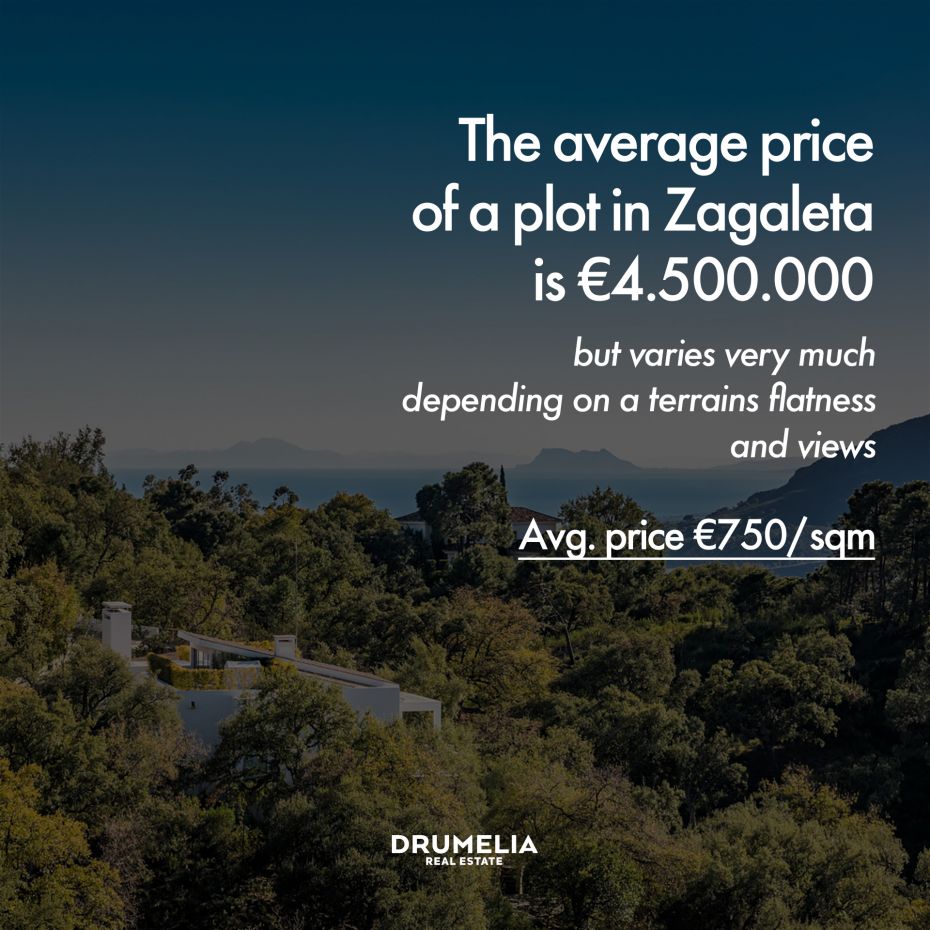 How much does it cost to maintain a house in La Zagaleta?
Zagaleta's more than 230 homes are strategically located so each owner can feel regal. They vary drastically in price, from 3,000 m² to 10,000 m². Maintaining such residences usually costs around €70,000 a year, and the community fee is around €5,000. So, it is safe to say that La Zagaleta cannot get any more exclusive than this! To be able to live in La Zagaleta, their investment must represent 10% of their fortune.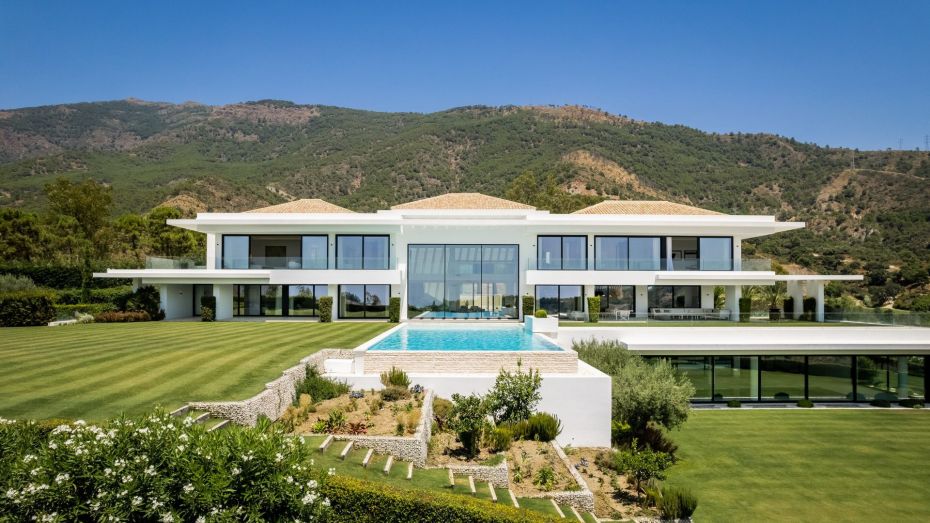 How much would it cost to build a house in La Zagaleta?
Many clients have enquired about whether it was better to buy a house or build one from scratch. We are speaking from experience, as Drumelia had the pleasure of developing  Villa Arcadio, which won the prize as the Best Villa in Europe in 2016. It was challenging work but very gratifying. Drumelia was responsible for the project management, and the team members were at the building site every week for two years. The building process can be stressful, and the result depends on you.
As an approximation, you are looking at spending €2,000-€3,000 per m² of land. Here is an example of a calculation to give an approximation of how much it would cost to build a 1.200 m² house on 4.000 m² plot in La Zagaleta:
If you take the minimum per m², you are looking at €2,000/m² x 1,200m² = €2,400,000. Building is much more complicated in Zagaleta because of its terrain, so a good retaining wall would be needed, which costs around €300,000. Then, you can factor in €100,000 for a fully fitted kitchen and another €100,000 for the landscaping of the garden. Adding these costs together, you are now looking at €2,900,000. However, this figure does not consider architect fees, project management fees, licenses, geological studies, technical reports, building permits and taxes. As an estimation, let's say this is all an extra €600,000, which brings your total to €3,500,000.
That price is for the property itself, you must also factor in the price of the plot itself and the taxes on top of the price. For the sake of the example, let's say the plot costs €3,000,000 without purchase taxes. You would be looking at €3,000,000 + €3,500,000 + purchase taxes, which brings you to a final price of approximately €7,000,000.
Please note that this price does not include the amount needed to furnish the house, as, at the end of the day, the price depends on the quality of the furniture and personal preference.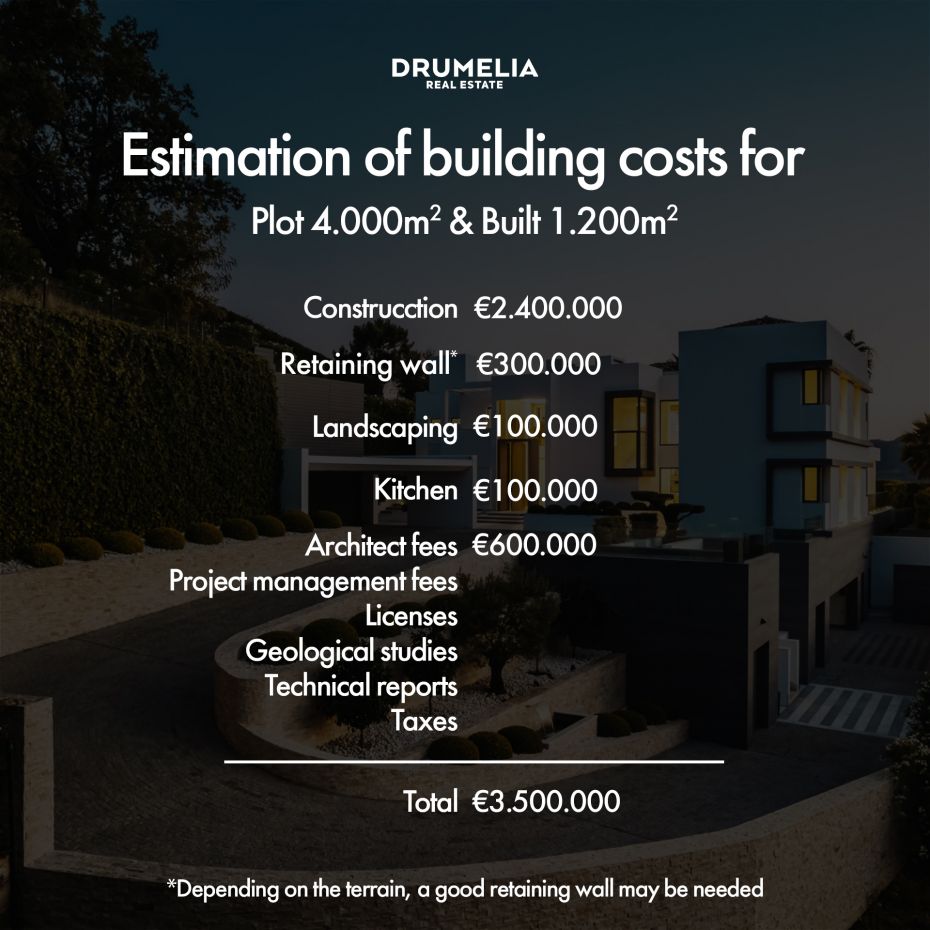 How long does it take to get a construction license in La Zagaleta?
In Spain, you need to obtain what is referred to as a Major Construction License (Licencia de Obra Mayor) when building a property, as the project affects structural nature. This license is what allows you to build a property legally and must be issued prior to work commencing. This license allows 12 months for building to begin and then 6-24 months to complete the build, depending on the scale of the project.
When it comes to the amount of time it takes to obtain one, every province in Spain have their own set of rules and timeframes that are subject to the type of construction project taking place. In Málaga, each municipality also have their set rules, regulations and timeframe. La Zagaleta falls under the municipality of Benahavis, and the Major Construction License is asked for at the Benahavis Town Hall. In Benahavis' case, there have been cases where the license was obtained in just 15 days, but on average the time it takes to obtain a license is 3 months. However, the time differs depending on many factors, such as the scale of the project and the location of the project.
What documentation is needed to obtain a construction license in La Zagaleta?
In order to obtain a Major Construction Licence in the municipality for Benahavis for a family home, the following prerequisites apply:
The homeowner or their legal representative must be the ones to apply for the license
They must apply for the license in the Benahavis Town Hall
The following documentation is required:

The homeowner or legal representative's application
Copy of notarial deed
Copy of the CIF (if it is a company)
Copy of the DNI / NIE / Foreign Identification Number (in the case of an individual)
Basic construction project, execution project, health and safety project, visas
Project endorsed by a common telecommunications infrastructure by a technician
Swimming pool project when building 20 or. ore dwellings

Taxes are as follows:

Payment of a fee of 2% up to €60,000
Payment of a fee of 2.4% from €60,000 onwards
Which architect has built the most houses in La Zagaleta?
Tobal Arquitectos has been one of the most prominent architect bureaus and leading designers of luxury properties on the Costa del Sol for the last 30 years. The firm's bespoke prime residential specialists have contributed to many of the region's iconic buildings in the most exclusive areas. To date, they have built 110 villas within La Zagaleta, almost half the total number of homes within the estate. Today, when we look at La Zagaleta, in part, we see a reflection of father and son work, Miguel and Diego Tobal. Drumelia has proudly worked alongside Tobal Arquitectos for many years.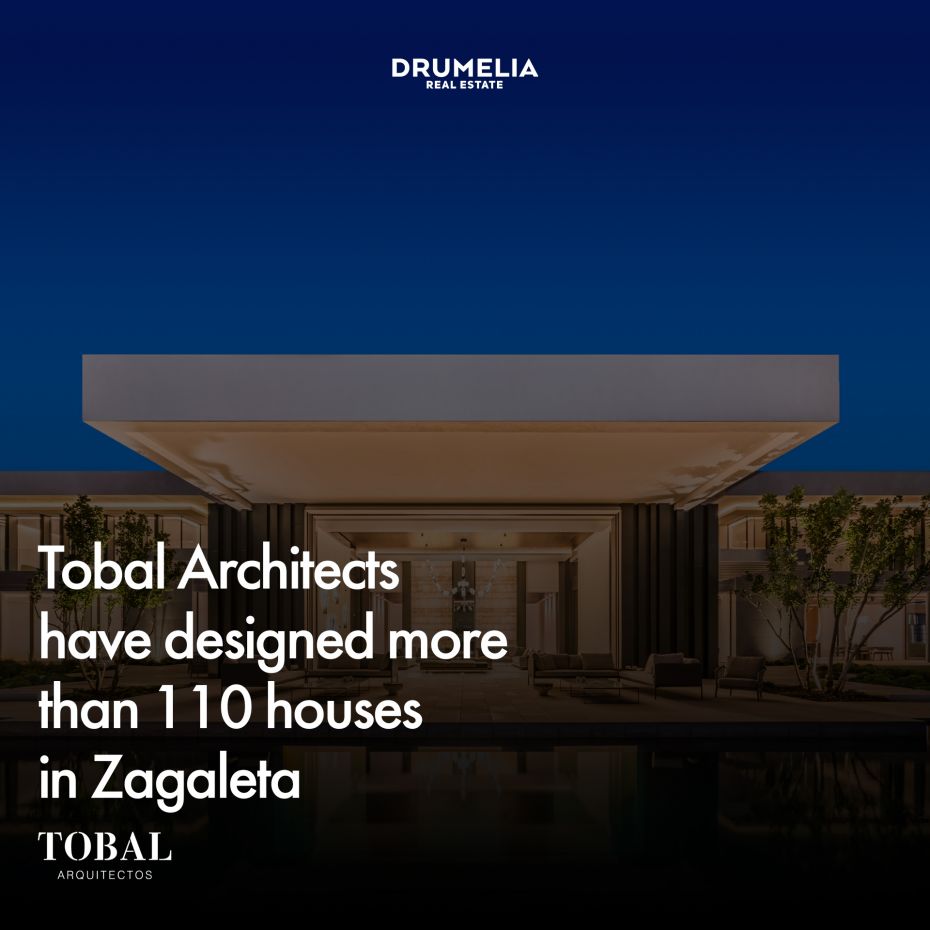 How do you become a member of La Zagaleta?
Just because you own a property in La Zagaleta, does not automatically make you a member. The La Zagaleta Country Club offers residents a membership that allows them to access all amenities the community offers, including unlimited use of their 2 golf courses, tennis club, equestrian centre, restaurants and other amenities. A membership costs €100,000, and is not mandatory to purchase if you own a property in La Zagaleta.
Suppose you would like to use La Zagaleta's amenities but are not a resident. In that case, the La Zagaleta Country Club offers a limited number of non-residents a membership, giving them the right to make the most out of what La Zagaleta offers. Of course, the Club gives residents priority for this membership.
Is La Zagaleta a popular place to live?
La Zagaleta offers a unique lifestyle that adapts perfectly to today's tendency to move away from city life, and is therefore more attractive as a place of residence for those who are looking for a peaceful home environment. It is naturally privileged, sustainable and picture-perfect, and those who work remotely consider it their ideal destination for permanent living or a second residence. Add a plethora of attributes: rich history, perfect Mediterranean climate, delicious foods and wine as a big part of Spanish culture, a robust transport infrastructure, as well as myriad attractions of a popular vacation destination with great socialising and leisure activities. La Zagaleta is considered a perfect place for couples and families looking to start their new life in Marbella.
What is there to do in La Zagaleta?
Golf in La Zagaleta
The unique Clubhouse offers two golf courses with 36 Parkland holes and a dynamic design integrating perfectly with the wildlife and vegetation of the eco-friendly environment. It is available exclusively for its members and their guests.
The old course, as its residents refer to it, is an 18-hole golf course designed by Brad Benz in 1991 and redesigned by Marc Westenborg in 2016. It is a championship course that follows the contours of the former hunting estate. The par-72 course's average playing time is 4h 10mins and is 72 par. The course itself has a total distance of 6,000 yards.
The new par-70 course inaugurated in 2005 was designed to merge golf with nature. The playful 18-hole course has an average playing time of 4h 30 mins and is full of beautiful obstacles and doglegs to overcome. The total distance is 4,300-5,300 yards. Construction started in 2002; it took 5 years to complete and cost over €21,000,000 to develop.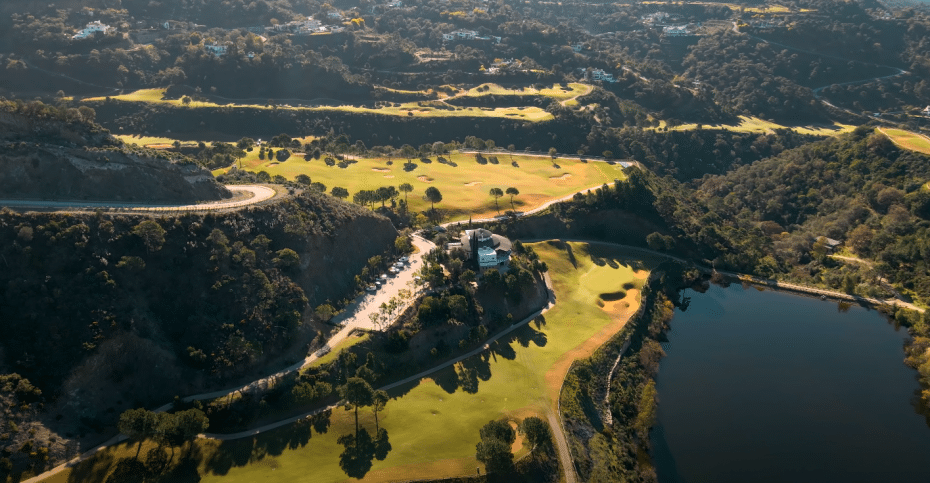 La Zagaleta Clubhouse
With its 5.000 m² indoor space, the elegant Clubhouse is known as the social club of La Zagaleta. Rich in activities and glamorous events hosted in style. It offers a great restaurant with five-star service, a panoramic terrace with beautiful views, a series of bars and lounges, hospitality rooms, and a Pro Shop. You can book it for private events such as parties, weddings or celebrations. There is also a second Clubhouse in the northern part, which is newer, much smaller, intimate, and with big plans for the near future.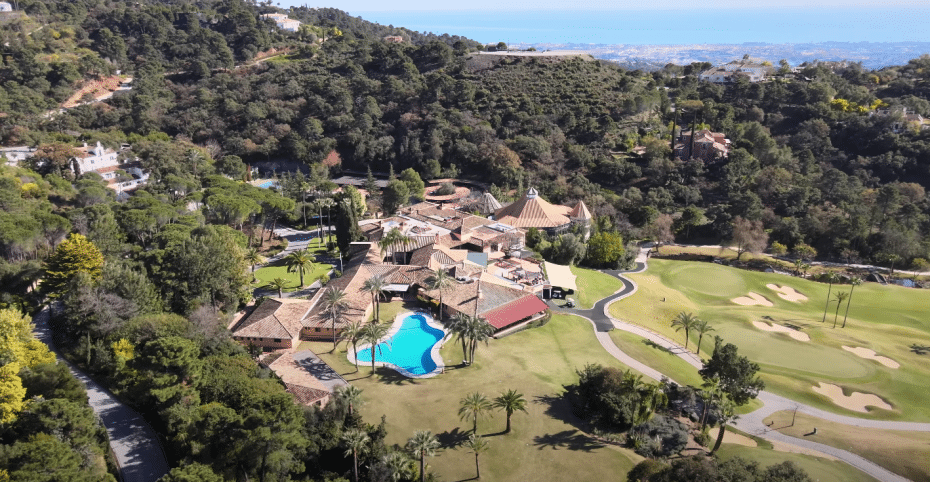 La Zagaleta Tennis Club
The tennis club in La Zagaleta has 1 clay tennis court, 1 hard tennis court, and a paddle court located in the Old Clubhouse. Professional tennis lessons are available for children and adults, all tough by professional coaches and instructors.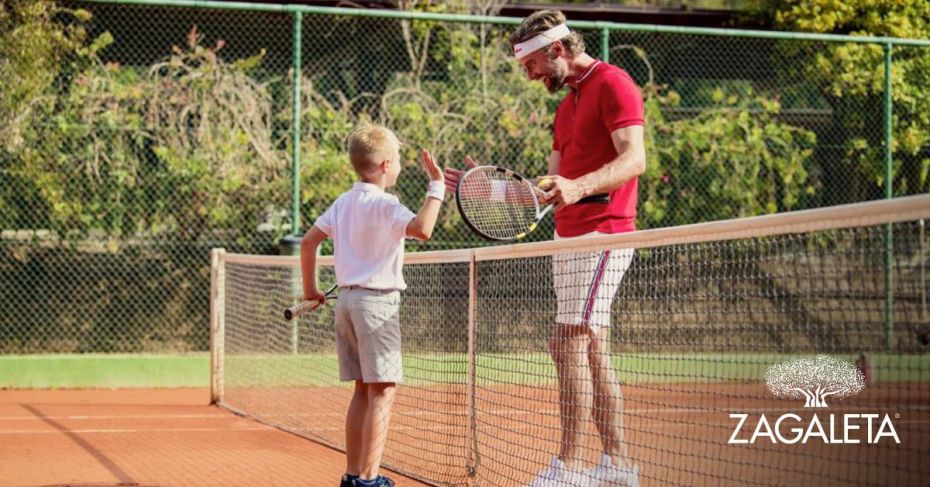 La Zagaleta Equestrian Centre
The La Zagaleta Riding Club is an equestrian centre with stables for up to 20 horses and facilities for training, show jumping and dressage. Classes are offered for those interested in learning equestrian, with the stables 11 horses and ponies at the club stables, not to mention that La Zagaleta has plenty of trails to explore.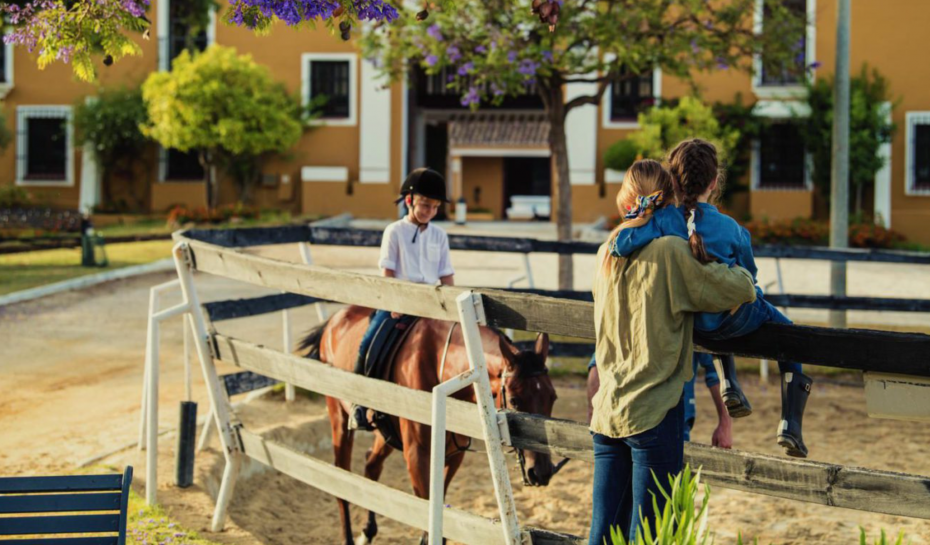 Hiking in La Zagaleta
La Zagaleta, comprised of 900 hectares of natural land, is an excellent place for hiking and cycling. As the urbanisation is on preserved natural land, you can enjoy a nice long hike or bike trail whilst taking in nature and observing the wildlife and fauna of the area.
Fishing in La Zagaleta
As La Zagaleta embraces nature to the fullest, you can find three fishing lakes on site to fish, which is an excellent way to spend time bonding with your friends, family, or even an escape to relax and connect with nature.
La Zagaleta private heliport
Residents can enjoy their private heliport. The helipad is available for private arrivals flying in from Malaga airport, which is only 70 km away and has excellent connections with Europe. Also, there is a collaboration with local hospitals in the event of an emergency. Hospitals can send a helicopter to assist you as fast as possible and take you to the nearest hospital, the closest one being less than 15 km away.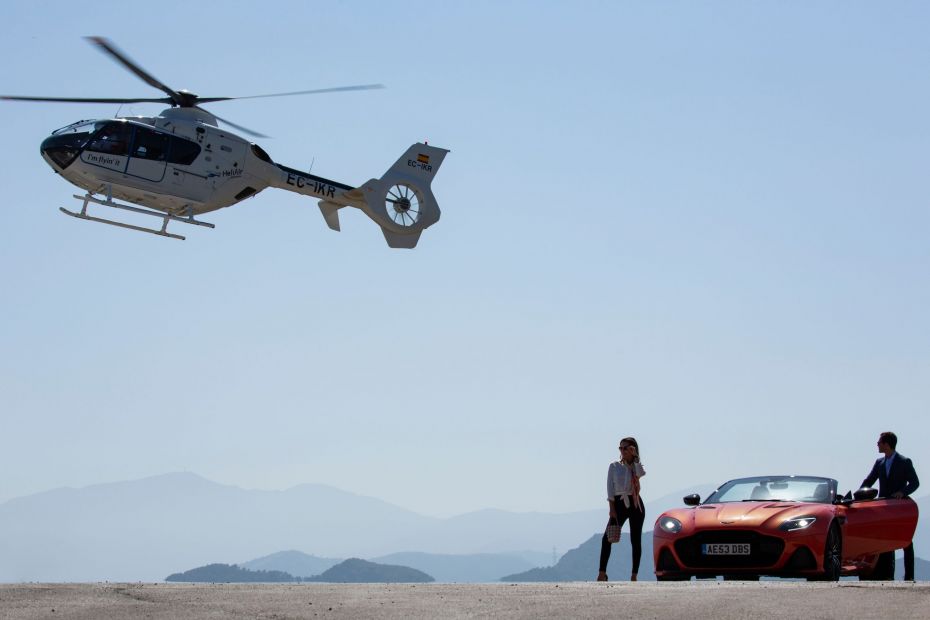 What is life like for kids in La Zagaleta?
La Zagaleta is an excellent example of a perfect place to raise a family. Apart from the fact the urbanisation has unprecedented security measures to keep its residents safe; there are plenty of places for kids to go and explore within the safety of the gated community. There is a wide range of sports and leisure activities for families to enjoy, such as golf, tennis and horse riding. Not to mention that there are academies for learners of all ages. La Zagaleta's amenities allow families to socialise and kids to make the most out of their day and have lots of fun.
Schools In La Zagaleta
Although there is no school within the gated community, La Zagaleta is within driving distance of some of the most renowned schools on the coast. Atalaya Colegio Internacional in Estepona offers bilingual education in English and Spanish for all ages, even offering the International and Spanish Baccalaureate certificates for pre-university level, and is less than a 12.3 drive away. 11km away, you have Laude San Pedro International School, and 15km away is Aloha College, 2 very renowned international schools for all ages. Another well-known school is Swans International School in Sierra Blanca, which is 20km away by car. Sotogrande International School is one of the only boarding schools in Andalucia, which is a 54km drive from La Zagaleta.
How close is La Zagaleta to Marbella and its amenities?
Many people don't realise how close La Zagaleta is to everything since the private urbanisation is located on the slopes of the Serranía de Ronda. Your property's location inside La Zagaleta plays an important role, as you can be anywhere from 1 min drive to the entrance up to 15 min drive if you live at the furthest point. You are only 2 km from the South entrance to the closest shops, 5 km to San Pedro town, 7.5 km to the beach promenade, and 9 km to the fabulous Puerto Banus. It is around 12 km to the legendary luxury hotels Marbella Club Golf Resort & Spa and Puente Romano Beach Resort, set in the heart of the famous Golden Mile! The closest international school is only 8.5 km away.
Is there wildlife in La Zagaleta?
The peace, tranquillity, and silence of La Zagaleta are only broken occasionally by sighting a pheasant, a mountain goat, a buck, or a mouflon. The gliding eagles create lazy circles in the sky. In the evening, you hear the sound of the Eurasian eagle owl. While driving, you may come across a group of deer crossing the road or a drove of wild pigs. Surrounded by fern trees and century-old oaks, driving through La Zagaleta is like a private safari. The animals are fed and looked after and undoubtedly form a charming part of La Zagaleta.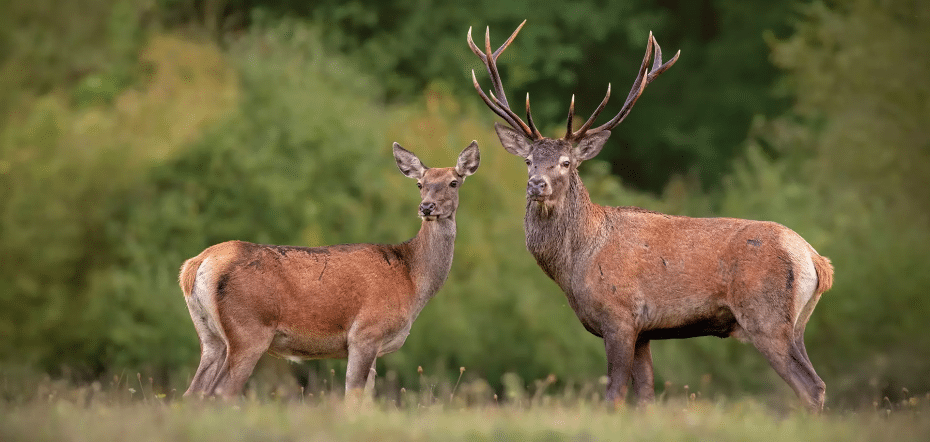 Who lives in La Zagaleta?
Suppose you have ever heard of La Zagaleta. In that case, you must know by now that the high-class residential zone has a strict entrance system and 24h security all over the grounds, so you can only imagine what kinds of important people live there, especially if they are looking to get away from the limelight and have some privacy. Just to give you an idea: celebrities such as Hugh Grant and Rod Stewart have owned property in La Zagaleta. Better yet, it has been rumoured that Beyoncé and George Clooney own properties there too! But, believe it or not, it is not celebrities that populate these ostentatious properties, but business people such as Hans Snook, the founder of Orange, the telecommunication company. La Zagaleta usually attracted more mature buyers from countries such as the United Kingdom, Germany, Sweden, and Russia, as well as the occasional Spanish buyer.
What are the most famous houses in La Zagaleta?
La Zagaleta is home to some of the most famous properties in Europe, properties known for their grandeur and representation of the luxurious lifestyle Marbella has to offer. Drumelia is lucky enough to say that they have represented and sold some of the most famous houses in La Zagaleta. In 2021, Drumelia sold the famous diamond of La Zagaleta, Villa Cullinan, for €32,000,000. Villa Cullinan gained recognition by people across the globe through our media channels and marketing efforts to sell the property, being featured in The Financial Times and EuropaPress. Other successful sales of famous properties include the renowned Ibiza Breeze for €14,500,000 and Heaven 11 for €12,900,000. Currently, Drumelia has another property listed for sale exclusively for €8,500,000, the famous Villa Lagoon, formerly known as Villa Arcadio which won the prestigious title of Best Villa in Europe at the 2016 International Property Awards. Villa Lagoon was also featured on Espejo Púbico, a famous Spanish talkshow in August 2022. Finally, Drumelia have the famous Villa Enso for sale exclusively for €34,000,000, the biggest project in La Zagaleta to date. Drumelia have been involved with the construction of Villa Enso from the beginning, and will continue to be involved with the projects until its sale when its hits the market.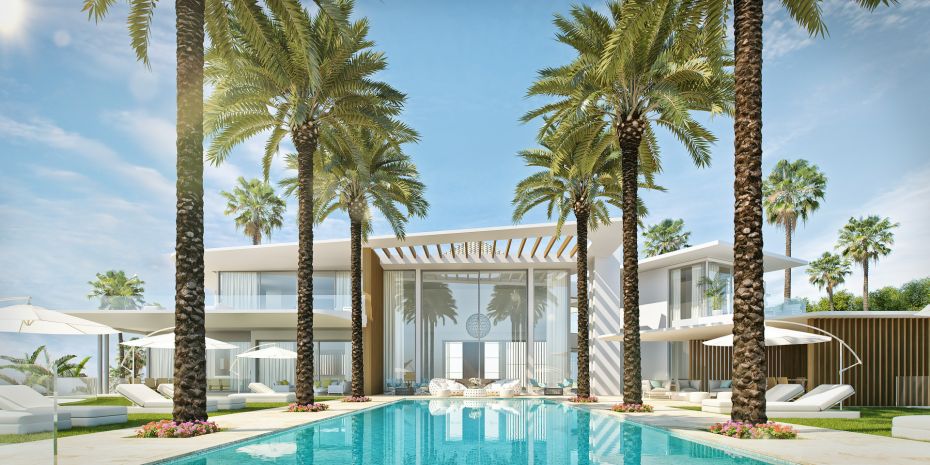 What services does La Zagaleta offer its residents?
La Zagaleta Service Management is a concierge and hospitality service that provides residents with house and garden maintenance, housekeeping, shopping and delivery services. Moreover, they offer personal services such as language classes, transportation and guest management. You can also request private chefs and support staff to provide catering services. These management services are all located near the North entrance.
Is La Zagaleta safe?
La Zagaleta delivers the highest level of security demanded by its residents. The 9,000,000 m² of land boast complete security and detector measures around the urbanisation's perimeter. Non-residents cannot enter the compound without prior authorisation. Non-residents must present identification upon arrival if they have no prior permission to enter or are not residents. Professional armed security personnel provide immaculate 24-hour service, keeping a watchful eye while guarding both the South Gate and the North Gate and patrolling the internal roads in mobile security patrol vehicles. An Israeli company was commissioned to build a new 'high tech electric fence'.
All houses are separated by a protected green zone where nothing can be built, ensuring owners' highest level of privacy and guaranteeing space for the local wildlife to roam freely. No wonder the combination of a glamorous lifestyle in a beautiful natural setting with security and privacy attracts the prosperous individuals from all over the world.
What is the difference between La Zagaleta and Sierra Blanca?
La Zagaleta sits within the municipality of Benahavis. It is located on a private hunting estate connected to the A-397 to Ronda, that has 24-hour guarded access into the urbanisation, and non residents must register their ID and car registration with the security at the northern entrance. La Zagaleta is comprised of 230 properties, with the chance of increasing that number by 190. There are 50km worth of internal roads that tale you throughout the urbanisation, along with the urbanisations exclusive amenities and activities. The properties in La Zagaleta sit far from each other, and the price range for a property in La Zagaleta sits at €2,000,000-€34,000,000.
Sierra Blanca sits at the foothills of La Concha mountain and is located within the municipality of Marbella. It is a gated community that has unrestricted access during the day, and is closed off by night. There is 24-hour security roaming around the urbanisation. Sierra Blanca is comprised of almost 300 houses with little room left to build anymore properties or developments. Sierra Blanca is connected to the AP-7 toll road and the N-340 coastal road. On average, the price range for properties in Sierra Blanca sit between €2,000,000-€20,000,000.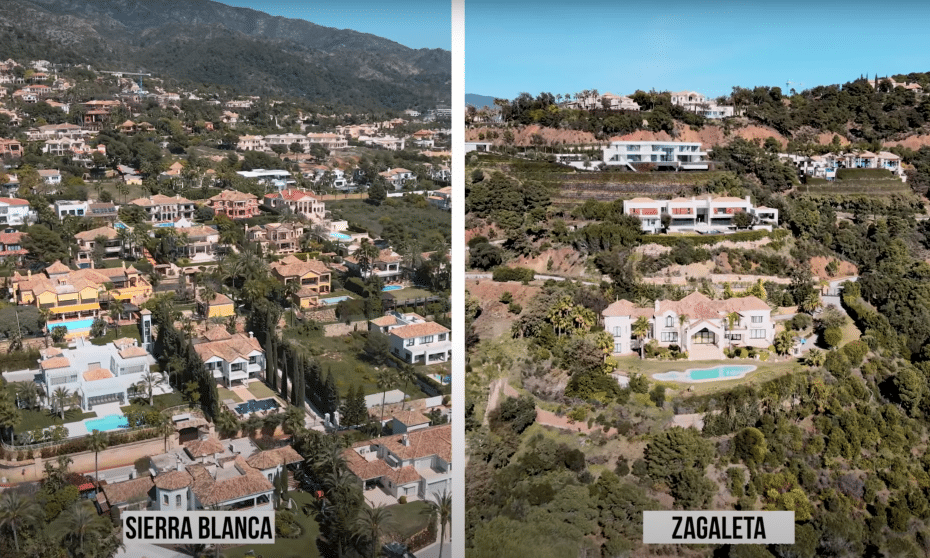 Buying and selling property in La Zagaleta
Drumelia is the leading real estate firm in Marbella and has years of experience helping buyers and vendors with their properties in La Zagaleta. Drumelia leads sales in Zagaleta, as we currently have over 30 properties for sale in La Zagaleta, ranging from building plots to luxury villas ready to move into. We are here to help with your search and ready to guide you through your purchase or sale process.
Which is the leading agency in La Zagaleta?
Apart from leading Marbella's luxury real estate market, Drumelia is also an expert in helping clients buy and sell high-end real estate in Zagaleta. We have sold many impressive properties within the community, like Villa Cullinan, priced at €32,000,000. And we also have some of the best properties listed exclusively within Zagaleta, like Villa Lagoon priced at €8,500,000, Komorebi House at €14,800,000 and Villa Enso priced at €34,000,000. We also have several plots for sale with us.
Drumelia is here to assist you throughout your sale or purchase process. If you are looking to purchase, we will guide you from finding the best plot to sourcing the perfect property to purchase with the help of our extensive database. If you are looking to sell, then Drumelia can provide you with a global reach through our unparalleled marketing strategies and online presence, not to mention clients who are actively interested in purchasing a property in La Zagaleta.
Fun facts about La Zagaleta
When Enrique Flores Perez acquired La Baraka, the original plan was to build 3000 homes in a privileged location from Benahavis to Ronda. But, Perez changed the model for the urbanisation of just 420 houses, offering 25,000 m² plots with all luxuries.
It is rumoured that celebrities such as Beyonce, George Clooney, Hugh Grant and Rod Stewart have owned properties in La Zagaleta.
La Zagaleta can help residents plan and execute the best birthday parties, weddings or corporate events to perfection, even supplying Michelin-Star Chefs and renowned entertainers.
La Zagaleta can provide you with your own personal shopper and arrange exclusive private shopping at El Corte Inglés and other luxury boutiques. You can also be flown in directly from the heliport in La Zagaleta to the helipad on the El Corte Ingles rooftop.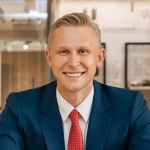 CEO & Partner
Artur Loginov
Artur Loginov is the CEO and proud Partner of Drumelia Real Estate. He has over a decade of knowledge and…
Eat & Drink

Health & Wellness

Education

Shopping

Golf

Hotel
Properties for sale in La Zagaleta
We work daily to bring you every good investment or luxury property for sale that hits the real estate market in La Zagaleta. Find all available property for sale options in Sierra Blanca and other close neighbourhoods in Benahavís.
View all properties