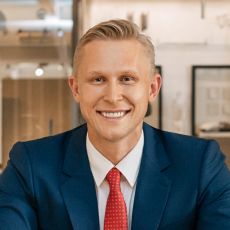 Sierra Blanca The perfect gated community
By Artur Loginov on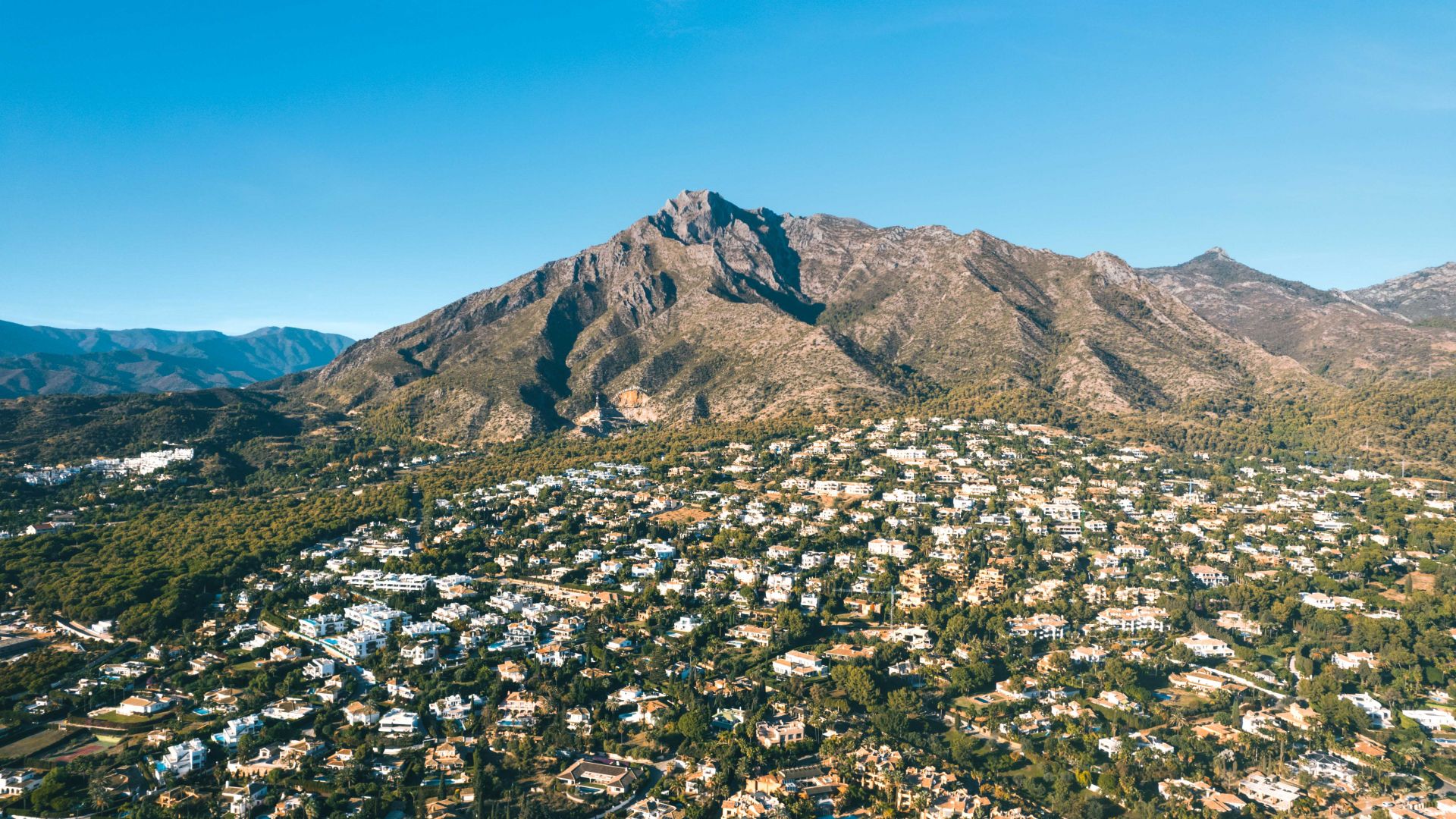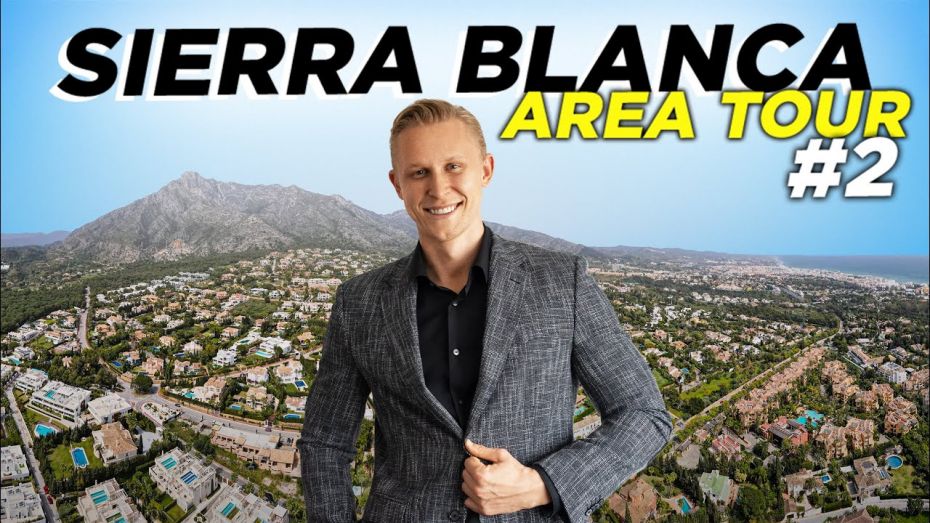 A hub of tranquillity and exclusivity, Sierra Blanca has everything necessary for a beautiful life. Through this in-depth area guide, you will learn everything there is to know about Sierra Blanca. It is a prestigious community that is considered one of the most luxurious and sought-after in the Mediterranean.
What is Sierra Blanca?
Sierra Blanca, Marbella's Beverly Hills, is a luxurious and prestigious gated community home to Marbella's elite. It is a perfect neighbourhood nestled in the Marbella hills for people of all ages, providing the Marbella lifestyle in a peaceful setting.
Despite popular belief, other nearby communities, such as Nagüeles, Cascada de Camojan, and La Quinta de Sierra Blanca, are not part of the Sierra Blanca community, even though they are close by. This neighbourhood boasts sophistication, tranquillity and exclusivity within a beautiful setting, allowing for a life in tune with the famous Marbella lifestyle.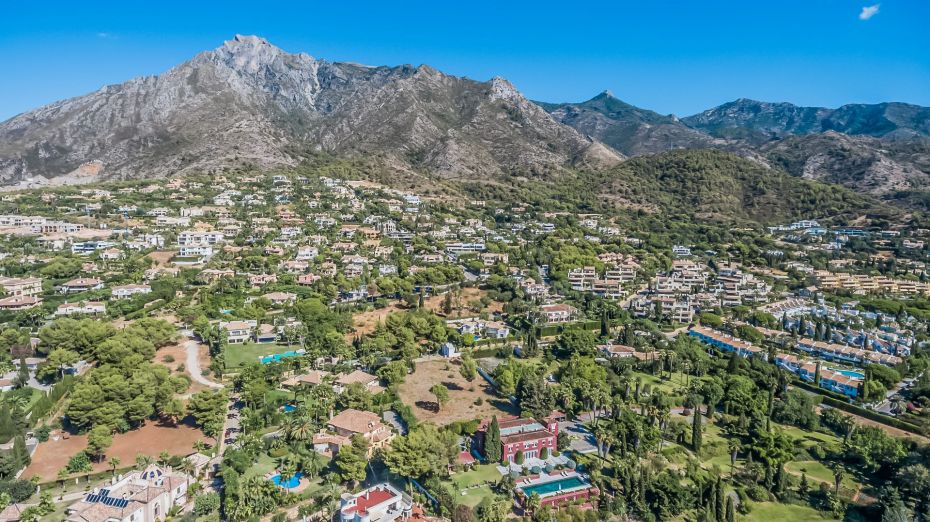 Where is Sierra Blanca?
Sierra Blanca is located on the foothill of the mountain range which holds the same name, translating to 'White Range'; this name came about due to the lack of vegetation on the mountain range that reveals grey limestone. Sierra Blanca has the peak of La Concha as its crown. La Concha translates to Shell in Spanish, as the mountain looks like one.
Sierra Blanca sits just above the Golden Mile of Marbella, a vast road with much to do around it, such as beaches, shopping and gastronomy. The Golden Mile is a great connecting pathway to other areas such as Puerto Banus and Marbella Centre.
Sierra Blanca sits on the end of the AP-7, the main toll road that runs through the Mediterranean Coast of Spain. This road reaches as far as Malaga Airport. Sierra Blanca is also very conveniently connected to the A-7, the Spanish motorway that is a free alternate route to the AP-7, which begins after the Nagüeles tunnel once the AP-7 ends. The A-7 and AP-7 connect you to inland Spain, the coast and surrounding airports, such as Malaga and Gibraltar. The N-340 is also an option for a route, however it is further away and can be accessed by driving through Nagueles towards the beach. It is safe to say that Sierra Blanca is close to everything.
We have prepared a collection of area guides that cover Marbella's prime locations that you can view on our website now.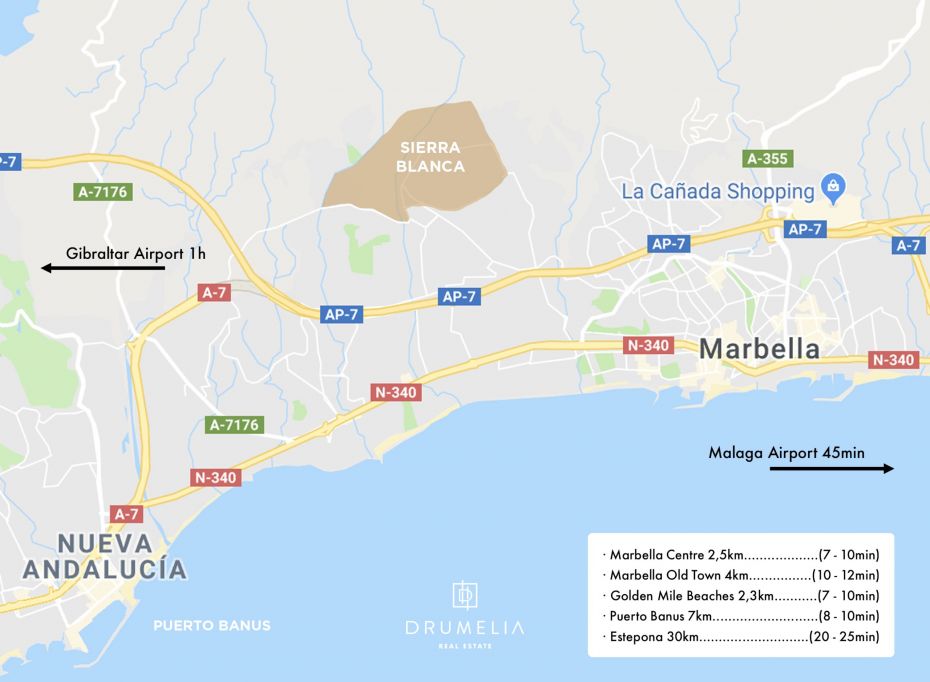 Distances from Sierra Blanca to other locations of interest:
Golden Mile Beaches - 2.3km away, 8 minute drive
Marbella Centre - 2.5km away, 9 minute drive
Marbella Old Town (Casco Antiguo) - 4km away, 12 minute drive
Puerto Banus - 7km, 10 minute drive
Estepona - 30km, 25 minute drive
Malaga Airport - 55km, 40 minute drive
Gibraltar Airport - 75km, 1 hour drive
What is the history of Sierra Blanca?
Sierra Blanca was born under the former mayor of Marbella, Jesus Gil, in the early 1990s. It started as a few luxury mansions built; however, the real growth came in 1995. Developer Antonio Rodriguez is the mind behind the grid-style roads which feed into Sierra Blanca's secluded feeling and the traditional Andalusian-styled villas, which remain in style even today.
How big is Sierra Blanca?
Sierra Blanca ranges to 25,2 hectares (62,27 acres / 2,520,000m2) and is located 300m above sea level. Sierra Blanca holds almost 300 beautiful homes. Here, houses are built closer to each other than in other communities such as La Zagaleta. However, the large gardens allow for a secluded feeling, giving each resident a lot of privacy. Houses in Sierra Blanca have been there for many years, and besides the various new developments and modern homes, some villas have been renovated. There are very few plots left for sale in this community, and the average plot ranges to 2000 m2, with the largest being a grand 18,000 m2.
What style of homes can be found in Sierra Blanca?
Sierra Blanca offers diverse types of properties; however, it is known for its classic Andalusian style, with beautiful traditional mansions alongside vast gardens within the plot. The Mediterranean charm can easily be found here. However, due to the large international community of Sierra Blanca, many homes reflect this fact in their architecture. In recent years several homes have turned to a more modern architectural design. Most homes in this urbanisation are regal-looking, have a minimum of 3 floors, and have private gardens and pools. Sea and mountain views can also be found in every house.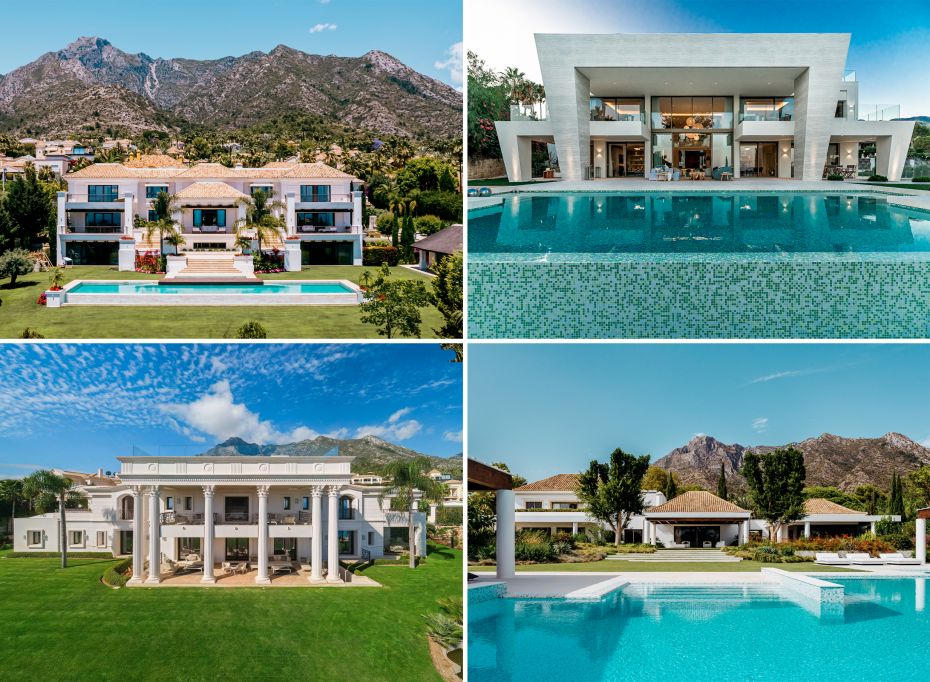 One can also find townhouses, such as Meisho Hills, and apartment complexes, such as El Alfar and Lagos de Sierra Blanca, in and around Sierra Blanca, but villas are more predominant. In essence, one can easily find their perfect home in Sierra Blanca as it hosts a range of styles.
What does it cost to buy a house in Sierra Blanca?
The cost of houses in Sierra Blanca ranges between €2,000,000 to €30,000,000 with an average price of €6,500,000. One of the most expensive houses in Sierra Blanca was valued by Forbes at €40,000,000 and sold by Drumelia.
Drumelia is the leading real estate agency in Sierra Blanca, with a big selection of properties for sale in the area, ranging from plots to beautiful, ready-to-move-into villas, townhouses and apartments.
What is the cost to buy a plot in Sierra Blanca?
Prices for plots start at around €1,000 per square metre. A minimum plot is of about 1,000 m2 with the average plot being of 2500 m2. Very few plots are left in Sierra Blanca due to the outstanding demand to live in such an exclusive area.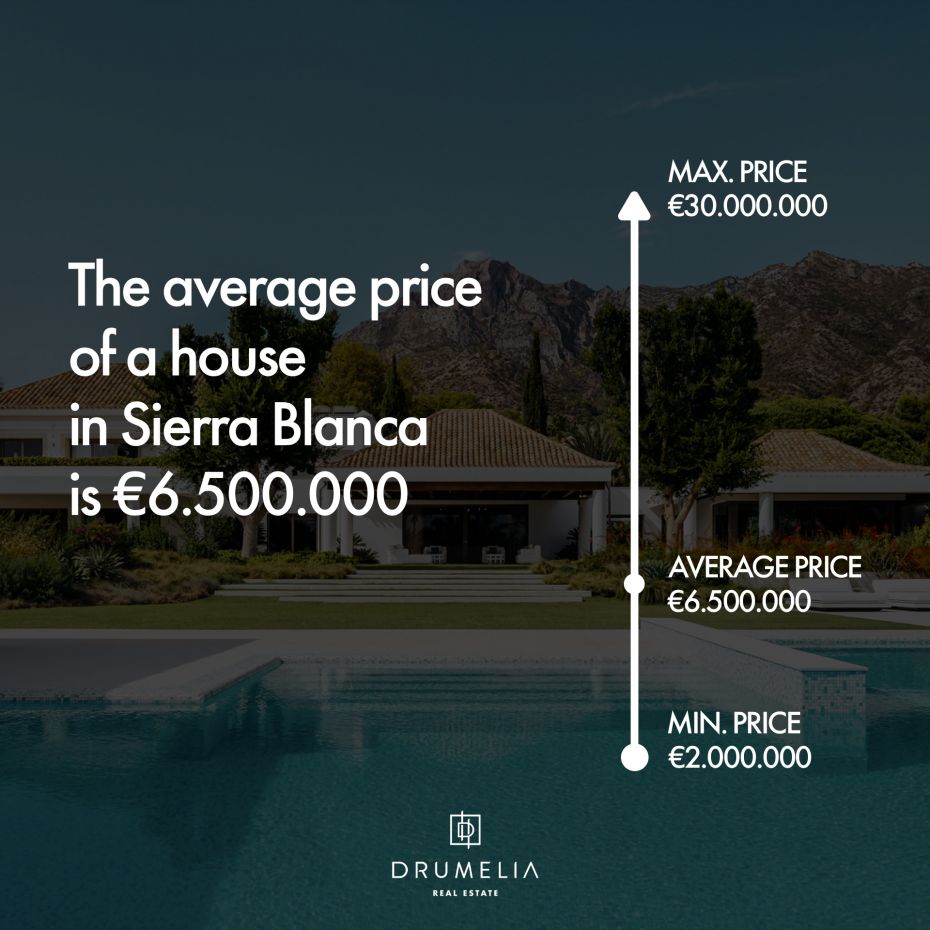 What is the cost of building a house in Sierra Blanca?
Let's say, for example; you would like to build a 1,200 m2 house on a 2000 m2 plot:
2000 m2 x €1,200 = €2,400,000 for the plot
1,200 m2 x €3000 = €3,600,000 for the property build
You will then factor in €100,000 for a fully fitted kitchen and an additional €100,000 for the landscaping of gardens. This would lead to a total of €3,800,000.
Next, you must consider architect fees, project management fees, licences, geological studies, technical reports, building permits and taxes, which are usually equal to 20% of building costs, which would be €720,000 in this case.
Thus, the total for the build would be €3,800,000+ €720,000 = €4,520,000. 
€4,520,000 build + €2,400,000 plot = €6,920,000 to build a house in Sierra Blanca. 
It is important to remember that this price does not include interior design expenses and additional expenses depending on the new homeowner's needs and taste.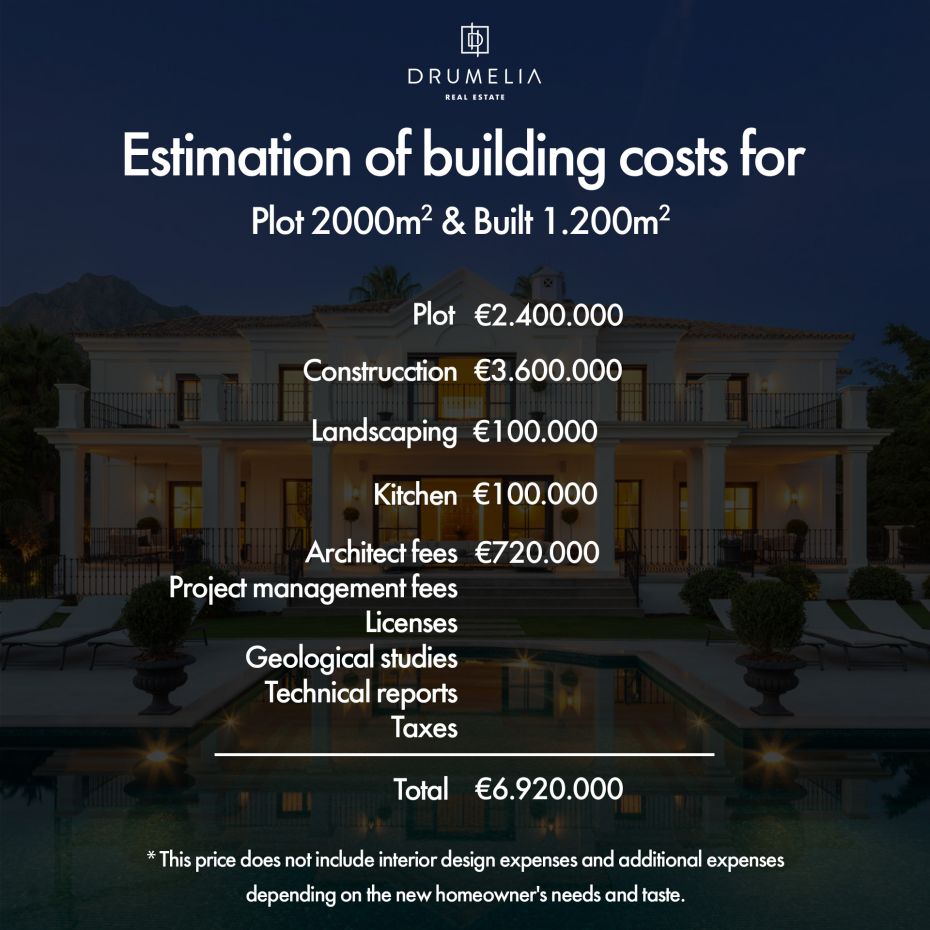 How long does it take to get a construction license in Sierra Blanca?
When building a property in Spain, one must obtain what is called the Major Construction License (Licencia de Obra Mayor) as the project affects the structural nature. This license allows you to build property legally and must be obtained prior to construction commencing. This license allows for 12 months of building to begin and then 6 to 24 months to finalise the build, depending on the scale of the project.
In terms of the time it takes to obtain a license, every province in Spain has varying rules and timeframes that are subject to the type of construction project taking place. In Malaga, each municipality also has their set rules, regulations and timeframes. Sierra Blanca falls under the municipality of Marbella, and the Major Construction License is asked for at the Marbella Town Hall. The time required to get a license in Marbella depends on how large the project is, but it averages 3 months to obtain.
The documents needed to obtain a Major Construction License for a family home, the following prerequisites apply:
Copy of settlement of the urban license fee.
Letter of payment of guarantee of the cost of the management of construction and demolition waste that is expected to be produced (which will be returned at the end of the work, after the presentation of the final works certificate).
Copy of the official plan certifying that the alignment and ground level markings have been made.
Urban planning certificate, if it were implemented.
Endorsed documents from the optional management of the competent technicians involved in the work (Construction Director, Works execution director and health and safety coordinator)
Documentation of other sectoral administrations: Certain actions affect other administrations in addition to urban planning (such as the case of homes with some protection, actions that require approval by the environmental administration ...)
The fees involved can be up to 6% of the construction costs, payable to the Town Hall and the Architect Fees.
Does Sierra Blanca have sea views?
Because Sierra Blanca is located 300m above sea level, the panoramic sea views are outstanding. Also, the convenient location on a mountain slope gives practically all houses a sea view. Gibraltar, Morocco and the Rif Mountain can be seen from some parts, and the Golden Mile and its beaches pan out before you.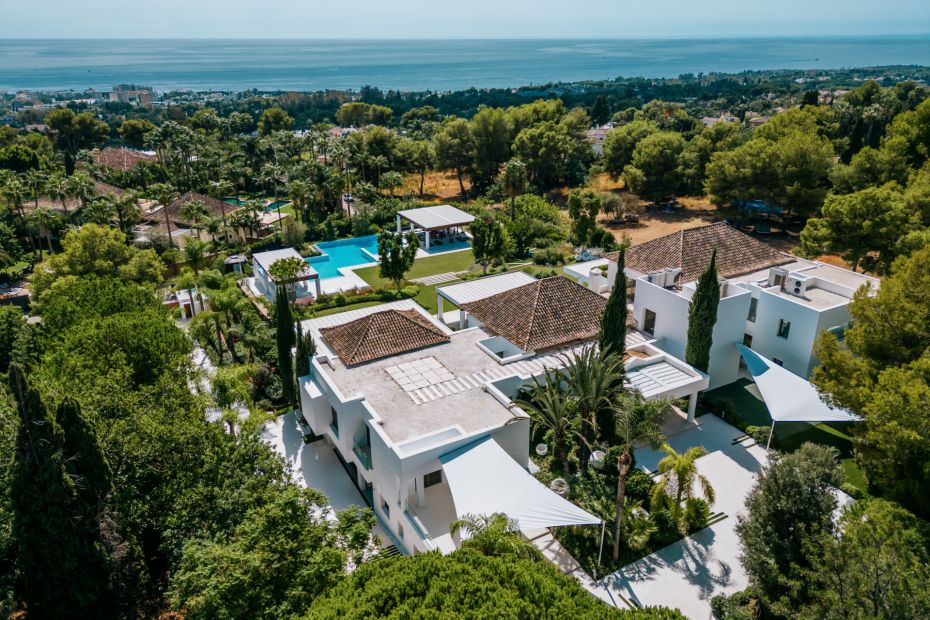 Sierra Blanca is one of the only places in Marbella where one can enjoy sea views from all levels of the house, especially the top floor. This is due to its prestigious location, being only a few kilometres away from the Mediterranean Coast and Marbella Beaches. The fabulous sea views are one factor leading to Sierra Blanca's popularity and exclusivity.
Is Sierra Blanca a popular place to live?
Sierra Blanca is considered an oasis of peace and luxury. This sense of serenity comes from the surroundings of the gated community; lush pine woods and rich nature fill the area. It is close to Marbella Centre to be part of the city environment, yet secluded enough to enjoy the tranquillity of nature.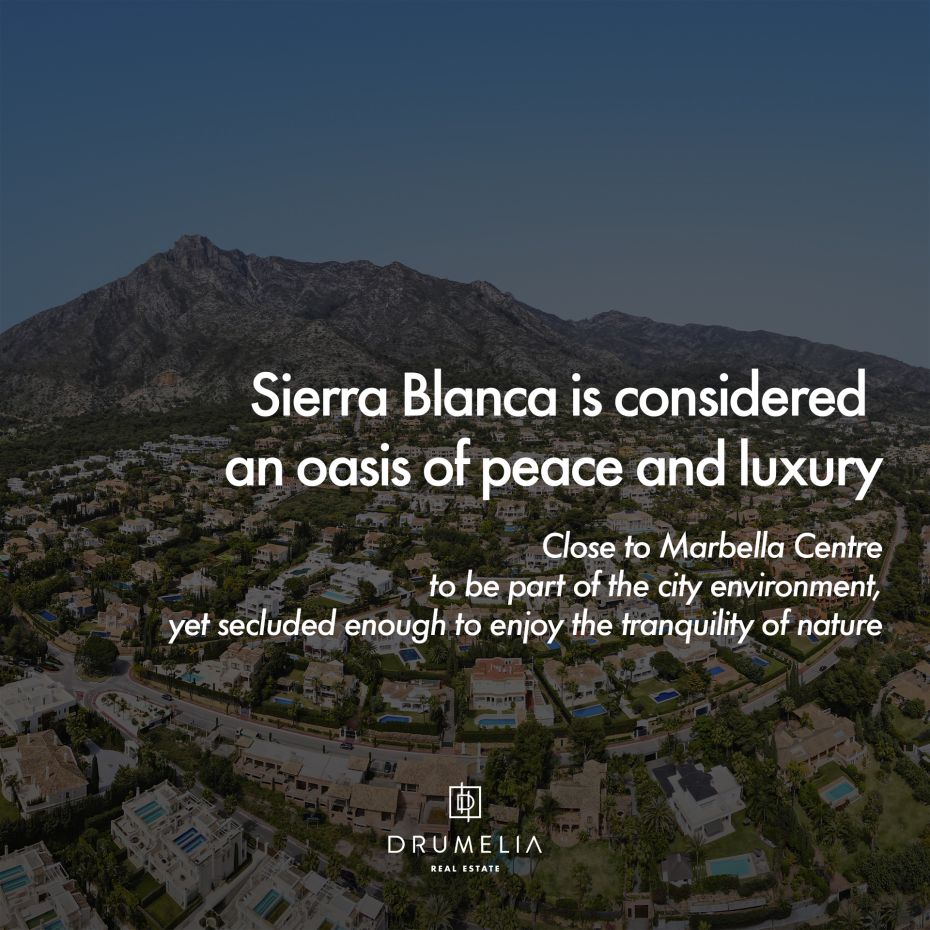 The location of Sierra Blanca is most convenient, adding onto its popularity. It is minutes away from the Golden Mile and Puente Romano, which hold a lot of life and activities. Puerto Banus is a 10 minute drive away, as is Marbella Old Town. Furthermore, Sierra Blanca is connected to the AP-7 toll road, the A-7 ( a free alternate road to the AP-7) and the N-340 coastal road, making it quick and easy to reach the booming Marbella lifestyle and its surroundings, such as inland Spain and nearby airports. This creates a very easy commute for families and individuals.
Sierra Blanca is also very close to schools and amenities, and is populated by families. This reinforces how safe of an area it is, and the rich history and climate of the neighbourhood should not go by unnoticed. It is filled with natural parks and pedestrian streets for biking or hiking.
The security that comes with living here makes Sierra Blanca extremely exclusive and sought-after, seeing as there is 24-hour surveillance, intelligent alarm systems and entrance checkpoints. Sierra Blanca was, and remains, a very popular place to live.
To learn more about the benefits of owning a home in Marbella check out our blog
What is there to do in Sierra Blanca?
Sierra Blanca is the perfect place to feel at one with nature. The Nagüeles Park is just a 10 minute walk away, where one can enjoy barbecues, outdoor gym equipment and a beautiful forest to connect with nature. This park also has a facility for children and an animal farm. Many hiking opportunities are available within Sierra Blanca due to its proximity to the mountain range. For instance, the La Concha hiking trail is perfect for fans of hiking as well as families and pets.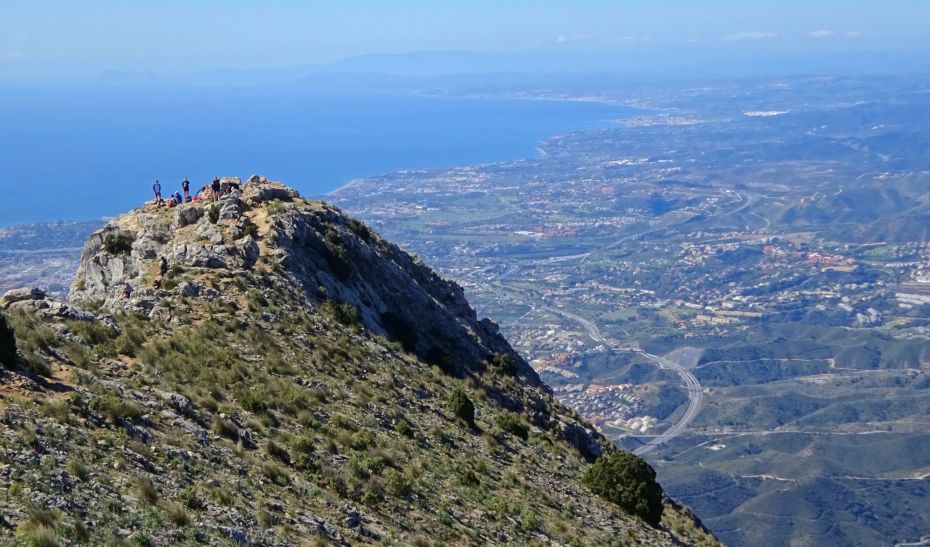 Biking is a popular activity in Sierra Blanca because of the safety within the community. There are many pedestrianised streets equipped for this activity. During the summertime, Sierra Blanca hosts the annual Starlite Festival, where one can enjoy live concerts from both national and international artists, and great music and DJ's all night long. Within minutes, you can find yourself at the heart of the action, with many restaurants, activities and boutiques to choose from within the Golden Mile or Puerto Banus. The Golden Mile is merely 5 minutes away, where you can enjoy lunch on the beach at La Milla or dinner at La Leña by Dani Garcia.
To see our recommendations for what to do in Marbella and the best restaurants in Marbella, you can read out blog.
What is life like for kids in Sierra Blanca?
Sierra Blanca is the perfect place to raise a family. Because security is such a big factor, parents won't have to worry about their kids roaming around and being in danger. Thus, kids can rely on total safety when venturing around Sierra Blanca. The proximity to all the activities Marbella has to offer, whether this be water sports, golf, tennis, or even gastronomy, allows for an entertaining yet peaceful life for the kids.
Schools in Sierra Blanca.
Marbella is considered third in Spain when it comes to education, thus holding many prestigious schools.
Sierra Blanca is home to Swans International School, a renowned school in Marbella offering a British curriculum for children between the ages of 5 and 18 with GCSE and International Baccalaureate programs. Swans Secondary is merely a couple minutes drive, whereas Swans Primary is 2.2km away, also a short distance.
The British International School of Marbella provides education for students aged 2 to 12, and can be found within a 4 minute drive.
Other international schools for kids aged 5 to 18 include Laude, where education can be completed in either the Spanish or British curriculum, being only 10km (or a 15 minute drive) from Sierra Blanca. Aloha College is 5.5km away, and the English International College is 13km away, heading toward the Elviria area.
Sotogrande International School, being the only boarding school on the coast, can be found 57km away, equating to a 40 minute drive. It is located in a beautiful municipality and students have the choice of boarding or attending day school.
For higher education, Marbella International University is also a quick drive from Sierra Blanca, being located 1.4km away. Les Roches, one of the top universities for hospitality and hotel management, is 5.5km away. The American College, which provides an American higher education, can be found 6.3km away.
To learn more about education in Marbella, check out our blog.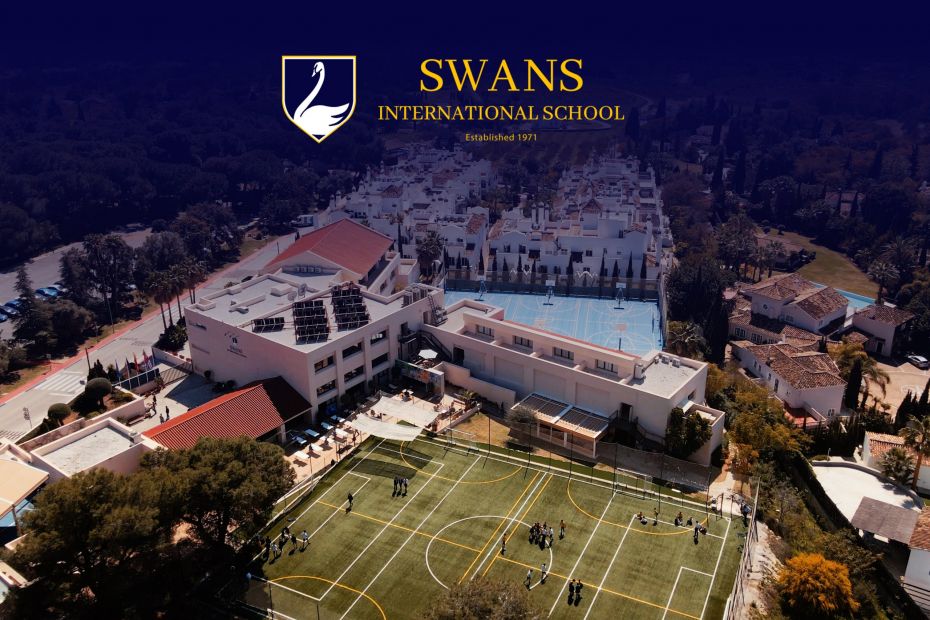 How close is Sierra Blanca to Marbella and its amenities?
Sierra Blanca is considered a prime location due to its proximity to everything one may need for a comfortable life.
The legendary hotels of Puente Romano and Marbella Club are located 4km away, equating to a 7 minute drive, more or less. The most exclusive restaurants can be found here, such as Nobu and Babette by Dani Garcia. Tennis courts, SPA's and beautiful beaches and chiringuitos can also be found here.
The Golden Mile is merely 5 minutes away. Here, you will be able to find the best beaches along with watersports, chiringuitos, fine dining and more. Many upscale, trendy nightclubs such as Olivia Valere, La Suite and Momento are located on the Golden Mile for those seeking a fun night.
Private hospitals and clinics surround Sierra Blanca, one of the main ones being, only 750m away.
Puerto Banus, the hub of luxury in Marbella, is only a 10 minute drive away. Here, you can find a range of boutiques, such as Louis Vuitton, Bottega Venetta, Dior and Fendi. Puerto Banus is home to many upscale restaurants with a wide variety of cuisines, where you can enjoy the gastronomy with beautiful views of the Port. You can also find El Corte Ingles here, a large department store selling brands such as Dolce & Gabbana, Carolina Herrera and Isabel Marant. There is also a grocery store inside, with a wide variety of products, including those tailored to a healthy, organic lifestyle. El Corte Ingles also has departments to shop for basic necessities such as sporting goods and items for the home.
Living in Sierra Blanca allows for Marbella to be in the palm of your hand, simply a few minutes drive to anything you may need!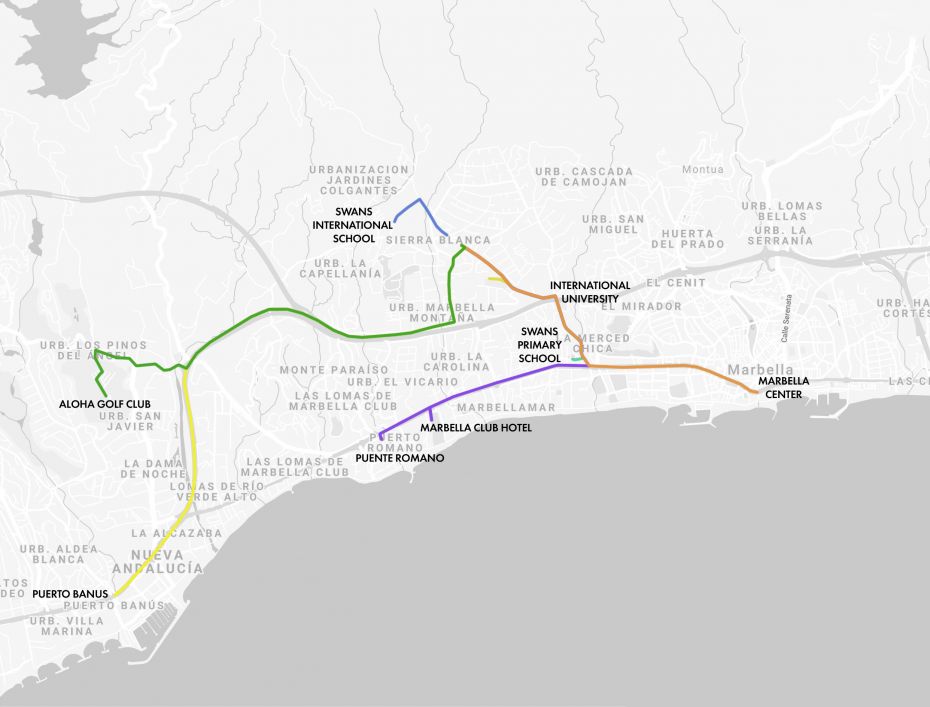 Distances to amenities:
Marbella Club Golf Resort and Puente Romano Beach Resort - 4km, 10 minute drive
Golden Mile beaches - 2.3km, 8 minute drive
El Corte Ingles department stores - 3km and 8km, 4 and 12 minute drives
Manolo Santana Tennis Club - 4km, 7 minute drive
Golf Valley of Nueva Andalucia - 5km, 10 minute drive
Who lives in Sierra Blanca?
Sierra Blanca is a very special place due to its universality, seeing as its residents come from many different countries and backgrounds. This creates an international community, predominantly occupied by families with children, whether this be as permanent residences or vacation homes. It is also rumoured that George Clooney bought a home in Sierra Blanca.
What are the most famous houses in Sierra Blanca?
Sierra Blanca is a hub of luxury and comfort, nesting some of the most impressive homes in Marbella. Villa Ricotta is a great example, which was listed by Forbes at €40,000,000 and was sold by Drumelia. Villa Symphony, one of Sierra Blanca's treasures, was priced at €13,500,000 and sold by Drumelia.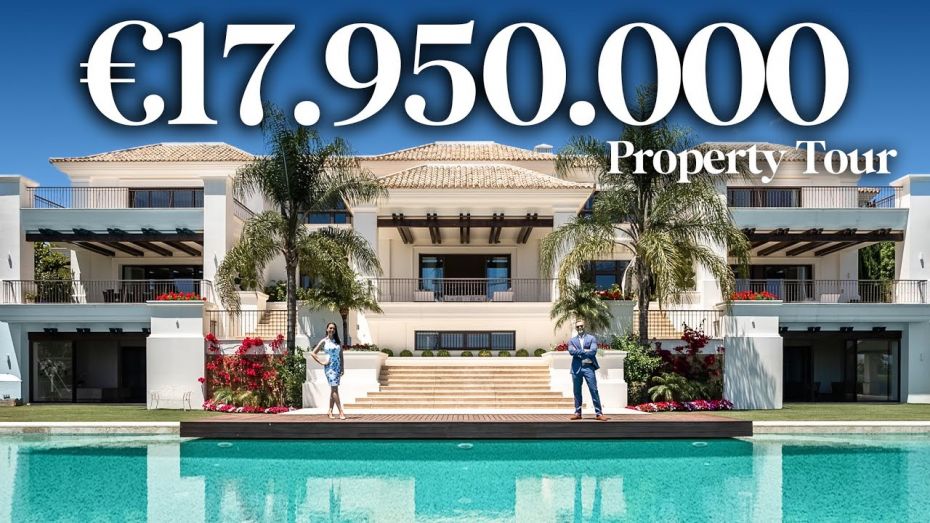 Right next to Sierra Blanca, located in Cascada de Camojan, Drumelia sold the El Nido villa, listed at €21,900,000. Additionally, a palatial mansion called La Favorita in Rocio de Nagueles - just steps away from Sierra Blanca - was listed exclusively by Drumelia for €19,000,000 and sold in October 2022.
Is Sierra Blanca safe?
Sierra Blanca is considered one of the safest neighbourhoods in Marbella due to its smart security system. There are 3 entrances to Sierra Blanca, all of which are protected by barriers. Residents can rest assured that their privacy will be protected due to the fences and barriers that close off streets and internal roads, as well as the individual security of each house, as they all have high walls and gates to get into properties, meaning they cannot be accessed by anyone from the street. There are also security hubs that sit at the entrances and control the influx of people and 24-hour surveillance by security services and cameras. As of now, Sierra Blanca has free movement throughout the day, however at night it is restricted and controlled. Speed limit signs are posted throughout the urbanisation as well to ensure pedestrian safety.
To learn more about safety and security in Marbella, read out blog.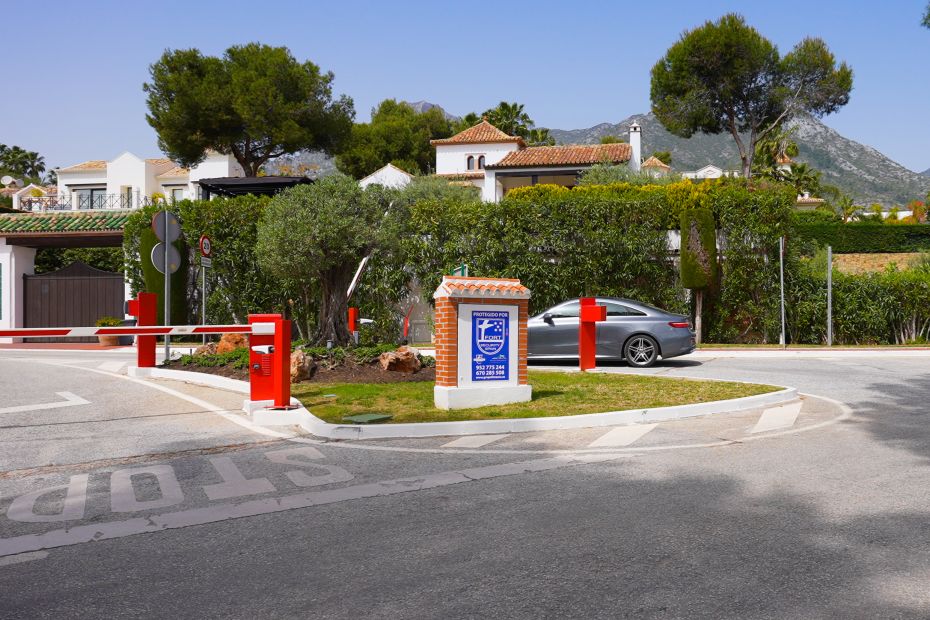 Mobile patrols are also present, and due to the proximity to Marbella Centre, local police can quickly assist in case of any emergency. Furthermore, the security in the area are trained professionals and have the means to get the police to you quickly, if need be.
How is La Zagaleta different from Sierra Blanca?
Sierra Blanca sits within the Marbella municipality. It is a gated community that has unrestricted access during the day, however is closed off at night. La Zagaleta, however, is located within the municipality of Benahavis. It is situated on a private hunting estate connected to the A-397 to Ronda, that has 24-hour guarded access into the urbanisation. Non residents must register their ID and car registration with the security at the northern entrance.
There is 24-hour security roaming around both urbanisations. However, Zagaleta has restricted movement during the day whereas Sierra Blanca only has restricted access during the night. Further, Sierra Blanca comprises almost 300 houses with little room left to build anymore properties or developments, yet Zagaleta has 230 houses with the chance of increasing said number by 190.
Sierra Blanca is extremely close to all amenities, seeing as it is connected to the AP-7 toll road and the N-340 coastal road. La Zagaleta is located further, thus not being close to the amenities Marbella has to offer. This being said, La Zagaleta has 50km worth of internal roads that take you around the urbanisation, along with the communities exclusive amenities and activities.
On average, the price for properties in Sierra Blanca is €6,500,000. The properties in La Zagaleta sit at €9,750,000.
You can learn more about La Zagaleta by reading our area guide.
Who are the leading architects in Sierra Blanca?
Sierra Blanca is known and loved for its charming mansions, for which Marcos Sainz along with Noldi Schreck are in part to thank for. They set the tone for the landscape of Marbella and the quality of homes through their work towards the well-known Marbella Club Hotel and the Puerto Banus marina. Miguel Tobal is also an important name in the architecture of Marbella, as it is he who reinvented the design of villas by mixing traditional and modern aspects.
Antonio Bermudez, Torras y Sierra Studio and González & Jacobson Architects are the teams behind the grand architecture of Sierra Blanca.
Which is the leading agency in Sierra Blanca?
Drumelia is the top real estate firm in Marbella and has many years of experience helping buyers and vendors with their properties in Sierra Blanca. Drumelia leads sales in Sierra Blanca, as we currently have over 30 properties for sale in Sierra Blanca, ranging from building plots to luxury villas ready to move into. We are here to assist with your search and ready to guide you through your purchase or sale process.
Besides leading Marbella's luxury real estate market, Drumelia is also an expert in helping clients buy and sell high-end real estate in Sierra Blanca. We have sold over 30 impressive properties within the community, like a classic mansion valued by Forbes at €40,000,000, Villa Symphony priced at €13,500,000. We also have a number of plots for sale and have some of the best properties listed exclusively within Sierra Blanca.
Drumelia is here to help you throughout the full sale or purchase process. If you are looking to buy, we will guide you from finding the best plot to sourcing the perfect property to purchase with the help of our extensive database. If you are looking to sell, then Drumelia can provide you with a global reach through our unparalleled marketing strategies and online presence, not to mention clients who are actively interested in purchasing a property in Sierra Blanca.
Fun Facts about Sierra Blanca
All the streets within Sierra Blanca have been named after famous music composers (Albinoni, Mozart, Bach, Chopin)
Centuries ago, human settlements existed in the Sierra Blanca range, dating back to Palaeolithic times. Remains were found on the slopes and in the caves to be a testimony of this.
Ecologist organisations have proposed that the Sierra Blanca be declared a protected area, similar to the Sierra de las Nieves Natural Park which can be found in the neighbouring range.
In 1970, Sierra Blanca was declared a National Hunting Reserve, and in 1995 a UNESCO Biosphere Reserve with a unique ecosystem.
Sierra Blanca also has the best local microclimate thanks to the mountainside location and La Concha, offering shelter from strong winds while tempering the summer heat.
Sierra Blanca area is where the first blast furnaces in Spain at El Angel and La Concepción were founded in the XIX Century. In order to make use of the iron from the Sierra Blanca mines, Marbella joined the industrialisation of Malaga, which became the second largest industrial region in Spain.
The original developer for Sierra Blanca was António Rodríguez, and he set the tone for the high-end Mediterranean-style villas that arose here. He was responsible for the broad grid-style road system that characterises much of Sierra Blanca today.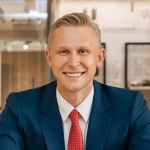 CEO & Partner
Artur Loginov
Artur Loginov is the CEO and proud Partner of Drumelia Real Estate. He has over a decade of knowledge and…
Eat & Drink

Health & Wellness

Education

Shopping

Golf

Hotel
Properties for sale in Sierra Blanca
We work daily to bring you every good investment or luxury property for sale that hits the real estate market in Sierra Blanca. Find all available property for sale options in Sierra Blanca and other close neighbourhoods in Marbella Golden Mile.
View all properties