Hot Off the Press: Media Reports on Drumelia's Sale of Marbella's Most Expensive Mega Mansion in Sierra Blanca
By Salma Hwedi on - 5m. reading time
We are delighted to announce the sale of one of Marbella's most expensive properties, situated in Sierra Blanca. The sale of the award-winning, ten-bedroom mansion generated immediate international media attention, with widespread coverage of the record-breaking transaction.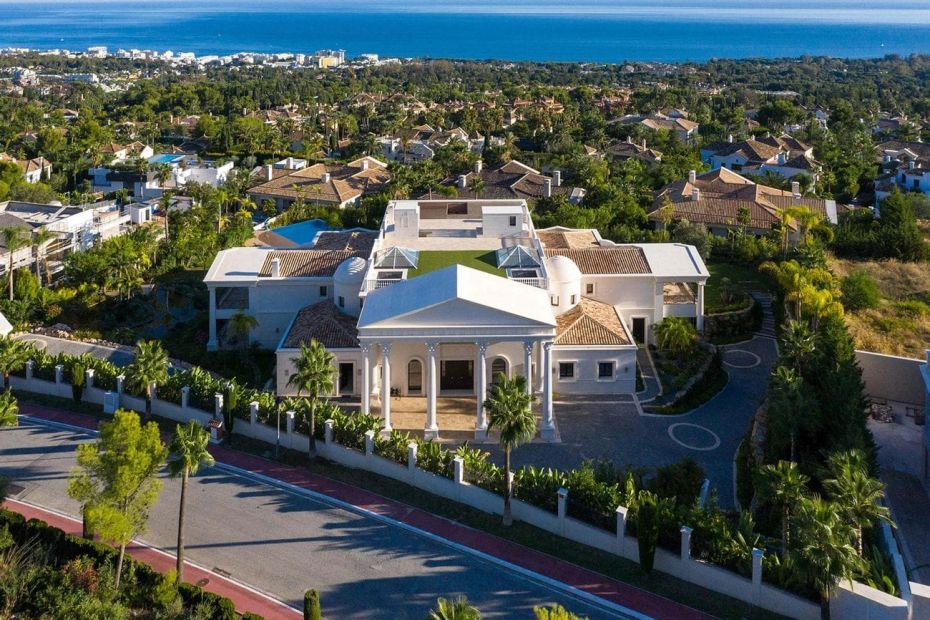 Located in the foothills of the La Concha mountain range, this neo-classical style property was designed by famed Spanish architect, Jesús del Valle Cardenete. Spanning over 3,000m2 across a sprawling plot of almost 6,000m2 and standing four-stories high, it's no wonder this mega mansion provoked so much interest.
The unapologetically styled exterior, featuring imposing Corinthian columns supporting an enormous front portico, has a presence like no other. Within its walls, the grand palatial theme continues. Ten bedrooms, 13 bathrooms, two kitchens, lift access to all floors, an eight-car garage, infinity pool and beautifully manicured gardens are just a taste of what this unique property has to offer. And, of course, panoramic views of the Mediterranean, as expected. A timeless elegance is consistent throughout. The property was even awarded the Premios Maceal prize for best international villa after its completion in 2017.
The property, once valued at €40 million by Forbes in 2019, – though this does not represent the final price upon sale – is the latest in a flurry of outstanding sales at the hands of our fantastic team at Drumelia Real Estate.
As with any property of this magnitude, there has been much public speculation surrounding the final sale price, in part, due to the Forbes piece. But in reality, what is a valuation really worth? Are they just boiled down to personal opinion or is it a professional and considered conclusion by a bank or govening body? Valuations of this nature have the potential to create real disturbances in the luxury market, so we think it's important to give you a transparent insight on the selling price, so that other prospective clients and owners wanting to buy or sell their properties in our unique and concentrated market have a more realistic local point of comparison.
The truth of this particular case is that the final price was closer to a value of €20 million – clearly supporting our standing. And here's why:
The plot size, just under 6,000m2, at today's value is around €1,200/m2, which gives a total value of €7 million for the plot alone. A high-quality build with a total footprint of around 3,000m2 is valued at €3,000/m2 – that totals €9 million. Then, once you've factored in the costs of the licence and fees, you're looking at an all-inclusive value of just under €20 million.
Honesty and transparency with all our clients and friends make up the core foundation of our business, and we hope that this small insight has helped you understand our very unique place in the market. If you want to speak with us further, you can contact us at any time.
Another treasure of Sierra Blanca, 'Villa Symphony', a stunning seven-bedroom modern villa set over a vast 5,005m2 plot, has been sold in March – another landmark success. This majestic mansion, also situated in Sierra Blanca, that displays a very unique style and lush, green footprint – has also been sold recently.

Despite downward trends in many international markets, the local property landscape is performing valiantly, with a notable uptick in interest from international buyers and investors over the last 12 months more than any other period year-on-year.
In spite of the current implications from events like COVID and Brexit, the sale of Marbella's luxury properties proceeds to be strong. It's possible to speculate that the continued interest in such real estate has in fact been positively motivated by COVID; as buyers once interested in inner-city properties look to move out to quieter, more isolated locations – one of Marbella's most alluring assets. And nowhere does uncompromised secluded luxury like Sierra Blanca.
Thinking about selling your property?
Property Showcase: Modern Villas in Sierra Blanca
Sierra Blanca is a jewel on the Mediterranean; one of the most luxurious and desirable residential locations in Europe. It has become an architect's paradise, and a hotbed for some stunning design and smart-home innovations.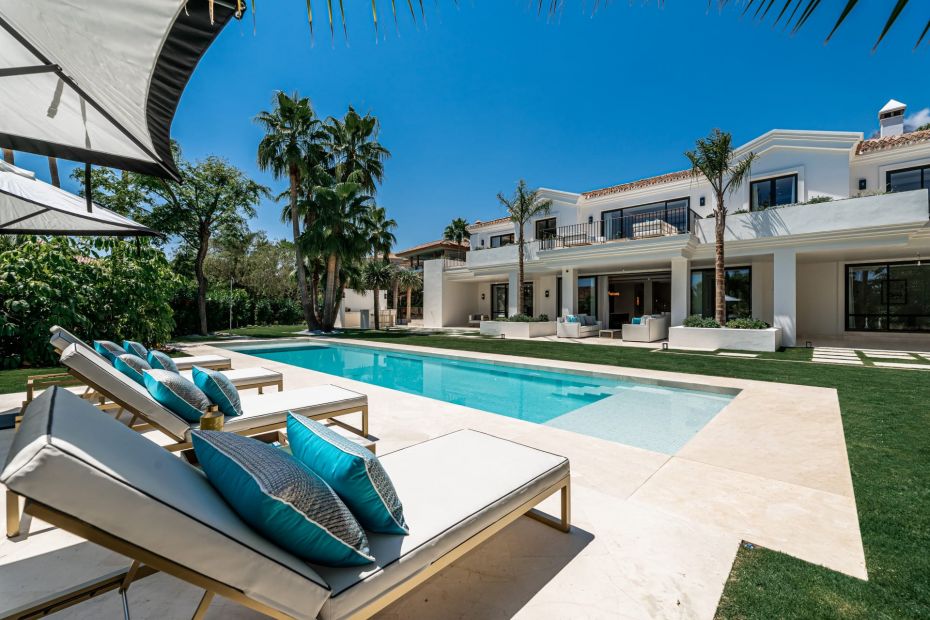 A perfect example of the stylistic prowess of Sierra Blanca, this sleek five-bedroom villa – designed by prolific architect, Miguel Tobal – truly encapsulates what makes Marbella such a desirable destination with world-wide appeal. Spread over a generous 2,002m2 plot, this outstanding property offers some incredible living spaces and outdoor areas to entertain guests.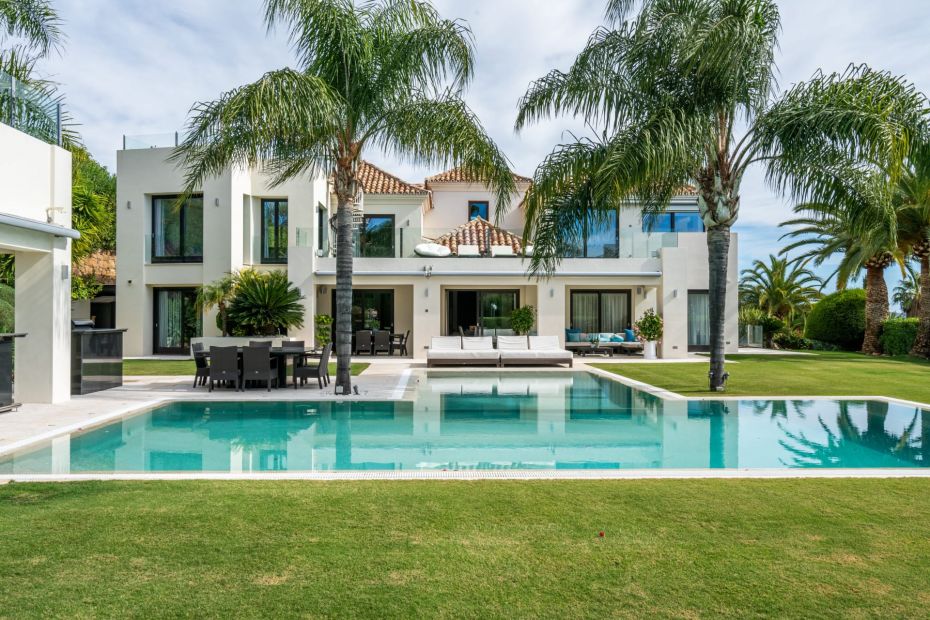 Or if a more intimate and relaxed setting is more your scene, this spacious yet serene Mediterranean villa offers unparalleled privacy thanks to its luscious green surroundings. Combining whitewashed modern walls with a more traditional Andalusian pitched terracotta roofline gives this property a timeless elegance. Featuring five bedrooms, five bathrooms, and large kitchen and dining areas, this wonderfully complete property in Sierra Blanca would make for a fantastic family home.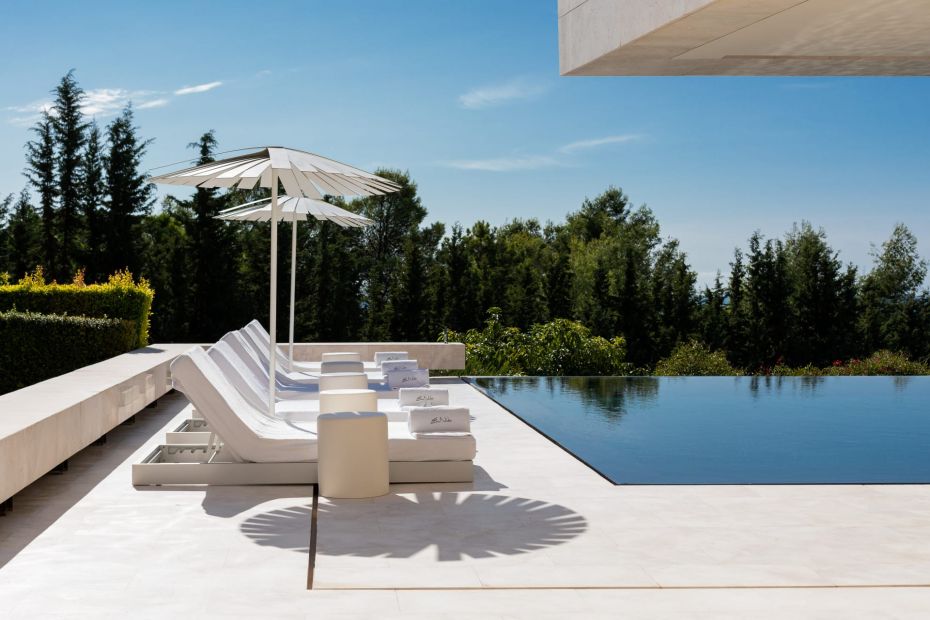 But perhaps, bigger is better? This grand villa in Cascada de Camojan on Marbella's Golden Mile is a graceful yet expansive mansion. Set over an enormous 6,466m2 plot, and boasting a total build of over 3,152m2, this property isn't just seen, it's experienced. This masterpiece of modern architecture aptly named, 'El Nido' or 'the nest', looks as if it were carved from the La Concha mountain itself. A stunning labyrinth of perfect geometric shapes and sharp lines, there is truly nothing else like it. For intimate access to more of Marbella's most expensive and luxurious properties, subscribe to our YouTube channel. We publish brand-new video tours every week, giving you an inside look into some of Europe's most lavish homes.
For more information on incredible modern villas just like these, or other homes for sale in exclusive areas like La Zagaleta and Sierra Blanca, watch our Area Tours.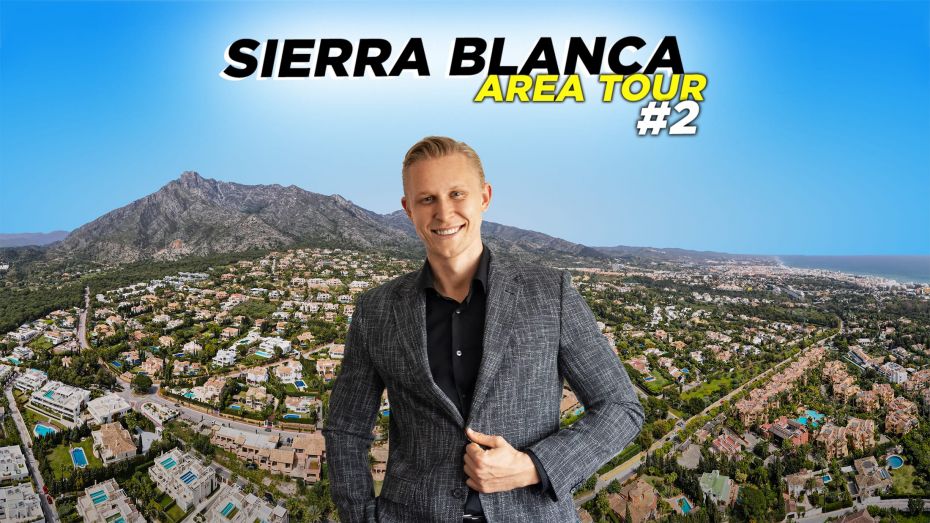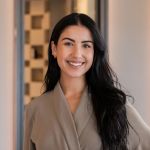 Collaborator Salma Hwedi