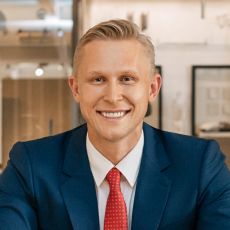 Sotogrande Luxurious Coastal Living
By Artur Loginov on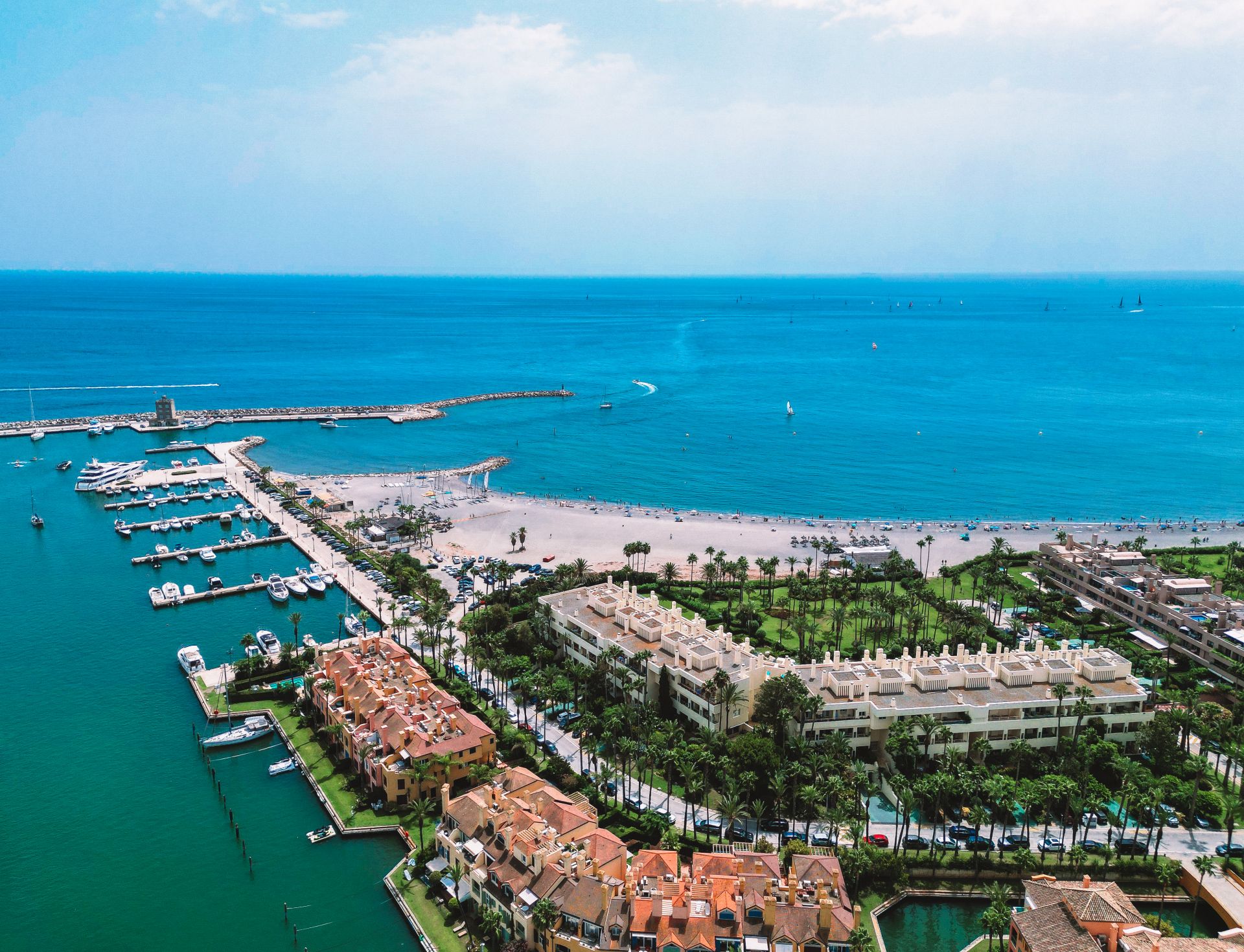 Sotogrande - an esteemed abode of the affluent, characterised by its extravagant golf courses and picturesque beaches, nestled at the farthest extremity of Costa del Sol. This area guide will familiarise you with all there is to know about this prestigious location.
What is Sotogrande?
Sotogrande is a highly sought-after residential area offering a luxurious lifestyle with all the amenities one could desire. The town boasts world-renowned golf courses, polo and yacht clubs, and beach clubs, providing residents with ample opportunities for leisure and recreation. In addition to its exceptional amenities, Sotogrande is renowned for its exquisite gastronomy, with numerous fine dining establishments offering an array of culinary delights. The town also offers exceptional shopping and entertainment options, including bars and nightlife venues. The architecture of Sotogrande is characterised by its elegant design and attention to detail, attracting some of the world's most elite individuals seeking a private and sophisticated lifestyle.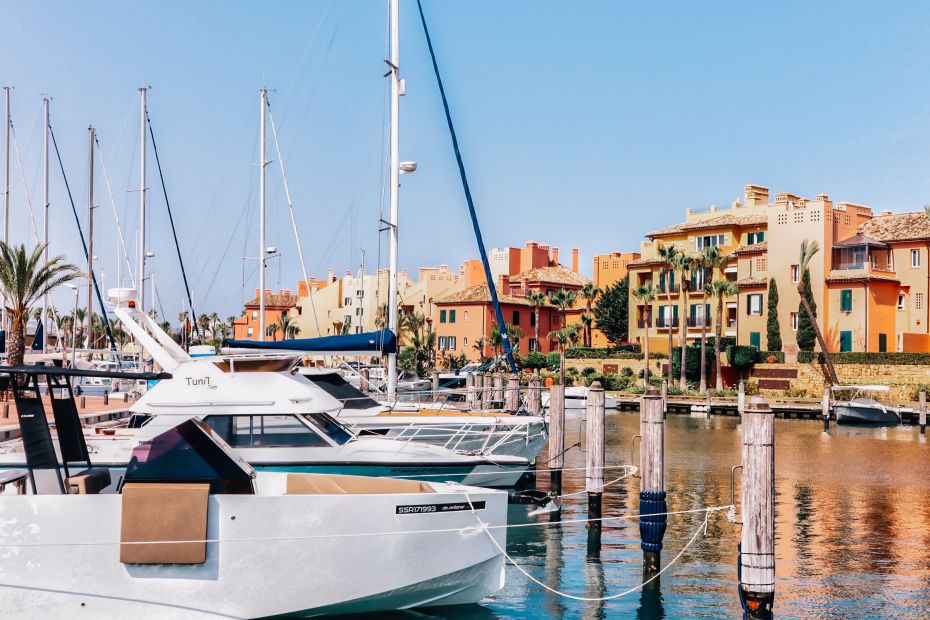 Where is Sotogrande?
Sotogrande is located at the western end of the Costa del Sol, approximately 44 kilometres from the famous resort town of Marbella. Situated on the border of the provinces of Cádiz and Málaga, Sotogrande is just a short drive from the British Overseas Territory of Gibraltar.
The town's prime location allows visitors to explore the stunning coastline of the Costa del Sol while providing easy access to the historical landmarks and cultural attractions of Cádiz and Gibraltar. Various towns near Marbella and Sotogrande are worth visiting, making them the perfect spot for a day trip. Sotogrande is known for its high-end amenities, including a marina, golf courses, polo fields, tennis club, beautiful beaches and picturesque landscape.
Distances to areas of Marbella:
Marbella Centre - 58km, 45-minute drive
Marbella Old Town (Casco Antiguo) - 58km, 48-minute drive
Puente Romano - 50km, 39-minute drive
The Golden Mile - 51km, 40-minute drive
San Pedro de Alcantara- 46km, 36-minute drive
Puerto Banus - 47km, 35-minute drive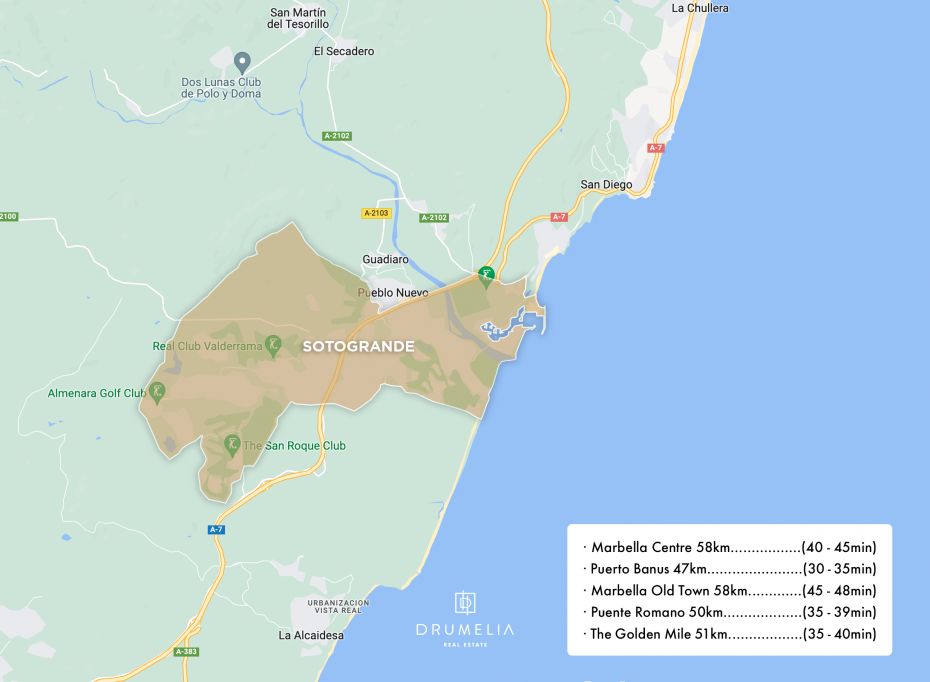 You can use our Google Maps Link to see how to get to Sotogrande from your location.
What is the history of Sotogrande?
The American Joseph Rafael McMicking developed the Sotogrande residential and resort community in 1962. It began with the purchase of 5 farms, from which the development of Sotogrande as we know it came about. He enlisted the help of the Spanish architect Luis Gutiérrez Soto to design the town and its various amenities, including a marina, golf courses, polo fields, and a tennis club. The famous Sotogrande marina was built in the 1970s, and more recently, the newer Ribera del Marlin arose. Sotogrande quickly became popular with wealthy Europeans and Americans, who were drawn to the town's luxurious amenities and beautiful surroundings.
Over the years, Sotogrande has hosted many high-profile events, including the annual Sotogrande Grand Prix, a prestigious polo tournament, and various golf tournaments. Today, Sotogrande is one of southern Spain's most sought-after residential areas, with an atmosphere of elegance and luxury and a constant path to excellence.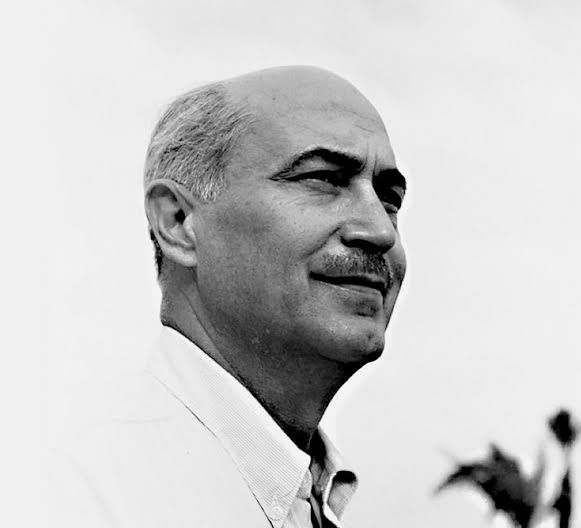 How big is Sotogrande?
Sotogrande is renowned as Andalucia's largest privately owned residential development, spanning 2,500 hectares. The town is ingeniously structured into distinct geographical zones, easily recognisable by their road names and locations. For example, the roads within zone A commence with the letter A, creating a coherent and efficient navigation system.
What style of homes can you find in Sotogrande?
One of the reasons Sotogrande has risen in popularity over the years is its varied style of homes, making it a perfect fit for everybody. Due to McMicking's initial vision, many older homes hold an American hacienda style and many homes with traditional Andalusian influences. Luxury villas are also prominent, usually hidden away behind gates. The new development of La Reserva Club de Sotogrande will be the epitome of the elegance and serenity Sotogrande has to offer, with its communities being the most exclusive yet.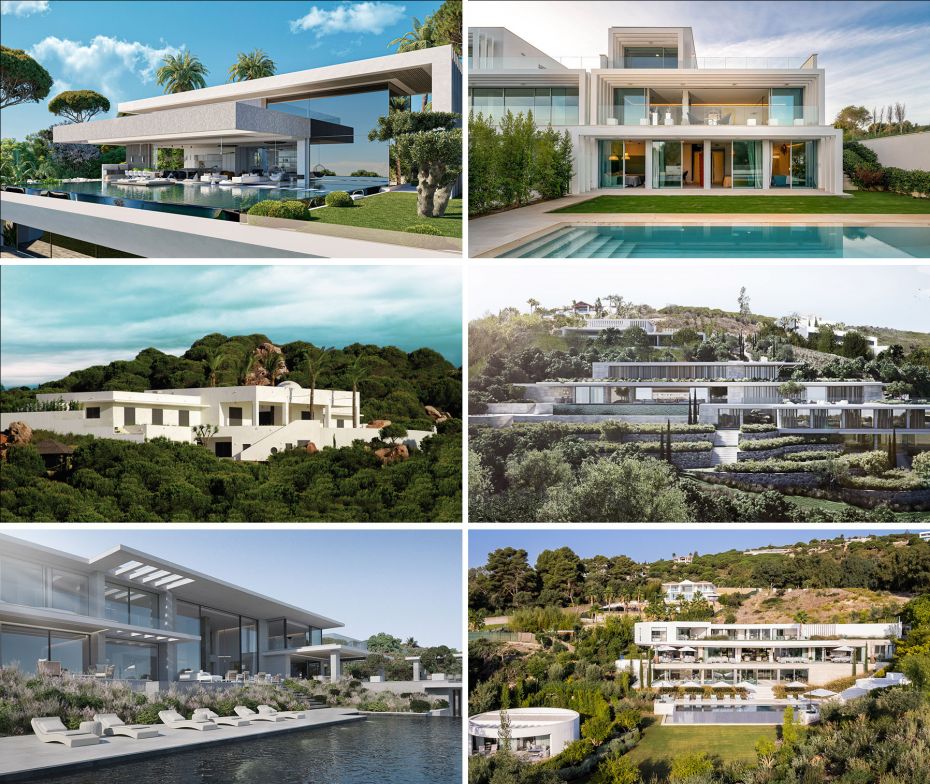 How much does it cost to buy a plot in Sotogrande?
The price of a plot largely depends on what area of Sotogrande they are located in and their overall size. As an estimate, smaller plots start at around €200,000 and prices can go up to €2,000,000 for larger plots.
How much does it cost to buy a house in Sotogrande?
Houses in Sotogrande come in various price ranges, as the home types are vast. One can find old and new homes, renovated homes, and new developments. As an estimation:
Older, smaller apartments start at around €170,000.
Older townhouses start at €200,000.
Newer, more modern, larger apartments start at €300,000 and can go up a pretty large amount.
Modern homes and developments start at €400,000 to €500,000.
Bigger villas and larger developments sit within €1,000,000 and up to €17,000,000.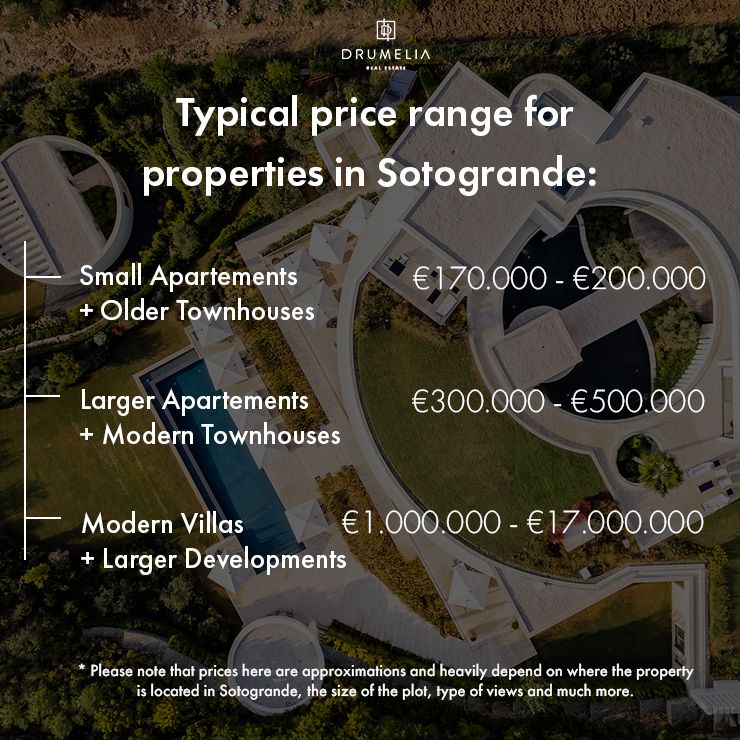 Is Sotogrande a popular place to live?
Sotogrande is renowned for its ambience of prestige and exclusivity, reflected in its facilities of the highest standards. The town's impeccable attention to detail and dedication to security provide residents with comfort and peace of mind, creating a truly unique and luxurious living experience. Sotogrande is also a haven for sports enthusiasts, with the town being home to one of the world's most famous polo clubs and five world-class golf courses considered among the best in Spain. The stunning landscapes of the courses make for a truly immersive and unforgettable golfing experience, attracting golfers from around the world to enjoy the beautiful surroundings.
Beyond sports, Sotogrande offers a range of amenities, such as exquisite restaurants, lively bars, and upscale shopping areas, which add to the town's vibrancy and make it an exciting place to settle down. The town's exclusive atmosphere and dedication to privacy and discretion further enhance the appeal of Sotogrande, making it a top choice for those seeking a refined and sophisticated lifestyle. If you're a digital nomad or spend a lot of time travelling and working from home, Sotogrande might be one of your best choices! And with the Spanish Digital Nomad Visa, it becomes easy to live here.
Overall, Sotogrande is a town offering an unparalleled combination of luxurious amenities, stunning landscapes, and a vibrant atmosphere, creating a unique and exclusive living experience highly coveted by individuals seeking the ultimate in sophistication and refinement.
Does Sotogrande have sea views?
Sotogrande offers breathtaking and panoramic views of the Mediterranean Sea, Gibraltar and the continent of Africa from almost every property, making it a highly desirable location for discerning individuals seeking a luxurious and exclusive lifestyle. The tranquil vistas of the sea provide an additional layer of peace and relaxation, further enhancing the town's serene atmosphere.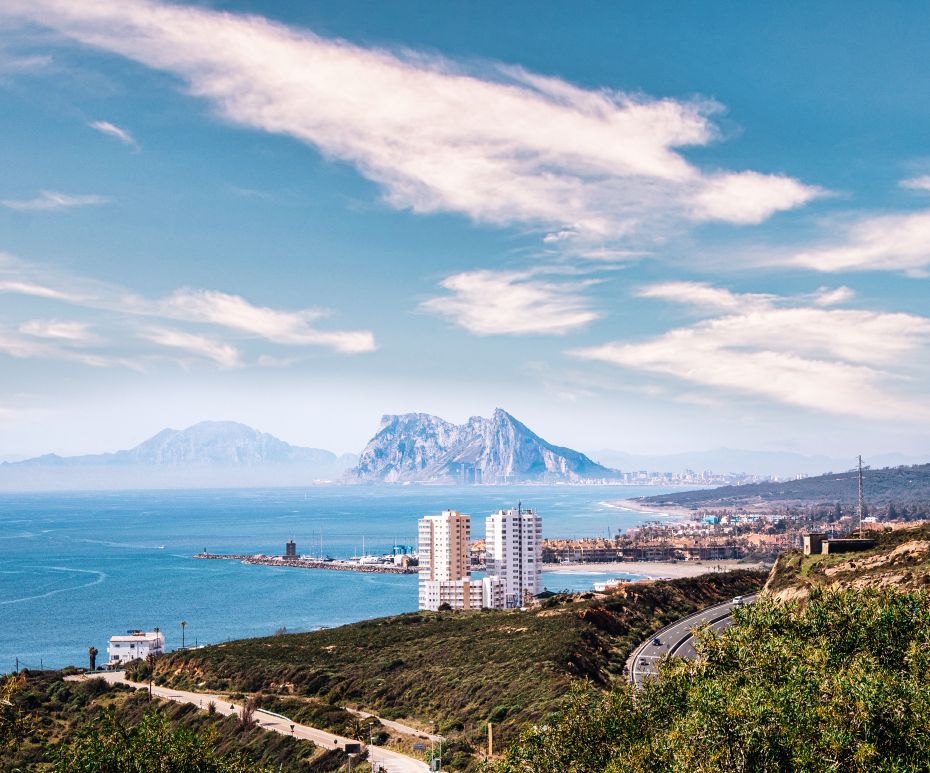 What is there to do in Sotogrande?
Sotogrande is a world of its own, with everything one may need for a comfortable life available to them.
Golf in Sotogrande
Sotogrande is known for its golf courses, particularly the Valderrama golf club, which hosts many international competitions, including the 97 Ryder Cup. It is 6418 metres in length and holds a Par 71 Championship Course. It is considered the number 1 golf course in Europe. The Real Club de Golf is also popular in the Sotogrande Marina. The course has a par of 72 and measures up to 6492 metres. Players will find themselves amongst beautiful greeneries as they complete this rigorous course. The La Reserva Golf, designed by Cabell Robinson, is a newer 18-hole course inaugurated in 2003. The San Roque Golf Club is amongst the best in Europe; a balance of peace and nature, it is a great club with two championship courses. The Old Course has been a host to some of Golf's most famous players, and the New Course is bathed in extraordinary views of the mountains and coast.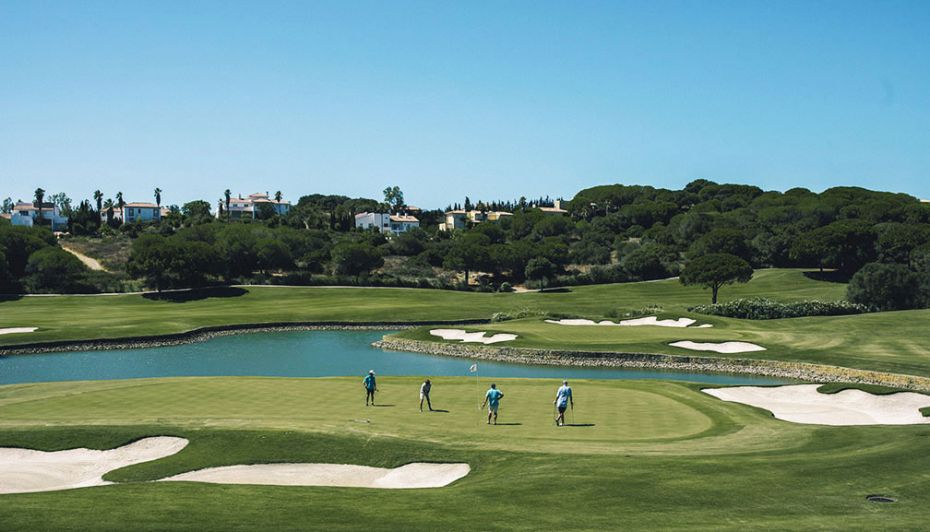 Sports in Sotogrande
For those interested in Polo, the Santa Maria Polo Club has seven polo grounds, four of which are World Class and hosts the International Polo Tournament. La Reserva also has 4 clay tennis courts, 5 glass-walled padel courts, 1 multisport court, 1 beach volleyball court and a sports academy. Watersports can be found in the Sotogrande Marina, with options such as sailing and regattas in the summer months.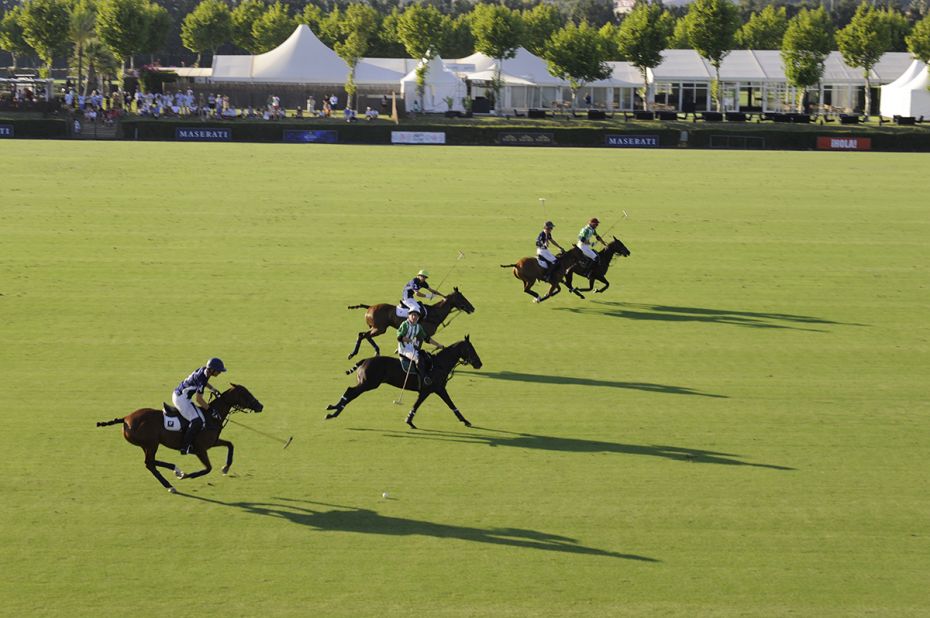 Entertainment in Sotogrande
Sotogrande has a lively lifestyle, with many entertainment options for residents and guests. A new favourite is the Reserva Club de Sotogrande, where a plethora of activities can be found. In summer, the beach is a lovely place to spend the day; a Beach Club with a 25m saltwater pool, a lagoon with water sports, restaurants, and a bar.
Some of the best restaurants in Sotogrande include Trocadero, serving seafood and meats by the beach. L'Olive Restaurant at La Reserva has traditional Andalusian dishes with a contemporary European twist on the foot of the golf course. Midas, based in Sotogrande Port, offers an extensive menu of several cuisines, including a sushi bar. KE Restaurant, located in the Sotogrande Port, is also a must-visit, as its ambience is unique and open for most of the day. It has a beautiful terrace to enjoy the views, an extensive bar and a tasty menu.
What is life like for kids in Sotogrande?
Many families pick Sotogrande as their holiday home, or as a place to settle down for good, due to its calm environment and choice of activities for their kids. Sotogrande is tailored to meet the needs of all family members, including the little ones. The security that revolves around Sotogrande makes it a safe space for children to roam around, especially because of the heavily pedestrianised roads and outdoor spaces. In the Reserva Club of Sotogrande, Hipica Park is another outdoor space open to the public on Sundays. It hosts a climbing wall, archery games, zip lines, as well as the choice of learning how to horse-ride.
Schools in Sotogrande.
Home to one of the top schools in Spain, the Sotogrande International School offers an education for children aged 3 to 18, with day school or boarding options. The school follows the International Baccalaureate program, a prestigious program that creates the brightest minds.
The International Montessori School of Sotogrande offers a renowned education for the younger ones, being a bilingual school for kids from 8 months until 12 years of age. The school's philosophy is that of self-motivated growth in all areas of development, which allow children to become well-rounded individuals.
A range of International Schools in Marbella are also less than an hour away:
Swans International School - 45-minute drive
Aloha College - 41-minute drive
Laude International School - 35-minute drive
English International College - 50-minute drive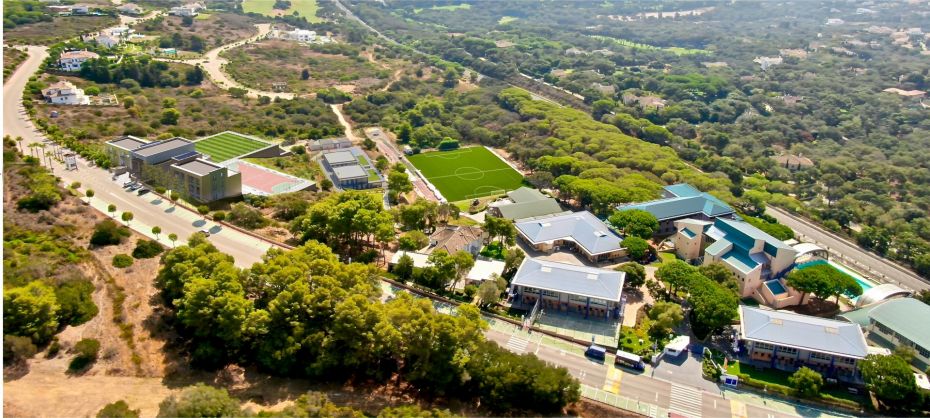 Is Sotogrande safe?
Sotogrande is known for its top-notch security, providing peace of mind to all its residents. It hosts 24-hour security services and regular patrols that make sure everything is in check. Additionally, several developments within Sotogrande are gated, providing even more of a sense of security.
How close is Sotogrande to Marbella and its amenities?
Sotogrande is a hub of its own, with a plethora of amenidour doorstep. Whether you want to indulge in sports or relax, this is available at your doorstep. With an incredible golf scene, tennis, and watersports, Sotogrande is perfect for those seeking an active lifestyle. Also, the exclusivity of Sotogrande allows for many elegant restaurants and bars you can choose from. However, the bustling lights of Marbella's lifestyle are also within reach.
Within an hour, you could indulge in a tasty meal in the world-known Nobu Restaurant or have a cocktail by the beach. If you are looking for a quick escape to a city filled with entertainment tailored to your needs, Marbella is your go-to, as the variety of nightclubs await for you to dance the night away. If what you seek is a more laid-back day for yourself, some of the best SPAs can be found in Marbella, such as the Six Senses Spa in Puente Romano. To learn more about Spa's in Marbella, you can read our blog. Marbella is a stone's throw away and is waiting for you to experience it at its best.
Distances to areas of Marbella:
Marbella Centre - 58km, 45-minute drive
Marbella Old Town (Casco Antiguo) - 58km, 48-minute drive
Puente Romano - 50km, 39-minute drive
The Golden Mile - 49km, 38-minute drive
San Pedro de Alcantara- 46km, 36-minute drive
Puerto Banus - 47km, 35-minute drive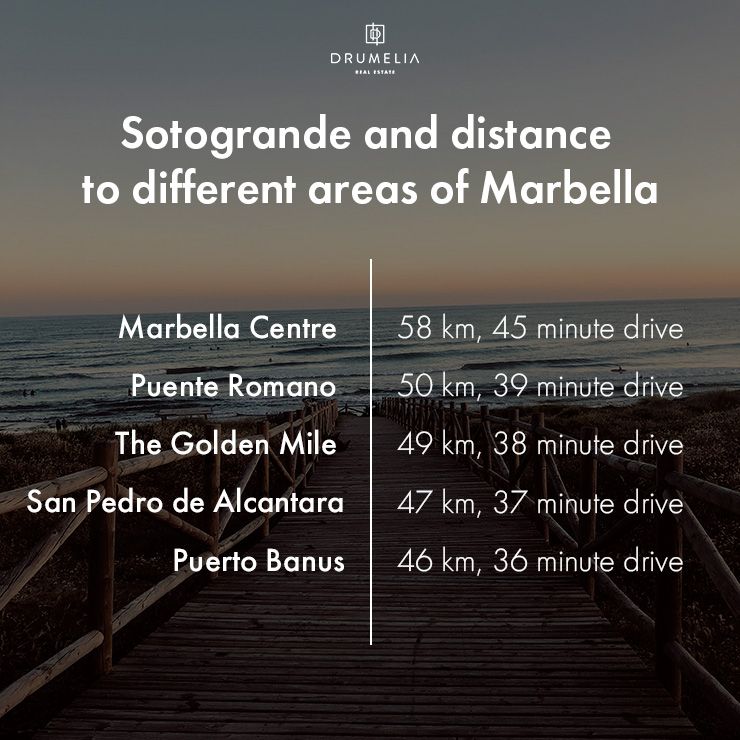 Who lives in Sotogrande?
Sotogrande is home to some of the world's elite, as it is considered one of the most exclusive residential areas in Europe. Famous owners of Sotogrande include former British Prime Minister Tony Blair, Royal Shakespeare Company actor Mike Gwilym, several Arab sheikhs and Prince Louis Alphonse de Borbon, to name but a few.
What are the most famous houses in Sotogrande?
A modern, luxurious house in La Reserva de Sotogrande is currently up for sale at a price of €17,900,000. It sits on a plot of over 5000m2; it is the epitome of exclusivity, as it is located in a gated community with only 5 other villas. The views are outstanding due to its major glass exterior and lush gardens.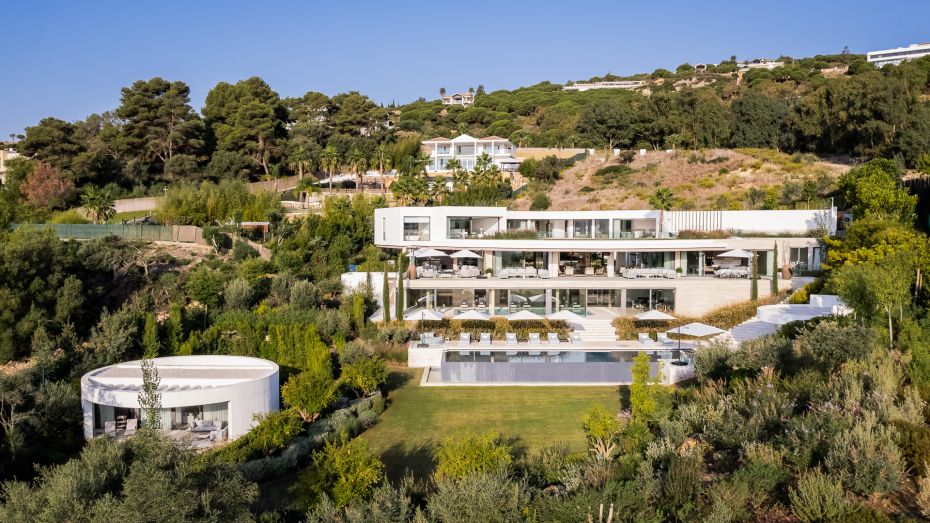 Who are the main architects of Sotogrande?
ARK Architects are the leading architectural firm in the Sotogrande area. With their offices based there, ARK strives to combine light, nature, materials, sustainability and creativity to generate the ultimate experience to stimulate one's senses. With over 25 years of experience in this sector and working across the globe in Marbella, Miami, New York and Milan, ARK's goal is to build houses and positively impact new homeowners. To learn more about ARK Architects, you can watch our exclusive interview with one of their founding members, Manuel R Moriche.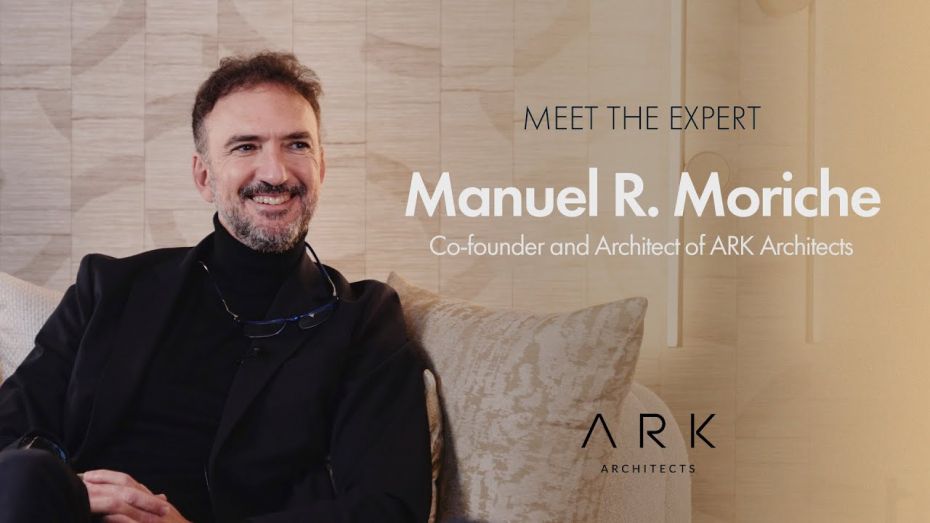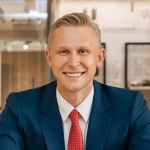 CEO & Partner
Artur Loginov
Artur Loginov is the CEO and proud Partner of Drumelia Real Estate. He has over a decade of knowledge and…
Eat & Drink

Health & Wellness

Education

Shopping

Golf

Hotel
Properties for sale in Sotogrande
We work daily to bring you every good investment or luxury property for sale that hits the real estate market in Sotogrande. Find all available property for sale options in Sotogrande.
View all properties