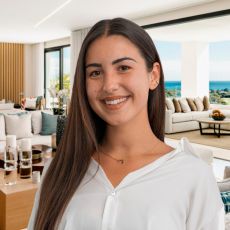 Guadalmina An oasis of tranquility
By Salma Hwedi on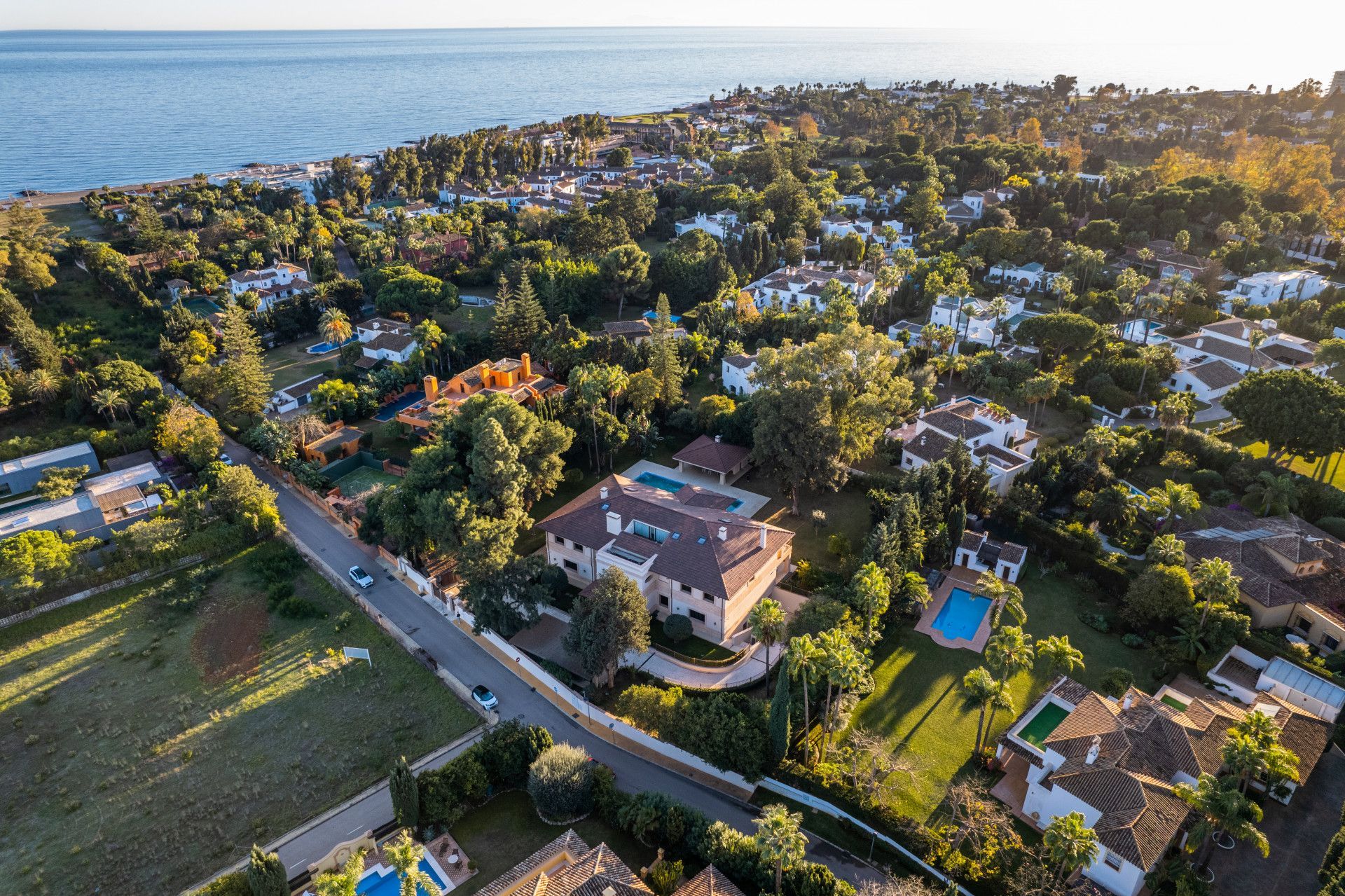 Guadalmina is the name given to a beautiful residential community nestled in the western wing of the Costa del Sol. Perhaps not as known by tourists, it holds many residences and amenities enjoyed by locals and foreign residents enjoy. Guadalmina is also home to 2 renowned golf courses that locals and tourists enjoy. This area guide will familiarise you with the Guadalmina area and what it encapsulates.
What is Guadalmina?
Guadalmina is an oasis of peace and privacy. It is a small community between San Pedro de Alcantara and the New Golden Mile of Estepona, divided into two areas; Guadalmina Baja and Guadalmina Alta. The Guadalmina Centro Comercial (Guadalmina Commercial Centre) is a midpoint between both areas and sits on the northern side of the N-340.
Guadalmina Alta extends north of the N-340 highway and into the hills before the AP-7 motorway. Many foreign residents choose to reside here, as it is an exclusive, tranquil area, minutes away from amenities. Golf courses surround this area, which is considered a golfer's paradise. This is due to the proximity of 2 of the best courses in Marbella and the golfer lifestyle that exudes in the atmosphere. Another interesting point is that almost all Guadalmina Alta properties have a lot of privacy. This is because most properties are relatively separate from each other, and many tall trees and land tend to separate plots quite well. Moreover, many gated communities sit within this area, meaning even more privacy for those who live within communities.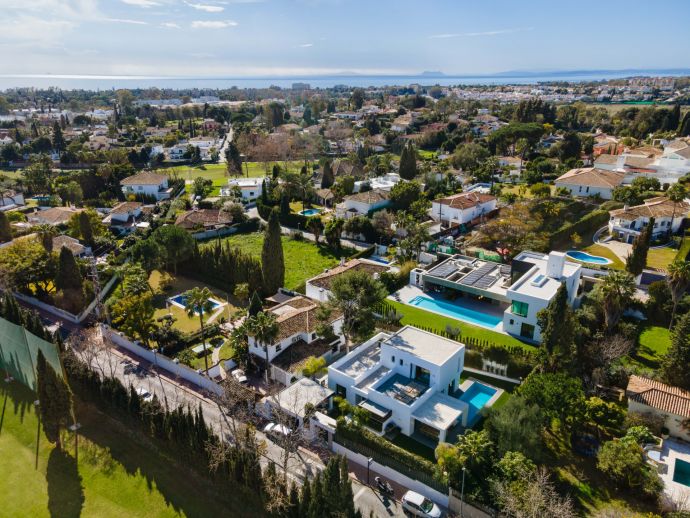 Guadalmina Baja sits on the N-340 highway and runs down towards the beach. This area is a popular choice for Spanish communities, particularly families. It is a coastal area and is close to amenities. Not only does this area boast front-line golf properties, but front-line beach properties too. There is a big mix of residential properties, ranging from high-end villas on large plots to smaller villas on medium plots with sea views, traditional Andalusian townhouses and modern apartment complexes. Buying a property here does not solely mean buying a home; it means purchasing a lifestyle.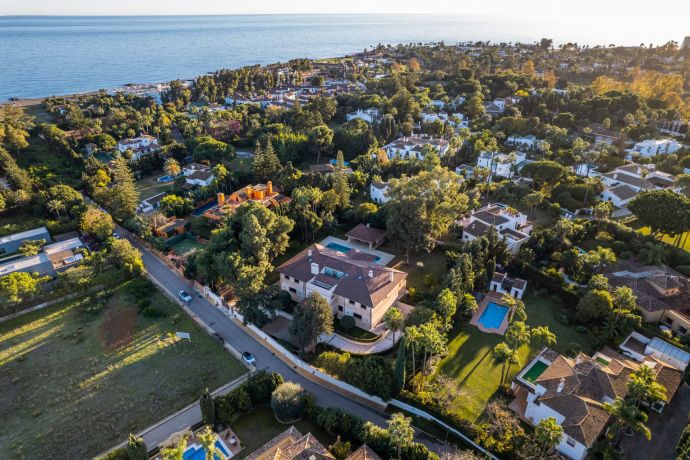 Where is Guadalmina?
Guadalmina is located on the western outskirts of Marbella, beside the Guadalmina River. This river is considered one of the shortest in Spain, starting in the Serrania de Ronda (Ronda Mountain Range) and running down into the Mediterranean Sea, where Guadalmina Baja is located. The Guadalmina area sits on either side of the N-340/AP-7 roads, which serves as a division point between Guadalmina Alta and Guadalmina Baja. It is between San Pedro and the New Golden Mile of Estepona and is usually considered a dividing point between both towns.
Distance from Guadalmina Alta:
Marbella Centre: 13km, 18 min drive
Puerto Banus: 7.2km, 9 min drive
San Pedro Town Centre: 2.6km, 7 min drive
Estepona: 20km, 20 min drive
Gibraltar Airport: 62km, 53 min drive
Malaga Airport: 63km, 44 min drive
Distance from Guadalmina Baja:
Marbella Centre: 13km, 16 min drive
Puerto Banus: 6.5km, 7 min drive
San Pedro Town Centre: 2.6km, 6 min drive
Estepona: 17km, 15 min drive
Gibraltar Airport: 60km, 49 min drive
Malaga Airport: 63km, 44 min drive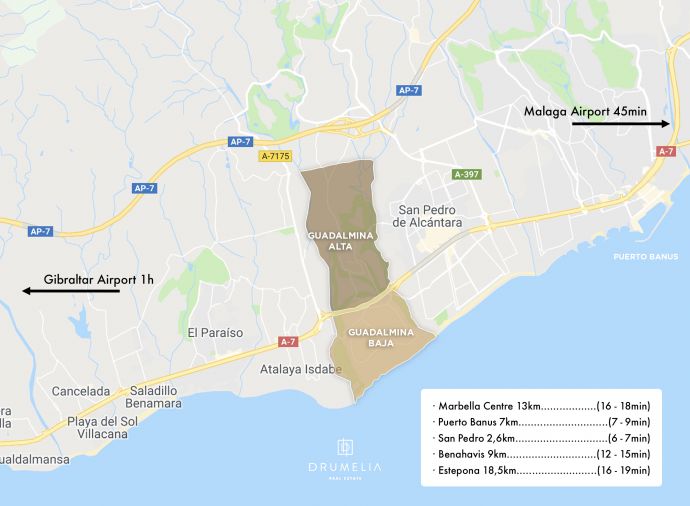 We have prepared guides for Marbella's prime locations, which you can find on our website.
What is the history of Guadalmina?
Guadalmina was a sugar cane plantation, purchased by Norberto Goizueta in the 1930s to create a farm. However, as tourism rates increased in Marbella, he changed his plans and created the first golf course in Marbella, which now forms part of the Real Club de Golf de Guadalmina. The South course was completed in 1959, establishing the Club de Golf Guadalmina, and from then on, Guadalmina began increasing in geographical size. In 1965, the Spanish golf championship was hosted here, attracting visitors and introducing them to Guadalmina. The second course, North Course, was completed in 1973, whereby Guadalmina became a popular place to play golf and reside in. The Guadalmina Hotel was also a turning point for the community's growth. This hotel was inaugurated in 1959 and became the epitome of elite social life in Guadalmina, having direct access to the beach and golf courses and a lovely Clubhouse that residents still enjoy.

How big is Guadalmina?
Guadalmina is relatively small in comparison to other areas of Marbella. It encompasses around 8 km2 of land, spanning from the coast to the valley. Guadalmina Baja covers a broader area closer to the sea due to the flatter land and the adaptability for construction. However, Guadalmina Alta covers a vast and long yet more mountainous terrain for residential houses, urbanisations and apartment blocks.
How many houses are in Guadalmina?
Guadalmina is home to many various property types and sizes. Due to its division into two zones - Guadalmina Alta and Guadalmina Baja - it is nearly impossible to give an exact number of homes. These two zones differ in size and style of properties found. Also, many apartment blocks compromise many apartments, so there is no way to say how many homes there are. Besides this, many independent urbanisations host over 25 residential houses, not to mention the stand-alone villas on the golf course and the beach. Below is an example of a property in Guadalmina:
What style of homes can you find in Guadalmina?
Guadalmina Baja hosts large properties, many of which are villas and mansions that follow a traditional Mediterranean style with neutral palettes and archways. In recent years, several properties have been developed to hold contemporary villas. This area boasts sea views due to its proximity to the coast and flat terrain, and most frontline properties have access to sea views from practically every floor. The further north, the fewer sea views, but there will always be some wherever you are in Guadalmina Baja.
Guadalmina Alta has smaller plot sizes and properties due to the terrain. The homes are older than those in Guadalmina Baja, although there has been an increase in the tendency to remodel homes as plots are scarce. Apartments and townhouses are more prominent than villas, with many urbanisations throughout the area. This area is known for its Golf views.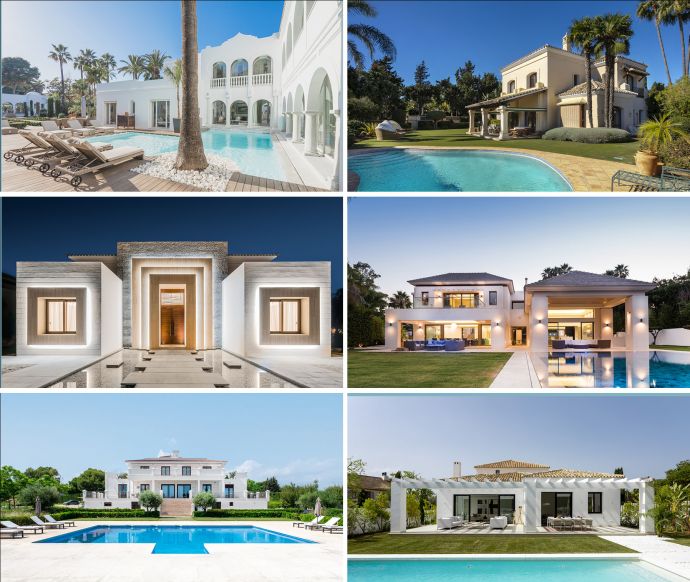 How much does it cost to buy a house in Guadalmina?
Guadalmina Baja is quite a prestigious area due to its proximity to the beach. This area is predominantly comprised of villas and townhouses, with prices being relatively high due to the size of the property and its location. An appropriate estimation bracket of prices for a home in Guadalmina Baja lies between €2,000,000 to €15,000,000. However, this is subject to many factors, such as where precisely in Guadalmina Baja the home stands, how large the plot is, the views from the property, and the quality of the build.
In terms of prices for Guadalmina Alta, here they also vary. This is because this area has many property styles, from apartments to smaller villas on large plots. As an estimate, the bracket for a property in Guadalmina Alta is €400,000 - €4,000,000. This is subject to the type of property (as Guadalmina Alta has a wide array of apartments, townhouses and villas), the proximity to the golf course, property density in the area, plot size, and much more.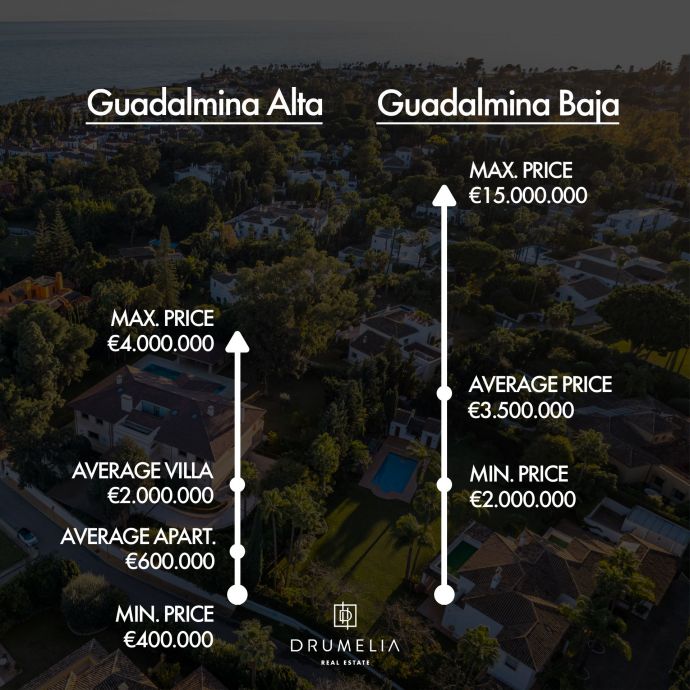 How much does it cost to buy a plot in Guadalmina?
Guadalmina Baja, due to its structure of villas and townhouses being the most predominant property style, still has substantial plots of land available to build. These plots will be expensive because they are either beachfront or very close to the beach and are also quite generous. An estimation of a plot's price is between €1,500,000 and €17,000,000.
Guadalmina Alta, on the other hand, is very densely populated. Because it is enclosed by surrounding districts like San Pedro and Benahavis - and is also very hilly - fewer plots are available for sale. And, those left do not have less to offer, such as views and a large land mass. However, as an approximation, a plot here could be between €200,000 and €800,000.
Does Guadalmina have sea views?
Guadalmina Baja, seeing as it is located to the south of the highway and in proximity to the beach, does indeed have sea views from almost any point. Also, since the homes here are large and usually make up several floors, the top floors open up to the sea. It is important to remember that Guadalmina Baja sits on flat terrain, so most houses that are not front-line beach will only be able to enjoy sea views from the top floor.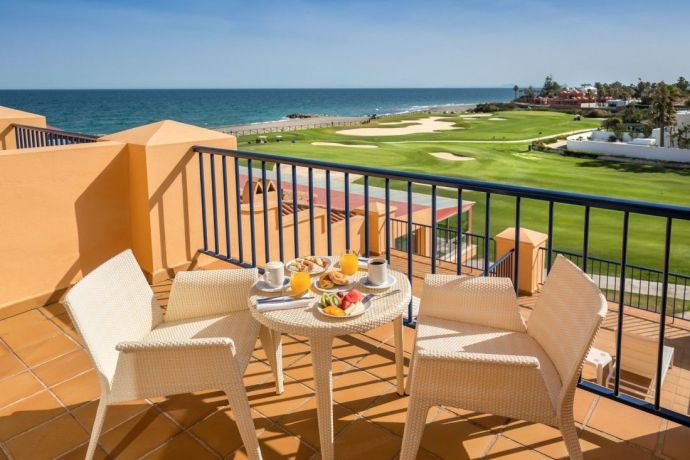 Guadalmina Alta has few sea views, as golf courses and valleys surround it. However, this is a beautiful sight; vast greenery and nature encapsulate the area. Several points in Guadalmina Alta may open up to the panorama of the sea, but this is very rare and only come from higher-level apartments and homes with many floors.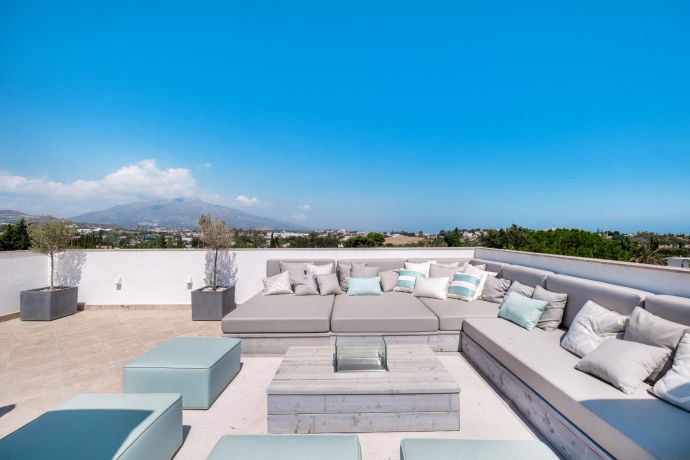 Is Guadalmina a popular place to live?
Guadalmina has a lot to offer, despite being a relatively small community. The hassle-free connections to main roads and nearby towns, such as San Pedro, Estepona and Marbella, make this a sought-after location to build a life in. The variety of schools to choose from also aids in the decision to reside here. Guadalmina is a beautiful community for families, couples, and golf lovers.
To learn more about the benefits of owning a home in Marbella, check out our blog.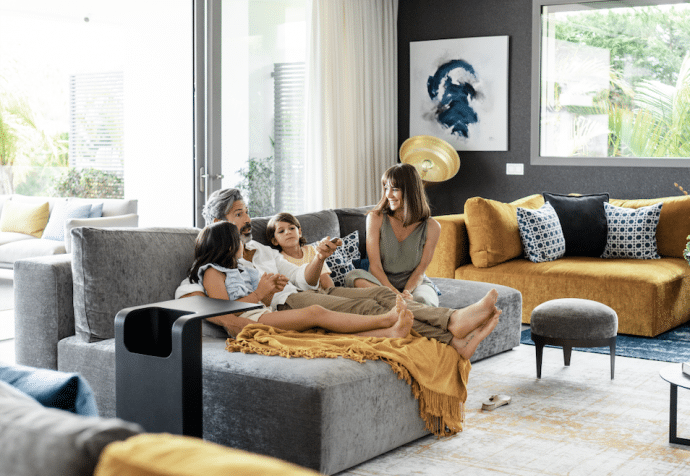 What is there to do in Guadalmina?
Although Guadalmina doesn't have a town centre, per se, many activities and amenities are offered. The most popular is golf - seeing as there are many golf courses throughout, both in Guadalmina Alta and Guadalmina Baja. Locals love to spend time in the Guadalmina Hotel, located in Guadalmina Baja, just steps away from the sea. The hotel offers a golf course, several restaurants and beachfront facilities.
There is also a commercial centre called Centro Comercial Guadalmina, which sits just above the N-340, bordering Guadalmina Alta. Here, one can find an array of grocery stores, boutiques, restaurants, cafés and services such as dentists and interior designers. You can even find businesses such as real estate offices, lawyers' offices, physiotherapy, banks, dog groomers and much more. Guadalmina has everything one may need at their doorstep.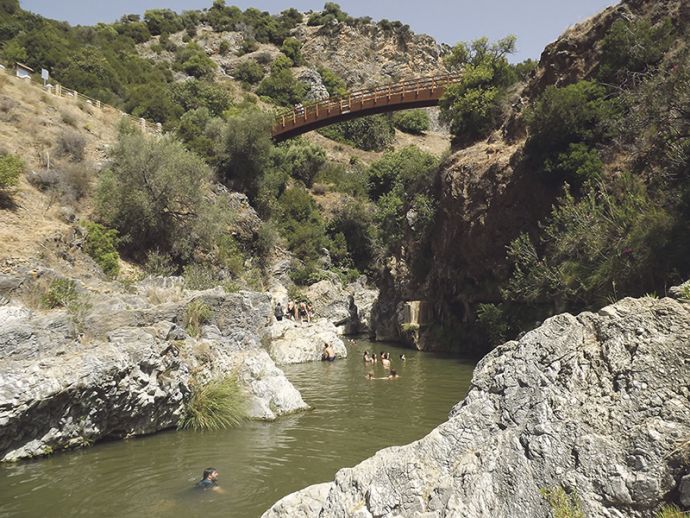 Guadalmina is also loved for the nature that surrounds it. A walkway called Acequia de Guadalmina opened to the public in 2014, allowing cyclists and hikers to enjoy the river and the breathtaking views.
For a guide to the best restaurants in Marbella and how to make the most out of the outdoors in Marbella, you can check out our website.
Golf in Guadalmina
Guadalmina is a very popular destination for golf lovers, as it is home to 2 of Marbella's oldest golf courses.
The South course is also an 18-hole 72 Par course that spans 6,082m and is located in Guadalmina Baja; it also offers some spectacular sea views. It was completed in 1959 and has since hosted events such as the Spanish Championship, the European Tour Qualifying School in 1995 and 1996, and then the PGA Championship in 1998. Renowned for its difficulty, the course is a local and international favourite.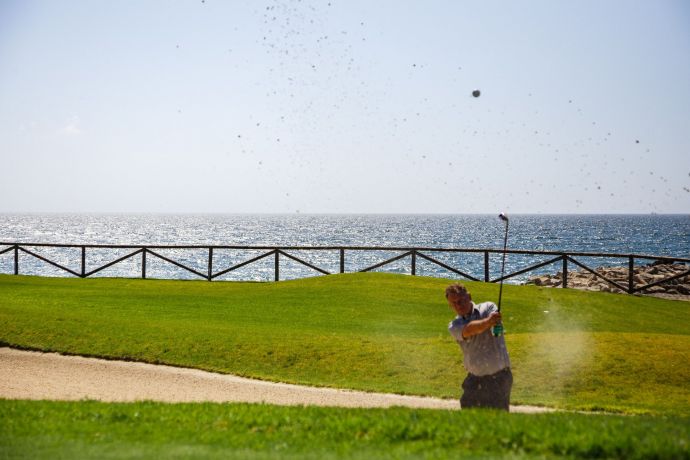 The North course is an 18-hole 72 Par course that spans 5,600m and is located in Guadalmina Alta. It was completed in 1973 under the supervision on Folco Nardi. This course is shorter than its counterpart but provides a hillier surface and more water obstacles.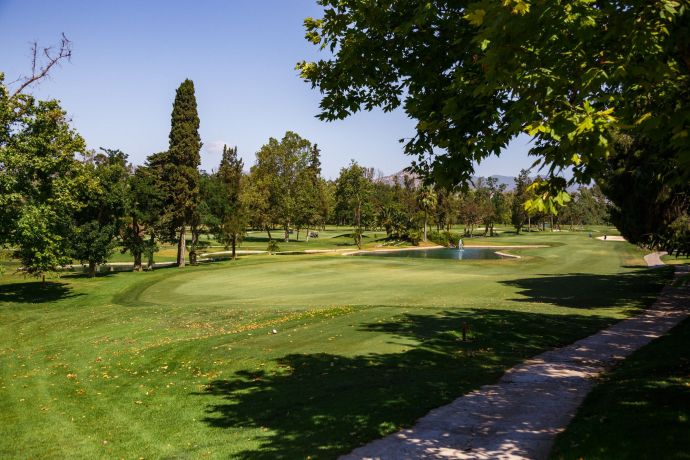 The Real Club de Golf Guadalmina runs the two courses, along with the Pitch & Put and the Driving Range. The club also provides one tennis court and one paddle court to enjoy. There is also a pool that can be used by those who have a membership at the golf club. The club also hosts a Golf School where one can learn the sport from Beginners to Professionals; they also provide classes for people of all ages.
To learn more about golf in Marbella, check out our blog.
What is life like for kids in Guadalmina?
Guadalmina is an excellent environment to raise kids. Its proximity to the beach allows them to enjoy sunny days in the sea, where they can partake in water sports such as paddleboarding and jet skiing. Also, the heavily pedestrianised streets allow children to roam around or cycle around the area safely. San Pedro de Alcántara and its famous Boulevard are nearby, where families can enjoy pleasant walks, visit restaurants and watch movies in the outdoor cinemas. Also, in October, the San Pedro fair will be easily accessible to residents of Guadalmina and is considered great entertainment for kids due to all the attractions. Various schools are located around the area, which is an essential factor when raising kids. Guadalmina promises a beautiful, peaceful, yet entertaining life for kids.
If your children enjoy outdoor activities all year round and want to learn more about the weather in Marbella, you can check out our blog.
Schools in Guadalmina.
Guadalmina is located near many schools, which is partly why it is such a popular area to live in among families.
Laude International College is located 6 minutes from Guadalmina and is a school that educates children ages 3 to 18. They also offer education in both Spanish and English, so it is up to the parents to choose which curriculum they would like their child to follow.
San Jose is a private bilingual school in Guadalmina, hosting children aged 3 to 18. For the last two years of school, the IB Diploma is offered here, and the Spanish National Baccalaureate; is also an option to complete a double program.
Atalaya Colegio Internacional is an 8-minute drive from Guadalmina and boasts an international Spanish and English education for children ages 3 to 18.
Other than these private schools, several public schools in the area, such as primary school Maria Teresa León and CEIP Miguel Hernandez, both in San Pedro, equating to a short drive away.
Other schools can be found nearby:
Swans International Primary School: 14km, 17-minute drive
Swans International Secondary School: 13km,  17-minute drive
Aloha College: 8.9km, 12-minute drive
The British School of Marbella: 11km, 14-minute drive
English International College: 26km, 23-minute drive
Sotogrande (boarding and day school): 46km, 33-minute drive
To learn more about education in Marbella, be sure to check out our website.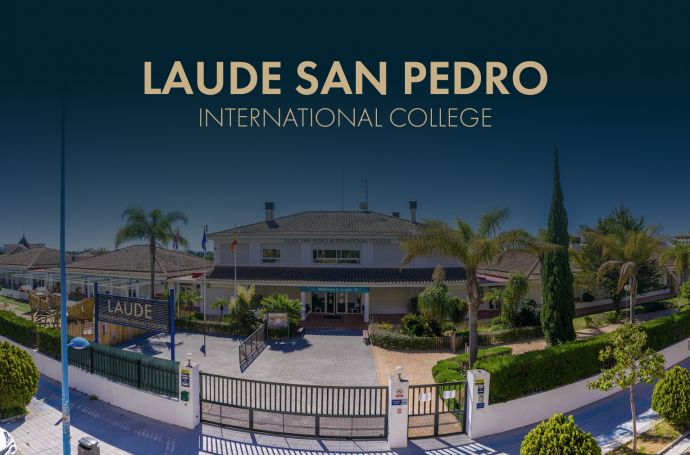 How close is Guadalmina to Marbella and its amenities?
Guadalmina is very well-connected in terms of transportation. It sits on the N-340 coastal road and has access to the AP-7 toll road. There is also the possibility of driving along the beachside promenade and residential roads, allowing easy access to San Pedro and other nearby areas.
Guadalmina has its own Centro Comercial, which translates to Mall. The eastern part of this mall, which is also the newer one, hosts many cafés and dining spots, and here lies the Asador de Guadalmina, a beloved spot throughout the coast. You can enjoy some of the tastiest tapas and meat dishes. There are also various offices in this area, such as dentists, real estate companies and many other services. In the west wing of the Commercial Centre, there is a supermarket - Carrefour - where one can find an array of local and international food products and other household items. There are also hairdressers, furniture studios and more. Thus, Guadalmina has all the amenities one might need at their doorstep.
Distance to amenities from Guadalmina Alta:
Marbella Centre: 13km, 18 min drive
Puerto Banus: 7.2km, 9 min drive
San Pedro Town Centre: 2.6km, 7 min drive
Estepona: 20km, 20 min drive
Distance to amenities from Guadalmina Baja: 
Marbella Centre: 13km, 16 min drive
Puerto Banus: 6.5km, 7 min drive
San Pedro Town Centre: 2.6km, 6 min drive
Estepona: 17km, 15 min drive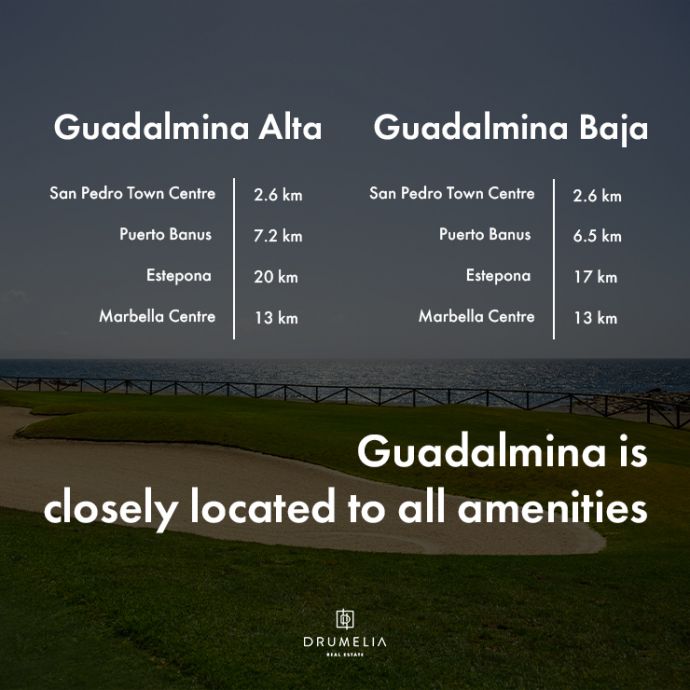 Who lives in Guadalmina?
Guadalmina boasts an exciting list of notable people that have resided here. Among them are Audrey Hepburn and her husband, Mel Ferrer, who bought a house in Guadalmina in the 1960s. Also, the Cuban ex-president Fulgencio Batista lived in Guadalmina until he died in 1973. The ex-Spanish president José María Aznar and the ex-Madrid mayor Ana Botella have homes in this community. Many celebrities have chosen Guadalmina Baja as their residence due to the privacy one gets from living there. Due to the terrain's flatness, the plots' size and the properties' location, it is incredibly private. Almost all properties have an entrance gate closing off the property to the public, tall walls surrounding the property, trees surrounding the garden to obstruct views for those outside the property, and of course, being in a quiet residential area is always a pro for celebrities.
In terms of the residents overall, Guadalmina is known for its international community, which allows for a rich cultural background among neighbours. As previously mentioned, Guadalmina Alta is predominantly filled with foreign residents, whereas Guadalmina Baja has a mix of locals and foreigners.
What is the most famous house in Guadalmina?
Guadalmina is filled with beautiful properties. An example would be Villa Gardenia, an exclusive property in Guadalmina Baja sold by Drumelia for €3,500,000 in March 2021. As this was a Drumelia exclusive, a lot of in-detail marketing material was made to promote the property, being posted on our highly-followed social channels. Thus, it gained much recognition from local, national and international buyers.
Is Guadalmina safe?
Guadalmina is a community with many actions implemented to ensure resident safety. Overall, it is a well-pedestrianised area, so people can safely walk around. Also, cycle lanes have recently been integrated to allow for easy and safe cycling, aiding transportation within.
In terms of roads, you can find many speed bumps and roundabouts with traffic lights around the area to promote safe driving and avoid road incidents. There is also a police station very close by, as well as public hospitals and doctor's clinics in case of emergencies. Rest assured, if anything were to happen, help would arrive within minutes.
Most properties have their home security systems to feel safer, and all properties have their perimeter surrounded to avoid trespassing, especially in Guadalmina Baja. Also, Guadalmina Baja has security patrols that roam around the urbanisation. Due to Guadalmina being a large family environment, it has adapted to having families with young kids around; thus, safety is maximised.
If you want to learn more about privacy, security and safety in Marbella, be sure to read our blog.
What is the difference between Guadalmina and San Pedro de Alcántara?
Guadalmina is considered a residential area, boasting golf courses and small businesses for those that reside there. It holds more of an international community than San Pedro de Alcántara and covers a wider geographic area. There is a more comprehensive range of property styles and more land mass separating properties. However, San Pedro has all the amenities one would expect a town to have and a wide range of properties, such as villas, apartment blocks and townhouses. Here, it is common to find more locals.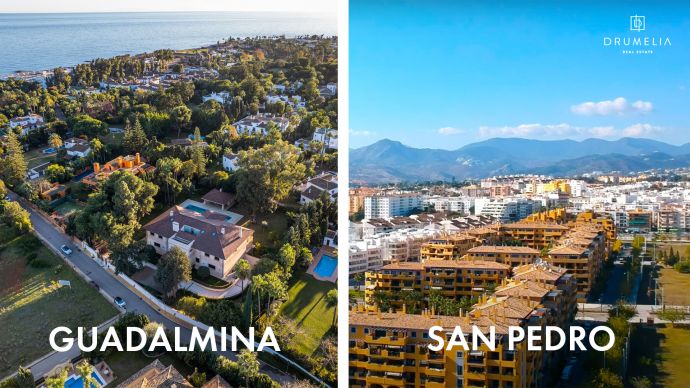 Which is the leading agency in Guadalmina?
Drumelia is the top real estate firm in Marbella and has many years of experience helping buyers and vendors with their properties in Guadalmina. Drumelia leads sales in the Guadalmina area, with various options ranging from building plots to luxury villas ready to move into. We are here to assist with your search and ready to guide you through your purchase or sale process.
Besides leading Marbella's luxury real estate market, Drumelia is also an expert in helping clients buy and sell high-end real estate in Guadalmina. Drumelia is here to help you throughout the entire sale or purchase process of the property of your dreams in Guadalmina. If you want to buy, we will guide you from finding the best plot to sourcing the perfect property to purchase with the help of our extensive database. If you want to sell, then Drumelia can provide you with a global reach through our unparalleled marketing strategies and online presence, not to mention clients who are actively interested in purchasing a property in Guadalmina.
Check out our website to learn more about Drumelia's record sales and bespoke Drumelia marketing.
Fun Facts about Guadalmina
The area is named after the river that flows between Marbella and Estepona.
The ex-Cuban president Fulgencio Batista lived in Guadalmina until he passed in 1973.
The Guadalmina Golf Club hosted the Spanish Golf Championship in 1965 and the European Tour Qualifying School in 1995 and 1996.
Guadalmina is home to the Capilla de la Inmaculada Concepción, the chapel most known for its similarity to a lighthouse.
One of Marbella's oldest schools, San José, is in Guadalmina Baja.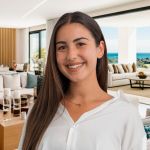 Community manager
Salma Perez Hwedi
Salma Hwedi is the Community Manager at Drumelia Real Estate. Her primary duties involve copywriting, content creation, and social media…
Eat & Drink

Health & Wellness

Education

Shopping

Golf

Hotel
Properties for sale in Guadalmina
We work daily to bring you every good investment or luxury property for sale that hits the real estate market in Guadalmina. Find all available property for sale options in Guadalmina and other close neighbourhoods like San Pedro de Alcántara.
View all properties