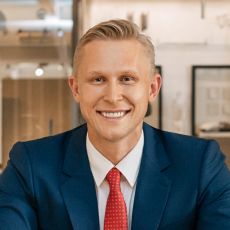 Nueva Andalucía The golf valley
By Artur Loginov on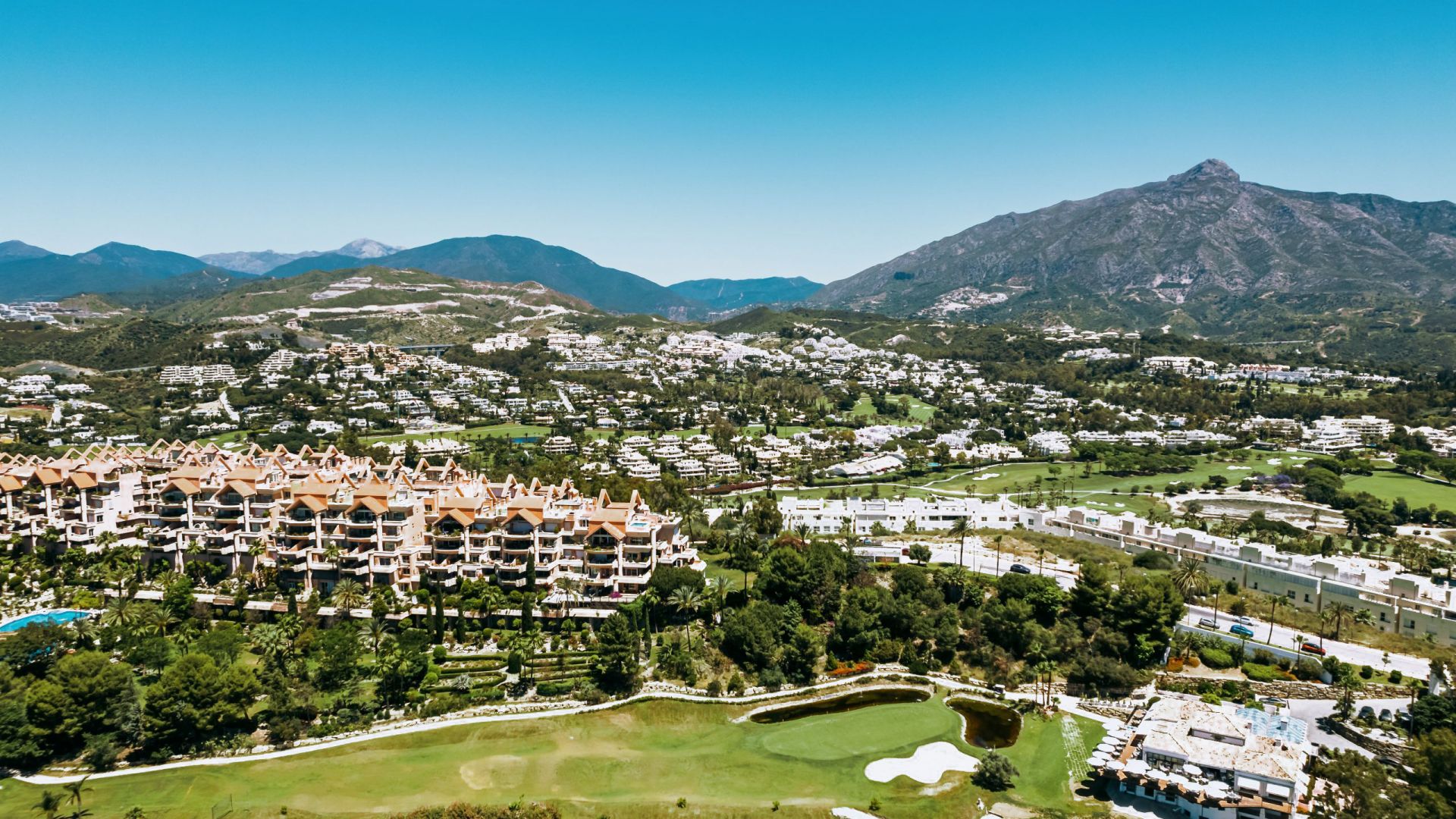 Known as the Golf Valley, Nueva Andalucía is one of the most popular residential areas of choice in Marbella for locals and foreigners alike. Nestled on the foothills of the Sierra Blanca mountain range and sitting on the cusp of Puerto Banús, Nueva Andalucía is one of Marbella's most sought-after residential areas. By reading this in-depth guide, you will get to know why Nueva Andalucía is so special, why so many people want to live here, and all there is to know about the district.
What is Nueva Andalucia?
Nueva Andalucía is a district that belongs to the western municipality of Marbella. It is the largest district of Marbella, extending over several square kilometres, and almost ranks as a small town. It occupies a small valley which has now become famously known as The Golf Valley. Nueva Andalucía is generally considered one of the most popular residential areas in Marbella; as the construction density is low, you get the most out of Marbella's natural open spaces. It has wide streets and all the facilities and amenities of a town, but without the major hustle and bustle, traffic and noise. This well-thought-out neighbourhood offers a quieter, family-friendly side to life on the Costa del Sol, despite being within walking distance of Puerto Banús and having vivid areas like Centro Plaza and the new Marbella Arena-Auditorium. As of 2019, there are approximately 17,727 inhabitants that occupy Nueva Andalucía.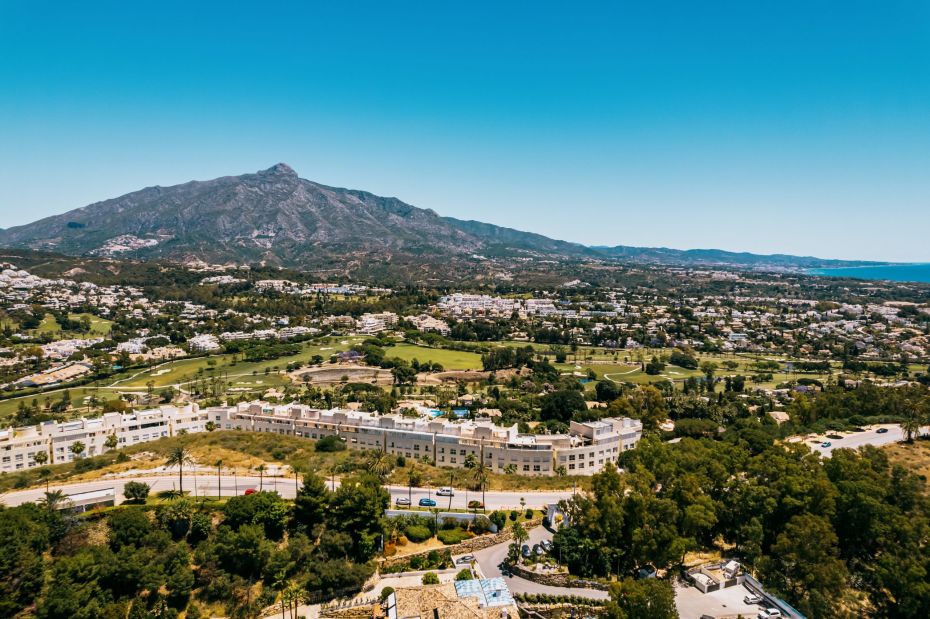 History of Nueva Andalucía.
Nueva Andalucía collects the name of the urban and tourist development promoted by José Banús in 1964. The name refers to the names of the colonial governments of Nueva Andalucía in Venezuela, Colombia and Puerto de la Plata y del Paraguay.
Where is Nueva Andalucía?
Nueva Andalucía encapsulates and continues north of the famous Puerto Banus, stretching as far north as the AP-7 highway, west to the Guadaiza River and east to Rio Verde. Nueva Andalucía enjoys stunning Mediterranean views with an equally fantastic mountain backdrop and La Concha Mountain, the iconic symbol of Marbella. San Pedro de Alcántara borders the west of Nueva Andalucía. To the north, it is bordered by the municipality of Benahavís and Istán. You will find the beginning of Marbella's western district to the east. Finally, the south of Nueva Andalucía sits on the Mediterranean coastline, Puerto Banús being the southmost point of the mainland.
Being known by its name, The Golf Valley, one can assume to find some of the most notable Golf courses on the Costa del Sol: Aloha Golf Club, Los Naranjos Golf Club and the Real Club de Golf Las Brisas. The easiest way to access Nueva Andalucía is to turn inland off the coastal A-7 road opposite Puerto Banús.
Puerto Banús is a 5 km drive from the furthest northern point of Nueva Andalucía
Marbella Centre is a 7.4 km drive away
San Pedro de Alcántara is a 4.7 km drive away
Benahavís Town is a 13.6 km drive away
Estepona, the neighbouring town, is a 22.4 km drive away.
If you are travelling from abroad and are coming from Malaga Airport, it is a 45-minute journey by car via the AP-7 toll road direction Algeciras, which is a 57.4 km drive. If you are flying in from Gibraltar Airport, it is an hour's car journey on the AP-7 direction Málaga, which is a 67.9 km drive.
We have a section dedicated to guides on Marbella's prime locations for those who would like to learn more about Marbella.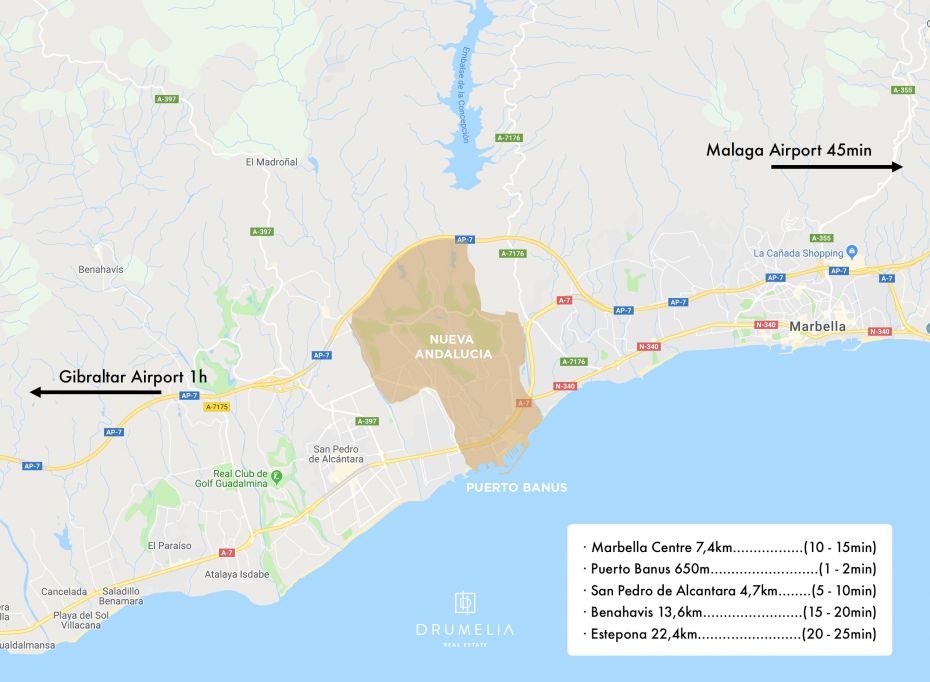 If you would like to see how you can get to Nueva Andalucía, check out this Google Maps Link.
How big is Nueva Andalucía?
Nueva Andalucía is set on a valley that covers an approximate area of 10.11 km², which encapsulates hillside golf courses, wooded trails, mountain lakes like Lago de las Tortugas, residential urbanisations, restaurants and much more.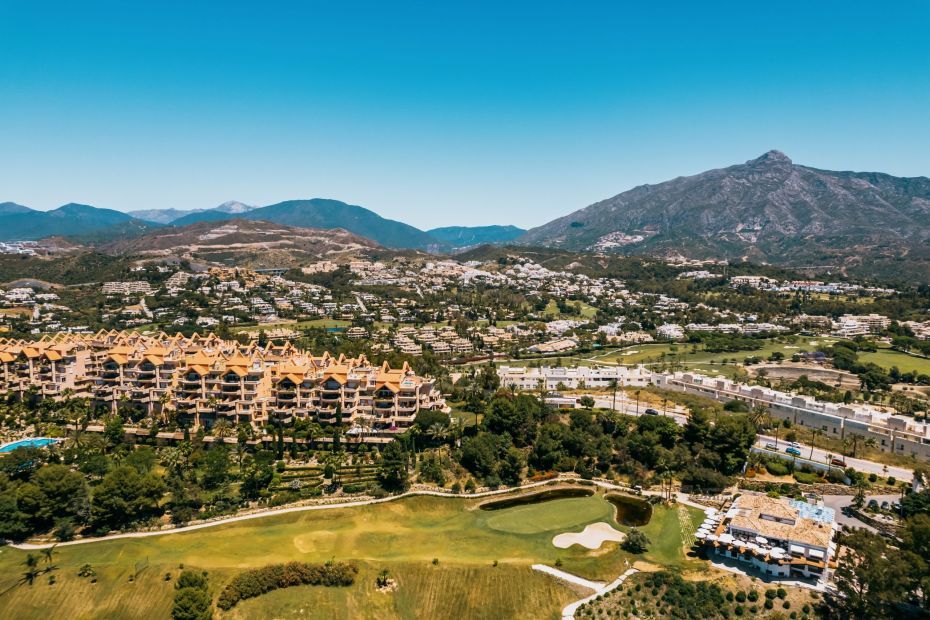 How many sectors does Nueva Andalucia have?
Nueva Andalucía centres around the famous Bullring (Plaza de Toros) and spreads out, heading down towards Puerto Banús and up to the valley towards the Aloha Hill Club and Les Belvederes, climbing up towards the backdrop of the Sierra de Ronda mountain range. Nueva Andalucía can be divided into 2 sectors:
The Western sector comprises less extensive properties and more natural land surrounded by nature. You will find La Campana Village, Urbanización Aldea Blanca, La Torre de Andalucía and smaller villas and townhouses stretching down the main road and the Guadaliza River plain. Further west of Nueva Andalucía, you will find the famous La Quinta Golf Course and urbanisation.
The famous Las Brisas Golf Course, the Los Naranjos Gold Course, and the hotel predominantly identify the Easter sector. The eastern sector is also comprised of high-end villas and apartment blocks. Further east of Nueva Andalucía, you will find the Aloha Golf Club and the famous Marbella Golden Mile entrance.
What style of homes can you find in Nueva Andalucia?
From stunning frontline golf villas to exclusive gated townhouse developments and apartment complexes with breathtaking sea, golf and mountain views, Nueva Andalucía offers all types of properties.
As for its architecture, the area offers a variety of architectural styles and tastes: from modern villas with a minimalist touch to fit in with the latest architectural trends to traditional Andalucian-style homes that fit with the Mediterranean aesthetic with white façades and intimate patios. The landscaping is also tasteful, and most streets are decorated with trees native to the Mediterranean.
As the name suggests, many villas and apartments in Nueva Andalucía are based on Andalusian architecture and design. In recent years, properties have modernised according to current demand and adapted to what is trending. Other residential zones within Nueva Andalucia emphasise modern and contemporary architectural styles. The apartments and houses boast cutting-edge technology and luxury materials, fashionable design and qualities. Properties that sit frontline of the golf courses have fascinating views, which are also in the highest demand.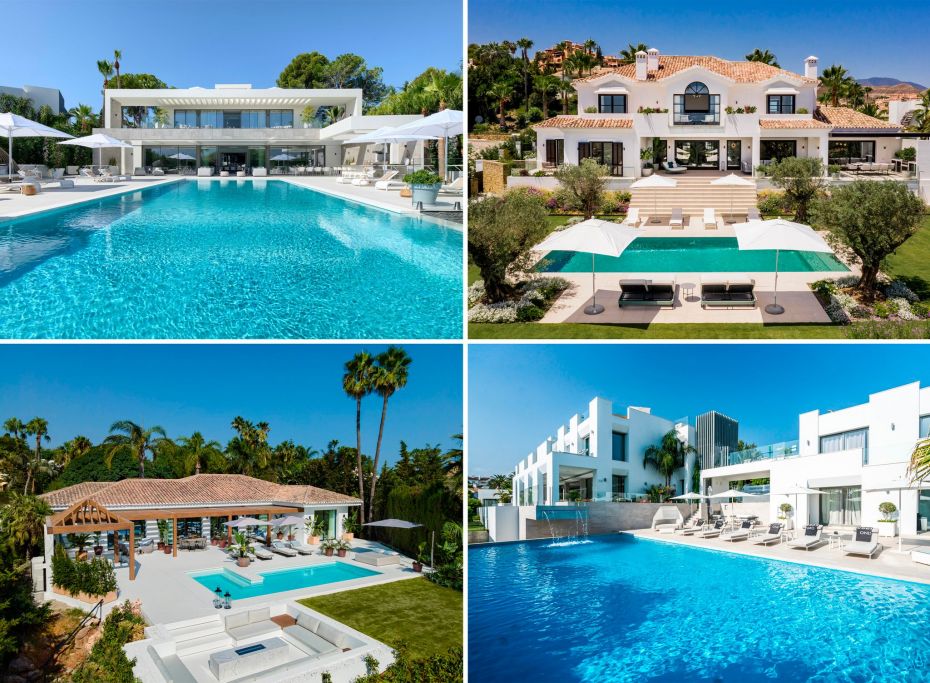 Among the popular local urbanisations are Las Lomas de Nueva Andalucia, Albatross Hill, Vista Real, Señoria de Gonzaga, Lago de las Tortugas, Alminar de Marbella, Sierra Park Club, Los Arrayanes, Aloha Golf Apartments, Aloha Hill Club and Peña Blanca. The finest Nueva Andalucía townhouses can be found in urbanisations such as Haza del Conde, La Alzambra, Les Belvederes, La Cerquilla, Los Naranjos and the Marbella Country Club.
Atalaya de Rio Verde is renowned for the quality and variety of real estate available. Majestic mansion-type houses and luxury villas are tucked away in a secure community with 24h security service, where peace and privacy reign amid beautiful natural surroundings and abundant greenery in the Golf Valley.
Nueva Andalucía has quickly become a homeowners' paradise, with luxury properties being bought and built here. Indeed, it is a very privileged place to live in, and Drumelia proudly offers spectacular high-quality properties for sale and rent here.
How much does it cost to buy a house in Nueva Andalucía?
Nueva Andalucía does have not only a wide variety of properties and communities to choose from but also a wide price range to choose from also. Prices vary from €400,000 to €17,500,000. Between €400,000-€3,000,000, you are most likely to find apartments, penthouses, duplex penthouses, townhouses and small villas. From €3,000,000 onwards, you will most likely find semi-detached houses, small villas and large villas. The mean price of a villa in Nueva Andalucía is between €3,000,000-€4,000,000.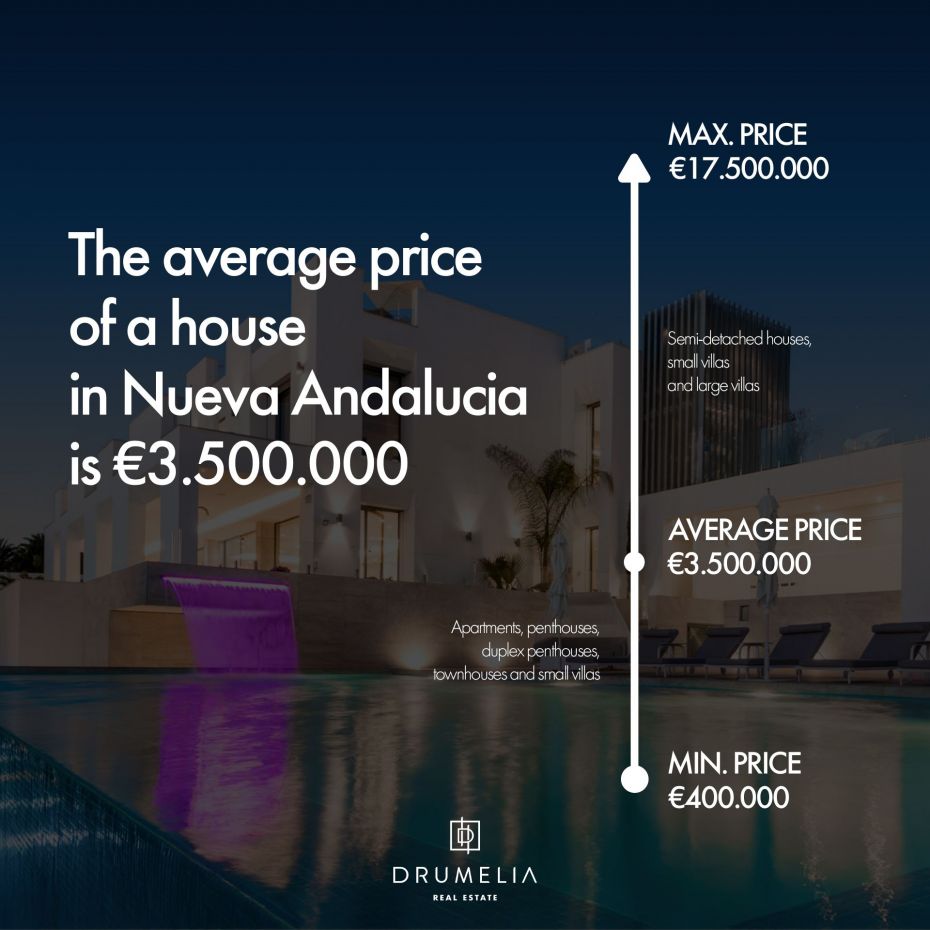 Check out our website to see properties listed for sale in Nueva Andalucía.
How much does it cost to buy a plot in Nueva Andalucía?
Although Nueva Andalucia is already densely populated and has plenty of beautiful properties, quite a few plots of land are still available to buy. If you are looking into buying a plot in Nueva Andalucía, it could cost anywhere between €400,000-€3,000,000. Although, sometimes you are looking at spending anywhere between €800-€1,600 per m2 depending on the plot and its location within Nueva Andalucía.
Check out our website to see what plots we have listed for sale in Nueva Andalucía.
Does Nueva Andalucía have sea views?
Although set in a valley, Nueva Andalucía can offer you stunning sea views depending on where you are; however, in most cases, there are more mountain and golf views than there are sea views. Areas within Nueva Andalucía that can offer sea views from a property are:
La Cerquilla is an exclusive gated community north of Nueva Andalucía that offers sea and front-line golf views. The types of properties you can find here can all be classified as villas.
Los Naranjos, located in the golf valley's heart, is a popular residential area within Nueva Andalucía. It offers spectacular golf and sea views due to its position at the valley's top.
Les Belvederes is a community in the north of Nueva Andalucía where you will find mostly apartment complexes and communities. With their privileged location on the top of the valley.
Haza del Conde is an exclusive community north of Los Naranjos golf club comprising high-end modern villas that offer mountain and sea views, depending on the orientation and position of the property.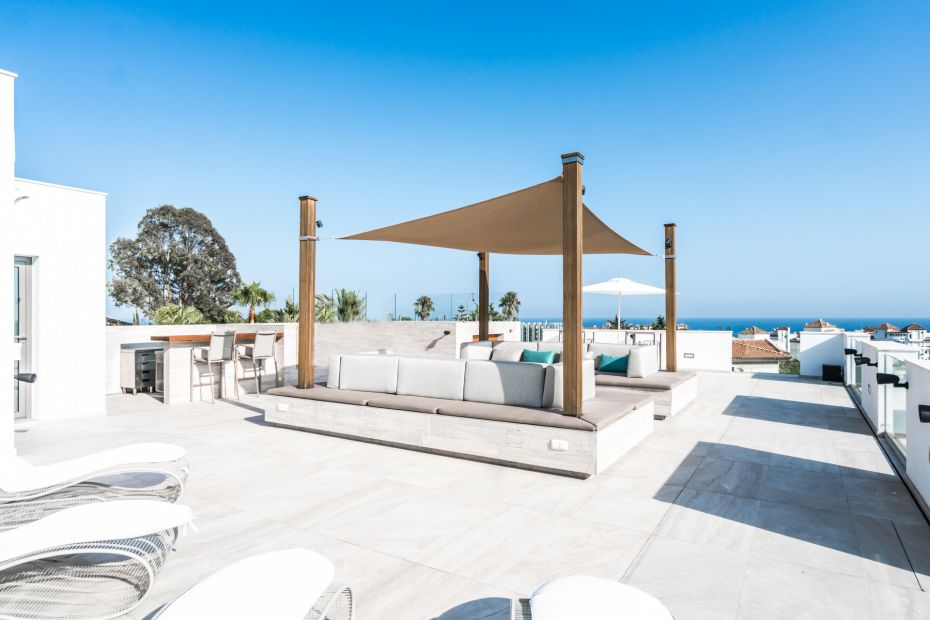 Is Nueva Andalucía a popular place to live?
In comparison to other districts in Marbella, Nueva Andalucía has a wider range of property types to choose from, and the mean price for a property in Nueva Andalucía is much lower than in districts ​​like Sierra Blanca and La Zagaleta, so it is not wonder Nueva Andalucía appeals more to the general public as a residential area.
Nueva Andalucía is one of the most conveniently located districts in Marbella, as it enjoys a great variety of amenities. You will have most of what you need within a short distance: supermarkets, restaurants, medical centres, pharmacies, gyms, international schools, post offices, beauty salons, libraries, sports centres, and other services such as banks and other businesses.
No matter where you live in Nueva Andalucía, shopping for essentials or enjoying a nice meal and drink close to your home is always accessible. You can find a wide variety of international cuisine in many restaurants in the immediate vicinity, such as Indian, Italian, Spanish, Japanese, and even Organic / Vegan, so it's easy to imagine why it is a popular place to live.
Another attraction of Nueva Andalucía is its excellent connectivity. The area benefits from quick and easy access to the A-7 coastal road, the Golden Mile, Marbella centre, Puerto Banús and its beaches, nightlife and amenities, some of which are all within walking distance.
Nueva Andalucía is also well-pedestrianised, so it is a convenient location for those with children who like to ride their bikes, take their dogs for a walk or simply for someone to enjoy a stroll in the sunshine. Moreover, there are also natural parks and a large lake known as Turtle Lake (Lago de las Tortugas), where you can enjoy a picnic and even go fishing.
If you want to learn more about the benefits of owning a property in Marbella, read our blog.
If you want to learn more about Marbella's security and safety or medical care in Marbella, make sure you read our blog.
What is there to do in Nueva Andalucía?
Golf in Nueva Andalucía
Nueva Andalucia is also known as the Golf Valley of Marbella. It is home to the Aloha Golf Club, Las Brisas Golf Club, Los Naranjos Golf Club, and the Magna Marbella Golf Club.
The Aloha Golf Club boasts a Par 72 6,882-yard course that enjoys sea and mountain views. The renowned Javier Arana designed the course in 1975. Players can only access the course if they are members of the Aloha Golf Club. To become a member, you must purchase one share in the Aloha Golf S.A. company, which can only be purchased from existing shareholders willing to sell. You can apply to the Aloha Golf Club for playing and other membership perks.
The Las Brisas Golf Course ranked #6 in Spain's Top 100 courses and #24 in Continental Europe, has hosted its fair share of golf tournaments, such as the International Spanish Open. Designed by Robert Trent Jones Sr. in 1968 and reconstructed by Kyle Phillips in 2015. To be able to play on the course, you must be a member of the Las Brisas Golf Club; there is a process one must go through to be approved as a member. All of the requirements can be found on their website.
The Los Naranjos Par-72 golf course was designed by Rober Trent Jones Sr. and was opened in 1977 and has since then hosted several competitions, such as the Spanish Open and is also ranked one of the best courses in Spain. The course was voted best course of the year in 2005 and 2008. To be able to play on the course, you either need to become a member at the golf club or purchase a Green Fee Rate, which is: Low Season, High Season and Mid-Season.
The Magna Marbella golf course is a 9-hole long course designed by José María Elguezábal. Magna Marbella also offers a Driving Range. You do not need to be a member to play on the course or for the driving range; a Green Fee is available to purchase for the 9-holes or 18-holes for those who want to play the course. Magna Marbella also has amazing facilities such as the Magna Café restaurant, sauna, gym, etc.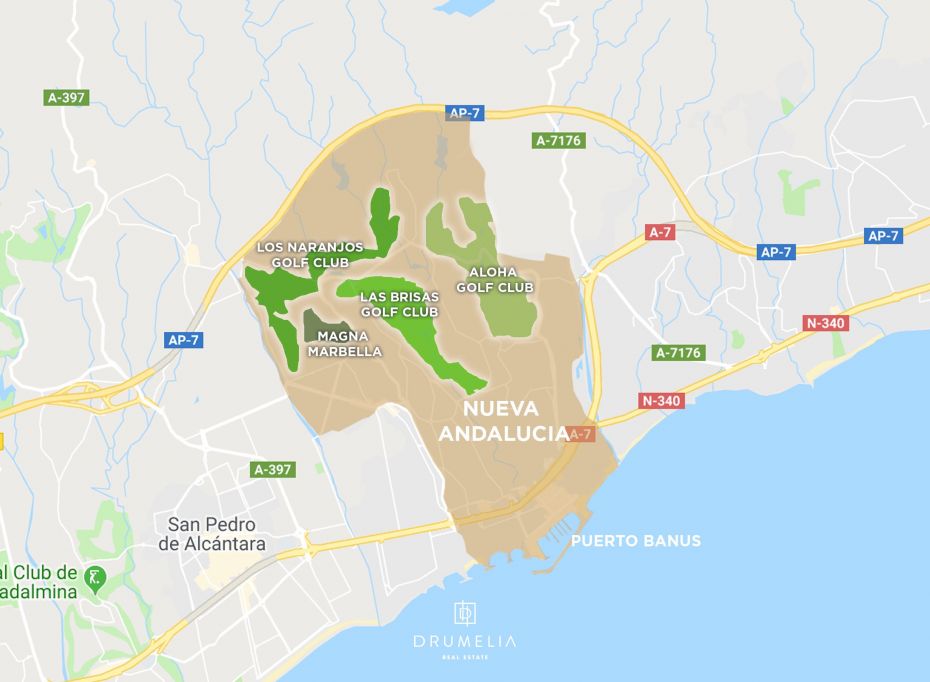 If you would like to know more about golf in Marbella, be sure to read our article on our Drumelia Blog.
Turtle Lake
Turtle Lake, known as Lago de Las Tortugas, is a green park zone with a large lake with abundant vegetation. It is a popular picnic spot for families and friends to gather and enjoy their day. Some people use this lake to fish, which is not as popular as the lake does not house many fish species. The name of the lake came from when the lake used to house turtles, which is now not the case. You can now find ducks and other wildlife species that roam the area. There are also spectacular views of La Concha from turtle lake.
Centro Plaza
Centro Plaza is a shopping and business centre next to the famous bullring in Nueva Andalucía. Here, you will be able to find various restaurants in cuisine, clothing shops, beauty salons, real estate offices, gyms and more. Easy access parking is available on sight: open-air or underground parking. Both parkings need to be paid depending on the duration of your stay.
Puerto Banús
The famous Puerto Banús is at the southmost point of Nueva Andalucía. For those unfamiliar with Puerto Banús, this is where you can find all of the best high-end clothing brands, such as Tom Ford, Louis Vuitton and Hermes. There are also a variety of restaurants to choose from varying in cuisine, like Italian, Lebanese, Greek, Argentinian and more. You can also find the famous El Corte Inglés shopping centre, where you can find high-end clothing, jewellery, electronics, furniture, gourmet food, pet supplies, and much more. There is also the Marina Banús shopping centre where you can find high-street clothing brands. For those who prefer to watch films, the Red Bulldog cinema has all of the latest blockbuster films available in their original languages and Spanish. As for nightlife, Puerto Banus is the place to be, as there are plenty of restaurants, bars and clubs to choose from to spend your evenings and weekends. During the summer months, Puerto Banús hosts a large market on Plaza Antonio Banderas, where you can find boutique clothing and accessory stalls, food and drink stalls, kids' toys stalls and much more to enjoy.
Saturday Street Market
Every Saturday from 08:00 to 15:00 on Avenida Pilar Calvo (next to the bullring and Centro Plaza), a street market sells everything from clothing and accessories to antiques and leather goods. Taking public transport or walking to the market is advisable, as parking can sometimes be difficult and patience is needed. Alternative public parking spaces can be found in Puerto Banus.
Sports in Nueva Andalucía
Manolo Santana Racquets Club was founded by tennis player Manolo Santana in 1997 and has been one of the most renowned racquets and sports clubs since then. They have a variety of modalities to choose from private tennis lessons, matches, social mix-ins and much more. Tennis and Padel are taught at the club along with other sporting activities. There is also a gym and a restaurant that can be enjoyed.
The Aloha Tennis and Padel Club is an excellent place for tennis enthusiasts to play and for aspiring players to train. The club has 2 hard courts and 1 lay court at their facilities, along with a restaurant. The club provides highly-qualified teachers for the training of all ages; there is Ladies' tennis training Tuesdays and Thursdays from 09:30-11:00 am. There are classes for people to sign up for and even the chance to book a court to play for the day. A fun fact, Novak Djokovic was spotted training at the club in July 2020.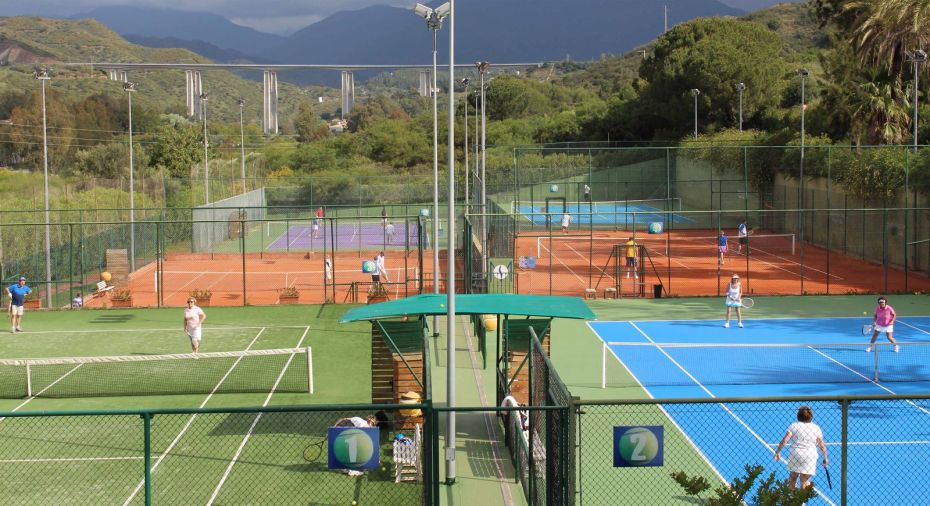 Tennis Brothers Marbella is another renowned tennis club in Nueva Andalucía that is a favourite for locals. Frank Frances, a Royal Spanish Tennis Federation member, founded the club with his brother Bernard Frances. The club offers tennis lessons (group or one-to-one), physical training, men's programs, women's programs, kids' programs, expert instruction from ATP tennis players, one-day mini tournaments and court hire.
Real Club de Padel Marbella was founded in 2009 and is one of Spain's most exclusive padel clubs. There are 9 panoramic glass padel/tennis courts with WPT-approved glass and LED lighting, 3 of which are covered courts. The club also has one of the best gym facilities in the South of Span.
The gym offers state-of-the-art equipment, indoor and outdoor training areas, stretching areas, an outdoor CrossFit area and even a ninja warrior course. The facilities also offer a beauty centre for massages, a hairdresser, a barbershop and a vertical solarium. There is also a restaurant and protein shake bar to try out. And that's not all they offer; they even offer personal training and padel instructors. You can buy a day pass or pay a monthly or yearly membership to access the gym.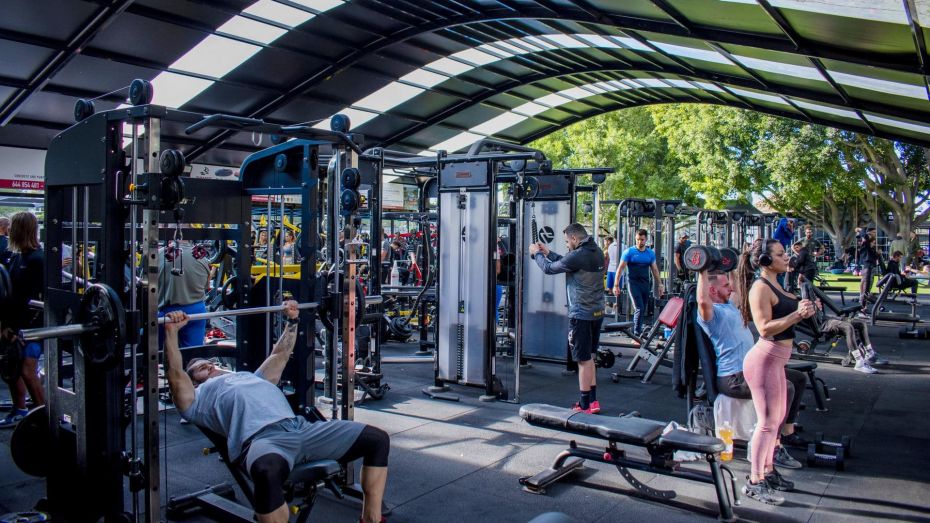 Pool Clubs and Nightlife in Nueva Andalucía
NAÔ Pool Club is one of the most exclusive pool clubs in the South of Spain. You can enjoy a day by the pool under the sun with your closest friends, with La Concha Mountain as the backdrop. Float around on inflatables or chill on a luxury poolside bed enjoying the live music; the choice is yours. The restaurant also offers Marbella's most refined and freshest food, all cooked by top chefs with quality produce.
MOGLI The Key is a restaurant, pool club and nightclub in the heart of Nueva Andalucía. Offering 3 different venues in the exact location, it is the perfect place to enjoy your day or evening. The pool club invites international DJs to play live sets throughout the summer and has a large pool with Balinesian beds for relaxation. The pool is open even during the evening as a boujee outdoor terrace area to complement the club and restaurant. The restaurant has a unique and exclusive feel to its design and offers a variety of international cuisine to impress all palettes. The nightclub offers a 360º bar and a large dancefloor with live entertainment, open until 3:30 am.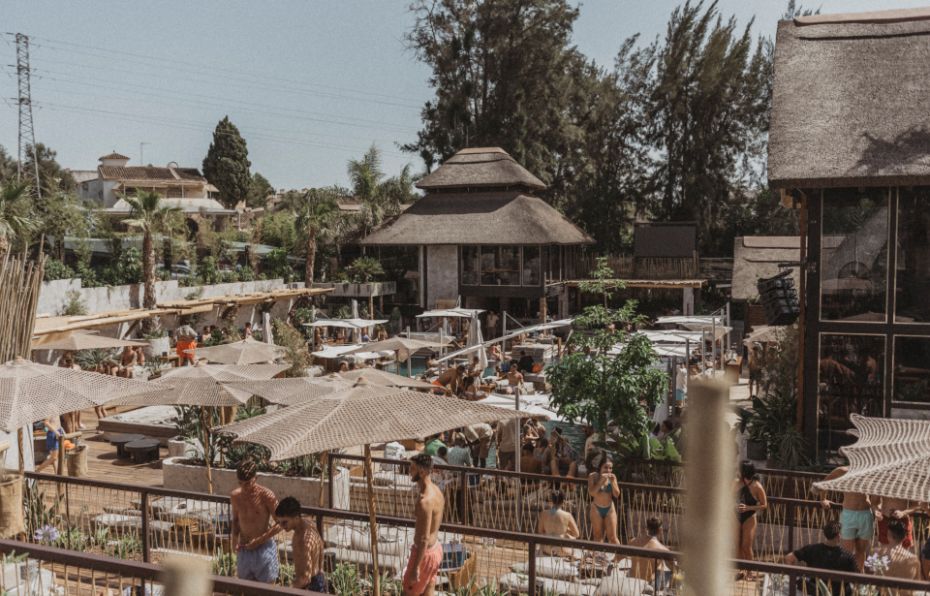 Mosh Fun Kitchen began as a new concept for dining with entertainment, their slogan being Eat, Drink, Party & Repeat. They offer indoor and outdoor seating with a great evening entertainment view. With a delicious and intriguing food and drink menu, great live music and easy parking, it is the place to go for a fun night of eating and dancing.
Jarana Funky Food & Cocktails is a gastro and cocktail bar open for lunch and dinner on the Aloh Strip. Serving small but delicious burgers and wraps, it is a great alternative place to visit to enjoy good food, drinks and a lively atmosphere.
What is life like for kids in Nueva Andalucía?
Nueva Andalucía is one of the most sought-after residential areas for families in Marbella. The area as a whole is recognised for its family-friendly environment, pedestrianised streets and natural landscape. There is a wide range of sporting and outdoor activities in the Nueva Andalucía area for them to enjoy, as well as a variety of the best international schools the Costa del Sol offers. It is a perfect place for children to socialise with an international community and many families. Not to mention that Nueva Andalucía is one of Marbella's safest non-gated residential areas.
You can check out our blog to learn more about making the most of the outdoors in Marbella.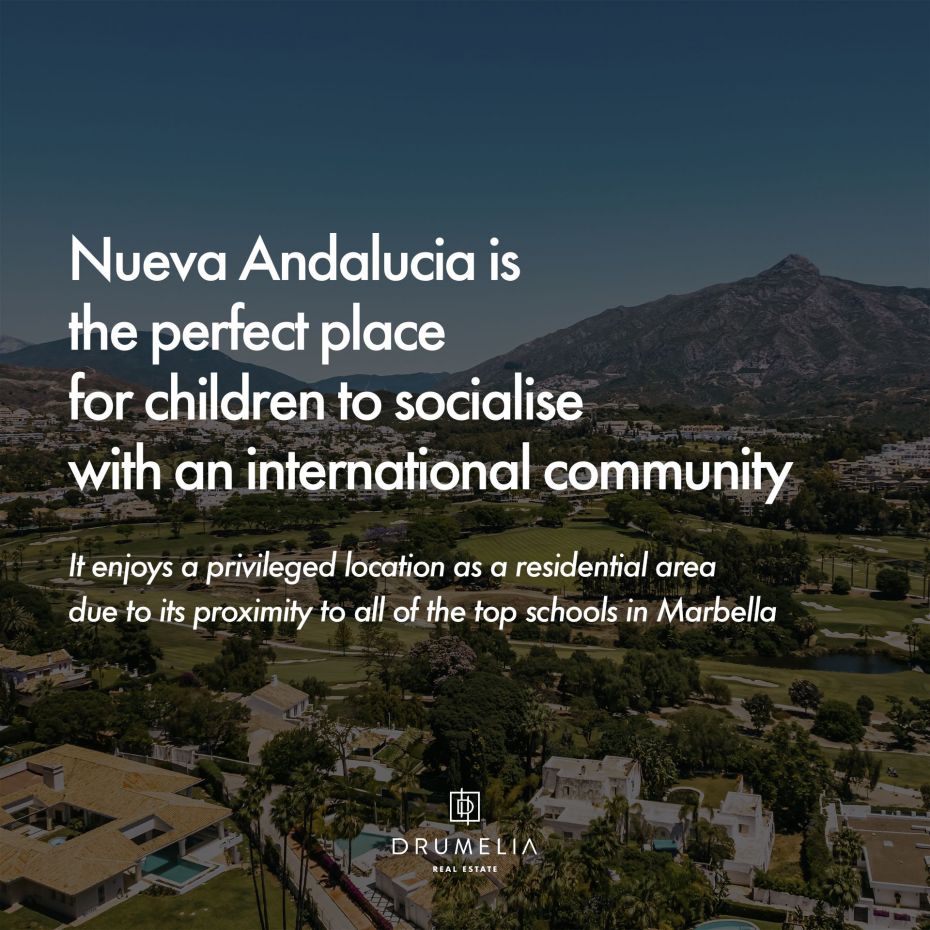 Schools in Nueva Andalucía.
Nueva Andalucía enjoys a privileged location as a residential area due to its proximity to all of the top schools in Marbella.
Aloha College, one of the most notable international schools in Marbella, sits in Nueva Andalucía and can take between a 4-7 minute drive to reach, depending on where you are in Nueva Andalucía. Swans International Secondary School, one of the best international schools on the coast, is a 10-14 minute drive from Nueva Andalucía. The Swans Primary School in Marbella centre is 10-12 minutes away. Although in San Pedro de Alcántara, Laude San Pedro International College is typically a 4-7 minute journey from Nueva Andalucía. Atalaya College Internacional, a highly regarded Spanish international school, can typically take 8-18 minutes to reach. Sotogrande International School, a boarding school in Sotogrande, is typically a 30-50 minute journey, depending on whether you travel on the A-7 or AP-7. The American College is based in Nueva Andalucía and can take just 2 minutes to reach, depending on where you are. Les Roches, the famous hospitality university, is typically a 6-7 minute car journey.
If you want to learn more about education in Marbella, we have an article on our website.

How close is Nueva Andalucía to Marbella and its amenities?
Nueva Andalucía is conveniently located next to the A-7 and N-340, the two main coastal roads that run through Marbella. This means that those in Nueva Andalucía have easy access to what Marbella offers within short distances.
Puerto Banús and its amenities are within walking distance or a short drive away.
Marbella's Golden Mile and its amenities are 5-10 minutes away.
Puente Romano Beach resort and its amenities are a 4-6 minute drive away.
San Pedro de Alcántara and its amenities are a 5-8 minute drive away.
Marbella Centre and its amenities are an 8-20 minute drive away, depending on your route and where you are in Nueva Andalucía.
Helicopteros Sanitarios, a private hospital in Puerto Banús, is only 5 minutes away.
Depending on traffic, Costa del Sol hospital is a 10-20 minute drive away.
What are the most famous houses in Nueva Andalucía?
Nueva Andalucía is home to some impressive homes that are pinnacle to the representation of the Marbella Lifestyle. One of the most well-known villas in Nueva Andalucía is a Drumelia Exclusive: Villa La Pera. Villa La Pera is on the market for €10,000,000 and is recognised thanks to our media channels and social media efforts. Villa La Pera enjoys a highly privileged location in Nueva Andalucía as it is only a couple of minutes away from Puerto Banús on foot and has some of the best sea views Nueva Andalucia has to offer.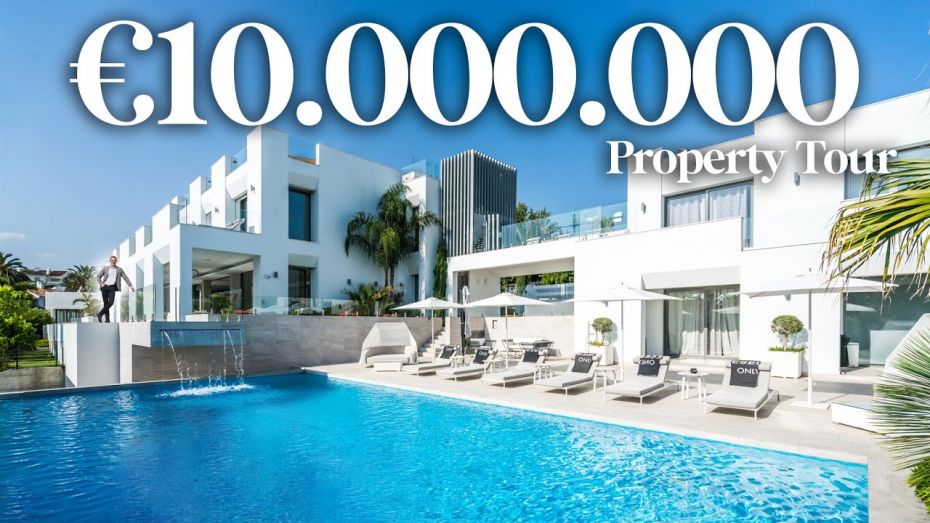 Buying and selling property in Nueva Andalucia.
We are proud to say that Drumelia is the leading real estate firm in Marbella, with decades of experience working along the Costa del Sol and helping buyers and vendors with their properties in Nueva Andalucía. We currently have over 50 properties in Nueva Andalucía, ranging from plots to luxury frontline golf villas. We are here to help in any way possible and are prepared to guide you through your sale or purchase process.
Fun Facts About Nueva Andalucía
Nueva Andalucía is home to people from around the world, but residents of Nueva Andalucía generally come from: Spain, the United Kingdom, Germany, Scandinavia, France, Russia and Holland. The community is so international that not one nationality dominates the area.
There are 5 golf courses in Nueva Andalucía: Las Brisas Golf, Los Naranjos Golf, Aloha Golf, La Quinta Golf and Magna Marbella Golf.
Nueva Andalucía is so large and dense that it was almost considered a small town.
Most homes in Nueva Andalucía follow the Andalucía and Mediterranean architectural aesthetic, with white facades and patios.
There are around 17,000 inhabitants in Nueva Andalucía, but that number increases during the summer months.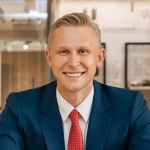 CEO & Partner
Artur Loginov
Artur Loginov is the CEO and proud Partner of Drumelia Real Estate. He has over a decade of knowledge and…
Eat & Drink

Health & Wellness

Education

Shopping

Golf

Hotel
Properties for sale in Nueva Andalucia
We work hard daily to bring you every good investment or luxury property for sale that hits the real estate market in Nueva Andalucia. Find all available property for sale options in Nueva Andalucia.
View all properties