Transforming Luxury Real Estate Marketing: Drumelia's Strategies
By Salma Hwedi on - 12m. reading time
As the leading international real estate company based in Marbella, we understand the significance of innovation and re-inventing our corporate image in the success of our business. We have prioritised creating a positive perception of our company through consistent and strategic marketing efforts. We recognised the need to reinvent real estate marketing strategies, as the methods available needed to meet our desired expectations.
Our vast client base and exceptional online presence have made us one of Europe's most widely recognised real estate companies. We are highly proficient in leveraging social media platforms to present ourselves as dependable real estate agents and to showcase our successful track record in handling luxury properties in Marbella with a listing price of over €10,000,000.
One of the key factors in Drumelia's marketing success is our ability to handle all aspects in-house. This allows us to create customised, high-quality content for each property and align it with our company branding. Our in-house team of experts work diligently to ensure that all our marketing efforts effectively communicate the unique value proposition of our properties and our company as a whole. This marketing approach has helped us build a solid reputation and achieve success in our field.
Bespoke Branding and Marketing
The Drumelia brand is a marketing strategy in itself. We aim to cultivate a sense of luxury and exclusivity associated with the Drumelia brand through meticulous attention to detail in everything we do. Our clients desire to be associated with this feeling when buying real estate. They want to boast to their friends and acquaintances that the Drumelia brand sold them their dream home. Building a brand of such prestige takes years of dedicated effort, but it can be undone in mere seconds. This very goal motivates us in everything we do to ensure that the Drumelia brand remains synonymous with luxury, exclusivity and unparalleled service in real estate.
We at Drumelia set ourselves apart from other real estate companies by modernising traditional marketing strategies to fit our standards and propel us into the future of real estate marketing. Our goal is to redefine real estate marketing by providing a foundation for improving success. We offer high-quality services to both homeowners and vendors, promoting properties with a stamp of high value and status. Our marketing services are unique and created to fit Drumelia and the properties listed with us. Our expert team has perfected the process, cutting production time while meeting high standards. This year, we digitally optimised our marketing efforts and processes and invested in expanding our team and technology to create bespoke content.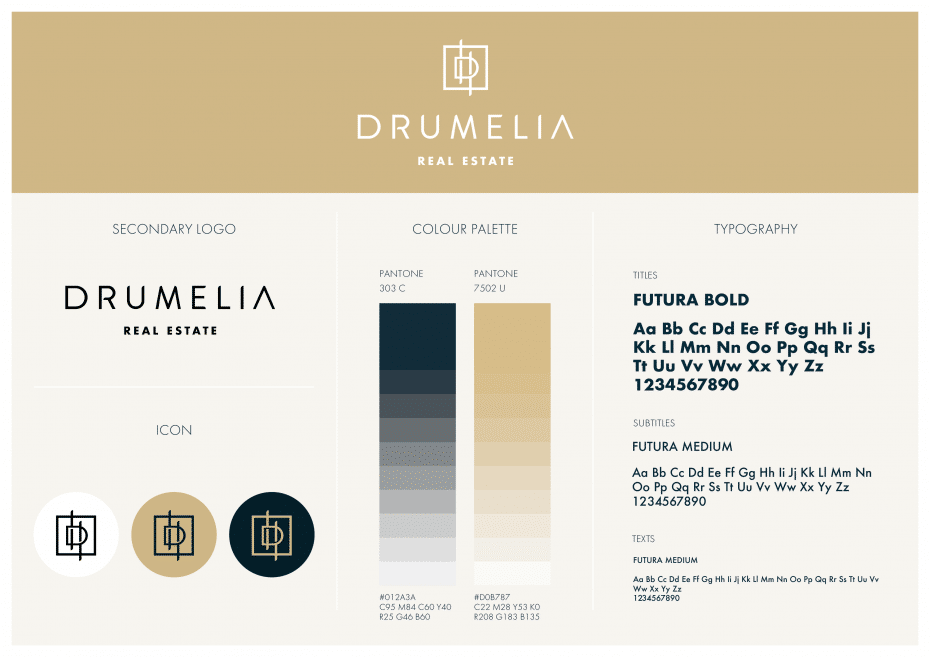 7-Day Drumelia Standards
Our "7-day standard" ensures we can quickly produce and publish unique content. Our in-house marketing team has a unique approach to launching properties on the market by conceptualising and producing all necessary materials and campaigns within 7 days. And it has become Drumelia's stamp of excellence. Our commitment is to provide clients with a comprehensive suite of marketing tools within 7 days of the initial property shoot. This includes coordinating, editing, and producing high-quality daytime and nighttime photographs, music videos with models, virtual property tours, a property tour by one of our senior agents with luxury car partnerships, and much more.
On the 7th day, this content is released to our audiences through professionally designed email campaigns, as well as on our website and our highly-followed YouTube and Instagram. This allows us to showcase properties in the most captivating and engaging way possible and allow our clients to reach a broad range of potential buyers quickly. Drumelia's 7-day standard is a revolutionary approach in the real estate industry marketing, similar to how Amazon changed how we purchase goods. We are on a mission to transform how real estate is offered and sold by combining cutting-edge technologies with our team's wealth of experience and skills. This unique approach has led to a significant increase in both our online presence and sales.

Drumelia Branded Video 
Our marketing team specialises in creating custom-crafted narrative videos that truly capture the beauty of Marbella properties, branded Drumelia Homes. These cutting-edge visualisations showcase an opulent lifestyle, featuring models worldwide and gleaming supercars such as Ferraris and Bentleys. Our ongoing partnerships with the official Bentley dealership C de Salamanca and Official Ferrari make these luxury vehicles available. Our goal is to provide a unique experience that encapsulates the essence of luxury living in Marbella, one that evokes emotion and inspires admiration through every frame.
We are a pioneer in using branded videos as an effective marketing tool. Additionally, we are the only real estate company in Spain that has invested so much in the creative side of real estate advertising. We use industry-standard equipment and have an in-house team equipped to film at any given moment; this allows us to have a flexible and fast approach to creating visual content.
While other real estate firms may have dabbled in producing promotional videos, none have yet to truly embrace the challenge of creating a narrative-style video to market their properties. In an age where social media is saturated with homogenous content, we have committed to full-scale production of filming properties in this unique style.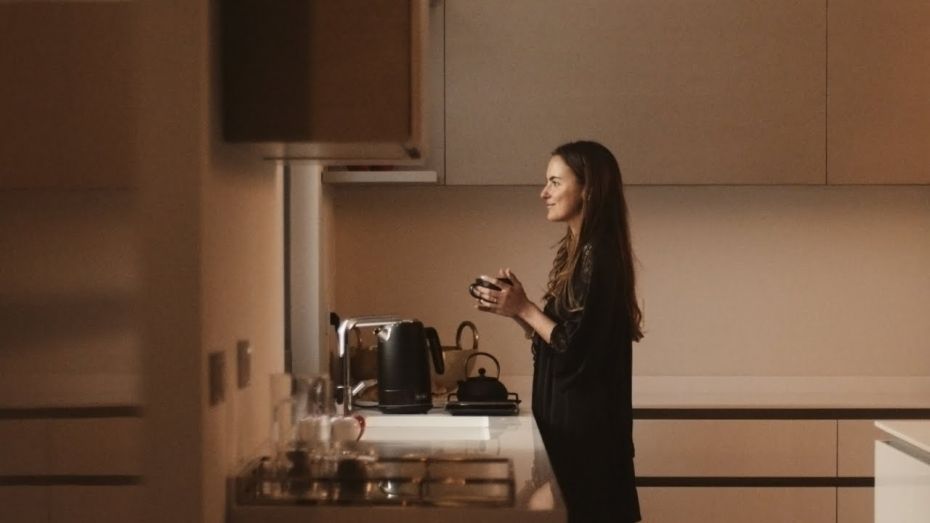 Drumelia Property Tours
One of our most successful and unique strategies has been the concept of bespoke property tours. We recognised a gap in the market where potential buyers were not getting the level of personalized attention they deserved when viewing properties. To address this issue, we developed the idea of hosting bespoke property tours with a Drumelia agent, who can provide expert guidance and insight into the property and surrounding area.
Our bespoke property tours are presented professionally and entertainingly, allowing prospective buyers to experience the property dynamically and engagingly. Each tour lasts 10-25 minutes and highlights all aspects of the property, including its features, location, and unique selling points. By showcasing the property this way, we provide potential buyers with a comprehensive understanding of the property and its value proposition.
In addition, our property tours have been highly effective, resulting in the sale of villas to clients who have solely watched the tour, for example, the sale of a villa in Monte Mayor. This is a testament to the efficiency and effectiveness of our tour strategy, as it has enabled buyers to understand the property's features and value proposition comprehensively, even if they cannot view the property in person.
We have set ourselves apart from the competition by providing personalised attention to potential buyers and showcasing each property engagingly and dynamically. We will continue to innovate and evolve our marketing strategies to stay ahead of the curve in the real estate industry.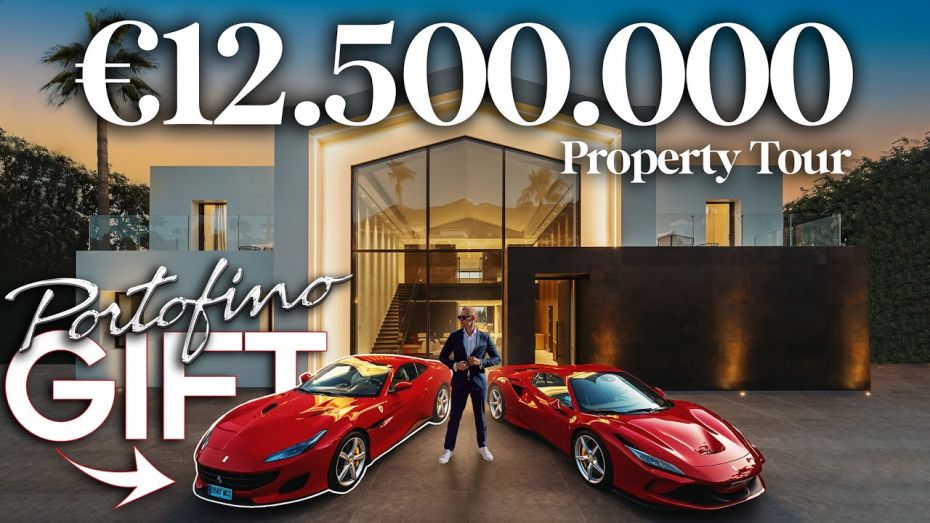 Drumelia Magazine 
The Drumelia Magazine is a valuable resource for our clients. It features available properties and provides information on the latest trends in Marbella's luxury living, interior design, high-quality brands and more. To date, Drumelia has produced a total of 8 magazine editions. From 2016 to 2019, Drumelia published Address Magazine, which was rebranded to Drumelia Magazine in 2019. From then on, Drumelia Magazine was published yearly and continues to do so. From 2019 to 2022, 10,000 copies of Drumelia Magazine were printed and distributed yearly.
This year's edition will be Drumelia Magazine's 5th issue. And, as an ode to all of our efforts and hard work, we have begun the production of 20,000 copies of the magazine instead of the previous amount of 10,000 copies. Moreover, we are publishing a smaller version of the magazine as a brochure, with 20,000 copies printed. As our audience grew and we felt more confident, we changed the brand identity to Drumelia Magazine, with the first issue released in 2019, with 10,000 copies. To further support the brand, we have released the fifth issue, with the number of copies increasing from 10,000 to 20,000. We have also released a second version of the magazine, in the form of a smaller, easier-to-carry brochure, with 20,000 copies.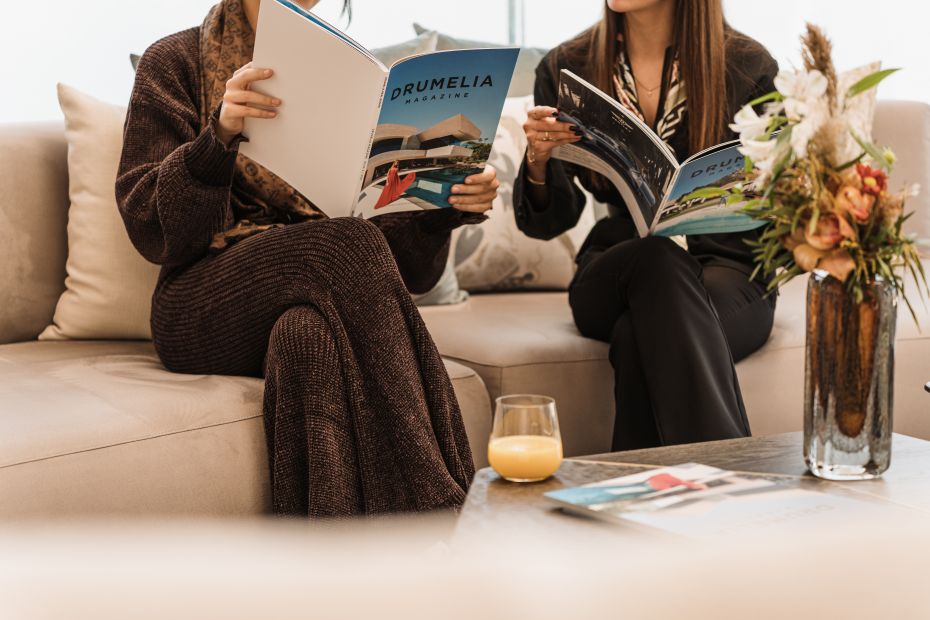 Area Guides
To complement our Area Tours, in 2022, we launched monthly Area Guides on our award-winning website. Written by our in-house content and copywriter, these guides provide in-depth information on Marbella's prime areas, helping clients decide where to purchase a property.
In addition to providing valuable information, these guides also serve as a way to drive organic traffic to our website. They're an excellent resource for anyone looking to buy a property in Marbella, as they provide detailed insights on different areas and the type of properties you can expect to find in each one of them. These guides, designed for those who cannot visit or have never been to Marbella, facilitate knowledge about the region of Marbella to newcomers. They have proven to be efficient to agents due to their ability to provide them with more knowledge and insights on Marbella's prime areas.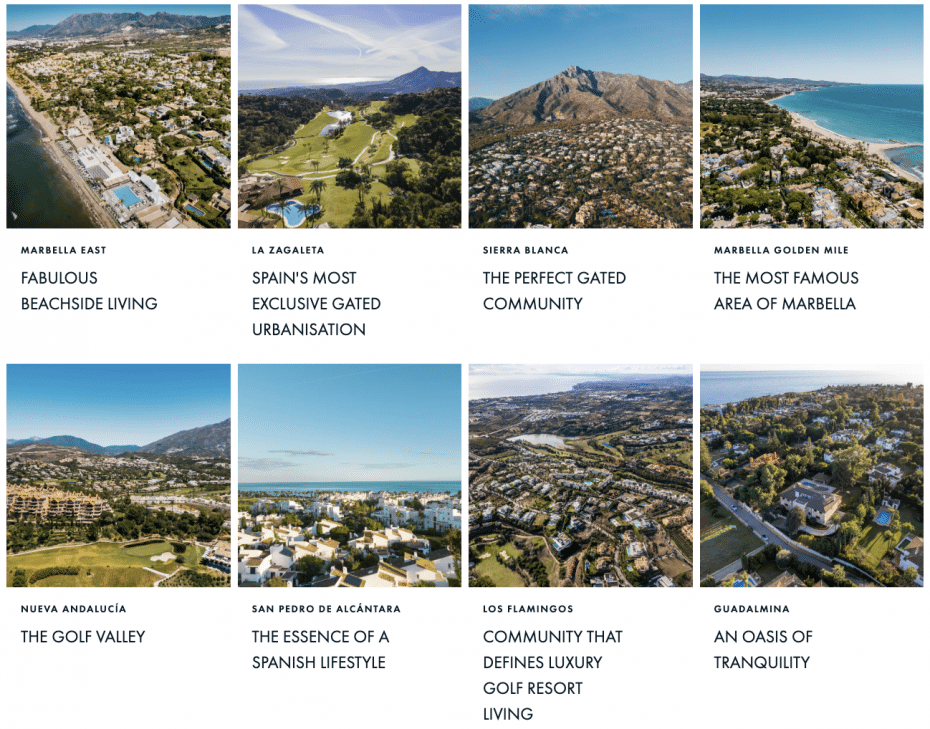 Informative Guides
We have a series of guides handed out to clients to aid buyers and sellers in understanding the ins and outs of the purchasing and sales process in Marbella. Written by our copywriter and overseen by our in-house experts, the guides we have available are:
Seller's Guide: Our 6-part guide is a comprehensive resource for clients navigating the home-selling process. It covers everything from what to expect during the sale to essential factors to consider before listing your home. The guide is easy to understand and breaks down each step clearly and concisely. It demonstrates our expertise and commitment to providing expert information to clients.
Purchase Guide: This 6-part guide provides an overview of the home-buying process in Marbella, from the initial research to the legal aspects of the purchase. It covers all aspects of the process clearly and concisely, ensuring that clients fully understand the process and have valuable resources to refer back to in the future.
Taxes Guide: Our 7-part guide is designed to provide clear and comprehensive information about tax obligations, what other costs to expect when buying, selling or owning a property in Marbella and more. This guide is created to be easily accessible to all and answers the most frequent questions we have received from clients.
Informative Videos
Our informative videos, led by our CEO Artur Loginov, serve as a means for us to discuss how we market and sell the most exclusive properties in Marbella by giving out tips and insights to agents, clients and the general audience. The videos also reinforce the promotion of our services to owners and buyers and update viewers on our most recent sales and Drumelia marketing strategies.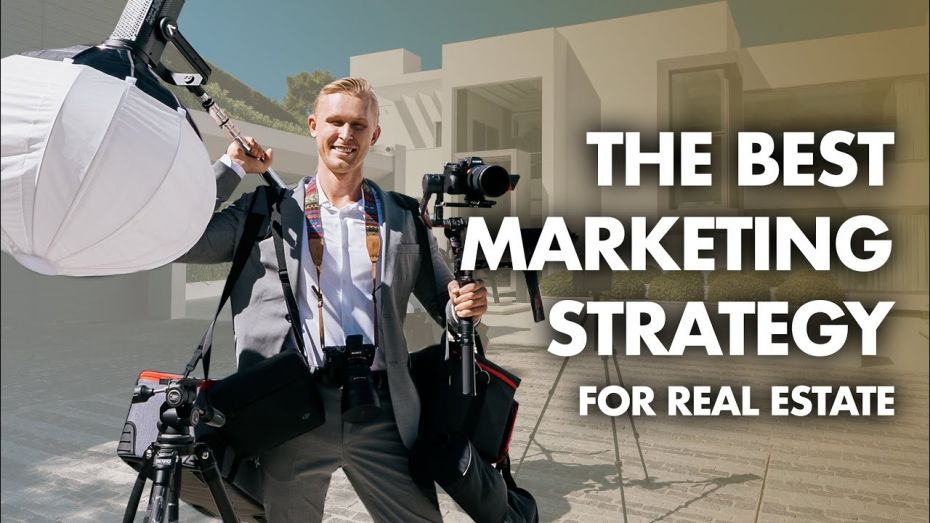 Educational Videos
In addition to our other efforts, we have recently begun producing educational videos for our clients. These videos provide detailed information on various topics related to the real estate market, such as sale prices, taxes, and more. We aim to ensure that viewers are well-informed with accurate information and to present it clearly and coherently. We take pride in sharing our knowledge and experiences with our clients, and these videos serve as valuable resources for them as they navigate the real estate market. By providing this information, we aim to help our clients make informed decisions and build trust and credibility. These videos demonstrate our expertise and commitment to providing the best possible service.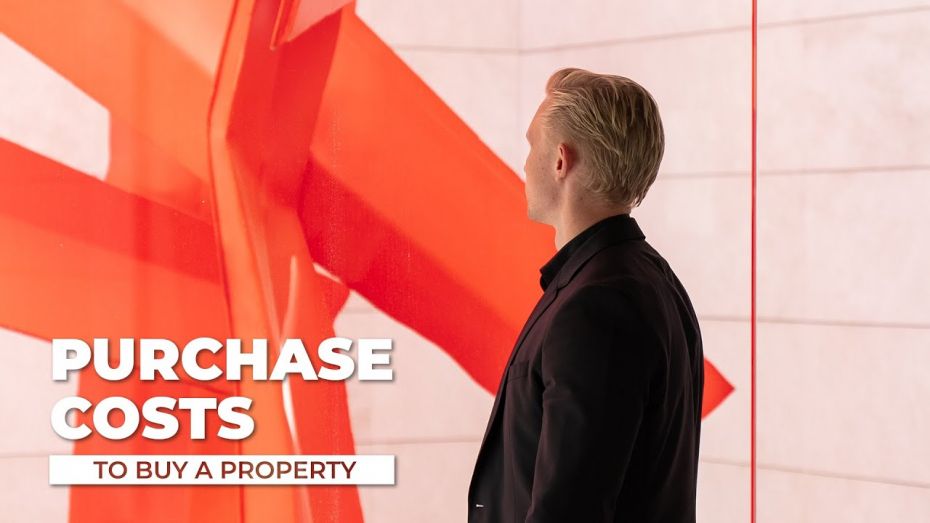 Expert Interviews
We have embarked on a new initiative to enhance our services by delving deeper into real estate. By interviewing industry experts, we aim to gather valuable insights and information on the latest trends and developments. These interviews will be recorded and transformed into in-depth, informative videos, providing a comprehensive learning experience for our clients and the wider public. This approach represents our commitment to staying at the forefront of the industry and providing our clients with the most current and helpful information. Recent interviews include that with Manuel R. Moriche (co-founder of the esteemed ARK Architects) and Antonio Cobo Gonzalez (one of Marbella's most renowned Lawyers working at the acclaimed Cobo & Blazquez Law Firm).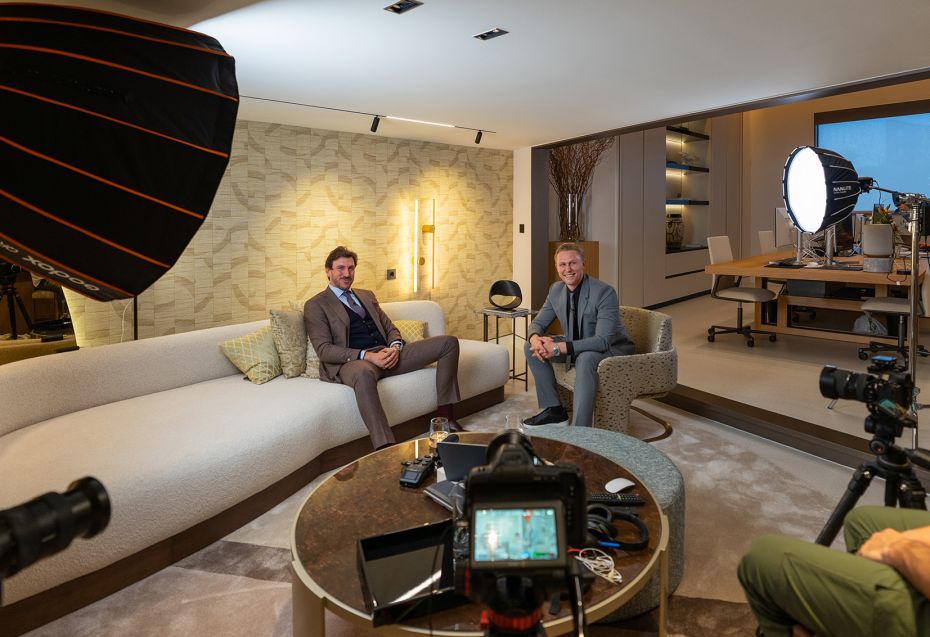 VR Headset
As real estate technology advances, we have begun incorporating a VR Headset to give our clients a virtual tour of off-plan projects and developments. This innovative approach has proven practical and highly efficient for our clients. By using virtual reality, clients can get a sense of the layout and design of a property even before it's built, which can help them make more informed decisions about purchasing off-plan properties.
This technology also enables clients to visualise the potential of a property and how it can be personalised to their needs and preferences. Using VR  has proven to be an effective tool to help us showcase our properties uniquely and engagingly and make purchasing off-plan properties more accessible and streamlined for clients.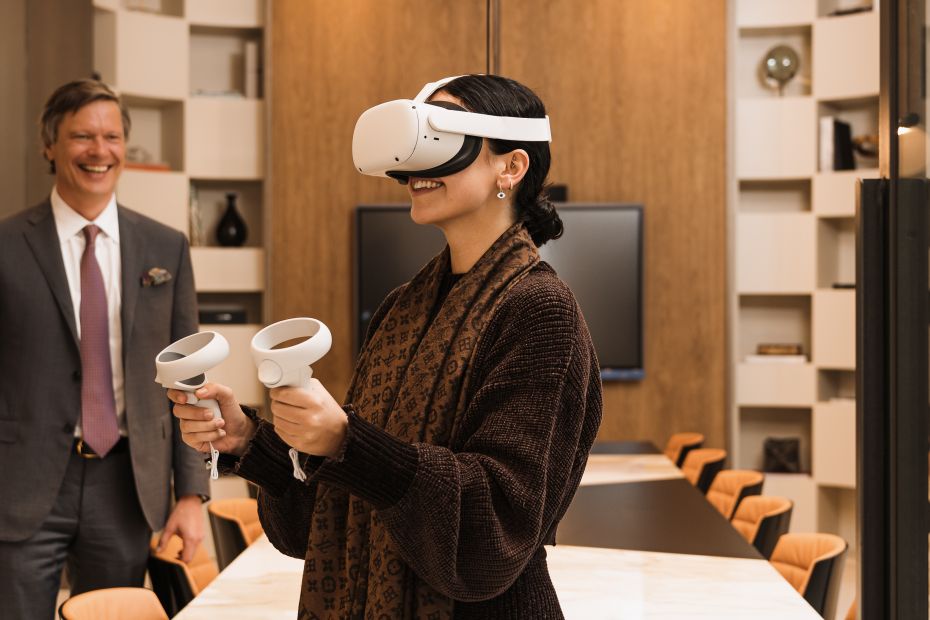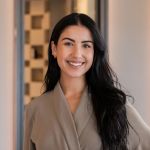 Collaborator Salma Hwedi