Marbella Real Estate Market: Drumelia's Report, A Look Back at 2022 in Sales
By Salma Hwedi on - 6m. reading time
As 2022 draws to a close, Drumelia has much to celebrate, as many achievements and goals have been accomplished. From winning first place in all of Spain's real estate categories at the 2022-2023 European Property Awards to opening our new office, set to be the best real estate office in Marbella. We are excited to head into 2023, ready to improve and take on even more significant challenges as our great team grows and becomes better together! In this blog, Drumelia is proud to share insights into our standout figures and transactions from the past year.
In 2022, we closed a total of 43 sales, 60% of which were sales done to direct buyers, a percentage has remained consistent for years thanks to our hard work and dedication. 
The highest sale figure of the year comes in at €20,500,000, and the lowest figure accounts for €330,000. Finally, the average sale price of the year amounted to €4,316,689. This figure demonstrates our success in selling high-value properties and reaffirms Drumelia's reputation as Marbella's leading real estate firm.
In 2022, we also saw a diverse pool of buyers, with 17 nationalities purchasing properties through Drumelia, reaffirming our international real estate market position. This year, our most popular client nationalities were from across Europe, encapsulating just under 68% of our overall buyers, the most popular being German, Swedish, British and Spanish. Approximately 32% of our buyers came from non-European countries. Below is a chart depicting all buyer nationalities: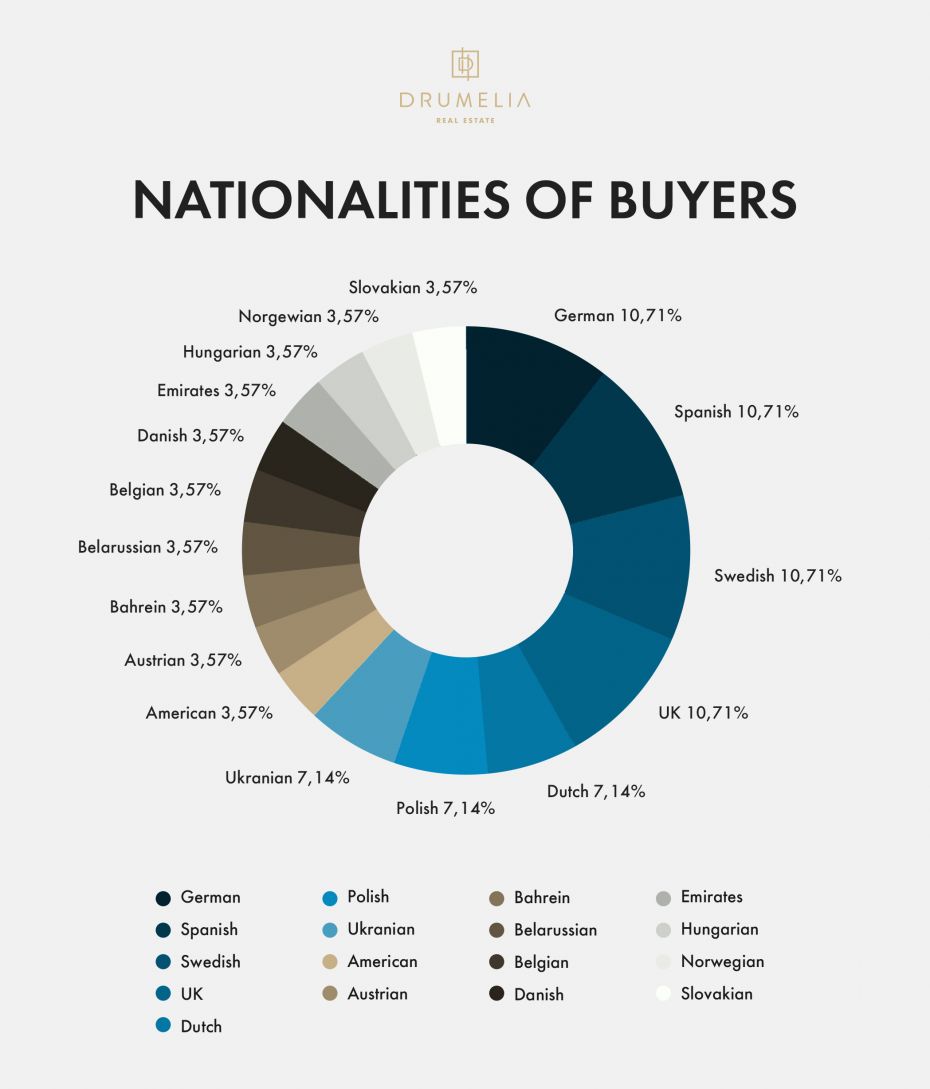 From the chart, one can gather just how successful Drumelia was in attracting a vast pool of international buyers. Thanks to our diverse marketing channels, we acquire much of our international audience, our connections within a global network of clients, and our attention to marketing our properties through our award-winning multilingual website. What's more, Drumelia has now grown to accommodate buyers that speak any of the ten languages our talented team can speak. 
On the Marbella Real Estate Market, Drumelia is recognized as the agency that specializes in properties over €10,000,000 in all areas, which should come as no surprise seeing as we have previously sold properties such as Villa Cullinan (€32M), Villa Ricotta (valued by Forbes at €40M) El Nido (€21M) Villa Serenity (€14M), Villa Symphony (€13.5M), El Mirador (€13.5M) and many others. These were all record-breaking sales in the Marbella real estate market. And currently, we have the best listings in this price range, all sold exclusively by Drumelia, like Villa Enso (€34M), Las Velas (€17.95M), Villa Hermes (€16.9M), Villa Sorrento (€11.5M) and many more.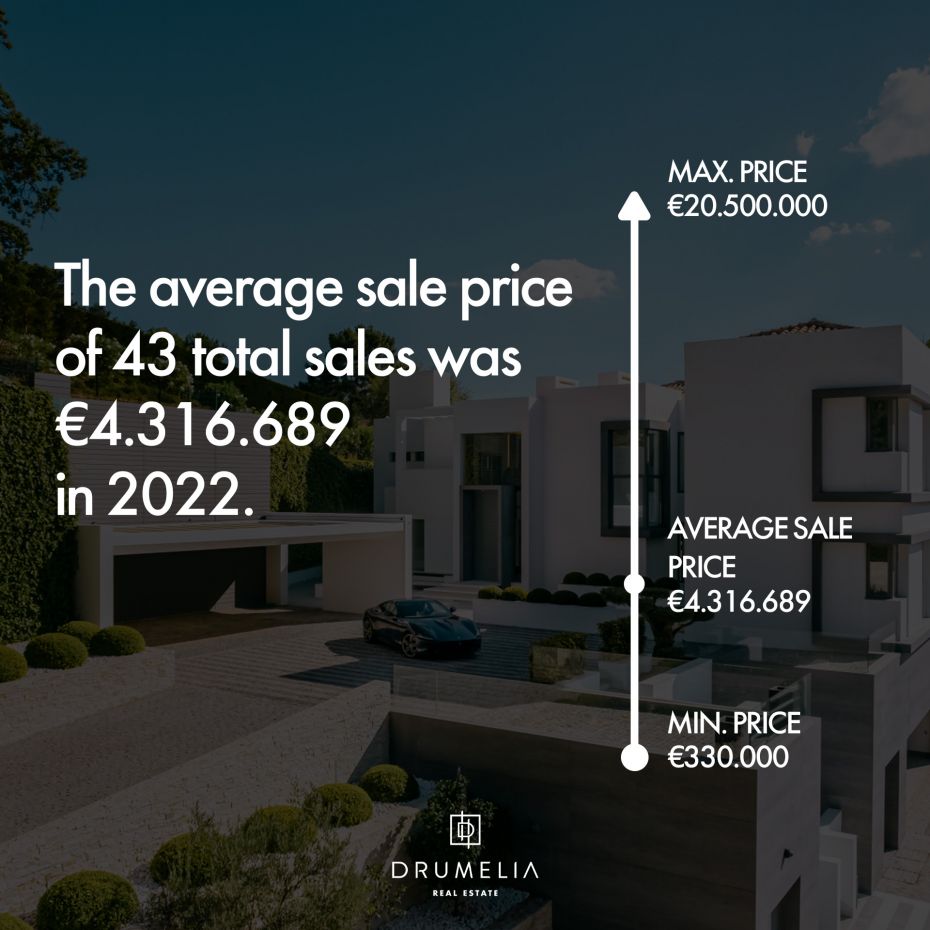 Nonetheless, for Marbella Real Estate Market, sales over €10,000,000 are not too frequent. Therefore, our award-winning website displays an incredibly diverse property portfolio, and in our day-to-day, we are most active when selling properties in the €1,000,000 - €10,000,000 price bracket, with an average sale price in 2022 of €4,316,689. Some of these most exciting sales of the last quarter of 2022 have been: 
Villa D2302, a modern yet traditional villa in the gated community of Vega del Colorado, priced at €6,300,000, with 6 bedrooms on a plot of 2,750 m2 and impressive sea views.

Villa D2359 in Sector F of La Zagaleta - a traditional 7-bedroom villa on a plot of 7,500m2 and priced at €5,750,000.

Villa D2729, in Monte Mayor, our

fastest recorded sale

priced at €4,800,000, was sold in under 4 weeks, with 5 bedrooms on a plot of 3,300m2. 
In addition to being able to meet the diverse needs of buyers, our sales portfolio is also the most diverse in terms of property location.
In 2022, reconfirming our wide range of expertise, we sold properties in all areas of the Marbella District and surroundings. This year, we thrived in the Golden Mile, Sierra Blanca, Cascada de Camojan, La Zagaleta, Reserva de Alcuzcuz, El Herrojo, Vega del Colorado, Nueva Andalucía, Los Flamingos, Los Monteros, Marbella Club Golf Resort, Monte Mayor and La Alqueria.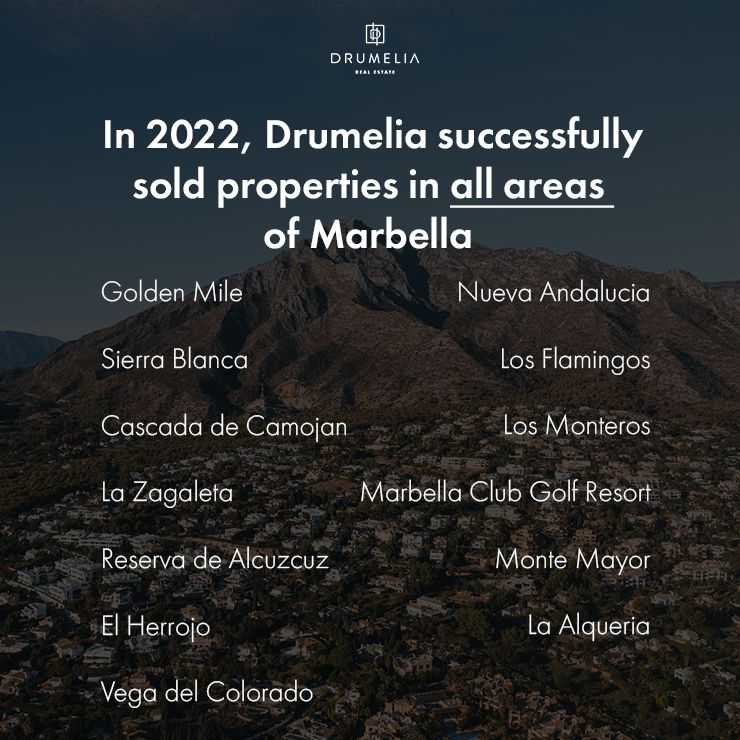 Several apartments and penthouses were successfully sold in the price range from €1,350,000 to €3,650,000 in communities like Puente Romano, Palo Alto, La Trinidad, Alhambra del Mar and La Morera, among others.  
A few other notable sales during this year have been Villa Varanda (€9,575,000); Los Ceibos (€8,500,000), not to forget our Developments that have been sold out in record time, after overtaking the exclusive contracts for El Bosque (modern villas in Reserva de Alcuzcuz in the price range of €4,500,000-4,900,000) and Altius (priced between €2,500,000-€3,000,000) that we branded and promoted featuring YouTubers such as Erik Conover and Matt and Summer, as well as social media materials on platforms like Instagram where we have over 300,000 combined followers, providing immediate recognition for the development and leading to the first 4 sales occurring in just 2 months.
An interesting fact of Drumelia's 2022 sales summary is that the average discount percentage on a property's original asking price was 6%. Here it is essential to clarify that the tendency has also been lower discounts for brand-new, fully furnished properties and higher discounts for older properties and plots. Nonetheless, in previous years, we witnessed a general tendency to have an average yearly discount closer to 10% or even more in some cases. This market change is likely due to this year's low stock of high-end luxury properties, catering to a demand for modern architecture and contemporary interior design. 
The average age of buyers has also decreased, possibly due to changes in the economy, shifts in consumer behaviour, or the property market. Younger individuals with backgrounds in technology and online markets may be becoming financially successful at a younger age, and our extensive use of marketing through social media may also contribute to the younger age of our buyers. Thus, we are witnessing a general shift in buyers' ages and the general market that will likely continue in the years to come. 
As we end a successful year, we thank you for your continued support and trust in our company. It has been an exciting year for the local real estate market, and we are immensely pleased to have helped our buyers find their dream homes. Drumelia is always evolving. We are constantly innovating and adding to our dynamic Drumelia Family. With our new office capable of accommodating 30 team members, we are ready to expand further in 2023 and if you would like to join the Drumelia Team, get in touch! 
We are committed to providing our clients with exceptional service and expertise. We look forward to working with you all to make 2023 a prosperous year. Thank you again for supporting Drumelia, and we wish you a happy and prosperous year ahead.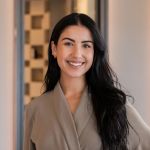 Collaborator Salma Hwedi