The new era for Drumelia Real Estate has now begun
By Salma Hwedi on - 9m. reading time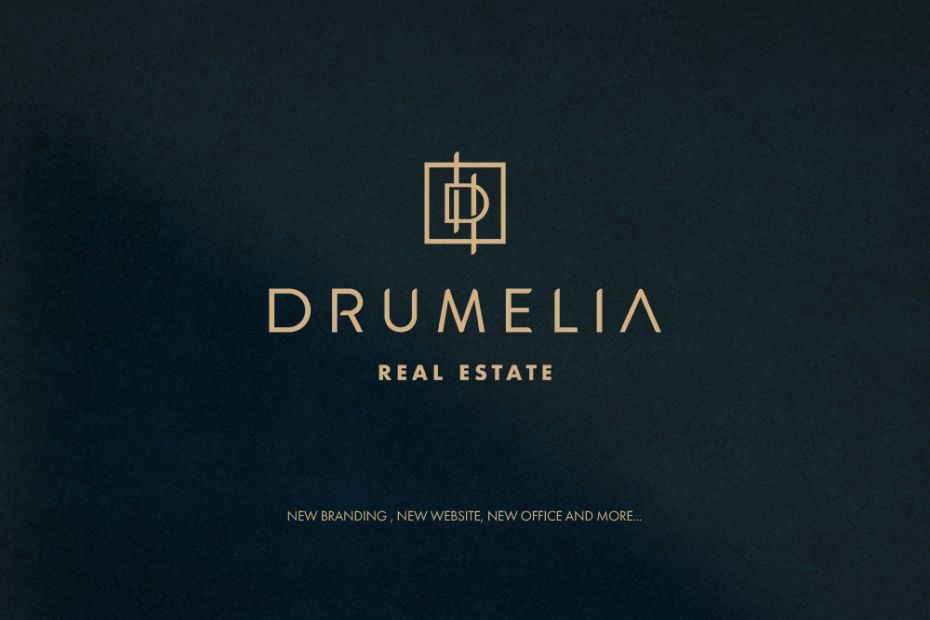 In recent years, Drumelia has experienced impressive levels of growth and development. Thanks to our international team, we have achieved groundbreaking record sales and provided the best service to our clients, not to mention our goals and accomplishments met throughout these two harsh years in the industry. With our data accuracy and marketing intelligence at the forefront, Drumelia achieved its goal of reaching global audiences through video presentations, online traffic from social media platforms and organic search engine rankings. After all, our primary mission is to develop a deeper connection between our buyers and sellers through our influential sales knowledge and robust marketing tools.
Drumelia has undergone several rebrands to complement our successes throughout the 2 decades we have worked in the Marbella real estate market. Each rebrand marked a new phase in the company's evolution and allowed Drumelia to continuously blossom into a brand and not just remain a conventional real estate company. With many accomplishments to celebrate this time around, the Drumelia Team thought it'd be best to demonstrate our achievements in true Drumelia style and give ourselves a company rebrand to mirror our current successes.
How then does a brand demonstrate its successes through a complete rebrand, all whilst staying true to its heritage and tradition?
The Drumelia Team embarked upon a deep exploration of our brand's identity and the objectives we set for ourselves - including our philosophy, our design, and the unique relationship we maintain with our clients - all to create a new brand identity that could move beyond the mechanics of being simply a real estate firm. Our new given identity needed to appeal to our client demographic and all they represent. We needed to present Drumelia in a fresh and relevant way to gain a new audience, all whilst respecting our loyal client demographic.
The Logo
Having elegance and sophistication as the base of our inspiration, we created our new bespoke logo comprised of three essential elements. Firstly, the letter D has now encompassed our brand and has become its prime symbol, as the D most obviously stands for Drumelia. A square frame of the same thickness then surrounds the letter, signifying the letter's importance and exclusivity. Two vertical lines with curved finishes - which complement the typography of the letter D - penetrate the top and bottom sections of the square frame and the letter itself. This design was chosen to characterise the link that Drumelia creates between the company, the buyer and the seller. The logo is composed of a sans serif typography with curved finishes that complement the design and add character to the general design of the logo. Finally, the tagline is composed of a sans serif font which accompanies the logo without stealing the limelight. A logo that stands out for its simplicity but at the same time is also recognised for its playful use of geometric lines and letters, creating the perfect balance for the 3 elements included within the final logo. The Colours
When choosing a colour palette for our new brand identity, the Drumelia team turned its attention to the company's ethos and target audience. The original colour palette that has been used for years confined Drumelia to the past, it was time for a fresh start. The desire was to seek a more luxurious and striking colour palette that projected our company into the future. Choosing a brand colour palette is imperative to how the public perceives a company. It is not simply choosing a set amount of colours, but choosing a palette that will make people immediately identify your brand's visual identity.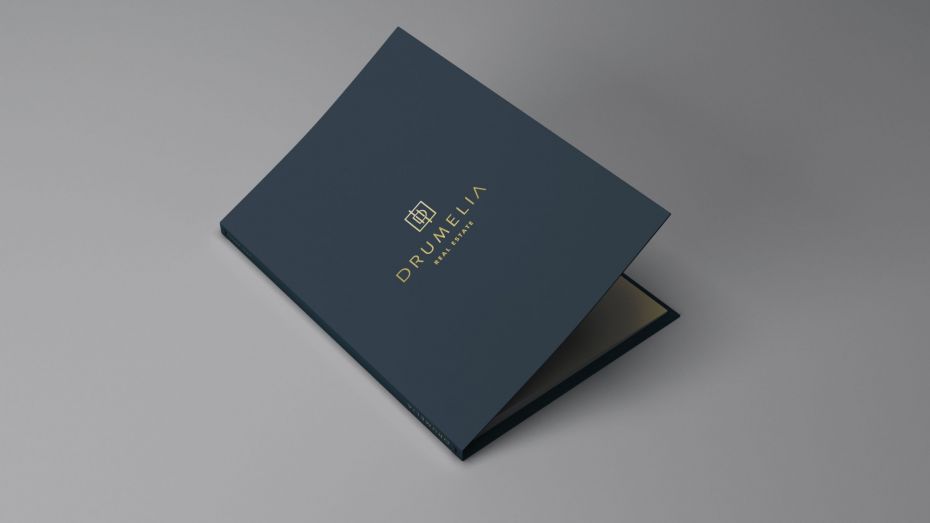 Drumelia has always been drawn to gold hues, as the connotation behind the colour is that of regality, prestegiousness and success. Inherently enlightening, the warmth of the colour invites all to observe and admire, much like the effect we intent to emanate to the general public and our clients. Therefore, we decided to stick with the colour gold as our primary and signature colour, but we changed the hue to a softer and more elegant tone than the previous.
A deep shade of blue was chosen to complement our primary colour. This elegant and modern deep blue hue was selected to make the golden hue pop and lift it from the background. The colour is associated with imagination and loyalty, both of which are characteristics of Drumelia and our team.
The Website
With a new brand and visual identity comes a new website to reflect our company's change and current successes. Apart from our accomplishments, our website serves as a medium for showcasing our listings, advertising our real estate market knowledge, and promoting our tailored services and position as Marbella's leading real estate firm. We designed the website to reflect the goals and objectives we set for ourselves, along with displaying our company's recent strategic developments.
Through a team effort, we curated a bespoke website design that fits our branding and Drumelia standards, with an improved integrated system that studies website usability and automatically updates to guarantee impeccable user experience. Here we must thank the adept Inmoba team for their hard work and dedication in helping our company's vision for our website come to fruition.
The site's backend has been rebuilt with code simplification for a Mobile-First high-speed user interface. Meticulous attention has been paid to the website's Technical SEO and Google Core Vitals monthly monitoring, ensuring the website conforms with Google E-A-T strategy and maintains an excellent position on the search engine index. Furthermore, we implement tailor-made content to maximise our website's organic results on Google's Multitask Unified Model. The website also supports multilingual pages for the most frequented languages Drumelia works with and communicates: English, Spanish, French, Dutch, German, Swedish and Russian.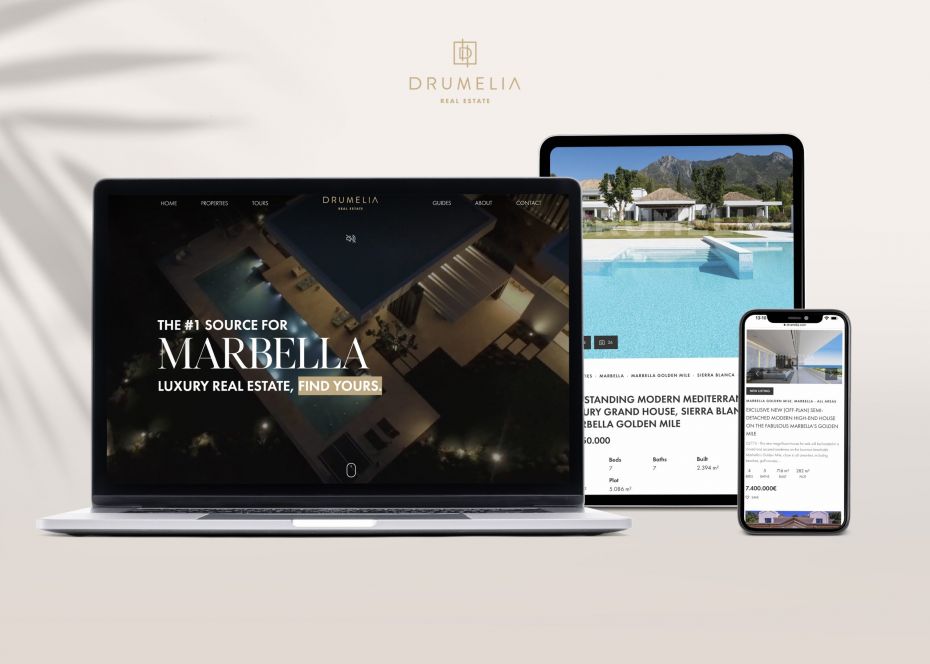 We take great pride in the content produced for our listings, corporate branding and social platforms. Nothing but high-quality media is published on our website; we have even implemented our renowned property tours, property video presentations, area guides and bespoke listing photography across the website. All content displayed has been produced, shot and edited by our talented in-house marketing team; our content is never outsourced and is always created to fit Drumelia's branding and excellence, giving it the Drumelia seal of quality.
The website has also been designed to give our marketing efforts the recognition it deserves, along with portraying Drumelia's new visual identity. The website hosts our varied typography through headers and body texts, all whilst sticking to our bespoke new colour palette and designated structure.
Regarding the website's performance for buyers and vendors, it hosts a powerful optimised search browser to facilitate property searching, with various applicable filters and categories to choose from to further ease the search for any visitor. Our website has an automated integration system with software products such as Inmobalia CRM, allowing our agents to keep the online listed properties as up-to-date and accurate as possible. Furthermore, the website is built and hosted on several cores, servers and CDNs such as Amazon AWS, Cloudflare CDN and OVH Cloud.
Seamlessly designed with a minimalistic touch, finding a property on our website has never been easier.
The Office
We decided to take the development of our visual and brand identity to the next level, and what better way to do that than in true Drumelia style. It felt only natural to bring our physical visual identity to fruition by moving into a brand new office designed to meet the highest standards and be recognised as the best real estate office ever to grace our coast.
Our new office is unlike any other in Marbella, comprising 3 single offices combined and has a ceiling height of 4 metres. The goal behind a new office was not only a chance to give us a fresh start but to make our office identifiable and connect it to our brand and the luxurious market we work in. After all, we are the leading real estate firm in Marbella and deserve to have an office that reflects our accomplishments, our branding and our clientele.
The office is located near the famous Puerto Banus, next to the BMW and Porsche garages and the offices of the reputable law firm Martinez Echevarría. Puerto Banús is one of the most-visited luxury marinas in Europe and, of course, the most representative enclave of Marbella, with over 4 million visitors a year. Our new office is a stone's throw away from our previous office and now features an improved open-plan work area. We have designated separate working areas for the sales and the marketing departments, with a lounge area to welcome clients and guests. With an open-plan kitchen designed by Modulnova, a boardroom and a separate private lounge, it will feel like entering one of our exclusive listings rather than an office.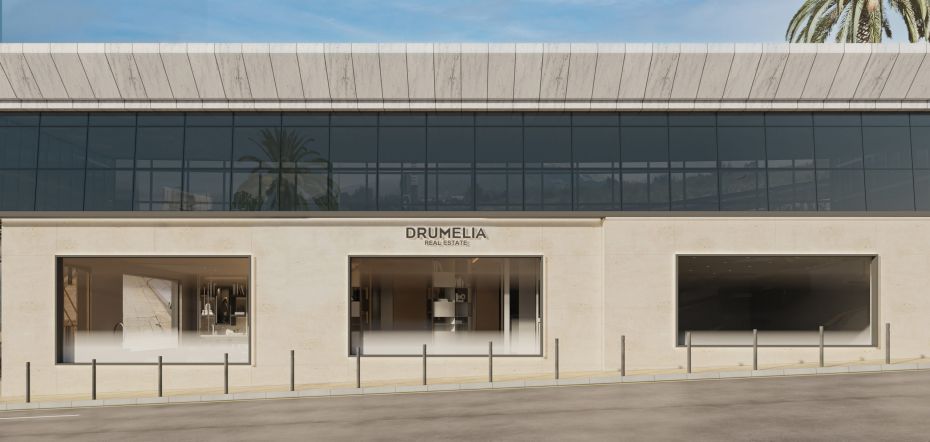 Renowned Marbella interior designer Pedro Peña is to thank for the office's beautiful and elegant interior design, decorated with bespoke furniture and personalised fittings to best adapt to Drumelia's style and elegance. The office features the latest technological advancements, speakers, full demotic systems, and state-of-the-art lighting by Illusion, a lighting, audiovisual and home automation solutions company in Marbella. Customised technological goods include interactive touch screens across the office, modernised lighting systems unlike others in corporate space, and updated monitors for our 27 available employee seats. Drumelia is all about sustainability and tries to be as sustainable as possible, all whilst reducing our carbon footprint; that is why all of the technology used throughout the office is eco-friendly, uses limited amounts of power and is all powered by solar panels.
Drumelia is now the most renowned real estate firm in Marbella's luxury real estate market, introducing global audiences, vendors and buyers alike to Marbella's extravagant quality of life and luxurious market. Drumelia remains the market leader with the most extraordinary properties in Marbella, and services the needs and desires of the most sophisticated buyers and investors across the globe. What's more, as one of the longest established real estate firms in Marbella, we are a trusted firm whose principles revolve around professionalism, artistry and excellence.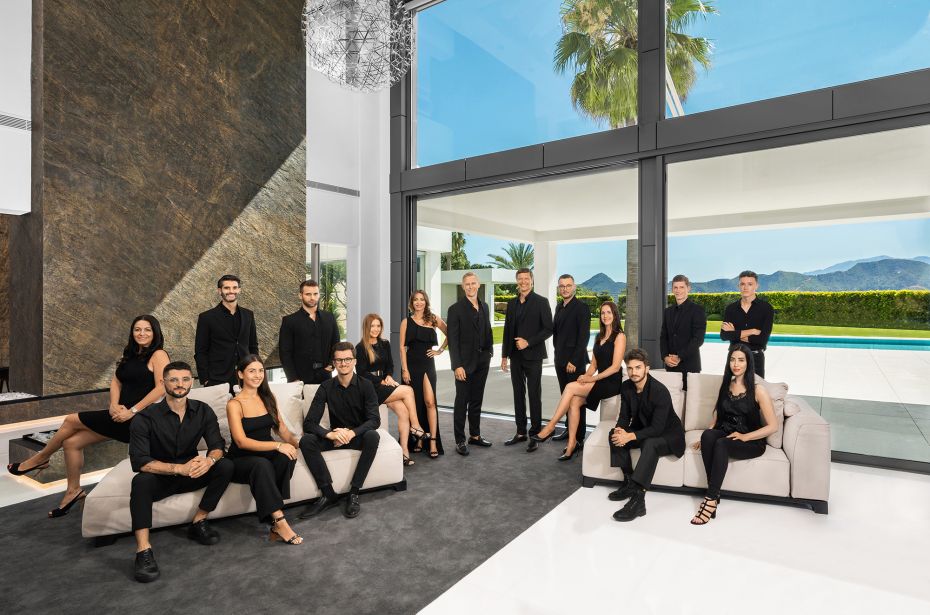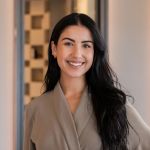 Collaborator Salma Hwedi