Eco-Marbella | How Marbella is becoming a Sustainable Smart City
By Salma Hwedi on
Marbella is famous for its charm, weather, quality of life, glamorous events, exceptional choice of luxury real estate and extraordinary living environment. In recent years, Marbella has also been changing towards a "greener" and more sustainable future by using wind and solar power, sourcing produce locally, adapting to ultra-low emission zones, environmentally friendly activities, and promoting eco and rural tourism. But, the question remains: is Spain a 'sustainable country'? 
Before the pandemic, although Spain ranked 14th in the Europe Sustainable Development Report-2019, the country has shown significant progress. According to the Research Institute of Organic Agriculture (FiBL) report, Spain currently ranks 4th globally and 1st in Europe for having the most extensive organic agricultural management.  
The Costa del Sol, with its best climate in continental Europe, is highly-acclaimed for its bustling social life, beaches, golf, restaurants, luxury hotels and villas. But did you know that the Costa del Sol is officially among the least polluted places on earth? Pollution levels are controlled by the air quality control station near the entrance arch to Marbella, and state that the levels are among the lowest in Spain. The World Health Organisation (WHO) also reports that Andalucia's capital Sevilla is one of Europe's least-polluted large cities.
Malaga City has been implementing the concept of sustainability, innovation and culture into its strategic plans for many years. It was titled the European Capital of Smart Tourism 2020. The City Council launched the program 'Málaga Ciudad Segura' to reactivate tourism. Currently, the city has the largest European eco-efficient city initiative and several pioneering projects to improve society's well-being. Among them are Tech Park Circular City and a completed Smart City Malaga project, recognised worldwide as one of the largest projects in the field of Smart Grids. Another initiative has been the production of a TV show based on the European Capital of Smart Tourism and Sustainability, which hosts Green Cities events, and has partnered with the World Tourism Organisation (UNWTO) and 'Wanderlust World' for the World Tourist Identification (WTID).
FOOD
Eating local and seasonal products is healthy, promotes local culture and positively impacts the local economy. It is one of the characteristics that Spain is renowned for.
Little white pueblos nestled at the heart of Andalucia are an experience for all the senses. They preserve traditional ways of making products such as cheese, wine, oil and honey. They are also particularly aware of respecting and caring for the environment, as conventional methods are used to harvest these products.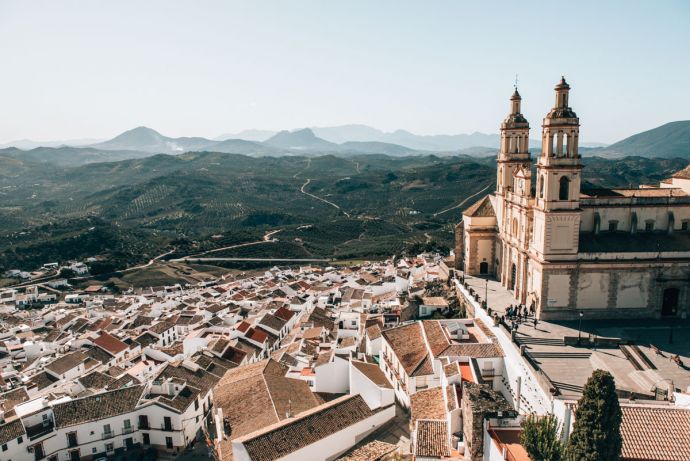 On the Costa del Sol and neighbouring Costa de la Luz, fish are primarily caught using traditional methods that are less harmful to the ecosystem. Even the tuna is caught in the traditional traps almadrabas, using ancient fishing techniques designed to minimise the effect on the environment.
Another ancient tradition is the cutting of cork bark, used for wine bottle stoppers, cork flooring, and cricket balls. Spain is the world's biggest single producer of cork. People with tools and not machines harvest the cork oak crop. Small professional teams work through the forests, cutting cork with minimal environmental harm. Those qualified to cut cork spend 2 years studying the job before they can utilise cork knives, axes, mules and muleteers. Once the harvest cycle is complete, the next harvest occurs 9 years later, so you may be fortunate enough to experience this phenomenon if you visit from the 15th of June to the 15th of August. 
Organic food has become the latest gourmet trend for all those to whom eating healthy is more than a whim. Marbella is renowned for its restaurants and atmospheric cafés based on 100% natural and organic cuisine. Guided tours, exciting tasting and master classes offering insider's secrets of healthy cooking are top-rated in Marbella.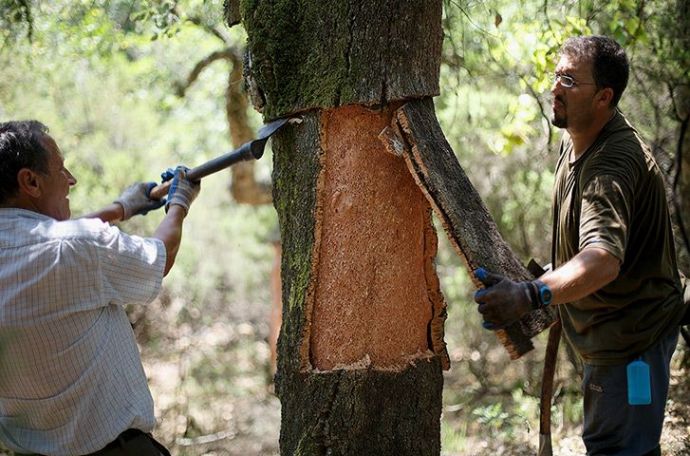 SPORTS
On the Costa del Sol, you can find many sustainable outdoor activities to enjoy, including golf, surfing, mountain climbing, horse-riding, hiking and cycling. Bicycle networks help to improve both air quality and our health. The coast has exceptional cycling routes, and Marbella offers an excellent bicycle tourism service. Many bike-hire companies and local hotels offer to rent a mountain, road, urban or e-bicycle, so you can enjoy the opportunity to discover magnificent Andalucian nature and visit legendary Puerto Banús or Marbella's Old Town on two wheels.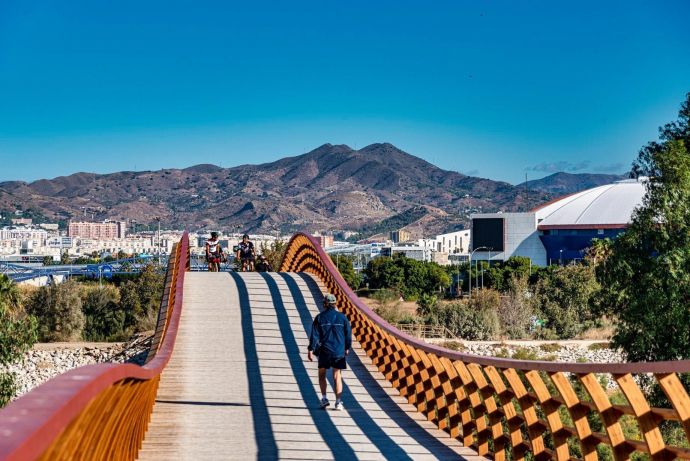 An extensive network of cycle lanes has already been implemented to foster sustainable transportation on the coast. The Malaga Coastal Path (Senda Litoral de Málaga) will make it possible to go along the coast from Nerja to Manilva by bike or on foot. Around 80% of the trails are already open for hikers. This project goes hand in hand with the Great Malaga Path (GMP or GSM), a circular route which stretches throughout the entire province and has already become a symbol of active tourism. 
Did you know that Spain is the most mountainous European country?  And, did you know the south of Spain has just increased its number of National Parks by 50%? There are countless hiking and cycling routes through the stunningly beautiful Sierra de las Nieves National Park and Sierra de Crestellina, just a stone's throw from the Costa del Sol.  It's an ideal way to discover the picturesque villages with traditional trades plied by locals, who treat their land with the utmost respect and whose way of life has contributed heavily to the successful conservation of the villages.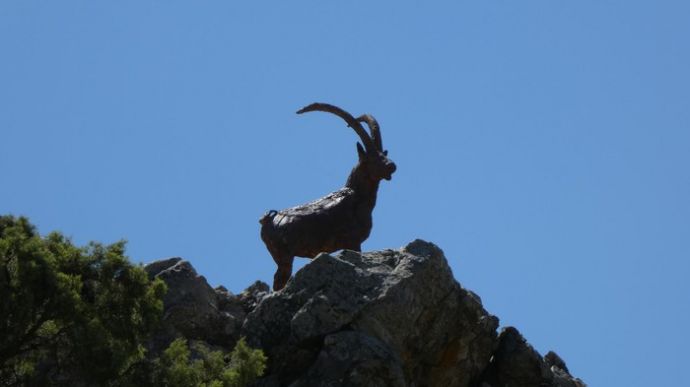 In 2022, 7 towns on the Costa del Sol are due to set up 'low-emissions zones' thanks to EU funding. According to Javier Salas, Málaga's deputy delegate, a large sum will be spent on more sustainable public transport. Malaga will receive €2,000,000 to replace its diesel-fueled bus fleet with electric-powered vehicles, €1,500,000 to replace the university shuttle buses running through the city, and a similar amount to set up safe cycle routes.
The Junta de Andalucía is assessing 63 projects for solar parks within Malaga province in July 2022, according to the government's representative for Sustainable Development. These include 8 wind parks, 1 transmission line for the energy produced, and the rest consist of solar panels, either alone or with transmission lines and infrastructure. These additional 63 mean there are currently 170 solar energy parks planned in our province.
In 2021, the Spanish government approved the Moves III plan, which was put in place to encourage electric-car sales. Buyers of plug-in hybrid vehicles and electric cars would be entitled to subsidies of €4,500 up to €9,000. The budget of €400,000,000 will cover the period until the end of 2023 and could be increased to €800,000,000.
Malaga is considered a "Smart City" and has the largest European eco-efficient city initiatives. This has already led to the reduction of  4,500 tonnes of CO2 thanks to the energy savings planned in the project "Ciudad 21", as well as improving the energy efficiency of public lighting by replacing 200 lampposts with lower consumption technology lamps, LED, with savings of up to 65%. Malaga impresses with another project developed in the Malaga Tech Park, the first sustainable urban space to implement a Circular City of the future model in a natural environment that will be sustainable, eco-efficient, 100% renewable and digital already in 2027.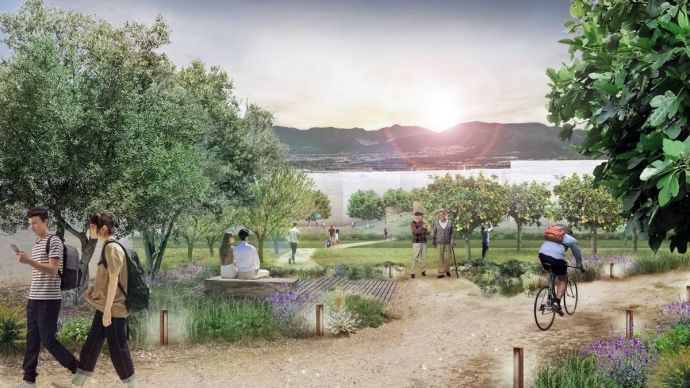 "SMART" MARBELLA
Sustainable tourism is gaining ground, and visitors seek destinations and accommodations that are just as sustainable. Tourists want to enjoy nature, culture, history, gastronomy and the warmth of the locals in a sustainable environment. No wonder cosmopolitan Marbella attracts tourists and property buyers alike.
Marbella is considered a "Smart City," where official processes are now paperless. This was part of the new Strategic Plan that defines the town's goals for the next 8 years and establishes 3 strategic thrusts and main pillars: sustainability, excellence and knowledge. The Marbella City Council has informed that it "renovated more than 60 mailboxes of ecological islands in the municipality in its commitment to sustainability and respect for the environment". Councillor Diego López has pointed out that Puerto Banús "has been the area with a greater number of changes (38 units), although the renovation has reached all points of the municipality".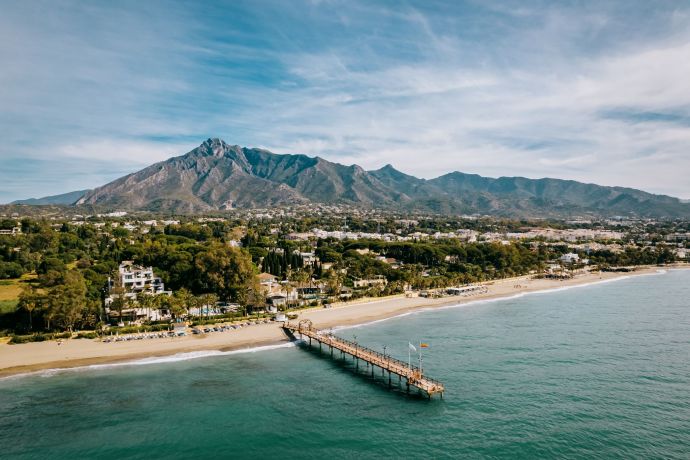 The replacement of public lighting with LED, management of waste separation, looking after urban water cycle, rational and efficient energy use, atmospheric pollution control, laying of cycle lanes and old electronics and appliances recycling are just some of the measures that have been carried out, as well as constant improvements to the landscape and green areas. Urban greening and adding green roofs, living walls and green spaces to newly built properties significantly impact Marbella.
Many local shops are saying goodbye to plastic bags and offering paper or recycled bags to shoppers. Local farmer's markets are a great way to jumpstart your weekend and an eco-friendly alternative to supermarket shopping. It is also a great way to try local produce that is freshly sourced. 
A fun fact for electric car owners, there are currently 19 charging points for electric vehicles in notable locations, such as Puerto Banus, Golden Mile, Marbella Town and premium golf resorts. Furthermore, all public transport (except for taxis) is free for registered residents in Marbella; this scheme has been extended until March 2023 and is likely to continue indefinitely.
PUERTO BANUS
Since its inauguration in 1970, Puerto Banus has been a world-famous tourist destination, positioning itself as one of the most important luxury nautical ports. In terms of environmental responsibility, ambitious Puerto Banus has proposed to work diligently to become one of the best ports in the world. They aim to "change habits and incorporate additional measures that allow preserving the facilities and environment, using the best technologies and innovative solutions. Therefore, Puerto Banus has started a Strategic Plan with a transversal approach that will drive it to become a Sustainable Marina, concentrating equally on the economic and sustainable development, social equity and environmental protection".
Puerto Banus has signed an agreement to offer an exclusive range of zero-emissions vessels, eco-friendly yachts and catamarans to protect the oceans and biodiversity. This will turn the luxury port into the first distributor of electric yachts in Southern Spain. This summer, another Puerto Banus beach has received the Blue Flag of eco-excellence. Also, the port uses solar energy to generate photovoltaic energy for public lighting. Moreover, its shops and boutiques are beginning to sell eco-friendly goods, and up to 10% of each purchase goes towards sea preservation.
ESTEPONA: "GARDEN OF THE COAST"
Nestled in the middle of the Costa del Sol, Estepona is one of the sustainable destinations not to miss during your trip to Marbella. Considered "the coast's garden," Estepona is increasingly investing in the environment. In fact, the town's Orchid Garden, currently under construction, will be the largest in Europe.
The "Natural Estepona" project has recently established a network of hiking trails for enjoying the natural surroundings. In 2021, a complete overhaul of the promenade was completed, using modern, efficient and sustainable materials, making it more 'pedestrian-friendly', according to deputy mayor Blas Ruzafa. Ruzafa's team also spent months cleaning and disinfecting pipes serving ornamental fountains, servicing water pumps, changing scenic lighting on the monuments and repainting around 30 decorative, cascading landmarks.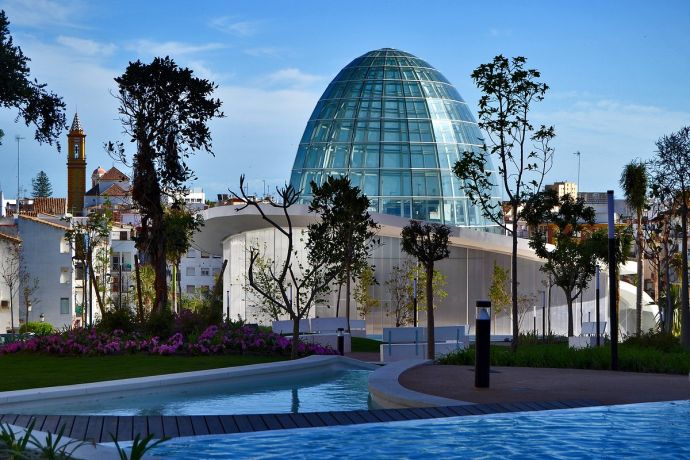 SUSTAINABLE DEVELOPMENT 
We cannot say that dozens of kilometres are untouched by urban development on the Costa del Sol. Drumelia is proud to say that its team, investors and developers-collaborators are very conscious of protecting the ecosystem and environment when building new houses in Marbella.
To live well, we need clean air, natural resources, good food and a non-toxic environment. Today, owning your piece of paradise ensures environmental quality, and Marbella is a perfect example of where quality, luxury and fashionable design do not have to compromise sustainability.
There is a strong trend toward sustainable construction in Marbella. With each project, the goal of local developers is to reduce the industry's impact by utilising sustainable development practices, employing energy efficiency and taking advantage of sustainable technology.
They strive to build sustainable, efficient, quality homes that will last longer, respect resources, optimise energy and water usage, and low-impact, high-performance materials.
To improve energy consumption, the Spanish government stated that property buyers should have access to a rating that shows how energy-efficient their homes are. Most of Marbella's luxury projects have the first 3 (out of 7) EPC (Energy Performance Certificate) - green C, B and even A class. Employing solar panels and aero thermal energy contributed to keeping the new developments' carbon footprint to a minimum.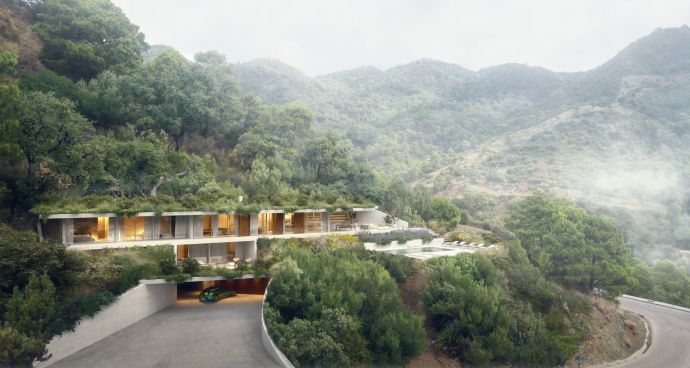 A Biophilic Design concept in residential architecture combines the residents with natural surroundings. Aiming to impact our emotional well-being positively, the concept has become an architectural trend. Live moss wellness walls, water features, biomorphic patterns, natural stone and wood with shapes that occur in nature – you will find it all in gorgeous Biophilic projects guided by green and sustainable design principles and adapted to the breathtaking natural setting in Monte Mayor.
Drumelia has over 20 years of operating in responsible living and development, enabling its clients to coexist in harmony with Marbella's environmental, cultural and socio-economic surroundings.  We care a lot, and we are here for you!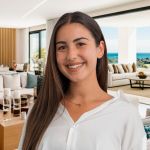 Community manager
Salma Hwedi
Salma was born and raised in Marbella, she is Spanish/Libyan and speaks fluent Spanish, English, and is currently learning Italian.…