Top 5 luxury areas in Marbella to live | Drumelia Real Estate
By Varia Sinichkin on - 10m. reading time
Marbella is a prime destination for those seeking luxury and sophistication, and this is due to its stunning homes and exceptional amenities. The city comprises various neighbourhoods, each offering unique features and attractions. Through this guide, you will gain an in-depth understanding of the top 5 areas of Marbella and what they have to offer. These areas are renowned for their natural beauty, top-notch services and facilities, and luxurious properties ranging from modern apartments to opulent villas. Its diverse range of neighbourhoods caters to various tastes and lifestyles, making it a prime location for those seeking the best in luxury living. Whether you're seeking a place to call home, a holiday destination, or a prime location for investment, Marbella is sure to exceed your expectations.
Marbella Golden Mile
Living on the Marbella Golden Mile equates to living in the heart of Marbella's glitz and glamour. The Marbella Golden Mile is a promenade of 8km in length, with many exclusive sub-areas that make it up. This area is renowned for its opulent lifestyle and high standard of living, attracting international high-net-worth individuals and celebrities. The Marbella Golden Mile is home to some of the best and world-renowned hotels in Marbella, such as The Puente Romano Hotel and Resort and Marbella Club Hotel. This area is also considered amongst the most prestigious on the Costa del Sol due to its proximity to the beach and Marbella's amenities. The best dining experiences, nightclubs, supermarkets, art galleries and sports facilities can be found on the Marbella Golden Mile.
The style of homes in the Marbella Golden Mile varies depending on the area. Those on the first line of the beach hold a more traditional Mediterranean Style, whereas townhouses and urbanizations can be found further in the mountains. It has also become a trend to re-develop older villas into more contemporary-styled ones. The price range for a house depends on the location but currently ranges between €500,000 and €35,000,000. The closer to the beach you are, the more expensive your property will be.
Living on the Marbella Golden Mile offers the best of both worlds - a tranquil, exclusive environment combined with easy access to the vibrant city centre and its many amenities. It is a true hub of luxury, style and sophistication, offering residents a truly unparalleled lifestyle. Whether it's enjoying a day at the beach, dining at one of many of the best restaurants in Marbella, or indulging in some retail therapy, the Marbella Golden Mile has it all. It's no wonder it is considered one of the most sought-after addresses in Marbella and the wider Costa del Sol region.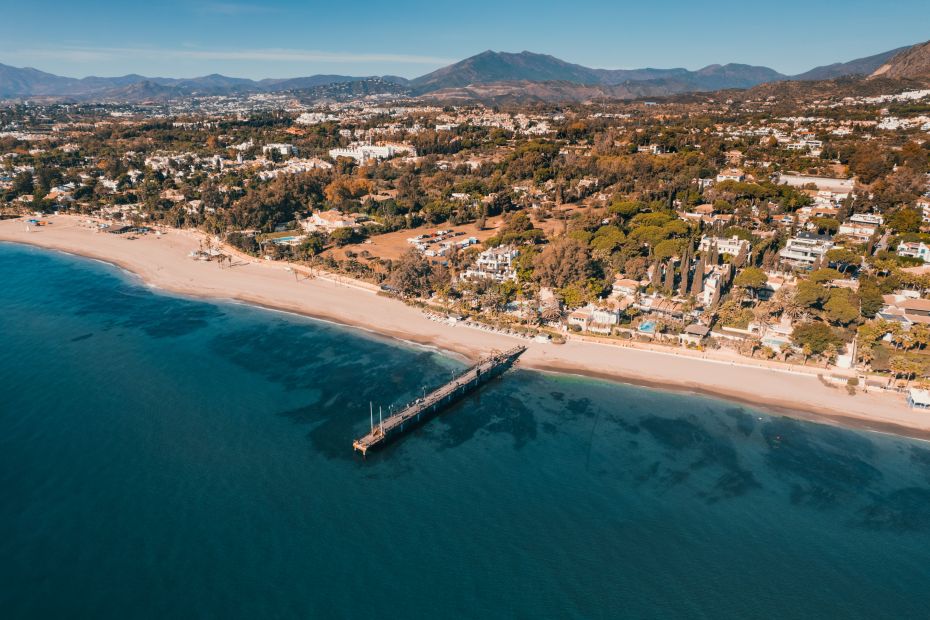 La Zagaleta
La Zagaleta is considered one of the most prestigious communities in Europe, made up of 230 properties with plots still available for development, all spaced out over 900 hectares of private land. The gated residential estate boasts some of the best amenities, with two golf courses, two clubhouses, an equestrian centre, a tennis club and a concierge service available for its residents.
Sitting 450 metres above sea level, the views are astounding. And, with La Zagaleta previously being a private hunting estate, the community is surrounded by luscious nature. It is even inhabited by wild deer and mouflon, fed and looked after by the community. The panorama opens up to the coast of Marbella and the North African Rif Mountains, with the shimmering blue waters forming part of your daily routine. The greenery of the golf courses and mountainous landscape surround you, creating a perfect balance.
The style of homes in La Zagaleta is varied yet one-of-a-kind. Ranging from traditional to modern villas, it is a community filled with many tastes. The average property price in La Zagaleta is €9.750.000 but can reach as high as €34.000.000. La Zagaleta is also home to many of Marbella's most important residents, with rumours of Beyoncé and George Clooney owning properties here.
La Zagaleta is a premium residential area known for its tranquil and peaceful surroundings. Despite its secluded location, it is only a short drive away from the bustling city of Marbella, allowing residents to enjoy the best of both worlds. The area is renowned for its beautiful homes and luxurious amenities, including the Golden Mile and Puerto Banus, two of the most prestigious destinations in Marbella. The Golden Mile is famous for its stunning beaches and top-notch dining options, while Puerto Banus is a shopper's paradise, offering an array of high-end boutiques and shops. La Zagaleta offers the perfect balance of peace and quiet and access to Marbella's best, making it a highly sought-after destination for those seeking a luxurious lifestyle.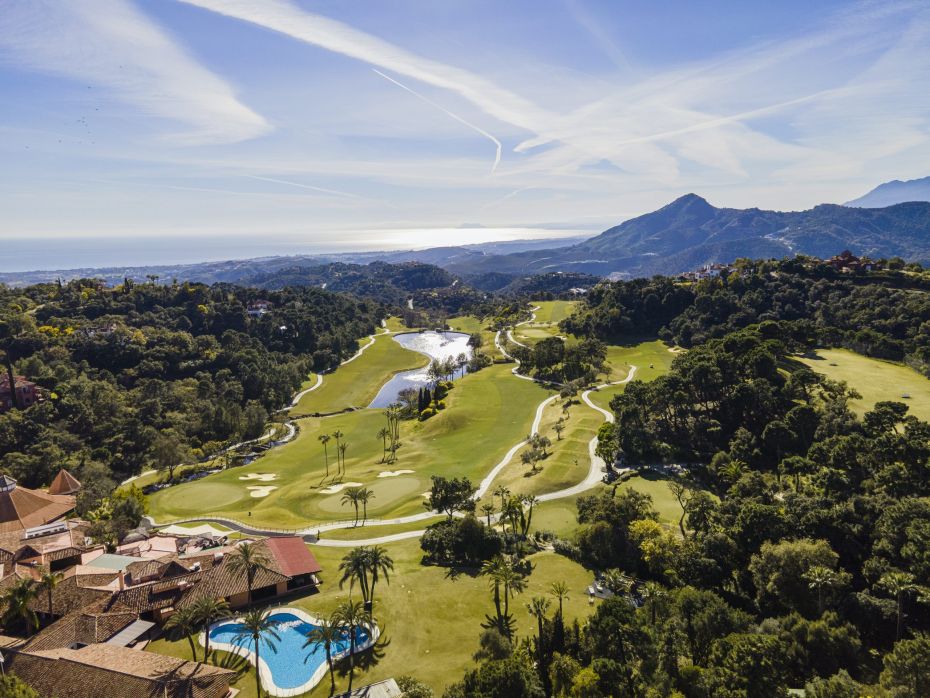 Sierra Blanca
Sierra Blanca offers a serene experience of the Marbella way of life with its nearly 300 beautiful homes. Located 300 meters above sea level, the homes in Sierra Blanca boast breathtaking views of the Marbella coastline. Despite its tranquil setting, Sierra Blanca is just a quick 5-minute drive from the bustling Golden Mile, allowing residents to enjoy the conveniences and amenities of Marbella while living in a peaceful community. The prestigious community of Cascada de Camoján is nestled next to Sierra Blanca on the foothills of Marbella's La Concha Mountain.
The most popular homes in Sierra Blanca follow a classic Andalusian style, with large gardens usually holding private swimming pools. Most homes have at least 3 levels and open to sea and mountain views. Several recent developments have turned to a more modern architectural design. Prices for buying a house in Sierra Blanca range from €2,000,000 to €30,000,000, with the average being €6,500,000.
The residents of Sierra Blanca come from various cultural backgrounds, making it a culturally diverse and interesting place to live. Additionally, it is a great place for families with children, as it is close to some of the best schools in Marbella. And best of all, Sierra Blanca is a stones-throw away from the Marbella Golden Mile, Marbella Centre and the world-famous Puerto Banús. The peaceful and elegant atmosphere of Sierra Blanca creates a comfortable and relaxing living environment, making it a great place to call home.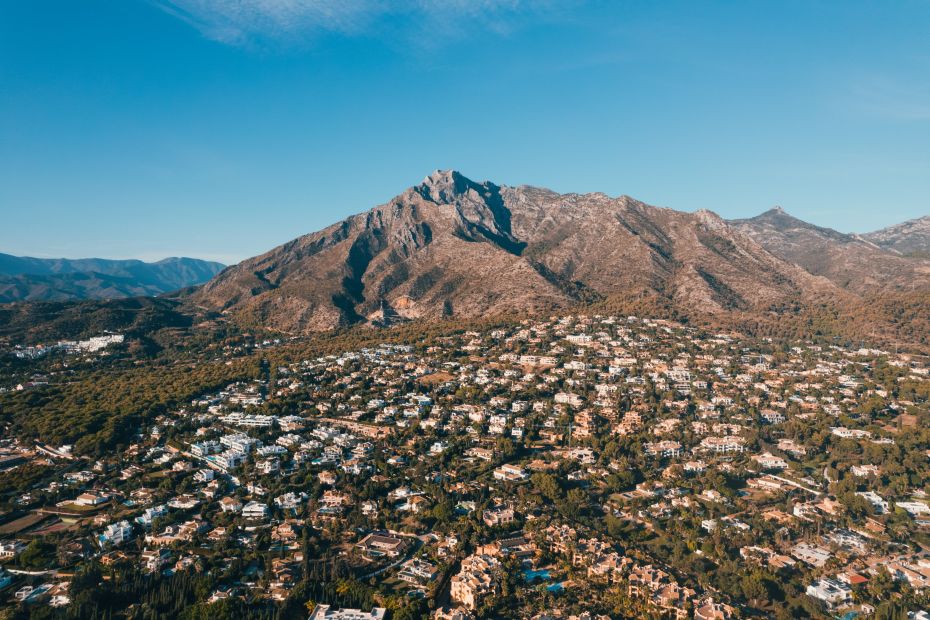 Nueva Andalucia
Nueva Andalucia is known as the Golf Valley due to its great range of golf clubs. It is a district located on the Western side of Marbella and can be considered a small town due to its size, suburbs and amenities. It is largely popular to reside in because it is filled with open spaces yet has everything one might need without the traffic and noise that other areas of Marbella have. The world-famous Puerto Banus is within walking distance; the Golden Mile is just a 7-minute drive away, and San Pedro de Alcántara is less than 10 minutes away by car.
Many homes in Nueva Andalucia vary in architectural style. One of the most sought-after styles is the frontline golf villas, which offer stunning views of the golf course and a luxurious living experience. Gated townhouse communities and apartment complexes are also prevalent, offering a convenient and secure living option. Modern architectural styles are popular, with sleek and contemporary designs, while traditional Andalusian homes offer a touch of history and cultural significance. These homes are known for their beauty and attention to detail, regardless of style.
Life in Nueva Andalucia is characterized by tranquillity and a family-friendly atmosphere, making it an ideal place to raise children. The area is surrounded by lush greenery and serene views, providing residents with a peaceful escape from the hustle and bustle of the city. For golf enthusiasts, Nueva Andalucia is an absolute paradise. The area boasts an abundance of golf clubs, providing ample opportunities for residents to enjoy the game. Nueva Andalucia is the epitome of peace and relaxation, offering a beautiful setting, a wide choice of properties, and ample opportunities for golf in Marbella. Whether you're looking to raise a family, retire, or enjoy life in a peaceful environment, Nueva Andalucia is the perfect place.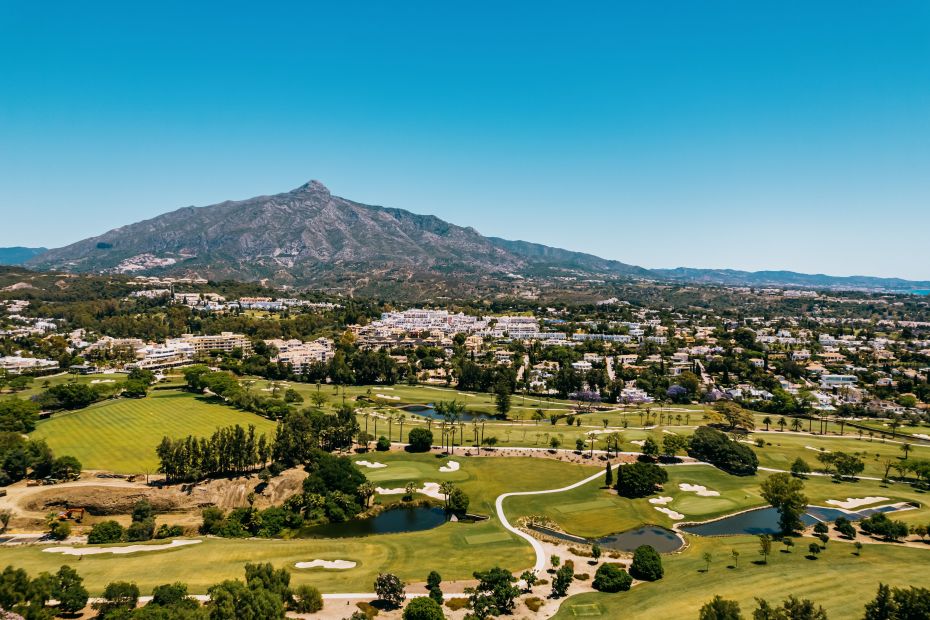 Los Flamingos 
Los Flamingos, a charming gated community, is one of Marbella's most sought-after residential areas. Perched in a picturesque golf valley, it boasts stunning views of the mountains, sea, and golf course. As a resident of Los Flamingos, you'll enjoy the added luxury of being situated within the 5-star Anantara Villa Padierna Hotel grounds. This means you'll have access to a wealth of amenities, including a diverse range of dining options, a luxurious spa, and an exclusive golf course. Balance is the word that best describes life in Los Flamingos, offering the perfect blend of scenic beauty, relaxation, and luxurious living.
Los Flamingos boasts 9 apartment blocks are extremely luxurious and up to very high standards. Villas in Los Flamingos mostly follow a modern architectural design, with many bold lines and large open windows. The prices for apartments vary based on the block but range from €270,000 to €1,400,000. Villas range between €2,000,000 and €10,000,000
As a resident of this gated community, you'll have access to all of the amenities offered by the 5-star Anantara Villa Padierna Hotel, making every day feel like a spa day. Enjoy a delicious meal at one of the many gastronomic options, indulge in one of the best spas in Marbella, or play golf at the exclusive golf course. Being less than 10 minutes away from the coast, you are a stone's throw away from enjoying Marbella's beaches. With its exclusive location on the New Golden Mile and a short drive away from Marbella and its amenities, you'll have the best of both worlds: peace and tranquillity within the gated community and the excitement of the city a short drive away.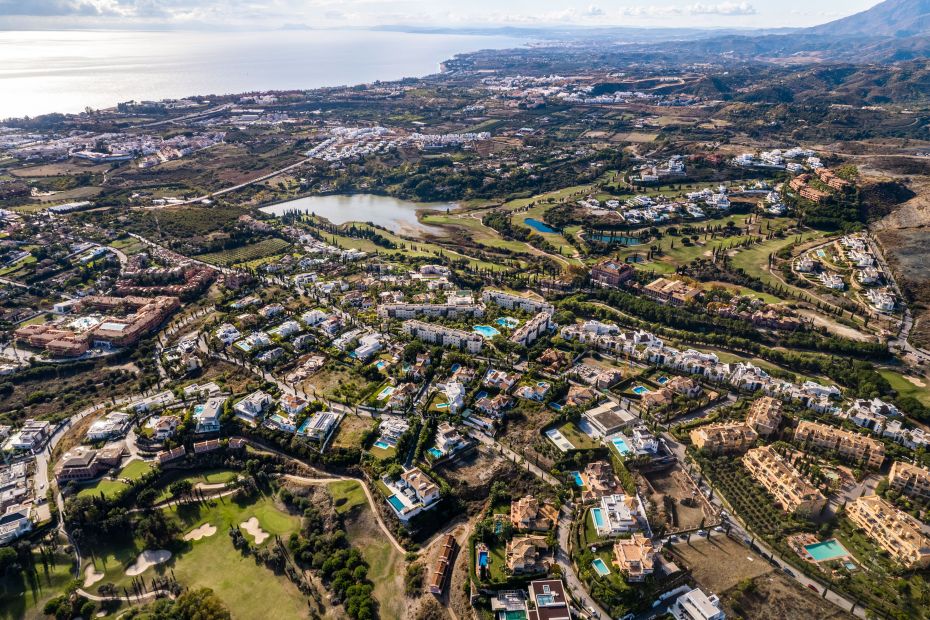 Marbella offers a variety of luxurious and exclusive areas to choose from when deciding where to live. Whether it's the prestigious Marbella Golden Mile, the exclusive La Zagaleta, the stylish Sierra Blanca, the vibrant Nueva Andalucia or the tranquil Los Flamingos, each area has its unique charm and character, offering something for everyone. Ultimately, the best area to live in Marbella depends on your personal preferences and lifestyle. Regardless of your choice, you can be sure that you will live in one of the most beautiful destinations in Spain, surrounded by stunning scenery, world-class amenities, and a thriving social scene. And let Drumelia be your guide in finding the perfect home in Marbella; our team is dedicated to fulfilling your real estate needs.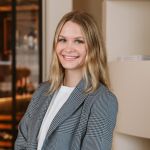 Copywriter
Varia Sinichkina
Varia is currently living in New York City where she is hard at work completing her Bachelors degree in Creative…