5 Properties for sale in Aloha, Nueva Andalucia
Showing 5 properties for sale in Aloha, Nueva Andalucia.
Aloha, Nueva Andalucia
- D3294
This modern Mediterranean 5-bedroom villa for sale is located in the sought-after area of Aloha in Nueva Andalucia, Marbella. One of the best locations in Marbella, Nueva Andalucia is known...
D3294

Ref.

5

Beds

5

Baths

1,049 m&sup2

Plot

401 m&sup2

Built
€3,895,000
Aloha, Nueva Andalucia
- D3138
This detached villa for sale in Nueva Andalucia, Marbella, has a privileged location on the front line of Aloha Golf, one of the most famous golf courses of the verdant...
D3138

Ref.

5

Beds

4

Baths

1,200 m&sup2

Plot

400 m&sup2

Built
€3,500,000
Aloha, Nueva Andalucia
- D2915
This striking new modern house for sale in the heart of Nueva Andalucía boasts a privileged, sought-out location, trendy contemporary design and top class facilities. The area offers a...
D2915

Ref.

5

Beds

5

Baths

1,483 m&sup2

Plot

888 m&sup2

Built
€5,950,000
Aloha, Nueva Andalucia
- D2839
This one-of-a-kind architectural estate is offered for sale in Aloha, Nueva Andalucía, one of the prettiest areas on the Costa del Sol, which has all the services for an excellent...
D2839

Ref.

6

Beds

7

Baths

1,000 m&sup2

Plot

433 m&sup2

Built
€3,750,000
Aloha, Nueva Andalucia
- D2411
This breath-taking classical grand villa for sale in a prime location of Nueva Andalucía, 5-min' drive to Puerto Banús, offers the incredible features for the most exclusive lifestyle. A private...
D2411

Ref.

6

Beds

7

Baths

3,400 m&sup2

Plot

1,727 m&sup2

Built
€7,495,000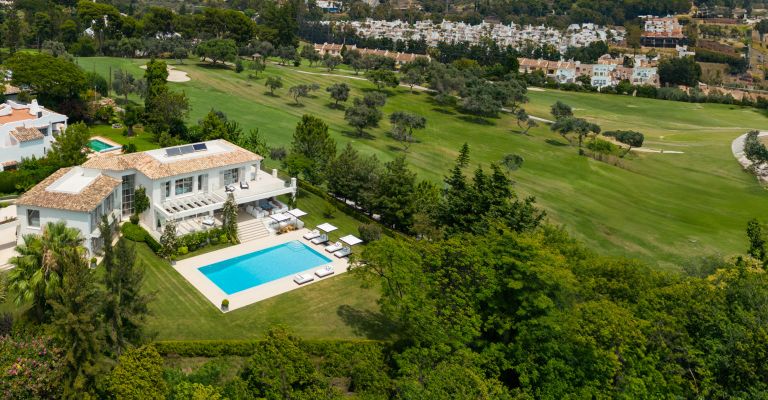 Luxury Properties for sale in Aloha
Unveil a world of luxury with Drumelia's handpicked properties in the distinguished area of Aloha, at the heart of Nueva Andalucía's Golf Valley in Marbella. This exclusive neighbourhood is revered for its prestigious golf clubs, such as the Aloha Golf Club, and its close-knit community ambience. Our selection encompasses the finest properties, from avant-garde villas with sleek lines and panoramic views to classic homes that harmonize comfort with elegance. Residents of Aloha benefit from the area's serene residential streets, verdant landscapes, and proximity to Marbella's bustling social scene, including vibrant nightlife and upscale shopping. Whether you are seeking a primary residence or a holiday retreat, Drumelia offers an extraordinary array of luxury properties in Aloha that promise a lifestyle of distinction amidst the beauty and tranquillity of Marbella.
Aloha Area
Where is it located?
Aloha is nestled within the prestigious Nueva Andalucía area, offering a refined lifestyle surrounded by lush golf courses and scenic beauty. Located just a short drive from Puerto Banus, Aloha provides the perfect blend of tranquillity and convenience.
What is the layout of Aloha?
Aloha is renowned for its upscale golf communities, with the famous Aloha Golf Club at its heart. This area boasts a mix of luxurious villas, elegant apartments, and townhouses, making it an ideal destination for those seeking high-end living amidst the fairways.
What are the distinct features?
Aloha is characterized by its golf-centric lifestyle and sophistication. It offers an array of amenities designed to cater to residents' desires for leisure and luxury.
Aloha Golf Club: The centerpiece of the area, this renowned golf club features a challenging course and top-notch facilities.
Exclusive Dining: Discover exquisite dining options within Nueva Andalucía, with a variety of international and local cuisines.
Proximity to Puerto Banús: Aloha is conveniently located near Puerto Banús, Marbella's glamorous marina, providing access to high-end boutiques and vibrant nightlife.
What are the property features?
Properties in Aloha offer a range of luxurious features and amenities tailored to the discerning buyer's tastes.
Villas: Experience opulence in elegant villas featuring spacious interiors, private gardens, and often, stunning golf course views.
Apartments: Discover refined living in stylish apartments with modern comforts and access to communal pools and fitness facilities.
Townhouses: Aloha also offers well-designed townhouses within gated communities, often with shared amenities like pools and gardens.
Notable Residential Areas:
Aloha Hill Club: This upscale residential complex in Aloha offers contemporary apartments with panoramic views, a spa, and fitness center.
Los Dragos: Known for its elegant apartments and proximity to the Aloha Golf Club.
Los Naranjos de Marbella: A prestigious residential area with a mix of property types and a short drive to golf courses and Puerto Banús.
Aloha combines the tranquility of golf course living with the sophistication of Nueva Andalucía, creating a desirable lifestyle for residents. Whether you're an avid golfer, a lover of fine dining, or simply seek a refined atmosphere, Aloha offers it all in one prestigious package.
Aloha Real Estate Market
Key Insights into Aloha Luxury Real Estate Market based on our data:
Average Built Size – 685m²: The average built size of properties in Aloha is 685 square meters, demonstrating the appeal of spacious luxury living. This metric is key for those seeking ample living space, and to house amenities such as home offices, gyms, or guest rooms.
Average Plot Size – 1.606m²: With an average plot size of 1.606 square meters, luxury properties in Aloha offer plenty of outdoor space for landscaping, swimming pools, or expansions. This statistic is useful for those looking for homes that offer a blend of indoor and outdoor living or opportunities to customise the exterior.
Average Asking Price – €5,299,000: Aloha luxury properties command an average asking price of €5,299,000, reflecting the area's reputation as a high-end real estate locale. This figure is vital for potential buyers and sellers to understand the market dynamics to price properties competitively.
Price per Square Meter – €7,750: Averaging €7,750 per square meter, this metric is an excellent indicator of the price of properties relative to their size. And invaluable for investors seeking to assess the value proposition of properties and predict potential returns.
Understanding these critical figures can guide you towards informed decisions, whether you're a buyer looking for value, a seller pricing your property, or an investor assessing potential returns in Marbella's vibrant real estate market.
See more details in Aloha Live Market Report. This page gives you a detailed snapshot of the most recent property sales in Aloha area.
Aloha Real Estate
You can continue your Aloha property search by available property types or exploring the different Aloha neighborhoods. Drumelia's team works hard daily to bring you every good investment or property for sale that hits the real estate market in Aloha. Please, contact us if you have any doubt about Aloha and Marbella (All) Real Estate options.