5 Properties for sale in El Madroñal, Benahavis
Showing 5 properties for sale in El Madroñal, Benahavis.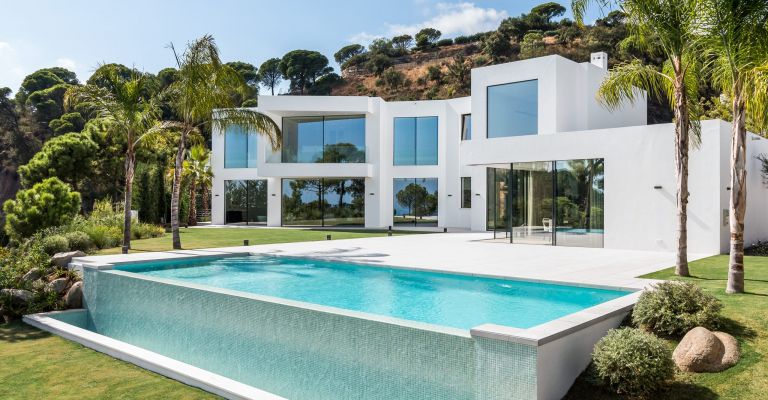 Luxury Properties for sale in El Madroñal
Nestled in the idyllic foothills of the Sierra de las Nieves, El Madroñal offers a sanctuary of privacy and beauty, where Drumelia Real Estate presents a refined collection of luxury properties for sale. Renowned for its exclusive gated community and spectacular sea views, El Madroñal is a hidden gem for those seeking seclusion and natural splendour just a stone's throw from the bustling heart of Marbella. The properties here are masterpieces of luxury, ranging from contemporary architectural marvels to enchanting traditional estates, all harmoniously integrated into the lush, green landscapes. Each residence promises a lifestyle of understated elegance and comfort, with expansive estates, mature gardens, and infinity pools overlooking the panoramic vistas of the Costa del Sol.
El Madroñal – Nature and Luxury in Benahavís
Where is it located?
El Madroñal is an exclusive residential area nestled in the picturesque hills of Benahavís, a charming village in the Costa del Sol region of Spain. This sought-after enclave offers a harmonious blend of natural beauty and luxury living, all while being conveniently close to Marbella and Puerto Banús.
What is the layout of El Madroñal?
El Madroñal is known for its lush landscapes, serene surroundings, and luxurious properties that provide residents with a peaceful and private lifestyle.
What are the distinct features?
This prestigious residential area is characterized by its emphasis on nature, privacy, and upscale amenities.
Natural Beauty: El Madroñal is surrounded by lush forests, scenic walking trails, and breathtaking views of the Mediterranean Sea, offering residents an opportunity to immerse themselves in the beauty of the natural world.
Security and Privacy: Gated communities within El Madroñal ensure the utmost security and privacy, making it a favored choice among those seeking tranquility and seclusion.
What are the property features?
Properties in El Madroñal are designed to embrace the natural surroundings while delivering luxurious and comfortable living spaces.
Luxury Villas: Explore a selection of opulent villas, each set on generous plots of land, boasting private pools, landscaped gardens, and captivating vistas of the Mediterranean coastline.
Notable Residential Areas:
El Madroñal: The villas within El Madroñal are known for their spacious layouts, sophisticated interiors, and seamless integration with the natural surroundings. Each villa offers a unique experience of luxury living amidst nature.
La Zagaleta: El Madroñal is in close proximity to the renowned La Zagaleta, an ultra-exclusive private estate with lavish amenities, further enhancing the appeal of the area.
El Madroñal captures the essence of tranquil living in the heart of nature, making it an ideal choice for those who value both luxury and the serenity of the natural world. Whether you're seeking a luxurious villa with panoramic views or a peaceful retreat close to Marbella, El Madroñal offers an extraordinary lifestyle on the Costa del Sol.
El Madroñal Real Estate Market
Key Insights into El Madroñal Luxury Real Estate Market based on our data:
Average Built Size – 969m²: The average built size of properties in El Madroñal is 969 square meters, demonstrating the appeal of spacious luxury living. This metric is key for those seeking ample living space, and to house amenities such as home offices, gyms, or guest rooms.
Average Plot Size – 3.041m²: With an average plot size of 3.041 square meters, luxury properties in El Madroñal offer plenty of outdoor space for landscaping, swimming pools, or expansions. This statistic is useful for those looking for homes that offer a blend of indoor and outdoor living or opportunities to customise the exterior.
Average Asking Price – €5,387,778: El Madroñal luxury properties command an average asking price of €5,387,778, reflecting the area's reputation as a high-end real estate locale. This figure is vital for potential buyers and sellers to understand the market dynamics to price properties competitively.
Price per Square Meter – €6,378: Averaging €6,378 per square meter, this metric is an excellent indicator of the price of properties relative to their size. And invaluable for investors seeking to assess the value proposition of properties and predict potential returns.
Understanding these critical figures can guide you towards informed decisions, whether you're a buyer looking for value, a seller pricing your property, or an investor assessing potential returns in Marbella's vibrant real estate market.
See more details in El Madroñal Live Market Report. This page gives you a detailed snapshot of the most recent property sales in El Madroñal area.
El Madroñal Real Estate
You can continue your El Madroñal property search by available property types or exploring the different El Madroñal neighborhoods. Drumelia's team works hard daily to bring you every good investment or property for sale that hits the real estate market in El Madroñal. Please, contact us if you have any doubt about El Madroñal and Benahavis Real Estate options.