14 Properties for sale in Puente Romano, Marbella Golden Mile
Showing 14 properties for sale in Puente Romano, Marbella Golden Mile.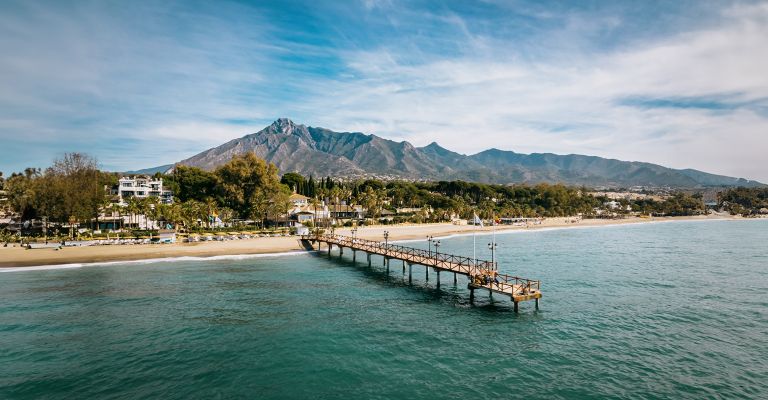 Luxury Properties for sale in Puente Romano
Discover the pinnacle of luxury with Drumelia's exclusive collection of properties for sale in the iconic Puente Romano area of Marbella. This prestigious beachside resort is synonymous with sophistication and offers a lifestyle that combines tropical gardens, Mediterranean views, and access to world-class amenities. Our portfolio features a diverse array of residences, from sumptuous apartments with hotel services to exquisite penthouses that command panoramic vistas. Selected for their exceptional quality and unrivalled location, these properties provide residents with seamless indoor-outdoor living, expansive terraces, and interior finishes of the highest calibre. Experience the epitome of Marbella's luxury living with Drumelia in Puente Romano, where elegance is a standard and excellence is a tradition.
Puente Romano Area – Where Luxury Meets Elegance
Discover the Puente Romano Area
The Puente Romano area in Marbella is a prestigious enclave that embodies the essence of luxury and elegance. It is renowned for more than just its iconic hotel; it offers a lifestyle defined by opulence and sophistication.
Prime Location
Situated along the glamorous Marbella Golden Mile, the Puente Romano area is a highly sought-after location for those seeking the finest in upscale living. It provides easy access to the city's high-end boutiques, Michelin-starred restaurants, and pristine beaches, making it a paradise for residents and visitors alike.
Property Offerings
Properties in the Puente Romano area range from luxurious apartments and penthouses to grand villas. Each property exudes elegance and boasts a range of premium features:
Lavish Interiors: Experience the highest standards of interior design with carefully curated materials and finishes that reflect the epitome of luxury.
Private Outdoor Spaces: Many properties in the Puente Romano area offer spacious terraces, private gardens, and stunning sea views, creating an ideal setting for outdoor relaxation and entertainment.
Modern Amenities: Residents can enjoy modern conveniences like smart home technology, climate control, and state-of-the-art security systems for a seamless and secure living experience.
The Puente Romano Hotel
While the Puente Romano area is renowned for its luxurious residences, it's also home to the iconic Puente Romano Hotel. This world-class hotel offers a range of amenities and services, including wellness spas, equestrian centers, and Michelin-starred dining establishments, enhancing the overall lifestyle experience.
Conclusion
The Puente Romano area in Marbella is a haven for those who appreciate the finer things in life. Whether you choose to reside in a lavish apartment, penthouse, or villa, or simply enjoy the luxurious amenities of the Puente Romano Hotel, this exclusive enclave offers a lifestyle of unparalleled luxury and elegance.
Puente Romano Real Estate Market
Key Insights into Puente Romano Luxury Real Estate Market based on our data:
Average Built Size – 196m²: The average built size of properties in Puente Romano is 196 square meters, demonstrating the appeal of spacious luxury living. This metric is key for those seeking ample living space, and to house amenities such as home offices, gyms, or guest rooms.
Average Asking Price – €3,611,250: Puente Romano luxury properties command an average asking price of €3,611,250, reflecting the area's reputation as a high-end real estate locale. This figure is vital for potential buyers and sellers to understand the market dynamics to price properties competitively.
Price per Square Meter – €19,798: Averaging €19,798 per square meter, this metric is an excellent indicator of the price of properties relative to their size. And invaluable for investors seeking to assess the value proposition of properties and predict potential returns.
Understanding these critical figures can guide you towards informed decisions, whether you're a buyer looking for value, a seller pricing your property, or an investor assessing potential returns in Marbella's vibrant real estate market.
See more details in Puente Romano Live Market Report. This page gives you a detailed snapshot of the most recent property sales in Puente Romano area.
Puente Romano Real Estate
You can continue your Puente Romano property search by available property types or exploring the different Puente Romano neighborhoods. Drumelia's team works hard daily to bring you every good investment or property for sale that hits the real estate market in Puente Romano. Please, contact us if you have any doubt about Puente Romano and Marbella (All) Real Estate options.