13 Properties for sale in Rocio de Nagüeles, Marbella Golden Mile
Showing 13 properties for sale in Rocio de Nagüeles, Marbella Golden Mile.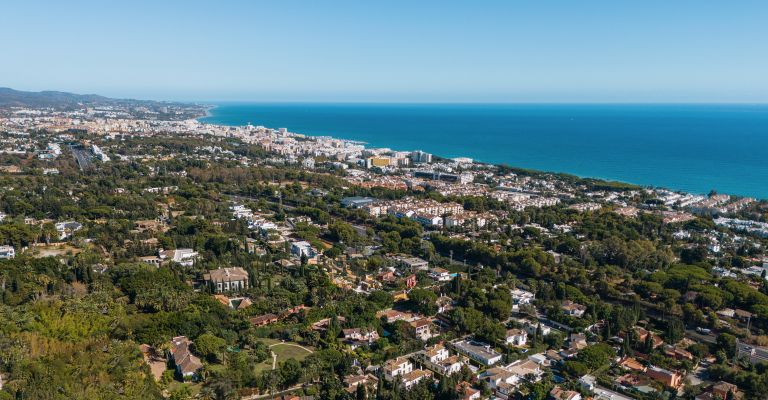 Luxury Properties for Sale in Rocio de Nagueles
Embrace the allure of Marbella's coveted enclave, Rocío de Nagüeles, with Drumelia's distinguished selection of luxury properties. Tucked amidst the serene foothills of La Concha Mountain, this area embodies the quintessential charm of the Costa del Sol, seamlessly merging panoramic views, tranquility, and exquisite architecture. Our curated portfolio showcases a variety of exclusive residences, from modern abodes that reflect contemporary elegance to classic villas that capture the timeless spirit of Mediterranean luxury. With a prime location offering proximity to both the bustling heart of Marbella and serene natural landscapes, properties in Rocío de Nagüeles are a testament to refined living. Explore the promise of unparalleled luxury and comfort with Drumelia, where every property in Rocío de Nagüeles beckons a life of grandeur.
Rocio de Nagüeles – Luxury Living in the Heart of Marbella's Golden Mile
Where is it located?
Rocio de Nagüeles is an upscale residential area situated in the heart of Marbella's prestigious Golden Mile, along the southern coast of Spain. This prime location offers proximity to both the Mediterranean Sea and Marbella's city center, making it a highly desirable address.
What is the layout of Rocio de Nagüeles?
Rocio de Nagüeles is known for its elegant properties, which include luxurious villas and apartments. It boasts a central location with easy access to the beach, top-notch amenities, and a sophisticated lifestyle.
What are the distinctive features?
This residential area is renowned for its blend of elegance, convenience, and proximity to Marbella's finest attractions and services.
Golden Mile Address: Situated on the prestigious Marbella Golden Mile, Rocio de Nagüeles offers access to high-end boutiques, dining establishments, and beautiful beaches.
Security and Amenities: Gated communities and 24/7 security ensure a safe and private environment, while amenities such as golf courses and wellness centers add to the luxury.
Proximity to the Beach: Many properties in Rocio de Nagüeles are within walking distance of the stunning beaches of the Golden Mile.
What are the property features?
Properties in Rocio de Nagüeles are known for their style and quality.
Villas: Villas in the area offer spacious living areas, beautiful gardens, and private swimming pools.
Stylish Apartments: Apartments in Rocio de Nagüeles feature modern designs and may include communal facilities like pools, gyms, and landscaped gardens.
Scenic Views: Many properties enjoy views of the sea and the lush landscapes of the Golden Mile.
Rocio de Nagüeles offers residents a luxurious lifestyle in a central yet peaceful setting. Whether you're relaxing in your elegant villa, exploring the nearby attractions, or enjoying the vibrant atmosphere of Marbella, Rocio de Nagüeles is synonymous with sophisticated living on the Costa del Sol.
Rocio de Nagüeles Real Estate Market
Key Insights into Rocio de Nagüeles Luxury Real Estate Market based on our data:
Average Built Size – 1.240m²: The average built size of properties in Rocio de Nagüeles is 1.240 square meters, demonstrating the appeal of spacious luxury living. This metric is key for those seeking ample living space, and to house amenities such as home offices, gyms, or guest rooms.
Average Plot Size – 3.222m²: With an average plot size of 3.222 square meters, luxury properties in Rocio de Nagüeles offer plenty of outdoor space for landscaping, swimming pools, or expansions. This statistic is useful for those looking for homes that offer a blend of indoor and outdoor living or opportunities to customise the exterior.
Average Asking Price – €5,627,857: Rocio de Nagüeles luxury properties command an average asking price of €5,627,857, reflecting the area's reputation as a high-end real estate locale. This figure is vital for potential buyers and sellers to understand the market dynamics to price properties competitively.
Price per Square Meter – €5,273: Averaging €5,273 per square meter, this metric is an excellent indicator of the price of properties relative to their size. And invaluable for investors seeking to assess the value proposition of properties and predict potential returns.
Understanding these critical figures can guide you towards informed decisions, whether you're a buyer looking for value, a seller pricing your property, or an investor assessing potential returns in Marbella's vibrant real estate market.
See more details in Rocio de Nagüeles Live Market Report. This page gives you a detailed snapshot of the most recent property sales in Rocio de Nagüeles area.
Rocio de Nagüeles Real Estate
You can continue your Rocio de Nagüeles property search by available property types or exploring the different Rocio de Nagüeles neighborhoods. Drumelia's team works hard daily to bring you every good investment or property for sale that hits the real estate market in Rocio de Nagüeles. Please, contact us if you have any doubt about Rocio de Nagüeles and Marbella (All) Real Estate options.