Inside a €3.700.000 Modern Luxury House with Sea Views in Marbesa, East Marbella
By Salma Hwedi on - 6m. reading time
This charming modern villa is located in a beachside area of Marbesa, Las Chapas, in eastern Marbella. Set on a 622 m² corner plot, this high-end house has 422 square meters built with more than 200 m² of terraces. It features 4 bedroom suites distributed over 4 floors, including a stunning rooftop boasting 360-degree panoramic views. The asking price is 3.7 million euros, including the furniture and decoration package. The house is constructed using the latest sustainable architectural techniques. It was designed by a well-known architect and was constructed in 2021 by a company famous for its creativity and outstanding designs. Located in one of the most attractive areas of Marbella East that offers the best sandy beaches on all of Costa del Sol, the property is just a few minutes' walk from the beach, several restaurants and beach clubs.
ENTRANCE.
This home has a very distinctive facade with a special plaster applied to create movement in colour shades. It doesn't require painting; therefore, no repainting is needed after some years. The driveway is built with Portuguese hand-cut tiles and leads to the carport and further down to the garage. The grass is artificial and requires low maintenance, which allows for saving money and time on daily housekeeping. At the main entrance, we have a lovely water feature on the left, and the main door is made of natural oak with access control panels from Thermax. No keys are needed, but there is a standard lock as well, just in case you want it.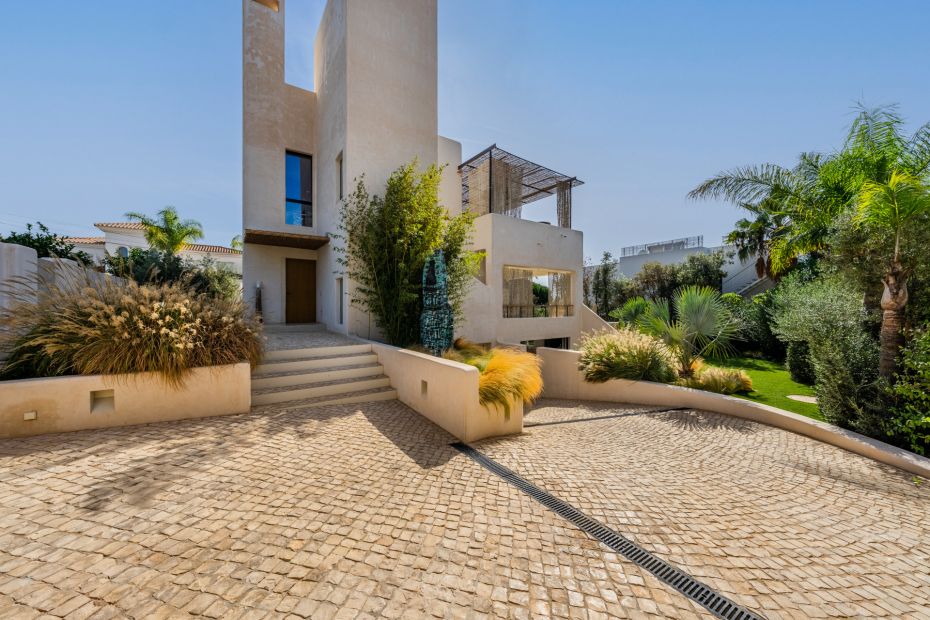 GROUND FLOOR.
Inside the home is a beautiful reception area with a unique painting on the wall. The floor, the walls and the ceiling are executed in the same colour grade with similar materials. The hall leads to 3 bedrooms with en-suite bathrooms and direct access to the pool and garden area. The distribution of this house is not very standard since the bedrooms are located on this level, and the main living room is upstairs. This purpose is to provide the best views from the living area where we spend most of our time.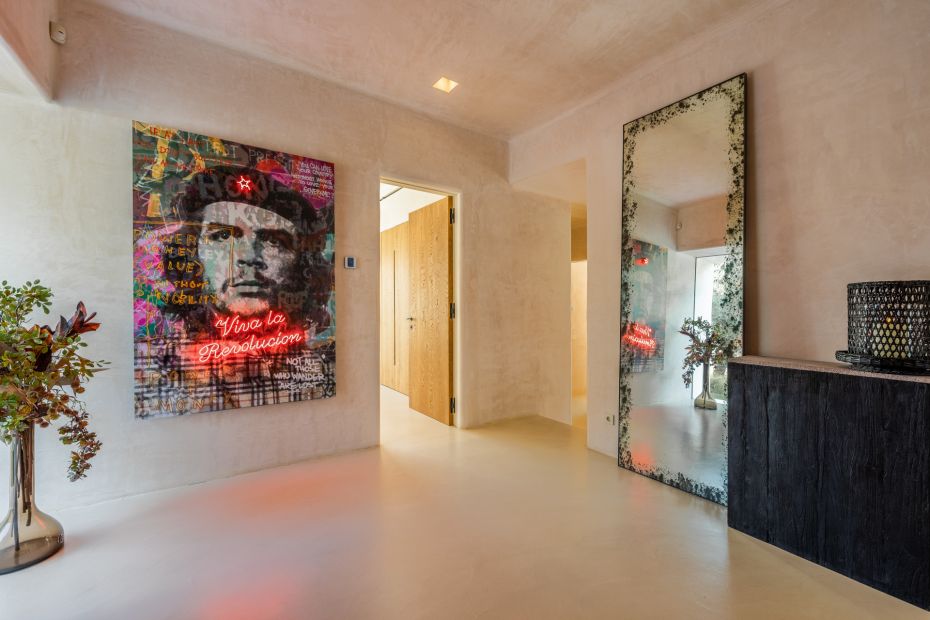 The flooring in the bedrooms is done with continuous micro-cement with coloured walls and water-resistant plaster applied by hand. The doors are frameless and made of natural oak. The built-in wardrobes in the bedrooms are finished in black matte and equipped with LED lights and mirrors. The bathrooms are executed in the same style; you can see clean lines, wooden elements, organic materials, a neutral colour palette, and this contrasting black accents make the space look elegant and chic. We have an integrated sink with a wooden drawer underneath, a glass walk-in shower, taps from a famous Italian brand Zucchetti and a freestanding bathtub in the Master bathroom. All bathrooms are equipped with anti-mist mirrors and electric towel heaters. With attention to every small detail, tastefully decorated and furnished, with top quality furniture pieces from various international designer brands, these bedrooms transmit the atmosphere of staying in a very cosy luxury boutique hotel.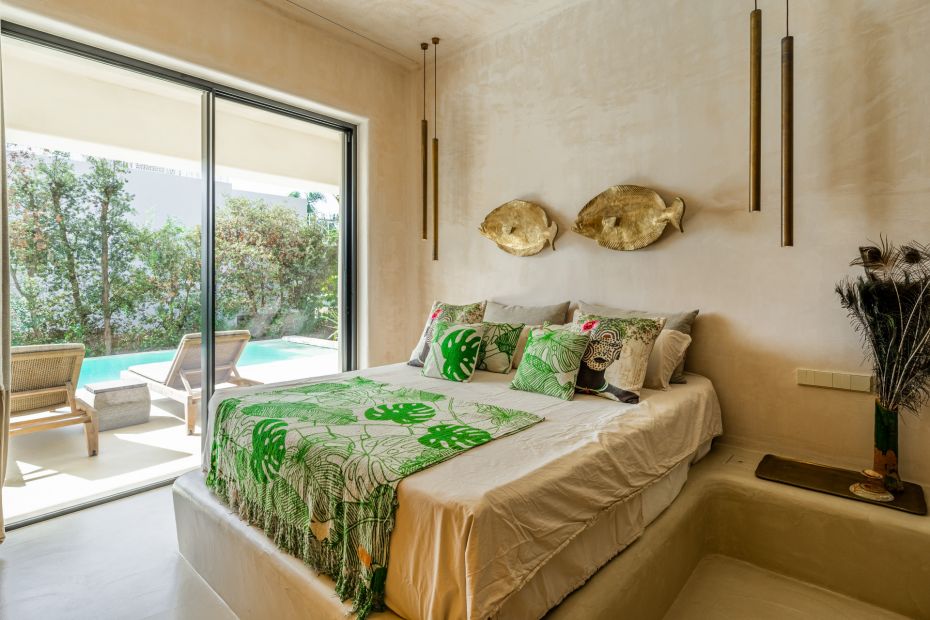 OUTDOORS.
Stepping outside, we have a private garden with olive trees and beautiful plants all along the garden, fenced in chestnut wood, cut and painted by hand. All outdoor flooring is also done with micro cement, including the pool. A good-sized terrace has several sunbeds and an infinity-edge pool just in front with recycling and filtering saltwater. It is heated and has an automatic cover with solar cells absorbing the sun. Next to it, around the corner, we have an outdoor kitchen with a massive fridge and breakfast area.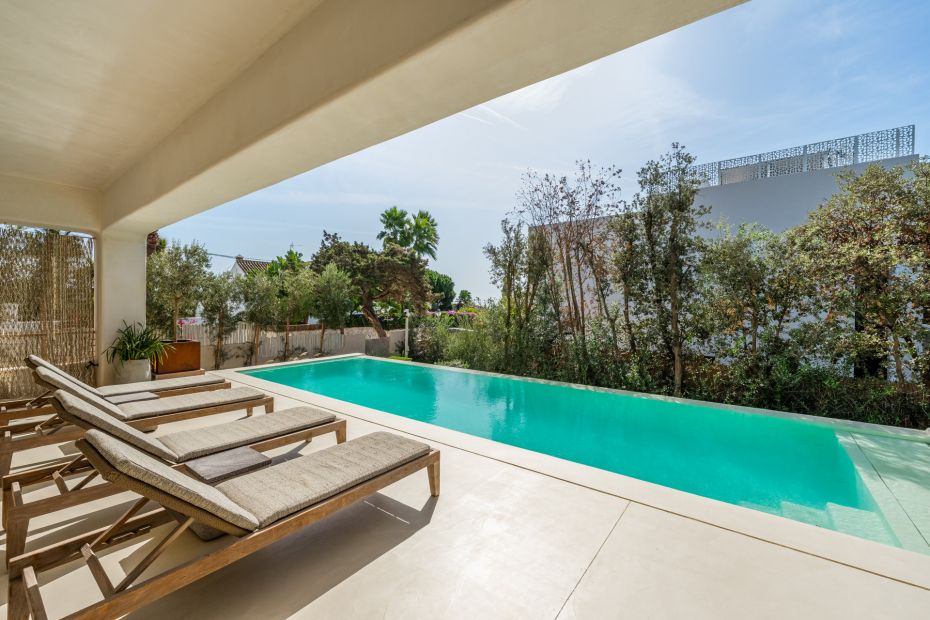 UPSTAIRS.
Upstairs, we find a formal living area. It's a open concept, and the finer details make this home one-of-a-kind. It is beautifully staged with top-quality furniture pieces like, for instance, the indoor lounge and relaxation chairs and this unique wood log designer fireplace in the middle. A sleek, fully fitted kitchen has a massive composite island in the middle; all the wooden carpentry is seamlessly blended into the wall, and nothing is visible; all cabinets and appliances are hidden well except for the microwave oven and wine fridge. Even a guest toilet is hidden behind the door. All appliances are from Miele, the fridges are from Liebherr, and the tap from famous brand Quooker is equipped with an instant water boiling system. Another excellent and practical feature in this house is the hidden food elevator that delivers food to all levels of the house, including the rooftop. There is a dining area next to the kitchen with a dark wood round table and chairs from the brand Gommaire, a very lovely chandelier hangs above them. Sophisticated lighting, small decor objects and unique art pieces add charm to this property and provide ultimate comfort.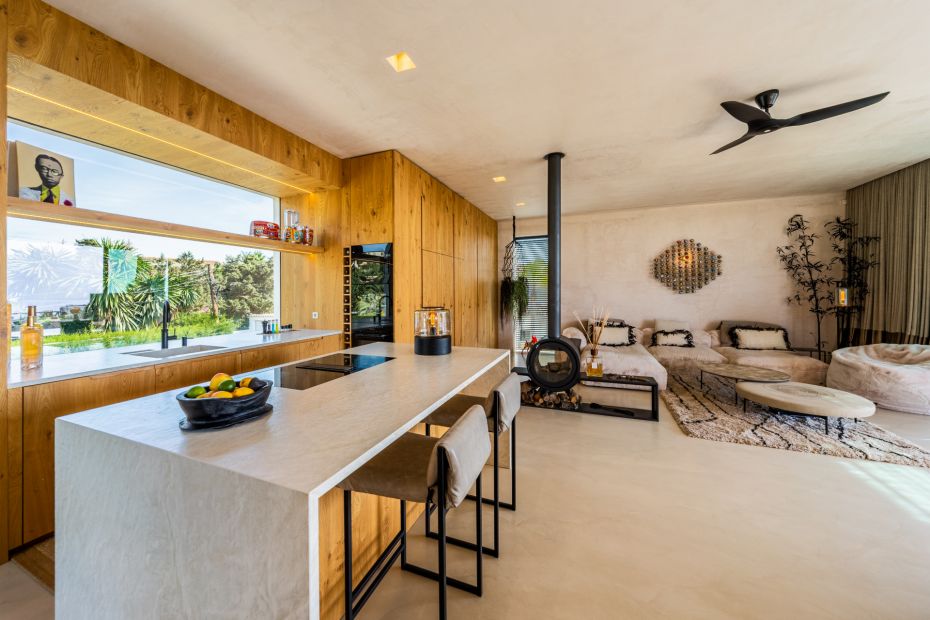 This space has lots of natural light thanks to the open plan concept and many windows on both sides of the room. These are low-profile aluminium carpentry from Cortizo, Cor Vision Plus series. The living area is connected to the terrace bringing the indoor /outdoor concept so popular in southern Spain thanks to the weather conditions. The terrace has an al fresco dining area, an outdoor lounge and beautiful Portuguese hand-knotted macrame-style outdoor curtains. It makes sense that the living area is located on this level. You enjoy the best view of the sea and surroundings from here, and it's a perfect spot for intimate moments and total relaxation. While the living area and its terrace are the best places for relaxation, several corners in this house are made for real fun. One of them is the rooftop terrace that offers a 360-degree panoramic view. Here, we have a Jacuzzi from Villeroy & Boch, an outdoor lounge, a shower and 5 solar panels connected to the electrical installation, making this house even more cost-efficient.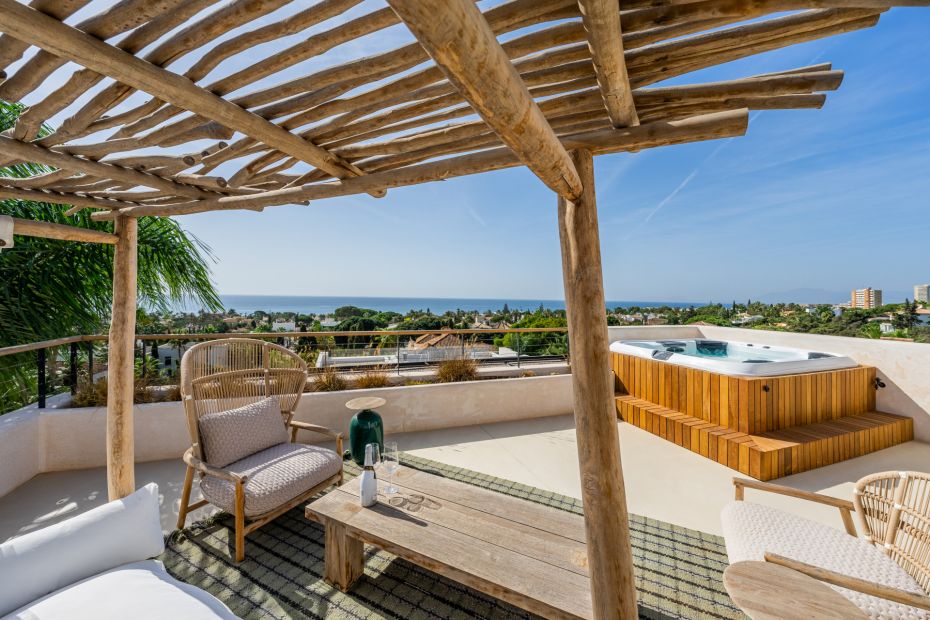 BASEMENT.
The low level hosts an independent suite with separate access from the outside, and it is perfect for guests or teenagers. Next to it, there is a fully fitted gym with a rowing machine, fitness bike, dumbbells and boxing bag, with some natural light coming inside. On this level, you also find a spacious entertainment area with plenty of storage, a guest toilet, RS Barcelona's design table, a football table and a place for your car. You can easily reorganize this space according to the new owner's needs.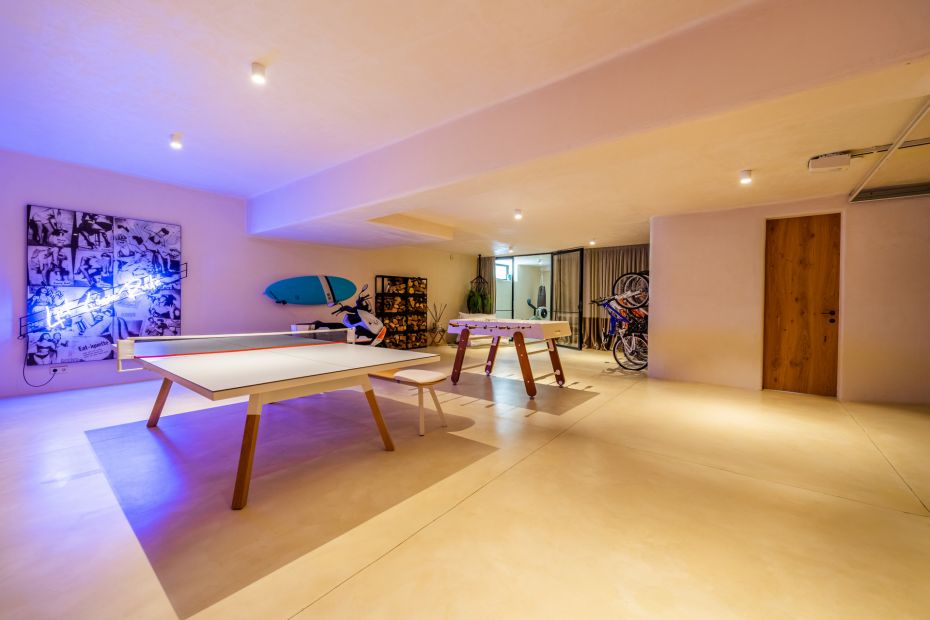 SUMMARY.
This contemporary property is relatively compact but, at the same time, convenient and well organic ed. Built to the top specifications, beautifully presented, tastefully furnished and decorated, this modern masterpiece is ready to be moved in. Its location and design make it a perfect holiday home and an excellent investment. Situated beachside, the villa has enormous rental potential. Don't miss this opportunity; book the viewing with Drumelia Real Estate and visit this property yourself!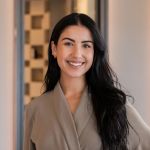 Collaborator Salma Hwedi