Drumelia prepares the best real estate office in Marbella!
By Salma Hwedi on
Over the past year, Drumelia Real Estate has undergone many changes! After months of preparation and some hard work, we bought our brand new office in Puerto Banús, and we are planning on inaugurating it at the end of summer 2022. We continue to set our goals and standards as high as possible; therefore, this is set to be Marbella's best real estate office.
As Drumelia continues to grow both digitally and physically, we needed a more extensive (and much cooler) space that could accommodate all of the company's needs. This new office will be located a few meters from our current one, next to Puerto Banús and very close to all the main points like Puente Romano, Golden Mile and Zagaleta.
One of the factors that led to the new office was our continuous growth. Our brand new office will feature 30 extra spaces to accommodate our growing team. By the way, are you interested in joining us? Send us your CV; we are always actively looking for new talents!
We strongly believe an office is like a real-life portfolio and completely represents the company's values and principles. Our goal is for our office to reflect the quality of our products and service.
The office will be completely renovated to the highest standards and decorated by the world-acclaimed designer Pedro Peña. As you may already know, Technology plays an essential role in our day-to-day work. To adapt ourselves to this, we have decided to go the extra mile to work with Marbella's best and most cutting edge brands for Technology: Illusion and Bang & Olufsen. Our office will feature state-of-the-art lighting, office automation and audiovisual systems that will transform how offices are built in Marbella. We will also have an in-house studio area that will allow our Marketing Department to create even more exclusive content from the comfort of our own premises!
We look at this new location as the start of another chapter in Drumelia Real Estate history, and we are looking forward to welcoming you there once we've moved!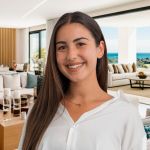 Community manager
Salma Hwedi
Salma Hwedi is the Community Manager at Drumelia Real Estate. Her primary duties involve copywriting, content creation, and social media…