4 Properties for sale in Los Monteros Playa, Marbella East
Showing 4 properties for sale in Los Monteros Playa, Marbella East.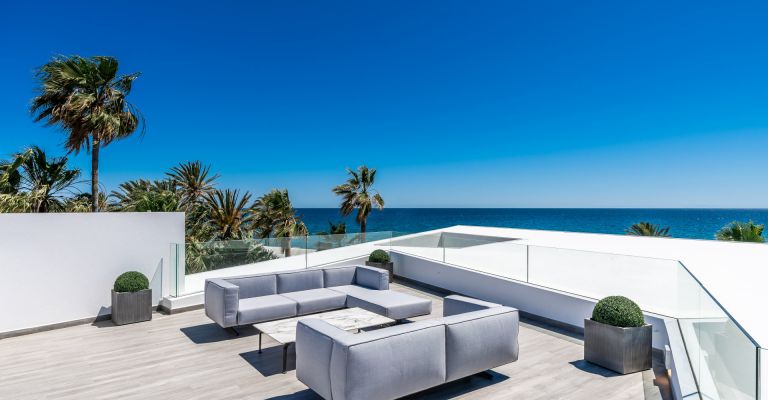 Luxury properties for sale in Los Monteros Playa
Immerse yourself in the splendour of seaside living with Drumelia's elite selection of luxury properties for sale in Los Monteros Playa, Marbella's prestigious beachfront haven. Renowned for its fine sandy beaches and exclusive atmosphere, Los Monteros Playa presents a rare opportunity to own a piece of paradise where the Mediterranean Sea meets the sky. Our curated properties range from stunning frontline beach villas that offer direct access to the sea, to elegant estates with lush private gardens and contemporary penthouses with breathtaking panoramic views. Each property is a beacon of luxury, designed to deliver an exceptional living experience, harmonizing state-of-the-art amenities with serene coastal elegance. Find your ultimate beachfront property in Los Monteros Playa with Drumelia, where each home is a sanctuary of luxury and comfort.
Los Monteros Playa – Beachfront Luxury in Marbella
Where is it located?
Los Monteros Playa is a prestigious beachfront residential area situated in the eastern part of Marbella, Spain. This prime location offers direct access to some of the most beautiful beaches on the Costa del Sol.
What is the layout of Los Monteros Playa?
Los Monteros Playa is known for its beautiful beachfront properties, including luxurious villas and apartments. The area is famed for its tranquil ambience and proximity to the Mediterranean Sea, making it a sought-after destination for beach lovers.
What are the distinctive features?
Los Monteros Playa is renowned for its beachfront living and luxurious amenities.
Beachfront Living: Residents of Los Monteros Playa enjoy direct access to pristine sandy beaches, allowing for a beachfront lifestyle like no other.
Luxury Beach Clubs: The area is home to exclusive beach clubs that offer fine dining, relaxation, and entertainment by the sea.
Beautiful Views: Many properties in Los Monteros Playa offer stunning views of the Mediterranean Sea, creating a serene and picturesque setting.
What are the property features?
Properties in Los Monteros Playa are known for their beachfront location and luxurious amenities.
Beachfront Villas: These properties typically feature direct beach access, private pools, lush gardens, and panoramic sea views.
Beachfront Apartments: Apartments in Los Monteros Playa often offer spacious interiors, modern designs, and stunning sea views, with some featuring communal pools and other amenities.
Los Monteros Playa offers a lifestyle of beachfront luxury, making it an ideal destination for those seeking a serene and picturesque retreat on the shores of Marbella.
Los Monteros Playa Real Estate Market
Key Insights into Los Monteros Playa Luxury Real Estate Market based on our data:
Average Built Size – 336m²: The average built size of properties in Los Monteros Playa is 336 square meters, demonstrating the appeal of spacious luxury living. This metric is key for those seeking ample living space, and to house amenities such as home offices, gyms, or guest rooms.
Average Plot Size – 561m²: With an average plot size of 561 square meters, luxury properties in Los Monteros Playa offer plenty of outdoor space for landscaping, swimming pools, or expansions. This statistic is useful for those looking for homes that offer a blend of indoor and outdoor living or opportunities to customise the exterior.
Average Asking Price – €3,050,000: Los Monteros Playa luxury properties command an average asking price of €3,050,000, reflecting the area's reputation as a high-end real estate locale. This figure is vital for potential buyers and sellers to understand the market dynamics to price properties competitively.
Price per Square Meter – €8,118: Averaging €8,118 per square meter, this metric is an excellent indicator of the price of properties relative to their size. And invaluable for investors seeking to assess the value proposition of properties and predict potential returns.
Understanding these critical figures can guide you towards informed decisions, whether you're a buyer looking for value, a seller pricing your property, or an investor assessing potential returns in Marbella's vibrant real estate market.
See more details in Los Monteros Playa Live Market Report. This page gives you a detailed snapshot of the most recent property sales in Los Monteros Playa area.
Los Monteros Playa Real Estate
You can continue your Los Monteros Playa property search by available property types or exploring the different Los Monteros Playa neighborhoods. Drumelia's team works hard daily to bring you every good investment or property for sale that hits the real estate market in Los Monteros Playa. Please, contact us if you have any doubt about Los Monteros Playa and Marbella (All) Real Estate options.