Touring a €14.950.000 Amazing Luxury Villa in Marbella Golden Mile, Sierra Blanca presented by Artur Loginov
By Artur Loginov on - 7m. reading time
Hello, everybody! And welcome to another property tour from DRUMELIA! But today we are going to show this very special listing that we have for sale in a very secluded and gated community next to Sierra Blanca. It's a very special house to us, because we sold this property to the current owner a few years ago and he became best friend! Since then he made an upgrade of roughly 3mln euros to bring the property to the perfect tailored condition!
Every detail of distribution, sizes, entertainment areas has been so well thought through and customized to a fantastic home experience. It's a concept of almost one level property, but don't get me wrong! Its almost 2 and a half thousand square meters built! A house equipped to the maximum! There are so many crazy things in this house! Superb entertainment areas like home cinema, games room, billiard, piano studio, gym, and spa, just to name a few! In total of 9 bedrooms, 11 bathrooms, separate guest house, Security post at the entrance to the property. Imagine the master suite is more than 300 square meters including 2 bathrooms and 2 insane walking wardrobes - his and hers. I tell you, it's the biggest walking closet in the history of Marbella houses!
Standing on a plot of 6.300m, the villa has Colossal spaces throughout, high ceilings, excellent qualities and a contemporary architecture that will never be outdated. All of this makes it a truly unique property on the Marbella real estate market. And today we are presenting this unique opportunity to acquire this exquisite villa for 14.950.000 euros!
LIVINGROOM
The living room which is just off the main entrance is 109 meters, great proportion and lots of space that flows around the furniture. It's a grand room with vaulted ceiling of 6m height. Over here we have a cosy tv room for some quiet time, or a library, independent but yet connected from both sides. You will see that every room of this house has such a homely feel!
Clever dimensions and almost square form of the Living room transmits harmony and comfort. And the grand piano gives elegancy to this amazing family room. Imagine this space fills up with the music of Mozart and floats out to the terrace.
TERRACE
Stepping outside we have the main covered terrace, a logical continuation of the living room. Perfect place for a morning coffee or an evening game of chess. Sitting here you observe and control what's happening on your estate! And check out how fantastic Is the garden size... immaculately kept, palm trees are just amazing! Enough space to celebrate birthdays, hold concerts, a kid's paradise!!
The pool area is very private, and what a cool shape! The privacy element is so important, you cannot be overlooked from anywhere! There's also a pool pavilion with change rooms and showers, so you don't have to go back to the house…! Because…. what long a way back!
And if after seeking all this land, and after finishing our tour, you tell me that it's too small for you!? Then I have a solution even for that! Yes, DRUMELIA solves the unsolvable!!! Jaja, have a look at all of this!! We can sell you this land which is 4.000m2 for 2.750.000 euros and join it to the house for much more garden, even an aqua park will fit! And if you say, what am I going to do with a plot, and how can I design an extension of the house so it looks natural and combines with the current building... well we have already done that for you!
This extension will cost around 3million and you will end up with one of the most, if not the most, exclusive property in Marbella.
We have sold over 25 properties in Sierra Blanca and we know all the properties for sale currently in Marbella in this price bracket, and this house is a very serious heavyweight! Definitely to be considered by anybody looking to purchase a home of around 15mln euros... To our mind, this is the best buy! From here we can appreciate the contemporary architecture with a Mediterranean touch. To the left we have the bedrooms wing, with the master occupying the whole upper floor. Centre core represents the livingroom, you can still hear the music of Mozart.
DININGROOM, KITCHEN AND PATIOS
Yes, and we are going back into the house through the right wing. Another covered terrace for outdoor dining, brings us directly to the formal indoor dining room. 10 people sits at this table, and again look at the ceiling hight! And here is the cooking corner! Clive Christian handcrafted Georgian style kitchen. Classical elegance which delivers equally on form and function. A degree of functionality with up to date appliances of Gaggenau. Just look at the sizes of this fridge! It's a perfect paradise for any Sheff!
And coming out the kitchen we have a unique aquarium. It's not only unique of its content, natural corals, and rare species of fish, but also it was a difficult technical process to install it here.
Also, the hallways in The house are spectacular and need a special mention. So wide and long, when you walk through them, you know you are in a mansion!! And that is the great thing about this house, you can never tell from the outside how big it is! And there are 4 internal patios which give so much extra light to all the house!
By the way patios, are a typical Andalusian feature, being so, they are made in modern style and logically integrated in the indoor areas. There are 2 huge identical suits to the left, independent apartment to the right, and an office with its own access.
MASTER FLOOR
The master floor begins with a massage room, followed by the bedroom. Bright, spacious, the geometry of the bedroom follows all criteria of the main part of the house. The terrace is so private and enjoys a fantastic view to the sea. Look at the bed! The bed is not a king size, it's more than a king size!
The bathroom has a genuine size, double vanity, shower for two, massive jacuzzi, all that allows to call this bathroom. Also, you have lots of windows, with access to the private terrace. Just in case…. It's private! There's a second bathroom with shower and toilet, in case this one is busy…
And this is his walking wardrobe, the dark wood, gives a masculine touch! 20 linear meters. plenty of space for everything! And now, ladies, get ready to fall in love with this house! You have been all over the world, you have seen boutiques in Paris, London, Moscow and Marbella. This unique walking wardrobe gives you a perfect chance to fill it up and create your personal boutique. 150m2. Elegant light carpentry makes a nice contrast with the man's dressing and underlines who is the real queen in this house… And the master also can find his little corner… sitting here and waiting for his love one to get dressed…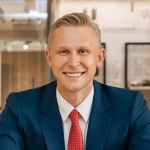 CEO & Partner
Artur Loginov
Artur Loginov is the CEO and proud Partner of Drumelia Real Estate. He has over a decade of knowledge and…