Inside €9.950.000 Amazing Modern Villa in La Zagaleta, Marbella presented by Artur Loginov
By Artur Loginov on - 7m. reading time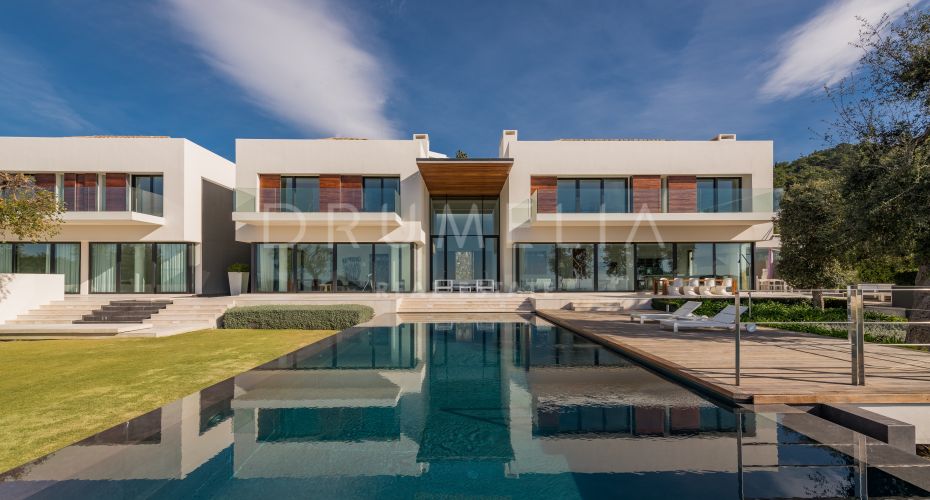 Hi, everybody! We are in Zagaleta and am going to show you the craziest sea views that you can get! This is property tour number 8! Let's go!!!
Have you seen more insane views than this!! Absolutely unique, this is what you call views for a million! What the hell, way more than a million!
Completely private, what a VISTA! And you get these views from every corner, every room in this house. It´s unbelievable! Can you imagine it?? You cannot possibly ask for more! Imagine swimming in this huge infinity pool!
The house is over 1.000m2 built and the plot is just over 4.000m2. And the price for this state-of-the-art villa is 9.950.000 euros!
OUTDOOR PARKING
Now that you got a glimpse into the main wow factors of this property, let's go to the entrance as you have seen in the first take of the movie. We've got a very imposing driveway that approaches the house and carries on to this big parking space. We've got garage or carport for a couple cars which got the same magnificent views to the sea that you've seen before, lots of space to maneuver drive around. There's an access directly to the garden as well to the barbecue area, which we'll see in a moment ,so that guests can go straight forward without going through the house.
You will see that the facade of the house has lots of glass details and this will be repeated all over our tour because every single glass here has been thought through with an architect to give extra light to different rooms and you will see how cool it is. You've got natural materials used throughout the whole house, for instance, this black rock gives a lot of nice contrast to the main entrance. The front door merges in this light wood paneling and it's completely hidden. You will see that this material will be used throughout the whole property again and again and again which is very very stylish. Now let's check out how it looks inside.
HALL
The moment we walk in we have this amazing spacious hallway - great proportion, we've got 6 meters and a half of height - that divides the house into two parts. Incredible views framed by these huge glass windows, it's absolutely amazing. The moment you walk into this house you can see Gibraltar, Africa. It's breathtaking! Also check how the wood on the ceiling flows through the glass to the outside connecting both spaces together. Personally I'm a really big fan of such architectural details!
MAIN FLOOR
Okay, so let's get into details and describe a little bit the property. To my left we have the main livingroom area, to the right we have a second living area, slush dining and kitchen - open space all together. Through this hallway we can get to the end, which is 35 meters long, into 2 bedroom suites. There are two staircases leading up. One staircase is just for the master - you don't want anyone bothering you when you go up there. And the other staircase to another 3 bedroom suites which one of them is so big that you can easily divide it into two if needed. Let's check it out from the hallway we step into this living. Dining and kitchen is 70 m2 and enjoys an open plan concept. This cozy sitting area has its own wood fireplace, TV - it's so nice! It looks if it were taken out the magazine! You've got electric blinds throughout all the windows. The dining table sits 8 people. All the furnishings in this house are done in a clean and minimalistic style, so that nothing disturbs your eye from enjoying this fantastic view and here is the bulldog!
KITCHEN
In the kitchen you've got bar stools for some nice morning coffee. All the electrical appliances are on this side, you've got the fridges, coffee machine, oven, microwave, plate heaters, the island is very spacious with lots of cooking areas. It's got this industrial touch to it thanks to the metal surface and the glass paneling, lots of cooking options for everybody. Naturally the kitchen connects with all the outdoor space and also to the barbecue area. Over here your guests and friends can arrive here directly from the parking through that door.
OUTDOOR SPACE
it's a fantastic place to entertain! You've got plenty of chill out areas. This corn is one of my favorites of the house enjoying the beautiful panoramic views once again, connected to the main covered terrace of the house, beautiful sun deck and what a swimming pool! Come on! It's really something special about this house positioned in the middle of the plot, floats away. I love these black ceramic tiles which give such an impressive look to the view while you're standing here. Another really nice architecture detail is how the width of the pool is repeated with the width of the center facade of the house!
The huge glass windows and the wood on the ceiling that we talked about before - it's really cool!
Now i'll take you inside the main livingroom area but before we do that, take a look at this gorgeous fountain!Iit's not the only one, there's several more around the property and they give a really nice touch to the atmosphere when you're standing around here.
LIVING ROOM
Very proportional and decent size! You've got high ceilings, lots of windows throughout and the windows at the back which take us to that fountain that we talked about before. You can open the map and get all that freshness inside. Of course, you can always add more sitting areas if needed, but generally it's a very nice family room.
So. we're back at the center point of the house and now let's go and check out the bedrooms.
MASTER BEDROOM
The master wing begins with the bedroom connected to its own little private terrace. It boasts the best views that this house and Zagaleta has to offer. Imagine lying here in bed, you can get to see the sunrise and the sunset in the same spot without moving at all in the middle. We have the walk-in closet and at the end we have this big bathroom: lots of natural light, lots of windows, the ceramic from the floor continues on the walls. We have an impressive big bathtub enjoying the same magnificent views, beautiful designed vanity and the most impressive huge shower by 4 meters height - one of the coolest showers i've ever seen! It has a glass ceiling, it feels like you're showering in the outside!
BASEMENT
Basement begins with the laundry, plenty of storage space, really nice wide corridors! Lots of natural light and now we're gonna make a pause and me and my friend we're gonna ask you, please, to subscribe to our channel! So you don't miss on any of our weekly property tours next one next friday and let's carry on!
In the basement we have this huge multi-function room, it's a 110 m2 on a different garden levels. It has a lot of natural light, windows floor to ceiling. You can have anything you want in here, you've got billiard, TV family room, there's a small kitchenette, at the back small spa also available here, but you can adapt it to whatever you want and the best thing is that from here you can go directly outside to the main pool.
Guys, we're actually almost in the middle of october and what a fantastic weather we have here in Marbella! doesn't stop surprisingly ever and what a nice way to finish this video - say to you Goodbye, thanks for seeing and don't forget to subscribe! And me...i'm gonna enjoy the rest of the day!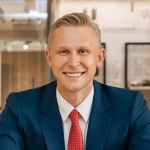 CEO & Partner
Artur Loginov
Artur Loginov is the CEO and proud Partner of Drumelia Real Estate. He has over a decade of knowledge and…