Inside Villa Ibiza Breeze a €14.5 Million Modern Villa in Zagaleta, Marbella presented by Artur Loginov
By Artur Loginov on - 7m. reading time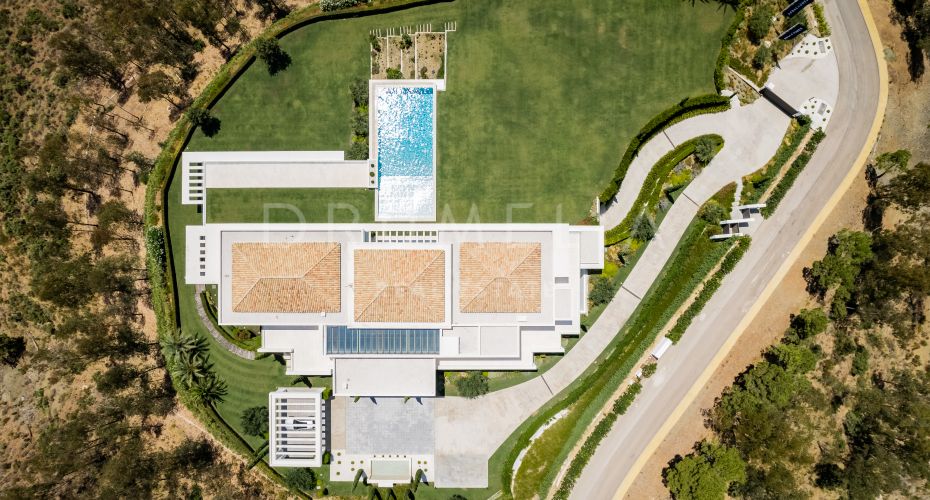 Welcome to a new property tour! You want to take a look inside of one of the most exclusive listings in La Zagaleta? Then get ready and let's go!
INTRODUCTION TO VILLA IBIZA BREEZE
Hey, I'm so excited to show this modern mansion that now in the market for 14.500.000 euros, set in a private estate of 900 actors! La Zagaleta is one of the best residential complex in Europe. Today we have a very special listing and it will be my pleasure to show it to you.
This masterpiece stands on the plot of 8600 m2 and 3000 m2 of the best materials you've ever seen. Look at the magnitude of this entrance! This is a statement of what is waiting for you inside and, believe me, it's just an appetizer!
The moment you step inside this house - amazing views! This house is so impressive, I don't even know where to start, just show you the size of this! The house has 9 bedrooms, 9 bathrooms, amazing outdoor pool spa with an indoor heat pool, garage for 9 cars, gym, games room, two kitchens, two dining rooms - everything you need is here.
LEAVING ROOM / KITCHEN / DINING ROOM
Here is the heart of the house, the place where you spend most of your time – this 80 m2 living room with double high ceilings of seven meters and a half and look at these gigantic windows, they bring so much natural light and connect the outside nature and views with the living room, maintaining yet total privacy.
Extraordinary qualities have been used throughout the whole house, the architects they did a tough job to create this unique piece of real estate. Recently finished it's a brand new property waiting for its owners!
How cool is this TV room, what a great corner to read the book and enjoy the views! Natural materials like wood, stone, marble are used to create this unique ambiance to spend some quality family time. The formal dining room sits 12 people, separated from the living room it has its own ambience created by the forest behind me and with the garden views in front. What else do you want to make this perfect?
Before we do go any further, this is the moment when I'm gonna ask you, please, to Subscribe. Hit the button, okay? Otherwise, you can't see any more! You done it? Yeah, sure! Well, it's a joke! You can still see more but subscribe and let's go!
It's pretty cool that, I mean, this kitchen is so futuristic. It's really, really cool! This is a design specially customized for this house, brand of the kitchen is Boffy, all the appliances are Gaggenau. Now we're talking about the best of the best! Look, how cool this white crayon combines with all the black elements and these lamps - little details like this they're so important! As well behind you, you have the dirty kitchen where you can cook whilst you have your friends and guests in here, but everything stays nice and clean.
Look how open planned this feels and how big it is, but still being so private and away from the living room area. You have the dining table here for about 12 or 14 guests. Little cozy family area for your breakfast on Sunday morning and all of this connects directly with the covered terrace. Covered terraces are so important in modern architecture but people forget about this - it protects you from the sun giving you the possibility to enjoy outdoor breakfast or dining with your family with this amazing views!
But before we go outside, and I know you want to see the garden, let me show you inside very wide corridors - once again lots of natural light and outdoor space connected. On this level we have 2 bedrooms ensuite with big bathrooms and walking wardrobes. The house is partially furnished, the main rooms are decorated but still some of the areas are left for the new owners to put their own personal touch.
MASTER BEDROOM
The master suite occupies the whole wing of this house. The master suite begins with a private office straightaway connects with a huge bedroom - just this area is 50 square meters plus the office, plus the walk-in closets, plus the bathroom. This is what a real master bedroom should look like! No comments here, just get in! Pretty impressive this walk-in wardrobe, also you have a bit more further on. I guess, that initially the architect thought about this as his and hers kind of wardrobe space but, in my experience, at the end of the day, probably that will be his and this will be hers.
The beautiful master bathroom is huge, chunks of marble on the floor, on the walls, suspended floating sink and the bath - can you imagine a relaxing time in this bath? I can! Big shower over here, fantastic size! I tell you, there are not too many master suites like this one! Especially, with this view! This is what La Zagaleta is about!
So, coming out the master bedroom we have the lift which connects to all floors. On the other side, we have two more bedrooms ensuite with the same great views.
Take note, that all the rooms, all the main rooms, all the big rooms, all the important rooms, all the bedrooms, both from the ground floor, on the first floor, without a single exception –they all look out onto the garden and on the sea view. This is only possible because the plot is so wide that allows to position the house with such a long façade, so there are, literally, no rooms at the back! This is what makes the house so unique and special and, of course, all the other cool features that I showed you!
BASEMENT
Now let's go to the basement. In the basement we have an apartment with two bedrooms ensuite, a big garage for up to 9 cars. There's a big laundry as well, next to the lift which is very handy, a huge games room which can be your cinema - it can be anything you like, you just name it and we can do it! On the other side we have two more bedrooms ensuite for guests. And the "crème-de-la crème" - the spa with the gym, let's go! The perfect place to enjoy and relax. You can do your laps in the 17 meter long heated pool, use the gym, the turkish bath, the sauna, the shower… time will fly in here! What I most like about this spa is how it connects with the outdoor garden area, bringing so much natural light. It just doesn't feel like we're in the basement at all.
GARDEN
Beautiful setting with the garden with the Spanish olive trees. And what we have here? An ecological farm with lemon trees….mint….pepper….tomatoes and…. even strawberry! Look at that - very nice! You can always make this way much bigger if you want. A huge retaining wall was built here to create this massive platform on top of the hill in La Zagaleta for you to enjoy these beautiful gardens in front of the mansion with the mountains behind.
So, this is it! New modern villa in La Zagaleta: 9 bedrooms and 9 bathrooms, 8 600 m2 plot, 3 000 m2 built, including terraces, garage for 9 cars, games room, spa, two swimming pool. Now in the market for 14.5 million euros with the DRUMELIA team. One of the many listings that we have for sale in La Zagaleta.
If you need any other information, follow the links below. Leave your comments, I'll be happy to read them! Subscribe to the channel and I see you soon!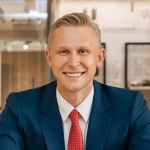 CEO & Partner
Artur Loginov
Artur Loginov is the CEO and proud Partner of Drumelia Real Estate. He has over a decade of knowledge and…