Inside a €11.800.000! Modern Luxury Villa in Nueva Andalucia, Marbella presented by Artur Loginov
By Artur Loginov on - 9m. reading time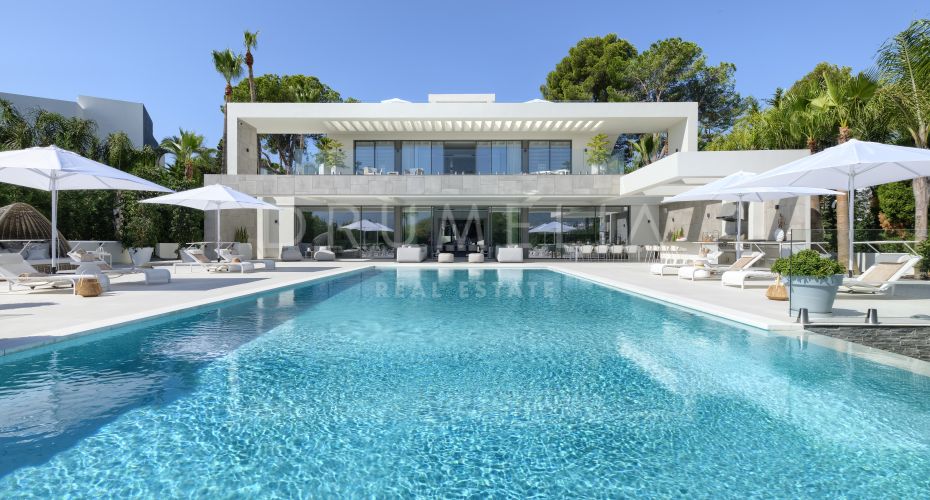 Welcome back!!! We are in Marbella, its august 2020, 35 degrees out here, and today I am going to show you our most recent new listing right behind me. A modern, new built villa in Nueva Andalucia, with direct access to Las Brisas Golf, just came to the market for 11.800.000 euros.
The developer is local, with more than 18 years of experience and has successfully developed many other similar projects! I tell you that the house is amazing in all its details, but I am going to jump ahead and say that the basement is absolutely crazy! It is a totally new level of experience in your own house!!!
I mean this house is all about the combination of great modern architecture, perfect design and ideal finishing's. And believe me, it is hard to find and it matters so much. Long time ago I noticed that when I am showing properties to clients, at the end of the day people buy with feelings... I mean of course you want to know how many m2 is the plot and how many bathrooms are on the second level and what is the name of the Italian marble, and all of it has to fit more or less in your general criteria's which actually happen to be wider than you think at the beginning… But what really matters, what really makes you buy that ideal house that you found after seeing so many others… it's how you felt inside, the EMOTIONS… that warmth and passion... the desire of satisfaction of earning and enjoying such a beautiful real estate…
So now we are going to try our best and, through the screen, pass over our emotions when we stepped into this property and how it would feel to own this house.
ENTRANCE
How impressive is this staircase! In a spiral shape, it is the focal point of the entrance! A state of the art by itself! Ok, so the main things you need to know. The plot is 2.500m2 and the house is 1.200m2 built. This home features 7 bedroom-suites including his and her bathroom and dressing room for the master bedroom. A 16m Outdoor infinity pool and a 12m heated indoor pool. As well as a full spa area, cinema room, fully equipped gym, garage for 6-8 cars. There is also a 2-bedroom staff apartment with its own lounge and kitchen.
The house comes completely furnished to the last detail! There is nothing missing, you just bring your toothbrush and that is it! What the hell, I think will find a toothbrush as well in here!
DINING / LIVINGROOM / KITCHEN
Alright! So, on this level, looking from where you are standing, we have the kitchen area on the left side, the formal living room on the right side, and the dining room in the centre. The main façade, which is very long, consists of only these 3 rooms, so they all have direct access to the pool and the views with this floor to ceiling windows are just breath-taking! This kind of views with the golf course, and majestic la concha behind, you can only have from this street and a couple more, and that is it! On both sides of the dining room, we can hide the doors into pockets in the walls, to give privacy to each room or integrate the spaces together.
The Living room has a fantastic size, very nicely decorated, lots of different spotlight ambiences. It's modern and at the same time very cosy! On the other side we have a large fully fitted kitchen with a unique touch. So much to talk about here! What I most like is this oversized island with cooking and breakfast area. Perfect for a big family, this kitchen is well prepared with double appliances and you'll never run out of wine with this double wine fridge!
Another well though detail is positioning the cooking area looking out to the garden, so you can talk to your friends there and enjoy all the views.
TERRACE
Now follow me this way! Here we have an outdoor barbecue and bar area, everything is brand new, nobody has used this before. The outside area is very large, and it's perfect to entertain! I love how integrated is the indoor and outdoor living in this house!
Also, the way the 16m long pool has been positioned in the centre, floating away from the house, only emphasis the view creating a sensation, as if you are looking at a painting!
The size of the plot is fantastic. So much garden space away from the house. Kids can play there all day, or you can have all type of entertainments for guests! There is also a really cool sunken chill out with a fire pit for a romantic getaway!
And now you can get a really good look at the entire house. I really like how the ceramic tiles are combined in the façade, giving such a neat touch to this modern architecture. And look how long It is and how much covered terrace you have both here and upstairs.
Stepping back into the house, we have 2 big bedrooms with bathrooms on this floor, but they are at the back, so that they do not interfere with the main living area. You know sometimes some guests can be noisy and others want to go to sleep, so it's important to have these areas well separated, and here they are set apart by very long corridors.
SECOND FLOOR AND SOLARIUM
Coming up to the second floor, we have 2 more big bedrooms on each side of the hallway, once again very decent sizes, same as downstairs, but let me take you immediately into the master!
Before I get into details, let me say that the master occupies the whole front façade of the villa. The kitchen, the dining and the Living room are under the master bedroom! Look at the size of this... On both sides we have identical big walk in closets. A lot of space here, you can fit pretty much everything you would need. And also, you have his and her bathrooms. Beautiful materials in the bathrooms, everything is so well combined. I like this makeup area looking on to the views. Big walk-in showers on both sides. These big pieces of ceramic create a seamless clean look. You've got your shades for privacy in both bathrooms. The bed is perfectly centred towards the view, so the first thing you see when you open your eyes, is this…!
And of course, you have your own private huge terrace just for the master bedroom.
Lift comes all the way to this solarium, great space for a party, you can probably have 20-40 people here, and what a view! It's all about enjoying every corner of the outdoor space all year round!
Now we are going to take the lift and I am going to finally show you the basement!!!
BASEMENT
Finally, I can show you the basement!!! So, on this level we have 2 proper bedrooms with bathrooms, I say proper because you have windows, nice closets, and same level of finishing's as upstairs. On the other side there is an apartment with 2 bedrooms, living, kitchen and bathroom. There is also a big laundry room behind. Here is a nice entertainment room right in the hallway. Straight in front of the staircase you have the first wow factor. So that the moment you come down the first thing you see is this marvellous glass wine cellar. Like you didn't have enough with the two wine cellars in the kitchen, here is your private wine room. Enough space to sit in here and taste your favourite wine with a bit of Manchego cheese. A special moment by itself away from the upstairs noise. Living in a house like this you want to taste the best wines for sure!
Whilst someone can relax in the wine cellar, there might be some more active family members, who would prefer to spend some time in this gym area. Full equipped, this glass panels give lots of light and keep this room feel very open.
Absolutely amazing huge spa-area with heated pool, sauna, steam room, shower, and toilet in here. I love how everything is perfectly prepared, so inviting and waiting for you, just to lay over and relax!
And now, as if you didn't have enough rooms and places to relax and entertain, you have your own cinema room that sits 12 people… I would stay watching a movie in here anytime, and if you are enjoying watching our movie, don't forget to Subscribe for more videos and push the like button, so we can keep in touch!
And finally, for the car lovers, we have a garage for 6 – 8 cars… Great qualities here also, lots of light as well. The access to the garage is from a different road, than the main access, it's a very secluded cull de sac that leads to the garage, so nobody sees you coming in and out…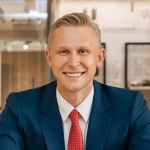 CEO & Partner
Artur Loginov
Artur Loginov is the CEO and proud Partner of Drumelia Real Estate. He has over a decade of knowledge and…