Touring Villa Cristal a €12.750.000 Luxury Modern Villa in La Zagaleta, Marbella presented by Artur Loginov
By Artur Loginov on - 7m. reading time
Hi everybody! Today I´m showing you a villa in La Zagaleta, and I just couldn't start the video without bringing some nice cars to show off the spectacular garage, perfect to exhibit your private collection of cars with the most amazing views! Yes! A garage with views! Wait till you see it!
Tell me how crazy this is! So much light! If you like cars like this, you must have such a garage!
If we are talking only about modern villas, then this is the most attractive house for sale in its price range, in terms of qualities, sizes, views and location in La Zagaleta.
I´m sure you know plenty about La Zagaleta, let me just say that Zagaleta is described as "The most exclusive and prestigious address in Southern Europe" and it´s not an exaggeration! If you want more info, you can find it in the links below.
OUTDOOR PARKING
As we approach the house, you probably noticed that the parking area for guests is huge. Once DRUMELIA did a private event here for our clients and there were at least 30 cars parked in this entrance with still lots of space to manoeuvre. Yes, so if you like to entertain guests and have that wow factor when people approach your house, this is it!
GENEREAL INFORMATION ABOUT THE VILLA
The plot is 7.350m2 and the house is almost 2.000m2 + terraces. On the ground floor there are 2 bedroom suites, living area, American style kitchen of over 100m2, cloak room and a private lift that connects all floors. On the 1st floor the master occupies an impressive 120m2 plus 70m2 private terrace. There are also 2 more-bedroom suites, and a very special office. In the basement we have 3 bedrooms with lots of natural light, a gym, an indoor pool, home cinema, spa, bar area and the garage for 8 cars that I just showed you.
This impeccable property is for those who value super comfortable modern style living in a stunning location. The price of the house is 12.750.000 euros. Now get ready, set, go!
LIVING ROOM
Of course, this house had to have a living room with double height ceiling. You have floor to ceiling windows, the size of the living room is over 100m2, but what did you expect? The house is built to impress!
You will see that all sizes in this property are very generous even for a villa of this level. The decoration is combined so well with the architecture. The white ceramic on the floors gives such a clean look and together with a touch of dark wood elements, it feels like you are inside a décor magazine!
The formal entrance hall is very imposing with this huge pivoted main door, and I'm just in love with this staircase! Now both from the hallway and from the living room we have direct access to the kitchen.
KITCHEN
If you have a big family and you love cooking or spending time in the kitchen, believe me when I say, that you will not find a better kitchen! Even the living room becomes small compared to this vast American style kitchen!
Its over 100m2, with two islands, dining area, lots of space to entertain and with a second TV lounge, it is the space where you will happily pass so much time together with your family! And it has its own terrace with outstanding mountain views. I mean this kitchen Is bigger than many 2 bed apartments!
OUTDOOR SPACE / TERRACES
The house is surrounded with plenty of different covered entertainment areas. Again, in the centre of the house we have double height in the terrace which gives this imposing effect to the main façade.
The plot is very extensive and flat with views across the exterior infinity swimming pool surrounded with decking. Near the pool we have a 100m2 gazebo with bathroom for nice chillout moment. It is a perfect pool bar. The garden is beautiful with lots of mature vegetation.
Following today's modern tendencies, the house also underlines its origins of the Andalusian traditions with details like the roof, and such combination brings a lot of character to the property.
GROUND FLOOR BEDROOMS
We have two fantastic bedrooms ensuite, with walk-in wardrobes on this floor. One bedroom with direct access to the pool and one at the back. Any of the bedrooms in this villa could be a master suite. They are so generous in size. Just this bedroom suite is 60m2.
MASTER BEDROOM
Coming upstairs we have the master bedroom in this wing, very private and completely separate from the rest of the house. As said before it occupies a total of 120m2 + 70m2 terrace. Lots of space and beautifully set. I love this ceiling height. Facing directly south the views are stunning with sea views and views of Gibraltar and Africa. Lots and lots of wardrobe space, more closet space here, and continuing this way we have the master bathroom. Amazing bathtub next to the window, large double vanity, on the other side we have a great make up area, lots of space and natural light again, the shower is 4m2!
GUEST BEDROOMS / OFFICE
Back to the hallway. This superb gallery takes us to an office and two more bedroom suites. The bedrooms have same distribution and sizes as downstairs which are way more than enough. And let me say that if you like working at home, what a perfect place for an office! It´s kind of away from everything, has its own bathroom, but at the same time look at this. Working here I´m perfectly aware who is coming to the house, and I can see what is happening in the living room and the garden. It's like being in the centre of the house, a quiet corner but well aware of what is going on!
BASEMENT
Now it´s time to move on to the entertainment floor. Basement just doesn't stick to what I´m going to show you in a moment.
This floor starts with an elegant bar, and lounge area both directly accessible from the lift or from the staircase. The pool table overlooking the heated indoor swimming pool adds a really cool vibe to this space. All the other rooms of the basement are directly connected from this lounge, so it´s sort of in the middle of everything making it very practical to enjoy. On that side we have 2 spacious bedrooms with bathrooms, with its own entrance from the outside. There is also a very big laundry. At the far end, directly from the lounge area, is the sauna and steam room.
Over here we have a fantastic sound proofed home cinema room that can sit up to 18 people. That's the kind of sofa you want to have in your cinema! Where can I get a ticket?!
And on the other side we enter the heated indoor swimming pool featuring a nice cascade, and fitness area with amazing mountain views!
One more bedroom suite on this side, and we access the garage for up to 8 cars where we started. Did I say that it is 200m2? I mean what else can you do here?? I know! You should cancel the cinema room and put a projector here to watch the movie from the car!!
Well i hope you are enjoying our recent videos, I would be very happy to receive your comments and suggestions! For more information on this property you can always go directly to drumelia.com. See you next week!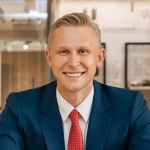 CEO & Partner
Artur Loginov
Artur Loginov is the CEO and proud Partner of Drumelia Real Estate. He has over a decade of knowledge and…