Touring a €5.900.000 Stylish Waterfront Modern Apartment in Marbella | Drumelia Tour
By Artur Loginov on - 4m. reading time
This amazing property in a brand-new front line beach development has a 530 m2 build including covered terraces, a 400-m2 garden, 4 bedroom suites and a basement with entertainment areas.
The asking price is 6.9 million euros.
There are 6 blocks in total, and this one is special. It has only one apartment per floor, which makes the units much bigger. A lift goes to all floors, but the apartment has its own lift as well.
THE LIVING AREA.
As soon as we get in via the main entrance, we have the breath-taking sea views and an open plan living room connected with a dining area and a kitchen with a massive island, a black ceramic wall reflecting the sea, cabinets with lots of space, large ceramic tiles and top appliances.
The wood panelling creates an excellent contrast with black windows, white marble and white ceramic. The best materials have been used here, and the qualities are fantastic. A nice big sofa right in the middle of the room enjoys spectacular 180-degree sea views. The corner windows open up entirely, and you have a connection between indoor and outdoor living.
This spacious and private property allows you to feel like living in a villa, with a flat garden with private access to the swimming pool area and the beach, and enough space for kids to play around, to have a barbecue, play table tennis… you name it.
That cool contemporary touch is everywhere, including a fantastic modern facade and glass railings above.
THE BEDROOMS.
The spacious Master bedroom also has the windows integrated into the wall; it is ultimately connected to the terrace. It has an elegant walk-in closet with darkened glass doors, a beautiful open-plan bathroom with vanity in harmony with the walk-in closet, big ceramic tiles on the walls and high-quality natural wood doors, the same as in the living room. The toilets are at the far corner, and the shower is integrated with the bath, which you do not see often.
The most remarkable feature is the glass separating the bath and the bedroom, which becomes entirely dark for privacy if you click the button.
There are 2 bedrooms on this site, including the Master suite and another spacious, bright bedroom with a different layout, interior design that uses super modern colours and of course, the Domotic system that controls everything in the property: light, curtains, floor heating, air-conditioning, music system with speakers hidden in the ceiling, etc.
The other 2 bedroom suites of the same size and quality are on the other side. East facing, they are very bright and enjoy the morning sun.
THE BASEMENT.
Your own private lift goes into the basement that belongs only to this apartment and is connected to a 4-car garage.
Not so many apartments in a community have a private cinema room, especially like this one, which is beautifully designed and with a high ceiling. Again, you feel like sitting in your private villa. There is even a bathroom hidden behind the door and a window that is currently completely covered. If you want, the room can quickly become your fifth bedroom, or it can stay as it is, as a funky dark cinema room with a bar area perfect for entertainment where you can prepare cocktails while your friends are watching a movie.
This floor also has a big separate laundry room and direct access to the garage with 4 parking spaces and plenty of space to manoeuvre. When you see developers investing so much money into even garages, it guarantees that everything else is also at a high level in terms of qualities and comforts.
There are no close neighbours, which is unique in general terms.
A brand-new, very exclusive, very modern frontline beach development with amazing views! It is so difficult to find, almost impossible. No wonder all 28 expensive units saw colossal demand and were sold out entirely during the construction time. This special property is back on the market now. It is a perfect family apartment with no stairs for kids or their grandparents, and 4 bedrooms separated so when you have guests, they don't interfere with your lifestyle in your part of the property.
It's a catch!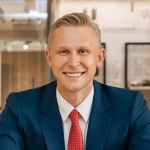 CEO & Partner
Artur Loginov
Artur Loginov is the CEO and proud Partner of Drumelia Real Estate. He has over a decade of knowledge and…