Touring €17.950.000 Unique Mega Mansion in the Beverly Hills of Marbella, Sierra Blanca | Drumelia
By Artur Loginov on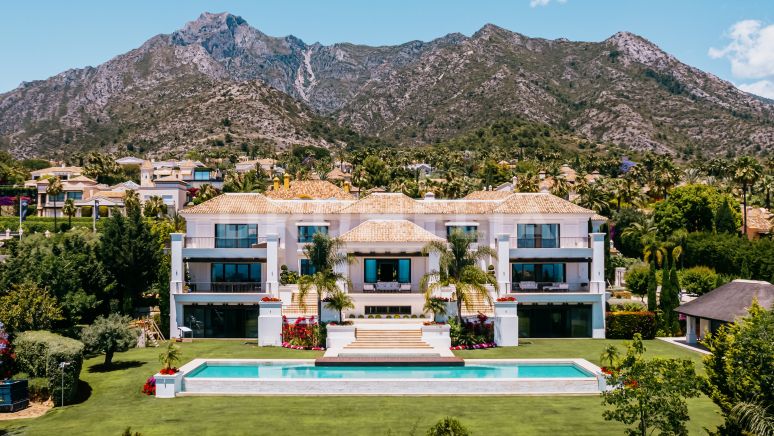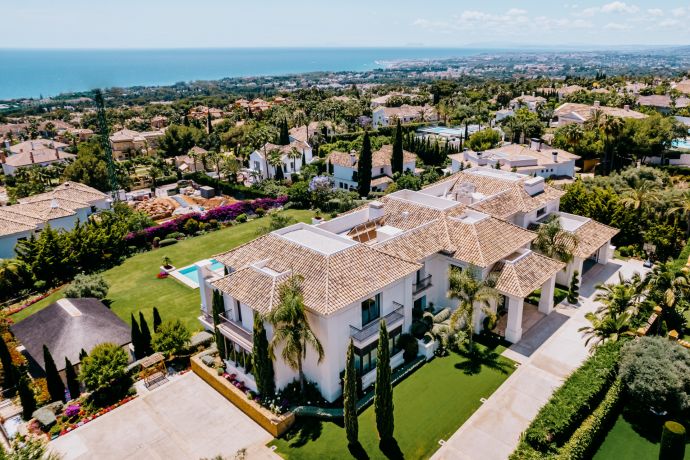 This fantastic mega mansion is located in the well-known Sierra Blanca, on the Golden Mile of Marbella. The classical, 3-level Mediterranean house of 1.817 m2 sits on a plot of 5.000 m2 and features 7 bedrooms and 7 bathrooms. Its asking price is 17.950.000 euros.
ENTRANCE.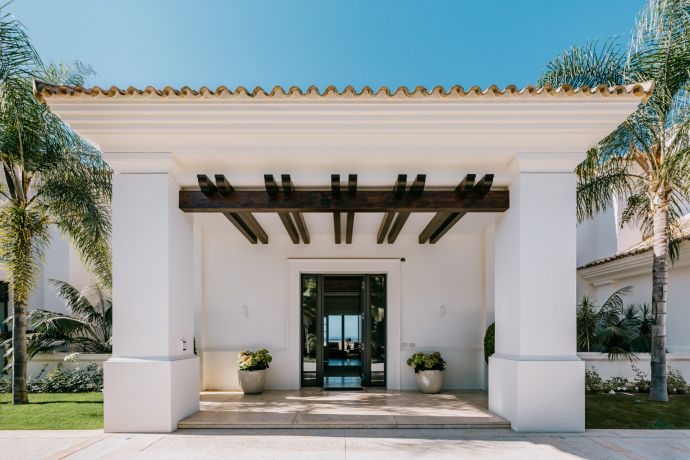 A long driveway takes us to the outdoor platform for parking with plenty of space to manoeuvre; we also have some more parking in front of the main entrance and a covered 3-car garage.
This property is in a very private location inside Sierra Blanca, and you can't see it from anywhere; some houses at the top won't bother.  We have a very secluded, private 'mini-entrance' from the carport that takes us to this property's entrance, which is very special about this house.  Due to the privacy of the entrance, no one knows you are here; no one sees you coming.
If you haven't watched our area video of Sierra Blanca yet, you should check it out, and we are planning to do many more area tours.
There are 3 proper shapes to the house, and the main entrance porch has a strong character, like the whole house. The classical principles of balance, proportion and symmetry are there. The cypress tree at the entrance is unique, trimmed in a fascinating manner, a spiral shape, and there are the palm trees, and the landscape sets the vibe at once. Another thing great about this house is its excellent materials, also right from the beginning, the travertine marble pieces, marble, dark wooden beams, etc.
This mansion offers exceptionally high standards; although it has classic architecture, it's equipped with the latest technological advancements. Previously, Drumelia sold it to the current owner. They put it back on the market for family reasons, and we are happy to list this gorgeous villa in the heart of Sierra Blanca exclusively. 
GROUND FLOOR.
ENTRANCE HALL.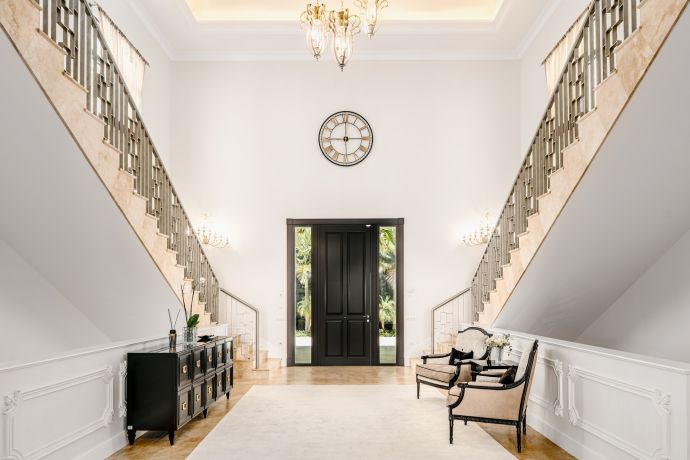 Inside is a massive hallway where you already have this fantastic panoramic sea view. Many classic mansions have impressive double-height entrance halls and reception areas. When you walk into the house and see the sea view, you know something special is coming.
You can open the pocket doors and enjoy the sea view, but you can close them off if someone or your guest is in the living room, and you want to keep it 'nice and private'. The magnificent double staircase, chandeliers, and interior design are beautiful and already look exciting. The house is delivered very well decorated and fully furnished, with designer furniture by Gianfranco Ferrè, Fendi, etc. An excellent detail is that expensive furniture is included in the price.
LIVING AND DINING AREAS.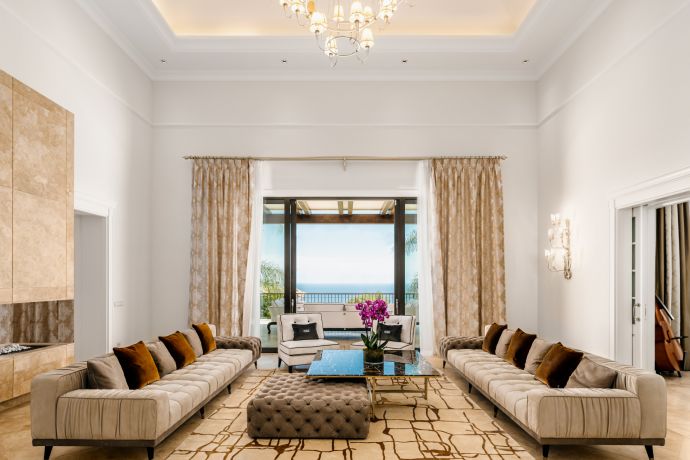 The double-height living room has another seating area separated by a fireplace, and there is a cosy part where you can read a book or watch TV.  This living space, your formal reception/living room, is divided into 3 areas. It is convenient for prominent families and guests, who can spread around this massive house and not interfere with each other. Most bedrooms have their living rooms, making this house even more practical.
We access the beautiful, cosy dining room through the pocket doors that separate the living and dining areas. It has an integrated wine cellar with temperature control, direct access to the kitchen, beautiful views and flowers outside (little details are unique).
The fitted, top-quality open plan main kitchen has 2 islands in the middle, a dining area and a kids' corner, and then a massive porch with an al fresco dining spot. The appliances are from top brands, like Miele and Neff. The door leads to another 'dirty' kitchen, a pantry and separate access to the garage.
Two guest bedroom suites sharing a living room are located in the left wing on the house's ground floor, while the Master bedroom is right upstairs in its private wing.
OUTSIDE.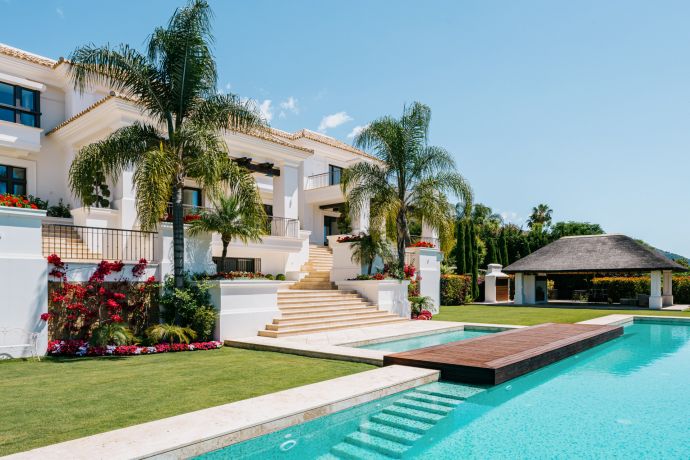 From the living room, we have direct access to the spacious covered terrace with designer furniture and the stunning open panoramic view of the sea and the vast garden.  
Initially, there were 2 plots with big retaining walls and a very high difference between them from 2 different owners. We sold them long ago, in 2012 or 2013, to a client who managed to join them and do this extraordinary project. That is why we have a pretty staircase leading down to the second part of the garden, which has access from another corner, now used for gardening and catering, not to go through the house. Typically, this type of plot you will only have in Zagaleta, not in Sierra Blanca, a top location only a few minutes drive to the Golden Mile. That also makes this property so unique.
Thanks to these different levels of land downstairs, we have the basement with floor-to-ceiling windows and direct access into the garden, making it practical, with so much light going inside. I wouldn't even call it a basement; it's a proper ground floor.
The big, 25-meter pool is heated all year round. A beautiful pool house with an installed outdoor kitchen and barbecue area is a lovely spot for big parties and family gatherings, and there is a separate children's play area.
This house is perfectly integrated into the general architectural style of Sierra Blanca. Even though it has been built recently, it follows the guidelines of the architecture of Andalusian houses, and it has a unique plot.
BEDROOMS.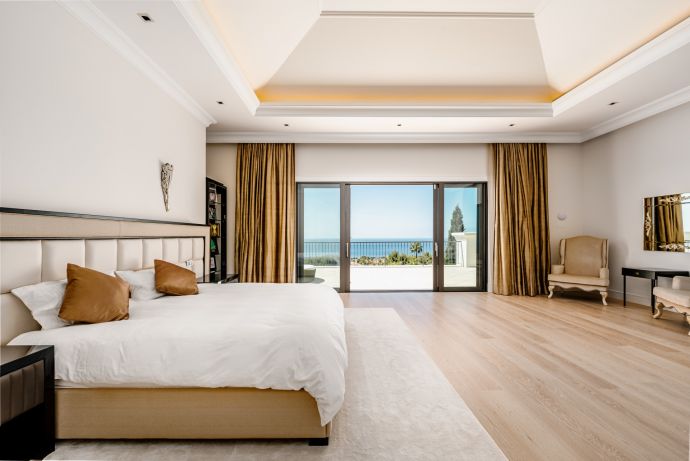 This house is very well-thought-out, and there are plenty of small wardrobes for bed linen and towels, small storage places, etc. Its layout is excellent. The bedroom corners are on every single floor. We have 2-bedroom suites with their own living room on the ground floor, then 2 on top with their living room, and 2 downstairs with their own living room and access to the garden.
The whole bedroom section is there, and then the Master suite is in its own wing upstairs.
UPSTAIRS.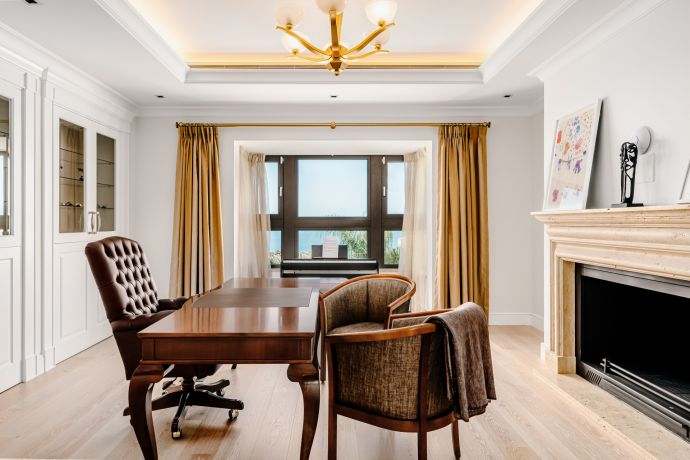 An elevator takes you directly to the entrance to a private office with a fireplace and wooden floor that adds some warm touch to the nice space with fantastic open views.
The Master bedroom is separated from the rest of the house. It is remarkable and enormous, more than 150 m2. As we enter the Master section, there is a massive bathroom in natural stone, with a separate bathtub and a walk-in shower. We have plenty of wardrobes and walk-in closets on both sides, also a separate one with lots of natural light, all connected with the massive Master bedroom that has a vaulted, one-and-a-half-height ceiling and a terrace to sunbathe and enjoy the best view from the house, this is the right spot!
BASEMENT.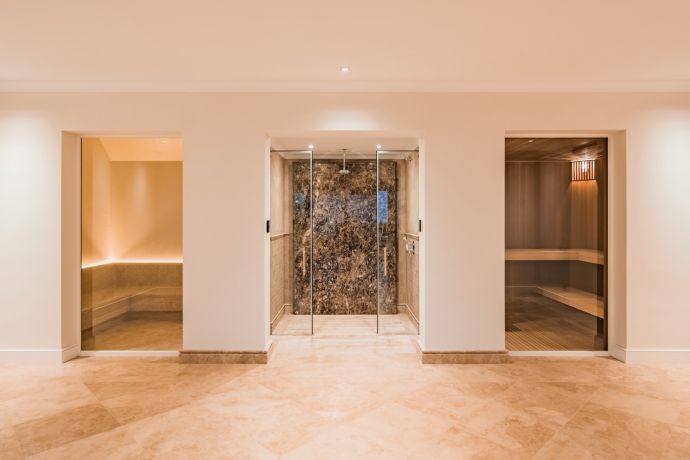 The basement hides many interesting features down there.
The current owners use a game room with daylight as a 'princess corner' for their kids. This level also has a fully equipped gym and SPA facilities with a sauna and Hamam installed. The area has full-height windows with great views, a staff flat with separate access, and 2 bedroom suites with their living room and direct access to the garden area in the other corner of the house.
If you liked the video, please do not forget to subscribe and share it. Hit the 'like' button, give us a comment…and we will see you very soon. Take care.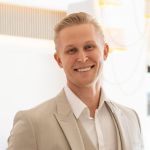 CEO & Partner
Artur Loginov
Artur Loginov is the CEO and proud Partner of Drumelia Real Estate. He has over a decade of knowledge and…