Waterfront Mansion Property Tour by Artur Loginov
By Artur Loginov on - 3m. reading time
Today at 08.30 am, and I am enjoying one of the most beautiful sunrises of Marbella, directly from a waterfront mansion. I wanted to start the video here to picture this view and imagine how it would feel to wake up every day. Being so close to the sea, I guess it's the closest it can get to sailing on a boat! No matter how beautiful the sea views from the mountain are, there is something unique and special about waterfront views.
There are very few mansions beachfront in Marbella for sale. You can count them almost with the fingers of one hand. We toured one modern beachfront mansion for 12m last month, ill leave all the links in case you want to check it out, and as they are so rare, each one is symbolic, so it's a big honour to sit here and be about to show you this gem.
Here is in Los Monteros playa, another private paradise in Marbella, one of so many in Marbella. Significant urbanization on the beachside with security, loved by so many and unique in its way.
This French-style mansion reminds me of the south of France.  It has a total built volume of 1.700m2 and stands on a plot of 2.800m2, which has a fantastic width, allowing the longest possible facade for the most rooms to look out to the sea. Gorgeous architecture, inside we will have significant volumes, all sorts of vaulted ceilings, handcrafted bathrooms, beautiful bedrooms and character throughout the property from the first tyle to the last window frame.
INSIDE
A total of 7 bedrooms and 6 bathrooms, 2 lounges, 2 dining's, wine cellar, cinema, billiard, games room, garage for 6 cars but most intriguingly, we will see a spa with an indoor heated swimming pool that is placed on the first floor. For that the whole structure of the house had to be seriously reinforced to hold all the weight of the water from the pool, above ground and on top of the living spaces of the groundfloor. But whatever it cost the owner to do it, I guess its total worth it to be in the spa in winter and walk out to the terrace to enjoy this view. Even though what winter!? 320 sunny days was it in Marbella? Almost November and what we are. I just checked this morning, 27 degrees are expected today! Seriously.
I have to take a tour of Marbella like so many people have to discover this paradise still!  I remember when we started the channel – we thought, ok, we do this couple of villas, but what are we going to tour after? A year later, here we are! And now we are making tours every week! Every Monday! Don't miss them!
Please for more information check the property´s link below!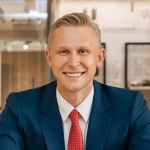 CEO & Partner
Artur Loginov
Artur Loginov is the CEO and proud Partner of Drumelia Real Estate. He has over a decade of knowledge and…