Artur Loginov – the best real estate agent in Spain
By Salma Hwedi on - 2m. reading time
Our brand has an outstanding international team fluent in more than 8 languages and is today a reference in the world of real estate in Europe.
The International Property Awards recognize our efforts in both residential and commercial properties and provide a significant mark of recognition and credibility within the real estate sector.
With over 20 years of experience and based in Marbella, we continue to pursue a very aggressive marketing strategy through digital innovation. Because we firmly believe that it is a point of differential value for both our clients and their properties.
With an enviable reach in social networks, we can say that we are today a benchmark in the luxury real estate sector in Marbella; we have a Youtube channel with more than 170,000 subscribers and more than 25,000,000 views.
Artur Loginov has today more than 138 thousand followers on Instagram. If to this factor we add that our own account drags an amount of 160 thousand followers, this makes us the real estate agency with the largest audience in Marbella with more than 270k followers within which we can highlight footballers, celebrities, and world leaders in the real estate industry.
In 2021 we broke the record for selling the most exclusive Classic Villa in Sierra Blanca, valued by Forbes at €40,000,000. In addition, we also made a record sale in La Zagaleta of the most exclusive modern mansion, Villa Cullinan, valued at €32,000,000.
Our Social Networks, already known worldwide, have followers from all over the world, as attested by national newspapers such as El Mundo or international media such as the Financial Times, among others.
In 2022 we want to continue betting on implementing digital strategies that support the sale and expansion of the brand, increasing our digital marketing department to continue working with differential content and attracting foreigners with significant purchasing power to the Costa del Sol.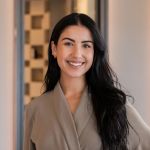 Collaborator Salma Hwedi