5 Must-visit places on the Golden Mile Marbella
By Julia Nilsson on - 11m. reading time
1) Golden Mile Marbella Must-Visit: Puente Romano
"One destination, infinite possibilities."
From its humble beginnings as a small hotel in 1979, Puente Romano Beach resort has grown to be one of the most sought-after high-end destinations. Originally built to look like an Andalusian village, it still has whitewashed houses, tiled roofs, cobbled plazas, authentic fountains and bright flowerbeds.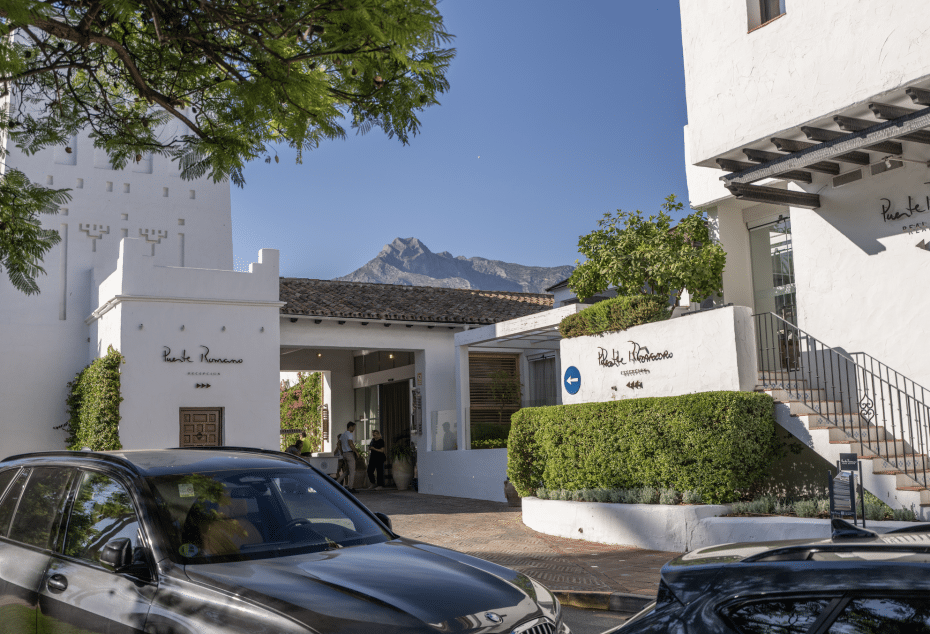 Today, the world-famous resort is set over 60 acres of lush gardens with species from 5 continents. It is known for its luxury amenities and services, beautiful architecture and idyllic location right on the beach. A multi-functional resort in every sense of the word, Puente Romano has a modern, up-to-date feel, with refurbished rooms, new modern facilities and dining options updated to embark on a sensational culinary journey.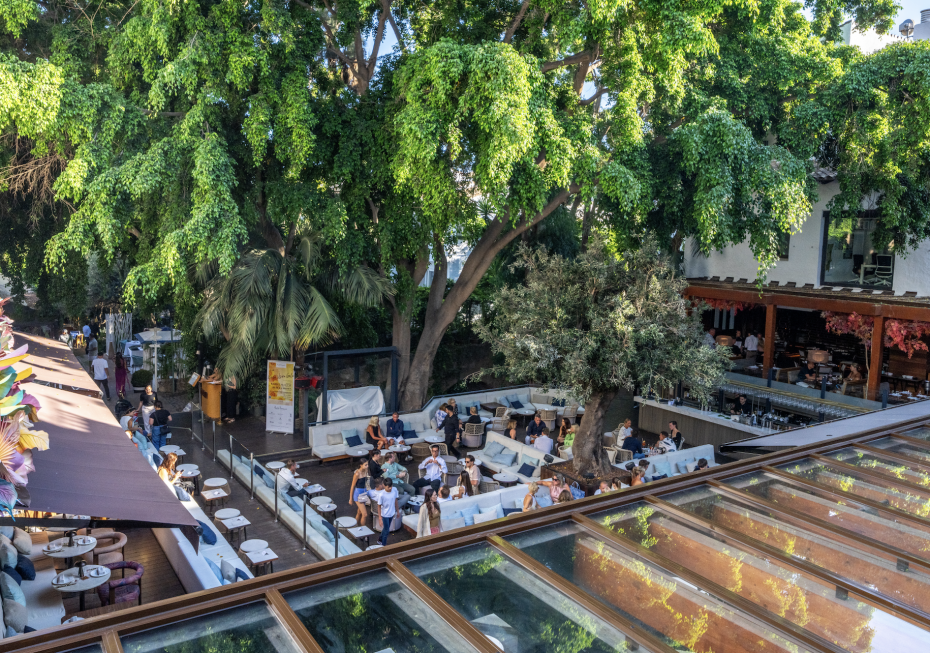 What to expect? The Puente Romano resort invites to indulge in elevated gastronomy from an extraordinary line-up of more than 20 bars and restaurants (including a gluten free deli and establishments of Dani García, 3 Michelin stars holder). You can rejuvenate at the inspiring Six Senses spa and wellness facilities, practice Pilates, yoga or aerobics in the state-of-the-art Fitness centre, enjoy 3 swimming pools or complimentary golf.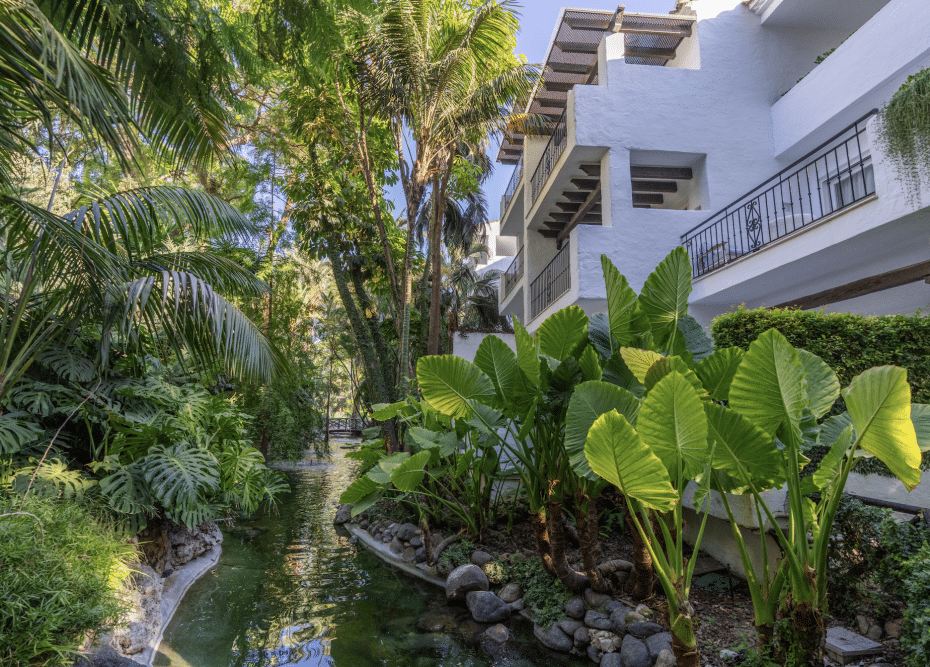 Puente Romano is also home to the renowned Puente Romano Tennis Club that hosts world-class tournaments as well as Davis Cup training sessions and special events. Water sports available include jet skis, sailing boats and water bicycles. The Kids' Club offers swimming, tennis and paddel lessons, as well as painting and crafts.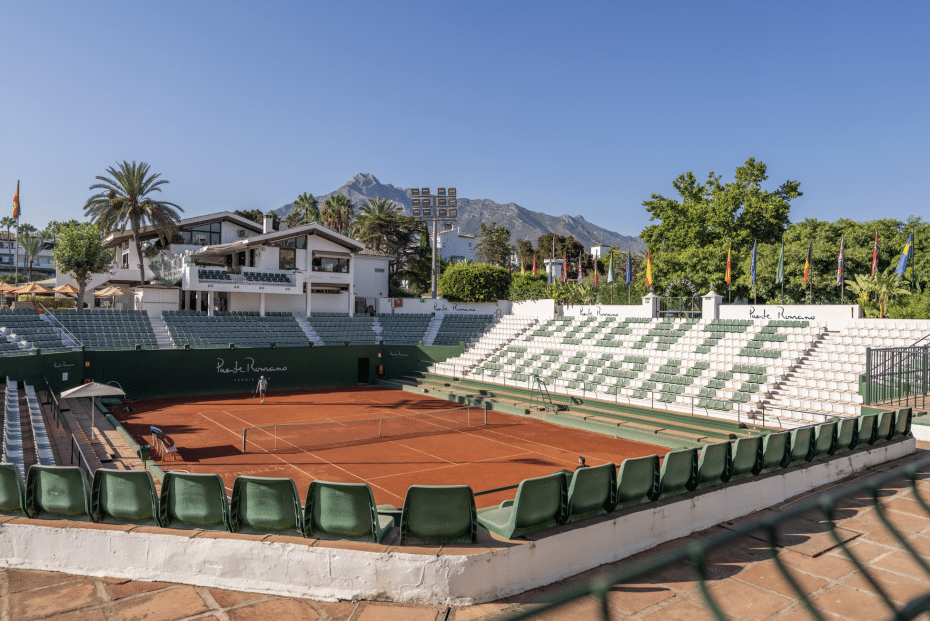 For a slice of relaxed glamour and sensational nightlife, you won't have to look very hard. Coming alive after midnight, La Suite is favourite hangout for Marbella's jet-set and home to some of the most talked about events. Its dress code is always "dress to impress." The club has been named as the trendiest and most stylish in Marbella due to its sophisticated atmosphere and chic decoration inspired by and Studio 54 in Manhattan. The 600 m2 of clubbing space combine the NYC loft feel with Roman heritage of its location. La Suite's atmospheric terrace, La Terrasse, is the spectacular nightlife open air venue.
Here you can find more information about upcoming events.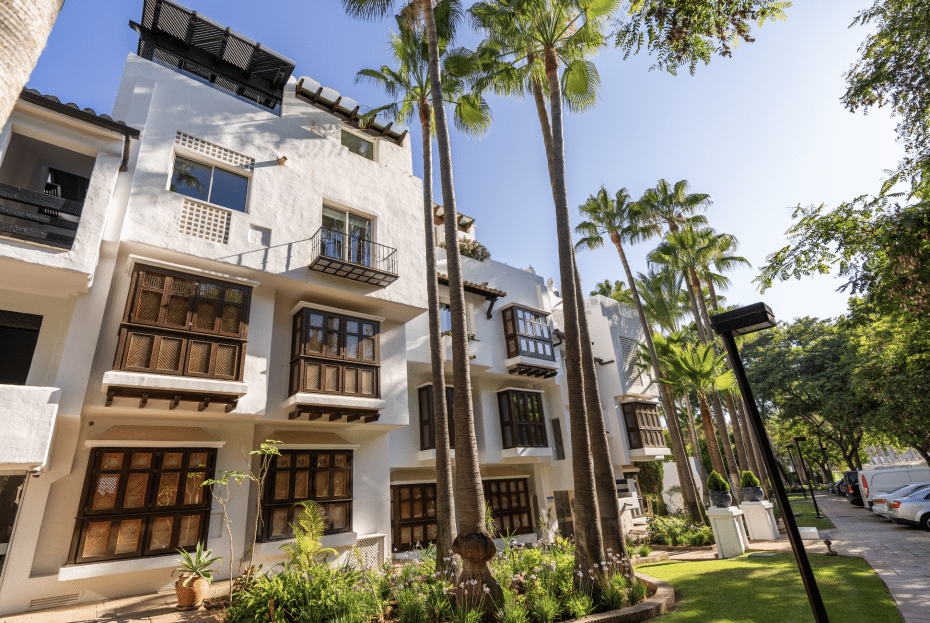 Fabulous Marina de Puente Romano offers high-end apartments and penthouses in the landscaped Mediterranean, Japanese and Persian gardens. It won the Gold Award for the best residential complex by the prestigious International Property Magazine, and the Prize for the best gardens on the Costa del Sol, granted by the Regional Council of Malaga.
Check out these Marina de Puente Romano Properties
2) Golden Mile Marbella Must-Visit: Museo Ralli
Don't miss an amazing venue of note on the Golden Mile of Marbella, the Ralli Museum. Surrounded by beautiful residential complexes of the Golden Mile, it is just 50 m from the beach and can be accessed directly from the Promenade. Free of charge, many people come to visit  after a walk, cycle or Segway ride from Marbella and Puerto Banus.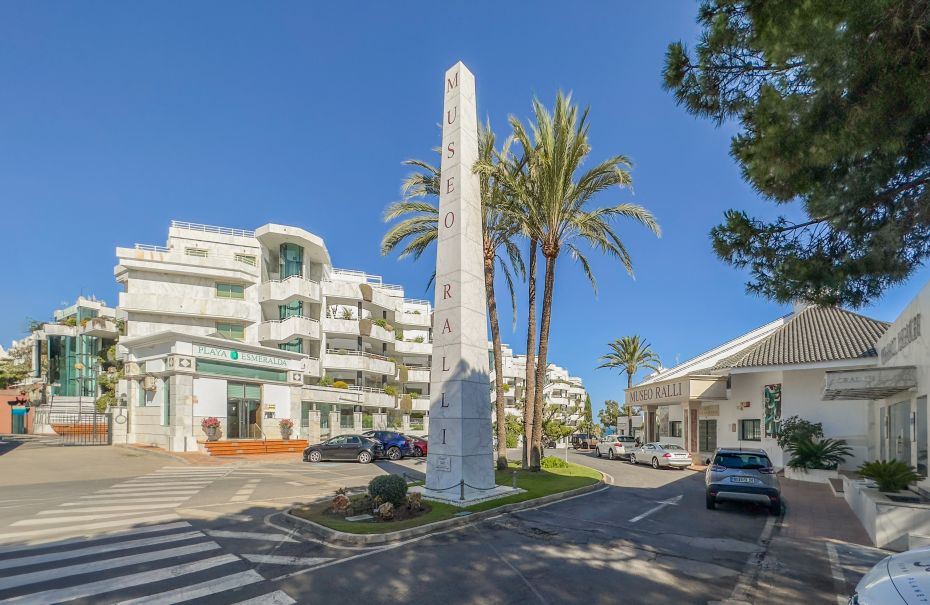 In 2000, Marbella became home to one of the most important collections of Latin American and Spanish art in Europe. The art gallery forms part of a series of museums in Santiago de Chile, Punta del Este in Uruguay and Caesarea in Israel. The permanent collection is complemented by regular exhibitions from leading European and American painters, sculptors and graphic artists. The 10 exhibition rooms show the different avant-garde movements, with the particular presence of Surrealism from Europe and Latin America. You can see the works of Salvador Dali, Max Ernst, Joan Miró, Marc Chagall and other internationally renowned artists.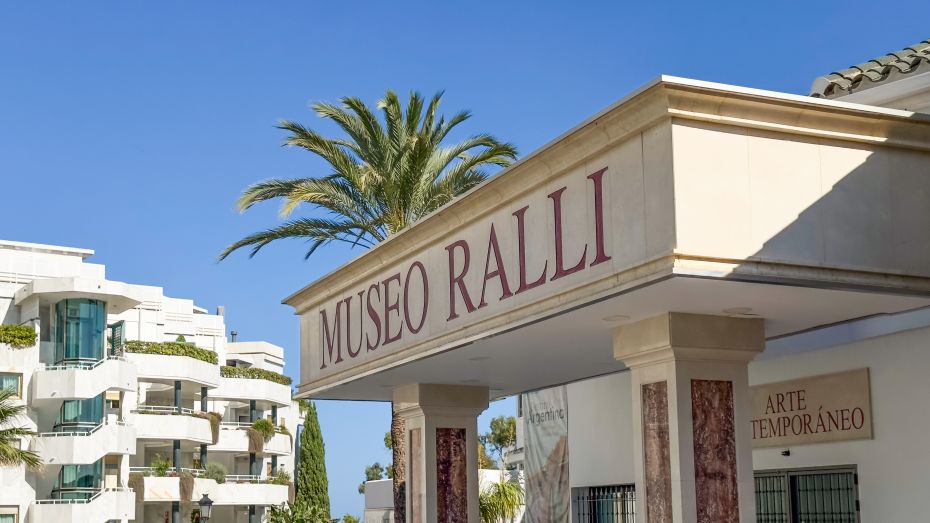 Summer 2023: Special Events in the Ralli Museum, Golden Mile Marbella
July, August and September events are inspired by the new temporary exhibition "American Abstraction. Carlos Mérida."
In July, Summer Workshops for children and for teenagers intend to teach different techniques of mural art. An Argentinean expert in mural art Gabriela Herrera will explain the technical part.
The museum commemorates Pachamama Day of the Andes regions (1st of August) with Sensory Activity, in particular pointing out certain aspects such as sustainability and well-being. It will be interesting to visit the exhibition "Contemporary art in Oaxaca. Vanguard, myth and tradition", and then carry out an experimental activity in the courtyard. You can work with different materials in a rudimentary style, just like the first peoples of civilisation.
International Day of the World's Indigenous Peoples (9th of August) revisits a selection of works from the permanent collection in which myths play an important role. It inaugurates a new format of activities based on experimentation and collaborative work, under the name of a "laboratory".
Another interesting themed visit in August is "Gods and myths in the Ralli Collection".
In September, the Ralli Museum hosts one of the classical music concerts of the Marbella International Music Festival.
Find out all there is to know about the Ralli Museum
3) Golden Mile Marbella Must-Visit: The Marbella Mosque
A prominent feature on the mountainside of the Golden Mile of Marbella is the spectacular Marbella mosque. It is known officially as the King Abdul Aziz Mosque as it was dedicated to the first monarch and founder of Saudi Arabia. Built by then Prince Salman bin Abdul Aziz and inaugurated on the first day after Ramadan, July 1, 1981, it was one of the first mosques constructed in Spain since the Christian re-conquest in the 15th century.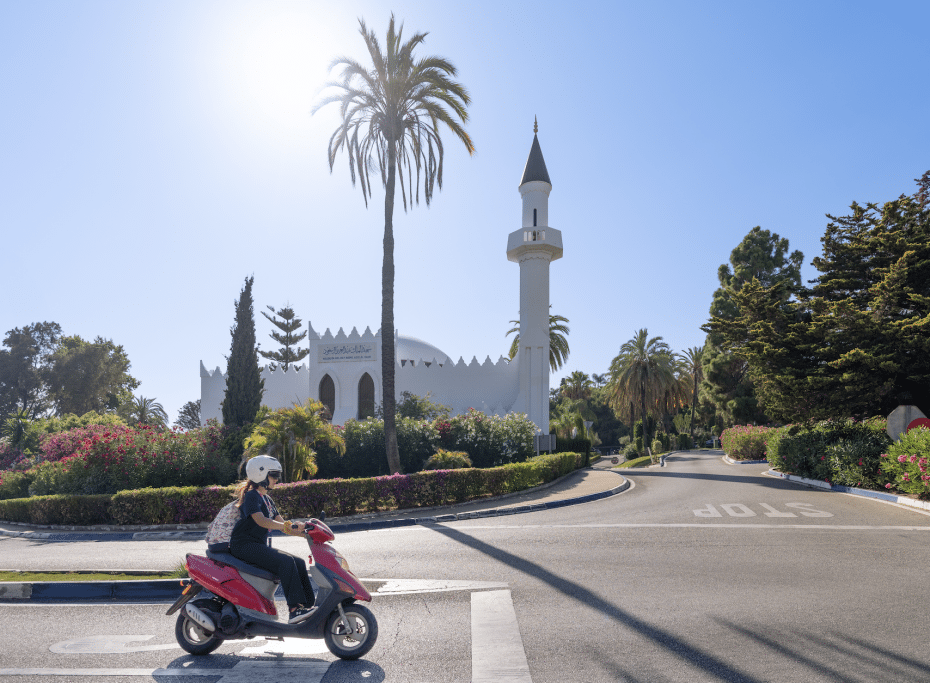 Juan Mora Urbano, an architect from Cordoba, designed the building as a beautiful example of Andalusian-inspired contemporary Arabic architecture. Thanks to the 12-m diameter roof dome with 24 stained glass windows, a magnificent lighting effect has been achieved. Hanging down in the centre, a 500-kg bronze chandelier with 130 individual lamps is an original work hand-made in Fez in the 7th century.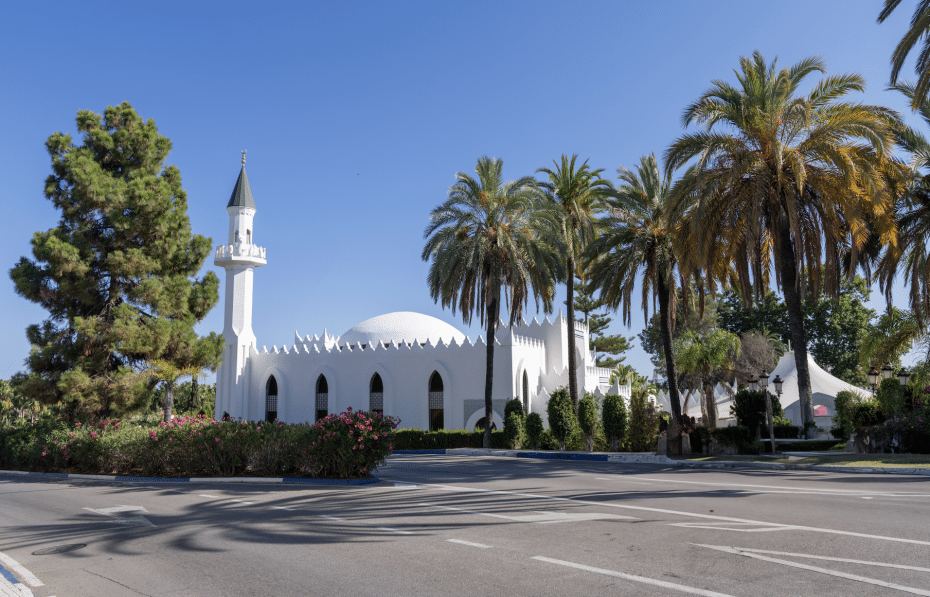 Marbella Mosque can hold over 800 people and has exclusive prayer rooms for women. It also contains housing for the imam, a public library with a collection of 30,000 volumes and amazing gardens.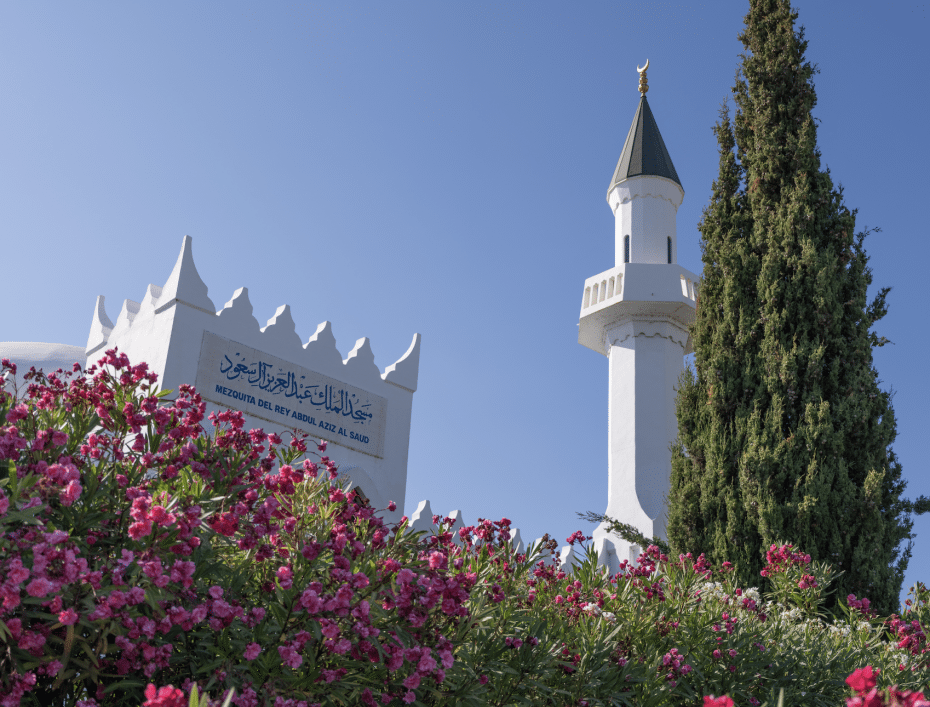 And nearby ... a palace on the Golden Mile!
This Saudi royal summer residence is the largest private home in Marbella and one of the largest in Spain.  In spite of its grandeur, it is well hidden from view. The Mar-Mar Palace (called El Rocío now), is the only one with an official urban design qualification for the 'Royal Palace' in Marbella. The facade is a marble reproduction of the White House; the fixtures are made of gold. They don't call it 'Golden' Mile for nothing! Built at a cost of hundreds of millions of dollars, the palace also has luxury villas, swimming pools, a heliport, private hospital and small mosque for the family's use. In 2002, the property was reformed for approximately 108 million euros.
The Saudi royal's connection with Marbella dates back 50 years, when Prince Fahd, who would rule Saudi Arabia between 1982 and 2005, decided to spend holidays in Spanish Riviera.
In 2005, when King Fahd died, Marbella Town Hall decreed him an "Adopted Son of Municipality" and declared an official 3-day mourning period. Later, the Mediterranean resort celebrated the ascent of Salman bin Abdulaziz to the throne. Of all the members of the Saudi royal family, Salman has been the most passionate about Marbella, visiting almost every summer for the past years.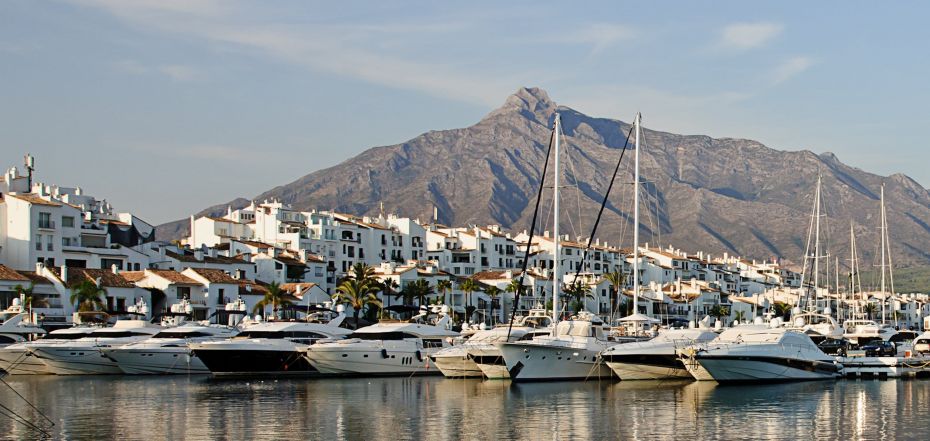 The Saudi king's yacht, 53-m 'Shaf London', is moored permanently in Puerto Banus - the start of the one end of the Golden Mile. Next to this mega-yacht is another beauty, the 64-m 'Lady Haya', with the flag of the Cayman Islands. The Saudi royal family that keep coming to Marbella generating a buzz of excitement owns it. Prince Abdul Aziz, son of King Salman, now and then arrives with his retinue for a summer holiday at the Al Riyadh Palace on Marbella's Golden Mile.
Here you can learn more about Puerto Banus
4) Golden Mile Marbella Must-Visit: Victor's Beach Bar
Tucked away on quiet Playa El Ancon, at the west end of the Golden Mile between Marbella Centre and Puerto Banús, Victor's Beach Bar is an iconic dining destination in Marbella. For those who were lucky enough to live in Marbella in the 80s, it was a magical place, always busy and famed for its spare ribs, live music and fun.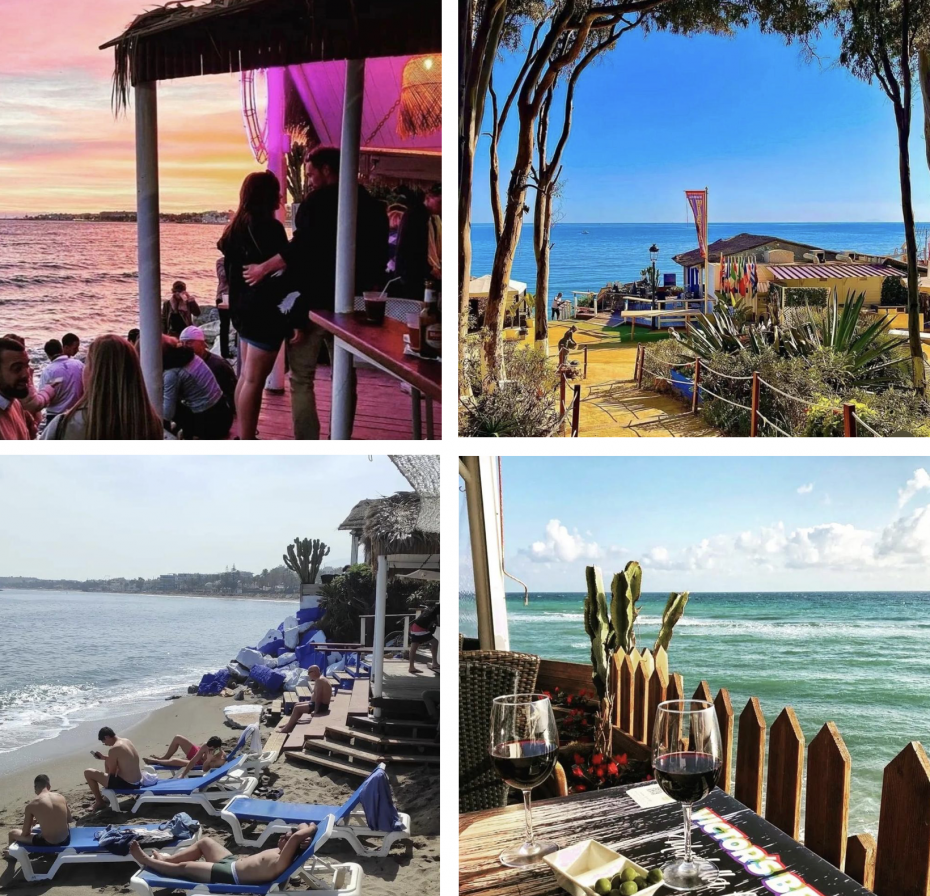 Victor's Beach Bar is not among the most exclusive venues. Far more humble and traditional, the ambiance is one of the restaurant's standout features. The indoor dining area enjoys a rustic-style coastal theme creating a warm and inviting atmosphere. Meanwhile, the outdoor dining area is set against the backdrop of the Mediterranean Sea, providing a breath-taking view of the coastline. The bar stools are just meters from the waves!
Don't expect haute cuisine. A real old-fashioned, family-owned beach bar and one of the oldest chiringuitos in Marbella, it offers classic Spanish dishes with a modern twist, made with care and the freshest ingredients. Its menu and wine list have something for everyone. The mixologists can create anything you want, but mojitos are among the most popular drinks. During the high season, you can enjoy live music at the weekends.
If you are searching for a memorable dining experience in Marbella, look no further than the chiringuito that is now called Restaurant Victor's Beach Bar 1978.
Discover more about this treasure on the Golden Mile
5) Golden Mile Marbella Must-Visit: Archeological sites
We all think of the Golden Mile of Marbella as an expression of modern luxury, prestige and privilege.  However, we are certainly not the first ones who enjoyed its pleasures.
Getting back to Puente Romano, it literally owes its name to a sturdy stone bridge built by the Romans, and standing to this day. Immaculately preserved, it's something one should sure try to see.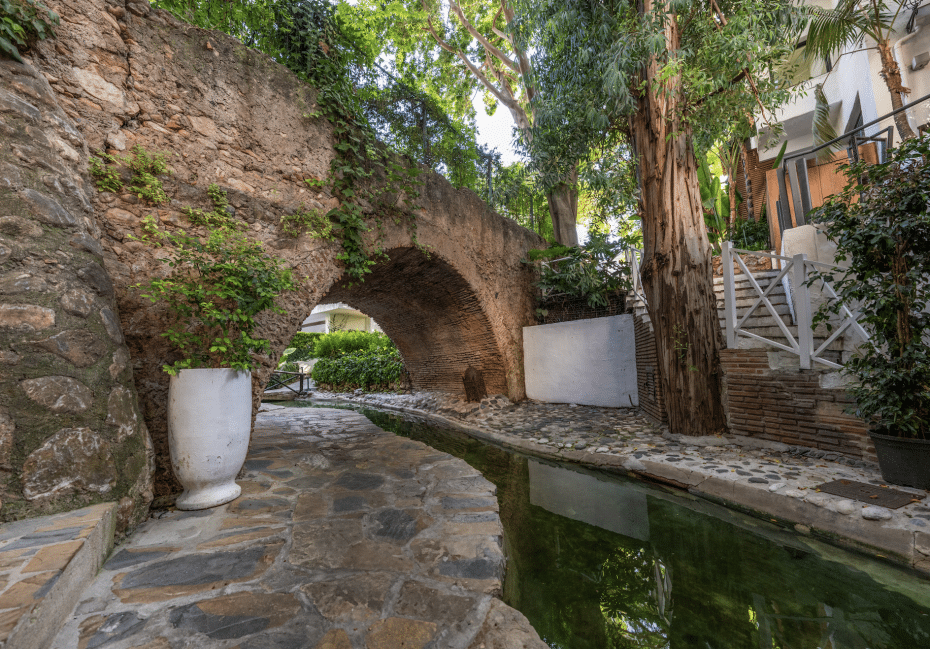 The oldest archaeological evidence comes in the form of the remains of a luxurious villa of Punic origin found near the mouth of the Río Verde, which separates the Golden Mile and Puerto Banús.  Built almost 2000 years ago, it was a part of the Roman fishing town of Silniana. All that is left of the Roman Villa, its floors, walls and beautifully preserved hand-inland mosaic tiles, allow seeing the high level of luxury and comfort that the wealthy Romans enjoyed.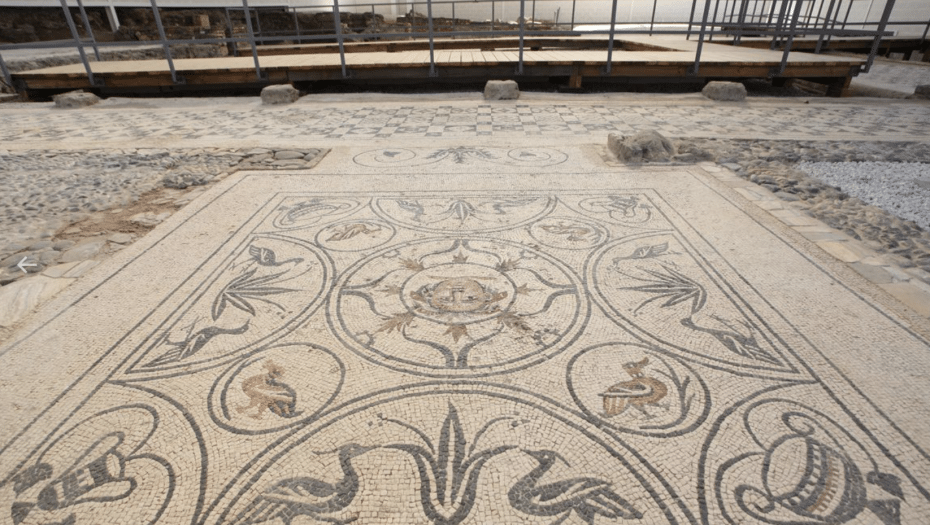 Carlos Posac Mon, archaeologist and professor of Greek, and Fernando Alcalá Marín, lawyer and official chronicler of Marbella, discovered the Roman Villa in the 1960s. It was dated to the middle of the 2nd century to early 3rd century AD.
In 1988, the Roman Villa of Río Verde was declared an Asset of Cultural Interest in the category of Archaeological Zone. Though time seems frozen here, be sure to visit it as soon as you can!
Where can I look at Marbella Golden Mile Property for Sale?
As a Marbella's luxury real estate leader, Drumelia have decades of experience and unlimited passion for this very special region.
Have a look at more Marbella Golden Mile Property for Sale
See you there! A Golden Mile Marbella map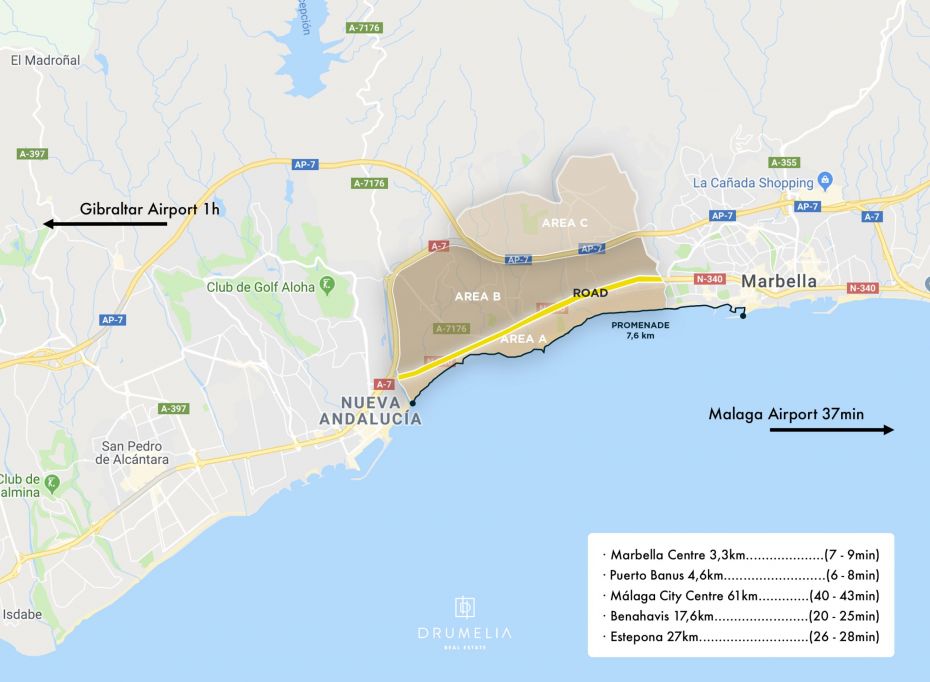 Where can I find out even more about Golden Mile Marbella?
It's been a pleasure to share a few things about this marvellous area. But in truth, we've only scraped the surface. To uncover more of the many treasures of this spectacular stretch of seaside heaven, look no further than Drumelia's comprehensive overview of the area.
Check out our Ultimate Area Guide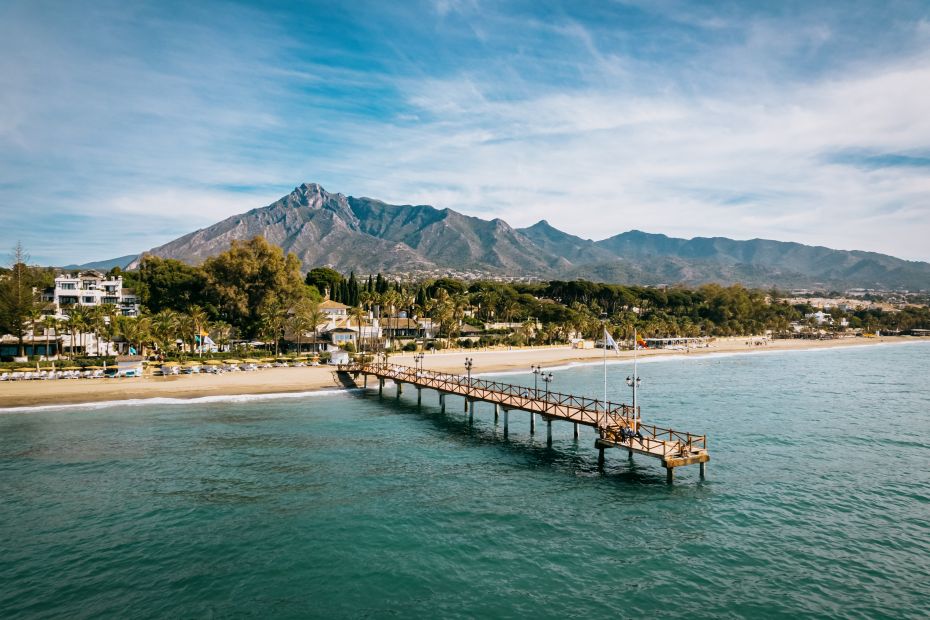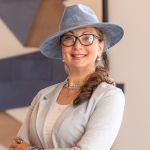 Copywriter
Julia Nilsson
Cosmopolitan since birth, Julia prides herself on being multilingual and has a doctorate degree in international auxiliary languages (Esperanto) as…