Guess the price! New Ultra Modern House in Marbella Golden Mile | Drumelia Property Tour by Artur Loginov
By Artur Loginov on - 4m. reading time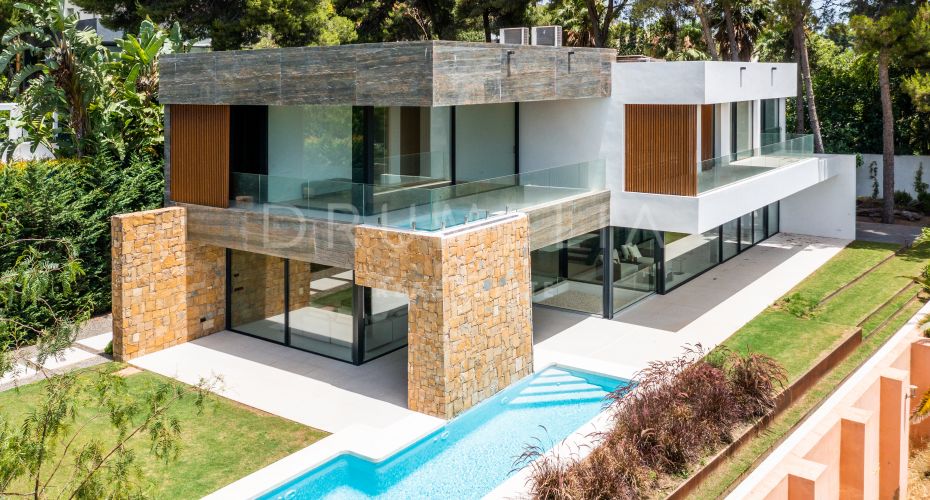 This stunning house is another new exclusive listing that we just received.
Nowadays we promise the vendors to list the property in 7 days and have the full marketing material done. That is why we are here so quickly, and present this house in literally 10-15 minutes to give you the best idea … and you can try to guess the price of this house of 670 m2 (including covered terraces and basemen).
LOCATION.
The plot of almost 1.300 m2 is set in the quiet, secluded very private area of Nagueles, a hidden part in a "cul-de-sac" that you access through a security gate.
It's a really good location next to Sierra Blanca (everything you need to know about one of the best urbanisations in Marbella see HERE).
THE PRICE.
The price of this house is very attractive, much lower than the houses' we usually show during the property tours.
A hint about the price. This plot in this area next to Sierra Blanca usually is worth approximately a million euros, more or less in today's market.
THE ENTRANCE.
The facade is amazing due to the integration with huge trees and natural features, stone, glass, ceramic, again combined with nature and with garden elements.
There are the main entrance doors and a separate entrance right into the kitchen. Inside the house, we see trees from everywhere, and there is a tall tree inside the entrance with a double height.
DISTRIBUTION OF BEDROOMS.
The distribution is very simple and convenient. No bedrooms are on the ground floor, which allows not disturbing each other; 4 bedroom suites are upstairs; 1 or 2 more bedrooms can be in the basement, depends how you work around.
Upstairs a solarium could be done to enjoy good sea views.
THE MAIN GARDEN LEVEL.
The spacious main sitting area has the nice height of the ceiling with LED lights throughout; big ceramic tiles on the floor; beautiful staircase; and the wall stone that comes from the outside, which is part of the facade, then integrates and goes through the glass inside. A guest toilet is next to the entrance behind the beautiful stone wall. The entrance into the basement is nicely hidden.
There is the second sitting area connected to a dining room and a big kitchen with direct access to the outdoor area, where you can have a barbecue or a kids' playground. It is overlooking a garden with huge pine trees.
Domotic system throughout controls lighting, air conditioning and so on.
UPSTAIRS.
Upstairs, there are many windows letting the light in. 4 bedroom suites have very decent size, and their bathrooms offer great qualities. What else do you need?
THE BASEMENT.
Downstairs, in the basement 2 big rooms with the bathrooms can become living or entertainment area, or additional bedrooms. A patio gives them plenty of light, and glass that covers it protects from rain going inside.
Using this opportunity apart, I would like to ask you something. Could you please give us some feedback?
A property tour is just one stream of the many things that we are doing nowadays in Drumelia. There are so many other things happening at the same time, and it is amazing to be part of it and doing our business. There are a few big houses coming your way next weeks, the exclusive listings that are not on the market.
By the way, did you know that I won the Award of the best real estate agent of Spain 2022 according to the International Property Awards?
We are doing a new office as well, and I am going to do my best to make it the best real estate office of Marbella ever. We just bought it right now and it is still about 5-6 months in front of us. We are actually going to do a vlog about the stages that we are going through.
I appreciate any type of feedback. What do you want us to change, or probably do something differently? Tell me please, what you think, share your ideas and give your comments.
What do you think about this house? I will not tell you the price right now but I promise it is very attractive, and I would not be surprised if this house is sold fast, most likely in a few days.
We leave a link here to let you know what the price is. Let's see if you guess right!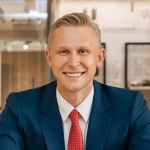 CEO & Partner
Artur Loginov
Artur Loginov is the CEO and proud Partner of Drumelia Real Estate. He has over a decade of knowledge and…