Inside €6.450.000 Unique MODERN HOUSE in La Quinta Golf, Marbella | Drumelia Real Estate
By Artur Loginov on - 7m. reading time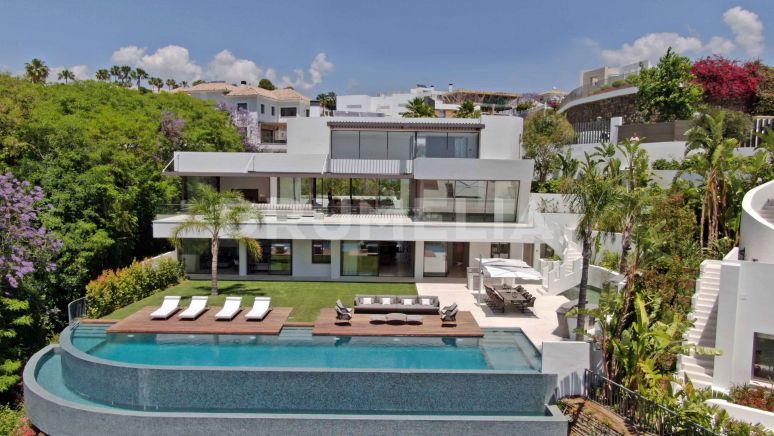 Today we are in La Quinta, quite a unique location in the hills of the upper part of Nueva Andalucía. This is a brand-new, fully furnished modern mansion standing on a just under 2000-m2 plot. The house is 867 m2 and has 6-bedroom suites. The asking price is 6.450.000 euros, with all the furniture included and ready to move in tomorrow. It has been on the market for a few months, and after having a quick look at this property, I'm pretty much surprised that it hasn't been sold yet. Let's find out if it's worth it.
ENTRANCE.
There is a friendly, quick entrance; a car goes straight to the carport, and next to it, we have direct access to the property. Don't be fooled by this little, modest facade because the house hides many imposing features. Built on a hillside plot, it has 3 levels facing the sea and the golf course.
A pre-entrance lobby is connected directly to the glassed carport for 2- 4 cars (depends on your excellent manoeuvring skills and the size of your vehicles). Some beautiful garden design elements set a unique vibe.
The entrance door leads into the property; we admire a view into the living room through the glass, and once we walk into the main lobby, we have a beautiful sea view straight away. There is a lift, which is not a usual lift; in Spanish, we call it 'montacargas', it moves slower than the lift, and it is easier to install it,  sometimes lifts have a lot of regulations in terms of spaces, etc.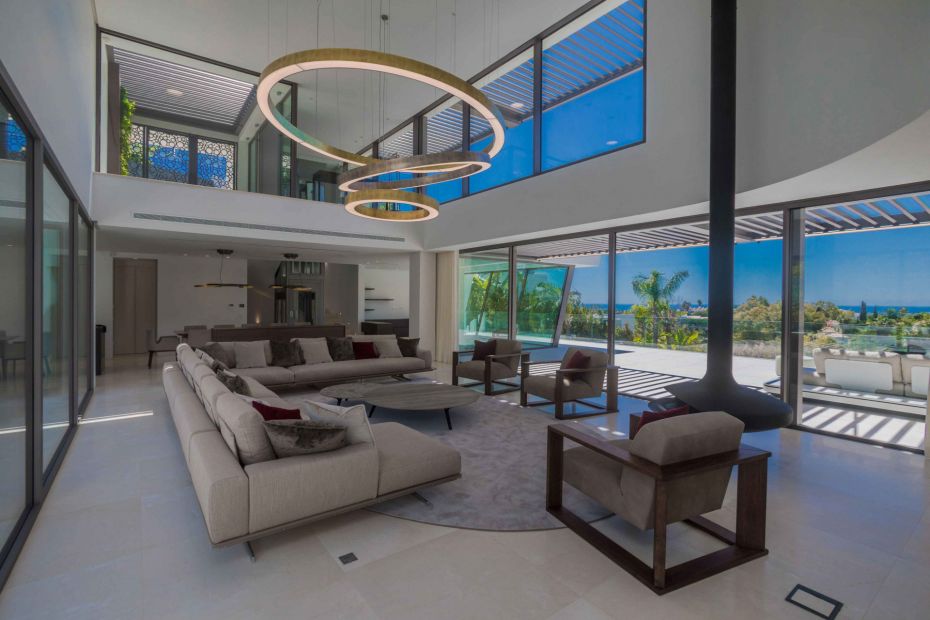 MAIN FLOOR.
LIVING ROOM AND TERRACE.
The main floor is downstairs, and it is open-plan, with a small TV area and a big dining table separating 3 areas: the TV corner, the dining area with a big kitchen behind, and the main living room area with double height ceiling and fantastic elements.
The kitchen has a massive island, a big laundry with separate access, lovely bar stools, a big oven, lots of storage space, a wine cooler, and impressive fridges (this is the kind of fridge you want to have in a six million four hundred fifty thousand euro mansion). A landscaped patio also gives a lot of life to the basement floor.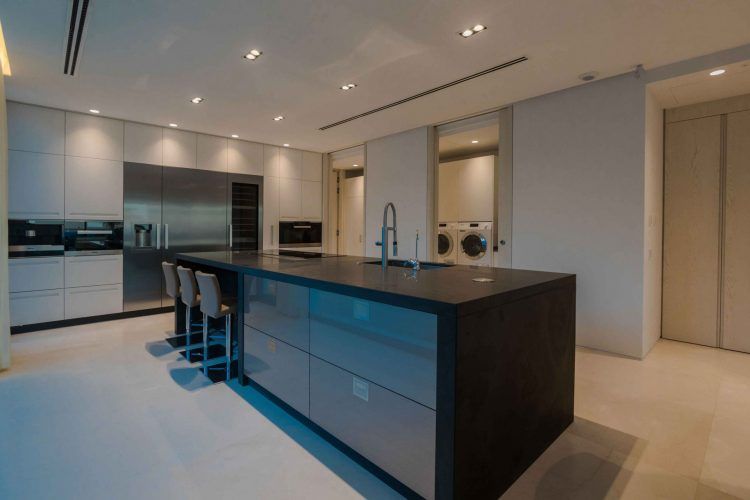 It is a trendy neighbourhood, that is why many other houses surround the property, and there is a beautiful hotel right here for all your guests. However, due to the location of this house on the hill, its landscape and greenery, it is hidden from the houses on the other side of the road. It maintains a feeling of privacy, and the views are incredibly stunning, all the way to Africa.
The lounge is very open and expansive, with a big sofa in the middle, the ceiling circle lights repeating the ceiling round shapes, a unique chimney and a decorative space for wood, which looks marvellous.
Coming out to the terrace, the marble floor continues with the same 90 X 90 tiling outside; a special anti-slippery touch gives it a slight colour difference.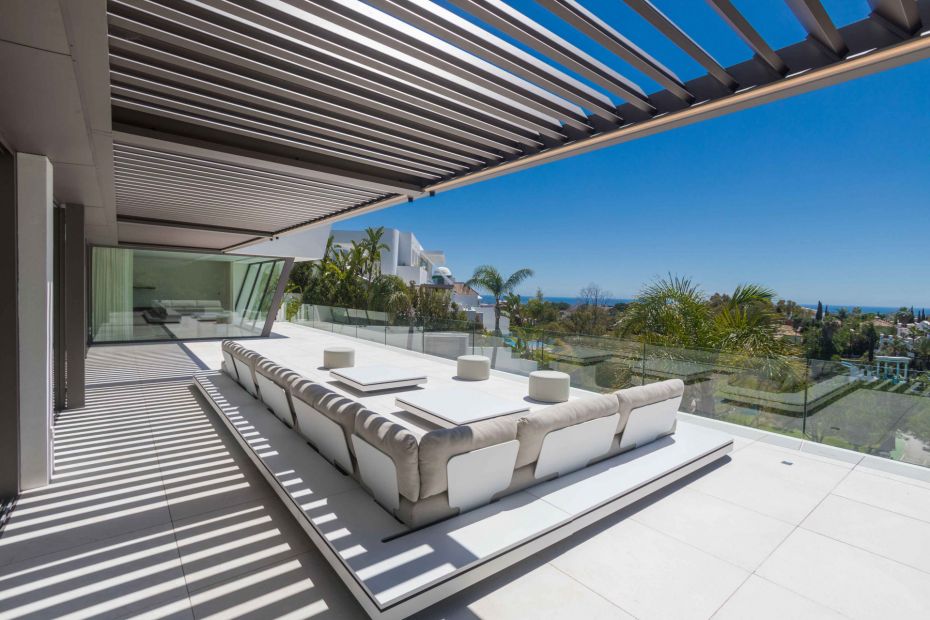 We have the impressive sea and golf views from every corner of this floor and a massive garden space downstairs, with the chill-out and barbecue areas, bars, fountains, showers and a big pool. La Quinta is a part of Nueva Andalucía, well-known for its famous golf courses.
MASTER BEDROOM.
On the other side of the terrace, in front of the Master bedroom, there is a massive outside sofa and the pergolas, which are also notable because of their automatic control. You can bend them to get the sun in or close them off when it is hot, and you do not want to let the sun into your bedroom.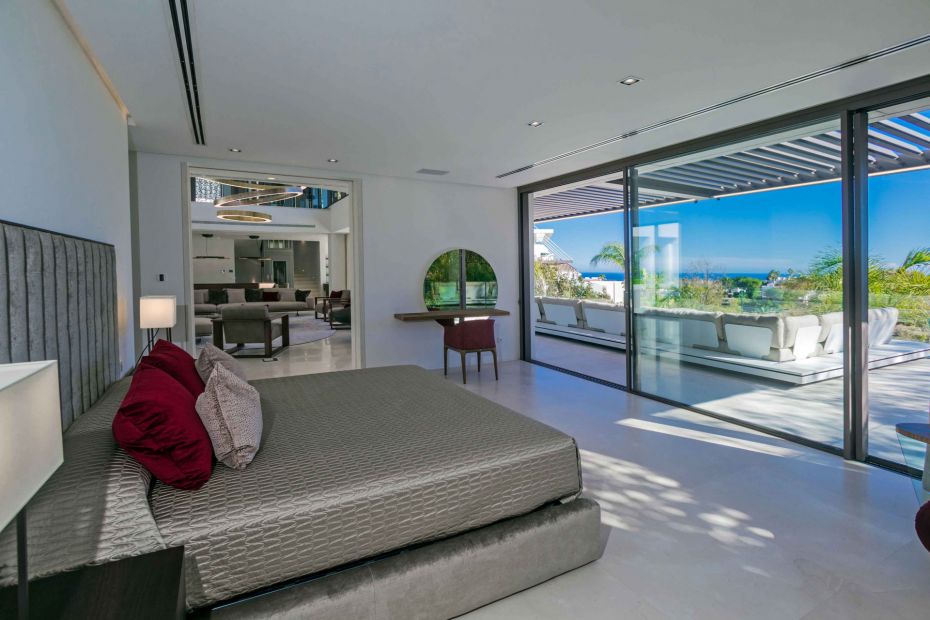 Like the rest of the house, the Master bedroom is very spacious and pleasant, with a high ceiling, air-con systems, speakers, a makeup table area and a bed right in the middle enjoying the best views. It is connected to an open-plan, double-sided wooden walk-in wardrobe with a modern design and no doors. The master bathroom with a brick wall design, nice window and lineal windows is very spacious too. It has an excellent LED light design, awesome towel hangers, a big shower with a massive shower head above, and a countertop that keeps that sleek design and is still very practical. A superb modern fireplace is right next to your freestanding bathtub!
Located next to the living room, the Master bedroom is the only bedroom on this floor, which is practical for some people but maybe not if you have little kids (everything can be sorted out; contact Drumelia Real Estate, and we will show how to have your Master bedroom downstairs).
This floor gives you that perfect penthouse concept of living where the owner is always on this floor, and all the guests and family members can be downstairs.
GROUND FLOOR AND OUTSIDE AREA.
The bottom floor is also lovely, with so much light.  It is a complete and utter ground floor level, not a basement, and many things are happening here. A bar area is right in the middle with a round ceiling, cool blue LED light above, a billiard table at the back, and many exciting design elements left and right. A sizeable green patio boasts a beautiful bonsai-style tree and gives much light. Everything moves around this patio.  At the back, we have an ideal space for a gym, then a technical room, and an area for the big cinema room.  A big SPA area has a Jacuzzi, skylight, sauna, Hammam and showers.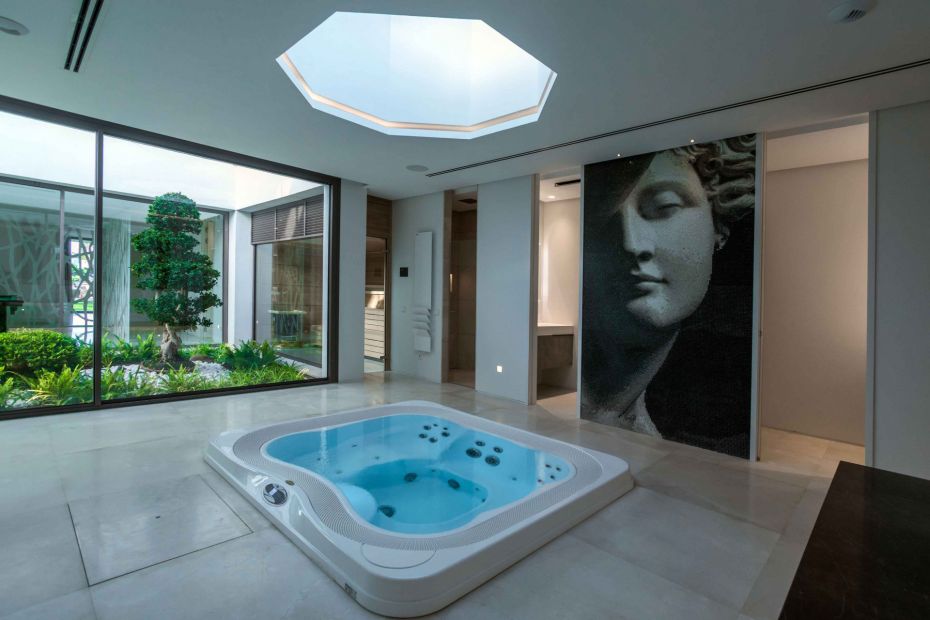 There are 4 bedrooms on this floor, all with bathrooms en-suite and access to the garden level. Another seating area is right before we come from the outside, which is also an excellent detail. When it is hot, you want to get into the house just to sit, relax, watch TV, and then return to the pool.
Outside, quite a lot of things can go on. This area is beautifully flat, private, with great views, many sunbathing spots, a fantastic barbecue area, an al fresco dining area, a further bar area, a lovely fountain and all those little details that cost a lot of money and give a nice upgrade to the property and living experience.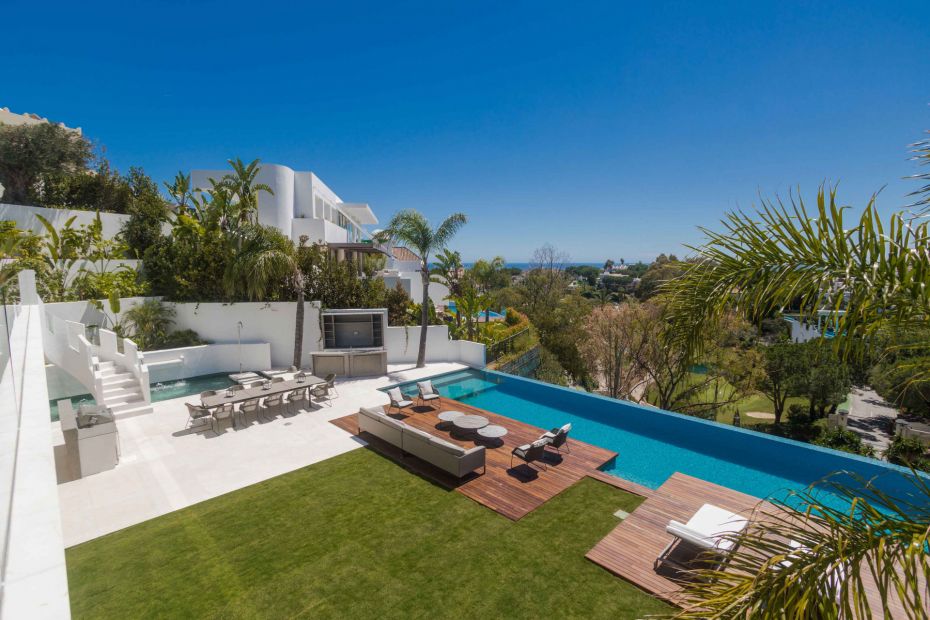 This level is very well thought-through in terms of flexibility. You can come down to the garden through the outside staircase if you are upstairs. If you host a party, your guests can arrive in this part of the garden not through the house but via separate access from the carport behind the property, through several staircases leading through the garden. Enjoying the views, the guests will pass by nicely landscaped elements and come to the imposing infinity-edge swimming pool overlooking the golf course.
The property has an attractive, not typical modern architectural shape. It was a complicated plot, a beautiful piece of land, but also complicated. It is not easy to design architecture and build on the incline plots. What has been done here is truly impressive; the spaces inside the house, the amplitude of the living room, the light, the number of windows versus the privacy that is still maintained, and this outdoor feeling is fantastic!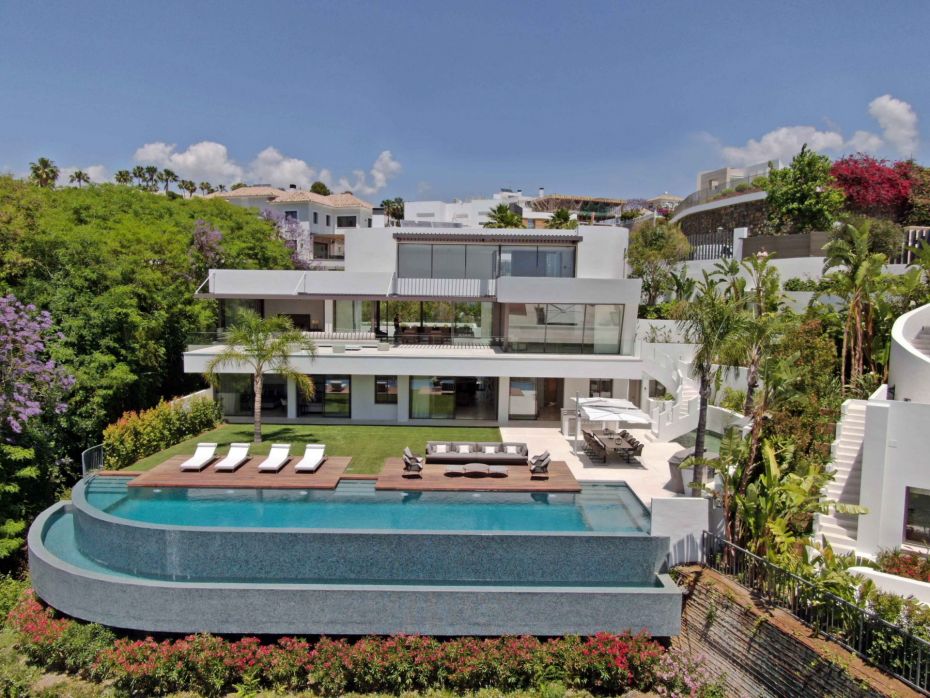 Is it worth the 6.450.000 euros (including every piece of furniture)? I think it is.
 Special thanks to the luxury dealership C. de Salamanca in San Pedro de Alcantara,  where they have the exclusive Bentleys, Ferraris, Jaguars and so on, for lending us their amazing cars and being so kind to our clients and us. I would also like to mention that Olga did an excellent property tour, and if you haven't seen it yet, here is the link. Enjoy!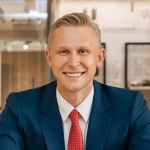 CEO & Partner
Artur Loginov
Artur Loginov is the CEO and proud Partner of Drumelia Real Estate. He has over a decade of knowledge and…