Retirement in Spain
By Salma Hwedi on
Many individuals dream of retiring in Spain, especially those who come from a cold and rainy country. The International Living Magazine's annual global retirement index factors accommodation, visas, climate, health care and cost of living - to name a few - into determining where the best places to retire in the world are indeed located. It should be no surprise that Spain always appears in the Top 10 Best Countries to Retire, as Spain boasts a fantastic year-round climate, a Mediterranean diet, rich history and culture, and most importantly, a relaxed lifestyle. 
Over many decades, The Costa del Sol, in particular, has become the preferred location in mainland Spain for both Spaniards and foreigners to retire. The expatriate population that chooses the Costa del Sol as their retirement home consist of individuals from Scandinavia, the United Kingdom, Germany, the Netherlands, Belgium, France and Russia. And more recently, we are seeing an increase in people from the United States selecting the Costa del Sol as their ideal retirement destination.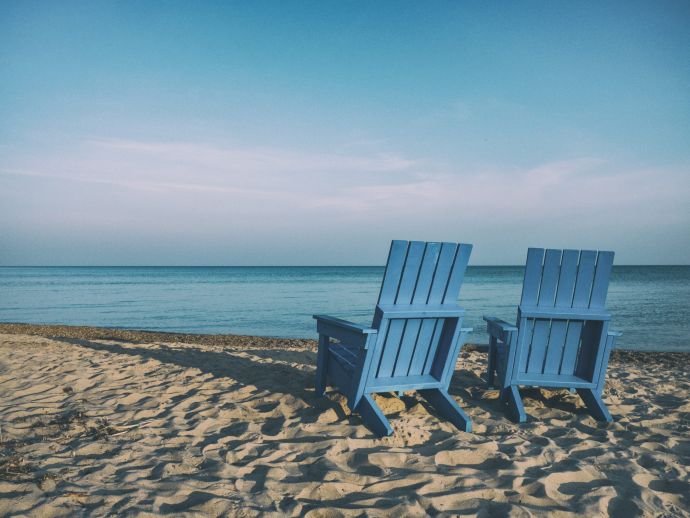 Why is Spain a great place to retire?
The main reason that people choose to retire in Spain is evident: an exceptional climate that boats sunshine all year round. Instantaneously, exposure to sunshine makes one feel more positive and, in turn, healthier. The climate also allows people to enjoy the outdoors with no limitations, permitting them to continue to enjoy daily activities, like long walks along the beach or sitting under the sun reading a book all day.
Furthermore, the culture and way of life attracts people to retire in Spain. The Spanish population is known to be laid back, stress-free, friendly, and enjoy a social lifestyle that they put first, unlike many other European countries. The concept of having a siesta between 14:00-17:00 is a particular favourite for expatriates. Also, all recognised the Mediterranean diet and fresh produce for having incredible health benefits and creating a positive state of mind. Gastronomy is something that Spain is proud of and known for, with many travelling to Spain simply for the food.
Spain is also incredibly diverse and welcomes foreigners to come and live here. Having adapted to the fact that it was becoming a famous country for people to move to, Spain and its population have integrated all the different languages, cultures and ethnicities that call Spain home. Many foreigners opened supermarkets, shops and amenities that provide food produce and products from their homeland, so although people move to Spain, they still have a little piece of home close by.
Spain offers almost 5,000 km of coastline, and many people move here specifically to be by the sea. With plenty of sun all year round and bustling atmospheres, it may be hard for many to stay away from the beach.
Moreover, Spain has become an excellent place for individuals to invest in real estate and is one of the primary reasons people end up retiring here. With one of the lowest living costs in Europe and one of the most active real estate markets, Spain is full of real estate opportunities that fit all goals, aspirations and needs. And most importantly, with properties being so high in value, it ultimately leads to a better quality of life.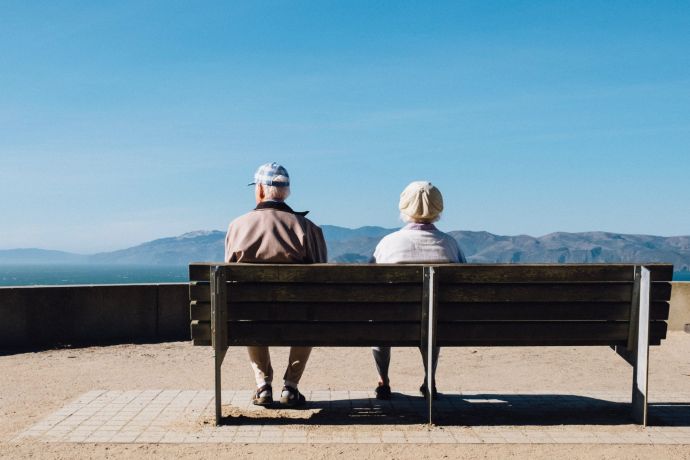 Who can retire in Spain? 
There is no restriction as to who is permitted to retire in Spain. However, as Spain is a member of the European Union and the Schengen Area, the country allows individuals from the EU and EEA to move and retire in Spain without a visa or a residence permit.
If you are a non-EU citizen, a visa is required to live and retire in Spain. Most usually, people obtain a Retirement Visa, which is a visa that allows you to legally love and retire in your country of choice. There are 2 types of Retirement Visas available when moving to Spain.
The Spain Golden Visa is a popular choice for wealthier individuals planning to retire. We have an in-depth article on the Golden Visa on our website, so be sure to read the article if you want to learn more.
The Non-Lucrative Visa was created for non-EU citizens who could prove they could financially maintain themselves in Spain without working. This is the most popular visa choice for people planning to retire in Spain, as this visa allows you to bring family members as long as you can provide you meet the minimum financial requirements for them to enter the country. You can then apply for a Spanish Residency Permit after living in Spain for 5 consecutive, but only if you meet the prerequisite of living in Spain for no less than 6 months per year for 5 years.
To be eligible for a Retirement Visa in Spain, you must prove that you will have a minimum of €27,115.20 to your name per year. Alternatively, you can also prove you have a monthly income of €2,259.53. And, if you wish to bring your family, an additional €6,778 per family member.
What documents are required for a visa to retire in Spain? 
Although we advise you to check with your local consulate for a specific list of requirements and documents, you are generally asked for the following:
Valid Passport that has been valid for over 1 year. 
2 Passport Photos that must be recent and in colour.
Proof of Sufficient Funds such as bank statements, affidavit of support, pension, dividends…
Police records proving that you have not committed any criminal offence. The documents must be t-ranslated into Spanish and have an Apostille stamp for legitimacy.
Medical Insurance, which must be obtained through a private Spanish insurance provider, it must cover the same that what the Spanish public health system provides and must be valid for at least 1 year.
Original Medical Certificate issued by a doctor stating you are free of any contagious disease, drug addiction, and other medical history deemed necessary.
Recent Tax Return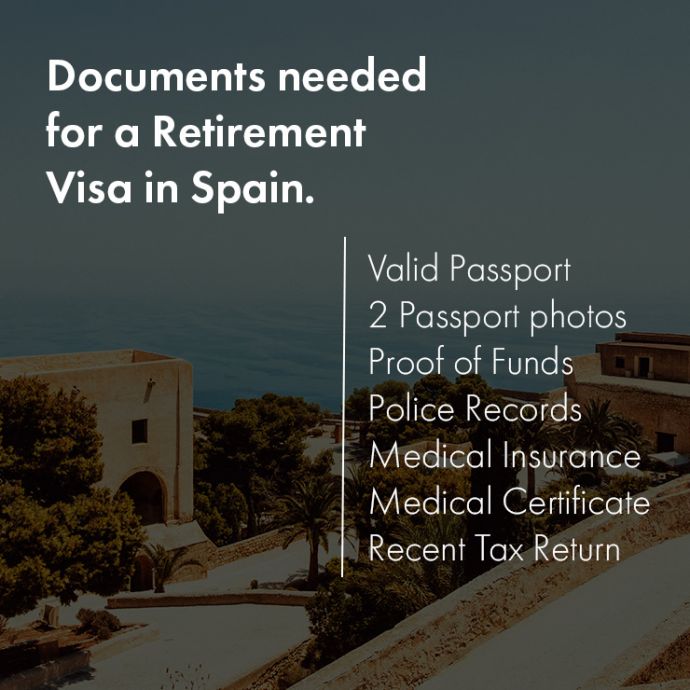 What happens to my pension if I retire in Spain? 
According to Expatica, f you are planning on retiring in Spain and are travelling from an EU/EFTA country, your insurance contributions in other EU countries can count towards calculating your eligibility for a Spanish pension. Once you reach the legal pension age for the country you are residing in - in this case being Spain with a legal pension age of 65 years and 10 months - you will be entitled to start receiving your pensions. The country you are travelling from is responsible for processing your claim and collect your records from the countries you have previously worked in.
Spain also has bilateral social security agreements with some non-European countries, and depending on the country, these can provide different conditions for transferring your pension and social security benefits.
Are expatriate pensions taxed in Spain? 
Pensions in Spain are taxed as general income at progressive rates between 8-40%. Contributions made towards Spanish pensions are tax-deductible. Tax benefits are also available. Non-residents of Spain (foreign pensions) are only taxed on income originating from Spain and are not taxed on foreign income. Remittances from foreign pensions are not taxable for non-residents.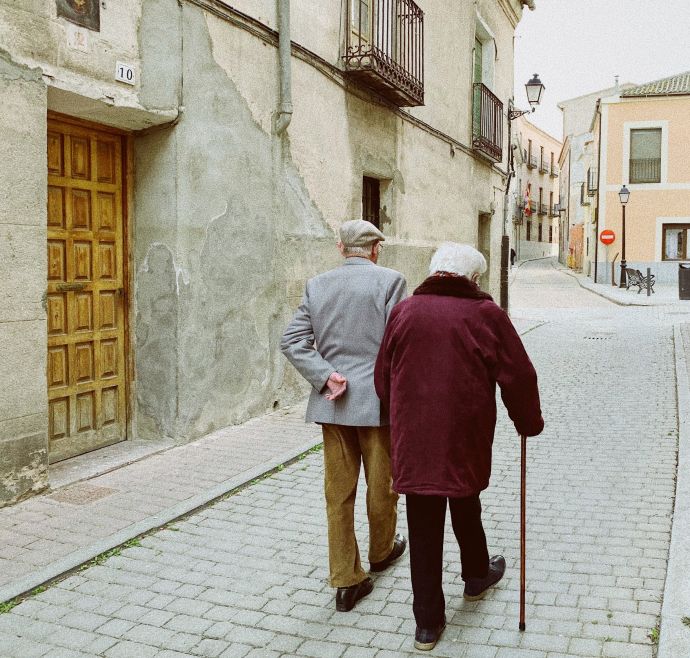 What is the quality of life like in Spain? 
Spain is acknowledged for being a safe country to live in comparison to other neighbouring European countries. Crime rates are relatively low when compared to other countries, in fact, Spain is ranked in the top 50 safest countries to visit, especially if travelling alone. And, since the Spanish population is open and outgoing, they will be sure to lend a stranger a helping hand if need be.
Spaniards and residents have also adopted plenty of security measures for their individual homes. With companies such as Securitas Direct and Prosegur providing their services across Spain, as well as many communities implementing security gates, private patrol cars and immediate phone contact with the police, rest assured that if you were to retire in Spain, you won't only feel safe, but you will be safe.
Spain also ranks in the Top 10 Best Healthcare Systems in the world. Spain has made it quite easy for foreigners to have access to medical care, apart from plenty of private health insurance companies offering their coverage, many private and public medical clinics are happy to accept non-residents who need treatment. Moreover, Spain has many private practices for specialists in all medical fields. And most doctors and nurses speak a foreign language, so communication will not be a problem. It is known that many medical clinics can also work with doctors abroad, especially if someone receives medical attention frequently. Hence, rest assured that you can retire in Spain with no worry for continuing your treatments. This of course aids to someone's quality of life, as knowing they have access to medical care and medicines will take a weight off of anyone's shoulders. We have an article on Medical Care in Marbella which can be found here.
Climate is always a significant factor when talking about quality of life, as sun exposure and good weather in general positively affects your mental health, and is also considered a contributing factor to a longer life expectancy. However, although Spain is known for having great weather, it is also the most geographically diverse countries in Spain.
In northwestern Spain, green cliffs and meadows flow for miles, decorated by little stone cottages and farm animals, and surrounded by the Pyrenees Mountains. Central Spain boasts both flat and mountainous terrains that clearly express the seasons throughout the year. The southern and eastern-coastal zones are mountainous and enjoy warm weather throughout the year, thanks to Spain's unique geographical structure. Essentially, you can travel Spain and be surprised by your surroundings.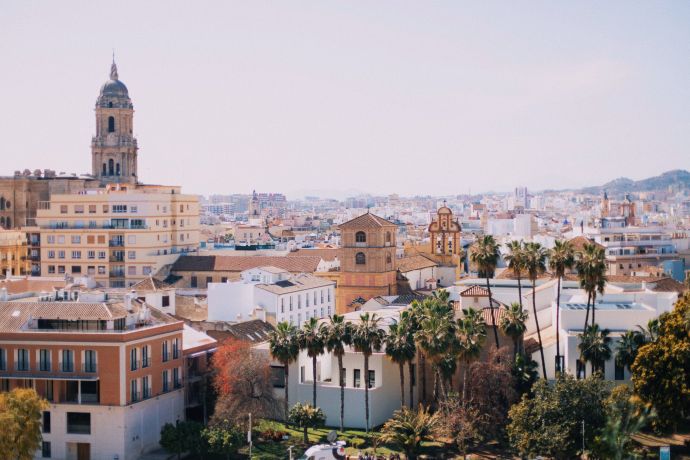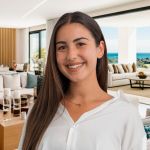 Community manager
Salma Hwedi
Salma Hwedi is the Community Manager at Drumelia Real Estate. Her primary duties involve copywriting, content creation, and social media…