The best cocktail bars in Marbella
By Varia Sinichkin on - 9m. reading time
Marbella - a city where elegance and fun blend like lime and soda. A city where one can find grandiose villas and exclusive gastronomy, as well as incredible beaches and unbeatable weather. A city where luxury entertainment is a priority, with cocktail bars being a favourite.
Join us on a journey through the exquisitely-crafted world of these very special drinks.
Here are the best cocktail bars in Marbella right now, and what makes each of them unique.
Air by Breathe
A panoramic rooftop bar, Air by Breathe is the best of its kind. Located in prime Puerto Banus, Air can be found above Breathe restaurant. Its decor is modern yet harmonious to its surroundings - vertical greenery and aqua tanks create an ambiance of relaxed luxury. The incredible views of the mountains and coast open up before you, and experiencing the sunset from Air is truly a must-see.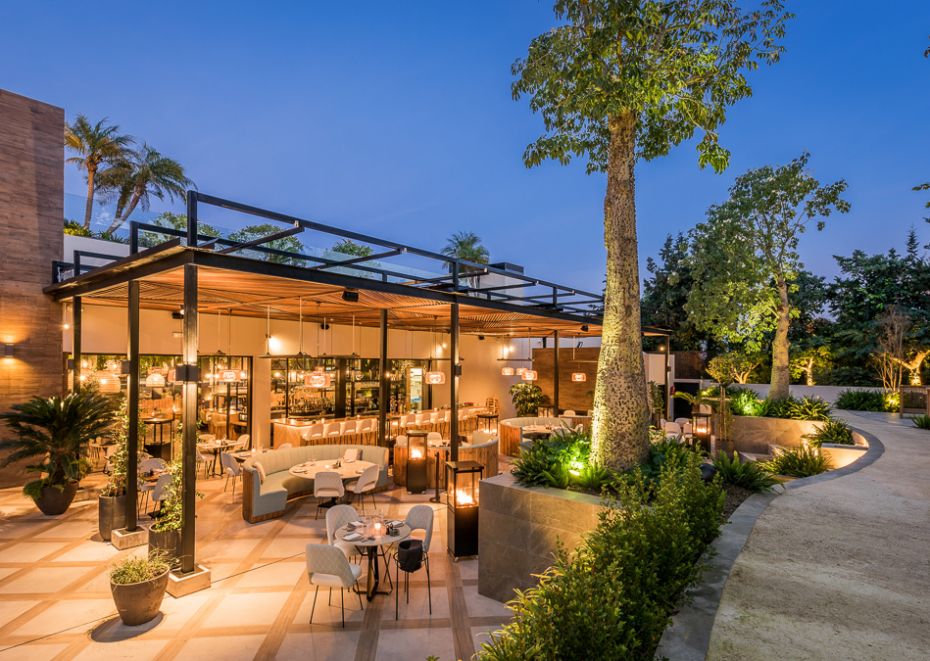 The drink menu is extensive, offering champagne, classic and signature cocktails, as well as an oyster bar to snack on. With a lively atmosphere and DJ's accompanying the evening, it is a great place for socialising and having a fun time. The perfect setting for after-dinner drinks, or for a rendezvous with old friends, Air is your stage for a lovely night out.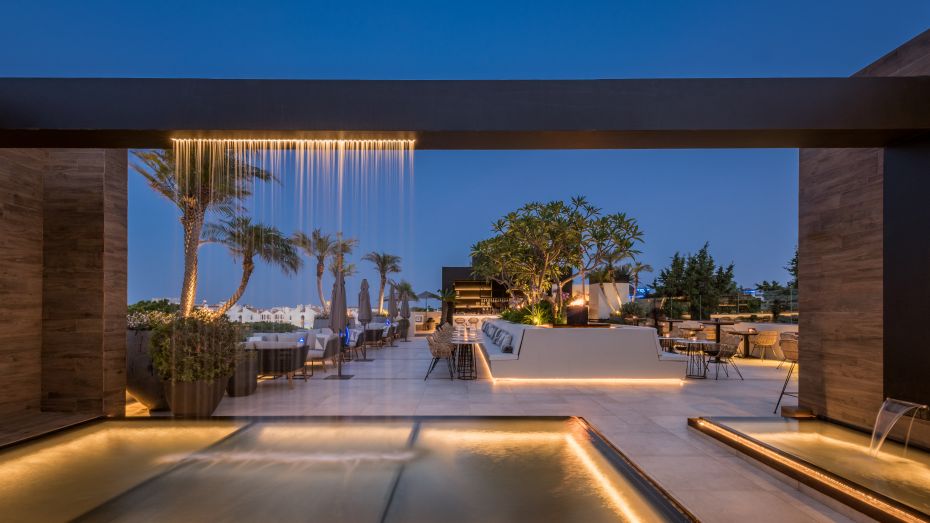 On weekends, reservations are recommended as it tends to get busy, and underground parking is available.
Address: Calle Los Lirios S/N, Marbella
Opening times: 7pm - 2am daily
Phone number: +34952036494
Email: [email protected]
COYA
A brand new hotspot, COYA stands out due to its immersion of senses through its innovative menus, which also translates to the bar. The COYA Pisco Bar draws inspiration from the oldest bars in Lima, with the menu holding Peruvian classics, signature homemade infusions and localised specials. As the night progresses, DJ's fill the space with enchanting beats and the ambiance becomes one resembling a high-end party.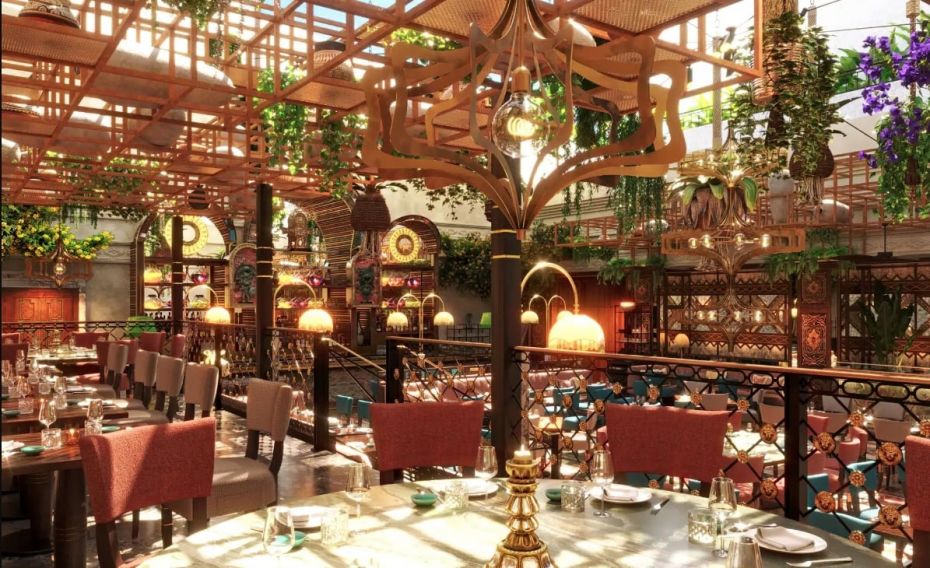 Additionally, what makes COYA one of the best cocktail bars in Marbella is its emphasis on art and culture, with artists showcasing their work each quarter at COYA and the Pisco Bar. COYA's interiors are extremely unique, too. Colourful decor, cosy seating and dim lights shape the exquisite experience. For those that prefer to enjoy day-time cocktails, the COYA pool is open during summer months, where one can relax on a sunbed and enjoy the bevy of interesting drinks. Reservations are recommended, particularly during high season.
Address: Av. Bulevar Príncipe Alfonso de Hohenlohe, Marbella
Opening times: Sunday-Thursday 7pm - 2am; Friday and Saturday 7pm - 3am
Phone number: +34952768222
Email: [email protected]
Boho Club
Boho Club, located on Marbella's Golden Mile, is a trendy, luxurious experience. Its secluded location creates an intimate experience for guests, where the elegant surroundings add to the ambiance of exclusivity. Boho Club is filled with art - sculptures line the gardens, and artwork can be found in every room. The bar, located inside the restaurant, is chic and a pleasant spot to savor deliciously crafted drinks.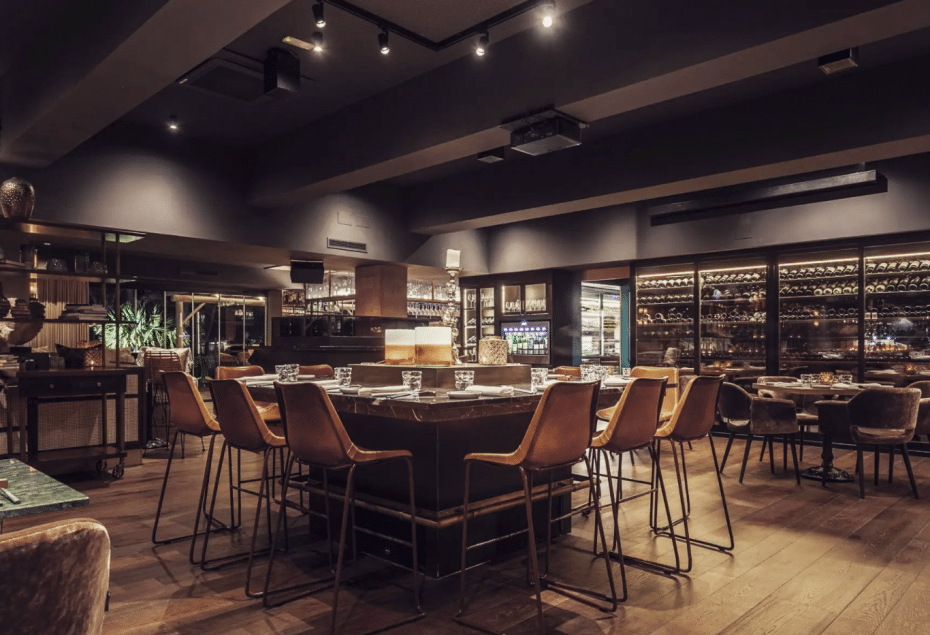 The cocktail list includes not only international favourites, but also creative cocktails with mezcal, tequila and sherry wines. Of course, signature drinks are also available, which have an Andalusian feel to them through the incorporation of local wines. If cocktails are not your style, don't worry. The wine cellar has over 300 labels, all of which are hand-picked by the on-site sommelier. This too adds to its reputation as one of the best cocktail bars in Marbella. Truly a one-of-a-kind experience, Boho club is a must visit for lovers of the extraordinary. Complimentary valet parking is also offered.
Address: Urb. Lomas de Río Verde, 144, Marbella
Opening times: Sunday to Thursday, 6pm-1am; Friday-Saturday 6pm-2am
Phone number: +34952157222
The cocktail bars of Puente Romano
As a luxury destination, Puente Romano, located on the Golden Mile, needs next to no introduction. In addition to world class sport facilities, natural splendor and boutique restaurants, this famed resort is no stranger to cocktail bars. Make that some of the best cocktail bars in Marbella!
La Plaza Puente Romano
La Plaza is located in the heart of Puente Romano, situated in the middle of some of the top restaurants on the Costa del Sol. This square is the epitome of an elegant night out, where you can relax in summer months on the sofas and listen to trendy music whilst conversing with friends, family, or whoever strikes your fancy. In winter, a sheltered terrace with outdoor heaters ensures a pleasant experience.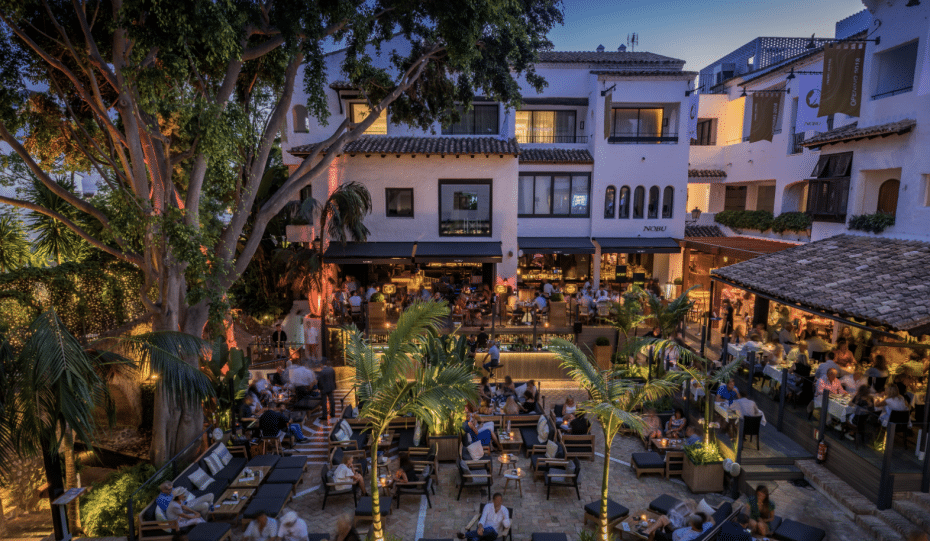 The drink list is incredible, with by the glass or bottle service options. Cocktails are expertly crafted, with unique blends of ingredients which transport you to the magical world that is La Plaza. A fantastic place to meet new people or enjoy the company of your friends and family, La Plaza is a lively option for those seeking elegant entertainment. Walk-ins are accepted at the bar, but if you'd rather lounge on the seats, a reservation is required.
Address: Av. Bulevar Príncipe Alfonso de Hohenlohe, Marbella
Opening times: Daily, 1pm - 3am
Phone number: +34682112233
La Selva
Nestled within the lush gardens of Puente Romano resort, La Selva is the perfect hideaway. A brand-new bar in this luxurious location, La Selva opened its doors in June of 2023. The bar boasts an exotic ambiance, with elements of wood, pastels and lots of greenery being a main decorative aspect. Wines, spirits, beers and signature cocktails are available to enjoy at La Selva, accompanied by light snacks and bites.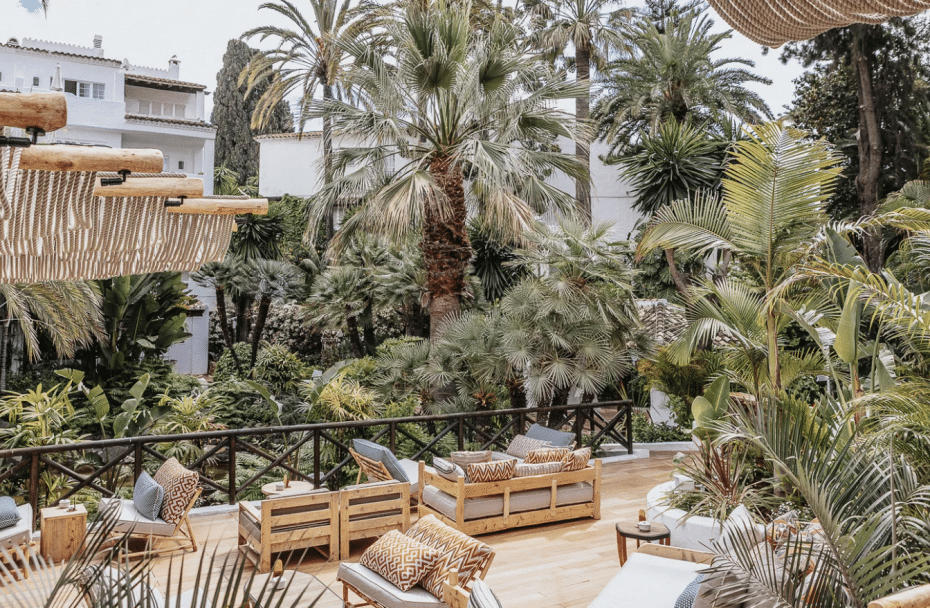 Upbeat tunes complete the picture, allowing guests to dance the evening away or simply immerse themselves fully in this haven. This new addition to the luxurious list of dining and bar options in Puente Romano, this is one that's destined to blow you away.
And rapidly taking its place as one of the best cocktail bars in Marbella.
Address: Av. Bulevar Príncipe Alfonso de Hohenlohe, Marbella
Opening times: Daily, 8pm-1am
Phone number: +34682112233
Monkey Club
The epitome of an exclusive cocktail experience, the bar at Monkey Club is small yet stylish. Also situated in the Puente Romano resort, Monkey Club transports you to a tropical world. Decorated with a jungle theme, the vibrant walls blend nicely with the velvet seating. Ostrich feature chandeliers and fringed lampshades create a specific personality for Monkey Club - a place where one is bound to have fun. The terraces resemble lush tropical gardens and the bar and lounge area are as eclectic. A harmonious blend of boldness and intimacy, Monkey Club is a great choice for pre or post dinner drinks.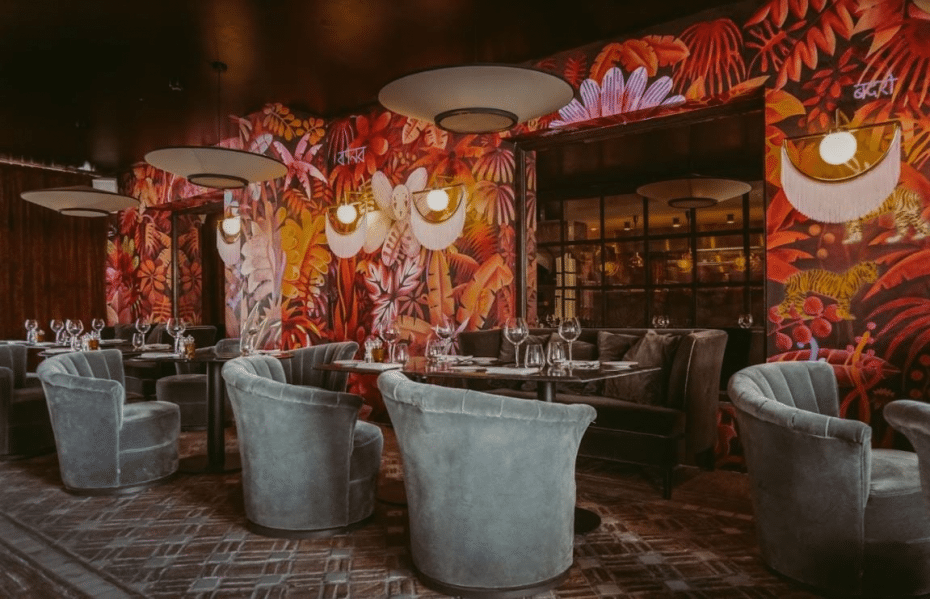 With an extensive mixology menu, the choices are endless and sure to surprise you. Amongst some popular choices, the Japanese Martini, the Flamingo and the Pink Monkey are definite must-tries. The music from the Puente Romano Plaza adds to the elegant ambiance of the locale. Prepare to immerse yourself into a cocktail experience like no other, and allow yourself to be as brave as the décor!
Address: Av. Bulevar Príncipe Alfonso de Hohenlohe, 9/10, Marbella
Opening times: Monday to Sunday, 7pm - midnight
Phone number: +34951607018
Email: [email protected] (for events and groups only)
What makes Puente Romano great for living?
Being right in the centre of things - for starters!
Effortless glamour, both in environment & layout, that manages to blend with the terrific scenery.
A stone's throw from the beach.
The tennis club was good enough for James Bond himself - The legend, Sean Connery !
Marbella to the left, Puerto Banus to the right…
… and easy living in the middle, on the grandest of scales!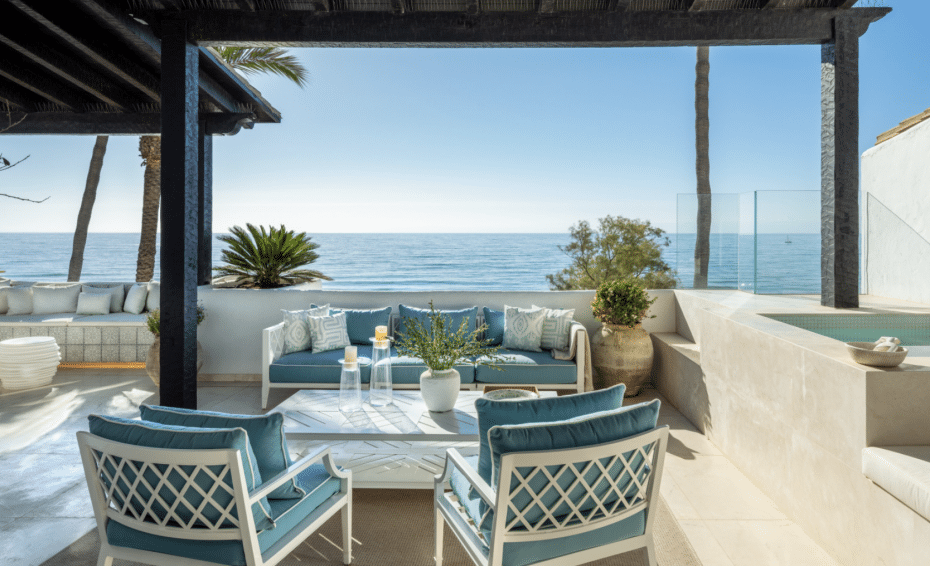 Keen to see properties right on the marina, in Puente Romano?
Astral Bar
Founded in 2002, right at the entrance of Puertu Banús, the venue of this famed cocktail establishment has to be seen to be believed: an ancient galleon, made entirely of wood. And that's far from the only spectacular features of this drinking hotspot - long listed as one of the best cocktail bars in Marbella.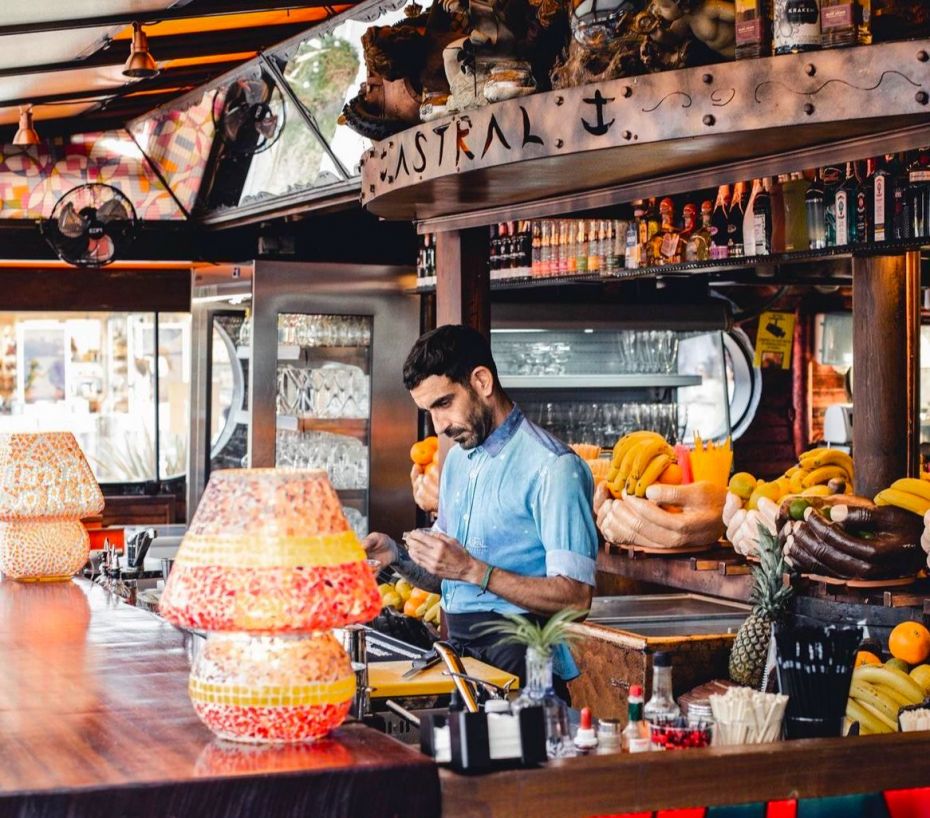 Boasting the biggest cocktail menu in the Marbella area, their choice beverages are created around four pillars: fruits, liqueurs, natural ingredients and ice. Fruits are sourced daily and freshly diced for each drink. Their alcohol pedigree speaks for itself: tequila from Mexico, Rum from the Caribbean, and vodka from Russia. The service is lively while never intruding on the unique and soothing atmosphere. One glance at the variety on the menu will leave you breathless. Not only from thirst!
FAQ - Frequently Asked Questions
Are cocktails in Marbella expensive?
The drinks prices are generally quite expensive compared to other major cities, and more so in Puerto Banús. You'll find better value in Marbella, or in some of the bars back from the sea where the locals drink. All said, the price of a decent cocktail at a the best cocktail bars in Marbella can range in the region of 12 – 16 euros.
What is the legal alcohol limit in Spain?
The legal limit for alcohol in Spain, and thus Marbella, is 0.5 grams of alcohol per litre of blood. While drivers with less than two years of driving experience as well as professional drivers, are faced with a reduced limit of 0.4 grams of alcohol per litre of blood. Best to rely on cabs or designating a responsible driver.
What is a classic Spanish cocktail?
As can be expected, Sangria takes the lead. A fruity Spanish cocktail of red wine and chopped fruits such as pears, peaches, berries, apples and nectarines, there are also two famed variations:
Sangría blanca or white sangría is usually sweetened and made with light, fruity, and fragrant white wines.
Cava Sangria: Unlike the traditional version made with red wine, this variety is mixed with Cava—the famed Catalonian sparkling wine.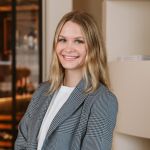 Copywriter
Varia Sinichkina
Varia is currently living in New York City where she is hard at work completing her Bachelors degree in Creative…