The Americans are coming to Marbella! New York flights in Summer 2023
By Julia Nilsson on - 10m. reading time
This summer, United Airlines opened a new direct route between New York and Malaga. The airport lies just 40km from Marbella, a world-renowned coastal hotspot with an endless supply of sea, sun, luxury and glamour.
This highly demanded seasonal route operates 3 times a week, connecting the Costa del Sol with Newark Airport from June 2 to September 28, 2023. Boeing 757-200 offers 169 seats: 16 lie-flat seats in United Polaris business class and 153 in economy class, including 45 Economy Plus seats with more personal space. The non-stop flight takes 7 hours and 40 minutes; the distance is 3.688 miles, or 5.935 km.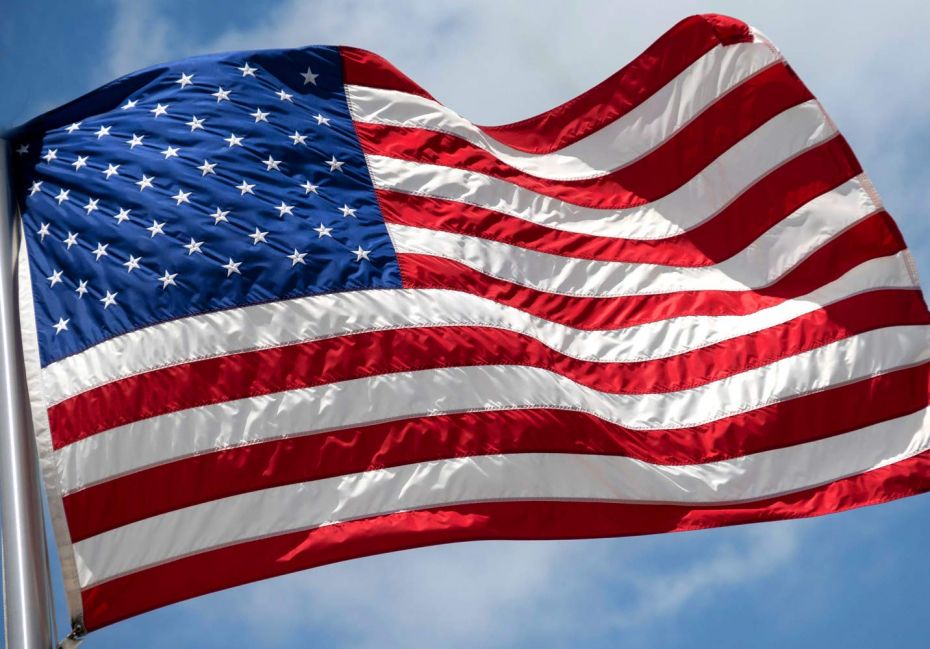 Where do American tourists like to go in Marbella?
Here are some answers directly from Americans who live in Marbella, and often have guests from the USA:
The town of Ronda is a must.
Rota, with the old American naval base. Also Tarifa. It's amazing to see both the Atlantic and Mediterranean at the same time!
Old Town of Marbella.
Local chiringuitos with laid-back hippy chic vibe and funky set-up, serving up fresh food and cocktails. Like Sonora Beach in Estepona.
Shopping in La Cañada mall and Corte Ingles, Marbella.
Obama route.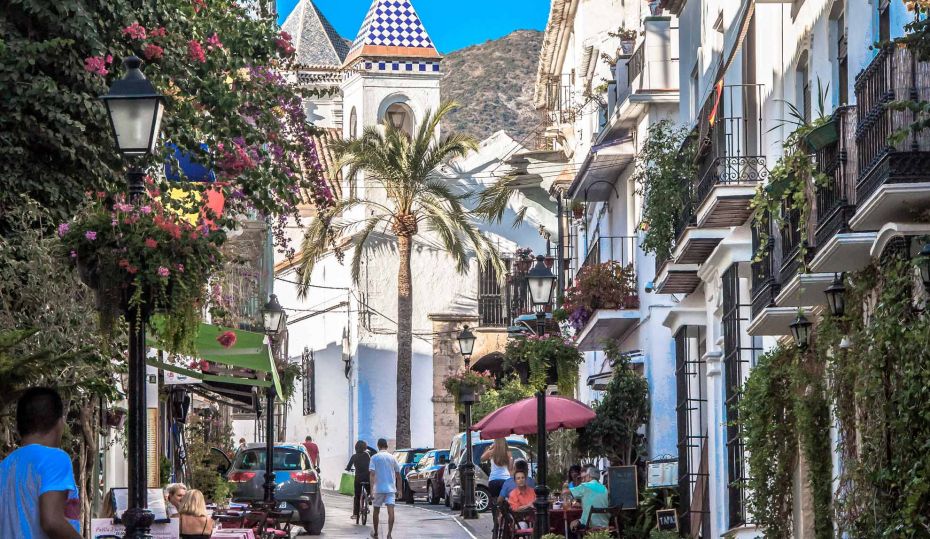 Here you can get a good overview of marvellous Marbella
In 2010, Michelle Obama with her daughter Sasha and 4 of her friends with their children spent a holiday on the Costa del Sol. As Marbella's Mayor Angeles Muñoz said, the US First Lady "could have travelled anywhere in the world but chose Marbella." After Obama's visit, some tours were named after her. There is still the VIP Experience with the Obama Route at Estepona's Selwo Adventure Park - a haven for watching exotic animals.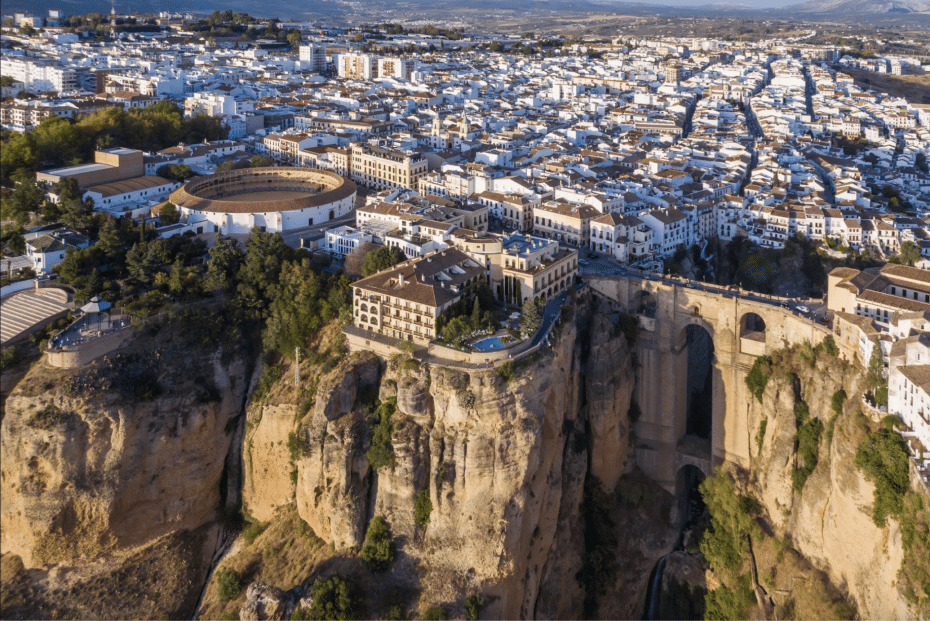 Speaking of Ronda and Americans, it's impossible not to mention Ernest Hemingway and Orson Welles. Both legendary Americans loved Andalucia with its lifestyle, culture, food and bullfighting. A picturesque street in Ronda is named after Hemingway. The filmmaker Welles preferred to stay in Ronda forever. He passed away in California but according to his will, in 1987 his ashes were placed in Ronda in Recreo de San Cayetano belonging to the famed Ordoñez bullfighting family.
Americans say, the mountains on the way to Ronda remind them of Colorado. While the landscape of Almeria's Tabernes Desert has an astounding similarity with certain areas of Arizona and California. Do you know why? It's all thanks to the magic of cinema. Tabernas has been a popular area to shoot many films since the 1950s. It was a filming location for Sergio Leone's Spaghetti Westerns as well as Cleopatra, Lawrence of Arabia, Conan the Barbarian, Indiana Jones, Game of Thrones, Exodus: Gods and Kings and many more.
New American Dream
Americans are moving to the Costa del Sol. Why?
Financial gains, shifting politics, rising healthcare costs are not the only drivers for pursing a life abroad. A great deal of Americans are global minded. Cosmopolitan Marbella is exactly what they need. Here's why it's so appealing:
Broadening children's worldview brings more opportunities.
Knowing another language and cultural knowledge is a plus in a globalized workforce.
Stricter weapon laws and lower crime rates appeal to Americans.
Better air quality and reform towards greener living is a factor they care about.
Intercultural marriage is another reason for Americans to relocate.
And last but not least, remote work is becoming a norm and Americans can have the world at their fingertips. Why not take advantage of it?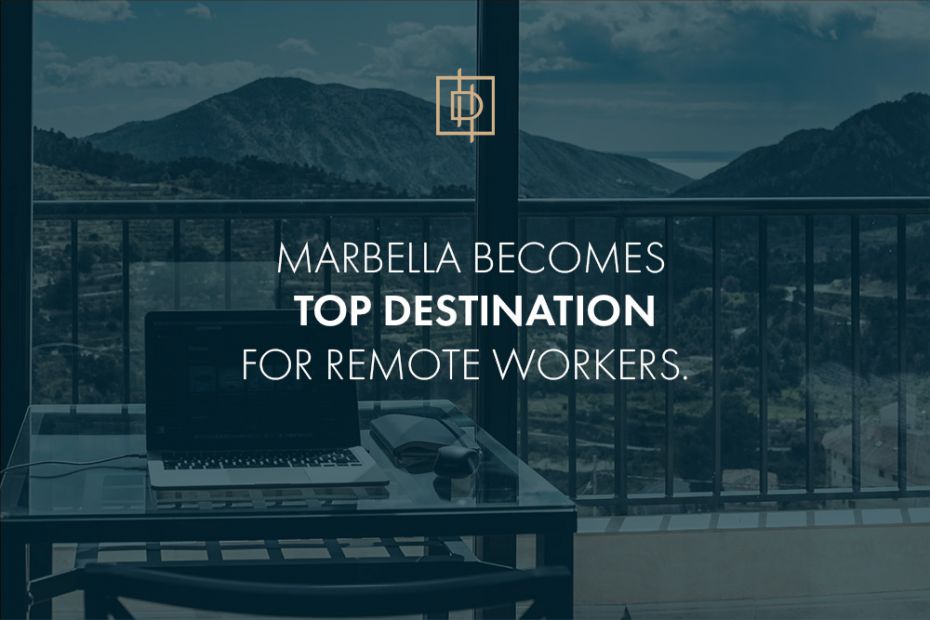 All about remote working in Marbella
Staying in beautiful places with substantially low costs of quality living, the best climate, good and affordable health care, low crime levels and luxurious houses equal to Beverly Hills but still cheaper... Could this be the new American Dream?
American Education in Marbella
The first North American education center in Andalucia turns 10 years. It opened its doors in Marbella in 2013.  Students can gradually adapt to American culture and complete the 6 years of Middle School and High School (Grade 7 to 12) and then begin their first 2 years of University by completing their general education courses required by all U.S. universities.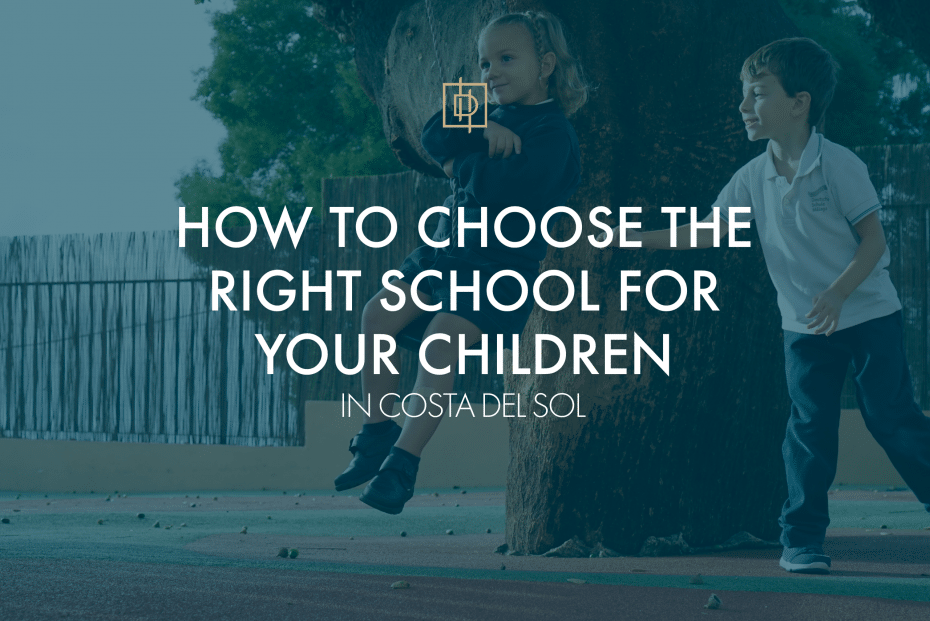 Learn what you need to know about schools in Marbella
Do you know that American football exists on the Costa del Sol?
American football is an integral part of the national tradition, bringing family members, friends or even complete strangers together to share in the game's excitement.
American football exists on the Costa del Sol! The strongest team is based in Fuengirola. Founded in Coín in 2011, the Fuengirola Potros play in Spain's top tier.
Read more:
A taste of American cuisine in Marbella
The Costa del Sol has some good restaurants offering Tex-Mex cuisine, roasted ribs, steaks and hamburgers made over a charcoal grill, preserving the American tradition. Among them are Ok Chicken – Americana and Gourmet Burger Room in Marbella, Taxi-Angus Burger in Fuengirola and Estepona, Rib Shack Marbella, Jacks Smokehouse and iFood in Benalmadena, and of course, beloved by everyone, Café Yanx in Nueva Andalucia.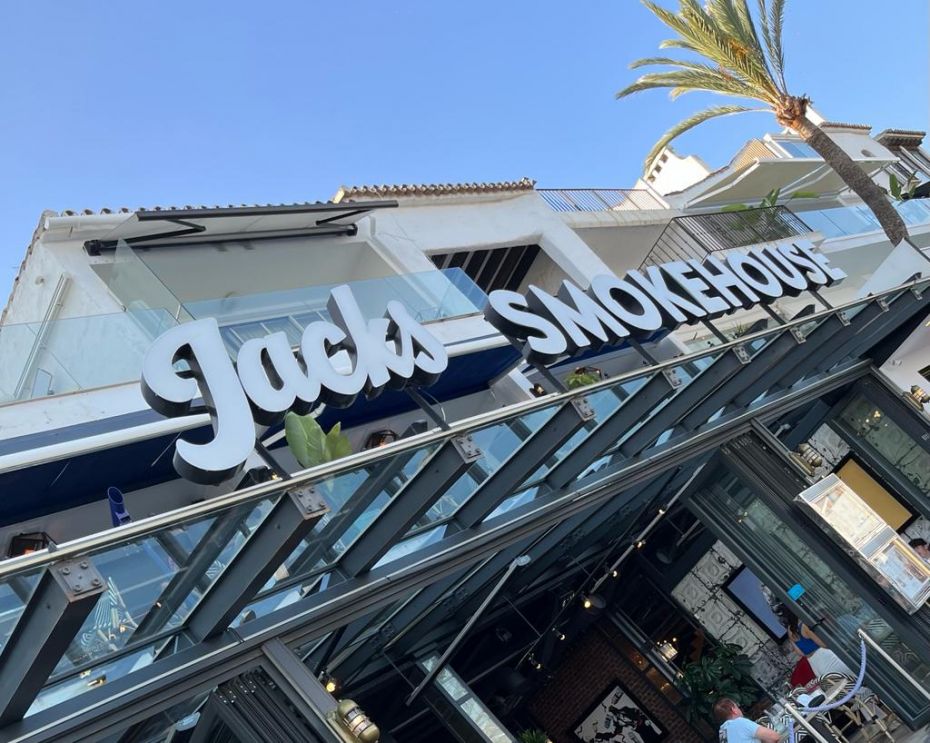 On the Costa del Sol, you will find the American chains of McDonald's, KFC, Carl's Jr. and Foster's Hollywood. The chain of American food restaurants Foster's Hollywood was created by 4 young Californian filmmakers residing in Spain, who missed authentic American food, and opened the first restaurant in 1972.
Legendary Hard Rock Café, a world-famous rock 'n' roll-themed chain with a high-energy vibe, serves burgers and American classics in both Malaga and Marbella.
Marbella is also home to Nobu – a famed fusion Sushi eatery which originally hails from California, and was launched with the participation of Robert de Niro. It forms part of the adults-only Nobu Hotel complex on the famed Golden Mile. "Designed for the trendsetters and curated for the playful" perfectly describes it!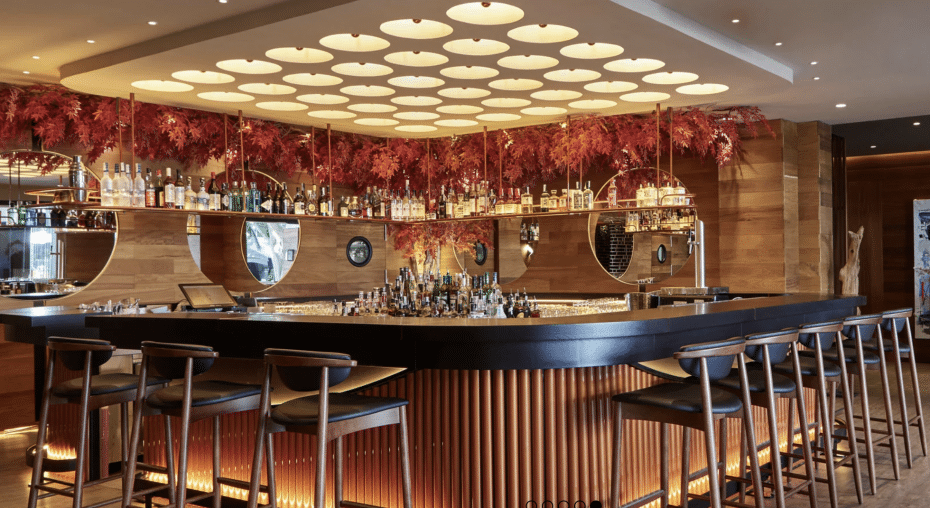 How to navigate a new life abroad
Fellow Americans join InterNations can easily connect with a community of like-minded expats.
While the American expatriates in Andalucia also have their very own expat network.
2 USA consular agencies in Andalucia, in Seville and Fuengirola, are in charge of giving useful information, birth or marriage certificates of the Americans and establishing visas for foreigners. By the way, American citizenship remains safely intact. File those US taxes yearly and face no problems. Uncle Sam stays your uncle, no matter where you are! Many Americans in Spain keep ties with their home country in the form of property, bank accounts, phone numbers and post office boxes.
Do Americans need a visa to live in Spain?
US citizens can enter Spain and stay up to 90 days for tourist or business purposes without a visa. For long-stay purposes, the applicant will need to obtain a visa, which can be renewed.
Since 2020, the world has seen the rise of the Digital Nomad Visa. Now around 43 countries (including Spain) have officially put into place the visa pathway enabling remote workers legally reside in the host country for a year or more under certain conditions.
Americans who don't qualify for this visa usually have no trouble finding other routes to residency, such as Golden Visa pathways, Entrepreneur visas, student visa, retirement visa, work visas, etc.
Polo as premier as Palm Beach: Sotogrande
Spain is one of the premier Polo destinations in Europe, and starting from July to the end of August, Sotogrande becomes the unofficial capital of Polo for the continent. As a venue, Sotogrande can be called a mix of Venice and Miami, with the high-class qualities of both.
Of all the polo clubs in the region, the Santa Maria Polo Club is probably the most renowned - and a prime location on the tournament circuit. Also be sure to also check out the Sotogrande Polo Academy, the world's first polo academy that combines polo coaching with world class education.
Look at some prime properties in spectacular Sotogrande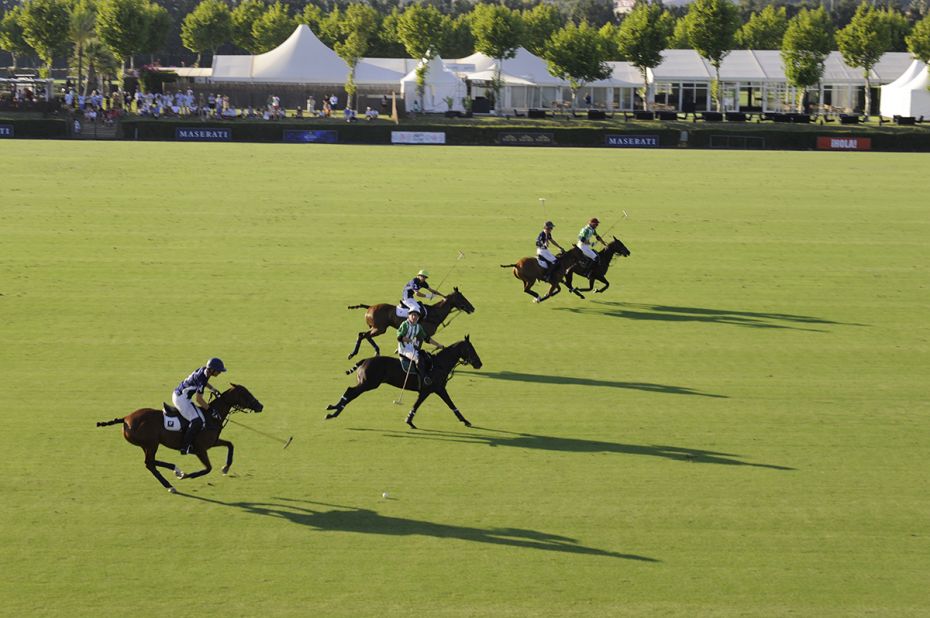 Golf tournament attracts Americans
Andalucia is one of the world's best golfing destinations, with over 100 golf courses. No wonder, the Costa del Sol is often called Costa del Golf. By the way many of the gold courses were created by American golf course architects.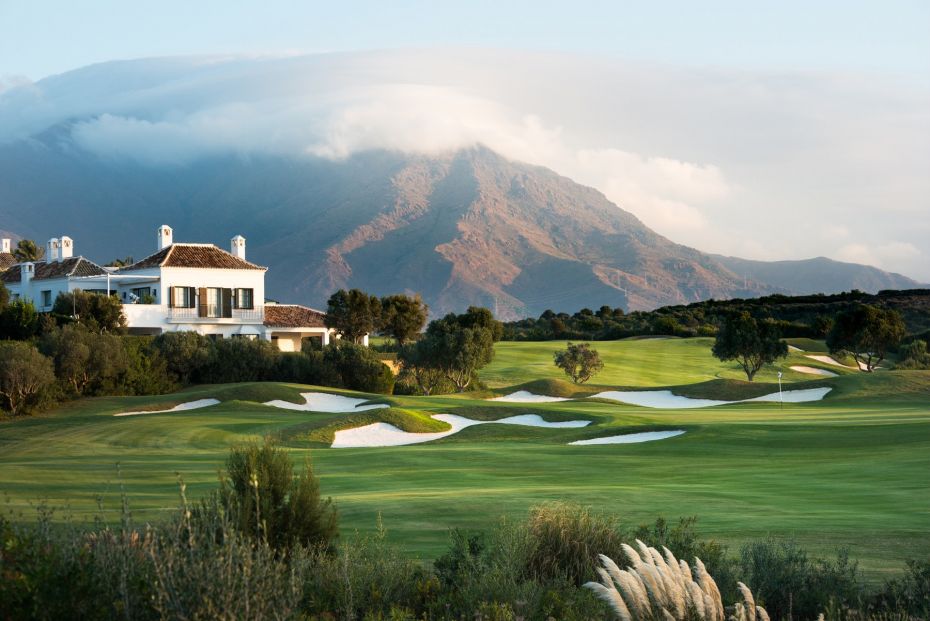 A great incentive for American golf enthusiasts to come to Malaga in 2023 is the Solheim Cup. It will take place at the leading luxury resort Finca Cortesín in Casares, 18-24 September. The biennial Solheim is the most important women's golf tournament in the world. 2 teams of 12 players representing Europe and the USA compete in the same format as the Ryder Cup.
The Michelin-starred chef Dani Garcia will be the face of Marbella during the town's promotional activities in the United States for the Solheim Cup 2023. Marbella's mayor, Ángeles Muñoz, said, "Dani is one of our best ambassadors and he already has a presence in New York, an ideal place to publicize everything our town has to offer; not just great gastronomy but a top level sports offer, health, nature, leisure."
Discover some amazing properties in the Golf Valley of Nueva Andalucia
Time to buy tickets from New York to Malaga!
United Airlines offers 52 flights between Malaga and New York-Newark airports this summer season. Newark offers almost 80 destinations throughout the Americas. Approximately one third of tourists flying from New York to Malaga take the connecting flight from other major US cities, such as Houston, San Francisco, Chicago, Denver, and Orlando.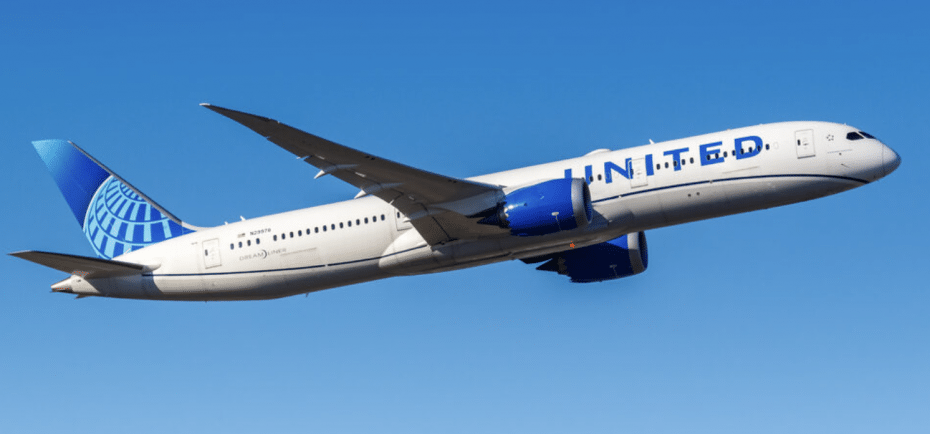 The new route makes Malaga United's 5th Spanish destination in addition to Madrid and Barcelona (operating all year round) and Palma de Mallorca and Tenerife (available in summer). According to airmalaga.com, there are 8 flights from Spain to the USA: 5 to New York, 2 to Washington and 1 to Chicago. Due to the high demand this year, United's supply of transatlantic flights to Spain is 25% higher than in 2022.
We hope this has given you some idea of why should come to the Costa Del Sol, and Marbella.
Book your ticket today!
If you're interested in settling in Marbella, Drumelia Real Estate are here to help you.
Have a look at our wide range of properties listed in the region, and get in touch today!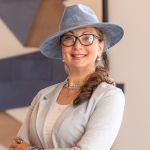 Copywriter
Julia Nilsson
Cosmopolitan since birth, Julia prides herself on being multilingual and has a doctorate degree in international auxiliary languages (Esperanto) as…