Modern Villas for Sale in Sierra Blanca
Often affectionately referred to as the 'Beverly Hills of Marbella', Sierra Blanca hosts some incredible properties and is one of the most desirable luxury residential locations in Europe. Its majestic mountain panoramas are highlighted by the peak of La Concha, a prominent feature and icon of the local landscape.
Why Live in Sierra Blanca?
Situated at the foothills of La Concha, one of Marbella's most iconic landmarks, Sierra Blanca boasts a luscious quantity of subtropical greenery and gardens. The luxury development has a superb reputation for its high level of security and privacy enjoyed by its inhabitants.
This exquisite residential area is highly renowned, both locally and internationally, and its occupants enjoy an exclusive and opulent way of living – that desired Marbella lifestyle that can't be replicated anywhere else.
Whatever your preferred style and aesthetic, Sierra Blanca has it all – from traditionally-styled estates to ultra-modern homes and some of the finest modern villas on the Mediterranean.
What is a Modern Villa?
Defined by innovation; modern architecture makes use of ground-breaking construction and style elements to create a sense of functionalism – where form follows function – and gives a clean and minimalist-inspired aesthetic. Modern Villas offer simplicity by design, flexible and flowing spaces, and uphold values of elegant visual weightlessness.
A sanctuary of modern style and luxury, you can expect nothing but the very best modern villas on offer when searching for a home in Sierra Blanca.
Property Showcase: Modern Villas in Sierra Blanca
This state-of-the-art modern villa offers the ultimate reimagining of a traditional Mediterranean villa with a minimalist twist. Featuring six bedrooms, seven bathrooms and a large outdoor terrace; this bespoke modern villa encapsulates the best of Sierra Blanca. Set over a 1,233m2 plot, this spaceous home is filled with natural light and high ceilings that are wonderfully realised by a sleek interior style thanks to the work of German-born designer, Andrea Böck.
The aptly named, Villa Symphony, ranks among the most opulent homes on the Costa del Sol. Surrounded by pine trees and lush vegetation, this sprawling estate is set over a 5,005m2 plot and boasts a build of over 1,817m2. Featuring a grand hall, sweeping imperial staircase and private staff quarters; this seven-bedroom, seven-bathroom modern villa offers style, space and serenity. This south-facing villa grants second-to-none views of Marbella, the glistening Mediterranean Sea and picturesque North African mountains off in the distance. Villa Symphony is truly a unique and elegant property, and presents a rare opportunity to own one of Sierra Blanca's premier modern villas.
Marked by its signature protruding pitched roof and uninterrupted angular lines, this modern villa takes on many features of a more traditional Spanish property, but with a clean luxury finish. Its unique roofline, featuring many peaks and towers, makes for a stunning and imposing silhouette on the landscape of Sierra Blanca. Enjoying wide sea views from beyond the manicured grounds, this 1,122m2 home offers grand spaces and a superior setting. This unique property is available unfurnished, giving its new owners the potential to create their own interior aesthetic and truly leave their own mark on this magnificent modern villa.
If you're interested in buying a property in Sierra Blanca, or the wider Marbella metropolitan area, contact our team who will proudly showcase some of the most stunning and prestigious properties in our portfolio. There are also great opportunities to rent properties in Marbella and the Costa del Sol. Speak to us today for more information on properties to rent or buy in Sierra Blanca and beyond. We look forward to hearing from you soon.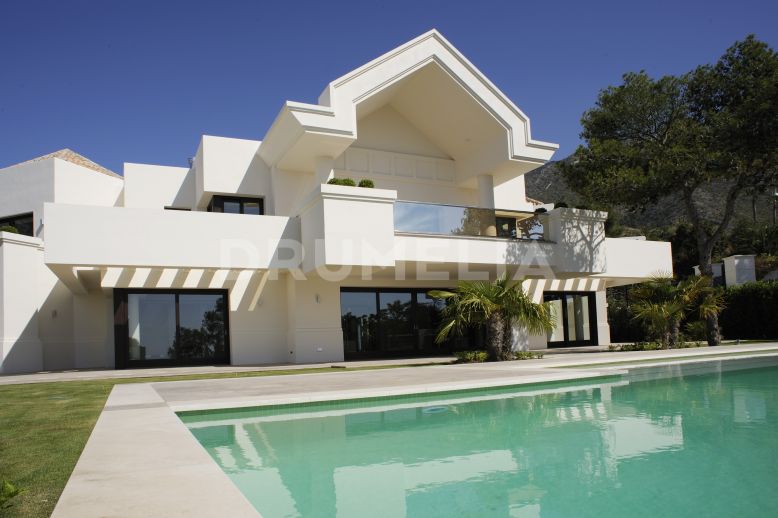 D005 Ref
5 beds
5 baths
1.122 m²Built
2.025 m²Plot
View Listing
D877 Ref
6 beds
6 baths
1.186 m²Built
2.697 m²Plot
View Listing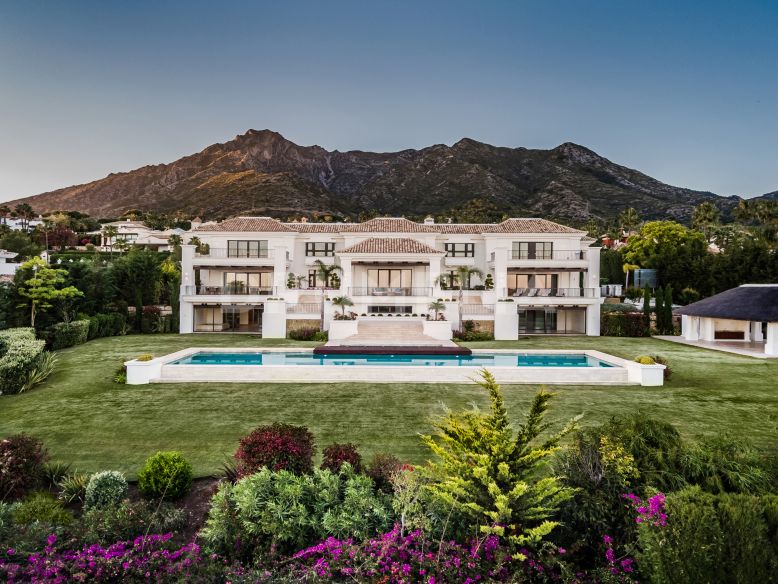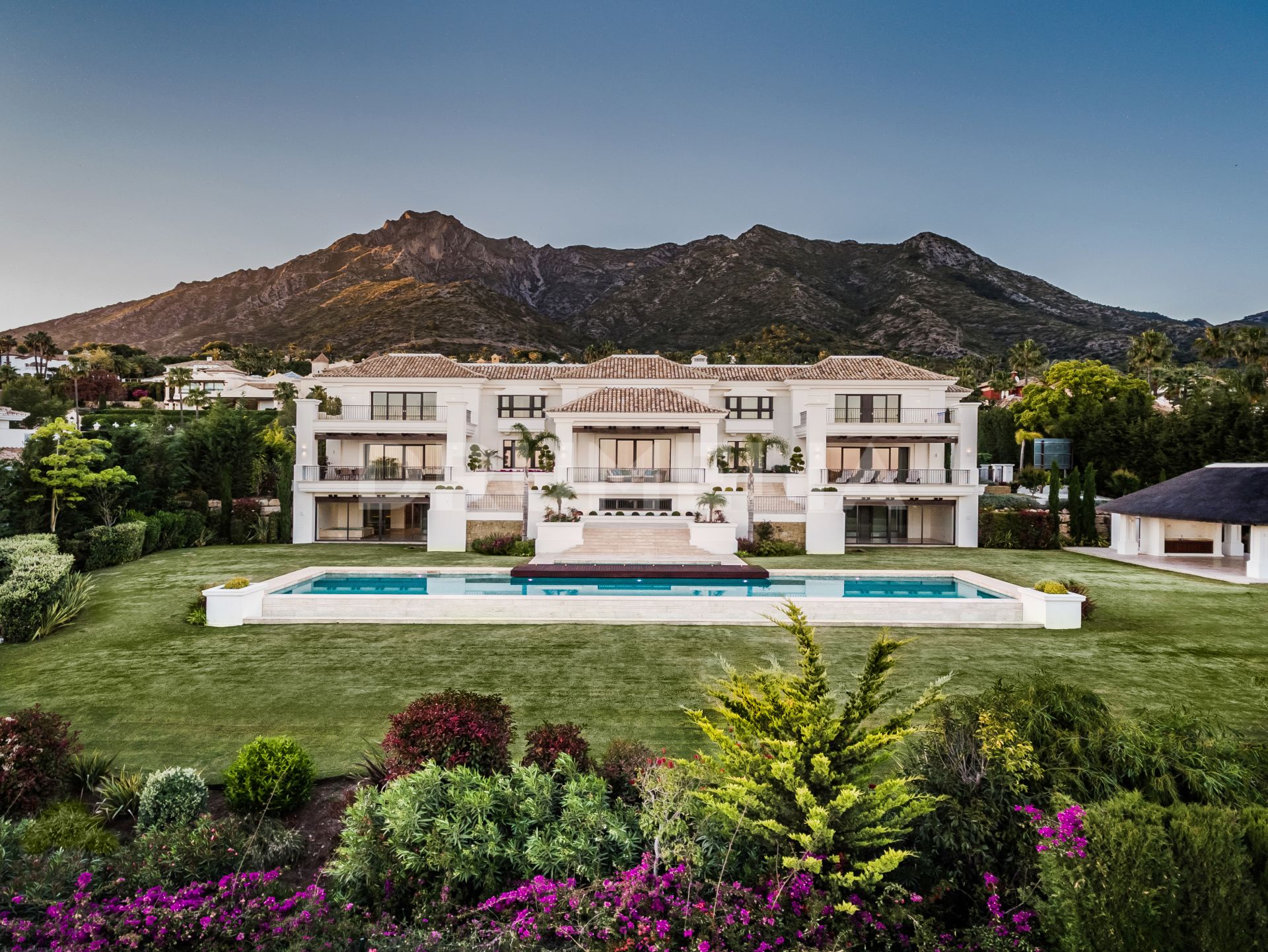 D396 Ref
7 beds
7 baths
1.817 m²Built
5.005 m²Plot
View Listing