History of Drumelia
By Salma Hwedi on - 7m. reading time
Well, the whole team, said that it would be nice to tell a little more about us, because you see a lot of information on the Internet and our Instagram, YouTube channel, Facebook, website. But that's just one of the ways to get to know us. And there's a lot of things behind it. And we thought, Hey, why not? Let's tell you a little bit more about us.
Start of Drumelia in Marbella
Today we will be talking about Drumelia Real Estate in Marbella. It all started back in 1997 when a gentlemen from Russia named Sergey, a professional real estate agent decided to move to Marbella. He had a business opportunity and he moved to Marbella, Spain to carry on working as a real estate agent in Marbella without any previous knowledge of the market or even language. And things moved pretty well for him quite quickly. I remember, one of the biggest deals he did back then was a huge plot in the middle of Sierra Blanca, 30,000 square meters in the heart of Sierra Blanca with Panoramic sea views, a very expensive purchase.
Not long after that. In 2003 he founded Drumelia. The economy in Spain was booming back then, so things were going pretty well until 2008 when the crisis hit Spain. It was a very tough crisis. So Sergey, my current boss, had the opportunity to leave back to Russia, where the economy was growing or stay in Marbella. Even though things looked pretty complicated here, he made the decision to stay and to invest in his business, basically starting from scratch.
Artur joins Drumelia
And in 2009, he offered me to work for him. We knew each other through my dad, with whom he became friends hrough a Billboard sign, which is a different funny story. He offered me the job, I accepted while I was 18 back then in August 2009. Didn't know much about real estate, was lucky enough to speak a couple languages, and we started from zero. It was two of us and Elena, who was helping us.
In a very small office in San Pedro on the fourth floor. A client was helping us to pay for the rent. It had lots of humidity, once I came into the office and the computers were basically floating in rainwater. That is another funny story, but moving on, 2009, 2010 were very tough years, we did no deals. One deal per year, basically.
But from the first moment we invested ourselves, our time, our focus, and all our intention in the luxury segment of the real estate business in Marbella. Sergey had very good contacts as well. That helped a lot, but we didn't manage to do many deals. As mentioned, 2009, 2010, 1 deal, 2011, kind of getting a little bit better, but still did not pay even for the cost of running the business apart from personal costs. And it was very easy to move away from our target and dedicate ourselves to something else. Maybe a little bit different concept. But we stayed focused, carried on and 2012 became a better year. We made some nice deals. We started growing the business, putting some nice foundation in.
Specialising in the Luxury market of Marbella
In 2013, our concept of the luxury segment paid off. We made some impressive sales back then because the market generally wasn't moving much. We sold one of the most expensive houses, 15,000,000 Property, 13,000,000 properties, all in Sierra Blanca. We sold in La Zagaleta a couple of properties, one of them for 8,000,000 in Sector A, so that gave us a lot of strength and believing that what we're doing is the right thing.
So we carried on doing the same thing once again, learning through the journey. We concentrated a lot back then on the Russian market because the Russian economy was booming. And it was only in 2015 when we started talking and considering online marketing for the first time, but without much knowledge about it. Meanwhile, we were also involved with project management. We finished in 2016 a villa in La Zagaleta, which won the awards according to European Property Awards as the best Villa of Europe.
Since then, we did more than 10 projects as project managers and in 2016 also, Rafkat joined us, who was one of the persons that motivated us and made us believe in the online marketing. So from that moment, we started to seriously invest our time, our efforts, and creating a new strategy for the whole company and the team and a new way of working, all based on the online marketing.
We were very keen to see the fruits of the online marketing as soon as possible. But it was a hard journey, and the first couple years didn't pay off at all. But we never stopped. And we carried on investing in the online marketing, year after year, nonstop, no matter what. Somehow we just felt that the world is changing, and it was a logical strategy, and it felt like a necessity for the business in real estate to grow in that direction. Not many deals were happening from the online marketing though.
Meanwhile, we had quite a lot of investors as well. We sold several big lands in the Sierra Blanca area. The biggest one and that everyone knows, is the parking of starlite, for instance, that we sold to our client, that's about five hectares of land with panoramic views. Building permissions in Marbella are sometimes quite complicated and this land has some technicalities, so we're going to be working on it for a couple of years before we can even get the building license. But when that happens, that will be the future of Sierra Blanca. And that would be maybe one of the biggest projects in Marbella.
Drumelia as you know it now
So it was only until 2018, probably when we really noticed that what we're doing in the online is paying off and we felt that we were on the right track. So we invested even more into it and now you can see the website that we have, you can see us on Instagram on a daily basis, on our YouTube. Well, I'm sure all of you heard about our new property tours, and that's really fun to do. And now we are one of the leading real estate agents in Marbella. I'm happy to say that our team is a very professional team. We're not that many in the office.
We use other companies for support, about 5 or 6 companies with who we work on a yearly basis who give support to the core of the business. All our real estate agents have lots of years of experience. Currently, we work a lot in La Zagaleta and on the Golden Mile.
Sierra Blanca is one of the top urbanizations of Marbella. There we have sold at least 30 properties. As project managers we have developed mansions on the Beachfront, mansions in La Zagaleta, Sierra Blanca and other areas.
Currently, I'm sure you know that we just sold our exclusive listing - Villa Cullinan a modern mansion, priced at 32million euros, and that's pretty much us.
So 2021 is on the way, and we're strong on our feet. We have plans of expanding the business. We have quite a lot of interesting deals happening this very second in Sierra Blanca, for instance and in La Zagaleta. And we love what we do. We're very happy doing this on a daily basis. We enjoy our work, and let's see what 2021 brings us. I hope you learned a little bit more about us, and we'll be seeing each other very soon.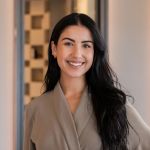 Collaborator Salma Hwedi