The Latest Trends in Architecture in Marbella
By Salma Hwedi on - 6m. reading time
The world is evolving at an unprecedented pace, driven by technological advancements and evolving attitudes. In the wake of the pandemic, we've seen a shift in priorities regarding home design, with a growing demand for spacious, functional living spaces that cater to long-term living. Marbella, a hub of luxury living and cultural diversity, is no exception to these changes, with architects and designers embracing a new aesthetic that prioritises simplicity and harmony with the surrounding landscape. In this blog, we'll explore the latest architectural trends in Marbella and how they reflect today's homeowners' evolving needs and preferences.
What are the Latest Trends in Architecture in Marbella?
Nordic and Scandinavian Architecture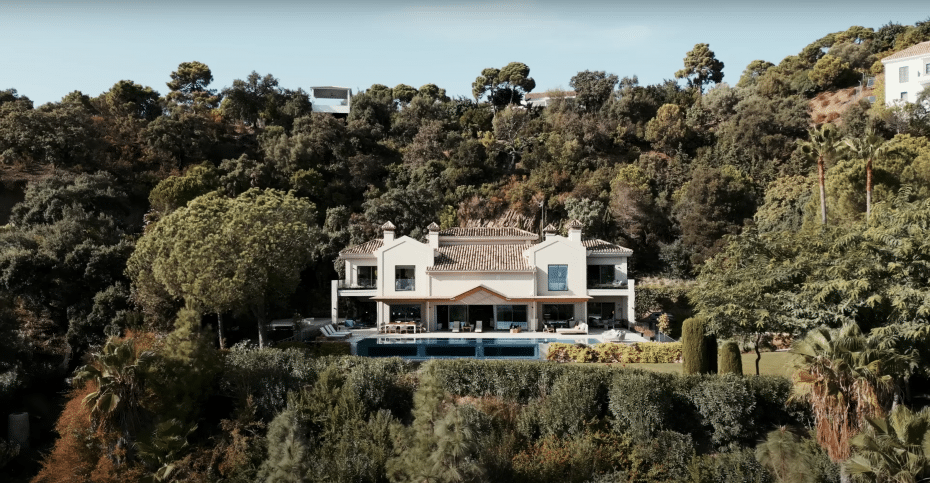 Nordic and Scandinavian designs have become increasingly popular in Marbella's architecture and interior design scene, thanks in part to the rising number of tourists from Central and Northern Europe and the growing community of Scandinavian residents on the Costa del Sol. While both styles share a contemporary aesthetic, the Scandinavian design uses neutral or monochromatic colours to emphasise minimalism and functionality. In contrast, the Nordic design embraces a more homely feel and focuses on quality and crafts.
In Scandinavian architecture, natural materials like wood are integrated into the structure, along with plenty of natural light, clean lines, and minimalistic features, all designed to merge seamlessly with the surrounding environment. As a result, many Nordic and Scandinavian design firms have opened businesses in Marbella, catering to the city's growing demand for their distinct aesthetic.
What are the changes in Architectural Tendencies in Marbella?
Colours
The contrast of subtropical greenery against the blue sky and sea, complemented by white walls, defines the classic beauty of Andalusian houses. While the 1930s 'all-white revolution' popularised white in architecture and décor, Marbella has always sought a balance between sophistication and warmth. In contrast, the Scandinavian style, which has become a significant trend in recent years, incorporates white to maximise natural light and create a stylish and homely atmosphere. This aesthetic emphasises modern, natural design features that blend seamlessly with the environment. In Marbella, white remains a dominant colour in construction, but with an increasing emphasis on integrating natural materials such as stone and wood. This trend has led to a more nuanced use of colours, including shades of brown and grey, and the addition of tiled sections on external walls for visual variety.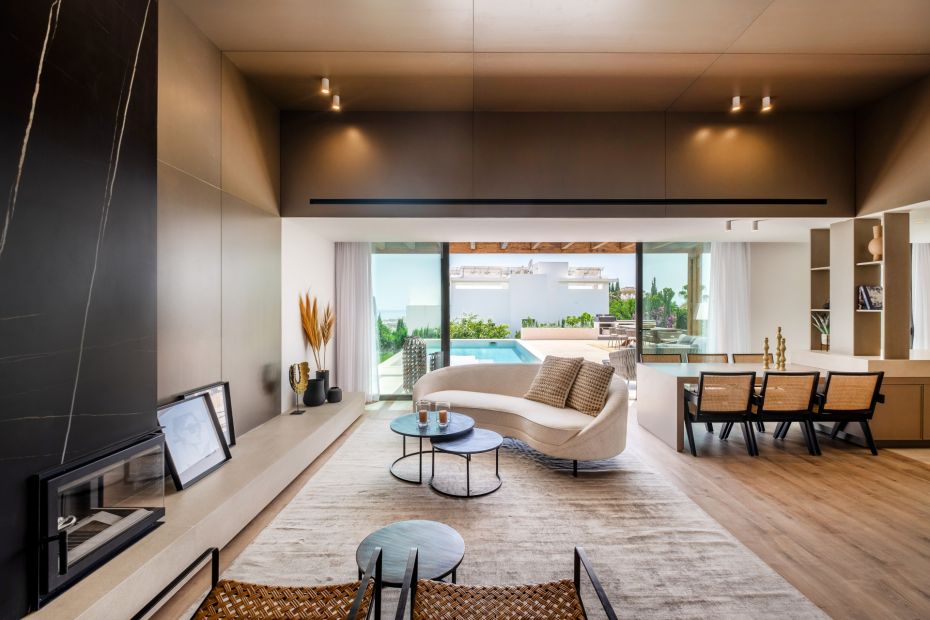 Facades
A green facade or living wall is an innovative approach to enhancing biodiversity in urban areas. This eco-friendly technique involves utilising natural materials and durable ceramic cladding to achieve a contemporary aesthetic that mimics the organic beauty of natural stones like marble and granite. The modern architectural trend emphasises simplicity, featuring covered and open terraces that utilise light and shade as the primary design elements. This approach extends to facades, where green walls serve as an effective means of integrating natural elements into contemporary building design.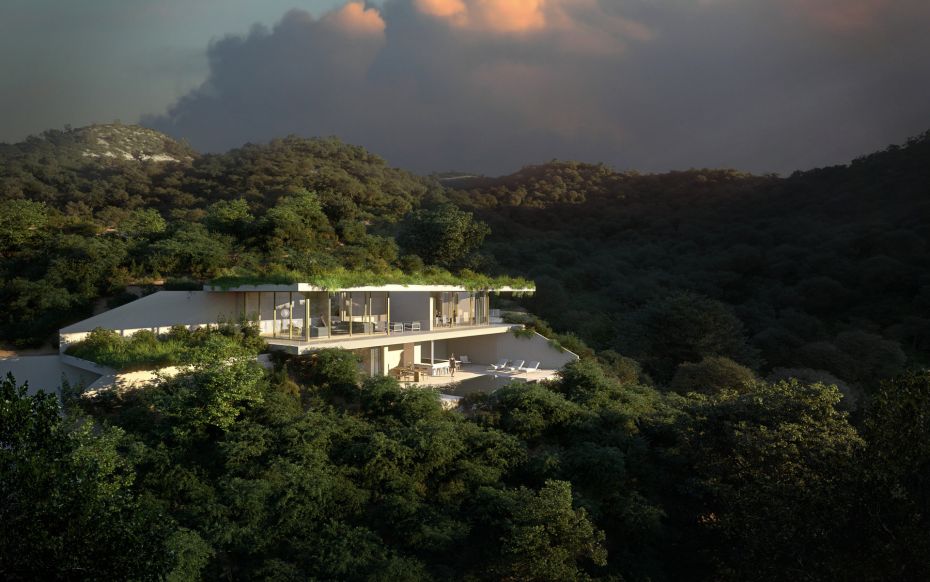 Fountains and Water Features
Water features, including fountains and flowing water, can be found in traditional Mediterranean fountains in old buildings, Andalusian patios and courtyards, and tiled outdoor and garden water fountains. However, contemporary architecture demands new and sleek water features and fountains designs. One of the most outstanding examples of innovative architecture that blends with nature is "Fallingwater," designed by the legendary Frank Lloyd Wright in 1935. Wright's design seamlessly integrates the natural surroundings inside and outside the house. While innovative designs may appear in Andalucia, cascading water features are already popular in Marbella. In addition, Marbella's properties are increasingly opting for chic infinity pools that create a "disappearing edge" effect, replacing traditional swimming pool designs. These contemporary designs add a touch of elegance and sophistication to the properties in Marbella.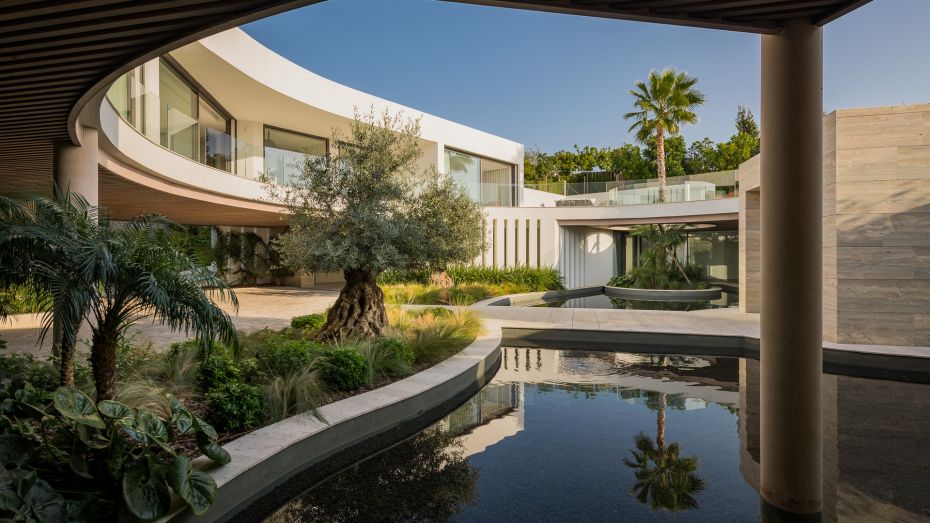 Building Materials
The popular materials used to build properties in the 2020s include concrete, wood, iron, aluminium, and glass. A notable characteristic is the absence of unnecessary elements, with only selected and functional decorations being employed. Luxury materials are no longer favoured by architects, who now frequently incorporate recycled pieces of marble, wood, and ceramics - a completely natural material - into their designs. Feature walls are adorned with patterned wallpaper, while sleek off-white finishes are popular with natural materials. Marbella is seeing a resurgence in using wood, often combined with steel and concrete, to achieve an urban or industrial look and feel. Due to the influence of Scandinavian design, sleek minimalism has become warm and inviting.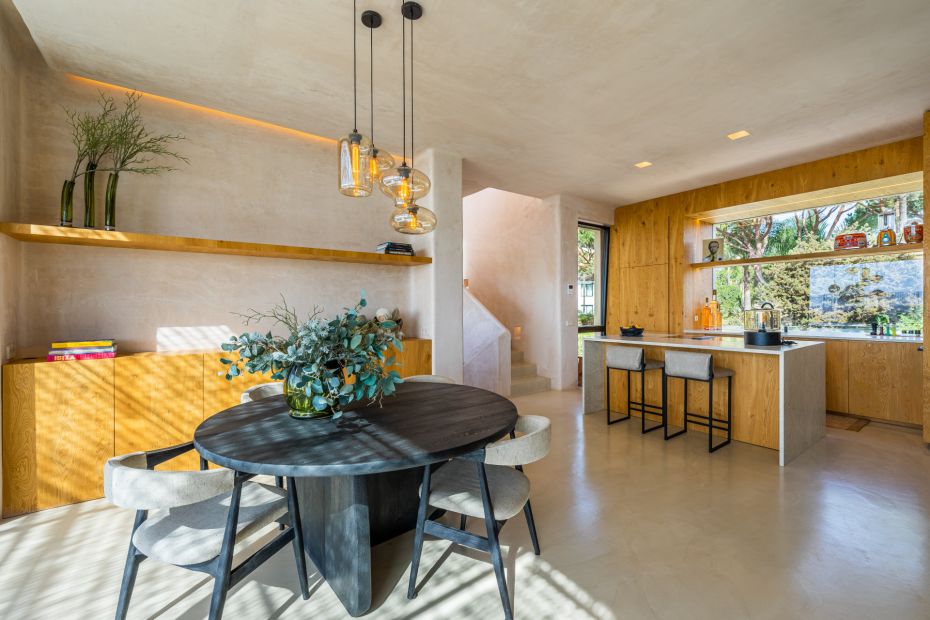 At one with nature
Marbella prides itself on achieving a harmonious relationship between architecture and nature. The architects, designers, and builders prioritise using locally sourced materials to ensure that the homes blend seamlessly into the landscape. The modern constructions' geometric shapes communicate directly with nature, transitioning from indoor to outdoor spaces designed to occur without obstruction. This is achieved through floor-to-ceiling windows, transparent barriers, and panoramic glass doors, allowing residents to enter a lush oasis from their bed or living room. The shape and volume of the villas in Marbella are also influenced by nature, with window placement thoughtfully designed to frame the surrounding environment. Horizontal windows capture views of the horizon and the Mediterranean Sea, while vertical openings create a picturesque frame of the sky, sea, mountains, and gardens. This design concept can be seen in many of the properties offered for sale by Drumelia Real Estate along the coast from Estepona to Mijas Costa.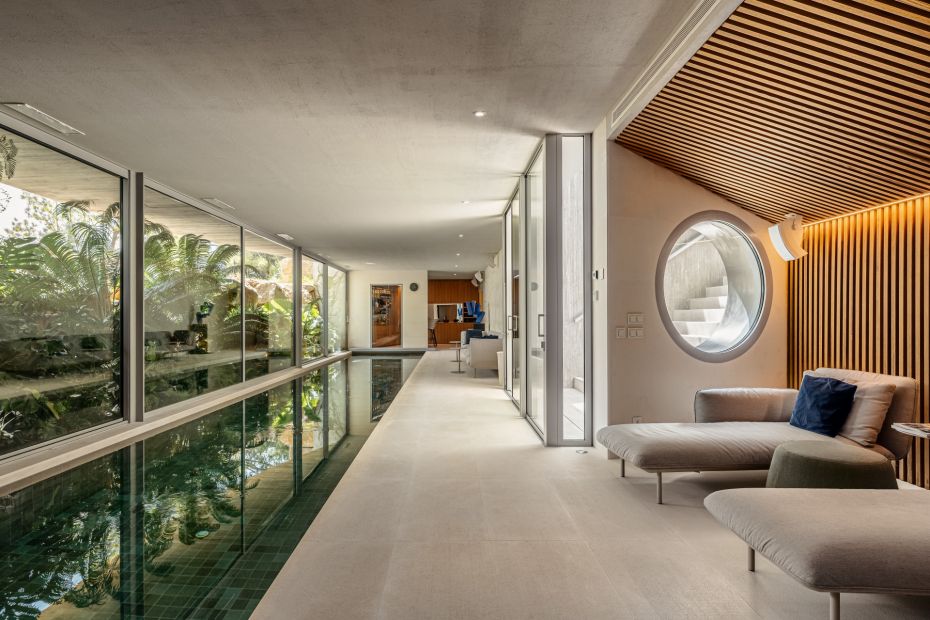 Marbella's new definition of "luxury architecture."
In Marbella, the concept of luxury has shifted from ostentatious displays of material wealth to a new paradigm that prioritises sustainable and high-quality design that incorporates functionality and natural surroundings. The traditional attributes of the white "fincas" and "casas" have been left behind. Local architects are now enriching new and renovated villas with contemporary elements such as floor-to-ceiling windows, sliding glass doors, and sleek anthracite-toned roof tiles. These modern techniques give the properties a Northern European or North American look while paving the way for solar roof tiles. The resulting sophisticated, neutral palette perfectly balances man and nature.
This evolution of luxury is not just about the physical features of a property, but also about the immaterial experiences it can offer. Today's discerning homeowners in Marbella prioritise quality spaces and a closer connection to nature that promote health and well-being over conspicuous consumption. As a result, Marbella's architecture has transformed into a more discreet and low-key form of good living that celebrates refined and practical design while reflecting a new era of luxury that prioritises sustainability, functionality, and a closer connection to nature.
To learn more about the top architects in Marbella and the top interior designers in Marbella, be sure to check out our blog today!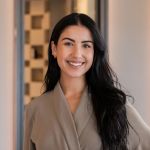 Collaborator Salma Hwedi