Spanish Coastal Property Update. Increase in Demand and Prices
By Salma Hwedi on - 3m. reading time
The prices of homes on most of Spanish coasts grew by 6.1% year-on-year in June, with current average price 1,757 euros/per m2.
Buying a beach property is 6.1% more expensive than a year ago
Property prices increase in coastal areas of Spain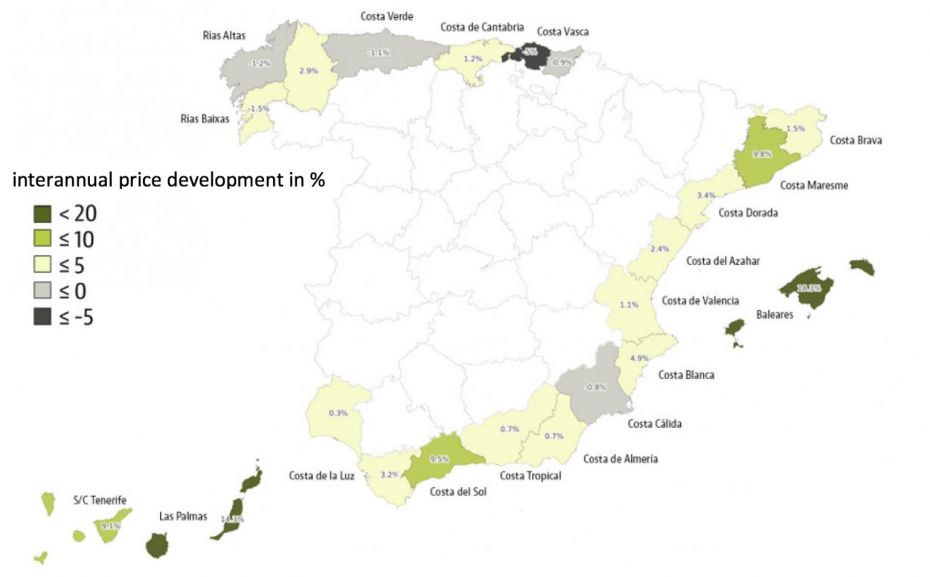 Source: Idealista.
During the 2nd quarter prices increased on average by 2.3%. The price of properties on the coast is 5.6% higher than the average for the rest of the country, which stood at 1,664 euros per m2. The Balearic Islands, Canary Islands and Costa Maresme, north of Barcelona, led the increases last year.
Coastal properties' prices of the Balearics increased the most -18.3%, followed by the province of Las Palmas de Gran Canaria-14.3% and Costa Maresme -9.8%. Costa del Sol grew 9.5% and Santa Cruz de Tenerife 9.1%. Costa Blanca (Alicante), Costa Dorada (Tarragona) and Costa de la Luz (Cádiz) showed the increase of less than 5%.
However, the regions by the Cantabrian Sea still record year-on-year fall in their prices. The greatest decrease occurred in the Biscay Coast area (-5%), followed by Costa da Morte of Coruña (-1.2%), Asturian Costa Verde (-1.1%) and Guipuzcoan (Basque) coast (-0.9) %). Costa Cálida (Murcia) is the only Mediterranean tourist area where prices have been reduced (-0.8%).
Despite the fall, the Guipuzcoan coastline (Basque area) remains the one with the highest prices: 3,111 euros/m2. It is followed by the Balearics (2,868 euros / m2), Maresme (2,491 euros/ m2) and Biscayan coastlines (2,379 euros/m2). Above 2000 euros per m2 show also Costa Brava (2,164) and Costa del Sol (2,146).
Costa Cálida is the coastal area with the lowest prices, where owners ask for 1,060 euros per m2. Costa da Morte, Costa de Almería, La Mariña Lucense in Galicia are close to this number, while Costa de Valencia shows 1,215 euros /m2.
This report has been created considering the data generated in quarterly price reports carried out by Spanish property experts and professionals in the 2nd quarter of 2018, analysing the coastal and tourist municipalities in each province. According to it, Costa del Sol is number 4, with increase in demand, and price increase of 9.5%
No wonder! This region has it all: magnificent beaches with Blue Flags, elegant leafy boulevards and seaside promenades, beautiful orange, olive and almond plantations, ecosystems of Mediterranean forests and natural dunes protected by UNESCO, culture and charm of old towns that saw Phoenicians, Celts, Iberians, Romans and Moors. It's a truly exceptional environment to live and work. Buying property is very attractive also due to the capital appreciation, especially in such places as Marbella, undoubtedly the most famous and exclusive of all destinations.
Once a small fishing village, Marbella has grown into a refined modern resort with some of the most appealing residential areas on the global market. It is not surprising because this place is blessed with scenic beauty, unique position and the best climate in Europe. It provides a cosmopolitan ambience, economic growth and political stability, excellent infrastructure, medical care and international education, lots activities for families, endless sports facilities (it's Europe's largest concentration of luxury golf-courses), unforgettable pleasures of rich cuisine, exciting glamorous nightlife contributing to the special lifestyle that makes Marbella a preferred lifestyle destination.
However, Costa del Sol, including Marbella still offers very competitive prices in comparison to other regions and therefore are overall a sound choice and a solid investment.
Drumelia offers a wide selection of properties and plots in Marbella and successfully guides through the purchasing or construction process.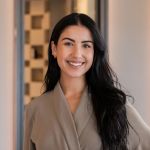 Collaborator Salma Hwedi